Road Trips & Travel
Inspiration can come from the strangest places, so I wasn't even surprised when I saw some cool old canning jars in a recent Pottery Barn catalog and needed to take a closer look. Upon closer inspection I realized they were antique bell jars filled with shells, sand, and even just ocean water with fancy labels that said things like "Mikonos" and "Fiji". Adorable. So I looked around and realized I had at least one or two keepsakes from each and every vacay that John and I have spent together. Why not put them on display instead of in a box in the closet? So after a trip to Michael's to pick up 6 canning jars (for just six smackaroos) I returned home and slipped the items into little labeled jars of my own.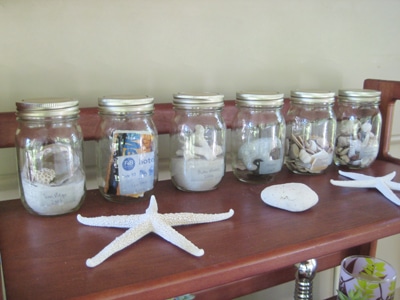 Now we're hardly as posh as the imaginary family who loves in the Pottery Barn catalog, so our labels (hand written with a fine point Sharpie on clear tape) boast locales like San Diego, Rehoboth, Madeira Beach, Alaska, and the Outer Banks.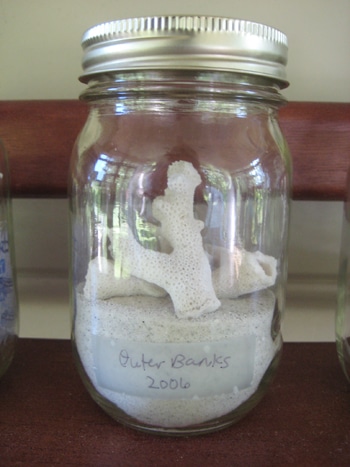 But they're just as charming lined up on a shelf in our sunroom near the back door (which we pass through at least five times a day). And it's nice to glance at our little vacation time capsules on a daily basis instead of keeping them out of sight (and out of mind). I even made a little reminder of our old life in Manhattan complete with our last MetroCard, a buy-ten-get-one-free hot dog card from our favorite little hole in the wall, and matching business cards from the advertising agency where we met.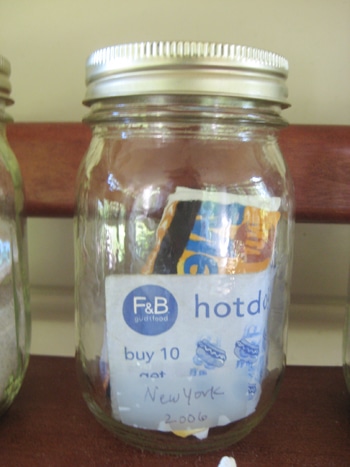 It's nice to know that even when we go somewhere sans sand and shells, we can still stick little keepsakes (a ticket stub, a matchbox, a hotel key) into a $1 jar to fondly remember the trip. In fact, to document our Alaskan honeymoon, I used a rock from a hot stone massage that we enjoyed along with a tiny ceramic bear from a craft fair in Anchorage. I can't wait until our modern day snow globe collection takes over our entire three-tiered bookcase… better start planning some more vacations. And since everyday objects work just as well as shells and sand, it's no big deal if we don't make it to Mikonos or Fiji for a while. Whew.
&nbsp&nbsp&nbsp
I know we were supposed to be devoting every blissful second to relaxing, but we caught ourselves taking beach decor inspired mental notes throughout our entire trip. Talk about inspiration overload.
This house literally took our breath away. Situated right on the water and within walking distance from a number of yummy seafood joints, we think this traditional beach house is perfection. The all white exterior and tin roof keep it simple and allow the linear details (those railings! those windows! that awning!) to shine.
This adorable beach bungalow's exterior color palate made a major impression. How great are the pops of green with the tan and white? Thanks to two dominant house colors and a third accent color, no detail is lost (like those fabulous green brackets and that white square runner above the porch). And those blue-green planters on the railing along with the hanging fern baskets totally finish off the look. Swoon.
Perhaps the most unexpected discovery was this amazing modern beach house with balconies and windows a plenty. The calm blue color blended with the sky and the gulf that it overlooked, and the white trim accented all those windows, balconies and that fun exterior spiral staircase.
The excitement continued when we ducked into some nearby shops. The first was a store called Being in St Petersburg. And it didn't disappoint. Choc fulla gorgeous (and wallet busting) furniture and accessories, every inch of the place was an inspiration. And although the price tags were laughably cost prohibitive, we love stealing ideas from expensive shops for free. This little snapshot begs the question, why not go a little crazy with pattern and color? The bright pillow + those patterned canisters + red coral = jaw droppingly unexpected eclectic excellence.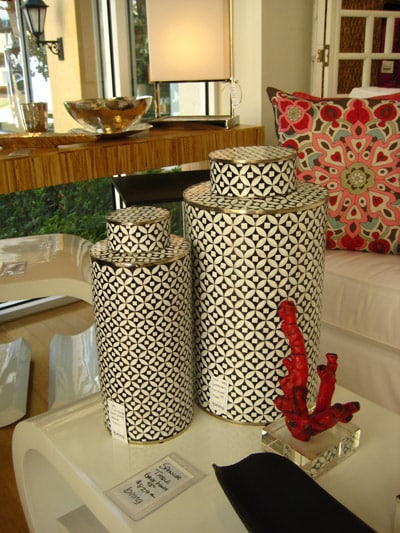 Then we headed over to Coastal Cabana in Dunedin (cause I love me some shells). When you're living in a beach town, there's no such thing as too many, and although I think an abundance of shells in a non-beach setting can be a little strange, I was so inspired by the shell encrusted objects that I immediately had dreams of DIY. Glue gun + shells + (insert object here) = a high end look on the cheap. I think a bunch of tiny white shells covering a pair of candle sticks, a round mirror or a few small frames would be beachy keen.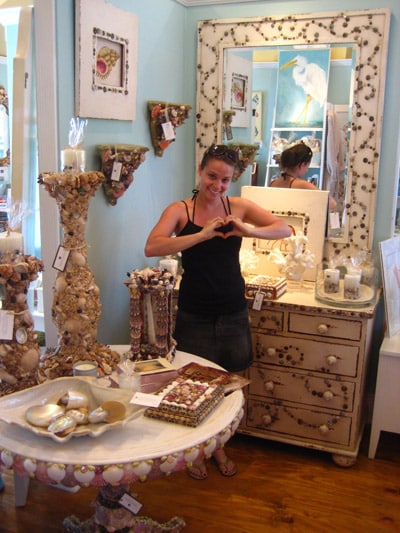 So as you can see, there was lots to look at everywhere we went. And it left us wondering what kind of beach house we'd prefer… the stately traditional? the adorable bungalow? the modern masterpiece? So why not take a poll. Which one do you guys prefer?
&nbsp&nbsp&nbsp