Road Trips & Travel
Window shopping has a whole new meaning to John and I when we're on vacation. Sure we like to peer through shop windows and press our noses against the glass doors of a bakery or three, but one of our favorite things to do is to pull off of main street and check out the behind-the-scenes neighborhoods in each and every city that we visit. You've already seen one of the homes that we crashed while in Charlotte (stay tuned for another one next week!) but we thought we'd share a few of the houses that we "window shopped" (ie: slowly drove by with our camera at the ready to capture the curb appeal for limitless inspiration). Fasten your seatbelts. Heeeeere we go…
Speaking of inspiration, this sweet little house is chock full of it. We love that the pairing of the dusty gray-blue paint color with the bright red planter boxes. And we love that they brought the cheerful red tone all the way up to the dormer's window sashes for charming curb appeal to spare. And another super noteworthy detail are the rolled bamboo shades that hang on from the porch ceiling, which can be lowered for shade and a bit of privacy from the street. Easy to install, affordable and adorable!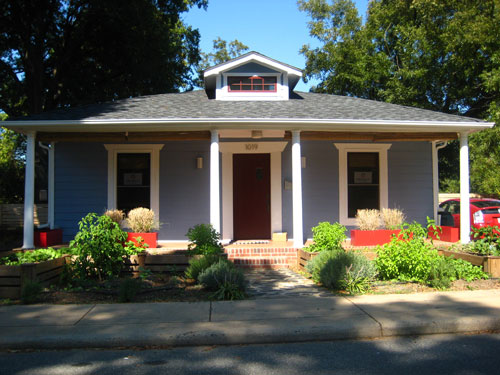 Oh and are you wondering what they're growing out front? Among pretty shrubs and grasses they've actually planted a fully functioning vegetable garden. Hooray for sustainability and free food to boot! In fact, we were so inspired that we've set out to learn more about creating a vegetable garden and will fill you guys in on all the tips and tricks that we dig up in the near future.
But on with the tour! Here we have another home with some pretty inspirational paint color choices. This homeowner threw caution in the wind and went with bright, unexpected poppy accents on their sage green home for interest, dimension, and look-at-me style.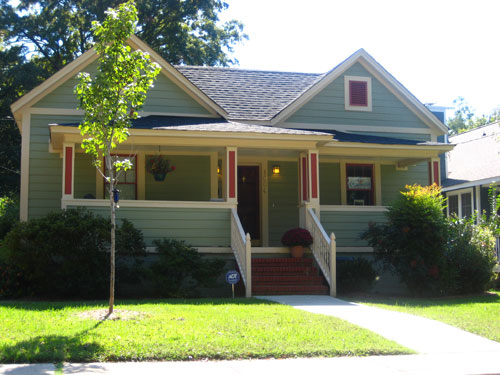 And speaking of bold paint choices, this ochre tone definitely makes a lasting first impression. We probably never would have been so brave when tasked with picking an exterior color, but on a street full of brown and tan tones, it's definitely the most exciting attraction on the street. We also love the vertical white lines that are introduced in the porch railing and the second story trim. And those stone columns and dramatic arch above the door are serious, stately additions that help to temper such a bold exterior. Love it.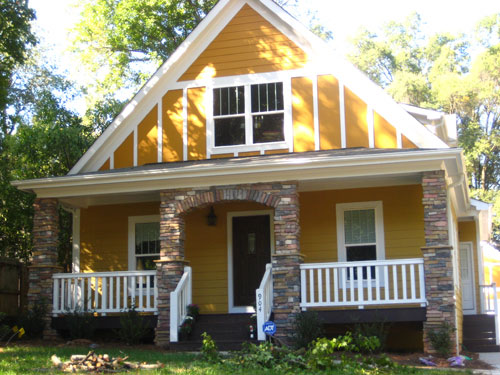 This craftsman style bungalow might appear to have made pretty safe paint choices, but their creative application of tones and trim colors definitely earns it some serious design points. We love that the facade above the roof is painted a deep brown tone for contrast (many people would have kept it the same safe cream tone as the rest of the house) and we also adore the contrasting trim color on each of the columns for an outlined effect that really makes the house pop.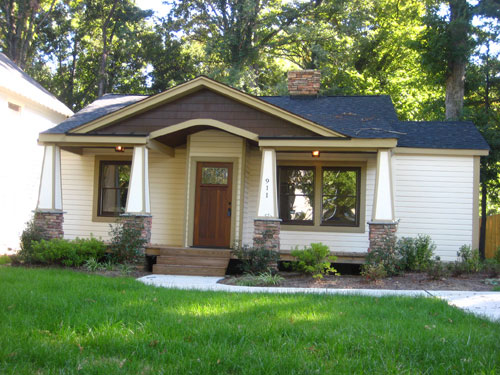 And who says inspiration has to come only from residential buildings? We loved this charming firehouse (its cheerful red door, brick facade and cream trim actually reminded us a lot of our home). And those great numbers and letters above the door are a fantastic reminder that house numbers can really add a ton of charm for only a small amount of effort (and moolah).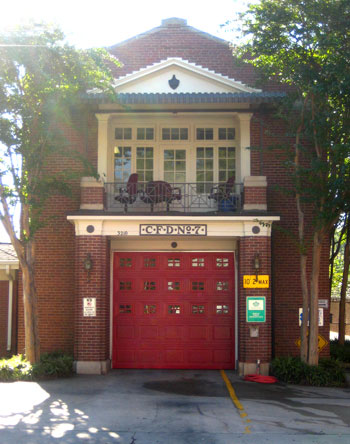 So there you have it. Some of Charlotte's cutest homes and hopefully a ton of curb appeal related inspiration. Happy planting, painting, and pruning!
&nbsp&nbsp&nbsp
As we revealed on Saturday, we spent the last week soaking up the sun on a tiny island off the west coast of Florida called Madeira Beach. We've returned to Virginia with slightly darker skin, a boatload of shells and tons of fun stories to share… starting with the tour of the the totally sweet cottage we stayed in all week long.
From the start we knew we wanted a unique, tropical experience, so we avoided the ubiquitous beachfront hotel and sought out something more private (and dog friendly). That's how we stumbled upon the Island Paradise Cottages of Madiera Beach – the affordable and stylish answer to our lodging needs just steps from the beach.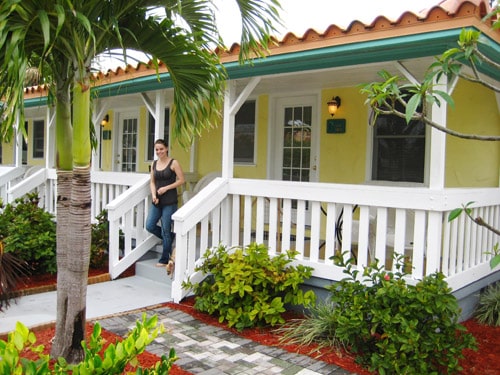 Island Paradise offers eight charming units of different sizes (ours was a one-bedroom called the Gulf Mist) each with its own private entrance and sun porch. The sunny yellow cottages open up to well-manicured communal areas such as a festive tiki-hut and a pool & hot tub that were landscaped to maximize that whole you're-in-paradise feeling.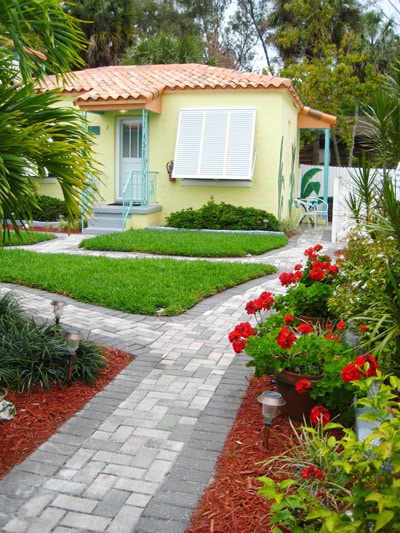 Inside the Gulf Mist, we had a spacious living room, a cute little corner kitchen, a restful bedroom, a super cute (and super clean) bathroom and even a huge walk-in closet (which we used to house both of our bikes). Definitely the makings of a comfortable home-away-from-home. The interior style was more beach-functional than beach-chic, but that didn't stop us from relaxing 24/7. And we learned to love how easily sand could be brushed off those tropical couches.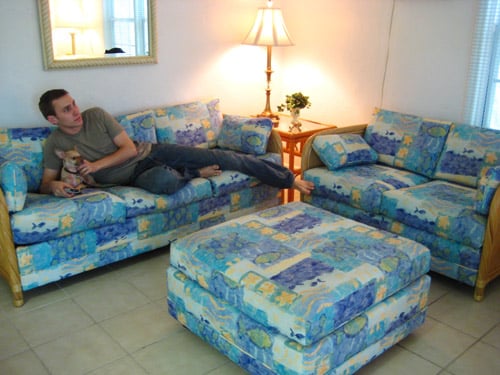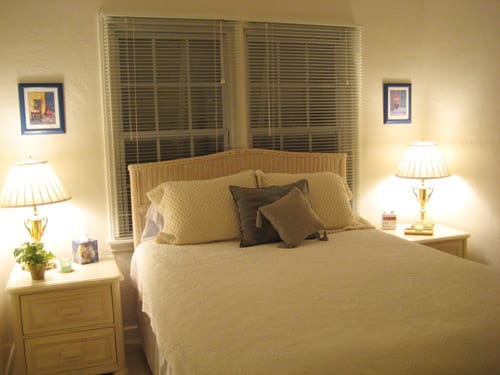 We also found some familiar looking tile in the bathroom- although this basketweave is actually supposed to look yellow. We learned that the tile was original and the cottages were built in the 50's- just like our house. Now wonder we felt so at home.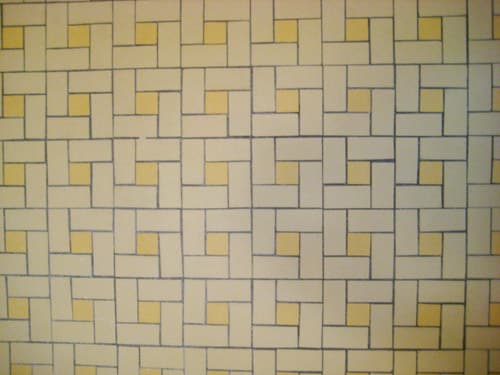 For more pics of our Island Paradise cottage and to see our other island-hopping adventures, be sure to check out our flickr album. And if you ever decide to make a trip there yourself, be sure to pass along a "hello" to our gracious hosts June and Bill.
&nbsp&nbsp&nbsp