Reader Redesigns
When Rhoda sent her amazing DIY staircase makeover we had to share the goods. Here's her letter:
I wanted to pass along photos of my latest project, since y'all are such DIY loving people. I hated the carpet on our downstairs set of steps, so I ripped all the carpet up. Oooops, you can see from the pics what I had to work with… and these stairs were never meant to be shown to the public.  But, I slowly transformed them by adding TONS of molding (I just used my hand miter box and lots of paint- including porch and floor paint for the stair treads). Then I added a natural jute runner down the middle (from Overstock). After stapling it on our stairs look absolutely fabulous, if I do say so myself. This is by far my most favorite DIY project that I've completed to date! Oh and you can find more info on my blog. I hope you enjoy! -Rhoda
Here are the terrifying before photos to show you what Rhoda was really working with: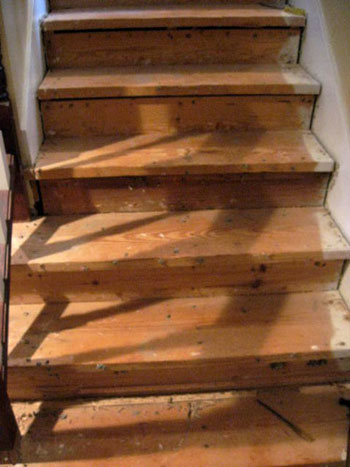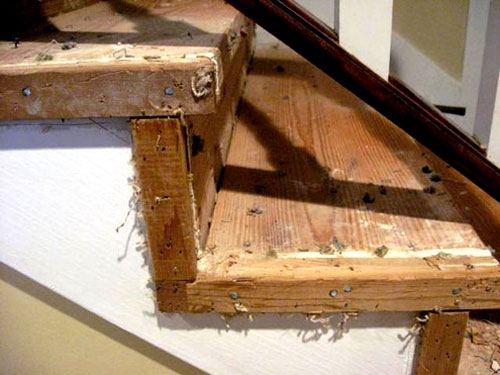 And here are the amazingly polished and pristine after photos after Rhoda worked her magic: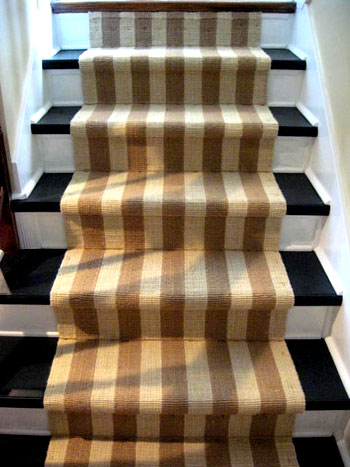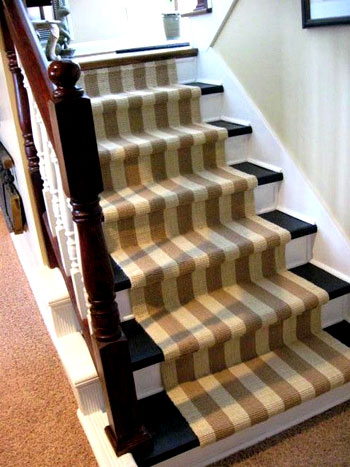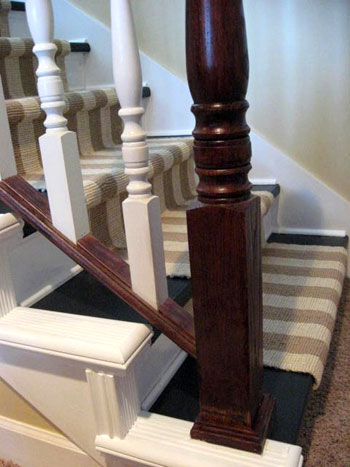 Is your mouth totally hanging open like ours is? We're amazed and inspired by Rhoda's hard work and unyielding DIY confidence. And we can totally see why it's her favorite home makeover project to date! Everything from the chic black and white paint to the affordable and perfect-for-stairs striped runner has us drooling over here. What do you guys think? Did Rhoda show those stairs who's boss or what? Anyone else inspired to attack their less than stellar stairs now that they've seen her work her magic? If only ranch houses had stairs…
&nbsp&nbsp&nbsp
When Isabel and Thomas sent over some photos of their DIY mobile project (which was reminiscent of the one that we featured in this nursery makeover of yore) we had to share the eye candy. Here's their letter:
You've inspired yet another project, and since you've recently completed your nursery I thought this was timely. I learned how to make folded Moravian Stars from a tutorial online (in three different sizes, all in a variety of patterns I printed myself). I used this site and this site for reference, although the former is better. My husband invented the actual "hangers" for the mobile. He's amazing! So with nothing more than paper, scissors, Mod Podge, a sponge brush, needle nose pliers, wire cutters, floral wire, a needle, and fishing wire… we ended up with this mobile! And the grand total was less than $10. Plus my husband and I had a great time making it for our son. Enjoy! -Isabel and Thomas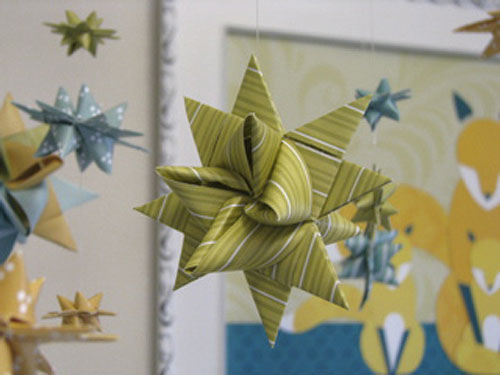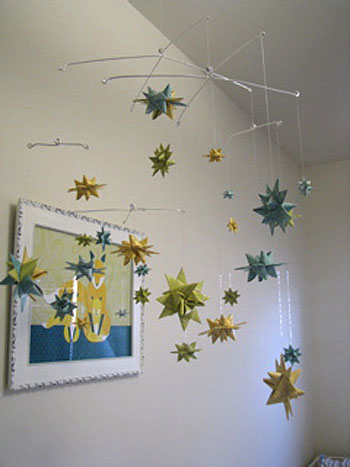 Isn't that a fun way to add some personalized interest to any nursery? We love that by making their own mobile, Isabel and Thomas were able to dictate everything from the color scheme to the size and the shape of their creation- and the fact that it was less than ten dollars to whip up is truly amazing. Thanks so much for the photos guys! And for including the links that you used so others can follow along at home. What do you guys think? Is anyone out there planning to make one of their own? If so, what color scheme will you be going with? Gray and yellow? Navy and turquoise? Orange and eggplant? Pink and lime?
&nbsp&nbsp&nbsp