Reader Redesigns
We're excited to share what we're convinced is one of the thriftiest makeovers of the decade submitted by one of our very own readers. So without further ado, here's Amy's letter:
You inspired me to finish at least one project I said I would do over my summer break from work. I inherited this antique chair from my great aunt a few years ago (it originally belonged to my great-grandmother). My mom remembers it over the years being many different colors with different fabrics, and when it was handed down to me it was a peach color with a crushed velvet seat (which wasn't really my style). Luckily, two weeks ago I came across a great Waverly fabric on clearance and scored a yard of it for $1.83 with tax! After seeing your post last week, I decided I better get to it, so I painted the chair a really great shade of green that my sister had on hand and then reupholstered the seat cushion. I am quite proud of the transformation that cost under $2.00 for such a big change! -Amy
Here's the peach colored crushed velvet covered before: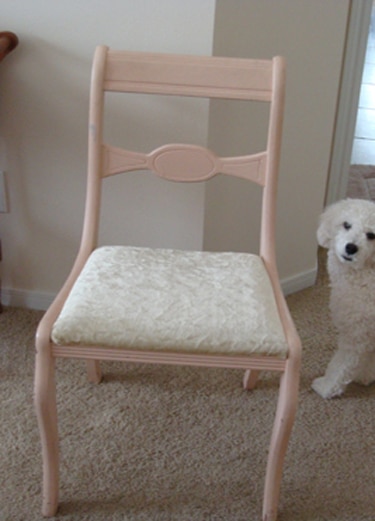 And the thoroughly updated and excellent after: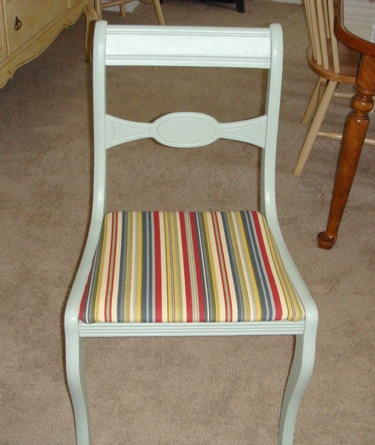 Thanks so much for sharing Amy. Your steal of a makeover is extra inspiring. And for all you crafty people quietly making over your home one project at a time, don't forget to send us your before and afters… we eat that stuff for breakfast.
&nbsp&nbsp&nbsp
I don't think you'd be able to stomach any such mustard after one peep at this Reader Redisign sent in by Annastazia. But before we get to the stomach churning before, here's her letter:
Hi John and Sherry- I've been reading your blog for a while now and am so envious of both your talent and your ranch home! Stairs and second levels are overrated if you ask me. I thought you should know that your bedroom design totally inspired me when I was stuck about what to do with our own bedroom. With low angled ceilings that slope as low as four feet from the ground and very small rooms, furniture placement and design have been difficult to say the least. I knew that I wanted peaceful pale blue walls with a black and white color scheme, but after that I was stuck. That is, until I saw your "hotel inspired" bedroom makeover! Alas, my designer's block was gone and I had a vision! I decided to use very low-to-the-ground furniture in order to make the room appear taller. Thanks to IKEA, I also found the perfect furniture, curtain fabric and lamps to mimic that "hotel room" feel. Let me tell you, it feels like an entirely new room up there! We feel like we're sleeping in a luxury hotel room and I have you to thank!
Oh Annastazia, you peach. We're blushing. And we're sending you a big virtual pat on the back for all the hard work it took to transform that doozie of a bedroom. And now ladies and gentleman, we give you the before… which frankly just doesn't cut the mustard: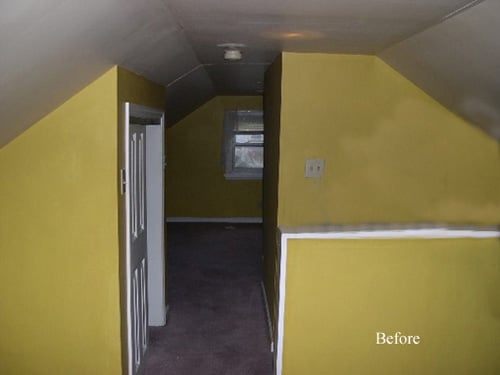 And the delicious and delectable afters: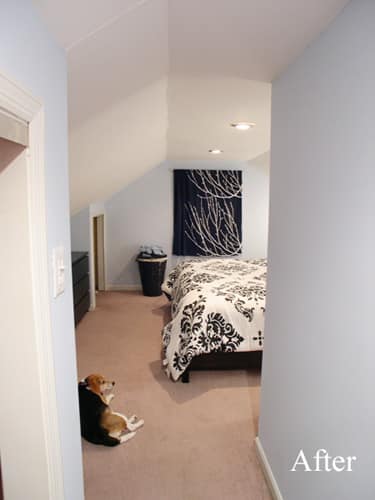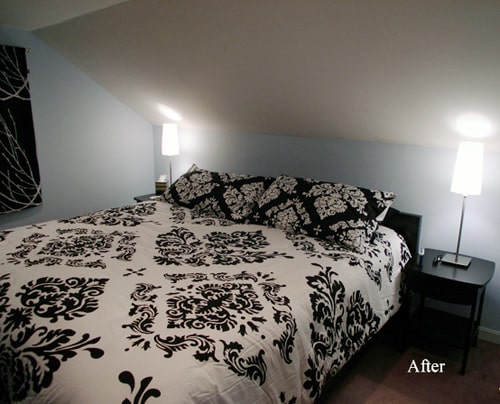 One of the funniest things is that Annastazia's bed and dresser and both from Ikea's "Malm" series, which is EXACTLY what we have in our bedroom (but in the dark walnut color). It's a small world (with sloped ceilings evidently). Anyway, many thanks for sharing the fantastic bedroom makeover Staz!
And everyone knows we love home makeovers (especially when we don't even have to lift a finger) so feel free to send over your amazing before and afters, you clever readers, you.
&nbsp&nbsp&nbsp