Reader Redesigns
We were bursting at the seams to share Kim's newly painted cabinets thanks to a handy dandy color palette that we whipped up for her a few weeks back. Here's her letter:
I couldn't wait to get home today and send you the pics of my new kitchen! It took me a week from start to finish (with a full time job, 2 kids and 2 dogs) and I can't believe the transformation. It feels like a totally new kitchen.  Since I really didn't like this room when we moved in 2 years ago, I never displayed any of my cherished belongings. And now I have pulled out my creamware pitchers and my sugar and creamer sets to line the counters. Your suggestions were spot on and we did it all for under $200 (including new hardware for all the doors and drawers). And yes I did one coat of tinted oil based primer and one coat of latex paint in semi-gloss just as you suggested.
Thanks again for your help! I would have chosen warmer beiges and then it would have been a big adobe mess, so you were right on to go with the green/gray undertone. I used Behr paint color matched to the Glidden swatches you recommended after reading your comments on quality of paint. The pictures don't do it justice- it looks great!- Kim
And now for a before picture to jog your memory: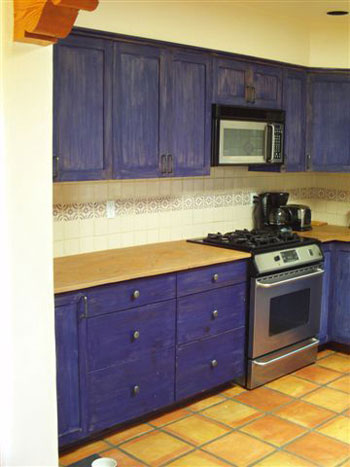 And the fabulous after pics: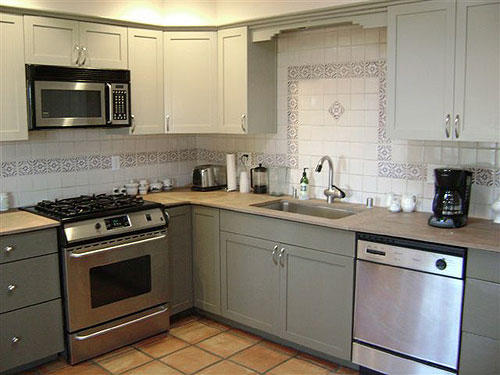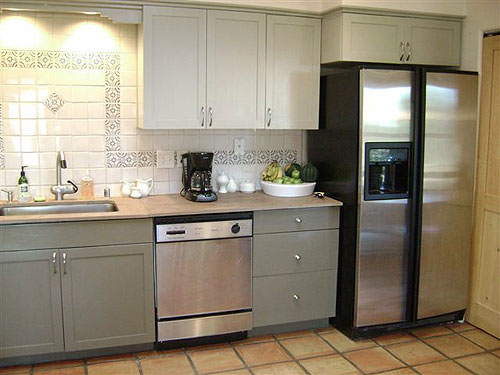 At our suggestion, Kim painted the base cabinets Le Chateau by Glidden and went with Stonington Beige for the upper cabinets (a shade darker than the Sand Beige that we recommended due to the lighting in her kitchen) and it looks amazing! Thanks so much for the speedy after pics, Kim. And if anyone else out there is withholding their fabulous after pics from a Design Dilemma or a Color Conundrum let this be a reminder to totally make our day and send a few pics our way!
&nbsp&nbsp&nbsp
When Carol sent us an email about her budget friendly bathroom project, we were excited to share the simple ways that she went about updating her yellow fixtured guest bath. Here's her letter:
Love your website and your design boards. Your links to quality value furnishings and accessories at places like Target, Walmart and (my favorite) JC Penney are awesome! Here's what I did to my guest bathroom that I lived with for TOO long. The before pics show the fishing theme with the plaid yellow and green curtain we used to try and pull in the aged yellow floor tile and yellow sinks. It was fairly inexpensive to have a handyman switch out the old yellow sinks for classic white ones and add new nickel faucets from Lowe's. And some peel n stick tiles from Lowe's made a world of difference right over the existing yellow tile. BM Philadelphia Cream added some warmth to the walls and a simple bamboo shade added some texture. Fluffy cream towels and rugs and a white waffle weave curtain from Target added to the spa like neutral look I was going for. I removed a sliding shower enclosure from the tub and a new curved shower curtain rod from Lowe's gives the shower extra roominess (and the white curtain hides the yellow tub which still needs to be reglazed). We are so glad we made this update while keeping within our limited budget. Down the road, we'd love to loose the full length mirror, but are saving our pennies for now. – Carol

Here's the bathroom before, complete with dingy yellow floor tile, yellow sinks, and dark accessories: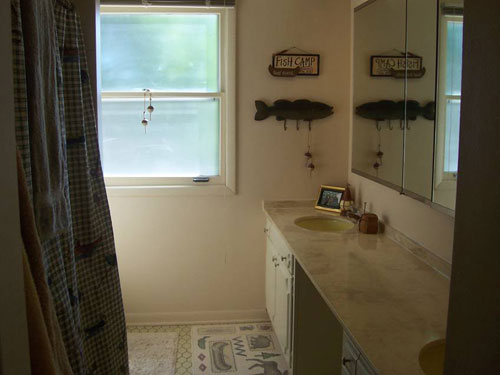 And the crisp and neutral after with new vinyl floor tiles, white sinks, and fresh accessories: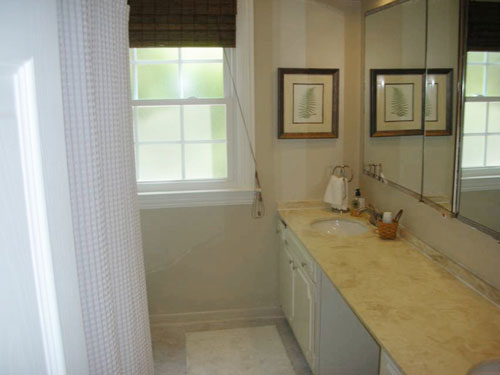 Thanks for sharing Carol! Everything from the curved shower bar to the new floor tile and the bright white sinks are a super huge improvement, and we love that you were able to make things over on such a modest budget. Anyone else out there holding back? We welcome any and all before and afters so be sure to send 'em our way so we can share your handiwork with the world!
&nbsp&nbsp&nbsp