Pop Quizzes
You guys may have already caught wind of the Sproost quiz over at Odi et Amo or Bower Power, but who are we not to jump on a quiz bandwagon? The Sproost quiz is another thirty second questionnaire that promises to pinpoint your personal home design style (kinda like last week's Ikea quiz) based on your rankings of differently designed rooms. It uses a simple "Love It" to "Hate It" scale and calculates your top home design styles based on your picks. Here are my results: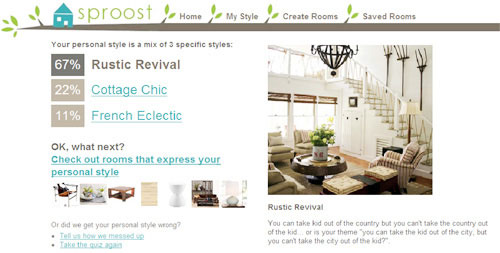 Last week Sherry was the one who registered high on the country (or as she argues, cottage) scale. But as you can see, this week I'm taking that cake with my three country/cottage-influenced styles. I was very skeptical of my analysis until I read the description of my top ranking Rustic Revival style: "You…love a mix of modern and country. The clean lines of the modern softened by rustic/vintage elements is the perfect mix in your mind." I can live with that diagnosis. It's pretty accurate, actually. But what about Sherry's…
Her highest ranked style was still in the country slash cottage zone, but it was offset by a much beachier Nantucket Style and a more contemporary Vintage Modern. Like me, Sherry thinks her top-ranking description is pretty spot on, the Nantucket one is fairly close (minus the part about light wood and wicker) and the Vintage Modern has some hints of accuracy in there (loves flea markets and clean lines).
In comparing notes, Sherry and I realized that we each got different photos to choose from during the quiz. So we each took it a second time, got totally different rooms to choose from, and ended up with very different results. Nantucket Style and Arts & Crafts crept into my diagnosis and Sherry suddenly had only two top styles – Rustic Revival and Cottage Chic. Interesting…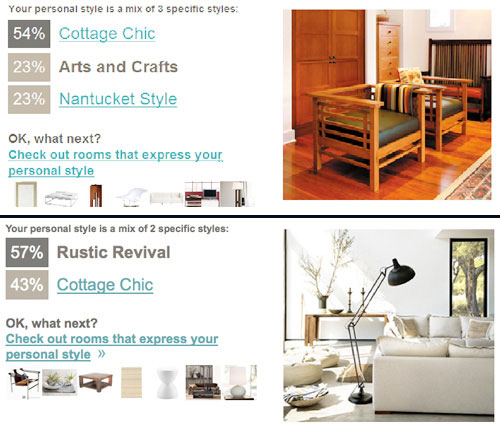 Click here to take the Sproost quiz for yourself. It's definitely worth going through it more than once if you have the time. If nothing else you'll get an extra dose of eye candy and find a few more inspiration rooms that you can copy to your desktop before clicking through to the next image. And as always, we'd love to hear what shows up in your results, if you think they're accurate and if they change each time you play. Happy clicking everyone…
How About Orange always finds the best online quizzes. I think we owe Jessica for just about all of the fun, not-so-scientific peeks into our psyches that we've shared with you. Her latest find comes from Ikea's business web site (which I believe is new, unless you know otherwise).
Just like the last one, this "Find Your Style" quiz  uses a series of images (color swatches, fabrics, Ikea displays) to help determine your perfect combination of styles. And- spoiler alert- this Scandinavian-based company tends to think a lot of styles include at least a bit of "Scandinavian" design. In fact, my style is called "Scandinavian Classic" and Sherry is "Scandinavian Natural." I guess that should come as no surprise to us considering how much Ikea furniture we've owned in our lifetime. Here's mine: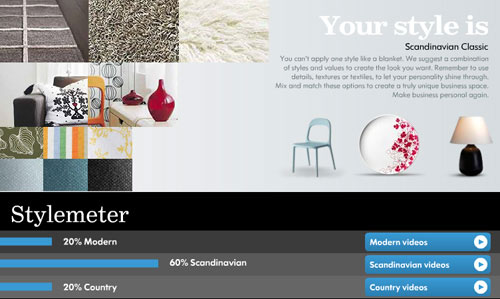 Sherry and I were actually surprised that our results appeared to be so similar (our selections were actually pretty different). It does say I'm slightly more Scandinavian (I am the blond one) and that Sherry's slightly more "country" than me (although she'd argue that "cottage" is the new term for "country"). Here's hers: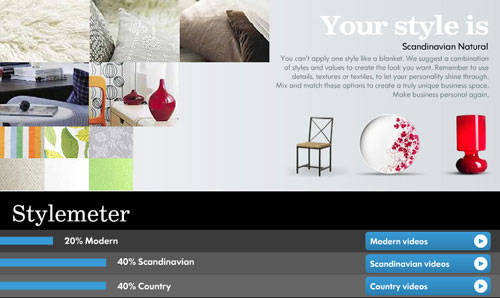 And here's the 9-question quiz. As usual, we'd love to hear your results. Especially if you somehow managed to evade the Scandinavian descriptor. Although something tells me that might not be possible…
Screen grabs courtesy of Ikea
We spotted another fun little quiz on How About Orange this week. This one uses a few visual questions to determine what type of creative person you are. Feel like taking it for a spin?
Well we did, and we thought the results, while primarily entertaining, were relatively accurate for both of us. I'm definitely the more right brained half of the marriage, and the quiz appropriately deemed me a "Realist." I do like to express myself with an "ordered and structured approach," and technology does "help me create work that really has an impact" and (although a little too poetic for my tastes), I'd agree that I like my world "drenched in beauty."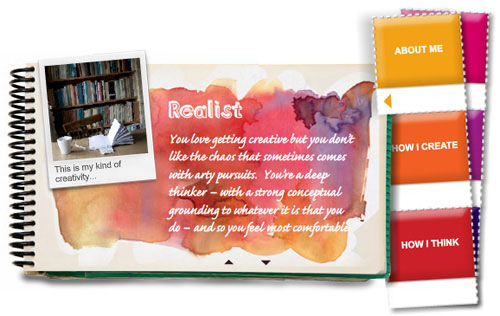 Sherry, on the other hand, was dubbed a "Bright Spark" creative thinker. The description basically confirmed what I already know about her – after all, her degree is in an artistic field and we met when she worked in a creative department. In particular, I thought "you grab any opportunity to record bright ideas as they strike" (there's a reason she's got a pen and pad next to the bed) and "you have plenty of new projects up your sleeve" were especially accurate. Just last night she was talking about five different projects around the house that she'd love to tackle this spring. In fact, I think I owe her "bright spark" for most of the work we've gotten done around our house for the past two and a half years.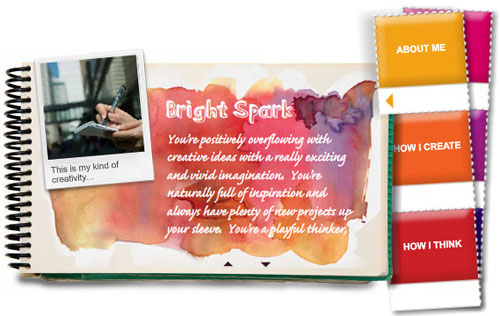 So what about you guys? In the mood for a pop quiz? Take it here – it only takes 2 or 3 minutes – and let us know what creative type you are. We're dying to see if yours are semi-accurate too.