Pop Quizzes
UPDATE: Woot. Their server seems to be back up and running. So feel free to pop back over and check out your stylish celebrity counterparts.

We've got a few projects in progress over here, so until we have something to show for them we thought we'd share this quirky little quiz. And just to be clear, I'm the one channeling Queen Latifah and Sherry's got Jet Li.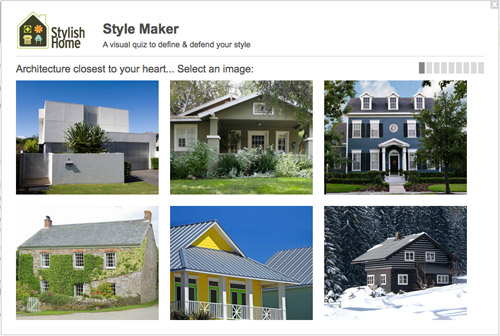 Yep, it's another scientifically proven quiz that promises to help you pin down your decorating essence (like all of these that have come before it). Though this one scores a few bonus points for being almost entirely visual, which means you get to enjoy some eye candy slash inspiration while it's diagnosing your brainwaves.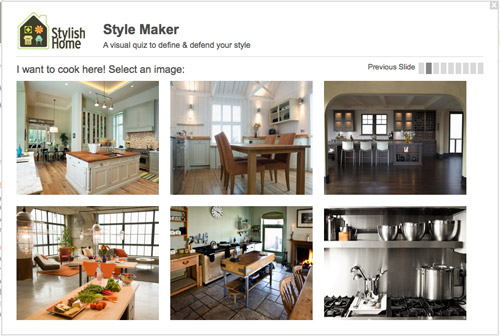 Although not many people would consider this next question's visuals as "eye candy." Instead, I like to call this the "Which Village Person are you?" question.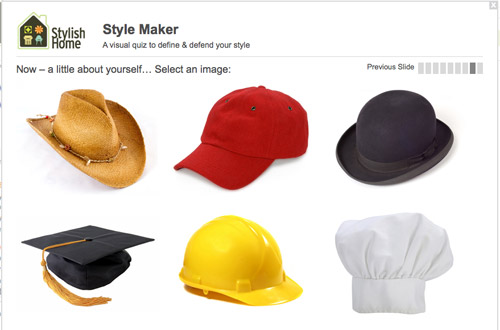 In the end, the results aren't terribly accurate or helpful, but they're still fun nonetheless. I was pinned as "Winsome Charm"… which I'm not quite sure what to do with, except maybe take it as a compliment (so… they're saying I'm charming?).

The best part of the results are by far the celebrities that they believe to be your style equivalents. This is where Queen Latifah comes in for me, along with Tom Hanks and Robert Redford (again, can I take this a compliment?).
Sherry, on the other hand, somehow turned up as "Asian Bauhaus" and got results that claim she likes to "cook grand meals" and is "never clumsy." Both of which I assure you are hilariously untrue. She also got a list of celebrity comparisons consisting of Jet Li, Chow Yun-Fat, and Madonna. Which elicited some snort laughs from the wife (which only happen when she's really really entertained).

Results aside, feel free to have some fun and kill some time taking the quiz yourself. We'd love to hear your results (especially your celebrity equivalents) and how spot on (or far off) they were.
Psst- We weren't paid or perk'd to share this quiz, we just thought it was thoroughly entertaining. I mean what guy doesn't LOL when his wife is compared to Chow Yun-Fat?
&nbsp&nbsp&nbsp
Time waster alert. Elizabeth sent us the link to this entirely non-scientific but still pretty fun color quiz from ChinaPaint.com (couldn't tell you exactly what ChinaPaint is because the whole site is in Chinese). The "Colour & I" quiz asks you to virtually paint six objects in your favorite (or "most suitable") color and then it assesses your personality based on your choices.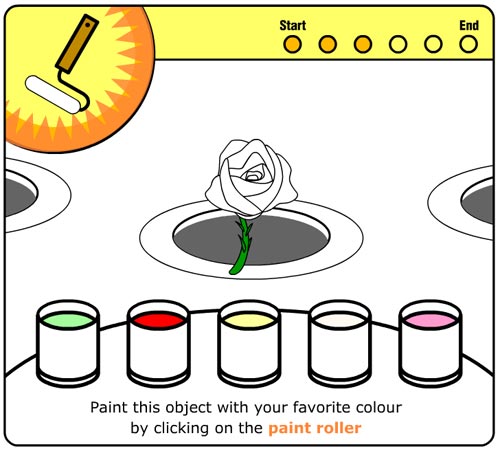 As usual, the results seem pretty baseless but are entertaining nonetheless. Yep, I just broke out "nonetheless." Here are Sherry's results: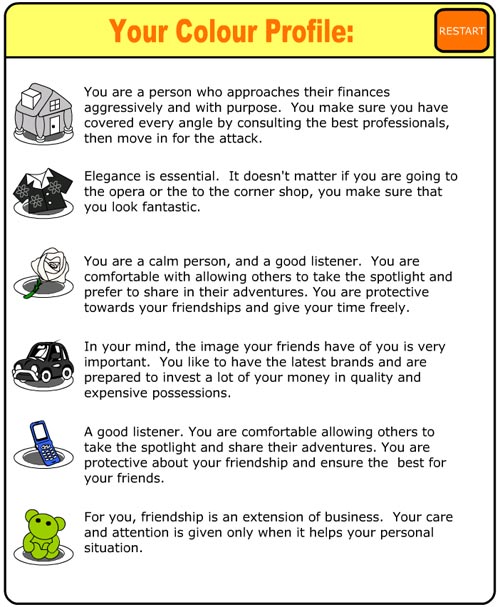 Although we shouldn't be surprised by Sherry choice of black for the shirt, I was caught off guard by how grayscale her selections seemed. And perhaps she should've stayed away from color entirely because it's not 'til she creatively made her teddy bear green that she got insulted. Ouch, quiz. That's low. And it also seems a bit inconsistent since her blue cell phone choice indicated the exact opposite personality trait. We also got a kick out of the first description sounding like something Bruno from dancing With The Stars would say ("Brandi you moved in for the attack!") and thought the fact that the black car's connection to expensive possessions was hysterical (my wife likes to brag about how cheap things are- and in fact gets embarrassed whenever she pays a decent amount for something).
Okay, onto my noticeably more color-filled results: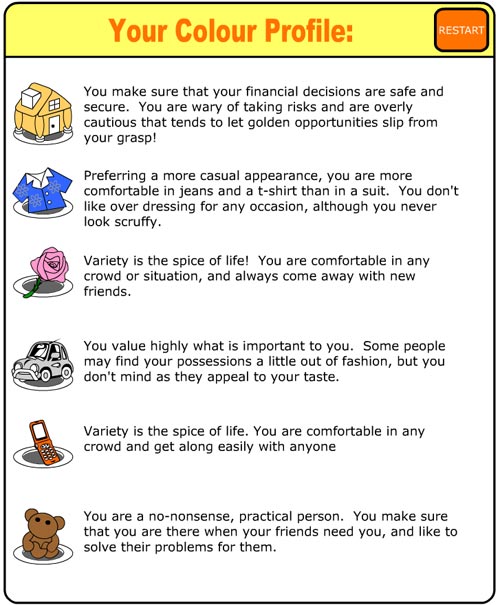 I'd say my yellow house, blue shirt, and brown teddy bear are pretty spot on for me. And unlike Sherry, I got burned when I went colorless on my car and was told that some people may find my possessions "a little out of fashion." This quiz can be quite backhanded, eh?
Well if you want to risk some soft insults and see what it has to say about you, here's that quiz link again. We'd love to know if you find yourself getting built up just to be torn down. There have to be a few more zingers.
Psst- We announced this week's giveaway winners. Click here to see if you're one of them!
Psssssstttt- Why stop at just one quiz? Here are lots more.

&nbsp&nbsp&nbsp