Pinterest Challenge
Woo to the hoo. We did it. We met our self-imposed Tuesday morning deadline and finished our clothespin chandelier as part of our little (completely unofficial) Pinterest Challenge (not sponsored by Pinterest or anyone else, just dreamed up by Katie B to make us stop pinning and start doing stuff that we've already pinned). Here's how it all went down.

We already explained the whole Pinterest Challenge thing here, which is where we snuck in a few photos of our supplies, like this one below: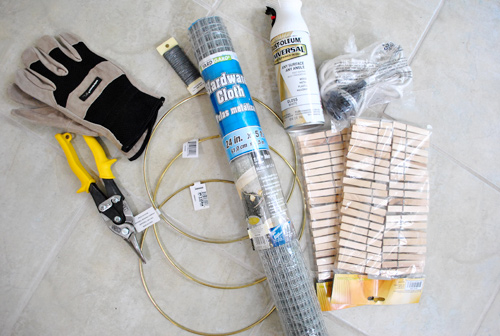 We actually didn't end up using those three 10″ metal rings from Ben Franklin, but the rest of the stuff came in handy. So for those who can't quite make everything out, "the rest of the stuff" is: a $4 light kit from Ikea, part of a roll of hardware cloth (aka: wire fencing) from Lowe's, white gloss spray paint, some old wire from our craft drawer, gloves & metal snips for handling/cutting the wire fencing, and two bags of clothespins (we actually ended up needing eight bags of them in the end).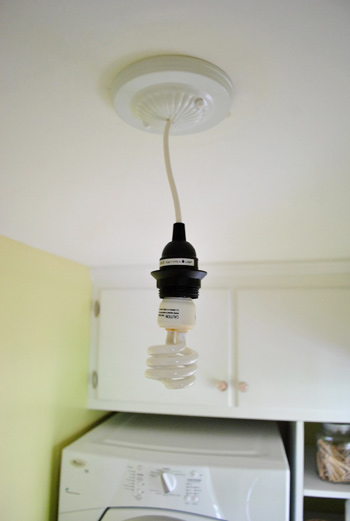 As for the $4 light kit from Ikea, it's a plug in light kit (meant to be swagged) but an electrician friend of ours taught us that it can also be converted into a hardwired fixture by clipping off the plug part, exposing the wires within the cord, and connecting them to the wires in your overhead junction box (with the power off of course!). Then we just added a $5 ceiling canopy from Lowe's (that white medallion looking thing that finishes things off).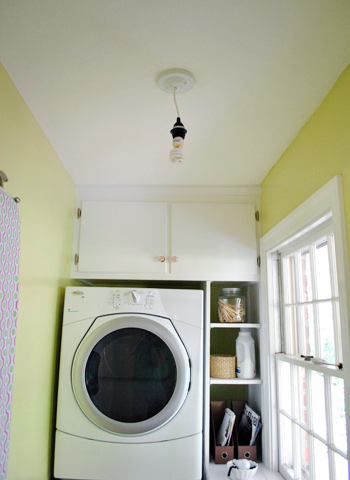 Of course that dangling light kit is nothing pretty, so we got to work constructing a drum shade-ish thing out of wire fencing. First I donned my gloves and used the metal snips…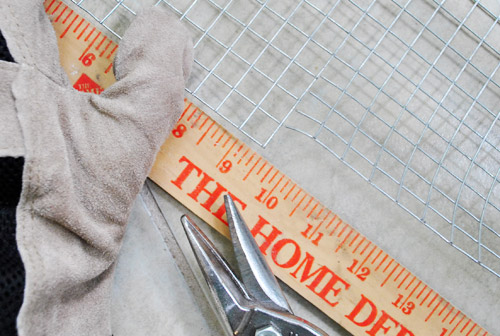 … to cut out a strip of wire fencing that was approximately 9.5″ tall (since we wanted our shade to be about 10-11″ tall when completed and we had to allow for some dangling clothespins to make it a little longer than the frame).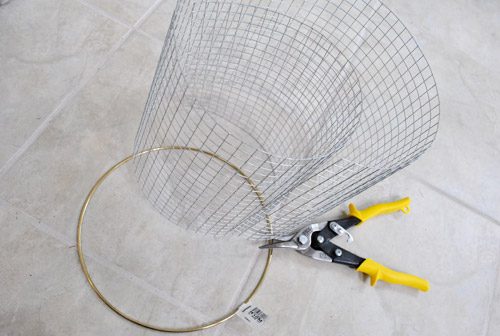 Then since the ring was 10″ wide, we just made a loop of wire fencing with a 10″ diameter and used craft store wire that we had on hand to bind the fencing to itself to create a nice drum shade-ish loop o' metal squares. It was at this point that we realized we didn't need the 10″ ring at all since the wire fencing held its shape really well (we worried it would be all floppy and wonky).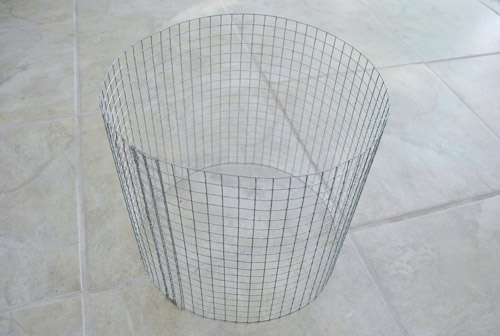 Oh and as for some details on the wire that we used to secure it, it was 22-gauge stuff. It's actually thinner than the wire that we pictured in the supply photo up top (thank goodness for having lots of spare wire around!) because it ended up being easier to twist while still being rigid enough for a good hold.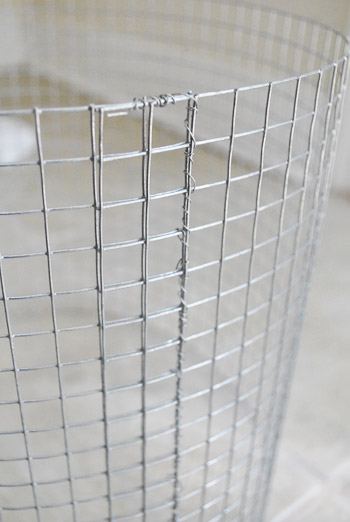 The next obstacle was figuring out how we'd affix the ceiling mounted light kit to the wire "shade" that we were making. We contemplated a few things – like cutting a piece of scrap wire fencing in a circle to bind to the top (and then cutting a circle in the middle for the light to drop into). We even scavenged for some items to repurpose, like a kitchen splatter guard and a stove burner drip pan (the last of which almost won, since the light kit perfectly screwed through the existing hole in the bottom). But ultimately it got vetoed because it would've blocked too much light – and the extra hole in the top would have cast a weird ray of light onto the ceiling. So you'll see our eventual solution in the "after" pics. Oooh, the suspense.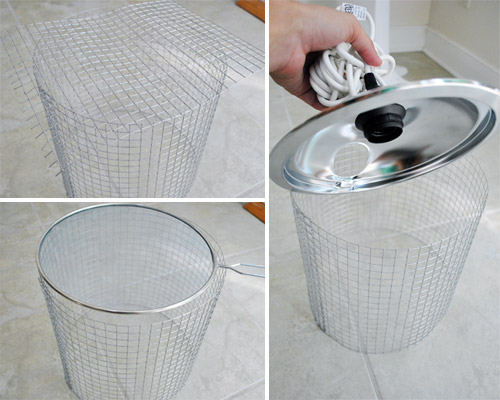 Next I sprayed the wire fencing with white gloss spay paint that we already had in our little basement spray paint collection. I did this for two reasons:
we thought glossy white would work with the ceiling canopy that we added and look a little more polished (although some folks might love the industrial look of unsprayed wire)
some metal fencing like this can have traces of lead in it, so although we weren't sure ours did, we handled it only with gloves on waaay away from Clara (on the tile floor of our sealed-off-from-the-rest-of-the-house sunroom). Layering on a few thorough coats of spray paint is like sealing old lead-painted walls with fresh new coats of non-lead paint (which is the recommended method, as long as the old paint isn't flaking or peeling).
Here she is all sealed/sprayed: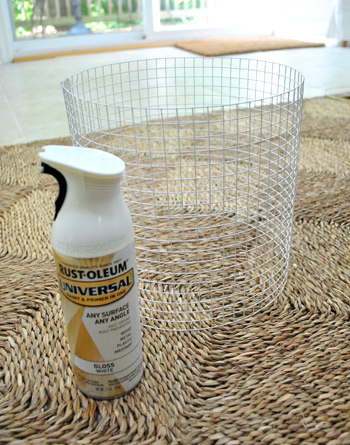 Then it was time to play with clothespins. Which may or may not have been harder than we expected to track down in the right size for our wire fencing.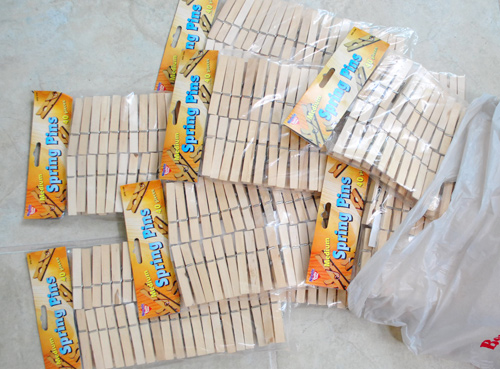 We used eight bags of "medium" sized clothespins from Ben Franklin (snagged at $1.99 for each pack of 40) to play around with a few different "patterns" for our light fixture.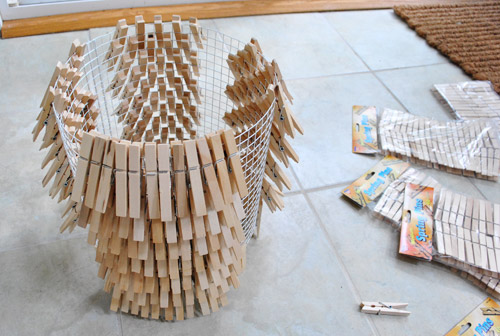 The first pattern was a straightforward row by row effect. We just clipped pins in a horizontal row and then skipped two rows below that and then pinned another row beneath that.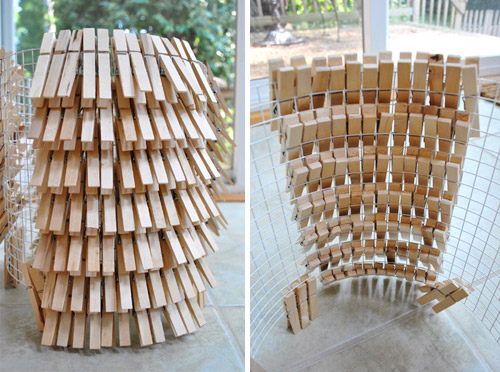 We also tried a more random pattern that you can see better from the inside shown on the right (we basically alternated squares for a zig-zag-ish effect):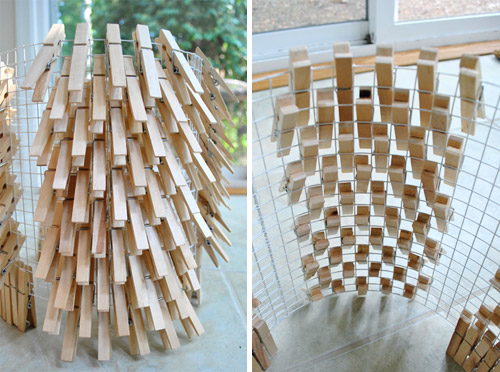 We also tried playing around with a diagonal design, which was fun but hard to deal with at the top and bottom of the shade since there were lots of empty squares that looked kind of odd: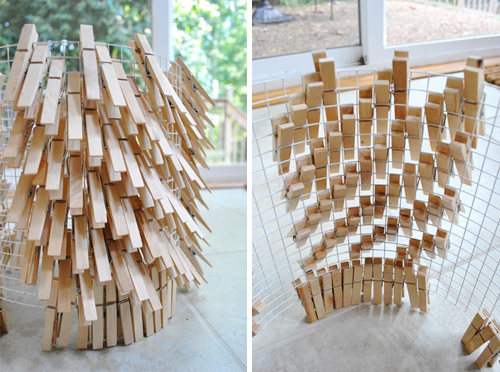 I call this design "The Space Invader" after the old school video game. See the shot on the right below? There are totally two space invader guys hiding in there.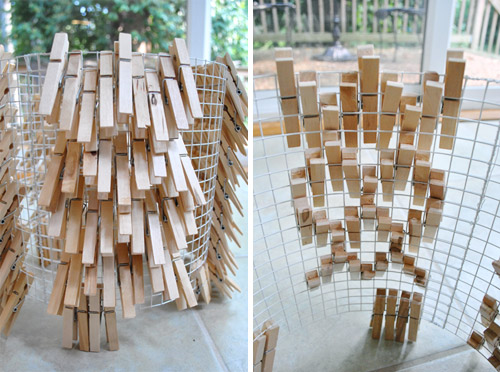 Pretty much right away we narrowed it down to two favorites. The row by row pattern that we did first, and the zig-zag-ish pattern that we tried out second. So John held the shade up with the light on and both patterns facing out so we could take photos of each one and look at them together and decide. Going into it I was all about the row by row thing and John liked the zig-zag better.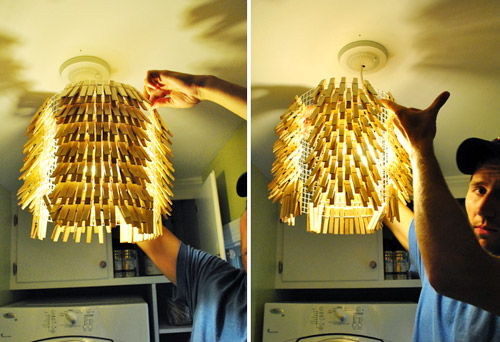 Guess who won again? John. Seeing it even for a second I knew he was right about the row by row pattern blocking way more light than the zig-zag configuration. And it felt airier and less heavy so we were both gung-ho as soon as we saw it in fake action (just look at John's excited face above). But really, we were giddy pretty much from this point of the project on. So then we just (giddily) removed the other clothespin patterns and clipped them all around the shade in our finalized zig-zag design.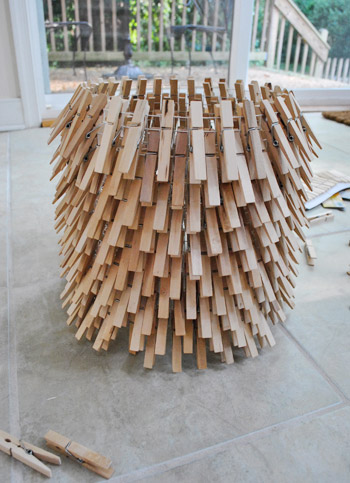 We just got lucky that we had secured the wire fencing in a way that created an even number of squares around the top so our pattern could "loop" without getting awkward and having a seam. So if anyone at home is going to try this, we'd definitely recommend having an even number of squares when it comes to the perimeter of the shade.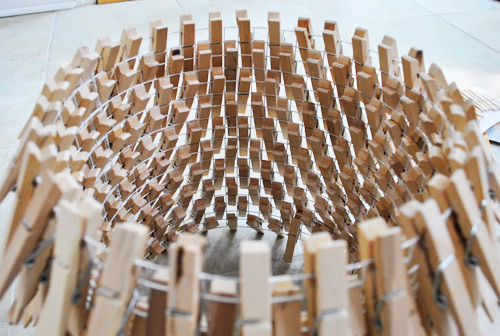 And now for our hanging solution: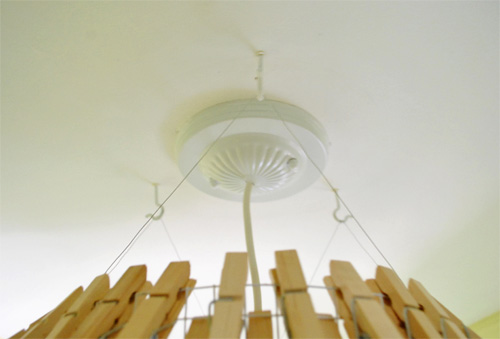 Yup, it was just more of the wire that we used to bind the wire fencing into a drum and three heavy duty ceiling hooks that we screwed nice and securely into the ceiling with heavy duty anchors (don't want to get clothespinned to death).
Then we stepped back and high-fived for five straight minutes. We're in love.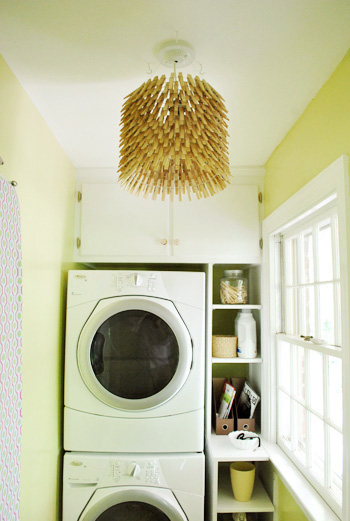 I bet you're surprised we didn't spray paint that sucker white (or ORB), huh? We even debated staining or dying the wood pins, but in the end we actually really liked the au naturale look because:
it ties into a few baskets in those built-ins
it makes it more obvious that it's a light made of clothespins, which we think is part of the fun
it glows in a sunny yellowy-tan tone whenever the light is on, which is nice and warm – and works great with the grellow walls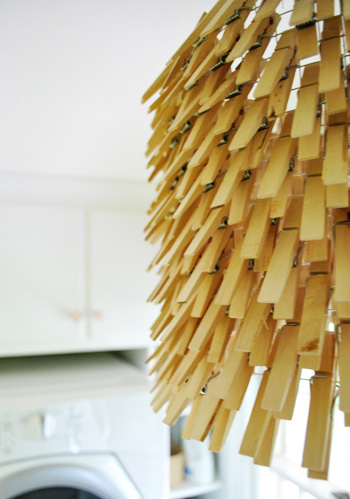 Isn't it fun?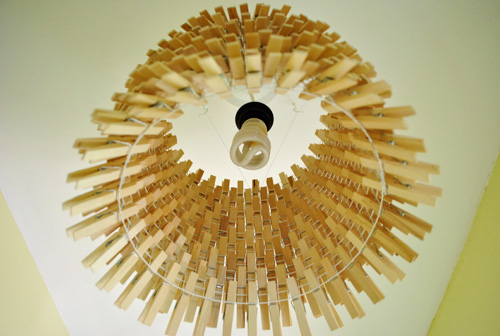 This shot from below reminds us of a sunburst mirror: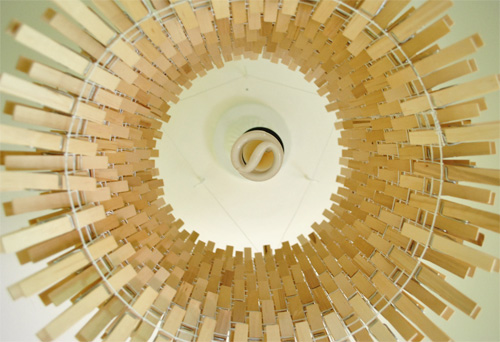 Oh and when it comes to safety, lots of lamp shades are made of flammable things like paper or fabric (or even driftwood, etc) but the key is to keep that stuff well away from the bulb (and to use cooler burning bulbs like CFLs or LEDs to be even more on the safe side). You also want to give the heat plenty of room to escape (ideally around the top and bottom of the shade if possible).
Here she is all lit up: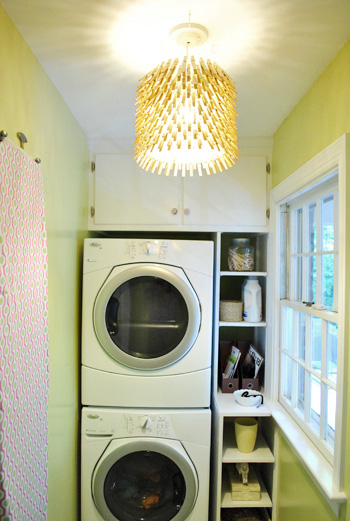 We think it's one of the coolest things we've made to date, just because it's so quirky and sculptural. And it's all thanks to Katie Bower's big Pinterest Challenge idea and two projects that inspired the heck out of me over on the eye candy capital that is Pinterest. Specifically, this project (originally from here)…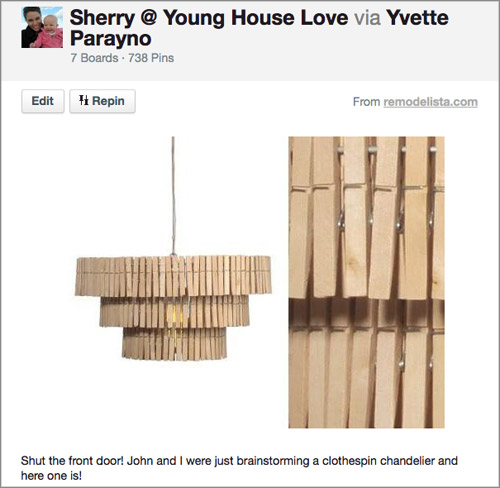 … and this project (originally from here)…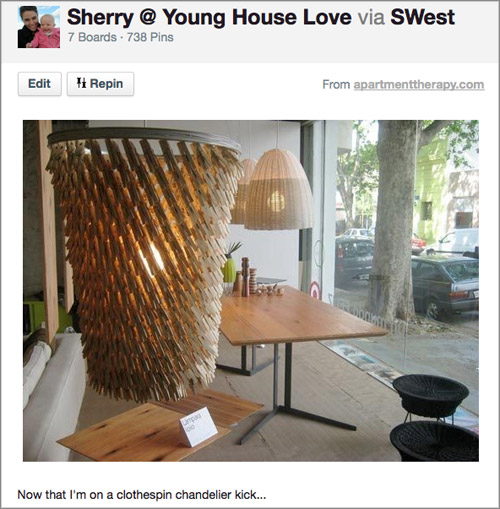 Check out the pretty starburst pattern that it casts on the ceiling: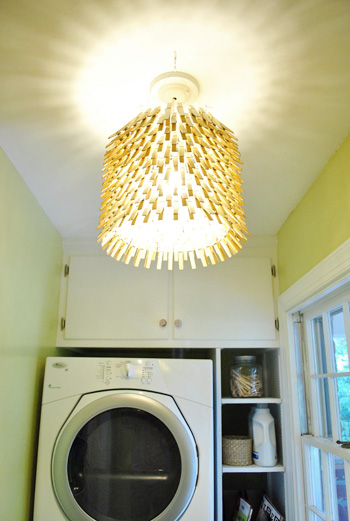 Now for some stats (because we're mathy like that): we used 320 clothespins (exactly eight packs) and our clothespin shade weighs four pounds.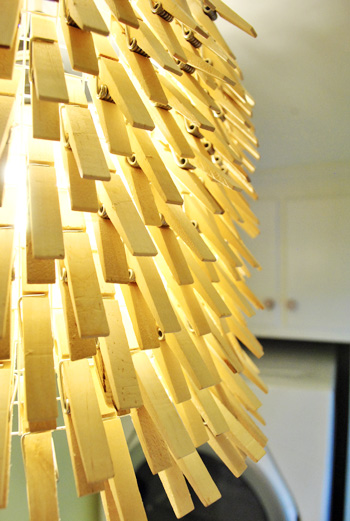 And here's the whole budget breakdown thang ($herdog just got twangy on ya):
8 packs of 40 medium-sized clothespins (from Ben Franklin): $16
Pack of hooks for the ceiling (from Home Depot): $1
Roll of hardware cloth (aka, wire fencing) from Lowe's: $8
Hemma light kit (from Ikea): $4
Ceiling canopy for light kit (from Lowe's): $5
Wire for securing / hanging wire frame (already owned): $0
White spray paint (already owned): $0
TOTAL: $34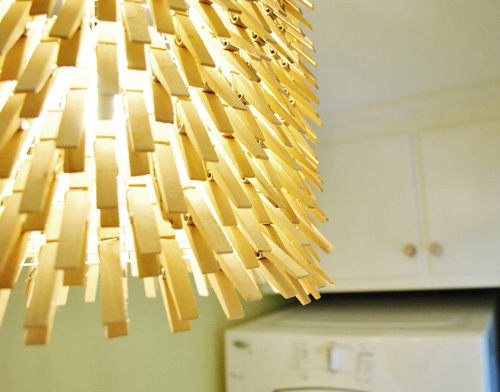 And since Clara is in charge of quality control in our house, here's what she thought (btw, Burger's reaction was aloof and unimpressed, but I bet if we used dog treats he'd be singing a different tune):
As for if it interferes with heads or flailing arms while switching laundry, this picture shows how high it actually is in the room (and thanks to it being centered in the space, it's not right above the washer and dryer, it's a few feet behind it in the middle of the room). We have 8 foot ceilings and the bottom of it is 16″ from the ceiling, so even 6′ tall John doesn't have any issues with it (since the bottom of it is almost 7 feet from the ground). He even washed a load of diapers and a load of clothes just to be sure.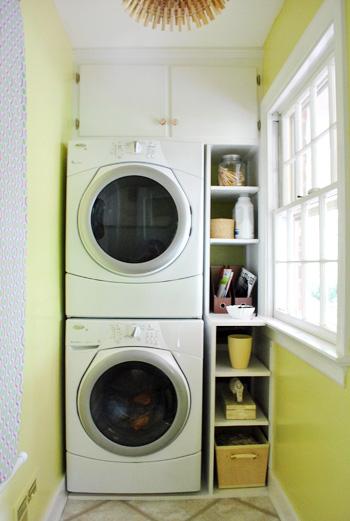 Can you tell we added our new shoe caddies after we shot this pic? Oops. But anyway, there you have it. A whole bunch of pictures and words about our Pinterest Challenge. And a whole bunch of clothespins.

Oh and don't forget to check in on Katie, Emily, and Lana to see what amaaaaazing projects they whipped up (they'll be sharing theirs sometime today as well)! A few hints: one has to do with a mirror and one has to do with a fridge…
And now here's the part where we invite you to share all of the fun Pinterest Challenge projects that you guys have tackled in the last week (right along with us, well at least virtually with us). If you've already blogged about it, just:
click on the blue "Add Your Link" button with the odd cartoon head at the bottom of this post (you might have to do some scrolling, depending how many projects are added)
add a link to your specific blog post about your project in the url field (not your home page)
where it says "name" write a descriptive name for your project (ex: "Clothespin Light Fixture") as opposed to your actual name
And if you'd rather just link over to your project in the comment section, feel free to do that – or even add a link to a free photo sharing site like Flickr with your pics if you don't have a blog (remember to set the gallery to public so we can all see it). We can't wait to see what you've been up to! Geeked out and excited doesn't even begin to describe it.



&nbsp&nbsp&nbsp
Alert: Regardless of the fact that I say Pinterest ten million times (drinking game, anyone?) this wasn't paid or perked by them or anyone else. We're just eye-candy obsessed gals who love a good pin-fest. Sometimes while eating Oreos.

You guys know my Pinterest addiction runs deep from this heartfelt post of yore. So when Katie called me to say that she thought we should challenge ourselves to make one thing each season that's inspired by all the amazing stuff that we've pinned over there (and call it… wait for it… The Pinterest Challenge) I thought it sounded like fun. It's a welcome slap of stop-pinning-and-start-doing. Because I've pinned 738 things. And I've done four (this one, this one, this one, and this one). Well five if you count this haircut – but I outsourced that.
Look, Katie even whipped up a spiffy little graphic:

Oh and because Katie and I geek out whenever we're together (even just virtually for a little self-issued challenge) we got more than a little goofy and decided to make this video to explain the whole idea of the challenge. And there's a pretty exciting cameo in it (and I'm not talking 'bout Burger- although he does try to steal the show). So don't scroll down before watching the video unless you're a fun-hater and you wanna ruin the surprise (or you're at work so you can't watch videos – well I would still watch it on silent before scrolling, but that's just me):
Ah outtakes. They're my favorite thing ever. I'm working on a theory that outtakes are the window to the soul. My soul's apparently a total nerd, but hey, nerd is the new jock. Anyway, I told you Katiekins and I go crazy when we team up, so you were adequately warned. Or maybe it's just the camera that makes it impossible for me to act normal (as demonstrated here). That's another theory I'm working on. Camera-induced-insanity.
But back to my Pinterest project. John and I were brainstorming a chandelier or hanging pendant light for the laundry room and came up with the idea of using a mega-amount of clothespins to create some sort of shade. And what do you know, when we searched Pinterest to see if anyone else has tackled something similar, the perfect pinspiration (har-har) popped up in the form of this project (originally from here)…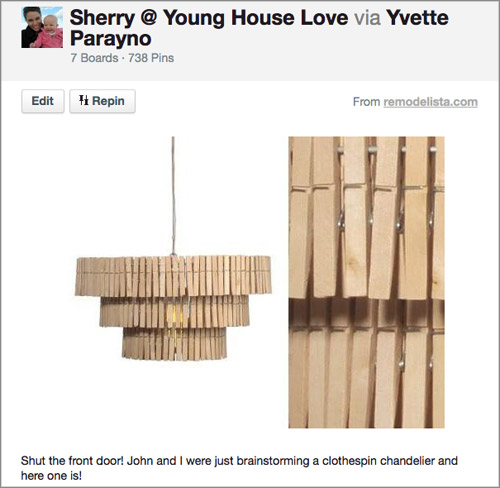 …. and this project (originally from here)…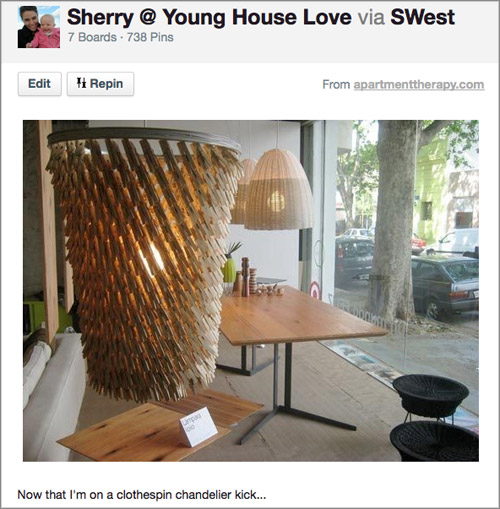 What are the odds? Not one but two clothespin light fixtures to use as a jumping off point. Oh happy day.
So far we've installed a $5 light kit from Ikea…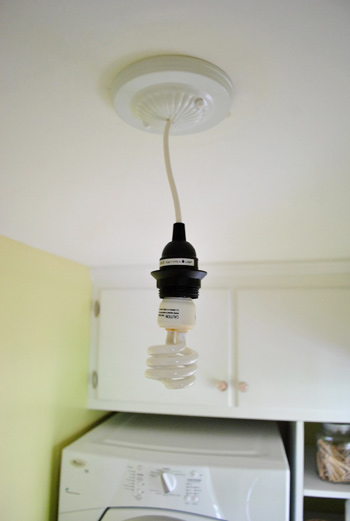 … and have picked up these materials for the shade part of the pendant: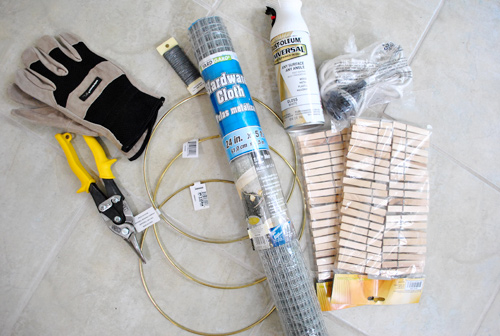 We're definitely going to put our spin on things (so it might end up looking like sort of a hybrid between the two amazing fixtures above) but we'll just have to see where we end up. I know I'm weird, but sitting on the floor playing with various clothespin patterns sounds like a good time to me.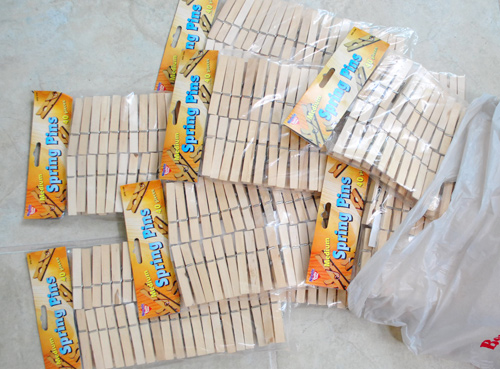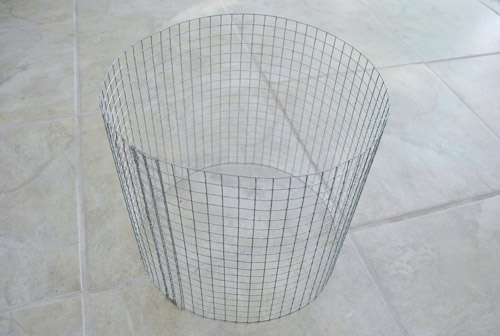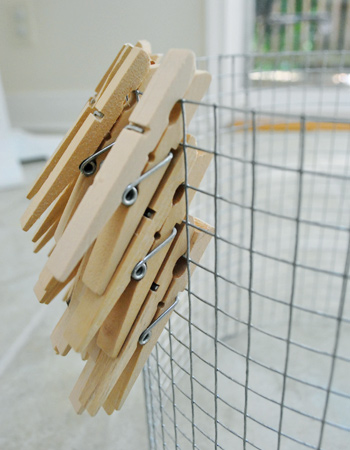 Oh and did you catch the part in the video where we invited you to partake in the challenge along with us? First, here's the "us" breakdown:

So here's the part where I extend my arm with a warm smile and a wobbly curtsey and humbly invite you to join in and do your own spin on something you pin. You know, if you're into that sort if thing. We figured we'd give everyone (and ourselves) the weekend to work on stuff and reconvene next Tuesday morning (the 2nd) to share our projects. We were hoping this thang (yes, I got twangy on you) could turn into a fun little creative par-tay for anyone else who wants to get in on the fun, so just drop in next Tuesday to see what we've done – and submit links to stuff that you've done so we can see what you've been up to. Maybe we'll even pin it. And so the vicious cycle continues…
Psst- We're talking about how photo albums are dead to us over on BabyCenter today. Check it out and tell us what you do with all your pics.
Update: If you want to get in on another challenge (with prizes), we just learned that Rebecca over at BetterLifeBags does one every month. So be sure to check that out too!
&nbsp&nbsp&nbsp