Pinterest Challenge
It's Wednesday the 14th… so it's time to share this season's (completely unofficial) Pinterest Challenge (not sponsored by Pinterest or anyone else, just dreamed up by Katie to make us stop pinning and start doing).

I actually tackled a homemade beanbag for Clara's closet, which I mentioned last Wednesday when Katie, Erin, and Cassie and I issued our little get-off-our-bums-and-make-something challenge.
As are the rules, I took inspiration (or Pintspiration, har-har) from the projects below and then I did my own spin. Which added up to this comfy little bean-bag…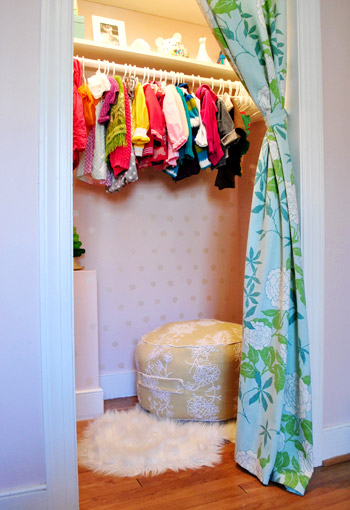 … for the bean to plop down on…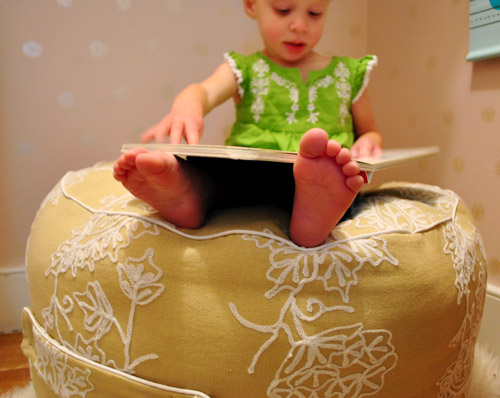 … or the pooch to hang out on…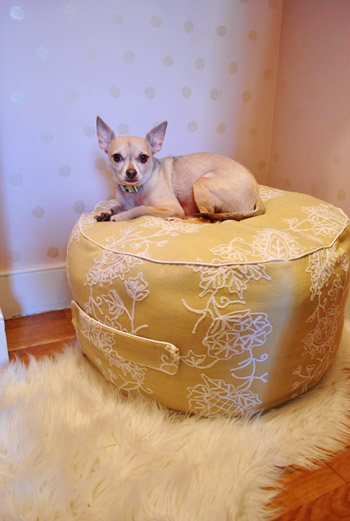 … or for a toddler reading to a chihuahua…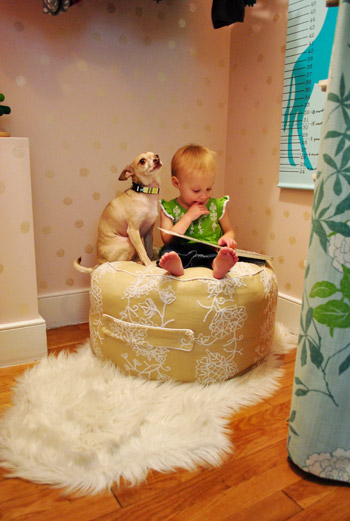 … or a tired momma or daddy (it works for that too).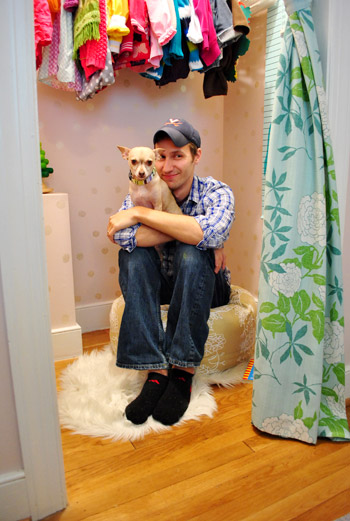 And after declaring my goal, two kind commenters shared a link to this blog, which had an awesome tutorial that I decided to go with.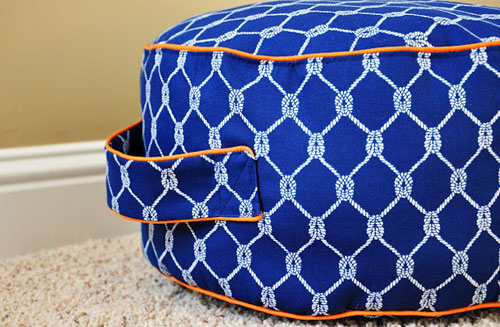 It was clear, concise, and pretty darn easy to follow, even for a novice like me, so I can't say enough about how much it came in handy! Oh my gosh, and I actually mastered piping. This is big guys. So big I actually had to call my mom and tell her. Big sewing strides going on in our house. Haha.
My method? I just crossed my fingers, tried to follow the instructions, and did my own riff when it came to size (I wanted something a bit bigger than 17″ wide, so I made my pattern 22″ wide (by just sizing up the instructions that were over here). But seriously, a seamstress I am not. So all you fancy sewing folk try to hold your giggles as you read about the most-likely-not-proper ways that I cobbled this thing together. The result is comfy, looks good, and gets two toddler thumbs up, so I'm thrilled! And it made all of that sewing machine wrestling (more on my tumultuous relationship with my sewing machine here) worth it. And now, more pics: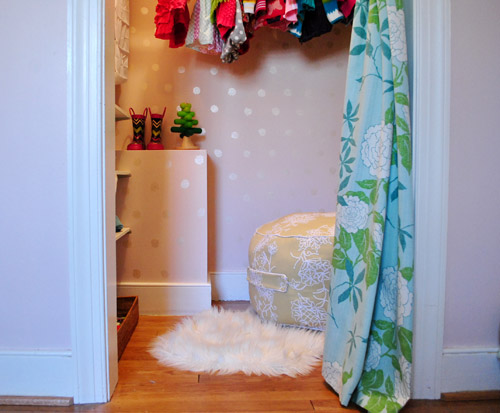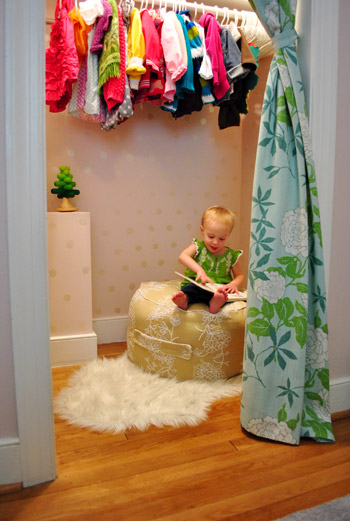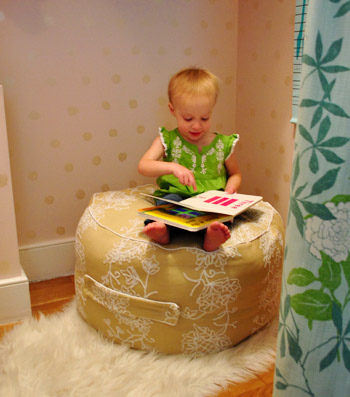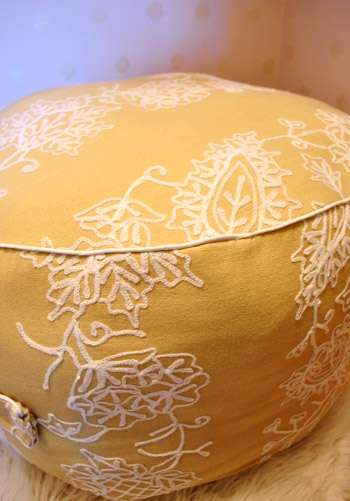 And here's how I made it (there are much clearer explanations and pics over on this blog, where she clearly knows gobs more about sewing than I do!). First I cut out two 22″ circles, two tabs to make the handle, and fabric to make the rectangular-wrap-around part (all measurements/pattern details are on this blog). I used leftover fabric that I had from a book project actually (wahoo, secret sneak peek!) but only had a yard so I was just shy of having enough to make the last circle so for the base I just used other fabric I had on hand (both are from a local fabric store called U-Fab but I don't know the fabric name/model since it's an outlet – so sorry!).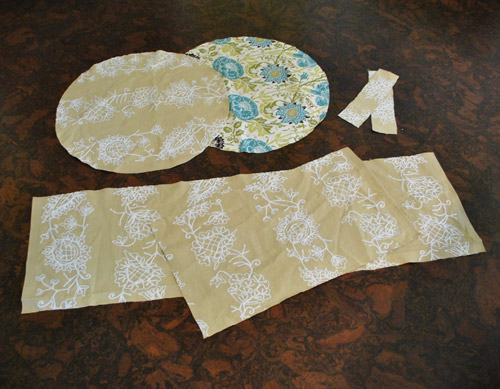 Then I pinned my piping around the perimeter of the fabric (piping side in, with the end lining up exactly with the perimeter of the fabric, print side up).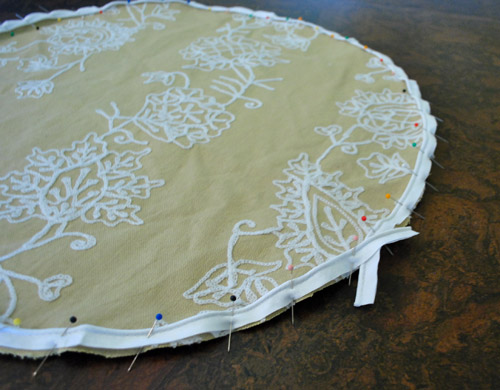 And I left the ends like this as directed in the tutorial. I also did the same thing for the other circle of fabric…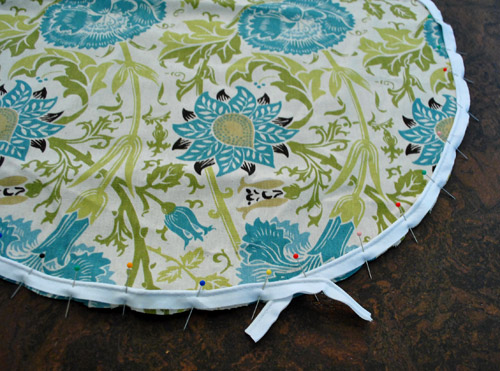 … and used piping on either side of one of my fabric tabs to make the handle.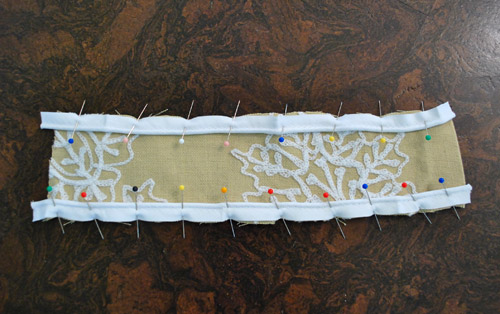 Then I stitched them all on the sewing machine, being sure to follow the stitching in the piping with my needle. I thought it would be hard to stay right on top of that line of thread, but it was actually really simple and I got into this zen-like rhythm with it. So there's hope for non-sewers out there (I would have laughed if you told me last week that I'd describe any sewing step as zen-like).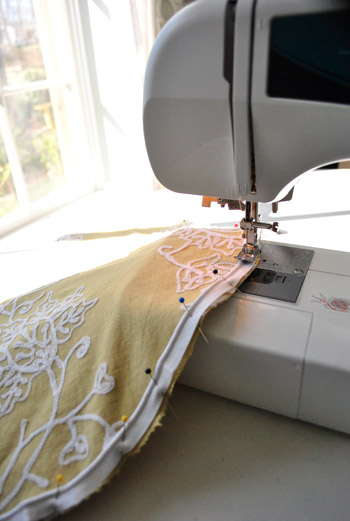 Then I did the exact same thing with the other circle…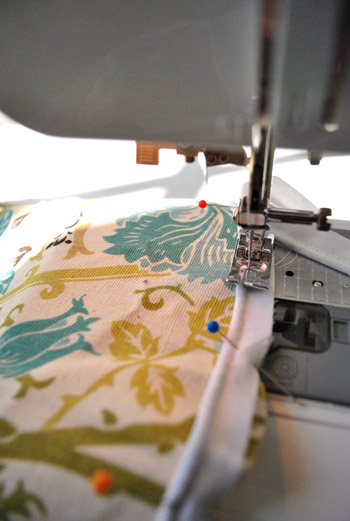 … and also ran a little stitching along the piping on each side of the handle.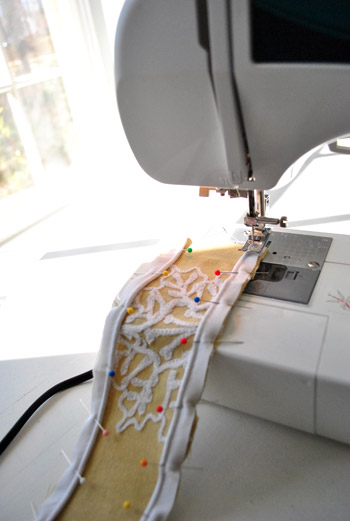 Then I had these: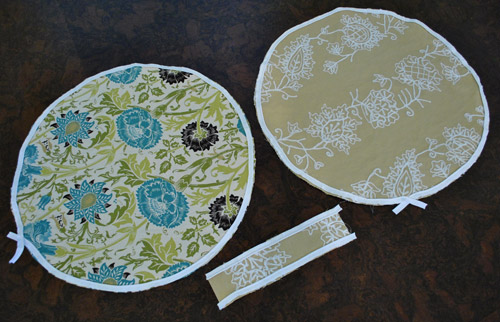 Next I pinned the other side of the handle to the first side (print side in) and stitched along the thread on the other side that I had stitched when I followed along the piping.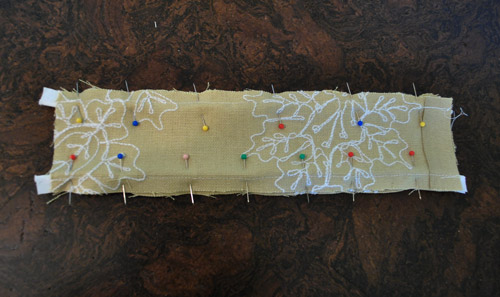 Then I turned it inside out, which is where I got to see my purrrty purrrty piping. I know it's just a handle, but at this point I ran outside to show John. Seriously, I was proud with a capital P. Then the sewing gods brought me back down to earth.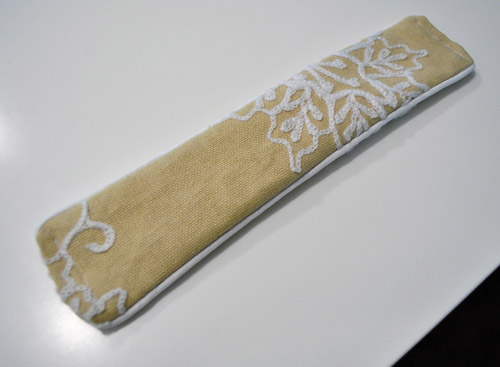 While sewing the ends closed (just tucking them under and running them through the machine to get a line of thread to hold the handle closed) I broke a needle. Bam! And it was scary and frustrating and all that jazz. But I got back on the veritable horse. Thank goodness my sewing machine came with some extra needles so I just popped one back in there and was off to the races again.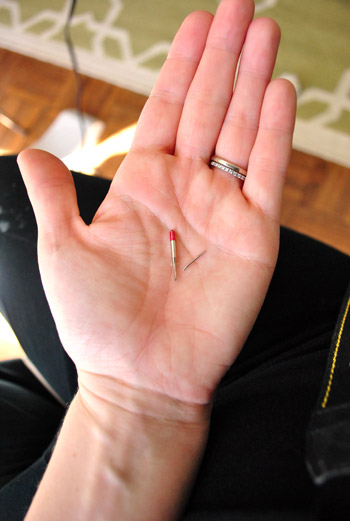 Next was pinning the circle to the long rectangular piece of fabric that wrapped around the entire perimeter (print side down).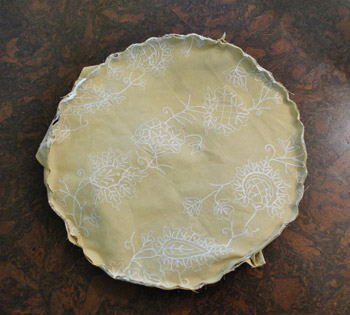 Then I ran that through the sewing machine, again following the line of thread that I made when I sewed the piping on. See that subtle line of white thread around the perimeter below? I just stitched right over that.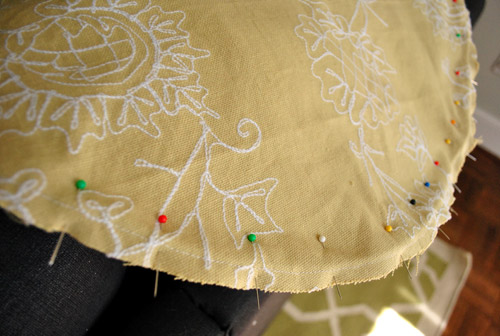 And then turned things rightside out, to see this beautiful sight. Wahoo! A partially piped beanbag! Then I pinned my handle in place and stitched that into place by making a box with an X in the middle of it (there are great pics of this on the site with the tutorial that I linked to ten million times above).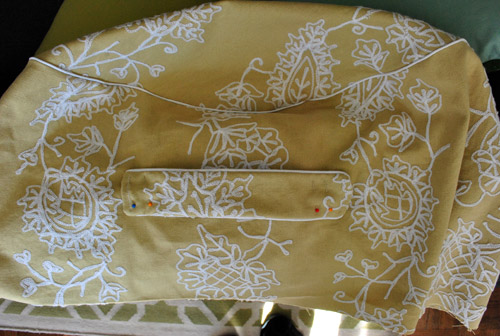 Then I turned it back inside out and pinned the other circle to the bottom of the rectangular piece of fabric that creates the middle part of the beanbag and stitched along the piping thread line again.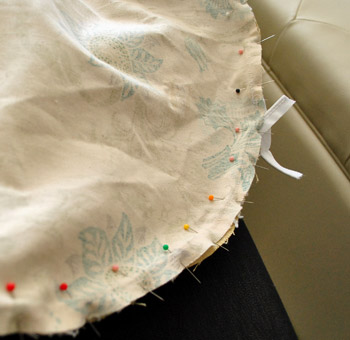 Except I didn't seal the whole circle because I needed to turn the whole thing rightside out again…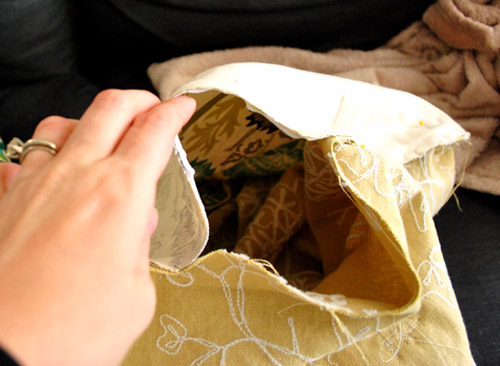 … and stuff it with batting (I used four old pillows we had stashed in the linen closet that were well past their prime for the guest room but perfect for being recycled as beanbag innards).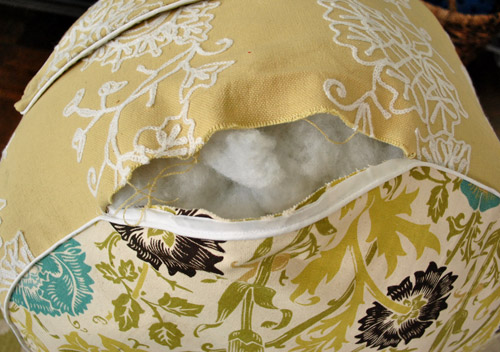 Then I hand stitched it shut. I gotta admit that I purchased a zipper in the hopes of adding that (so I can unzip it and remove the batting to wash the cover) so I hope to "upgrade" my little beanbag someday. But in the meantime, I can always use a seam-ripper to open the hand-stitched part and just resew that up after I run it through the wash (sewing this five inch part shut took about four minutes total).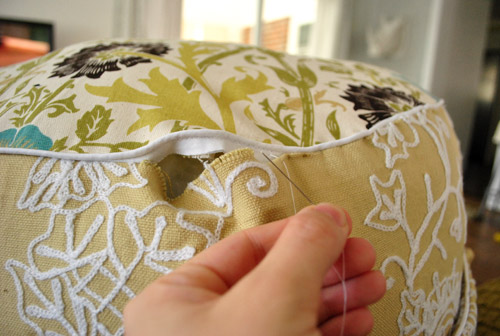 And now for the craziest thing of all. See how the pattern on the top of the beanbag sort of curls over the top and drips down the side since it all lines up?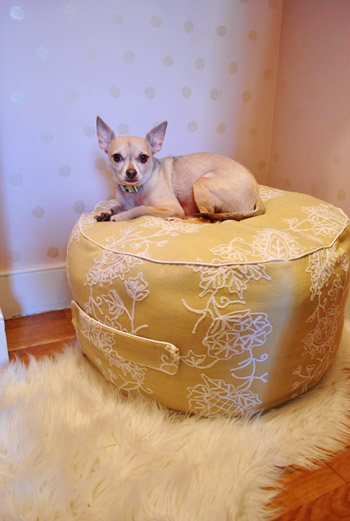 Um, yeah, that was an accident. The fabric was inside out at that point, so I randomly pinned it and stitched it and turned it rightside out later and said "holy cow, that was the best accident ever." John even noticed it and sweetly complimented me on my "attention to detail" later, to which I sheepishly responded "total accident, dude – the fabric was inside out and I didn't even notice- I just randomly pinned it and sewed it up." How crazy is that? Must be beginners sewing luck.
So that's how it all went down. Of course for the tenth time, this tutorial is waaaay better than mine, so be sure to check it out if you have any questions! Now for the money stuff – here's the budget breakdown (thanks to a bunch of 50% off coupons at JoAnn):
$0 for one yard of leftover fabric (originally from U-Fab here in Richmond)
$2.38 for two 25 yard packs of white piping (from JoAnn thanks to coupons)
$1.19 for a zipper that I vow to someday add (from JoAnn, again thanks to coupons)
$1.50 for white thread (from JoAnn)
Total: $5.07

Oh and don't forget to check in on Katie, Erin, and Cassie to see what amaaaaazing projects they whipped up (they'll be sharing theirs sometime today as well)!

And now here's the part where we invite you to share all of the fun Pinterest Challenge projects that you guys have tackled in the last week (right along with us, well at least virtually with us). If you've already blogged about it, just:
click on the blue "Add Your Link" button with the odd cartoon head at the bottom of this post (you might have to do some scrolling, depending how many projects are added)
add a link to your specific blog post about your project in the url field (not your home page)
where it says "name" write a descriptive name for your project (ex: "Homemade Beanbag") as opposed to your actual name
And if you'd rather just link over to your project in the comment section, feel free to do that – or even add a link to a free photo sharing site like Flickr with your pics if you don't have a blog (remember to set the gallery to public so we can all see it). We can't wait to see what you've been up to! Freaky-deek-excited doesn't even begin to describe it.



&nbsp&nbsp&nbsp
Yup, the faint smell of bacon, spray paint, and sweat can only mean one thing… it's Pinterest Challenge time (not sponsored by Pinterest or anyone else, just dreamed up by Katie Bower to make us stop pinning and start doing). So let's do this thing, people. Let's do it together. In bikinis (let's be honest, bikinis haven't been an option for me since having Clara).
It all started last June when Katie called me to say that she thought we should challenge ourselves to make one thing each season that's inspired by all the gorgeous stuff that we've pinned (and call it… wait for it… The Pinterest Challenge). It's a welcome slap of stop-pinning-and-start-doing. Because I've pinned over a thousand things and have only done about 1% of them. Yikes. And we ended up having such a great time with our first Pinterest Challenge last summer, and our second one in the fall, that we're psyched to be back with the belated-but-not-forgotten winter edition (hey, it's technically winter for a few more weeks, right?). So put on those sweat bands and let's get this DIY party started!

The only rule is to do your own personal take on something inspirational that you've pinned (and link back to the original creator of the project that inspired you, be it a company like Anthropologie or a personal blog that got your wheels a turning). The project can be anything: big or small, decor or sewing or cooking related – or beyond! The first time around John and I made a clothespin light fixture for the laundry room (aka: big), and last time I tackled 38 homemade holiday ornaments (aka: small).
And this time, believe it or not, I thought I'd seize the opportunity to attempt a truce with my arch nemesis sewing machine (more on our "it's complicated" relationship here) and try my hand at a homemade beanbag for the bean's closet (which I mentioned here over seven months ago – so it's about stitchin' time). I've already pinned a ton of ideas, but I'm not sure which shape/fabric I'll end up going with (here's hoping my riff isn't a lumpy misshapen mess) – but I'll be back with all of the deets when I (fingers crossed) complete the challenge by next week.
Oh and you're probably wondering who else is playing along with me and Katie Bower (aka: The Esteemed Bacon-Eating Pinterest Challenge Founder – who is actually nominated for an Apartment Therapy Homie in not one but two categories this year, woot!). Well, we thought it would be fun to ask different folks to "guest host" with us each time, so we're thrilled to have:

So here's the part where I extend my arm with a crooked smile and a true fear of sewing in my eyes and humbly invite you to join in on the fun by doing your own spin on something you pin! We figured we'd give everyone (and ourselves) the weekend to work on stuff and reconvene next Wednesday morning (the 14th) to share our projects. We're hoping this'll turn into the same über fun share-fest that we soaked up this summer and fall (check out all the amazing linked-up projects here and here). So just drop in next Wednesday to see what we've done – and to submit links to stuff that you've completed so we can all check it out. Maybe we'll even pin a few things. And so the vicious cycle continues…
Psst- One more time, for the people in the back: regardless of the fact that I say Pinterest ten million times (well, not literally…) this wasn't paid or perked by them or anyone else. We're just eye-candy obsessed gals who love a good pin-fest. Sometimes while watching a certain lovable serial killer or a show about the zombie apocalypse.
&nbsp&nbsp&nbsp