Pinterest Challenge
It's Tuesday the 10th… so it's time to share this season's (completely unofficial) Pinterest Challenge (not sponsored by Pinterest or anyone else, just dreamed up by Katie to make us stop pinning and start doing). Cue the choir of glue-gun-wielding angels!

I actually tried my hand at painting, just because I thought it would be fun to get back into. Other than this painting that I did a while back, I haven't painted much beyond walls, accessories, and furniture for the last decade or so. Are my Pinterest challenge paintings going to land me an art opening anytime soon? Not on your life. Haha. But it was so much fun and I found spots for them all over the house – and I really do smile when I see them. The best part is that I got to spend two great evenings messing around with Christmas art supplies from John that sat unused in my closet for over six months. I really hope I stick with it, because painting is totally my idea of a good time.
As per the rules, I took inspiration (or Pintspiration, har-har) from the projects that I linked up with in last Tuesday's post and did my own spin. Here's a recap of them for ya:
*As for other places that I've found art inspiration – Michelle Armas is unparalleled (seriously, total girl crush) and this post about making abstract art over on Oh Happy Day had me pumped to paint. But enough jibber jabber – here's the painting play-by-play:
My first painting adventure began after Clara went to bed for the night around 8pm. I got out my little set of acrylics (by Reeves) and my small canvases (which I got for a dollar each) with my Christmas gift card to Main Art Supply here in Richmond.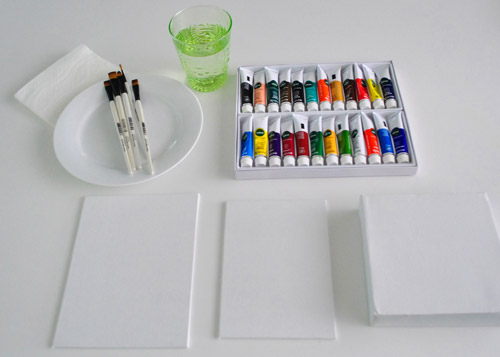 About twenty minutes later I had this: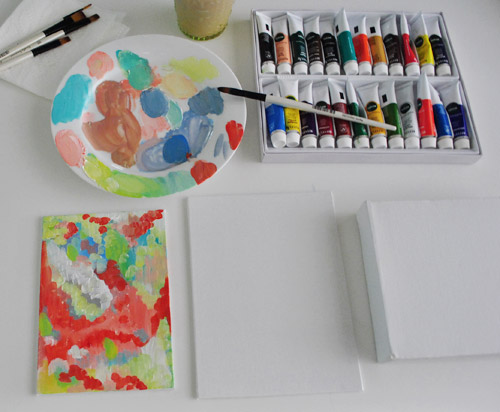 I thought pretty hard about the colors I included (I love the red & coral with the green, yellow, and blue) but I tried not to think too much about the way I applied them. I literally just dabbed things on in a few spots, moved to another color and applied that, repeat, repeat, repeat. Sometimes I dragged the brush to make things look smoother and more blended while other times I did more of a dab-dab-dab application.
I actually really liked how this came out and immediately wished it was about ten times the size. Oh well, starting small was less intimidating, so I guess it worked out for me (and I can always have this blown up 300% at Kinkos on nice paper and then just frame it with a thick mat in a giant frame).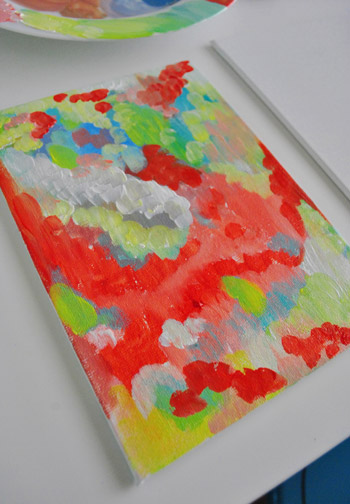 The next painting wasn't one I loved as much as my first (maybe that was beginner's luck?) but I didn't hate it. I think I just connected with the colors in the first painting more, so it was a good lesson in taking my time with the colors I used instead of rushing to fill up the canvas. Painting is apparently a marathon, not a sprint.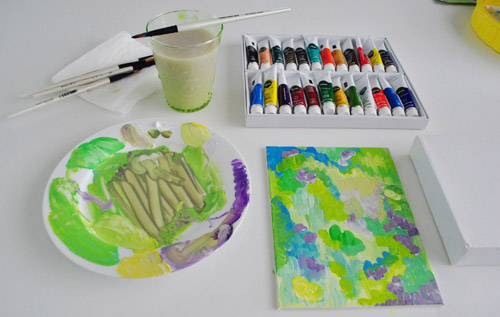 In the end it was sweet in its own way. And at only 4 x 6″  it's hardly a giant commitment.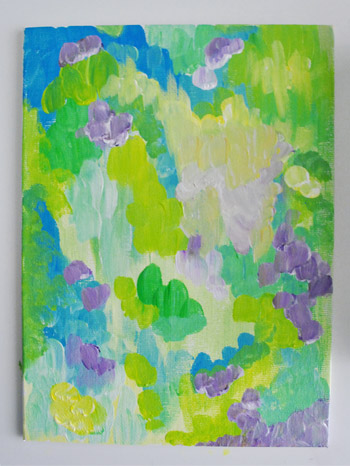 Then I moved on from my canvas-wrapped boards to an actual 5 x 5″ canvas (it's much chunkier and more substantial) and this time I went loosey goosey with it.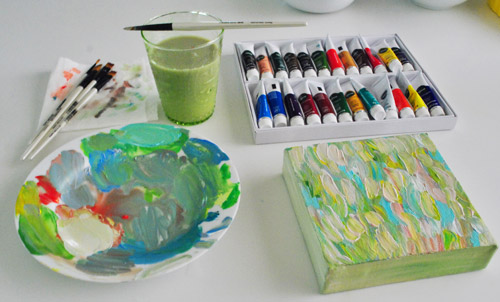 My entire technique was dab-dab-dab for this guy. It's kinda water-lillies-esque to me, which I don't think is a bad thing (love me some Monet) and the small streaks of coral and bright pops of turquoise make me happy. Once again I'm learning the color choice totally makes or breaks things in my mind.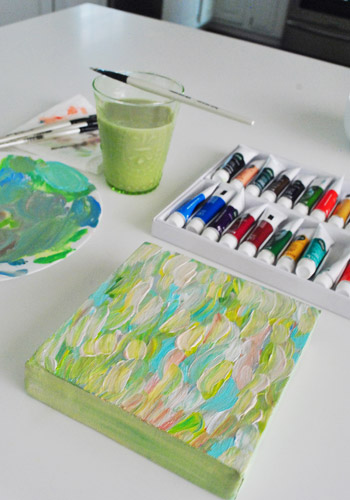 After they all dried overnight, I studied the hallway frame wall for a spot to add them. We love switching things up on that wall, so the two thin canvas-wrapped-boards just got popped into existing frames (in place of an Ikea print and a postcard I had previously framed). See them up in the top left corner?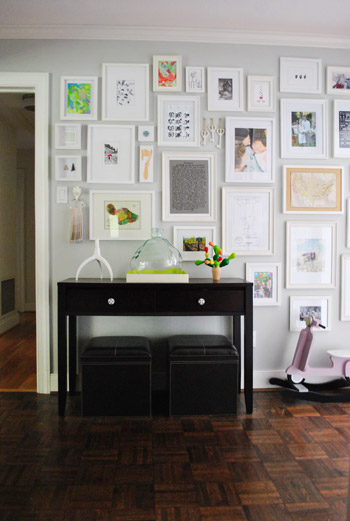 Still like this guy the best. Totally beginners luck. I took the glass out of this frame (it was too thick for it to fit) but the green one fit behind the glass, so I left it in for that one.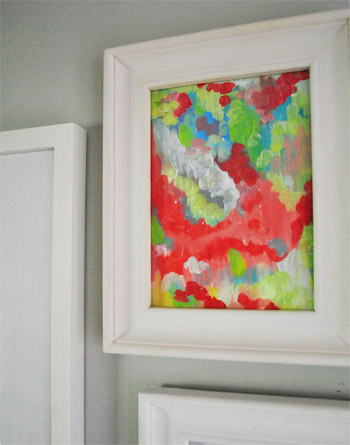 The thicker 5 x 5″ canvas found a spot on the other frame wall (top right).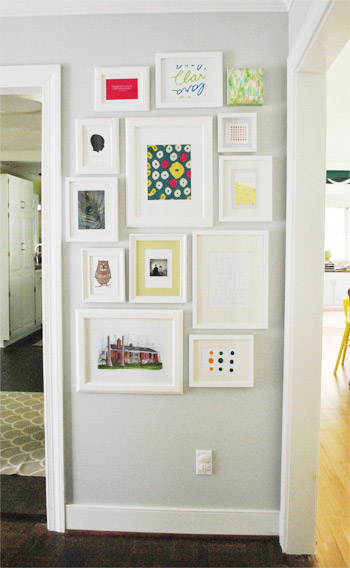 Would you like fries turquoise smears with that?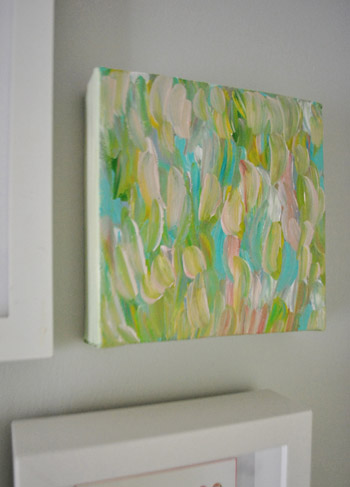 Now I'm about to scare you. I laid out two larger canvas boards (8 x 11) that were $2 each and decided to photograph all the "phases" they went through. Things always start out realllllly ugly. Exhibit A: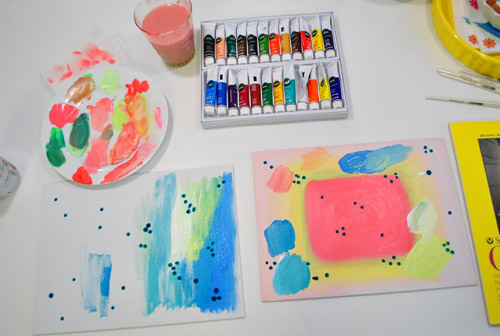 I tend to just build and build until I get somewhere totally different. Looking back at these pictures I wonder if I should have stopped here. At the time it felt really unfinished, but I like them now. Haha.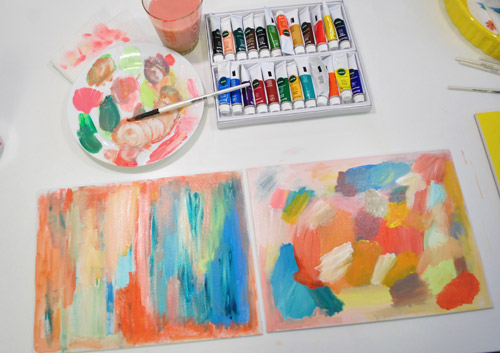 Then I ended up here by adding a lot of white and dabbing and streaking things around. I totally should have stopped here. I love that little bright red heart hiding in the canvas on the right (the one peeking through from behind the white in the bottom left corner).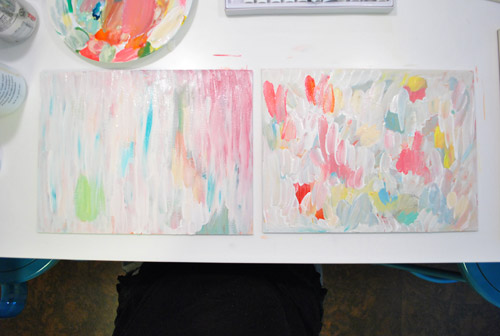 These paintings (and photographing the stages) taught me a nice lesson. Know when to stop! Haha. I kept noodling and they ended up here. I have a pretty strong preference for the paintings above these to the paintings below, but now I know. Take a breath every now and then and see if you're just painting because it's fun or actually making a positive improvement. Lesson learned.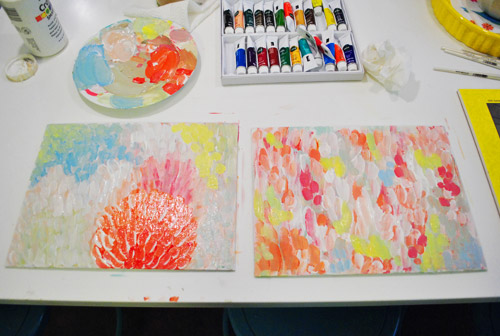 Thankfully I don't totally hate where I ended up. In person they have a really fun neon greeny-yellow color in them that makes them feel modern & happy. And it's nice to know that I can always paint over them (that's the beauty of paint and $2 canvas boards – zero commitment).
I also knew they'd look more finished when I framed them, so John and I actually DIYed two chunky wood frames (John will be back this afternoon with all those details – and you can do it without a Kreg Jig or any major tools for that matter – yay!). I originally planned to hang them in the office, but the stenciled walls competed, so we ended up liking them most in the kitchen. Best of all – no holes in the wall (just 3M picture hanging velcro strips for the one over the stove). Easy to do, and undo!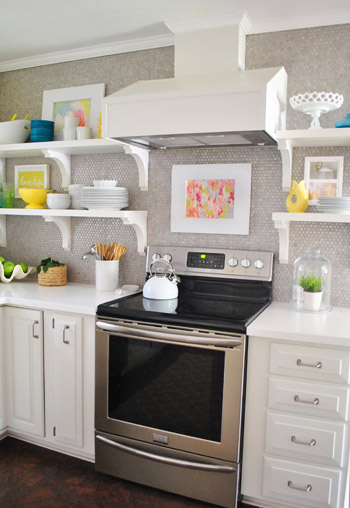 Speaking of the one above the stove, don't worry about that getting splattered. I went to Lowe's and got a $3 piece of acrylic that I slipped in front of the painting to keep it wipeable (so it's protected from rogue spaghetti sauce splatters).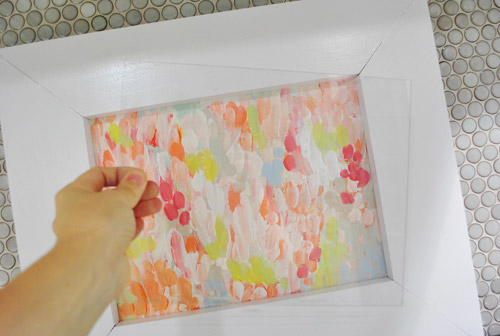 It's funny how many things I've held over the stove only to decide they didn't really work, yet this homemade painting with a homemade frame seems to slip right in. Dare I say it was meant to be? At least for now until I get a wild hair and decide to paint over them again- haha. I'll keep you posted for sure!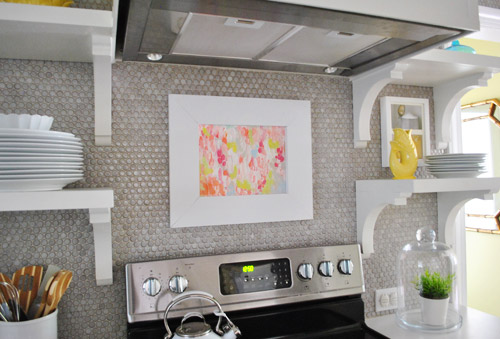 So that's how it all went down. As for the money stuff, here's a little budget breakdown:
$11 – for the five canvases and the paint brush that I used (purchased at a local art shop called Main Street Art Supply)
$16 – for the set of 24-pack of acrylic paints by Reeves (also from Main Street Art Supply)
$0 – two homemade frames <–made from scrap wood and supplies we had on hand – more on that process this afternoon!
$0 – two more already owned frames for the smaller flat canvases in the hallway
$3 – piece of acrylic from Lowe's to protect the canvas over the stove from splatters
Total: $30 (for five painted canvases – four of which are framed – which averages to $6 per piece)

Oh and if you call the art supplies a holiday present (since they were purchased six months ago with a Christmas gift card), I actually didn't spend any money on this Pinterest challenge – just used things that we had like scrap wood, and inexpensive canvases and paint (other than the $3 piece of acrylic). Cheap people like me like looking at things this way. Haha.
Don't forget to check in on Katie, Kate, and Michelle to see what amaaaaazing projects they whipped up (they'll be sharing theirs sometime today as well)!

And now here's the part where we invite you to share all of the fun Pinterest Challenge projects that you guys have tackled in the last week (right along with us, well at least virtually with us). If you've already blogged about it, just:
click on the blue "Add Your Link" button with the odd cartoon head at the bottom of this post (you might have to do some scrolling, depending how many projects are added)
add a link to your specific blog post about your project in the url field (not your home page)
where it says "name" write a descriptive name for your project (ex: "Painted Canvases") as opposed to your actual name
we'd also love if you could quickly link back over to our project posts within your own (here's Katie's, Kate's, Michelle's, and ours) – it's also nice to link to your inspiration project on Pinterest as well as to directly link to the original project/site, just so they get some love too.
And if you'd rather just link over to your project in the comment section, feel free to do that – or even add a link to a free photo sharing site like Flickr with your pics if you don't have a blog (remember to set the gallery to public so we can all see it). We can't wait to see what you've been up to!
&nbsp&nbsp&nbsp
Yup, this highly embarrassing video can only mean one thing: we should never be on camera it's Pinterest Challenge time (not sponsored by Pinterest or anyone else, just dreamed up by Katie Bower to make us stop pinning and start doing). My favorite part is the outtake. Yes I'm saying I'm going to pee on myself at one point. Elegance is my middle name.
The whole Pinterest Challenge thing started over a year ago when Katie called me to say that she thought we should challenge ourselves to make one thing each season that's inspired by all the gorgeous stuff that we've pinned (and call it… wait for it… The Pinterest Challenge). It's a welcome slap of stop-pinning-and-start-doing. And we ended up having such a great time with our first Pinterest Challenge last summer, our second one in the fall, and our third one in the winter that we're psyched to be back with the summer edition (oops, spring got away from us – how is it July already?). So put on those slap bracelets and bodysuits (what? that's not your choice celebratory attire?) and let's get this DIY party started!

The only rule is to do your own personal take on something inspirational that you've pinned (and link back to the original creator of the project that inspired you, be it a company like Anthropologie or a personal blog that got your wheels a turning). We especially love to pin things from sites that have "Pin It" buttons at the bottom of their posts since it indicates that they enjoy popping up on Pinterest. The project can be anything: big or small; decor or sewing or cooking related – or beyond! The first time around John and I made a clothespin light fixture for the laundry room, the next time I tackled 38 homemade holiday ornaments, and the last time I faced my sewing demons head-on and somehow made a beanbag-ish pouf for Clara's reading nook in her closet.
This time I thought I'd paint something. Not a wall or a piece of furniture, but a piece of art. I've only really blogged about one attempt that I've made in the past few years (this guy) but it's high time that changed – especially since art is my first love. I actually went to an art university in NYC (I have a bachelor of fine arts – which I never use!). Thankfully, John got me an awesome art supply gift card as part of my Christmas present (and all the supplies I got with it have sat unused in my closet mocking me for the past six months). I've already pinned some ideas, but I'm not sure what style I'll end up going with – but I'll be back with all of the deets when I (fingers crossed) complete the challenge next Tuesday. In the meantime, here's what's inspiring the pants off me (figuratively speaking – no worries I'm still wearing pants):
As for other places that I've found art inspiration – Michelle Armas is unparalleled (seriously, total girl crush going on) and this post about making abstract art over on Oh Happy Day has me feeling excited to tackle this challenge. Sure, I might bomb it, but at least I'm not sitting around wishing I could get back into painting! There was actually a time when my room was covered with watercolors, acrylics, and oil-paintings that I had made. Ah to be young and artistic again, haha. Oh and you're probably wondering who else is playing along with me and Katie Bower (aka: The Esteemed Bacon-Eating Pinterest Challenge Founder). Well, we thought it would be fun to ask different folks to "guest host" with us each time, so we're thrilled to have:

So here's the part where I extend my arm with a crooked smile and true paranoia of bombing it in the art department and humbly invite you to join in on the fun by doing your own spin on something you pin! We figured we'd give everyone (and ourselves) the weekend to work on stuff and reconvene next Tuesday morning (the 10th) to share our projects. We're hoping this'll turn into the same über fun share-fest that we soaked up for the last few seasons (check out all the amazing linked-up projects here, here and here). So just drop in next Tuesday to see what we've done – and to submit links to stuff that you've completed so we can all check it out. Maybe we'll even pin a few things. And so the vicious cycle continues. In the meantime, do you have any ideas what you'll tackle this time around? Is it food, craft, sewing, painting, or furniture related? Would love to hear about what you guys think you'll do!
Psst- One more time, for the people in the back: regardless of the fact that I say Pinterest about thirty times, this wasn't paid or perked by them or anyone else. We're just eye-candy obsessed gals who are sick of coveting things and downright ready to do them. Well at least one of them… 
&nbsp&nbsp&nbsp