Painting
You all may remember how much we hate painting ceilings.  So you can imagine my disappointment when "Repaint The Living Room Ceiling" recently popped up on our to-do list.  Woe is me.
But, I can't deny that a fresh coat of white paint does wonders for a ceiling, especially when it has issues like ours did. When we moved in there were some less-than-perfect ceiling problems. One of which occurred when we revealed a long unpainted stripe by removing a big ugly divider by the door. Back then, in our naiveté, we quickly slapped up some semi-gloss trim paint and called it a day.
Well… semi-gloss paint doesn't exactly blend seamlessy with flat paint, because- duh- it's glossy.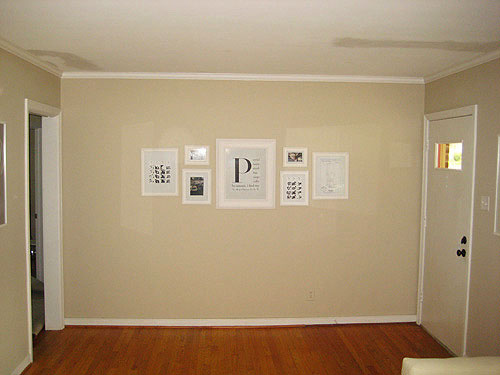 So after ignoring the shiny spots for two whole years, we finally worked up the energy to move all the furniture out of the room and fix the problem. This meant repainting the entire ceiling (with flat paint!) to avoid a patchy outcome (we've been advised by a painter friend that patching up a paint job doesn't work well on ceilings, especially white ceilings, so painting the whole plane was the only way to ensure a smooth and even look). It wasn't the quickest home improvement project in the world, but it ensured that "Repaint The Living Room Ceiling AGAIN" wouldn't be on our to-do list any time soon.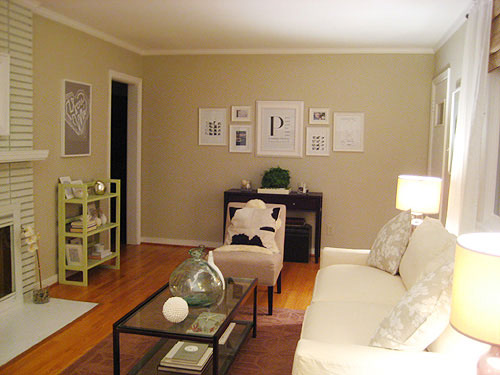 &nbsp&nbsp&nbsp
Actually, it feels like a good time has been looking for us lately. Everywhere we turn we're hearing about Sunny's Goodtime Paints – a local paint store whose founder (the cheerily-named Sunny Goode) aims to "bring out the artist in all." First, we spotted Lesley's sun porch floor sporting Sunny's graphic stencils. Next, Sunny's name got dropped in the August issue of Domino as part of the Katie Ukrop article. And then we noticed Ms. Goode herself has a regular feature in Richmond's R. Home magazine. Think we needed any more convincing to check out what all the fuss was about?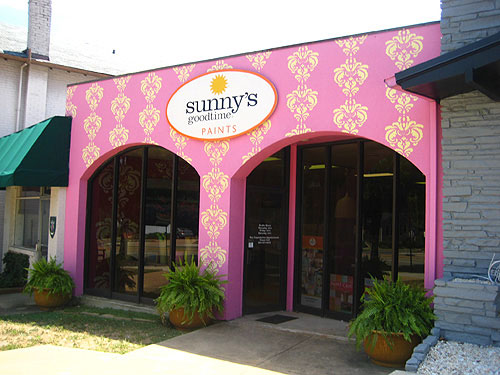 When we stopped by Sunny's Goodtime Paints last weekend we didn't bump into Sunny herself, but we still felt her personality from the moment we drove up. Before we stepped inside we knew we were in for a big helping of color inspiration, so we quickly braced our neutral-loving-selves to have our minds blown.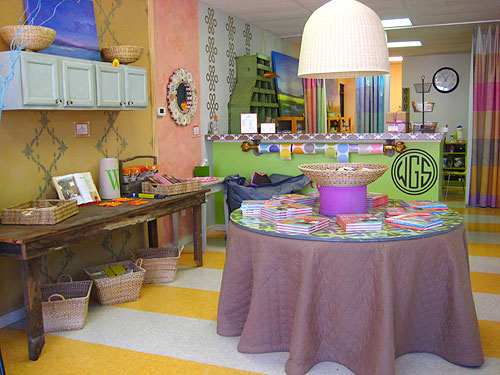 The store showcases all the tools Sunny offers to amp up the creativity in your home. The aforementioned stencils (seen above on walls, tables, counters, etc), paints, glazes, color washes, decals, books, brushes – you name it. Sherry and I debated a few stencils as a way to spice up our sunroom floor, but in the end couldn't pick just one and left completely empty handed. But rest assured, we'll be back…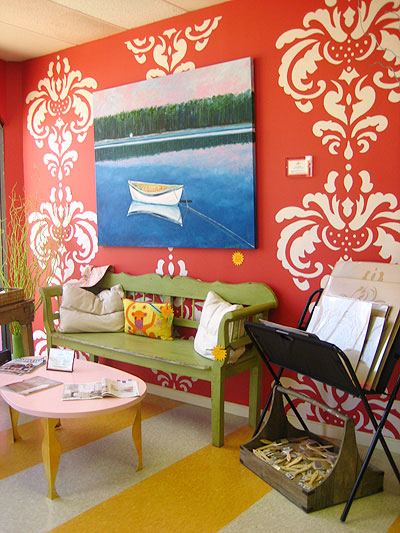 We were also inspired by all color wash and glaze products Sunny offers, and briefly contemplated using a glaze to add some subtle stripes somewhere in the house. But then we got distracted by the clever way the store displays its paint chips – using stir sticks dipped in paint. What a great way to know exactly what the paint will look like when it dries.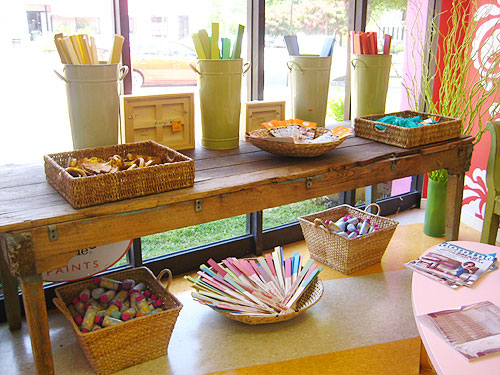 So clearly our trip to Sunny's Goodtime Paints got our creative juices flowing. If you're looking to get inspired by Sunny's innovative uses of color, pattern and paint, check out her two books: Paint Can! and Paint Can! Children's Rooms. And since all of Sunny's products are available on their website, distance won't keep you from having a good time for yourself.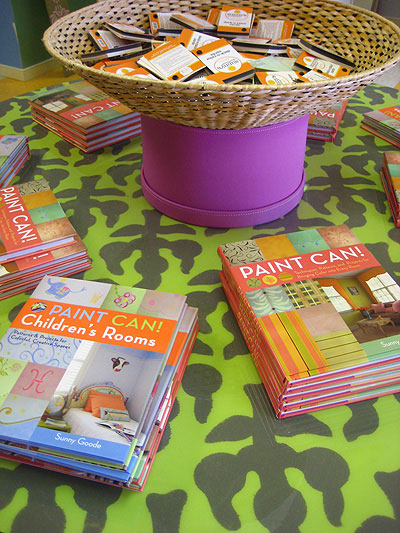 &nbsp&nbsp&nbsp