Painting
A super speedy garage makeover is easy as pie, especially if you have wooden or metal doors that do particularly well with a few coats of exterior paint. Our double garage has one big metal door (but it's painted to look like there are two) so applying two coats of black semi-gloss exterior latex paint took no time at all- and only set us back about $20 for the paint.
We've always thought the maroon doors were a bit dated and a coat of glossy black would instantly update our almost 20-year-old garage. Sure enough, the crisp & classic black paint (Glidden's Dark Secret) was just what the doctor ordered. Here's the ho-hum before (we used large pieces of cardboard to keep from dripping on the concrete below the doors):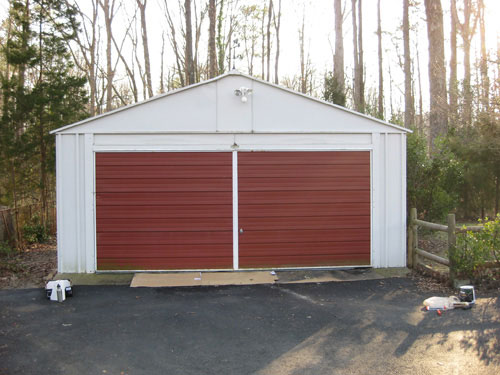 And now for the obligatory in-progress shot. John painted that odd diagonal stripe right before I snapped the picture… he's such a rebel.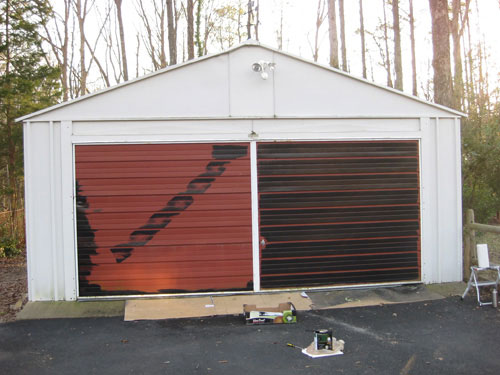 And here's the crisp and clean after picture, thanks to little more than an hour or so of painting. We actually started this project at around 5:30 in the evening so we were racing the sun. And we're happy to say that we finished well before it set (it would have been quite a messy task to be out there applying black paint in the dark).
We used a regular wool roller to apply the bulk of the paint (a foam roller is known to create more bubbles and inconsistencies so we stick to the wool/poly ones whenever we can) and a simple angled brush to get into all those cracks and trim out the edges. By the time we finished our first coat it was ready for a second, and the second coat did the trick (and of course went on much faster than the first). It's really nice coming home to a "new" garage, and when we recently got the house appraised (stay tuned for those details) the guy actually asked if we got a new garage! Gotta love that $20 upgrade.
What about you guys? Do you have any painting projects on the horizon for spring? From adding color to your front door to gussying up some terra cotta pots, we wanna hear all about your hue to-do list.
&nbsp&nbsp&nbsp
We're back with the final tutorial from our latest R. Home column all about reinventing thrift store items on the cheap. You've may have already seen our terra cotta planter makeover, but here's the step by step breakdown for all you clever DIYers. We picked up an assortment of cheap $2 planters from our local Goodwill and Salvation Army. Here they are fresh from the thrift store.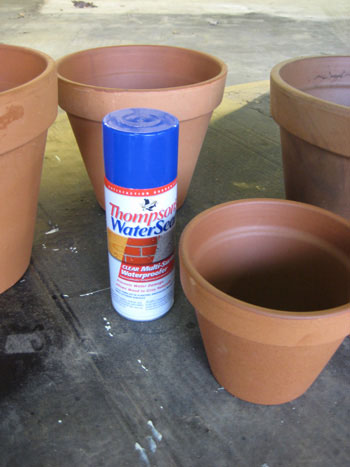 We also purchased Thompson's Water Seal from Lowe's which is specifically formulated for sealing terra cotta pots so they can be painted. It's simple and it's only about $4. You spray it all along the inside of the pot (the sides and the base) and it locks the moisture in so it can't seep through and cause your paint to bubble or peel. A few thin coats should do the trick. It will look like the pots have just absorbed it all when they dry (they don't appear to be darker or shiny afterwords, but don't worry- they're sealed).
Then just use high gloss exterior latex paint for a cheerful new look in less than ten minutes. We painted some of our pots pale yellow (Like Butter from Valspar), some of them got a darker tone below the lip (Amber Pearl by Valspar), and one special guy even got a sweet little striped treatment.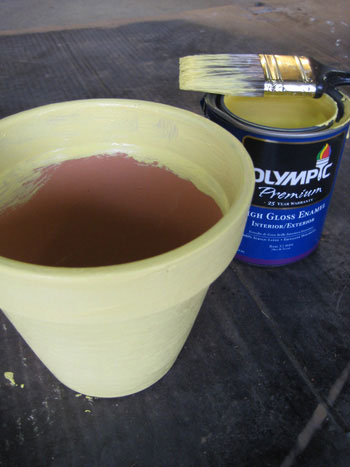 Adding the stripes was easy. We just cut a sponge into fourths to create a strip that was perfect for stamping our yellow on yellow pattern (we used a paintbrush to gently apply the paint to the sponge).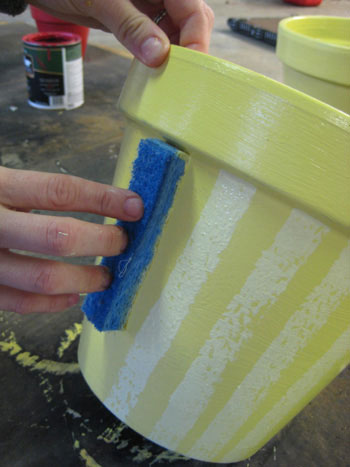 Here they are in all their glory. The hardest part of the whole shoot was finding flowering plants a few months ago (since magazines are shot so far in advance, anything seasonal is hard to dig up). But we managed to hunt down some festive foliage to complete the look. Total cost for this project: $35 for the $2 pots, the exterior high-gloss latex paint and the sealer.
If you have an hour this weekend, you can totally tackle this entire project. And now that flowering spring foliage is in season, it should be a cinch to perk up your front porch or your back patio. What colors will you go for?
Looking for another tutorial? Check out our How-To page for everything from concrete floor-staining instructions to fireplace painting advice.
&nbsp&nbsp&nbsp