Painting
Well, we can check cheerful desk chairs off of our wish list for the office. They make me beam: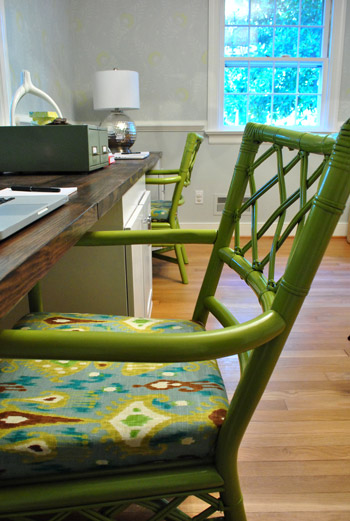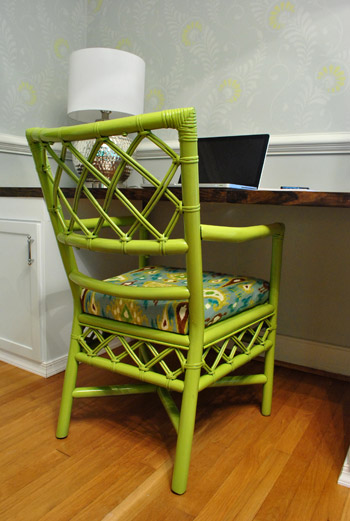 You can read all about how I prepped, primed, & painted them here. And now for the quick upholstery deets. I had some leftover fabric from the dining room curtains on hand so I laid it over the detached seats and centered one of the grellow thingies (that's a technical term) and trimmed the fabric around the cushion, leaving enough that I could easily pull and staple to the backside.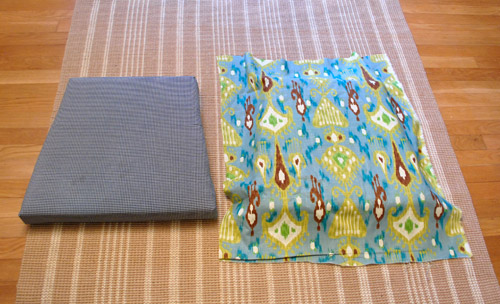 Making sure it was staying centered, I carefully turned it over and shot four staples into it while pulling it nice and tight (I have a basic manual staple gun for around $20 from Home Depot). Those staples went in at noon, three o'clock, six o'clock, and nine o'clock.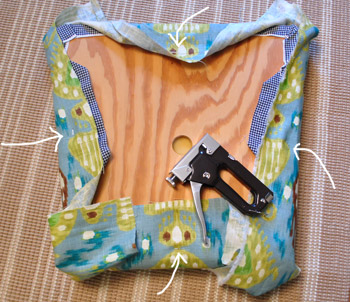 That way I could flip it back over and ensure things still looked straight and that the fabric was pulled tight enough (if it wasn't, it would just be four staples to pop out instead of a dozen). After confirming the pattern still looked nice and straight from the front, I flipped it back over and spaced out about six staples per side (while pulling the fabric tight along the way).
When it came to the corners, I just treat those like wrapping a present. It's hard to describe in words that don't make it sound like a super complicated ten step process (it's not) but I basically just fold the fabric into little triangles like the side of a present and staple them until they look good from the front. The front is all that matters – so the back can look all weird like this: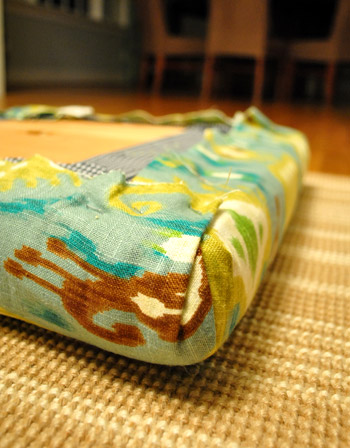 As long as you turn it over and things look great, you're golden.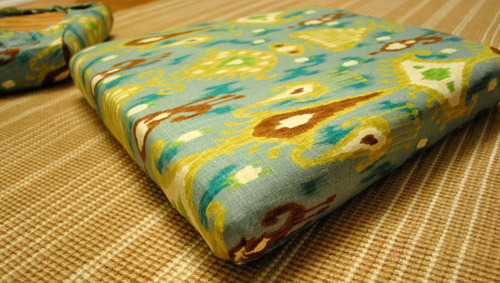 So I just did the same thing with the next cushion (lining up the grellow thingies in the same way so it would look like Cushion #1's twin). About 30 staples later that cushion was done too.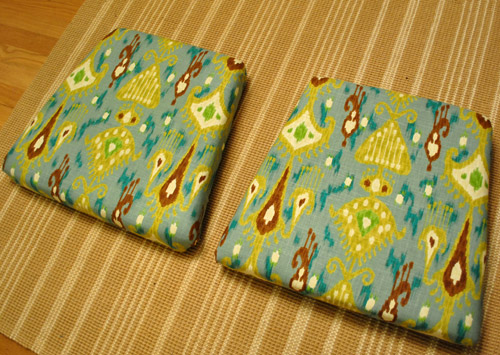 The entire upholstery project probably took me thirty minutes from start to finish. Maybe 45 because I kept pausing to watch Housewives of Beverly Hills. Oh and the reason I just went over the fabric that was there was because we didn't have any cushion/fabric related issues (other than the fact that we didn't like the fabric). So it wasn't like we had odor problems or a flat lifeless cushion to deal with (which would have involved removing the fabric and the cushion and getting new foam from a place like JoAnn Fabric).
Then of course the hard part was waiting for my spray painted chairs to fully cure so they were nice and hard and ready for every day use abuse. I gave them two sunny days outside (which also helps speed up off-gassing since spray paint can be stinky until it's fully cured)…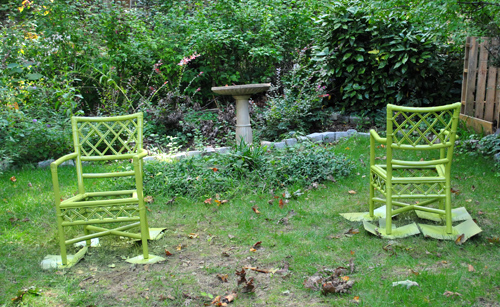 … and a third day in the sunroom (with the windows cracked and the fan going to continue to allow them to completely dry before bringing them inside). Then late last night I danced a giddy little chair-time jig and slipped the newly dressed cushions onto those so-fresh-and-so-green chairs (securing them with the same four screws that I removed from the underside to free them here). The result was nothing short of magic. But the cool kind involving levitation and mind-reading. Nothing weird like a bad card trick or a double sided quarter.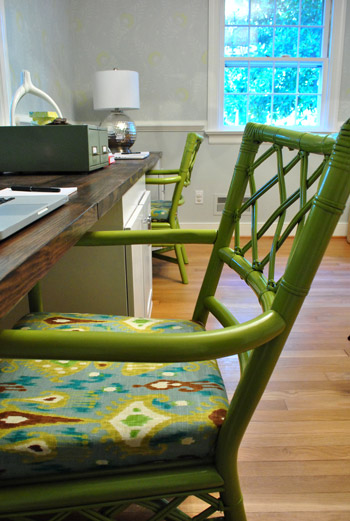 This photo's coloring is probably the most true to life (below). They look so great with the white cabinets and the dark wood counters.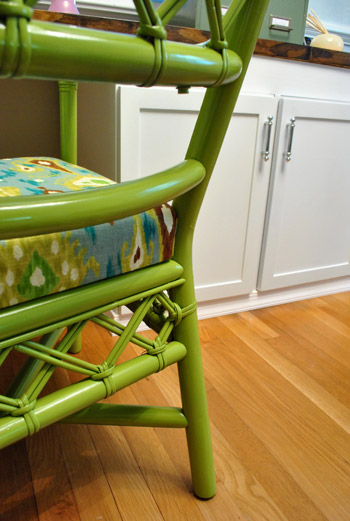 Yeah, we're kind of obsessed. We love how the more intense greeny-yellow in the chairs' paint & fabric relates to the soft pop of color in the stencil. Instead of taking away or competing with the stencil, they just seem to bring out the grellow pop on the wall- so they enhance/add to it (if that makes sense). Although I'm not sure how well it'll come across in pics (colors seem to vary by monitor). In person the pairing is pretty darn amazing.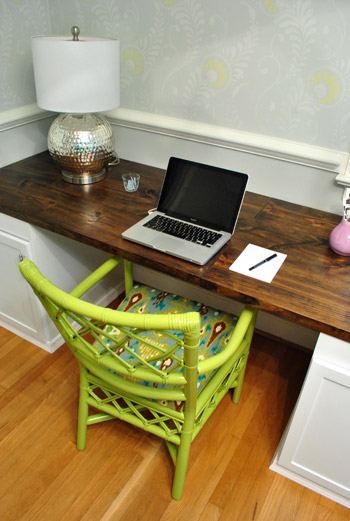 Since the stencil is so subtle and the chairs are so bold, they sort of layer in together – so it's not chaotic and weird (which would probably happen if the stencil were more high contrast or the chairs were more washed out). The key is to keep things at different levels (ex: bold pillows on a more subtle tone on tone rug or sofa). Since if everything textile, accessory, and furnishing were fighting to be the star it might get kinda… Lady Gaga. Not that there's anything wrong with that if it's what you're going for.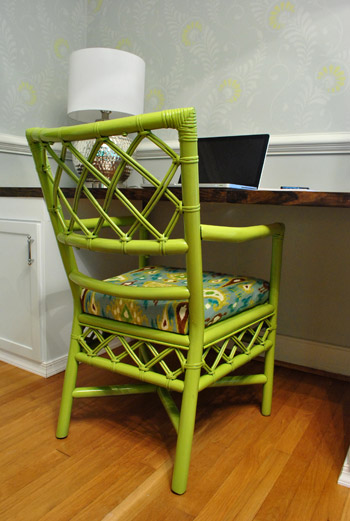 The best view of all is through the dining room. Me-ow. And I love that the table runner is easily switched if I feel like cutting the green… but for now I dig it. Can't wait to add some large scale art above each chair for some much needed height in the office (but nothing too crazy to compete with the chair + stencil combo).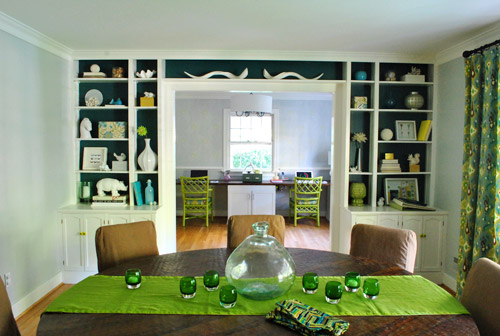 But now, back to the close ups.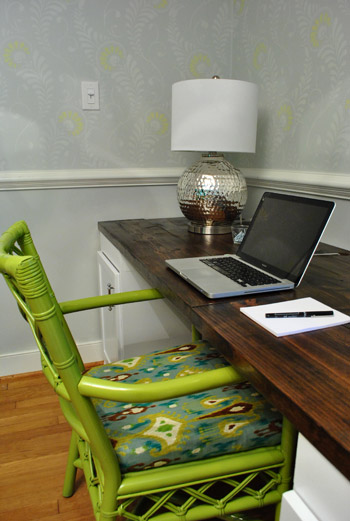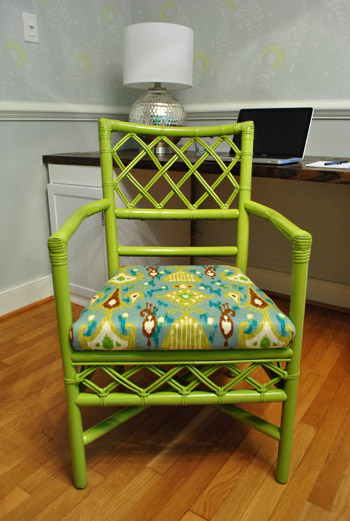 Our office just got a whole lot happier. And we did too. Picture me serving up a nice cheesy grin.
These $35 secondhand babies have certainly come a long way. Here they are right after we bought them from a local secondhand store: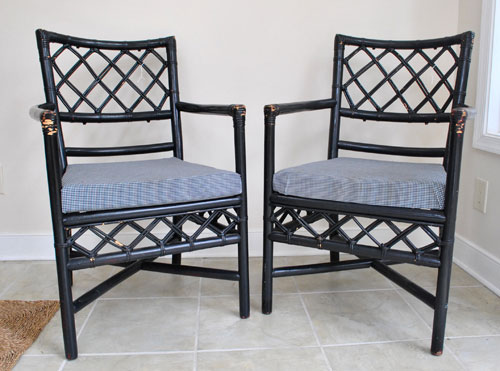 And since we already had the fabric on hand, our makeover total was just $18 (the cost of three cans of Ivy Leaf spray paint from Michael's). But if you wanted to add the initial cost of the chairs ($35 a pop) and the fabric ($12.99 for a yard, which was all I needed for both seats) it comes to a nice even $50 (and fifty cents) per chair. Which makes me all sorts of hyper since similar chairs (like these and these) are in the $200-$250 range. And don't look now, but this guy is $694 on ebay. Woah nellie.
Oh and just to keep it random, I snapped another pic of the stencil. Because it makes me happy, and it's so hard to capture. Elusive little guy. Of course the pop of color looks yellow in this pic, but it's a lighter shade of the chair in real life.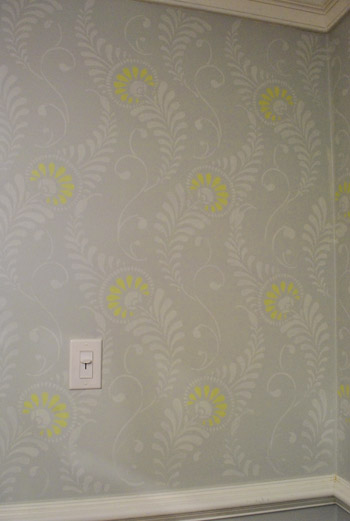 Have you painted or upholstered any chairs of late? Do you have extra fabric laying around that you're itching to use? Do you have the same magic hierarchy as I do (with levitation and mind reading at the top and bad card tricks and double sided coin gags at the bottom)?
Psst- Check out the first half of this chair makeover here.
Psssst- We just announced this week's giveaway winners. Click here to see if you're one of them.
&nbsp&nbsp&nbsp
Our $35 secondhand chairs – found here – aren't quite done yet (picture me tapping my foot as I not-so-patiently wait for the paint to dry) but we thought we'd share our makeover progress in the interest of real-time fun. First a quick rundown of all the colors that John & I talked about for the office chairs at one point or another:
emerald green
turquoise, aqua, or dark teal
dark gray or light gray
plum
navy
white or light celery
lime green or grellow
Oh and here they are in the office before paint and new upholstery (from a few different POVS), just to refresh your memory: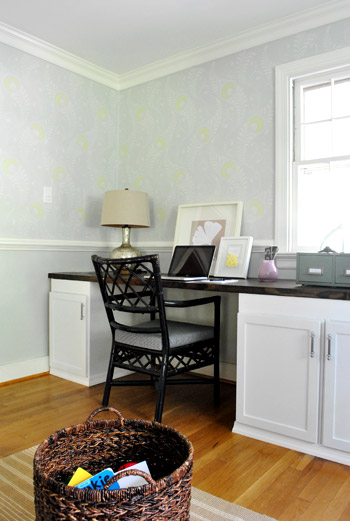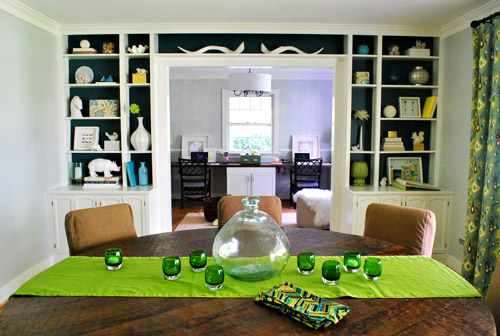 Here's where our brains went when we continued to debate each of those color options over the last month or so:
when you look into the office from the dining room there are two bright teal bookcases on each side of the doorway, so we thought turquoise or aqua or dark teal would be too "everything's-teal" from that view
after going with gray on the walls, we abandoned the light or dark gray idea for the chairs since it felt a little too blah
navy was close to the color that was already on the chairs and it felt too dark for us
we worried that white or light celery might be a bit too safe (and could skew a little too palm beach) so we decided to go for something bolder and more cheerful
we worried plum would be just as dark as the original navy-ish color that was already on the chairs
So then we were left with emerald green and lime green or grellow. And I'm not gonna lie- I was rooting for emerald green for a while. I thought it would be nice and not-too-matchy when it came to the light grellow in the stencil and on the adjoining kitchen walls. But we held up ten million emerald swatches and stepped back and they all looked sort of… wrong. That's the only way to describe it. The not-yellow undertones just seemed to clash with the adjoining kitchen and even the pop of color in the stencil since they were such warm greens and the emerald was so cool-ish and not-golden.
And the winner is…. grellow! Who is surprised? No one. Ok then. We figured why fight it if a super saturated & bold grellow would fit right in and reference the lighter kitchen walls and the soft grellow in the stencil while playing well with the other nearby elements (like the indigo light fixture, the teal globe on the file cabinet, the dark teal bookcases in the dining room, and the green runner & curtains in the dining room). The key was definitely hunting down something distinctly different (& bolder!) than the soft color on the kitchen walls and in the stencil so it didn't feel bland and too monochromatic. Enter Sue the Napkin, stage right: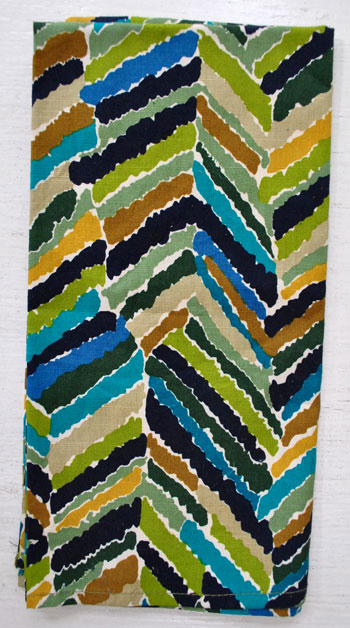 Since Sue is pretty much responsible for a ton of the color decisions that we make around here, we figured she couldn't do us wrong in the "what green should we go with?" department. So we plucked a deep greeny-yellow right out of the napkin by holding up swatches until we landed on one that looked the most like it: Benjamin Moore's Olive Tree. Then we taped that swatch to the chair, stepped back, and started singing kumbaya. It was magical. Everything was getting along swimmingly. Done deal.
But we needed to get spray paint in that color (since all the weaving in the chair definitely wouldn't be easily coated with a paint brush) so the plan was to go to our local Benjamin Moore store to get them to make some custom spray paint mixed in that color (they can actually do that, well some of them can – just call to see if yours is one of them). Late last week I actually called to make sure ours still did it (they did) which is when I learned that it was too late in the day for them to make any (they closed at 6 and it was around 4 when I was calling). Bummer.
I planned to just wait to head over there the next morning but lo and behold while we were at Michael's later that night we came across the spray paint aisle there, and what did we find? Krylon spray paint in "Ivy Leaf" which was – I kid you not – almost identical to the Benjamin Moore swatch of Olive Tree that I had tucked into my purse. So we bought two cans of it at $5.99 a pop. Hooray! Update: I just called Benjamin Moore back to see how much custom spray paint would have run me and they told me I would need to get a minimum of six cans of spray paint at $7-10 each! So glad Michael's accidentally came through for us.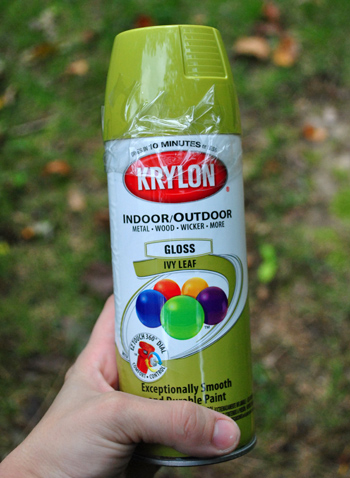 After we got home with my beloved spray paint I just removed the seat cushion on each chair (it was held in from the underside by four screws).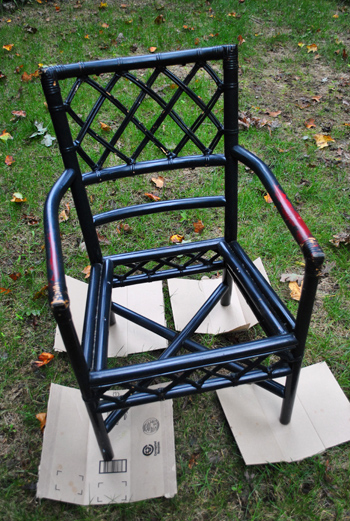 Then I wiped everything down with some liquid deglosser (we like Next Liquid Deglosser by Crown since it's non-flammable, biodegradable, and low-VOC) and set them outside on cardboard for some spray primer. If the chipped paint had been rough and bumpy I definitely would have sanded to smooth things out, but the paint was worn down in such an oddly smooth way, there wasn't anything for me to sand. Then it was primer time.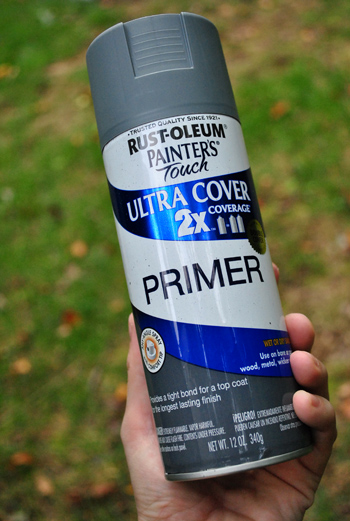 I applied a few thin and even coats (picture me misting it from 8-10 inches away, always keeping my arm moving to avoid drips) and let that dry for about 40 minutes.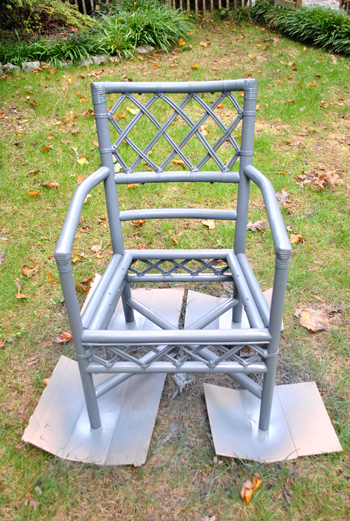 Then I thought to read the can, which informed me that the topcoat should be applied within an hour or not until 24 hours later. So I impatiently decided that I didn't want to wait. I quickly misted both chairs with about four suuuuper thin and even spray paint coats until they were happy and grellow. I snapped some photos of each thin coat so you could see how they're very light (there's almost zero coverage at first) and they build up to full coverage.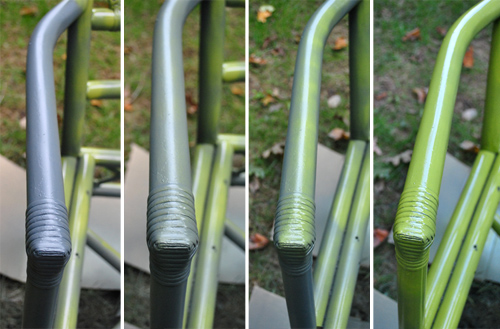 Here are a few more of my favorite spray painting tips:
Skip the bad/cheap/terrible $2 stuff in favor of the quality $6-7 options (I like Rustoleum's trigger spray nozzle because it goes on thin and even – and doesn't get all over your fingers).
Always keep the can moving. Seriously. If you're a-sprayin' your arm better be a-swayin'.
It's best to keep the nozzle about 8-10″ away from whatever it is that you're spray painting.
You really want a mist, not a heavy wet coating.
Three thin and even coats are better than one thick and drippy one.
Spray paint has yet to go no-VOC, so apply it outside with a mask, and let it fully cure as long as the can recommends outside whenever you can (usually 24 hours, we try to double that just to be even safer).
You can "seal" any spray paint (to limit off-gassing once you bring it inside) by applying two thin coats of Safecoat Acrylacq, which is low-VOC and non-toxic.
Voila, I was left with this chipper guy: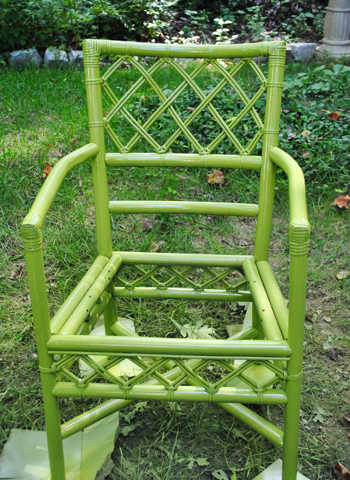 Make that two of them. Just chillin' in the yard.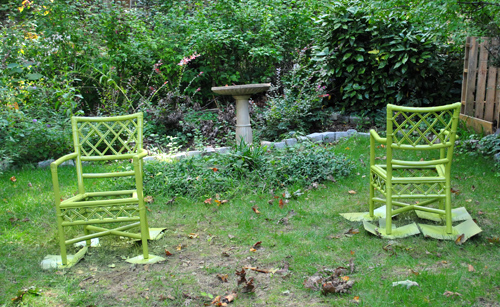 Oh but it took me three cans of spray paint total, so I had to go back for one more. As for the seat fabric, I had some leftover yardage from my little dining room curtain project.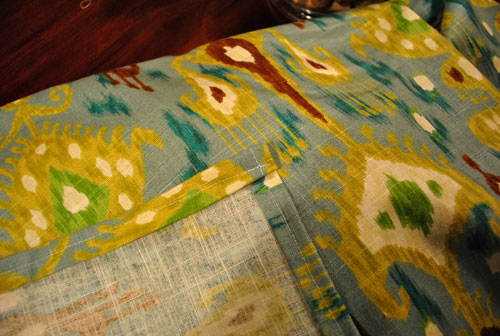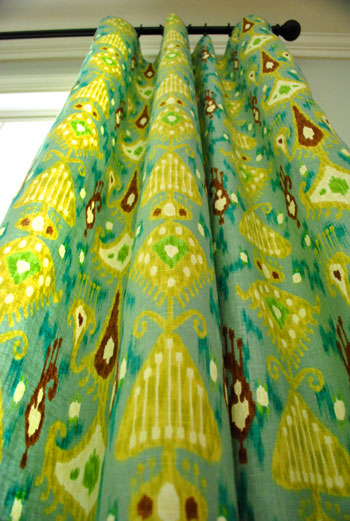 And after holding up the fabric to the freshly grellowed chairs we were so happy. All systems are go. They look great together.
Originally I intended to use that extra fabric to make roman blinds for the office since that room is so open to the dining room thanks to the giant double doorway that's flanked by the built-ins. But I got to thinking that it might be too matchy-matchy to use it on the windows and John and I kept dreaming more and more about bright grellow chairs, so it was the perfect compromise. This afternoon's project is to reupholster the seats. I'll share all those details along with after pics in a day or two (as soon as they're dry enough to get jammed back together for photos).
Oh and don't go very far this morning. We'll actually be back in a few hours with a rare 11am post instead of our regular 2pm jam. Which is nice because it frees up my afternoon for reupholstering. Everyone wins.
Psst- We're over on BabyCenter sharing an amazing resource for projects that you can DIY with your kiddos. There are so many fun ideas to add to our "someday to-do list" with Clara.
&nbsp&nbsp&nbsp