Painting
Duuude. We painted our house. Clarification: we painted a few tiny test swatches. The creamy color wasn't exactly hurting our eyes, but there are a few gorgeous homes in our neighborhood with gray hardboard siding + brick and we love the look, so we decided to give a few swatches a try. Having such a light creamy color on the hardboard siding (it's solid wood) and all of the trim isn't doing the trim any favors (it's not popping at all since it's all the same color). And the pairing of the light cream with the darker richer brick is sort of jarring – like it's two houses. So we thought by going with a more mid-toned color (but not reddy-brown since that would be too much of a good brick thing) it might feel more cohesive. Like one unified house instead of a brick house with a big cream box in the middle.
First we held up around 25 swatches and picked three that we thought looked the best next to the brick (which has some pretty great gray undertones – especially in the mortar). Then we got three two dolla (holla!) paint pots from Lowe's and made three test squares (right above the brick part of the house so we can see how things look when they touch). Note: why yes I did wear my shirt inside out when painting them, thankyouverymuch.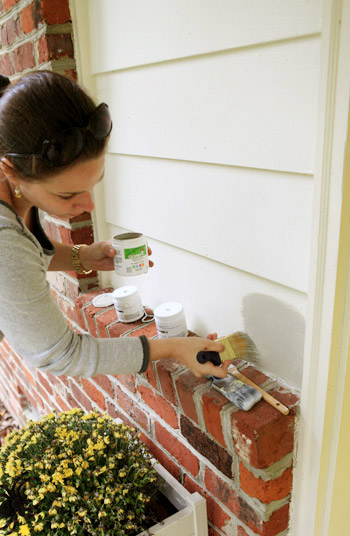 The winner?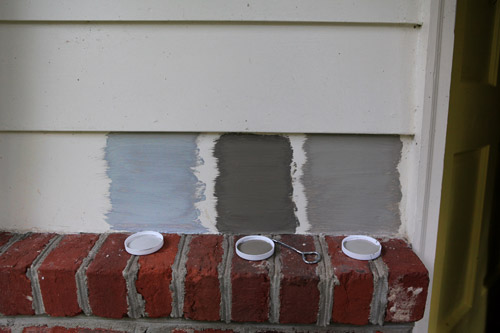 The guy on the right. You can see from the photo above that it's a warm taupey gray. So it shares a lot of undertones with the brick. We feel especially confident about how compatible it'll be since it's nearly the same color as the mortar.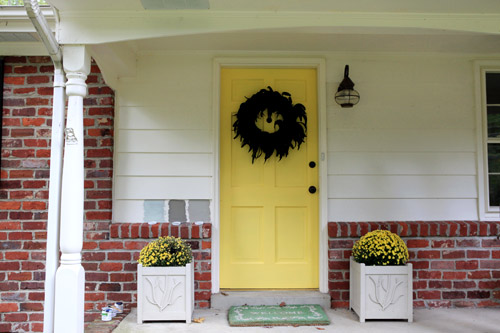 It's Flagstone by Martha Stewart, which we'll get color matched to some sort of high quality exterior paint – hopefully with some built-in primer (more deets on that when we actually pick up the paint and pin down what brand/type it'll be). As for the one in the middle, that's Mushroom by Martha (which we thought was too dark), and the one on the left is Bedford Gray also by Martha (which we thought was too icy and blue).
Of course the photos aren't the same as the real life effect, but we love the guy on the right because it's not too icy/cool/light and it's not too dark. Don't get us wrong – we love a dark house (with white trim that pops = amazing) but we thought a mid-tone would look best with our black roof, existing brick, yellow door, and the bright white trim that we'll be adding (black roof + dark gray house = too dark for our little ranch). So we hope our pick is a nice balance of not-too-dark-and-not-too-light (the roof can be the dark element and the white trim can be the light one). Here's a poorly photoshopped version of the last pic to give you an idea of where we're hopefully headed: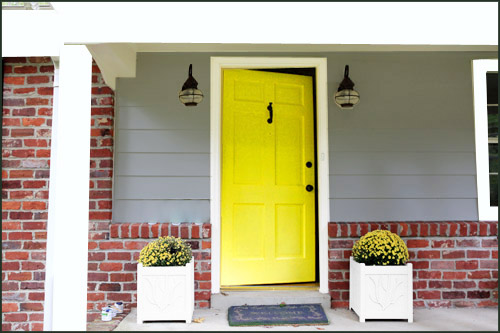 Speaking of the to-be-white trim, it's actually really out of order of us to test paint on the house because we still need to demo out the scallops on the porch and paint the trim (painting the hardboard and then demoing the scallops could lead to some paint damage that we'd then have to retouch). So although we've pinned down our paint winner, we hope to move on to scallop-demo and then we'll get to painting the hardboard gray and the trim white (along with framing out the curvy columns to make them look chunky and square like our future scallop-less header).
Hope we can tackle that before it gets too cold for exterior painting (especially since we're also juggling the kitchen redo). Oh man, but can't you just picture our happy yellow door with white trim and gray hardboard with that gray-undertoned brick? Hope it's as lovely in real life as it is in my mind. If not… guess I'll be repainting (we have gallons of the current colored house paint in the basement).
In the meantime, have you guys painted the trim or the siding of your house? Did you do the whole paint-a-few-test-swatches thing beforehand? Were you nervous? It's amazing how not nervous I am. Usually I'm indecisive and happy to wait a while while thinking things over, but this time I'm all over it. Seriously, can't wait. So here's hoping the colder weather + the kitchen don't make this a spring project. Come on fall, hold out for a while longer!
&nbsp&nbsp&nbsp
We finally got around to painting the area under the chair rail in the office a shade darker than the stenciled wall above it so it feels more balanced (as mentioned here). It was a little top heavy with the stencil going on above the chair rail and nada happening underneath, so I slid one square down on the Benjamin Moore paint swatch with the wall color on it (which is Moonshine by the way) and landed on Gray Horse (which we also had color matched to Olympic No-VOC paint in satin). Total spent: $10 for the quart of paint. Das it.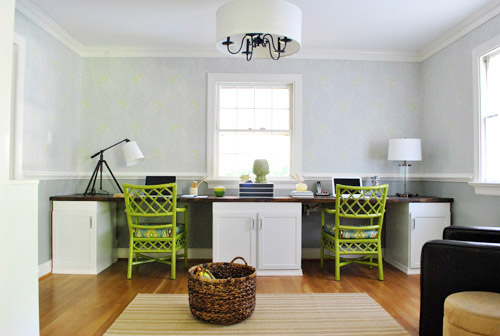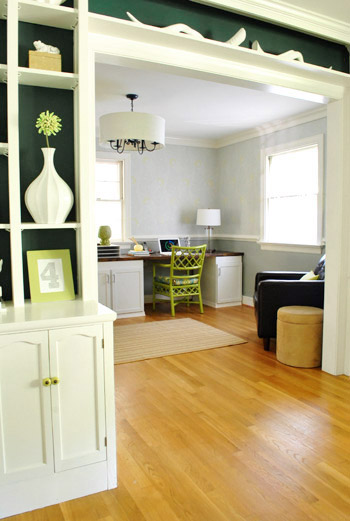 Doesn't it look more grounded now? Hence the title.
You might notice that we returned the matching metallic-y gold gourd lamps that we used to have in favor of these two that were also from HomeGoods (one's a tripod desk lamp in ORB with a white shade and the other is a glass based lamp in ORB with a white shade). They don't match but they definitely go, and it's nice to break up all the symmetry just a little (mirror image desk + centered window + two matching chairs =über balanced, so we thought it could take a little imperfection).
The not-matching lamps might bother you without any art on those walls (yes, mom I'm talking to you) but I promise once we hang art there won't be quite as much focus on the lamps and they'll fall into the room and be just another layered element that will make more sense as the whole picture comes together. Or you'll still hate them but will still love me as a daughter (also for mom).
Oh and we brought in the dark leather chair from the bedroom since the dark wood top of the desk looks pretty nice with that guy nearby (it just held mounds of clothes in the bedroom but actually gets used in here). And a bright green lumbar pillow that we already had (you know pillows are like nomads around here) tied in the new green desk chairs that we painted a few weeks back.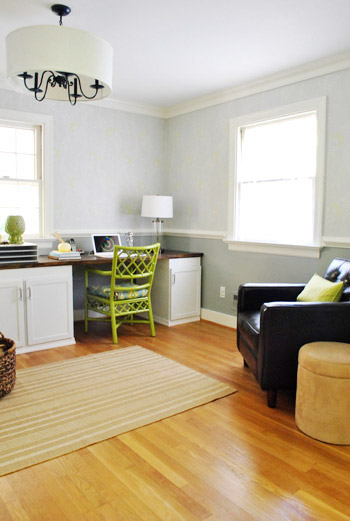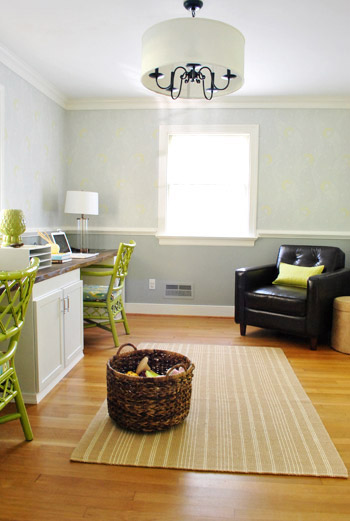 For some reason I'm especially enamored with the file cabinet thanks to the colorful accessories. Gray walls + white desk & cabinet + brown chair & desktop = a craving for color (hence the addition of the green chairs and a few other punchy accents).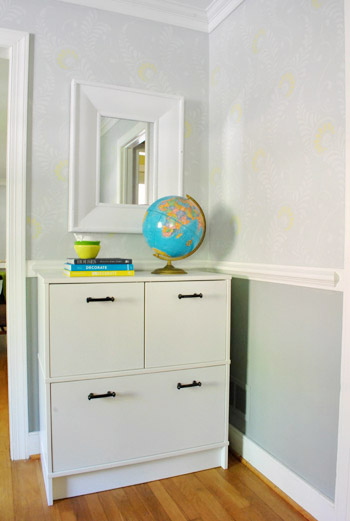 I tossed these books down with some stacked bowls and a ceramic pear and said out loud (yes I talk out loud to myself all day) "oh man, someone should base a room on these colors."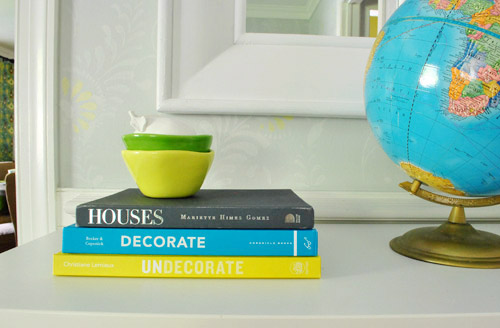 Then I realized that:
the yellow tones in the bowl and bottom book are in the chairs' upholstery and the wall stencil
the green bowl mimics the color of the desk chairs
the dark gray book on top is just a shade or two darker than the darker gray that we just added under the chair rail
the turquoise in the globe and middle book are also in our desk chairs' upholstery fabric
the glossy white from the ceramic pear relates to the white trim, desk, and file cabinet
Duh, we sort of did base a room around these colors. Purely by accident. Gotta love when you back into things like that (trial + error = not a bad way to go). So I highly recommend white + green + yellow + gray + turquoise. Oh yeah and some chocolate brown too (maybe someday I'll ORB the globe base to represent that color, you know when I'm just sitting around twiddling my thumbs).
Much like every other room in our house the office is nowhere close to "done" (as in, it'll probably take us a few more years of tweaking like our first house)…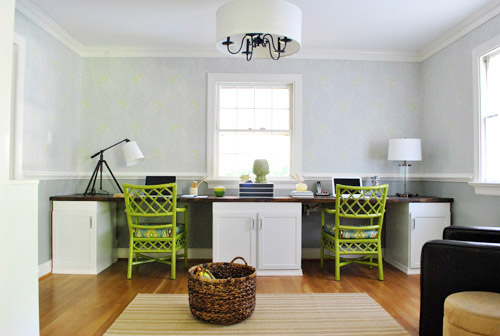 … but it's definitely feeling more finished than it did a few months back when it looked like this: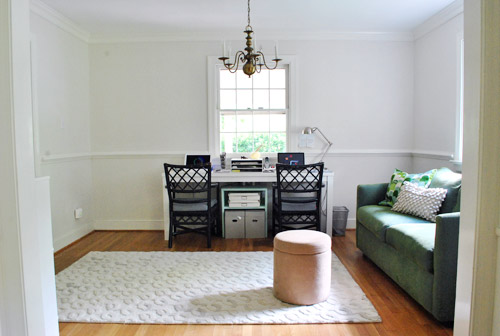 So far we've:
added a toy basket for Clara (function = the most important thing)
painted the walls soft gray (BM's Moonshine – more on that here)
painted the chandelier indigo & added a huge drum shade (more on that here)
painted the bottom half of the room darker gray (BM's Gray Horse)
brought in a chair for the corner (Clara demands storytime in nearly every room)
Still gotta:
hang art
add some window treatments
figure out a rug (the existing one is too wide and not long enough)
add a floor lamp to the chair corner (for some height) along with a proper side table
tweak a ton of stuff (we've learned it's par for the course for us… stuff evolves as we go!)
What have you guys been up to? Any other fellow WP's (weekend painters) out there? It was a nice weekend for outdoor stuff too. Anyone seeding or weeding or transplanting? We definitely have the outside itch to tackle some of that stuff before it gets too cold…
&nbsp&nbsp&nbsp