Painting
About a month ago we were walking around the park and Clara pointed to a dogwood tree and said "wow, that's a big big tree in a big big world." John and I cracked up. So now when I think of Clara's playroom/big girl room, I also think of the big big tree and the big big world of ours. Hilarious. Anyway, back to the room that we have affectionately (and ironically) called the playroom. Remember that it looked like this when we moved in?
And then it got all cluttered up with junk and looked like this?
And then we organized it with the help of my mom and it looked like this?
And then in a Groundhog-Day-esque turn of events a year later it looked like this again (thanks to months of book insanity)?
So we cleaned it one last time and had a big yard sale and auctioned a bunch of book projects off for charity and finally we were left with this:
I may or may not have done a victory dance around the daybed that included some very painful-to-watch moonwalking. Gaining any actual use of this room will be ten times better than the junked up storage room that it has been for the past three Christmases (how are we on year three of living here without reclaiming this room sooner?!). So as we've mentioned a few times, it will serve as a nice little playroom for Clara and eventually will be her big girl room once she graduates from sleeping in her crib.
Why switch rooms? Well, the nursery is so small that adding a daybed basically sucks up all the floor space, so moving her into the larger spare room and keeping the nursery for a possible future kiddo makes the most sense for us). Of course we can always update the nursery for a boy bean if one should come our way someday (heck, kids rooms are our favorite things, so we'd jump at the chance). In fact here's an old mood board we did a while back to show how Clara's room could be adapted for a little dude:
Once all the extra stuff was cleared out and remaining items were pushed to the center of the room, it was time to paint (we had used the room as a secret-book-project backdrop so it was a hot mess). We'd repainted sections of the walls around ten times in there to create different colored backdrops for shooting – and had even painted the trim around one window a moody gray color and stenciled a good portion of another wall. Nothing was safe from the madness of book shots.
Here are a few other oddly-painted angles:
So yes, paint was definitely necessary. First I painted the book-project-window-shade from gray back to glossy white:
Before we pick a wall color we like to think about the other things that'll be going on in the room. So we thought about that for a hot second or two. We actually wanted Clara to have some input, so we asked her what colors she wanted to see in her big girl room. Not surprisingly, she said "pink and red!" (her faves used to be pink and orange, but she moved to pink and red about a month ago).
It'll be nice to have another room in the house with warmer touches in those red and pink tones (you know we love us some green & blue, so that's prevalent in a lot of other areas). It was even cool with John since, in his words "as long as we're not going hot pink all over the living room, I'm down with Clara getting to pick the colors that we use in her big girl room." Mah man. He can build a deck and he's cool with pink.
So just to give you an idea where we're thinking of bringing in those pinks and reds (along with other hits of colors/textures that make a room feel layered and not-too-matchy-matchy) here's a quick picture of some items we've been saving for Clara's big girl room in a little floor-pile together. Floor-piles are the new mood board. Just kidding.
We don't want the room to be red/pink overkill, so using tones like white and navy – along with hits of other colors like yellow and teal – to break things up is definitely on the agenda. And since we wanted the items in the photo above to stand out (instead of being the same color as the walls) we opted for a soft and pretty neutral that we know will be just as workable with any other accent colors down the line. Let's face it, kids can change their favorite colors on a dime, so we don't want our walls to be forever dependent on a red & pink scheme, ya know?
And this time instead of going with a gray-ish neutral (which we've done in a few other rooms) we dipped back into the warmer neutral palette and went for a super soft tan tone. Sort of like tea when you put in too much milk. Mmmm. It definitely still works within our whole house palette, but it's a slightly warmer than some of the other grays.
We were between two extremely similar colors, so naturally, we picked the one with the better name. Totally reasonable tie-breaker move, right? The winner: Alaskan Skies by Benjamin Moore (we bought a gallon of their no-VOC Natura paint in an eggshell finish). The reason it won: we honeymooned in Alaska and took approximately 650,367 photos of the sky while we were there. The sweet little coincidence is that the paint in Clara's nursery is Proposal (also by BM), so I guess we're subconsciously drawn towards wedding/honeymoon related names.
Since I'm the cutter-inner and John's the roller in this relationship (those sound like weird euphemisms) I was totally jealous about John's big erase-the-past roller moves. Meanwhile I'm sitting on the floor painting above the baseboards. Look at me go! Just kidding. And now for a montage of John rolling over all of the randomly painted portions of the room (I wish it was a montage, it's just this picture and the one above).
Not gonna lie, it felt pretty good to watch him go over all of those random colors and stencils on the walls and finally move towards a room that's all one color again. Meanwhile I was inching my way around the room cutting in around the windows, doors and the ceiling. Speaking of which, we didn't paint the ceiling (just left it white) but we're debating adding some soft tone up there someday down the line after the room comes together more. Stay tuned…
I think we're in love with the wall color though. Not too pink, gray, or tan. And not too white, so the window trim, molding (and future crown molding that we'd love to install) pop nicely against it. Just like extra milky tea against a clean white mug. Yum.
So we're currently waiting for the paint to dry so we can move all of the furniture back into semi-normal spots.
Then we'll share more photos along with planning/details/projects as we go! Back in 2010 Clara's first nursery evolved over the course of about 20 posts and two or three months. Can't wait to watch this bare little room take shape…
So that's what we've been up to. What did you guys do this weekend?
&nbsp&nbsp&nbsp
Q: Hi guys! I was snooping around your blog to try and find a floor plan of your new home with the colors you used for each room (like you did in the post from Feb 24/2010) but I didn't find one! I would L-O-V-E to see what your new house looks like now, with a visualization of the color scheme per room. Is this possible, or am I asking way too much? HAPPY NEW YEAR by the way! – Danielle
A: Oh yeah – we're way overdue on that! So when Danielle submitted that comment here, we officially bumped it to the top of our to-do list. We did one of them for our first house, and it was fun to see how our paint colors have evolved over the years. So without further ado, here's our current house's color palette as it stands now (we still have to paint the guest bathroom and the spare room). It's not too easy to see all of the colors (ex: the back of the dining room built-ins are dark teal, but it's not as easy to see those little slivers of color in the image below as well as the office stencil and Clara's closet stencil) but it was fun to play around in photoshop and make an updated floor plan for this house's paint picks so far. Note: click here for a full list of these paint colors.
The cool thing we've realized is that most of our rooms with brightly colored walls tend to have a few more neutral choices to balance things out (ex: our greeny-yellow walled kitchen has white cabinets/counters and a soft gray backsplash with brown cork floors). And our rooms with more neutral colors on the walls tend have more color added in with brightly patterned curtains & pillows, geometric rugs and bold art, painted furniture, etc. But we'll get to that a little more in a second.
First, just for fun, here's our first house's color palette. We still seem to love blues and greens with a fair amount of neutral tones, but we traded in the creams and tans for soft and taupey grays and added plums, pinks, and warm yellow-y green to keep it from feeling too cold. We'll always have a special place in our hearts for the "sea glass" colors of our first house though. Especially in a smaller home with some pretty tiny rooms, keeping things flow-y and neutral was really helpful when it came to making it feel open and airy. Our current house is larger, so a few hits of color among the other more toned down walls make us happy (and don't seem to chop things up as much as they could in a smaller floor plan).
 We've actually seen lots of pretty homes with the same exact color on every wall of the entire house (whether it's a crisp white tone, a soft tan color, a taupey-gray, or even something more daring like celery, yellow, or a muted blue-gray tone everywhere). Meanwhile we've also seen a ton of gorgeous homes with a different paint color in every single room. We tend to fall right in the middle of that spectrum, preferring to use a handful of colors in a few different spaces.
I think we like to reference a few over-arching wall colors in a few different places just so there's some sort of flow and relation among the spaces, but not too much straight up cloning going on (thanks to varying other items like rugs, art, pillows, curtain fabrics, etc). For example, we have the same soft grey tone on the walls in our living room and our dining room, but the dining room has deep teal paint on the back of the built-ins to differentiate it, and also has colorful curtains and a bright yellow door…
… meanwhile the living room has a green geometric rug, colorful pillows, and softer tone-on-tone curtains with dark painted beams. So we've found that in rooms where we have softer or more neutral walls we layer in more patterns and colors than the rooms with brighter walls (like our kitchen).
Maybe the biggest change? Our first house had white curtains in every. single. room. except for Clara's bedroom. So one major difference here has been that we've embraced more colorful and patterned curtains in nearly every room.
Bold color was definitely less present in our first house. Comparing our color-coded floor plans above might make that pretty clear, but it's even more evident when you actually look at room shots. While our first living room was softly layered with tone on tone colors…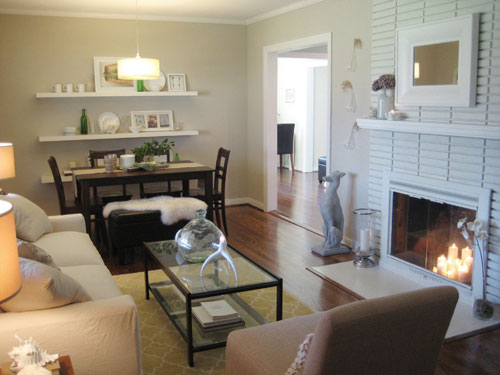 … our current living room (the pic above this one) definitely has more pattern and color going on (bright pillows and vases, a larger geometric rug, etc) as well as more high contrast choices (dark beams and a dark sofa).
Another place we tend to bring bright color into our current house would be art and painted furnishings. See how the green chairs and bright wall of art in the office really liven things up? Yet we have neutral tones in there to add balance, like the white cabinets, wood counter, and natural jute rug.
And of course things like the homemade headboard in our bedroom – and guest bedroom – add some interest, pattern, and color along with a few more bold and geometric rugs:
The green headboard from our guest room above was also in our first guest room, so we were inching towards our current color preferences back then, but we definitely kept it more toned down in there with neutral tan walls, plain white roman shades, no rug, etc.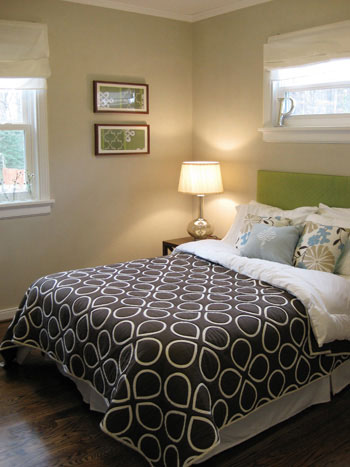 Just for fun, here's a picture of our first bedroom to compare with our current bedroom shot three pictures up. It appears as though our love of cozy bedrooms has remained (especially with pretty chandeliers and breezy white curtains) but we've definitely turned up the dial with brighter pillows, a patterned headboard, and a bold rug in our current house.
We still have moments of calm tone-on-tone color here though, just to balance those hits of bright hue that occur almost everywhere else. For example, there's our sink nook…
… and our hallway of frames…
… and our laundry room. There's some soft avocado color on the walls, but the rest of the room is pretty neutral (white cabinets and shelves, a natural-toned light fixture, white appliances, cork floors, etc) since it's such a small space and we didn't want it to feel cramped.
Actually if you look back at the commonalities among those three spaces that I just mentioned, they're all small – so I think that's definitely a factor when it comes to how much color and pattern we add. And then there are rooms that are a bit larger, like the hall bathroom, which got a plum undertone in the grey paint (it's subtle but definitely noticeable in person) and some bright art along with a colorful window treatment and some teal knobs on the vanity.
So there you have it, a meandering brain dump with a much overdue floor plan of our house's color palette. It's nice to stop and examine these things occasionally because then we can look back on them (posts like this are essentially a time capsule for us, since pages like our House Tour are constantly being updated – so all the in-the-middle stuff gets bumped out). Welcome to our time capsule.
How do you guys like to decorate? Do you prefer one or two paint colors throughout your entire home? A different color in every room? Or a handful of colors that reoccur in a few places? There's definitely not one right answer, so we'd love to hear how you guys like to color your world!
Psst- For a more exhaustive tour of our first house followed by all of the before & afters of our current house, click here and then here.
&nbsp&nbsp&nbsp