Outside
That's what we said when we first laid eyes on our house. Because it was more than just a little lacking in the curb appeal department. In fact, the front yard looked like this: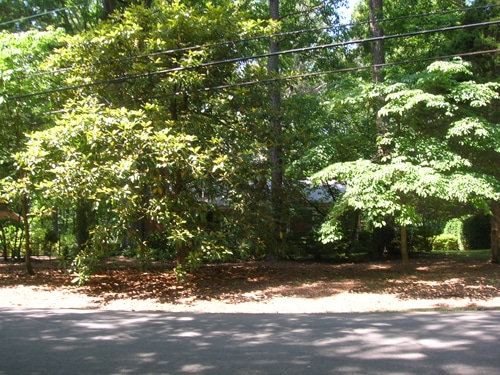 But we looked beyond the jungle and screamed "we'll take it!"
All of our afters wouldn't be half as dramatic if it weren't for the horrifying befores. Which is why we've added tons of photos to our gallery page. So check out all the ridiculously dated before shots along with the much improved afters (and lots of never before seen "in-progres" shots). We've come a long way baby.
&nbsp&nbsp&nbsp
When this Sunday lived up to its name (and brought us beautiful weather in the mid 60s) we contemplated several parks that we could visit to take little Burger for a long walk. In the end, our love for Richmond's old neighborhoods won out and we ended up hitting up Park Ave instead.
Richmond's Park Avenue slices right through The Fan, one of the coolest and most historic parts of the city (and former home to our cousin Erin). There's no shortage of homes to admire, so we're glad we remembered the camera.
Here's a sense of what the colorful streetscapes look like:
Did you see Burger and me in action in that last shot?
Sherry was especially enamored with a lot of door designs that we spotted. She's planning to repaint our yellow door sometime soon and is "in the mood for red" at the moment. Here are a couple of entryways that were especially inspiring to her (there were also a lot with elaborate glasswork and cool house numbers- but we were doing our best not to get arrested while taking photos on people's porches):
And if you're interested in making Park Ave your home, we saw plenty of "For Sale" signs and even got a chance to pop into an Open House – a gorgeous home with 2000+ sq. ft, 10′ ceilings and lots of historic details for $399. It was definitely a nice place, but there's no way we're leaving our home sweet home anytime soon.
&nbsp&nbsp&nbsp