Our First House
Somebody put a cork in us, because we're done with our latest swift and simple DIY project. We wanted to create a convenient little bulletin board in the kitchen to keep favorite recipes and meal ideas on hand (and on our mind- anything in a recipe book is so far out of sight that it's immediately forgotten). But we also didn't want our collection of clippings to clutter things up in the kitchen.
Our solution? A hidden pin board that we created in around ten minutes for under $5. And all we needed were a four-pack of cork tiles from Target (snagged for less than 5 clams) and a bunch of push pins (which we already had in our junk drawer). The cork tiles came with little self adhesive squares for easy hanging, so the entire process was fast and furious.
Here's what we started with: a blank interior door, a pile of cork squares, and a stack of recipes and easy make ahead meals that we're constantly forgetting about: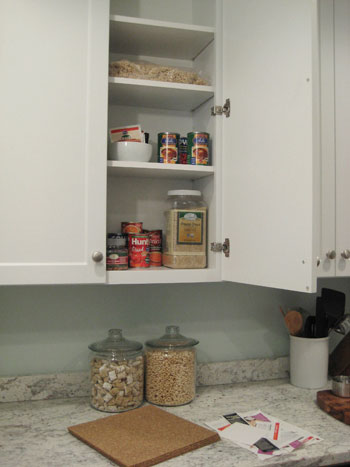 In minutes I had my first tile up on the door. Other than making sure that the cork square was super straight before sticking it on, this step was no sweat.
I decided I wanted a bit of space between the tiles, and determined just by holding them up that three squares would fit perfectly on the door with a little breathing room between 'em. Houston, we have a pin board.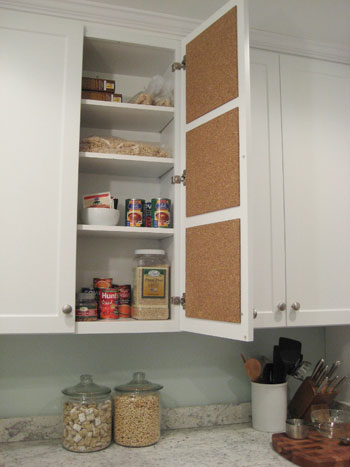 Then I just got to work pinning up all of the forgotten recipes, meal ideas, and food related paraphernalia that we used to collect and neglect. Finally they have a proper place right in front of my face.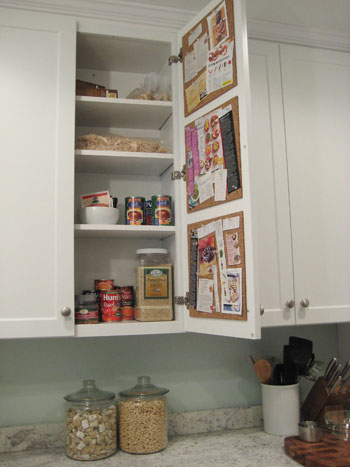 The result is an inspiration board of meal ideas and recipes that remind us of their presence every time we reach for the spices or the olive oil. I even see it in the morning when I'm making oatmeal so I have time to think about what we could have for dinner waaay ahead of time, which is actually a novel idea (no more forgetting to defrost things). And it's also a great place to pin shopping lists or grocery store coupons so they're all in one spot.
We even toyed with the idea of painting the inside of the opposite cabinet with chalkboard paint to create a message center for jotting down notes, reminders, and even shopping lists- but we actually wondered if the fumes from the paint were the best idea in such a contained space full of food (maybe there's no VOC chalkboard paint, which would definitely make us reconsider).
But even without the chalkboard, you gotta love that the whole cork square project was easy, efficient, and super inexpensive. Plus it can be adapted to display anything from chore lists for your kids to extra curricular schedules that usually clutter up your fridge. Kitchen organization never tasted so good!
&nbsp&nbsp&nbsp
Almost every surface in our home is constantly evolving, so I thought I'd document a bit of the presto-change-o process that regularly occurs around here, starting with the fireplace mantel in our den. Here's what it looked like before I started switching things out and shifting things around. Not too bad, but not too exciting either: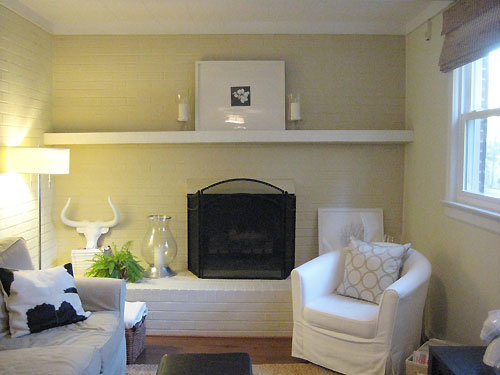 So I brought in an assortment of pale blue vases and green bottles (old wine and Pellegrino ones work) for a little color (and added some purple hydrangeas for even more interest). Switching out the second hurricane for our white ceramic horse (from Target) and sticking a twiggy manzanita branch behind the pony subtly broke up all the symmetry, which is always less expected than something that's perfectly balanced.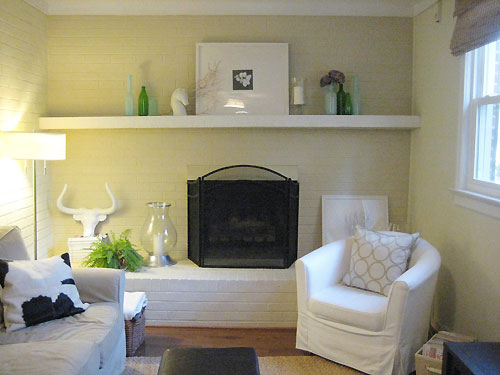 Then I tried layering frames to escape the "box on top of box" look of the big centered frame above the fireplace opening. And since I liked the pop of green from the glass bottles above, I again injected some emerald, this time in the form of a feathery fern and a leafy potted orchid.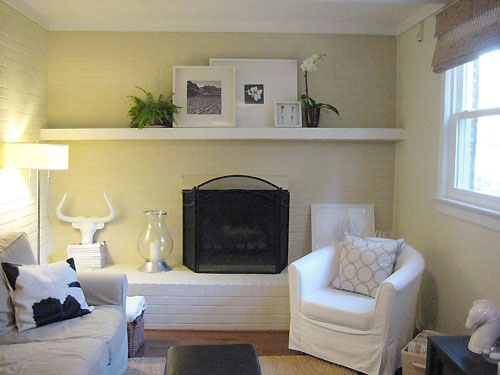 Then I switched out the fern and the orchid for two ceramic horns that I snagged at Pottery Barn Outlet (on clearance for $7 down from $50 a pop). I loved how they introduced soft curves to what was once just a boxy and geometric display.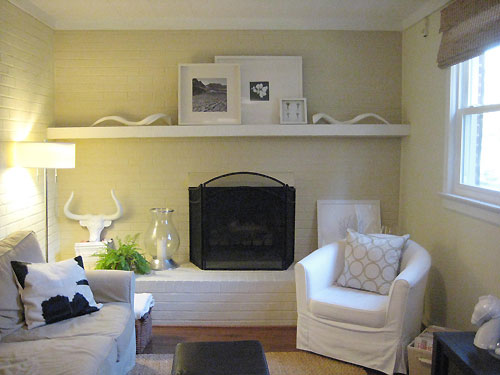 Fearing that all the overlapping frames were getting a bit top heavy, I went back to a super symmetrical display (my initial set up + the new ceramic horns).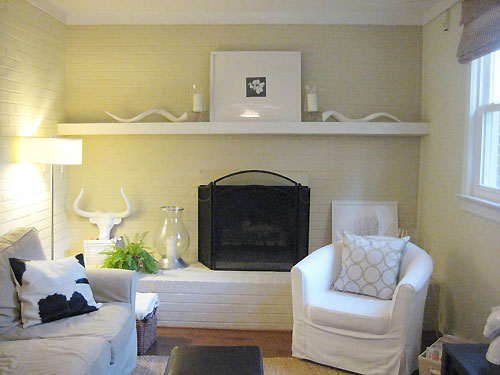 But once again all the symmetry was just a bit too predictable, so I added some potted herbs from the kitchen and brought in our other orchid (in a lighter pot with vibrant pink flowers). By shifting both hurricanes to the right side of the frame and keeping the herbs from feeling totally balanced (one is closer to the frame while one's a bit further away) things still felt balanced but not overly symmetrical and static.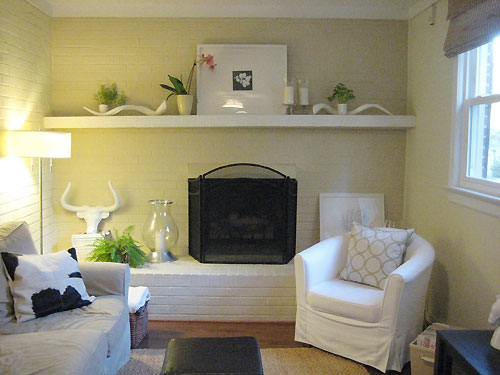 But storing herbs up on the mantle wasn't exactly as convenient as housing them on our kitchen windowsill, so I switched the extra greenery out for some random items I found around the house: a framed collection of keys, a glossy green ceramic pear, and a big silver P.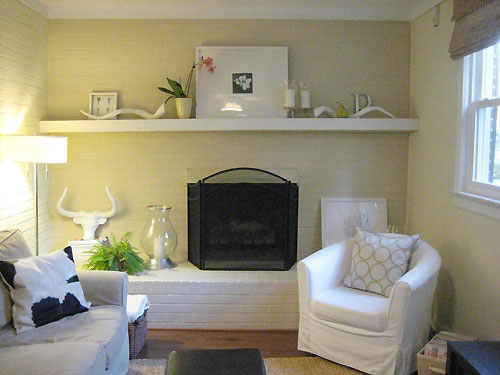 But things started to feel a bit busy, so I edited out the pear, the P and the framed keys. What remained was the winning mantle arrangement. At least for now…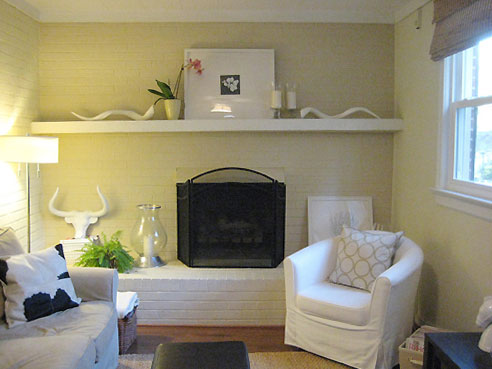 I hope you've enjoyed this little mantel makeover play-by-play. We love that we were able to evolve our fireplace for free using items that we already had around the house (save for the ceramic horns). And we hope we've encouraged you guys to mix and match the things you have at home for a varied look that always holds your attention and never looks stale. We're planning a few more accessorizing tutorials for arranging a coffee table, a bookcase, and more. So, as always, stay tuned…
For a few mantel makeover ideas from BHG, click here and here.
&nbsp&nbsp&nbsp