Our First House
When D over at G&D wrote about a few bedroom essentials she just can't live without, well, let's just say that we were more than intrigued. We're no strangers to a soggy looking bed skirt that puddles on the floor instead of elegantly resting one sixteenth of an inch above it. And we're also constantly wrestling with our duvet thanks to a shifty little comforter that refuses to stay in place. So you can imagine our surprise when D pointed out two super inexpensive products that swooped in and saved the day.
Miracle product #1: Bed skirt pins. Available everywhere from Linens N' Things to Bed Bath & Beyond, we'd never even heard about these tiny swirly pins that can be twisted right into your box spring to hold your bed skirt perfectly in place about a centimeter off of the floor.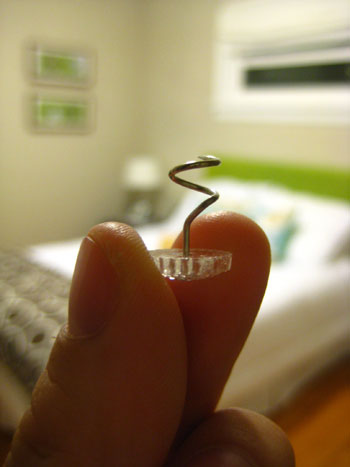 They take about two minutes to stick in place, and they actually make a huge difference in the overall look of your bed (read: more crisp & clean, less lame & loose). And at just $2.39 for a box of about 10, they're really a no-brainer.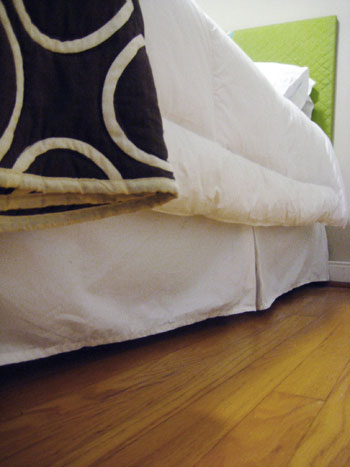 Miracle product #2: Duvet clips. Now these we'd heard of, but for some strange reason we never even considered bothering with them (even though our constantly shifting comforter annoyed us to no end). But somehow seeing them endorsed by D was just the kick in the arse that we needed to take 'em for a test drive. $4.79 later they were ours.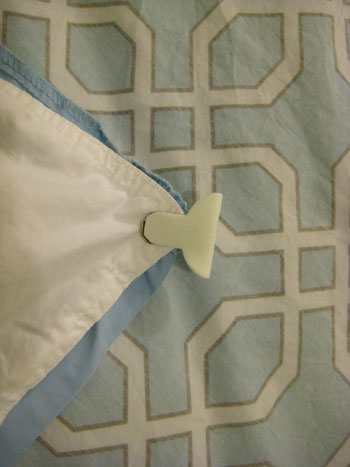 Turning the duvet inside out and clipping each corner to the corner of the comforter allows you to flip the duvet rightside-out again with the comforter nice and secure inside the duvet. Spending about 5 minutes clipping the comforter in place has saved us about thirty minutes per week that we formerly spent shaking, yanking and chastising the comforter for moving around and ruining our lives. Gotta love a quick fix that actually works!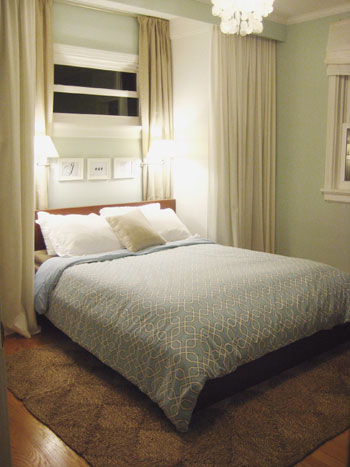 Now we'd like to use some of the time that these miracle products have saved us to send a big wet kiss to G&D for sharing such fabulous bedroom essentials with the masses. I don't know about you guys, but sleep ranks up there with eating and rearranging furniture (in that it's pretty darn important to us) so we're eternally grateful to have discovered such fab finds that make our bedrooms even cozier (and lower maintenance to boot). And all for under eight smackaroos!
&nbsp&nbsp&nbsp
Nothing says come on up to our door and get some candy like two silly little pretend pumpkins. Err, not so much. See last year we were in a bit of a pickle. Mere hours before Halloween we realized our house didn't look at all ready for the slew of adorable little trick or treaters passing through, and all the real pumpkins left in the bins at the grocery store were busted and rotten. So we went with Plan B and hit up Michael's in hopes of scoring some spooky holiday decor. We walked away with, you guessed it, two fake pumpkins (for something like two bucks on sale thanks to our last-minute approach to Halloween decor) and popped them on the porch just in time to dish out some sweets.
But this year instead of tossing our corny faux pumpkins (in the name of recycling!) I wondered if a free mini-makeover could take them from geek to chic. Their bright orange tone (although convincing from the curb) clashed with our brick exterior and red front door…
…and white pumpkins are all the rage these days (see 'em here and here). So I just used some leftover exterior paint to turn 'em white  (well, cream- white would be too blinding and unconvincing) for a more subtle look that's still festive enough to say come get yer candy: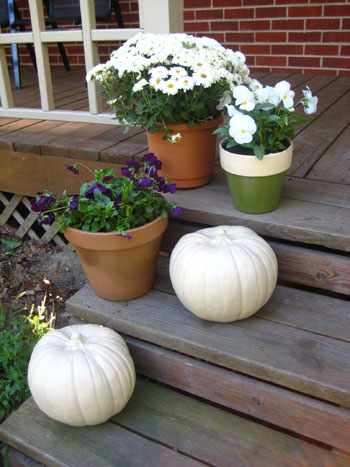 Thanks to some super discounted flowers paired with some pretty little ceramic pots in different colors & sizes, we successfully completed Project Pumpkin on the cheap (for less than $10) and in a snap (the pumpkins only needed one coat of paint so I was finished in a flash).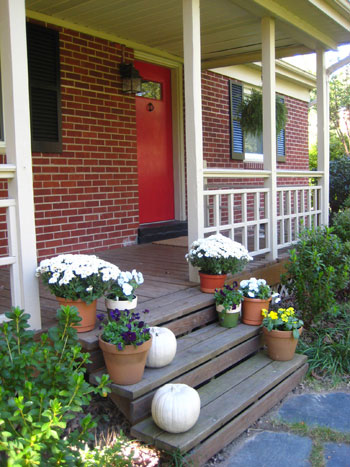 And while we still might snag a few real pumpkins for carving and cooking (we love love love pumpkin seeds!) I think we'll stick with the white varieties for a cute and clean look that works a lot better with our big red door. What say you guys? Do you have any budget Halloween ideas to share? Are there any items that you like to purchase right before the holidays to score a super deal? Dish the dish.
&nbsp&nbsp&nbsp