Our First House
We're back with a second place setting post (you can check out the original one here) and this time we're all about creating that festive holiday feeling. While humming Christmas carols (getting into character is key) and using only items and accessories that we already had around the house, I whipped up seven different tablescapes with glee. Here's the play by play.
I began our first place setting by whipping out our spring table runners (who knew they'd work so well in the winter), popping a feather tree on a cake stand and positioning a few other white objects (some ceramic pears and candle holders) along with vases of green yard clippings on either side. Some cute green bowls topped with white snowflake ornaments (snagged for pennies at Target last year) finish everything off (and would make super cute favors for your guests at the end of the night).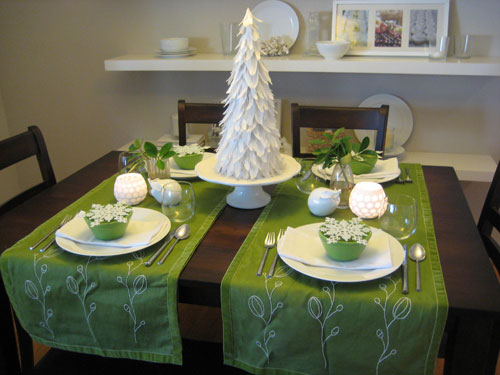 Here's a yummy little detail shot. Feeling festive yet?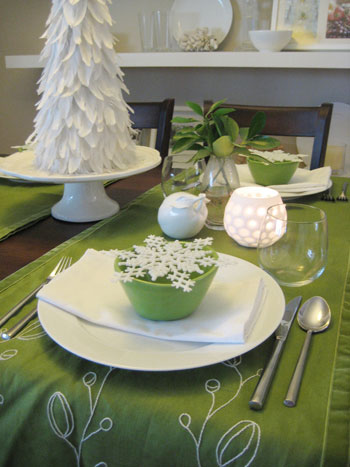 Our second table setting feels a bit more traditional and classic thanks to a red runner (actually a cheap pashmina repurposed for the day) and some more little trees that I bring out each December. Red punch, white servingware and a big ornament in each bowl (which could also be a take-home favor) finishes everything off for sparkle and spirit to spare.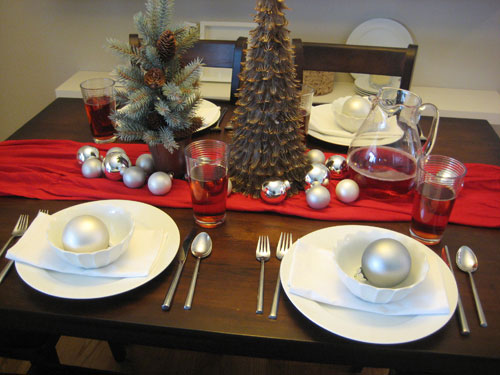 Then we swapped out the runner for our neutral fall one, added even more ornaments, borrowed some hurricanes from the den and a few other white objects from the coffee table (an antler candlestick and a shell ball from the coffee table). The glam finishing touch was placing our chandelier ornaments (snagged for 70% off at West Elm last year) on each plate for graphic interest and seasonal shine. Oh and we tossed one of our Ikea sheepskins (that usually lives atop a slipper chair for a cozy layered look) on the bench for that warm and cozy Christmas dinner feeling. Mmmm.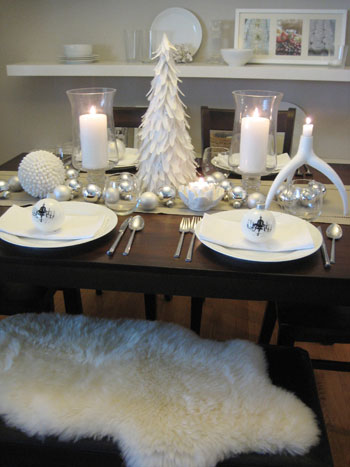 Then we went back to the red pashmina-turned-runner, added a seasonal tree, some bottles of Pellegrino and the pitcher of punch. It's an easy and functional centerpiece (no more running into the kitchen for drink refills). On each plate I popped a green embroidered napkin and an apple place card holder (instructions below). Easy peasy.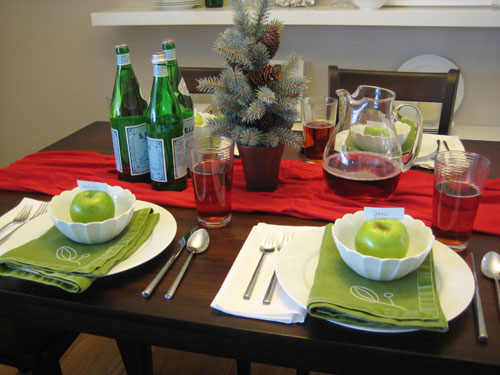 To turn any apple into a chic little place card holder, use a knife to create a shallow slice just behind the center of the apple, then stick a place card (ours are hand written on pieces of card stock) into the groove. Cute, no?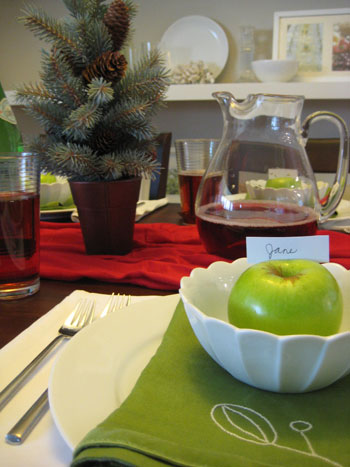 Next I went back to a slew of glittering white objects (the feather tree, shell ball, antler candle stick, flower votive holder, hurricanes, etc) and added some green wine & Pellegrino bottles (we save them for everything from decorative accessorizing to beverage serving) and a few green glass votives (to light up each place setting and go home with each guest at the night's end). Oh and swapping out the green accents for blue glass vases and votives would create a pretty white and blue scheme perfect for a Hanukkah gathering as well.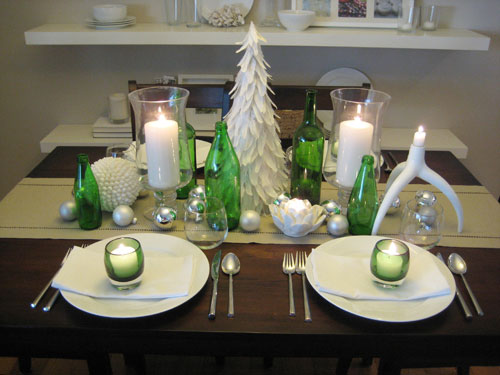 This setting felt like it could also function as a New Year's tableau due to all the glitz and glamour (thanks to that ever present feather tree, our mercury glass candle holders- cheap scores from Ikea- and oodles of ornaments- including a few special ones for each guests to tote home). Oh and we swapped out our bench for the other two chairs that go with our dining set to demonstrate another easy holiday decor idea. Hooking stockings to the back of each chair is super simple (we used an ornament hook to loop them around the back of the chair) and you could also fill them with cute little favors like wooly socks and candy canes for each guest.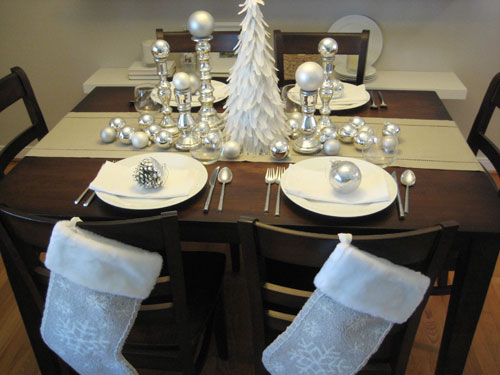 And finally a super casual holiday gathering of little snacks and festive beverages need not be served at a formal table. We love a cute little buffet of bubbly water and punch along with some pistachios and some yummy little cookies and crackers (Trader Joe's famous Gorgonzola crackers are a crowd favorite at our house). And to add even more holiday spirit to the tableau, we popped a few ornaments on our cake stand along with a few white ceramic pears for a little sparkle that goes a long way.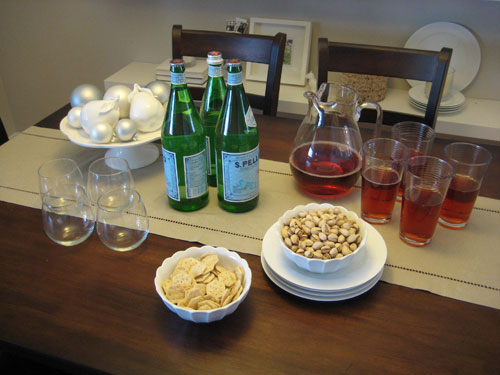 So there ya go. Seven seasonal ways to add sparkle and spirit to your home just in time for company. We'd love to hear your favorite scheme as well as any tips and tricks that you have up your sleeves for setting a seasonal table with style. Happy entertaining!
Looking for more holiday placesetting ideas? Check out these from MyHomeIdeas and these from BHG
&nbsp&nbsp&nbsp
We've had home additions on the brain lately. Maybe it's the house a few blocks away that's in the middle of adding what looks like a garage (see below). Maybe it's our new favorite show on HGTV- "My Big Amazing Renovation." Or maybe it's just our reoccurring daydreaming about what our house would look like with a second story (all part of our plan to never ever move).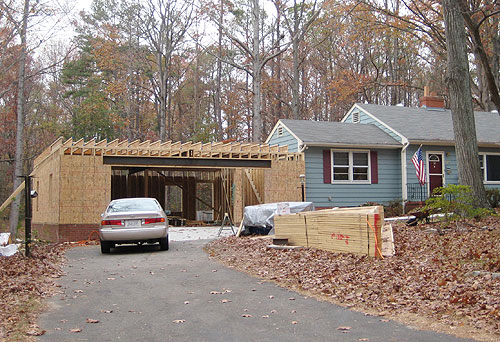 Whatever it is, it led me to this article on RightContractors.com which has some pretty good reminders for anyone contemplating some extra square footage by way of an addition. It underscores the importance of maintaining design consistency- both interior and exterior – with your existing space, as well as with the neighborhood. And of course since the site focuses on helping you find the "right contractor" they mention that it's a crucial first step to find a GC, architect or engineer who can keep those factors in mind.
We'd love to have a contractor or architect help us brainstorm a waaay-in-our-future addition (second floor? bump out into the backyard?). But preferably not the person responsible for the obvious line between old and new roof on our neighbor's addition… or the obviously bricked-over window created when the previous owners of our house turned their porch into the den that we inherited: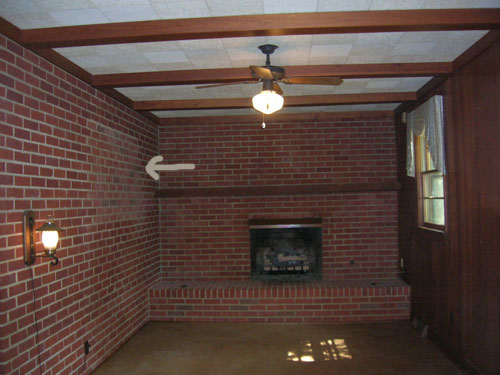 Have any of you guys done the home addition thing? Or seen someone else do it particularly well… or especially poorly? Any tips or advice for the rest of us? Think we should take the plunge and at least get a free estimate… even if it is just for fun in these penny pinching times?
&nbsp&nbsp&nbsp