Our Current House
Since we last checked in on the sunroom last Thursday, Sherry and I have managed to check four more things off the list: installing two ceiling fans, cleaning the concrete floor, leveling it, and cutting the tile and planning out our pattern (aka: dry fitting). But excuse me while I backburner the fan installation tutorial (I promise it'll pop up in a few days) because we're just too psyched to share those three tiling prep steps with you guys. We made some serious weekend progress – more than we thought we would – and we couldn't be more excited about the tile pattern that we landed on. In fact, I'm probably outside tiling as you read this… so hopefully within a week it'll all be fully installed and grouted and ready for the big reveal!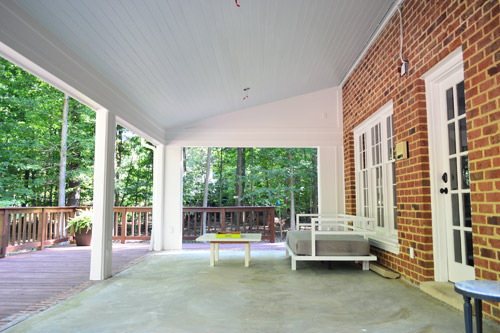 So let's talk about how we got this tile train moving (and if you didn't realize you boarded the tile train, you can check out this post for why we're headed to that destination). Our trio of prep tasks were to: remove a lingering smell, level the ground since this is now open to the elements and we didn't want water pooling in certain places, and determine our tile pattern (border? no border? running brick pattern? modern grid?). Let's start with deep cleaning the concrete to eliminate the odors it was holding onto – because, as you may recall, this room was once covered in a wall to wall carpeting that got wet over time due to broken doors and wood rot, so it was definitely something we needed to attend to.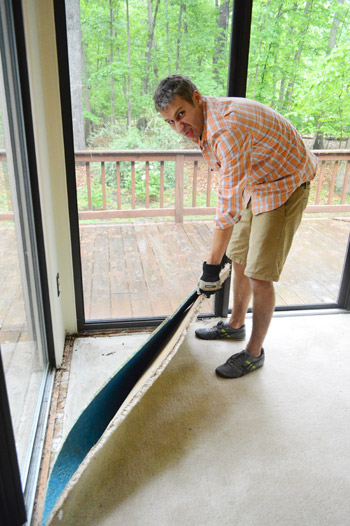 In our post about removing the old carpet a bunch of you actually recommended using this product (MisterMax Anti-Icky-Poo) which many of you described as having a hilarious name but also being the best thing you've ever tried on deeply penetrating odors. Even though we'd be tiling over the cement, we wanted to make sure every time it got hot outside there wasn't any old whiff of something that wafted up from the cement floors). Most of the more obvious smells had thankfully vanished once we removed all of the glass doors to permanently air things out, but since we'd already bought the bottle based on your recommends, we figured it couldn't hurt to scrub some on just to be sure nothing would re-emerge on a muggy day. It's really easy to apply (scrub on with a brush + let dry = smell's gone).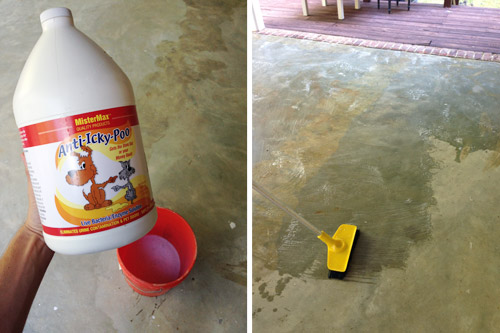 The other issue we needed to solve before tiling was taking care of some not-so-level spots. With the glass doors removed, the space does collect a bit of moisture when it rains. For the most part it dries off quickly, but small puddles do form in a couple of low spots – most of which seem to be closer to the house (in spots where we'll probably have furniture). And furniture sitting in little puddles after every heavy rain = not so great.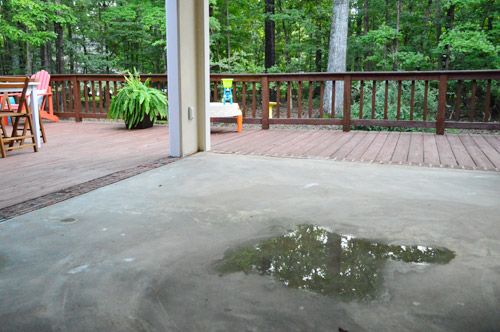 So we decided to give self-leveling concrete a try. It sounded scary (and messy) to us at first, but after watching a few videos online it actually didn't seem so bad. We got all of our supplies at The Tile Shop which, in addition to the concrete mix itself, included a primer they recommended to help the new cement bond to the existing surface. Unlike a paint primer, it was a really watery substance that I could brush on super fast.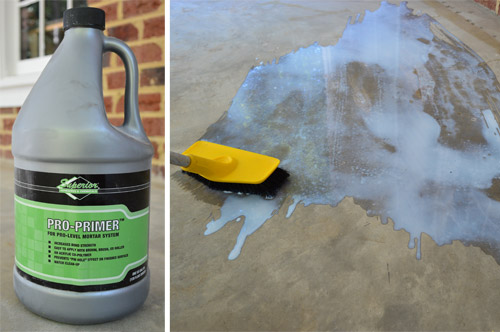 One bag of self-leveling concrete was supposed to cover 15 sq. ft. and I wasn't planning to do the whole sunroom floor (since I just wanted to fill in some low spots and, if anything, create a very slight slope away from the house). So I ended up getting five bags – but only using four of them. I also got two buckets so I could mix two batches at once, but only used one because the 5-gallon Home Depot bucket ended up not being big enough. So if you're attempting this at home, go straight for a 6-galloner (the Tile Shop one fit the bill).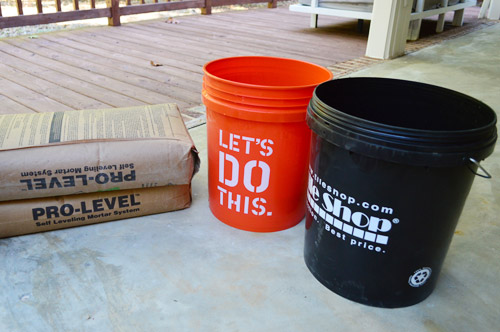 Speaking of buckets, I also bought this "measuring bucket" that's designed to measure out the perfect amount of water for one bag of concrete (if you fill it too high the water drains out of the hole and then you're all set). I felt a little silly for paying $2 for a bucket with a hole in it, but it ended up being worth the peace of mind that I got from not having to worry that I made my mix too soupy or not soupy enough.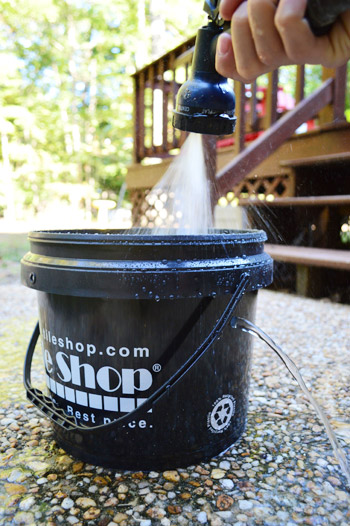 After pouring the water in my 6-gallon mixing bucket, I added a bit of the cement powder at a time – mixing it really well before adding more, until the bag was empty. You basically have to mix this stuff with a paddle-mixer (i.e. giant whisk attached to a drill) so I was glad to have already purchased one for my upcoming tiling job.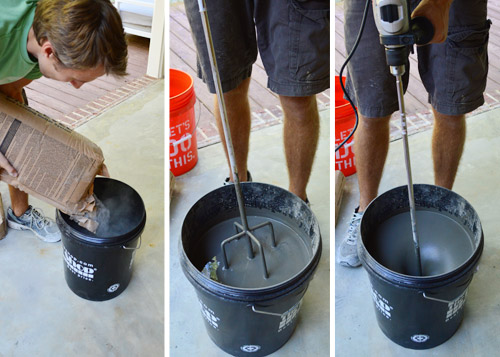 This stuff is actually really watery. You picture cement being kinda like a thick cake batter consistency, but this was more like sunscreen that's been sitting out in the heat. But it's that liquid-y property that actually helps it level things off mostly on its own.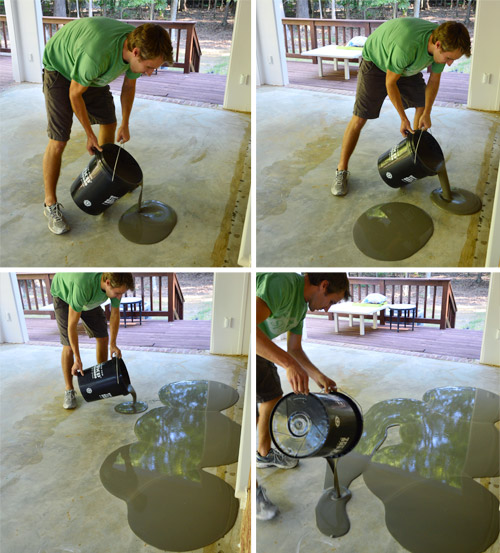 It doesn't do all of the work for you, but it definitely works with you as you go. I used a broom to push some of my puddles together and into corners. But it wasn't hard or meticulous work by any means. Wherever I swept, the liquid just magically reformed into a level, flat surface. It's almost like that liquid that Alex Mack or those kids from those old Capri Sun commercials would turn into, just less silvery.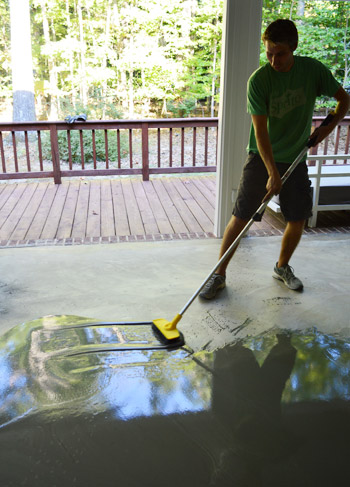 I ended up using four bags in total and you can see how the area closest to the window was already starting to harden by the time my last batch (to the left of it) went on.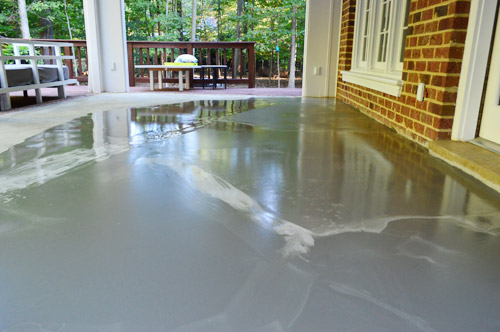 But it wasn't until the next morning that it was completely solid and ready to walk skip on.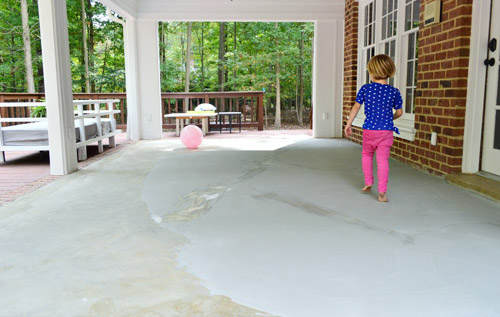 With that out of the way, we could finally start placing tile. Well, start planning to place tile. Sherry and I were 99% sure we wanted to do a brick-layer pattern with our 20″ x 20″ square tiles. But we weren't quite sure where we wanted to start the pattern and whether or not we wanted some sort of a border. So we broke open a box or two and started playing around.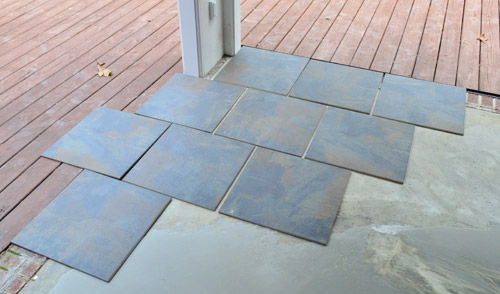 The first thing that the exercise confirmed is that we needed to cut out the bottoms of our door jambs. We did this for our wood floors inside too. It basically lets the flooring slide under the trim, saving you from having to intricately cut your tile around it and ultimately gives you a cleaner look. To determine the height I set my flat saw (aka Dremel Multimax) against a tile and a piece of cardboard (to protect the tile from the saw and to adjust for thinset height).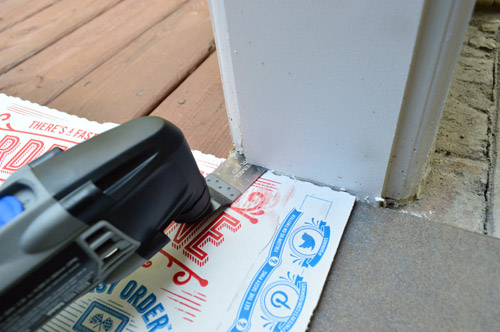 See? You end up with a much cleaner edge once that chunk of trim is gone. And once the thinset raises the tile a smidge more it should be a nice tight fit (which we'll then seal with clear exterior caulk to protect the wood from any moisture/rot).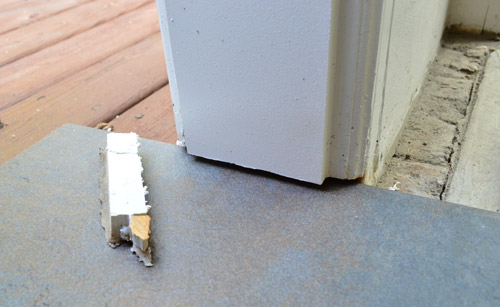 The other thing this exercise confirmed for us is that we definitely want a border. It not only helps to define the edge more crisply (and ended up looking a lot more high end to us) we realized it would also make the tiling job a lot easier when it came to cutting tiles around the posts (instead of notching things out, I could make the border the same width as the posts and just lay them down to create that outside edge which squared off everything so that interior rectangle of tiles would require fewer cuts). So after a lot of moving and cutting and shifting and more cutting, this is the final pattern that we came up with: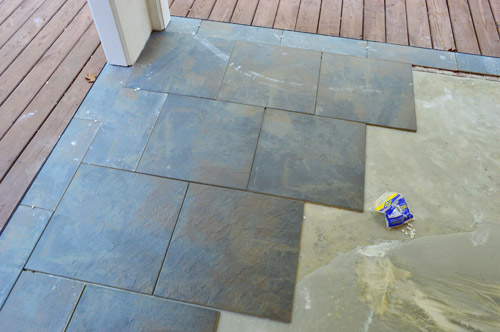 I had to create the border pieces myself by cutting the square tiles on the wet saw. But luckily I was able to get three border pieces out of one tile, so we didn't have to sacrifice too much scrap to this cause!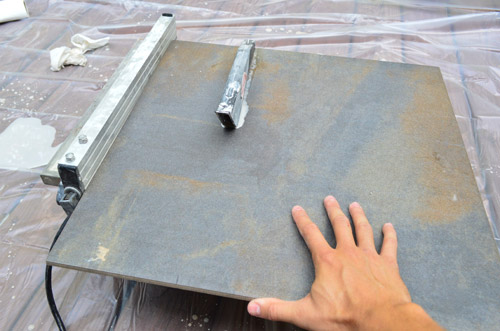 It wasn't the most fun task to slice up eight tiles this way (to make 24 border tiles to complete the perimeter) but we think it was a huge improvement over the unbordered look. It defines the edge nicely (which is helpful because there is a slight step up from the deck into the sunroom) and, by doing all of these cuts during my prep stage, it'll hopefully make my day(s) of tile-laying go a lot faster. Oh yeah, and forgive the hazy water mark from the hose in the shot below, it wiped right off.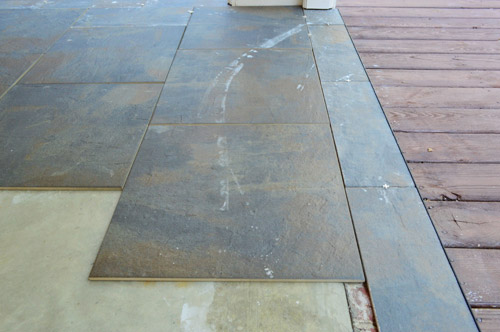 But before I leave the topic of edges, one thing we were concerned about was how the exposed edge of the tiles would look from the deck (and if it would get beat-up over time). So we bought these metal edging pieces (that can be easily cut to size with some metal snips) to give our edges a finished look. I realize they look very in-your-face in this photo below (they're more of a matte charcoal tone, but for some reason they look shiny and black below) but if you look at the photo above you can see it actually blends pretty nicely with the tile to create a thin charcoal rule around the border that looks clean and finished (without exposing the chalky cut edge of the tile).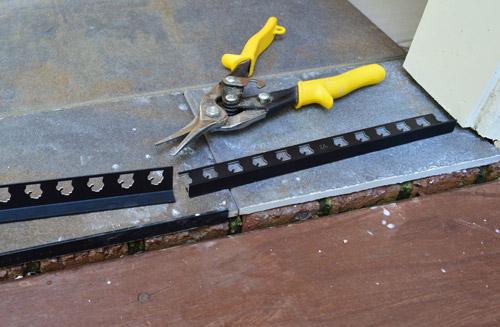 My goal is to get all of the tile set by the end of the day tomorrow and then it just needs to be grouted and clean up for us to share those big before and after pics with you guys – hopefully by the beginning of next week. And fan enthusiasts – fret not. I'll be back with a pretty detailed post about how we installed them (turns out they weren't as bad as we feared). What did you guys do this weekend?
&nbsp&nbsp&nbsp
First of all, thanks so much for the unbelievable outpouring of well-wishes for our announcement yesterday. It was great to share our news with you guys. While madly trying to keep up with the 3,000+ (!!) comments, our afternoon post sort of fell by the wayside, so we figured we'll share an afternoon one today with you instead. In the meantime, Sherry is cutting and pasting a ton of questions from yesterday's comments and working on Friday's Q&A post for you, and I'm here to shake my tail feathers about managing to cross a few more things off our sunroom to-do list in this week (yes, feel free to picture that).
So let's talk about three steps that have taken our sunroom from half-baked to feeling a lot more finished: adding trim, caulking, and painting. They're not always glamorous project steps (especially installing trim and caulking) but details like those tend to make all the difference (wonky trim and messy caulk can add up to a shoddy looking finished product, even if a room is furnished really nicely). I originally planned to gloss over the trim-hanging part and dive more deeply into caulking and painting, but then I messed something up and, voila, it felt like info that might be helpful to share. Nothing like celebrating your screw ups, right?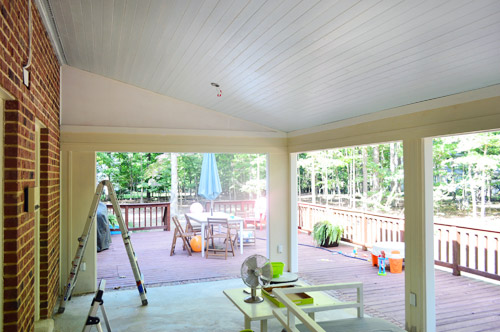 Ok, so we had to add trim to polish off our recently tongue-and-groove planked ceiliing. Originally I was just going to toss out a quick mention like: "We installed trim to bridge the gaps around the ceiling and the new triangle panels we added. To match the other simple lattice-like trim around the rest of the room, we opted not to use typical crown molding. Plus, it spared us from having to calculate how to cut all of tricky crown angles against an angled ceiling."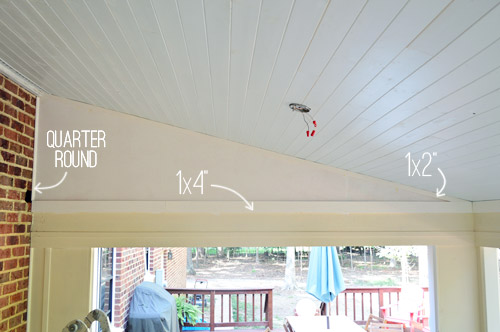 But after the trim was installed, we both stepped back and decided it didn't look good. Not because it wasn't crown, but because the 1 x 2″ against the ceiling and the quarter-round against the brick were too puny compared to the heft of the nice chunky 1 x 4″ trim piece along the bottom of the triangle.
I had chosen the 1 x 2″ trim piece to run along the freshly lofted ceiling because it most closely resembled the lattice in the rest of the room. The bigger 1 x 4″ trim piece was only there to cover some leftover rough patches from where the previous trim was removed (so something thicker was necessary). But we decided the 1 x 4″ board looked much better than any of the skimpier stuff, so suddenly Sherry and I found ourselves removing trim again… just 24 hours after putting it up.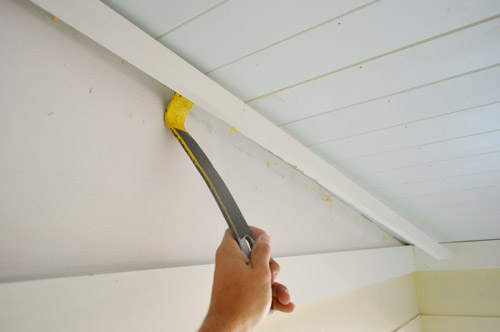 We each pried off a side and decided to install 1 x 4″ all around each triangle, so the trim near the ceiling carried all same visual weight – rather than the trim closest to the top looking chintzy. It's hard to judge from this picture below (especially since it's not caulked or painted) but trust me, it looks waaaay better. As for how we hung it, it's mostly a two person job when you're working with such long pieces up on a ladder, so one of us held it in place and the other worked the nail gun (I slipped some wood glue behind each piece for extra hold too).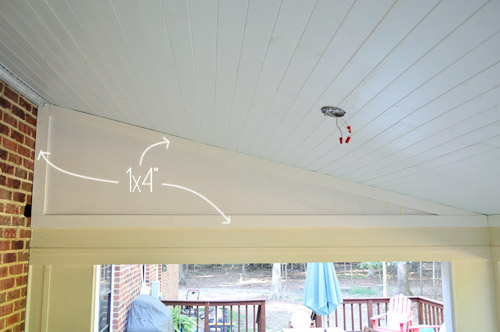 And while we're on the topic of the trim, it was a bit more challenging than a usual trim project – just because we were dealing with some angles. Fortunately we had the angle finder handy from the Kreg Crown Pro that we bought to do crown molding in our last house (though I'm sure any angle-finding tool would work). So we just set it in the nook of the triangle to find our angle.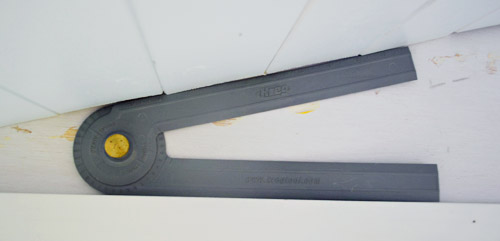 Then I marked that same angle on our board.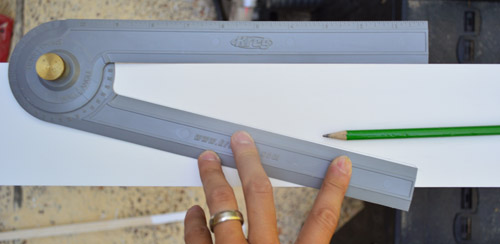 And then I used a circular saw to cut along the line.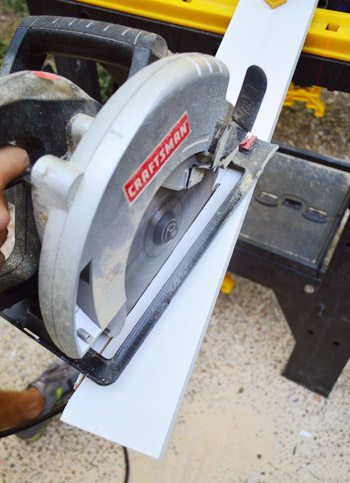 Most of the cuts weren't 100% perfect, but it wasn't anything that caulk wouldn't fix. So as trim jobs went, it was a relatively speedy one – even if we did have to do those two triangle sections of it twice.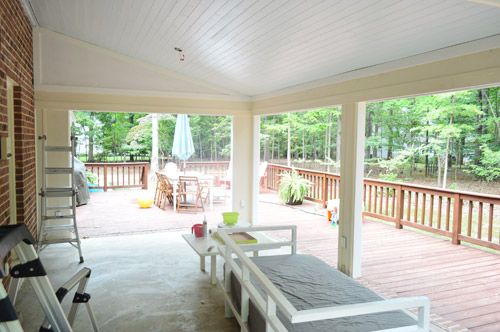 With trim up, it was time for caulking. Sherry and I usually tag-team steps like this, but outdoor caulk is too VOC-filled to inhale while carrying my baby, so I gladly flew solo. In addition to caulking all of the seams around the trim, there were also a bunch of touch-ups that I wanted to do on the ceiling itself. Call me crazy for taking the time to caulk all of our nail holes in each ceiling plank, but it was totally worth the couple of hours it took for the peace of mind that everything was sealed in and nothing would warp/rot due to the elements or the changing temps outside. Eventually I came up with quite the efficiently system: squirt a dot of caulk in each spot, smoosh in with a finger (dipped in water to help keep caulk from building up on my skin) and then smooth that over with a damp sponge. The sponge step was the key to a nice finish, and it made it go faster too.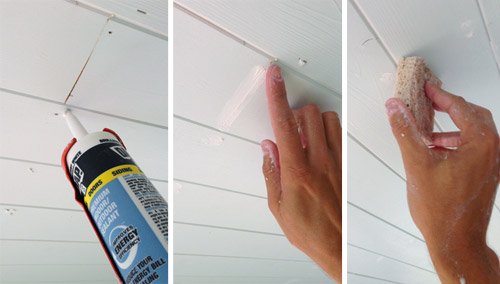 None of our before-and-after shots of the caulked holes really demonstrated the difference (it's one of those things you have to see in person, I guess) but having all of the little distractions taken care of was actually a big move forward in this ceiling feeling finished.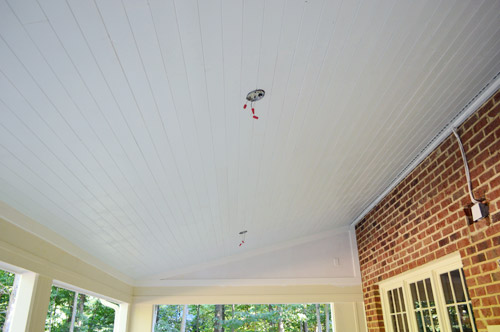 Then there was painting to deal with. Not that the cream + white + blue + primer + brick combo isn't totally the rage these days.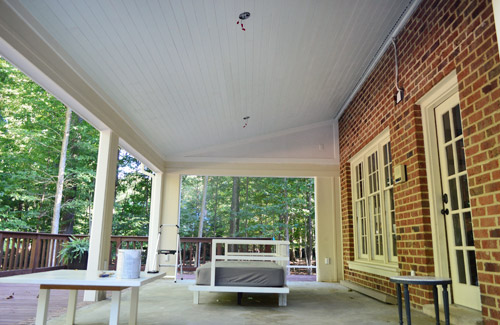 In our heads painting this room wasn't a big deal. There's like 0.003 square feet of walls, after all (I may have rounded down a smidge). But then we remembered the 15-paned door and the three giant 15-paned windows. URGH. That's a whole lotta mullions.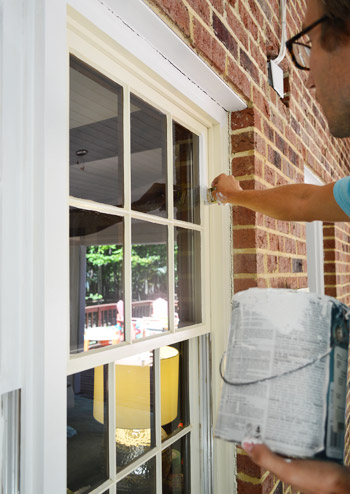 Okay, I'm being dramatic. It wasn't that bad. It took me about four hours total to apply two coats for full coverage – but I wouldn't call it an exciting job. Oddly enough Sherry loves to be the cutter-inner, so she was sad that exterior paint is on the no-no-pregnancy list. Did I hit the jackpot with my trim-painting wife or what? Oh and as for the color, we used Snowbound by Sherwin Williams, since the rest of our white exterior trim is painted that color.
I did my best not to get too much paint on the windows just to save ourselves time on the back-end from having to scrape all 60 of those window panes with a razor to remove the paint (we learned on the windows upstairs that scraping was a pain whenever primer was involved, so we figured exterior paint would be just as difficult since it's a more intense formula with a built-in primer). I also tried out a new brush that's specifically meant for this type of job – just in the name of seeing if it made things easier. In the end after both of us tried it (Sherry for just a second with a gas mask on because the girl couldn't resist) we actually found it harder to use than our usual short-handled brush, but we're glad that we gave it a shot, just to be sure there's not some magic bullet out there.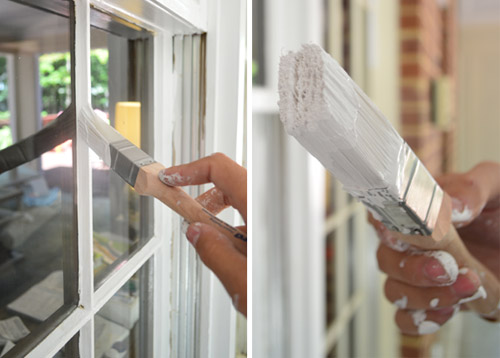 With the windows and the door done, it seemed like a cinch to finally get to painting the walls, which I did with a small foam roller for the most part (I did use an angled brush to get into some of the cracks and tight spots but it was mostly a roller job).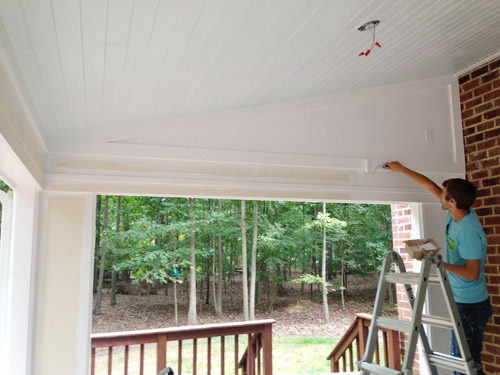 With that done, I still had one last paint job to complete: a final coat of blue on the ceiling to hide all of the caulking I'd done. Even though the white caulk blended pretty nicely with the light blue ceiling, it was still noticeable. Unpainted caulk tends to "flash" so that it's visible at certain angles, like the row of caulked nail holes you can see below looking sort of dusty.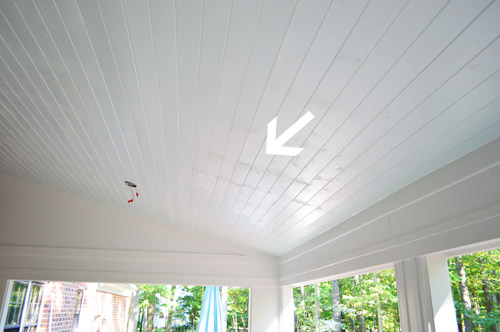 Painting a ceiling is one of our least favorite tasks, but since I didn't have to edge this one (and it only needed one coat) it was actually pretty fast. I knocked it out in a hour while Clara was at preschool.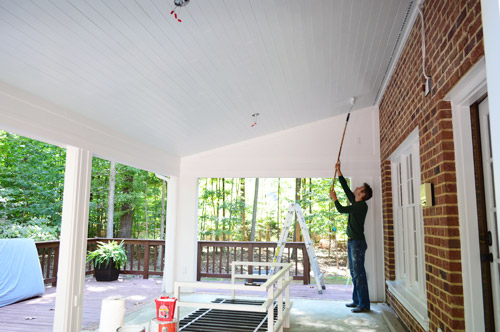 So yeah, not the most exciting updates in the world – but these little fixes really helped take our "completed" ceiling to being an actual completed ceiling. Oh except for maybe the missing fans part. Ignore that for now, and let's just appreciate the difference between how it looked before trim/caulk/paint…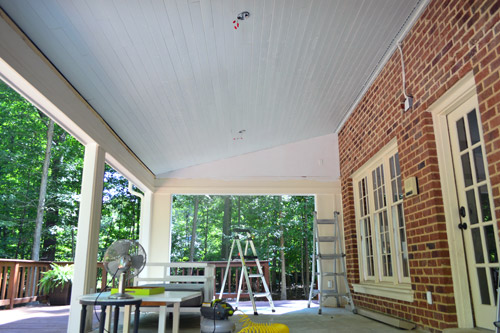 …and after.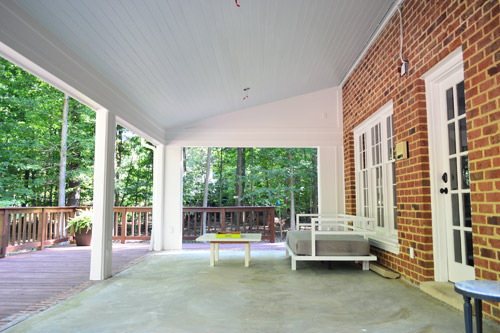 And of course I'd be remiss to leave without a before picture of the room when we started.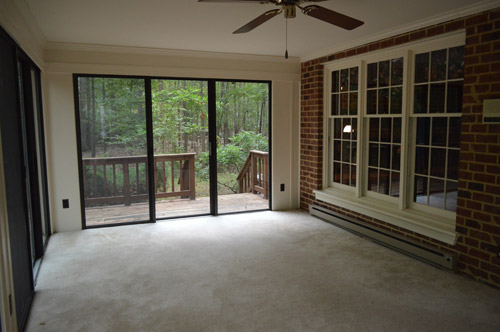 So we got to cross two more lines off of our to-do list, which puts us that much closer to the part that we're looking forward to the most: the tile floor! Hopefully that's on the docket to get done (er, well, started) this week so that we can have a update for you next week.
Rip up the old carpeting (more on that here)

Remove the sliding doors and tracks to open things up (more on that here)

Convert outlets to outdoor-safe rain-proof ones with covers (more on that here)
Add fresh casing to the openings and caulk like crazy to waterproof everything (more on that here)

Demo the old ceiling in hopes of possibly lofting it (get a pro in here for advice) (more on that here)

Remove old beams, reinforce ceiling stability, and re-route electrical for two fans instead of one (more on that here)
Prime, paint, and install our beadboard ceiling (more on that here)

Add trim around the ceiling and caulk/paint that
Repaint the columns & interior of the sunroom with white exterior paint (it's currently cream)
Hang two ceiling fans
Tile the floors (we bought something that's outdoor safe and less slick than the glue-stained concrete here)
Get a rug, furniture, and maybe even add some outdoor curtains and lanterns/sconces?
Build an outdoor fireplace like this down the line
It's funny how going into this reno we thought "well it's not a kitchen or a bathroom so it probably won't take that long" – yet it involved ripping out eight doors and a ceiling, adding all new electrical, installing a new ceiling plank by plank, painting a whole bunch of trim and windows and doors. And there are still fans and tiling to be tackled, as well as the dream of adding a fireplace someday. Turns out sunroom renos can be just as involved as a bathroom or a kitchen makeover. Who knew?
&nbsp&nbsp&nbsp