Our Current House
Well, our new washer and dryer have arrived! And we promised to share how the installation went, what we did with the floors under them, and how we like them so far (that's where things really get interesting). We realized a few days ago that we've had a whole bunch of different laundry situations. In our first house we had front loaders with a counter…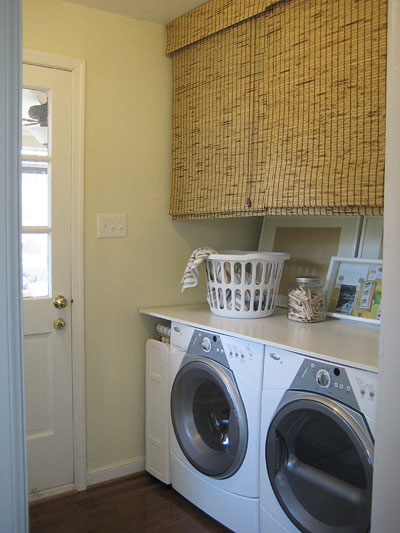 In our second house we had stacked front loaders with cubbies next to them…
… and in this house we've had top loaders with cabinetry above them. Here are the new guys sitting pretty (although not quite as pretty as the others since we haven't tackled the rest of this nook yet).
Honestly, each of these setups have had pros and cons:
We loved having a counter over our first house's front loaders, but it usually ended up cluttered with stuff (it became sort of a dump-this-here-until-we-deal-with-it-later zone). And this setup required the most bending, which wasn't that bad at the time, but now that we've had top loaders a while, we definitely can appreciate less of that.
Our stacked loaders were nice because we had cubbies for storing everything we needed, which didn't tend to get cluttered like the counter (there just wasn't space to drop grocery bags, returns, and other random items there). There was still a fair amount of bending and lifting when it came to doing laundry, but again – at the time it was just fine, and we really only realized how nice top loaders were once we moved here.
The obvious con to top loaders is that there's no place for a counter, which we did really like having, but we still have the top of the dryer to work with (we can put the laundry basket there for example – or lay things out to air dry). The cabinets might be our favorite storage solution (as compared to open cubbies or pull-up blinds) just because everything is tucked out of view but still really easy-access.
*Note: We got some questions on Friday's post about why we don't bring our appliances with us when we move. It seems to be one of those regional things. Here people tend to leave them, but it's not like you leave nice ones without getting anything in return for them – it's just factored into the listing price here (a seller can command a higher asking price by saying "there are new top of the line appliances" which obviously add a lot of appeal/value).
But now onto our new washer and dryer! When it came to delivery, the guys were really nice, although I did realize about half-way through it that I needed to lay down a dropcloth to protect the runner, even though they wore those nice little shoe-booties (the runner was getting dripped on by the old appliances as they came down – but it was thankfully nothing I couldn't just wipe down to remove). With the booties/dropcloth combo it looks like a slip-n-slide situation (I begged them to take off their booties because I was afraid they'd fall) but thankfully they went slow and steady and all was fine. Turns out I'm just a worry wart.
You might remember that we couldn't wait to get the old appliances up and out of there so we could finally replace the old pan under the washer and remove the remaining carpet scraps that were sitting under the dryer.
We decided that laying down some thick 3/4″ plywood (which is the same depth as our hardwoods) would be a nice way to give that particle-board subflooring a more finished look – especially since we could stain it to match the floors so well (we used one coat of Dark Walnut followed by three coats of SafeCoat Acrylacq to seal them). We actually added plywood under our last washer and dryer (more on that here) since we heard it was easier on them to have reinforced flooring (something about them lasting longer) so we're hoping it gives these a leg-up.
As soon as the guys carried our old appliances downstairs we ran up into the laundry nook for a quick floor presto-change-o, which we did in a blind panic because we knew it would only take them a few minutes to get the old ones downstairs and the new ones upstairs. First we had to remove the old carpeting, which was more secure than we expected (John actually had to scrape up the staples in a mad-dash after we yanked up the carpet and underlayment). Look at him go:
Then we had to get the boards down. Here's the first one going in. We had pre-measured them and stained/sealed them beforehand so they were all ready to slide into place when the appliances came up.
The second one went right in after the first, but there's still a small gap that we have to fill where the molding jutted out too far for us to get a flush result. We hope it'll look nice and complete once we slide that missing piece in (we're just going to cut one more slice of plywood and stain it to match). Wish we had time to prime and paint that blue trim hiding in the nook while the old washers were out, but it might have to wait for a rainy day…
When you step a little further back, you can hardly tell it's not the same hardwood flooring running under those appliances (we didn't photoshop the crack out of this pic, it's just barely noticeable from this distance). And we're really happy with how well the color matches. We also plan to add some nice white folding doors (there were some blue ones hanging there originally) so that's another reason we thought the subtle flooring change should work really well.
As for leak protection, since these guys are on the second floor (and we REALLY REALLY don't want them to cause damage to anything below them, we were sure to place the washer in a plastic water-catching basin and also upgraded to those nicer reinforced steel water lines instead of the plastic ones.
The crazy thing is that during installation there was actually a small leak where it was attached to our water line, but we caught it while the installer was still here, and he ducked back there and fixed it by tightening things a little. The lesson? Check those lines!
So now onto the fun stuff: how we like our new washer and dryer! Well, we LOVE the dryer so far. It has been quieter, has a much larger capacity, doesn't shrink things nearly as much as our older one did (that one practically "burned" things and this one has a heat sensor so it doesn't over-dry). I also love the charming little chime sound it makes when it's done (which can still be silenced, but it's so much better than the loud buzz that our old one made).
We also really like the digital setup of the washer and the dryer. It's easy to see things, like how long each cycle still has left.
The washer's capacity is also really awesome. It fits a lot more than any of our previous models (especially the old one we were replacing).
And now for the womp-womp. Remember how I worried that bad things happen in threes? Well, our new washer is broken. I'll pause for effect, as I quietly weep into my dirty laundry pile. The installation just included starting it to make sure there were no leaks when it filled up, but they didn't stay to watch it run a full cycle (which is completely understandable… that would be close to an hour of washer-watching time).
So imagine our surprise when we ran our first real load of laundry well after they had pulled out of our driveway and heard a crazy-loud grinding sound during the wash cycle (whenever the agitator is moving, there's this jarring metal-against-metal sound). We even captured it on video, which does no justice to how loud it is – you can hear it all the way from downstairs with the TV or radio blaring.
I woefully called Home Depot to tell them we already had a problem and they told us to call Maytag, who told us they could get a tech out in seven days. Ack! A full week without a working washer after buying a new one and expecting it to run without issue? I sweetly asked if they could get that service call moved up a bit since we were expecting a working machine upon delivery (our laundry had built-up a bunch already, so the prospect of another seven days of waiting stunk) and they said we could call Home Depot and see if they could do anything. I explained that I called them first, but would try one more time.
Well, when HD heard it was going to be a week until Maytag could make a service call (which might not even fix things, it might just diagnose that I needed a new machine, which then had to be ordered) – I could feel them trying to work something out for me, which I really appreciated. They had mercy on my sweet laundry-missing soul and agreed to take back the first one and deliver a new one on Thursday.
I'm really happy with Home Depot's customer service (I'm sure it's a lot easier for them to just say "call Maytag, it's a mechanical issue that they're supposed to handle) and I have to be honest that I wish Maytag had been able to come out for a service call within 48 hours or so, which is what I expected when my brain reached that "oh snap, our brand new washer is broken" moment.
So that's where we are. Still sleepless in Seattle washerless in Richmond, but we love our dryer and the new flooring under it. And here's hoping that by Thursday I'll be whistling while I work that new washer. I've never looked forward to doing laundry this much in my life! Have you guys had any unexpected delivery or new-appliance issues? We're happier than ever that ours have a one-year warranty given this little curve-ball, but we hope this third house snafu means we have all of our bad luck out of the way for a while…
*************************************
Sidenote: We'd love to see you guys this weekend at the Richmond Home & Garden Show! We're speaking at 2pm on Saturday and Sunday (with a book signing following Saturday's talk). You can get half-price tickets online right here. Oh and they gave us the shock of our life when we were driving down the highway and saw our giant faces on a billboard.
Seriously, we screamed so loud it probably scared other drivers. It's exciting, unbelievable, and terrifying to see your own mug that big.
&nbsp&nbsp&nbsp
It's been a busy but productive week in the nursery built-in department, so I'm going to cover a lot in this post. Hang on to your hats, crank up your favorite Swedish electropop, and be prepared for some nitty-gritty detail on how we began the transformation from free-standing Ikea dresser to built-in dresser/bookshelf combo (that's not a finished result on the right, by the way, it's just photoshop).
As you might recall, we bought two FJELL dressers because they were the size we needed and they were made of solid wood. But they did need a little additional help when it came to giving them a built-in look:
The indented side profile meant it couldn't sit flush to the wall, leaving a pretty glaring gap that needed filling
The nursery's baseboards on both the side and the back also prevented it from hugging the walls tightly
The bottom drawer wasn't built up enough from the floor to accommodate wrap-around baseboards, which we wanted to add to complete the built-in look
None of these issues were insurmountable, but it did take a some extra work to get them taken care of before we could move on to the fun stuff. Let's start with problem #2: the existing baseboard, since it's an issue that anyone would run into with any piece of furniture they're trying to build-in. The solution? Cut it out. I just had to mark where to make my cuts. I marked where it sat originally, but kept in mind that when I removed the side baseboard, the whole piece would shift to the left against the wall. Same goes for marking the side cut (when I remove the back baseboard, it would sit further back).
To cut it out I used my Dremel Multimax. The metal radiator cover (leftover from this project) is just there to help protect the floor. You don't technically need a metal grate, but I figured this way it would make a pretty distinct noise when my blade got too close, which was a nice warning to keep me from damaging the floor underneath it.
Once I had cut all the way through, I scored the seam between the wall and the baseboard with a utility knife (to make sure no wall paint peeled off with the baseboard). Then I just pried off the quarter-round and the baseboard.
With both the back and side baseboard removed, I excitedly pushed the piece back into the corner… only to realize that the top piece was now the problem. It was bigger than the bottom of the dresser, so the overhang was preventing me from getting the piece completely flush. Bummer.
So Sherry and I had a little "meeting of the minds" and decided to trim the top a smidge to remedy the situation. Luckily, being an IKEA product, it was easy enough to remove the top (after I marked how much would need to come off). I was sure to write my cut measurements on the side that needed a trim so that once I got downstairs to my saw I didn't accidentally slice the wrong end.
I set the guide on my table saw to the correct measurement and just sliced the two sides accordingly. This is a moment we were particularly thankful that we went with a nice sturdy dresser made of solid wood (and not particle board, which can be tougher to cut cleanly).
With the top cut and reattached, the dresser now sat nice and flush against the wall on the back… but I was still dealing with a gap-on-the-side (problem #1, if you remember).
This was an easy solution because the gap just happened to be 3/4″, which meant I just had to slip a 1 x 2″ piece of scrap wood in there (after I cut it to the right length with my miter saw). It was actually a tight enough fit that it might've stayed on its own, but I put a couple of nails through the dresser into it, just to be safe.
The last and final issue (#3) was building up the entire piece so that the bottom drawer wouldn't be blocked by the new baseboard that we wanted to wrap around the base of each dresser. We decided a simple base/platform for the dresser to sit on would be nice and simple, and would buy us the extra height that we needed. Since it wouldn't be visible, we just chose some 2 x 4″ framing lumber (since we needed it raised about 3.5″ off the ground). I cut the pieces and then attached them to each other in place, using my Kreg jig and some nice heavy duty screws.
Here you can see how the dresser (sans drawers at the moment, for easier moving) sits right on top of this base. I didn't actually attach the dresser to the base, which leads me to my next point…
Securing everything in place was really important. We didn't want this thing to move an inch – especially movement of the tip-over variety (dressers can be especially wobbly if someone pulls all the drawers out at once). So using my stud-finder I found as many places as I could to drill through nice solid wood (i.e. not the thinner backing piece) into studs – along both the side and the back. Not only did that help make things super flush against the wall, but both the base and the dresser became rock solid in their placement. Phew.
I know all of that didn't seem terribly complicated (or exciting), but there was enough careful measuring, cutting, and screwing together, that it took me a good day-ish to complete… especially since I had to do it twice over.
I was deep into building mode at this point, but logic told me that I should pause construction and Sherry and I should do some of our painting and staining before going further. Taking time for these steps while everything was still apart would mean less edging and taping, so it would hopefully save us time in the long (and result in a really clean look).
First up was staining the top, since we decided we wanted to take advantage of its wood grain texture and make it contrast a bit from the rest of it. We had two stains on hand that we've always liked, so it was just a matter of choosing which one worked for this application.
We were having a hard time judging based on the cans, so we decided to just look at real projects that were already sporting those colors. Clara's dresser was Red Mahogany and my bike frames were Dark Walnut.
It's hard to tell from that picture above, but in person the Dark Walnut color was closer to the floors (Red Mahogany was darker) and was also the exact tone that we'd used on the bike frames that would go in the room, so that made the decision pretty easy.
I removed the tops, took them out to the garage, and got to staining. They each took two coats of stain followed by two coats of Acrylacq sealer, which Sherry brushed on (it's non-toxic and awesome for sealing in any off-gasing from non-eco products like the stain). Including drying time, this step stretched over about four days, but each coat went on pretty quickly, so a lot of that was just drying time.
But we didn't sit idly by, we had two whole dressers to paint. Except one thing we worried about – which some of you explicitly warned us about – was the potential bleed-through. Strong knots like these have a tendency to make stains seep right through a paint job over time, even through layers of primer and paint in some cases.
So thanks to some of your warnings and a little bit of research on Sherry's part, we decided to take a couple of knot-busting tricks for a spin. The first was to cover them in wood putty, since it's supposed to seal the knots and keep them from bleeding. I'll admit I wasn't crazy about this technique, mostly because it was time consuming (this piece has LOTS of knots) and when it came to sanding down the dried wood putty (which I did with a palm sander) it was a thin line to walk between getting it smooth again and sanding all the putty off completely. In the end I think we got a nice thin glaze of putty over most of the knots though, which did feel like added protection.
Sherry also had another trick up her sleeve (thanks Internet!), which was painting a thin layer of wood glue over each of those puttied knot areas. This technique was considerably faster (glue is surprisingly easy to paint with) and it didn't result in any sanding dust getting everywhere.
We could've avoided the putty and glue by using a shellac-based primer, but since we try to keep things as fume-free as possible (especially in a nursery where a newborn will soon reside), we prefer to use Kilz Premium as our primer (it's VOC-free). We used that on our kitchen cabinets a month ago, which were darker and had their fair share of knots, and nothing has come through their crisp white finish, so it does seem to do the trick in most cases – and the wood putty and glue that we used on the dresser feels like nice added insurance.
Not to skip ahead or anything, but it has been a few days since priming and painting, and so far not even a hint of bleed has occurred (sometimes things bleed right through the primer before you even get to the painting step, so it has been really comforting). Only time will tell if these techniques really work for the long run, but you know we'll keep you posted either way.
Speaking of the priming step, we already had some Kilz Premium leftover from when we painted our bedroom dark blue, which is why it's tinted.
We probably didn't need tinted primer, but we appreciated the chance to use up this can. Sherry detached and rolled all of the drawer fronts downstairs in the kitchen (it was too cold in the garage) and upstairs I rolled the bases in place, along with a few pieces that I had already cut for the top part of the build.
With the primer dry, we could move on to our first coat of paint (we went with Senora Gray in Advance paint, which is made for furniture and cabinetry, and has some nice self-leveling and low-VOC perks). It's the same paint we used on our office cabinets in our last house, along with our last two kitchens. Those office cabinets were beat on by Clara with wooden trains when she was younger, so we love how durable it was.
The color nearly gave us heart palpitations when it first went on. It was so light and so, I dunno, beige. We actually triple checked the swatch and can to make sure they had mixed it right. Fortunately it dried considerably darker and much closer to what we were envisioning. Phew.
Although I'll admit we did second-guess the color a bit. It's not nearly as dark as our photoshopped rendering, but that was on purpose. After doing that mock up, Sherry found the inspiration picture below on Pinterest (it's originally from Ballard Designs) and that's how we picked Senora Gray for the built-ins and Going To The Chapel for the walls (more on that process in this post).
Still, I think Senora Gray turned out a bit lighter than we expected – namely in that it doesn't contrast with the walls as much as we thought it would (even though it's four squares below the wall color on the swatch card). We considering picking a new color before applying our second coat, but we decided it was a blessing in disguise, because it makes the stained wood top and the hardware pop really nicely thanks to more contrast, and as much as Sherry and I might chose moodier built-ins for ourselves, we keep trying to remind ourselves that this is a room for a little boy (and it only has one window) – so keeping things lighter isn't a bad thing.
We finished both coats and put everything back together – including the stained top, the hardware (which came with the FJELL originally), and even started attaching some of the molding on the floor. That baseboard and shoe molding will be painted Senora Gray too – we just have some caulking to do first.
Update #1: People are wondering how we decided to paint the baseboard (and the crown we'll be adding) to match the built-ins instead of keeping them white. We think it could look good either way, but we just prefer the look of an entire piece from floor to ceiling being the same tone (as opposed to accenting something like baseboard or crown by choosing to make it a contrasting color – especially since we already have the stained wood top as an accent). Here's an example of a painted built-in with the baseboard and the crown in the same color, which we really like.
We're super psyched with how they're turning out. I know they're a bit anticlimactic without having their bookcase tops on yet, but after all the time it took to get this far we relished in them at least looking partially complete.
Update #2: A few others have asked if we've thought about filling that indentation on the inside edge of each dresser for more balance. In person we actually really love that added detail (we feel like it gives them some special architecture, and once the crib is between them it'll be a nice little accent). Of course we could always change our minds and add something to fill that down the road, so we'll keep you posted!
Assuming things stay on course the next couple of days, we should have these completely finished – built to the ceiling and primed/painted – by Wednesday or Thursday. Which is a huge relief because when I first started planning these guys I felt like I'd be lucky to have them done before baby boy arrives. Guess I kinda overestimated the task!
We're definitely looking forward to crossing off the biggest project on our to-do list with ten weeks left for the fun stuff (Sherry can't wait to tackle things like bedding, mobile-making, art, curtains, a bold green closet door, adding sconces and a light fixture, and doing something exciting to the wall between the built-ins where the crib will go).
Were you guys painting or building anything this weekend? Have you ever used existing furniture, but altered it in some way to get a custom or built-in look?
&nbsp&nbsp&nbsp