Our Book
Let's take a second to chat about how the book bid-ness works, at least for us. Sometimes we get hilarious and adorable comments like this: "Holy cow, your book was a New York Times bestseller! Congrats! You must be rich!!" …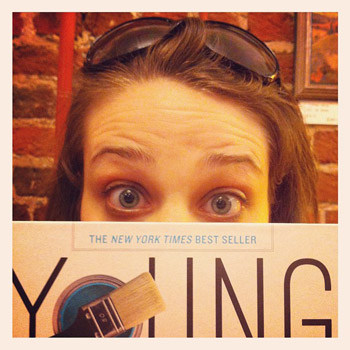 … and it makes us realize that other than fleetingly mentioning how the whole book deal thing works in this blogiversary video (around 17:10 near the end), we haven't really talked about it at all. So since folks have been requesting more behind the scenes details on the subject (even from as early as September of last year when we did the Q&A video below) this post is well overdue. Let's dive in and over-share, shall we? Spoiler alert: Donald Trump, we're not. But that's ok. We're cheap-os and we know it (please sing that to the tune of "we're sexy and we know it" out loud in whatever room/office/subway car you're currently inhabiting).
As we mentioned in the video, this book thing has always been for the fun and the amazement of seeing our names in print. It has never been about money, which is a good thing since that's not usually what comes a-rollin' in when you're a first time author (well, not unless you're Lena Dunham apparently).
The way that a book usually works is that the author gets a fee for all of the work that they do before the book comes out. This is called an advance. In our case, being first time authors, it was a modest advance. Someone like Stephen King might be able to buy a yacht with his. Ours… no yacht. Actually, if you break our advance down across the time over the past two years that we've spent outlining the book, writing the proposal, pitching the book, writing the manuscript, revising the manuscript, doing projects for the book, shooting the book, and editing the book we probably made around five dollars an hour while working on it (we didn't keep a time log or anything, but that's our best guess). So yeah, John probably earned more per hour at his high school library job of shelving books than he did writing one (especially since he's splitting that $5 wage with me – ha!).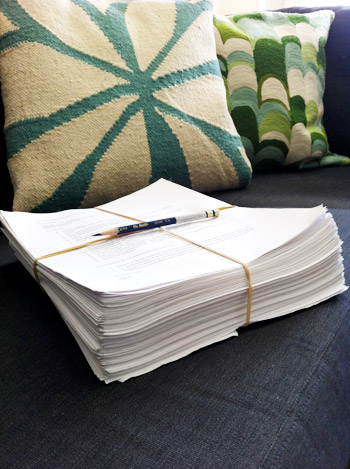 But you won't see us complaining. It's an amazing opportunity (one we'd almost be happy to have done for free – just don't tell our publisher) so that's why we said "holycowyes!" to a book. If you're a first time author like us, we actually wouldn't recommend writing a book for the money (you'd probably be really let down if you were just in it for the dough). Instead, I'd recommend doing it for the experience and the thrill of seeing your words in a bookstore and your book on your mom's coffee table… that's a pretty freaking awesome moment.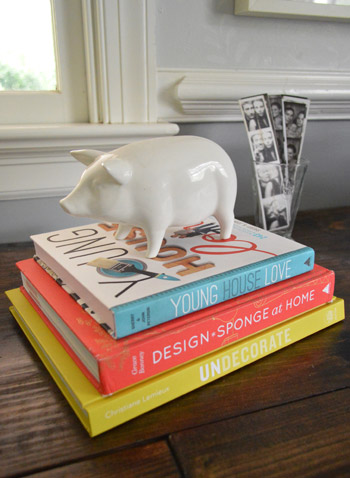 The way it works, at least how it worked for us, is that first you get that modest advance (paid out in smaller installments throughout the book-writing process) and then a few years later after the book is out in print (it typically takes around 2-3 years for it to go from concept to being printed) you get into the "book royalty" area. We've been told that many authors only earn their advance but never "make it" to receiving royalties, since it necessitates selling enough books for the author to hit their royalty point. See, the publisher actually doesn't pay us a penny until their book sales earn back all of the advance they paid us plus money they spent on the illustrator, the photographer, etc. So it's not until they earn all of that book-making money back that we'll start receiving royalties (which are also pretty modest since we're first timers).
We're nowhere close to hitting that royalty point. Maybe in a year or two we'll get there. Maybe sooner. And maybe never. But assuming our publisher eventually makes all that money back, they'll start issuing our little royalty checks twice a year. Once we hit that point we'll make around a dollar or two per book (royalties are a very small percentage of the heavily discounted price that a bookstore pays per book, which is usually around half of the book's cover price – and it can vary by vendor). But as of today, we haven't seen a book check since the last installment of our advance came a year ago.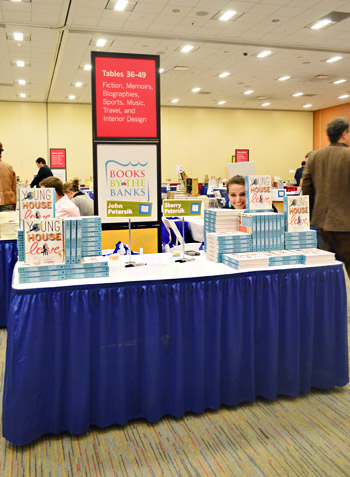 So we thought that was an interesting tidbit to share. We never really knew how it worked, so learning that an author doesn't get paid when the book comes out or with the sale of each book was enlightening to us. And a year ago if we saw someone get on the NY Times bestseller list, even for just a week, we'd probably assume they no longer use toilet paper and prefer to use hundy dolla bills to wipe their bestselling author buns. It's so not like that around here. We use gold bars. Just kidding. Those would be cold.
We also always assumed authors got paid when they toured – even just a little bit to offset the work they're unable to do while on the road (our tour stretches over four months) but that isn't the case, at least for us it's not. But they cover the travel expenses and dude, we've had the opportunity to meet so many of you! And I've achieved my lifelong goal of getting to sign ceramic animals! And that, my friends, is the beauty of book-writing. Plus, you know what they say: Mo money, mo problems ceramic animals and then your husband wants to kill you.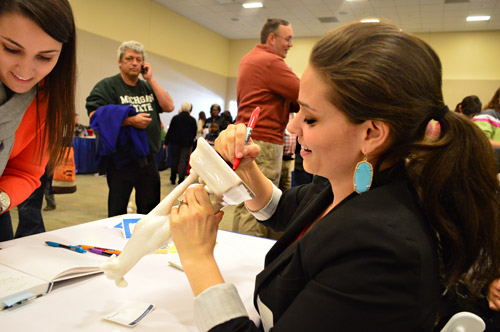 Another reason we thought this post would be helpful is that we don't want to embark on any big projects without explaining that we're paying for them in the same way that we've always paid for things (the old penny-saving-over-time method that we know and love). Our book agent actually said it's somewhat rare for a first time author to make more money on the back end of a book than on the front end (meaning that your modest advance is usually the most any first time author will see from a book) so we've known that from day one, which is really nice when it comes to setting expectations and all that good stuff.
As is the case for a lot of other things in our life, we did this for the love. Corny but true. The fact that you guys share photos like this with us? Seriously, it makes our chests all swelly and bursty. Even John's stony man-heart.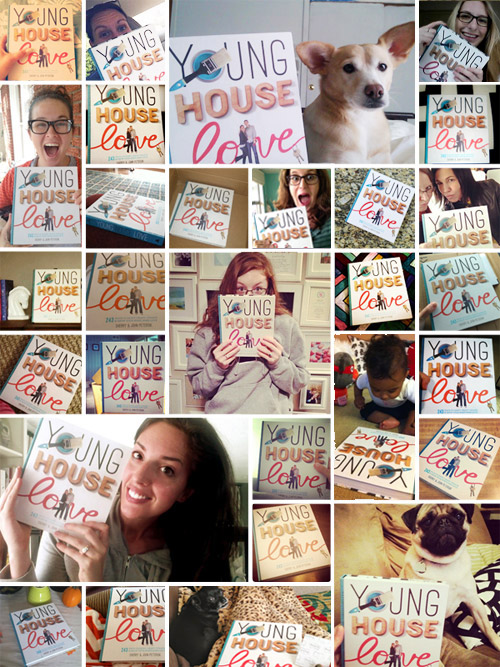 Plus when it came to the actual deals that publishers were offering us, we wanted to choose who we worked with based on things other than the money. For example, a few other publishers wanted to create a big $50 coffee table book with us, and we felt a lot less comfortable with that. So one huuuge reason that we went with our publisher (thereby choosing this deal) was because they "got us" and allowed us to be our dorky selves on every page while slapping an approachable price tag on the thing.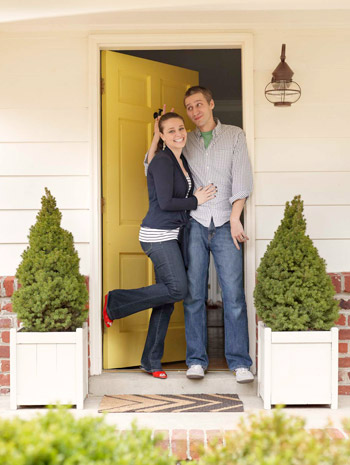 So all of this is just to say that we're more committed than ever to keeping it real, saving cash whenever we can, and squirreling away extra pennies towards future projects, just like we always have. There's no Rolls Royce and Beverly-Hills-ish plastic surgery in our future but I fantasize about completely different things anyway. Like Clara's big girl room. Dude, who's excited about Clara's big girl room?! $herdog is beside herself (you know she only uses the third person when she's really hyped). Last night I was making up rap names for the whole family. Burger could be Potato Skinz. And Clara could be Small Fry. Catchy, right? And I tried to change John's name from J-Boom to Applebeez or Bloomin' Onion but he wasn't having it.
&nbsp&nbsp&nbsp
Man, it feels like it's been a month since we had a book tour update for ya. Oh, that's because it has. We were on hiatus while bookstores and retailers focused on the holiday rush (instead of hosting authors) so last week's adventures in Texas and Florida were our first stops since finishing up in DC and Richmond in early December. And as much fun as stops in northern cities like Boston, Chicago, Toronto and Minneapolis were – we were excited to enjoy some warm weather in the southern half of the country. #longpostwarning
But then Austin had to go and look like this…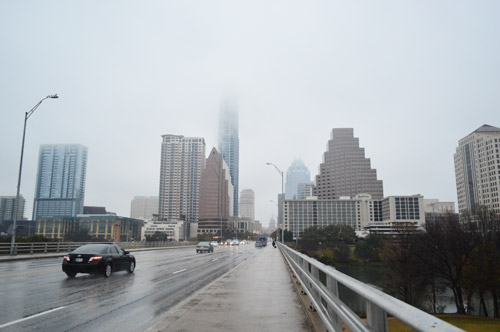 Texas was apparently in a month-long drought until we (and our great weather luck) showed up and brought buckets of heavy rain. But that didn't stop us from taking in some of this awesome city that people have been raving to us about (it was both of our first times in Austin). We walked a mile-ish in the misty weather to South Congress to do some eating (Guero's) and shopping. For instance, Sherry hit up the Kendra Scott store and purchased these guys on sale (which she wore later that night to the signing, where she met dozens of other girls also wearing similar ones). In her words: "I did it, I came to Austin and I blended."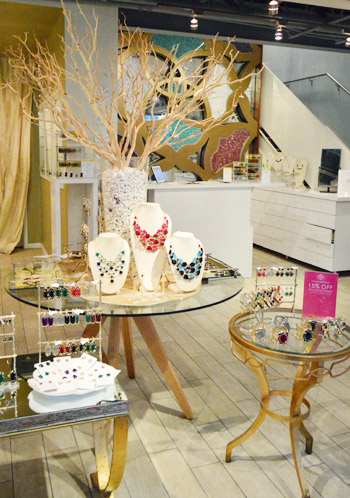 After the always exciting earring shopping (just kidding, I'm a dude – so my eyes glazed over during that trip), we wandered into Uncommon Objects, which housed the coolest and quirkest assortment of antiques and weird wares. We were obedient shoppers and followed their "no photography" rule so the only picture we have to share is what we bought there after Sherry and I spent over an hour rooting through all their bins and baskets of old objects (this is our idea of a good time, and there were tons of wildly odd and amazingly old things to find).
We came home with an old tin 7, an assortment of old dominoes (which say 1-4-3, another favorite number of ours) and letter tiles (that spell L-O-V-E… as you can see). There's talk of a shadowbox in their future for Clara's big girl room, so we'll have to see where they end up.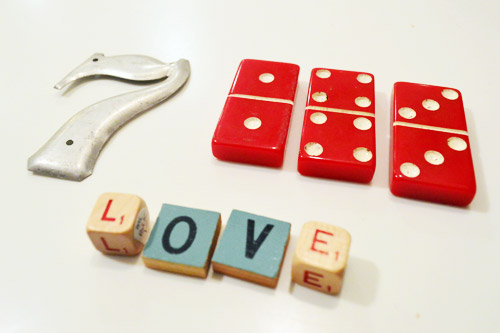 Once our shopping adventure had us sufficiently damp and sufficiently cold, we trudged back to our hotel to warm up and ready ourselves for that evening's book signing. They put us up at the W Hotel downtown, which was pretty awesome (lots of modern tile and wallpaper) but we plan to do a recap post of all of our hotel inspiration (along with hotel-staying tips that we've picked up along the way) once the tour is over. So for now he's a preview of the cool textures and patterns found in Austin: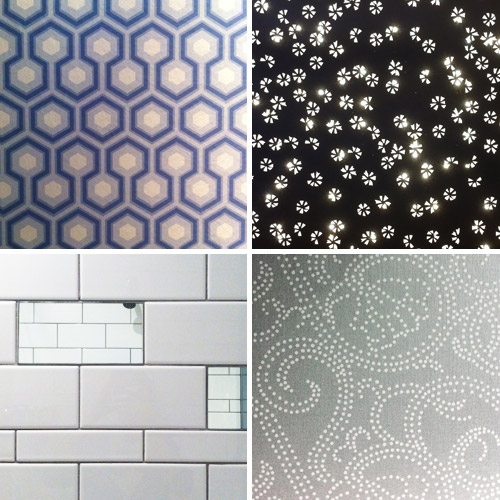 Our signing that night was at BookPeople, which is just about the biggest independent bookstore we've ever seen. So big they even had our names on a marque outside and a curtain for us to pop out of at the start of our welcome talk. The only thing missing was a giant spotlight or something. (Thanks Sidhya for the picture below).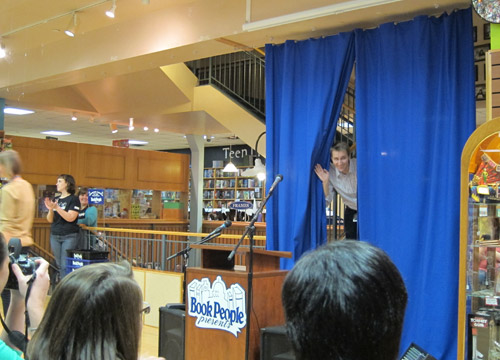 Unlike our previous stops where we either gave a long talk or no talk at all, this particular week we were tasked with a 15 minute chat followed by some Q&A at each stop. Something we learned just the day before we left. Oh well. We work best under pressure.
Actually, thanks to the aforementioned rainy walk to South Congress and back, we were able to brainstorm and practice a little chat consisting of five ways that we found writing a book to be surprisingly different than writing a blog. And rather than transcribe it here, we asked Alison of the blog House of Hepworths t0 capture it on video for us. Thanks so much Alison! And for anyone wondering where Sherry's bangs are, well you'll get that answer and more. It's a no holds barred conversation about everything from a future Petersik baby to getting a new house and everything in between:
If you watched the video, you may have noticed at one point I stopped to take a photo of Sherry while she talked. You never know when a photo might come in handy right? Sherry was not pleased with my impromptu photo session.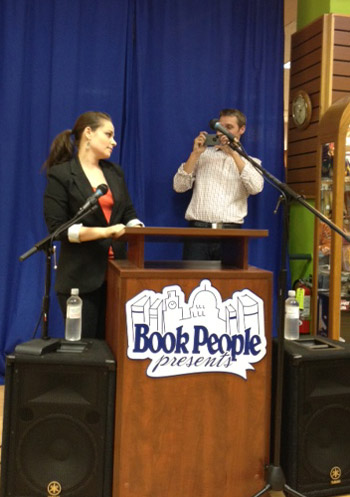 Jamie took the shot above. And here's the shot I captured below. Can't you just feel the eye-roll? I'll probably get another one for actually including this gem in the post.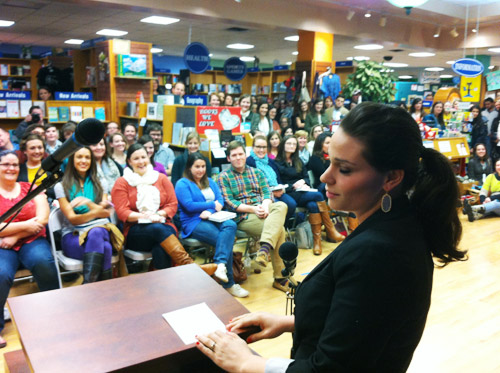 Following the chat and our brief Q&A session, we raced up the stairs to begin the signing portion of the evening. And like our other stops, amongst tons of smiling faces and energetic people there were some good stories to pass along. For example, look how smiley Sidhya, Alison, and Katie are. People ask if signings are overwhelming or tiring but meeting so many fun and happy people gives us almost an embarrassing amount of energy. We feed off of you guys and before we know it we're all grin-y and hyper too.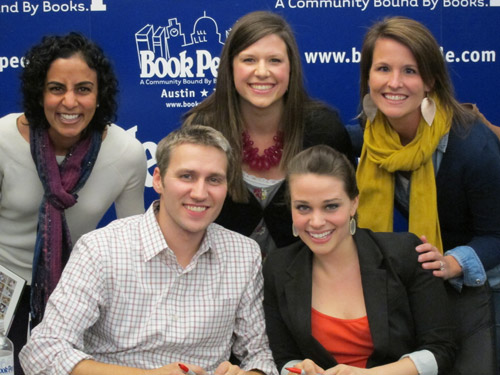 We love hearing all of the interesting stories that come up, like this poor woman who got in a fender bender on the way to the signing. Since she didn't have any paper handy, she and her friend ended up using the back of our book to exchange insurance info with the other driver. Ha!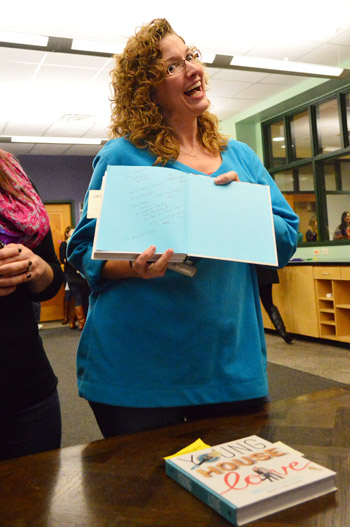 Audrey had a minor dental procedure the day before so she wasn't able to talk or smile (her boyfriend emailed us ahead of time to explain why a seemingly unhappy not-chatting-at-all girl might step up to our table) so we commiserated with her and took this no-smiles-allowed picture.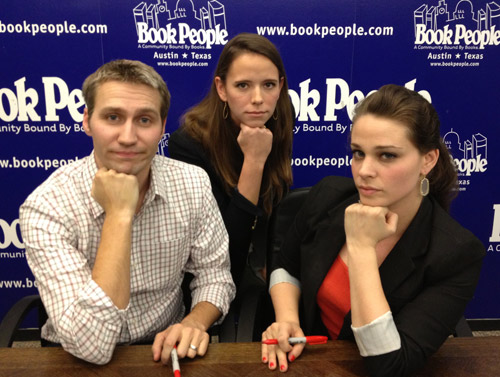 And how cool is this? Megan and Brian both work at Home Depot so they brought us our very own apron, which was intricately designed by the lettering person at their store (shout out to the Evan Road Home Depot #6550!). It was so awesome it deserved a murtsy (that's a man curtsy for anyone not familiar). Murtsying is the new planking. You heard it here first.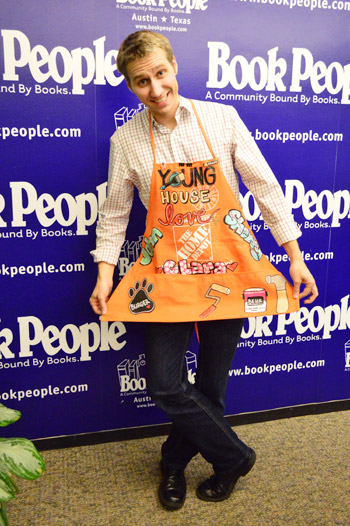 Being in Austin, we got lots of request to do "Hook 'Em Horns" in our photos. It took Sherry a few tries to realize it wasn't an aggressive, ready-to-charge style finger horn and it's supposed to point up at the sky. At lease Celeste didn't seem to mind.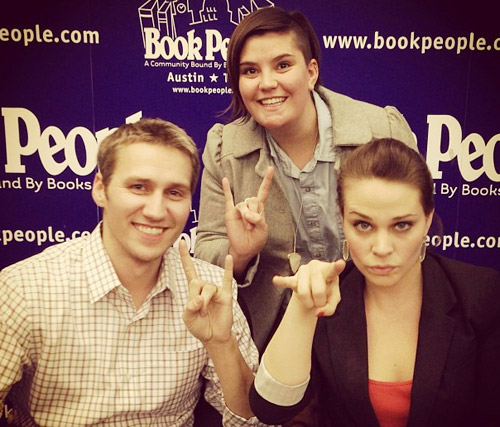 And of course there's always the occasional goofy photo in the mix. The girls decided to do "over excited," but I apparently went in a shocked / dental-exam direction.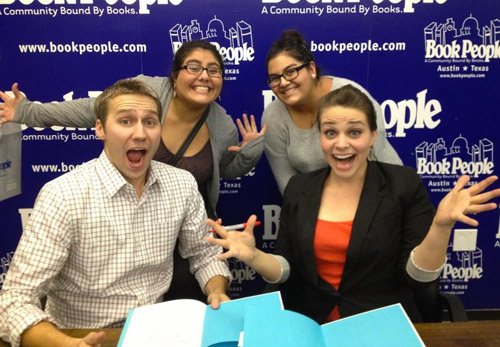 And we can't forget to mention Jess who has achieved a book signing hat trick by attending all three Texans signings. In honor of her achievement in book travel attendance, I whipped up this graphic. It's no Golden Globe, but I tried. She explains more about her showcase of endurance on her blog.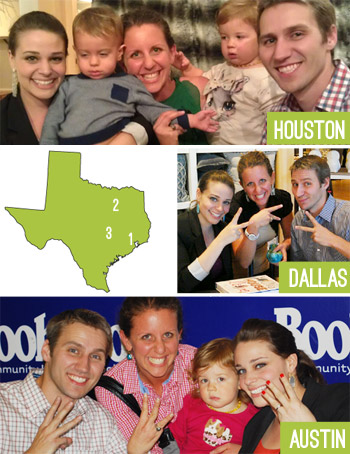 And lastly, thanks to the clever "I Like You A Whole Lotto" treat from Jamie (she got us each a scratch off card) I've officially won ten more dollars from the Texas State Lottery in my lifetime than from my own state's games. As for Sherry, she came out with a big goose egg. Er, moon or anchor or something.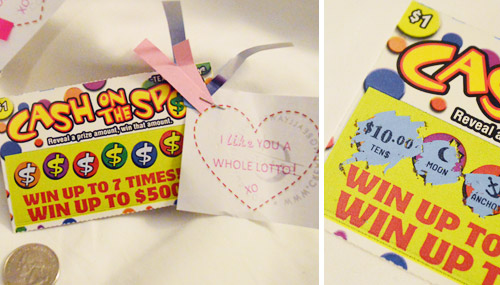 If you want to read some other accounts of our Austin stop, here's one from Amanda & Corey and another from another Amanda (which includes a video shout out to her sick friend Ruthie). All in all, we had a blast in Austin. It was enough of a taste (albeit a dreary one) that we'd like to come back and explore for much more than a day.
Luckily our next stop – Miami, FL – was the exact opposite weather-wise. Hallelujah. The clouds parted and LMFAO started playing in our heads. Our publisher likes putting us up in unique, not-your-average-beige-walled hotels whenever they can (their goal is to try to get us into "not-chains with some flair" – and this spot in South Beach took the cake. It was called Dream and when we walked into the room, this is what greeted us. Well, minus the Sherry. Me-ow Miami. Am I right?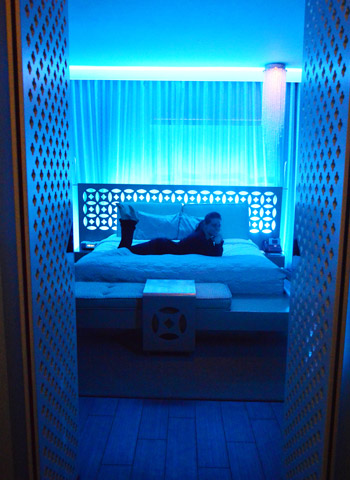 I'd never been to Miami before, so my impression of the city has been guided by music videos and the like. So the blue mood-lighting pretty much fit right into my picture of Miami. Couldn't you see them shooting a Will Smith video here? And the uniqueness of this hotel didn't stop there. Just check out the glass-doored bathroom. Our honest evaluation after a 24 hours stay is: we get the allure of a glass door on your shower, but the purpose of a "hey, look everyone!" toilet escapes us. It lead to several "I'm peeing- don't look!" warnings over the course of our 24 hour stay. But all in all, it was a totally fun and over-the-top place to stay. Heck, it's probably the most memorable hotel of the entire tour so far.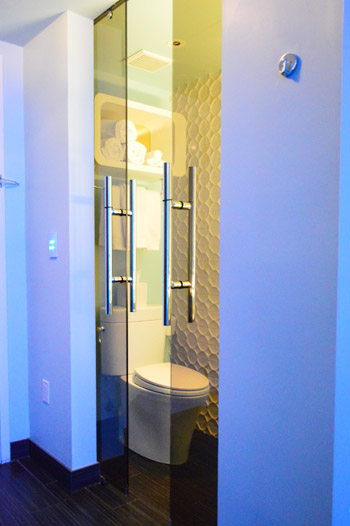 Sidenote: the glass door also acts as an unintentional mirror for the user of the bathroom. As in, you can see your entire body sitting on the pot. You have been warned.
Moving on… we landed in Miami around 3pm, so after we got settled into our hotel room, we headed out for a late lunch/early dinner at the closest eatery we could find. And we wasted no time making the first of many seemingly non-stop Dexter references of the trip. Here's Sherry's I'm-in-Miami-so-I'll-give-you-a-Dexter-pose pose.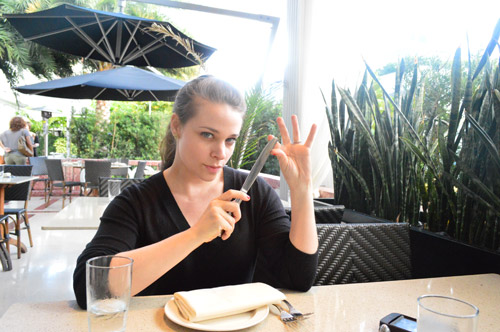 We were running short on time before our signing that night, but we made sure to walk over to the beach for some obligatory sand-between-our-toes time. We only had about ten minutes to spare (and Sherry was wearing a sweater and jeans) but it was awesome.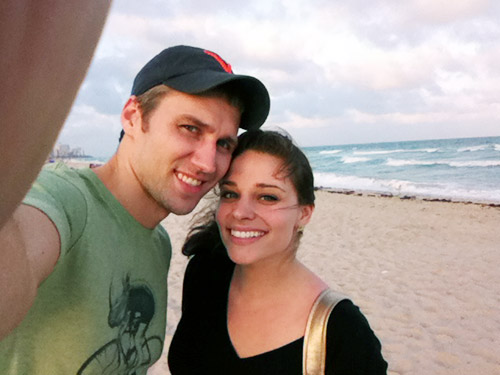 We didn't want to leave. But alas, we had  a signing to attend to (plus we had forgotten our bathing suits – and if ever there were a beach not to be overdressed at… well, you've seen the music videos). So we headed to our signing at Books & Books in nearby Coral Gables. Maybe the Miami heat was just getting to us (not the basketball team), but it was just about the prettiest bookstore we had ever seen. There was this glowing courtyard surrounded on three sides by a Spanish-style building with a bar under an arched breezeway.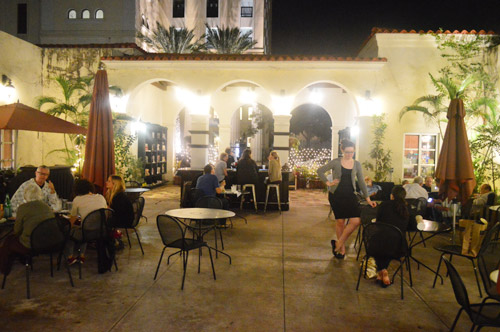 And the inside was equally awe-inspiring. I want a room like this in my house. Stat.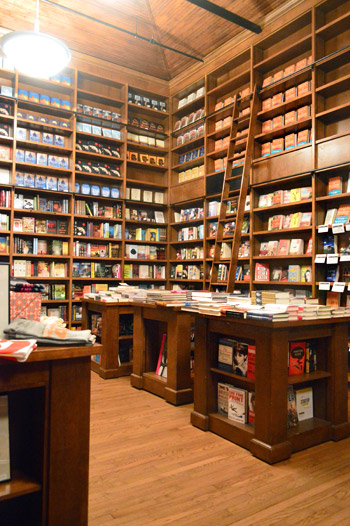 Like Austin, we kicked things off with a version of the same talk followed by Q&A. We again covered important topics like Sherry's bangs (which were pinned back due to the frizz-inducing humidity). The signing portion of the day was a blast as usual. Sherry was happy to learn from Nicholl that her gold "Jersey" purse also doubled as a gold "Miami" purse. That's my girl, fitting in with the locals wherever she goes.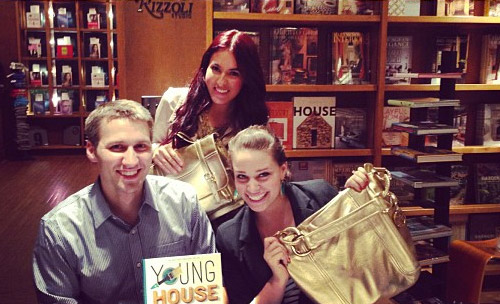 And Danielle sewed this adorable superhero cape for Clara – although Sherry's sporting it more like a bib in this pic. I keep trying to get a picture of Clara wearing it now that we're home but she won't stand still once it's velcroed on. She has one speed when the cape is on: fast.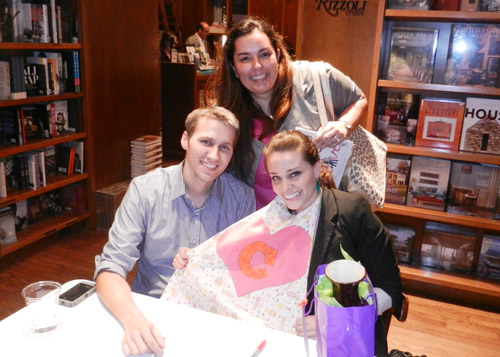 Since our two events in Florida were fairly close geographically and neither bookstore was very large, the line wasn't as long as we've seen in other places. Which meant by the time we got to the end we apparently hadn't depleted our small-talk tank and proceeded to talk the ears of the last few folks in line. Bethany (far right in the photo below) wrote about the whole thing, including a run down of some of the questions we answered earlier in the evening. She also had a funny run-in with Sherry in the restroom. Thank goodness those doors weren't glass.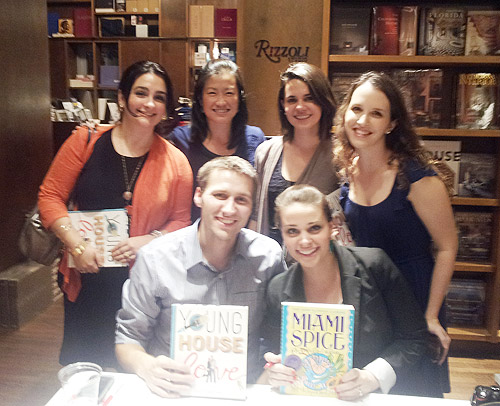 Since our next stop in Fort Lauderdale was only about a 45 minute car ride away, Thursday was probably the most chill tour day we've had so far. Usually it's all "get up crazy early to taxi to the airport so we can fly out and then taxi to our next hotel before taxiing to the event and somehow eating something better than airport food when possible." But this one day we got to sleep in, catch up on some work, eat a sit down breakfast, and take in some of the awesome architecture along Ocean Drive. In a whirlwind trip (six flights in four days!) this was that one leisurely moment. So we were dedicated to soaking it up.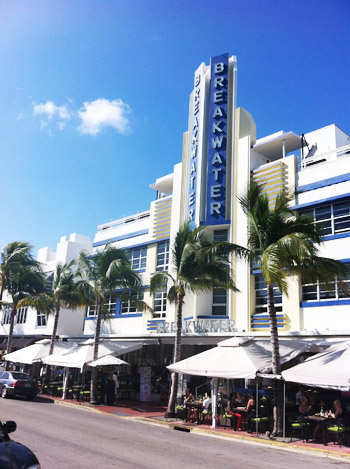 When we arrived in Fort Lauderdale early in the afternoon we took a moment to take in our hotel – which included this view from our balcony – and then headed out to grab a bite to eat. We didn't realize just how far our hotel was from all of the action so we ended up walking over 3 miles before finally landing at Casablanca Cafe. It was actually an awesome walk though. And it felt good to stretch our legs from all of that time spent in taxis and on planes. Our pictures from this portion of the trip started to become fewer and farther between, as I think Florida was starting to trick us into thinking we were on vacation or something.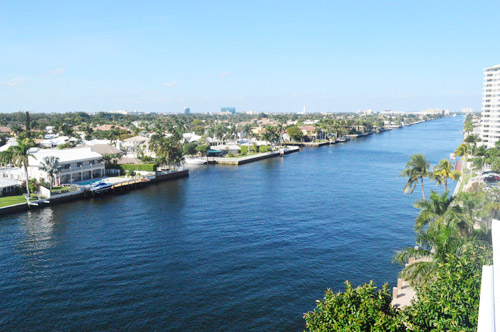 So forgive me for jumping ahead, but after having an awesome lunch (we highly recommend Casablanca Cafe), we caught a taxi back to our hotel (we didn't have time to walk the 3 miles back and make it to our event in time), quickly changed into our signing "uniforms," and then headed to The Museum of Art Fort Lauderdale which has a Books & Books in its gift shop. From there, it was pretty much the same chat and Q&A that we had done the last two nights – except this time we had sharks! (The museum was in the process of packing up their shark exhibit, so it was right next to our podium).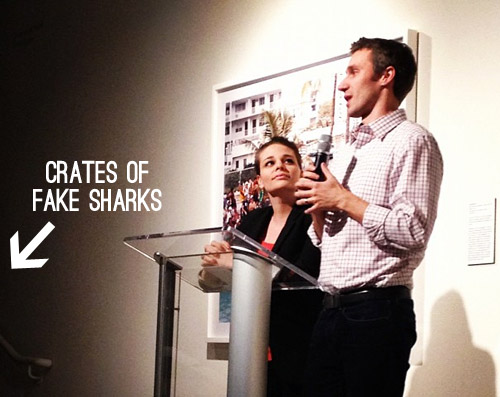 The people of Fort Lauderdale were a great way to cap off this week of signings. Friendly, warm, and even somewhat familiar – we had one guy stop by who we'd seen the night before in Miami (hi Steve!) and Sherry also met the sister of one of her high school friends (hi Erin!). There was also Jenna, who had us sign her well-loved paintbrush.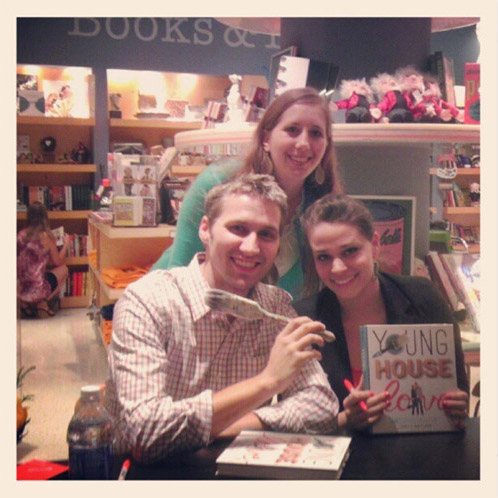 While that wasn't the first paintbrush we've signed, I will say Caitlin handed us the first Lowe's receipt we were asked to put our mark on. Well, I take that back, I've signed lots of Lowe's receipts in my day… but usually at the checkout counter.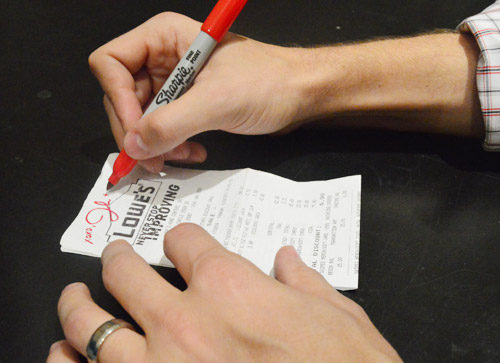 But perhaps the cutest thing we were asked to autograph that day was this little guy's homemade shirt. In case you can't read it, Otto is sporting a "$herdog is my homegirl" shirt. Oh, and a bowtie. Which kinda makes the outfit.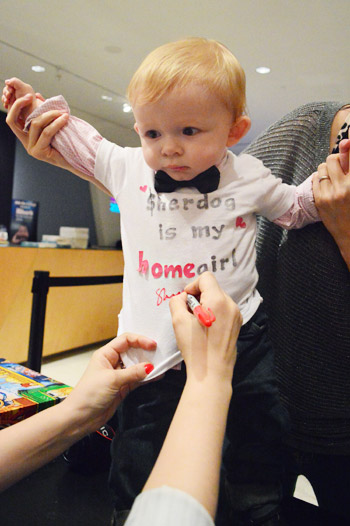 When the signing was over we unexpectedly had the time and energy left to grab a real dinner, so we strolled down Las Olas Blvd and found ourselves walking into The Royal Pig – and were immediately met by a gasp. Jen (at the right) and her sister had been at the signing earlier and was surprised to see us again. So after we scarfed an amazing dinner (the food in Ft Lauderdale was the best of the trip so far, just because we had time to enjoy two meals and we happened to love both of them) we chatted it with her and took another photo to cap off the night. You can read her hilarious version of the events on her blog.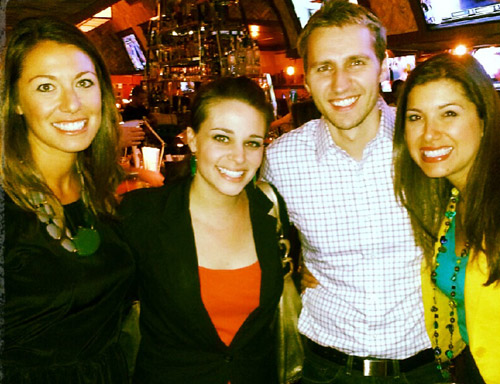 Then the next morning it was back to the ol' airport routine and we boarded flights #5 and #6 of the journey. At least each of these plane rides got us closer to home.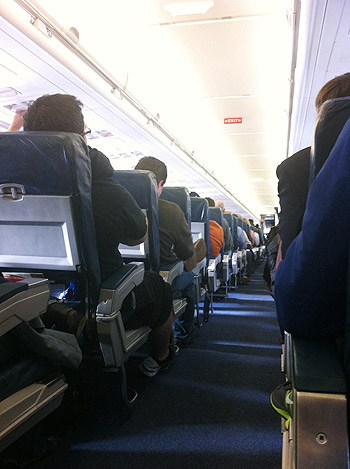 And when we finally landed in Richmond Friday afternoon we got the best greeting. As we exited security we heard a familiar voice yelling "Daddy! Mommy!" and running our way. We had expected to just meet my dad in the arrivals lane outside the airport, but he and mom (who played baby/house/Burger-sitters while we were away) surprised us by bringing Clara to the airport to greet us. Oh what I would give to have that moment on video. Let's just say it got Sherry all misty-eyed. We missed our girl.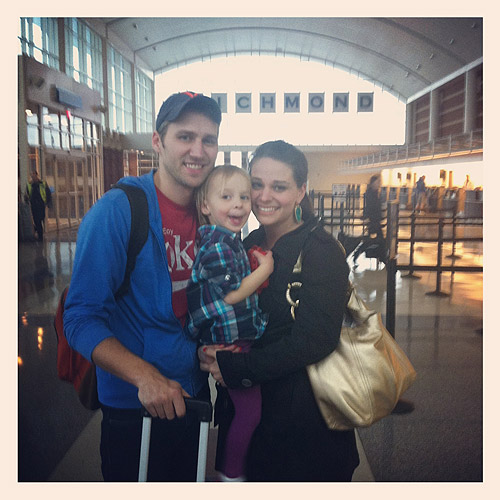 We had this week off from touring, but we're back on the road next week (Tacoma on Friday, Portland on Saturday, and Palo Alto on Sunday). You can see all the details here on our book tour page. We can't wait to West Coast it up and hope to see some of you then. Oh yeah, and if there are any strings you can pull to get Miami weather up there in the Pacific Northwest we'd like to officially submit that request now. Thanks for your consideration.
&nbsp&nbsp&nbsp