Moving, Selling, & Buying
As exciting as it has been to move into this new house, it was certainly sad to say goodbye to our old house and leave behind all of the parts (and projects!) that we couldn't take with us. The penny tile backsplash. The deck. The fireplace. Wait, scratch that last one.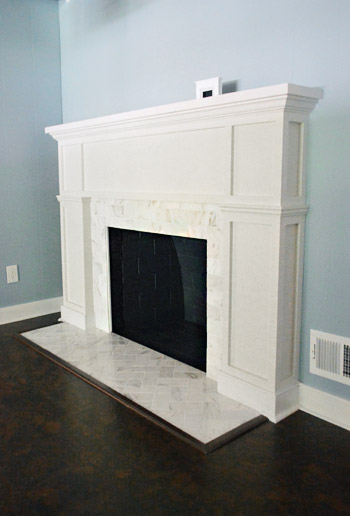 Let's zoom in a bit closer on that little item sitting on the mantel. Well, what do we have here?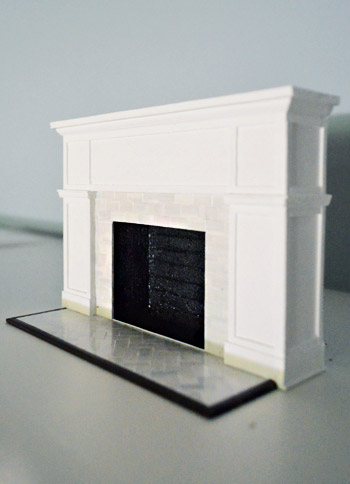 That, my friends, is an amazing miniature replica of our fireplace. Miniature as in completely portable and yes-it-totally-came-with-us-to-the-new-house. It's the creation of Lisa Harrold, a recent fine arts graduate in the UK who specializes in miniatures. She emailed us to say that as a fun exercise to keep her skills fresh, she decided to recreate our fireplace – only smaller. Much smaller.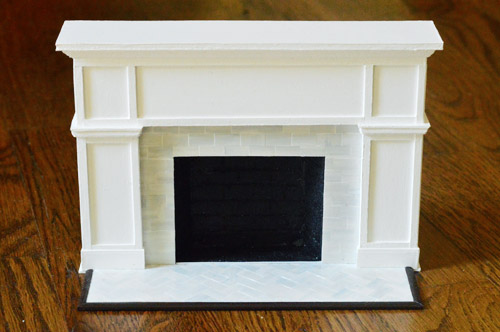 Since it wasn't of much use to her after it was done, she asked if she could send it to us as a housewarming gift, and once we convinced her to let us pay her for it and the shipping, it immediately became one of our favorite accessories in our new house. It doesn't have a final resting spot quite yet (it's a bit too big/delicate for Clara's dollhouse) although it might end up on the living room built-ins. These photos are more just my (failed) attempt to photograph the amazing detail that Lisa put into it. They don't come close to doing it justice.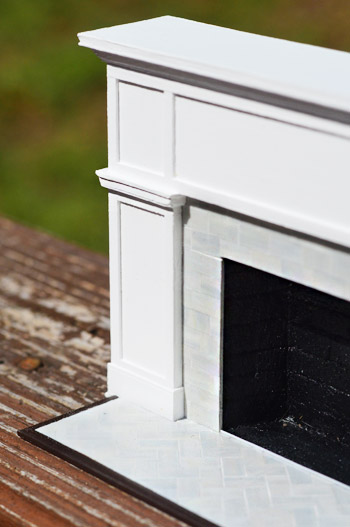 If the darn thing weren't so awesome, I'd totally film a monster movie where Burger destroys it Godzilla style. Although that would also require Burger working on his destructive monster face. Right now he's mainly giving me "confused" and "when can I eat the treat you hid behind this tiny fireplace?"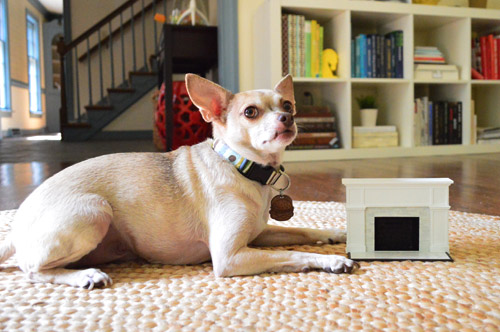 Yep, still just wants that treat. Guess the mini-fireplace is safe from annihilation for now.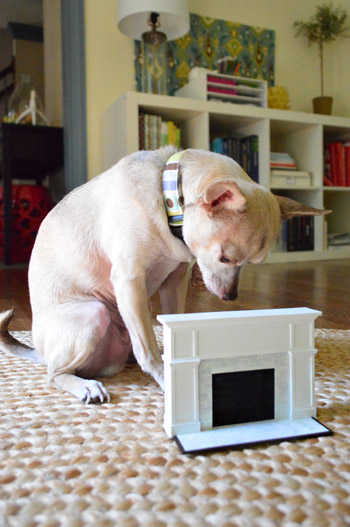 Thanks again to Lisa for the awesome and meaningful mini fireplace. We're so touched to have such a tangible memento of the love that we put into that house, and we thought sharing the goods might even inspire someone else out there to take something they love with them (Sherry wants to buy them as gifts for everyone we know). We may just have to dig up something from our first house that we can hire her to miniaturize. Sherry thinks the laundry nook would be cute. Or maybe we should go with the living room fireplace, to keep with the theme. You know we love a collection…
&nbsp&nbsp&nbsp
Since we shared our house wish list back in the fall of 2010, we wanted to document what was on the list now (I just found it scrunched up in a vase that was sitting on the bedroom floor, naturally). It's actually the same list  – we just scribbled things out as they changed and added new things as time passed (even when we weren't house hunting, if we thought of something for our "someday house" we jotted it down whenever we came across the list). Not surprisingly, many things were the same – although it does seem that after 7 years of home-ownership our nice-to-have list grew a lot (I guess since we keep realizing new things we'd appreciate but don't necessarily need).
Must Haves:
Four bedrooms (or three bedrooms and an office) of which at least three are on one floor
At least two full bathrooms and no more than three (three full ones occasionally felt like one too many tubs/showers to clean, so we were open to scaling back down to 2 or 2.5)
Within our budget (duh)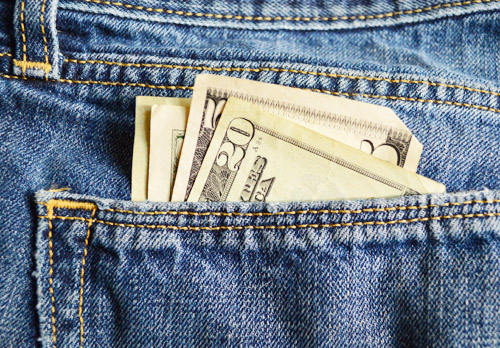 A private street with less through traffic (we wanted a place that Clara could ride her scooter and someday learn to ride a bike)
Around the same square footage as our last house, since that worked well for us (give or take 100 square feet or so – but nothing significantly larger or smaller)
Something not new (we just love a home with character and eons of potential behind all of those dated decorating decisions of yore)
Great schools (Clara's the most important thing in the end, so it didn't matter how awesome a house was if it wasn't in a good school district)
Located in a walkable neighborhood (our long evening walks keep us happy and sane, so couldn't live on a road where walking is dangerous)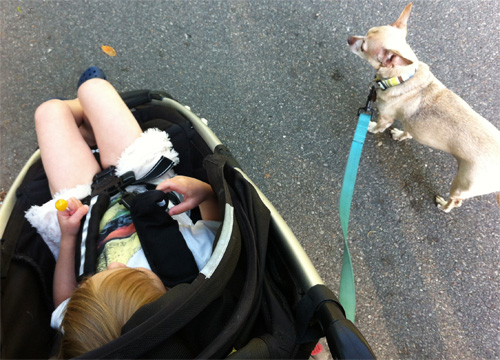 A flat-ish backyard without a big treacherous drop off (this is another Clara & Burger safety parameter)
A safe and well loved neighborhood (the reasoning behind the word "safe" is obvious, and the "well loved" thing just means that even if our house needs help we'd love to be on a block with other homes that have already been spruced up, so we don't risk over-improving our house for a crumbling-around-us neighborhood). You know, that "pick-the-worst-house-in-the-best-neighborhood" thing.
Nice To Haves:
A private backyard (our first house's grassy and then wooded yard was the gold standard in our mind)
A kitchen that we could expand into a living/family room (you know we love knocking down walls, and we've noticed that a lot of newer homes have open living rooms and kitchens for a nice airy and casual feeling that appeals to us)
Extra high ceilings are always on our list, but they're hard to find within our budget (just like our first two homes we didn't hit on those this time, except for in the unfinished storage room, where we could potentially loft the ceilings a little and have exposed beams someday).
A brick exterior (we've grown used to how nice and low-maintenance they can be – although it can be harder and more expensive to find a two-story brick house so we were open to other options too)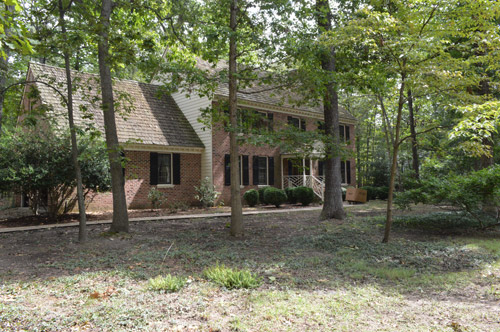 Easy access from the kitchen to an outdoor BBQ/eating area without having to walk through a bunch of rooms (we love eating outside when the weather is nice – so once we switch out the windows in the kitchen for a big french door that leads out to the deck we'll finally have this one checked off after two other houses without such direct access)
A window over the sink that looks outside (our first and second house both had pretty over-the-sink windows, but they looked into a sunroom in both instances)
A real pantry (our first house didn't have one at all, and our second house had a tall cabinet, but not a true blue pantry with a door).
Sidelights around the front door (we honestly thought this was a pipe dream since no homes in our budget seemed to have them… until we found ours!)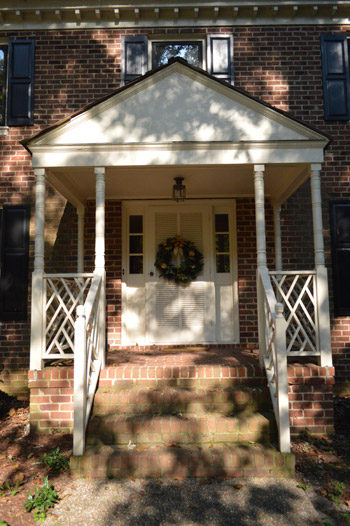 We thought an actual foyer/entryway would be nice (our first two homes had a front door that led right into the living room/dining room)
If we found a two level house, we hoped the front door wouldn't open right into the stairs (some other two story homes we toured had that setup and depending on how close the steps were to the door, it felt a little cramped – so we thought it would be nice if the stairs were offset from the door somehow)
A garage (we had a double garage at our first house, and a carport in our second house, so all the garage things ended up in the separate entry basement, which wasn't as convenient – even though we made the best of it by adding a sweet little pergola).
A deck or patio (in our second house we DIYed both of them and lived to tell the tale – but we thought it would be nice to inherit one for a change, even if it needed some love).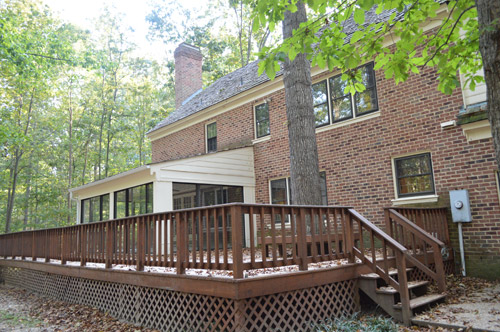 And as for how we did, our new house meets all of the must-haves and checks nine of the twelve nice-to-have boxes (there aren't any extra high ceilings going on, our backyard could use some shrubs to up the privacy-factor, and we don't currently having easy outdoor dining table access from the kitchen). But we actually think all three of those things can be explored over time and we're certain that at least two of them (the last two) can be accomplished. So it should be fun to see where we end up.
What do you guys look for in a house? Do you make two lists (one that's full of musts and one that's full of "in a dream scenario" things)? That seems to help us weigh the "needs" and the "wants" better than putting them all in the same category.
&nbsp&nbsp&nbsp