Mood Boards
This decorating doozie is all about accent pieces and accessories that can completely alter the style of a room. Manisha dreams of a lighter and more contemporary family room, and gosh darn it we love to give the people what they want. So we whipped her up a custom mood board to solve her problemo. Here's her letter:
Dear Sherry & John- Your home and design choices are really beautiful and inspiring and your blog is a favorite daily read of mine! Where I need your help is in our family room. I purchased a sofa set that had red, gold, and mustard pillows and thought I'd try for a fun global eclectic look but boy was that a horrible idea. The room started to look really confusing and gave me a headache whenever I entered it. I'd like to stick with neutral colors but move away from a more global and traditional look to something much lighter and more contemporary. With that in mind, I'd like to purchase a sunburst mirror for over the fireplace, a new rug, some lamps, window treatments and a coffee table – any suggestions you have would be great. Thanks!! – Manisha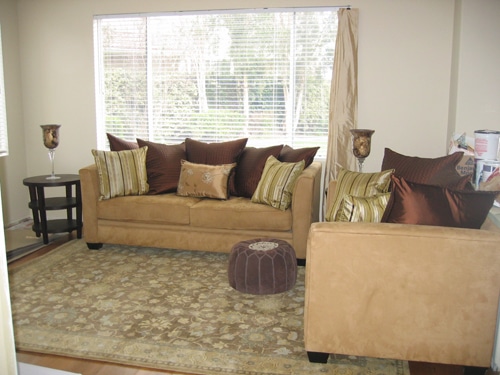 The bones are all there. The creamy tan wall color and camel couches are the perfect starting point along with the deep wood tone of the side table. And those white shelves are particularly reminiscent of our own dining room shelves- which are über clean and modern. Manisha's room is primed for a light and bright transformation, so let the fun begin.
Here's the mood board breakdown.

Read the rest of this entry »
&nbsp&nbsp&nbsp