Mood Boards
I can't promise that we'll execute this mood board to a T when it comes to our future bedroom – heck, the entire vision could easily shift by the time we move into a new home. But as of right now, this is what I'm loving (and John's surprisingly right there with me):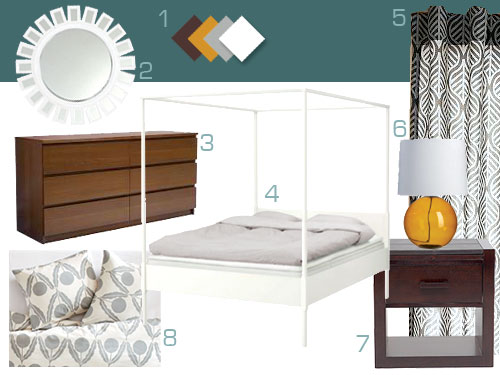 1. I'm dreaming of a cozy and enveloping room painted in a rich and saturated teal like the stripe of color across the top of the mood board (Benjamin Moore's Rendezvous Bay 726). I'd temper the bold color by adding some white furnishings/accessories and some rich dark woods to ground things. And then I'd add a pop of tangerine, just because I'm feeling crazy. Layering in a few different prints and patterns along with some geometric shapes and modern lines will be the icing on the cake.
2. This round mirror will bounce around lots of light and break up the rich hue on the wall to make sure it still feels relatively light and airy. I can see it now, hanging centered above the four-poster bed.
3. This sleek and affordable double dresser in a rich wood tone could definitely come in handy since the built-in drawers and shelves in our bedside wardrobes are staying behind (we're offering them up to whoever buys our house since they're built in with a header and crown molding). Oh and sometimes these Ikea dressers come up on craigslist for even less than their already low in-store price.
4. John and I are both loving the idea of a new bed with some presence (we're also leaving our current bed frame for the future homeowner since it fits perfectly between our two bedroom built-ins). And this new bed combined with the luxe teal walls will still feel airy and open while creating some pretty great "lines" in the room.
5. These curtains would look amazing with teal walls. And John and I have both loved the idea of embracing more pattern and color in the next house- even though it means moving away from the breezy white curtains that we currently enjoy in every room. Change is good.
6. John loved the idea of a pop of tangerine in the bedside lamps for a less monochromatic effect (we really are embracing color, huh?). And although we love these beauties from Crate & Barrel, we've also seen something similar (and super cheap) at HomeGoods so we might check those options out if we end up bringing this mood board to fruition someday.
7. The clean and modern lines of this night table will pair perfectly with the four poster bed and the dresser for a not-quite-matchy-matchy look that still "goes."
8. I've been loving this chic organic bedding since first laying eyes on it in the West Elm catalog a few months back. And John agrees that a new bedroom in a new house deserves some new bedding (yesssssss). I really like how textured and layered this room could feel with a large scale pattern on the duvet and another bold-ish pattern on the curtains. And the clean-lined brown and white furnishings will definitely play a nice supporting role in the room (so it doesn't feel too crazy and chaotic).
So there it is. My master bedroom wish list as it stands today. Anyone else loving the layering of different textures, patterns, and rich saturated hues (cut by a fair amount of white if you're us)? Any other bedroom planning or daydreaming going on?
Pssst- Wanna check out over a hundred mood boards that can be sorted by room or color? Click here.
&nbsp&nbsp&nbsp
This week's kitchen mood board is a mix of charming french-inspired accents and clean modern touches for an easy collected over time feeling that's anything but cookie cutter: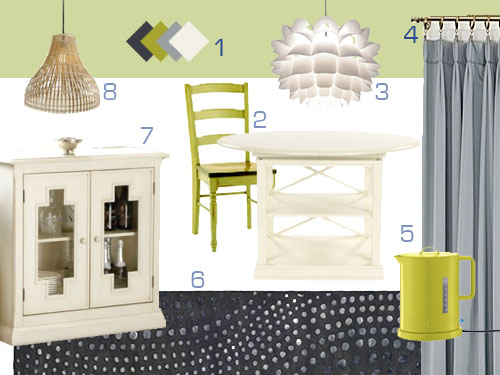 1. The color palette for this imaginary room is all about navy-ish charcoal tones, deep pistachio hues, soft blue grays, and antique whites. We'd love to see the walls get a coat or two of artichoke-chic paint (which you see represented by that large rectangle of green at the top of the board) – try Benjamin Moore's Sesame 381. The cabinets in the kitch could remain wood or white (either would work with this scheme) but you could also paint them an antique white tone and even add a bit of aging glaze to get that weathered french feeling for extra credit.
2. This deeply discounted table just oozes Parisian elegance, and when paired with these affordable pistachio and wood-toned chairs (which would tie into wood cabinets if you've got those) it makes for a nice casual yet cohesive mixed & matched effect.
3. We love the idea of adding in some crisp modern pieces to keep the whole look from feeling too obvious or themey, and this $149 lotus flower pendant would look so pretty hanging over the table.
4. Antique bronze or hammered gold curtain rods with ring hooks would really add to the polished but casual vibe, and these breezy (and totally budget friendly) smoky blue-gray curtains would introduce some nice moody ambiance.
5. Fun little modern pops of color in the form of accessories like this cute electric water kettle would be oh so charming on any countertop.
6. This stunning little runner started it all (it's the first item that I found, which inspired the rest of the board). I love how elegant and polished it is. It's a nice balance of french-inspired pretty (thanks to the sheen and the delicate dots) and modern cool (thanks to the dark food-friendly hue and the geometric pattern).
7. This cute little antique white cabinet (on clearance!) would work so well with the round table and I'm obsessed with the shape of those glass cut outs in the doors.
8. The concept for this room is really all about the mix, so I searched high and low for a pendant light (just $49!) that could be hung over the sink (heck, two or three of them could even be hung over an island or peninsula). I wanted something that could be layered into the same room with the lotus pendant that I found for over the table. They definitely don't "match" but I can picture them happily coexisting in a space like this for that certain je ne sais quoi.
So there you have it. An imaginary kitchen makeover that I'm still daydreaming about. Anyone out there with a penchant for french-inspired decor and antique white? Or a craving for artichoke colored walls?
Psst- Looking for oodles of mood boards? Search them by color or by room right here.
&nbsp&nbsp&nbsp