Monthly Roundups
Psst- Sorry for the slightly belated post this morning, two out of the three human members of our household have the flu. Boo!
For those asking where February Superlatives went, here they are! We were just in Hawaii the week they were "due" so they carried over to this week. And boy are we glad February is over. Well, not the part where we ended it basking oceanside in 80-degree weather, but the part where our heads were spinning from three weeks of secret book project-doing and photoshoot-ing. Yeah, we're glad that's behind us. But since we survived all that (and lived to tell the tale!) in addition to prepping for a presentation in Portland while keeping our kitchen reno going, we can't help but do our regular look back at what these 29 jam-packed days held (in yearbook superlative style, of course). We even tossed in some never-before-seen stuff for kicks. Oh and you can check out all of our monthly superlatives dating back to January 2011 right here (where you can peruse a year's worth of projects in just 12 posts).
Most Hooked Up: Clara, who earned a special spot to hang up her coat when Sherry repurposed an old brown rail hook and spray painted it white as part of her Dude Get On That Already challenge.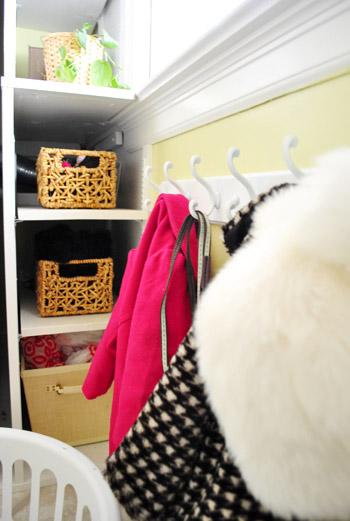 Brightest: These horse bookends, after they were given the yellow spray paint treatment as – you guessed it – another Dude, Get On That Already challenge.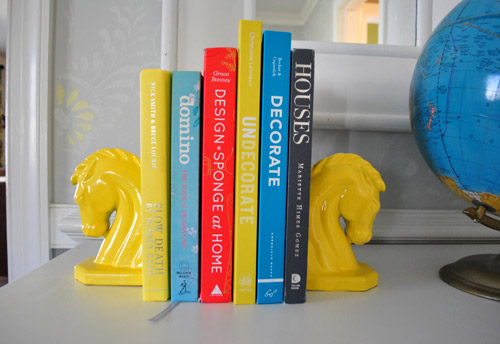 Best Cover Up: The patch job we did on the holes in our ceiling (where our old fluorescent light fixtures once were). "Best" might be a bit strong, since our process kinda involved more than a few globs of spackle raining down on Sherry in the process (and yes, we caught it on video).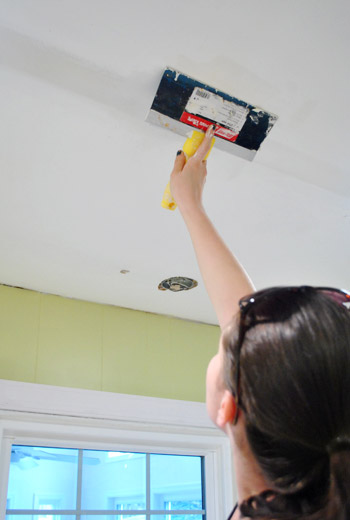 Best Cover Up (Runner Up): The cover I built to conceal our range hood. Man it's funny to look back on this thing all raw and unpainted.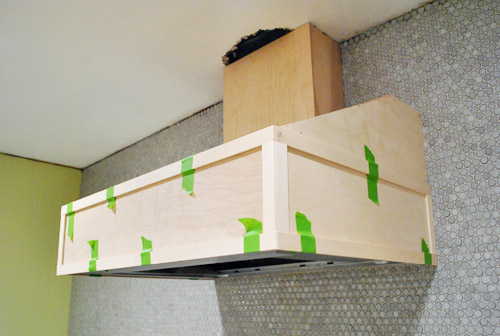 Best Supporting Role: The brackets that we chose to keep our open shelves from falling off of the wall. We know not everyone is on board with them (to bracket or not to bracket is a debate for the ages!), but we love 'em.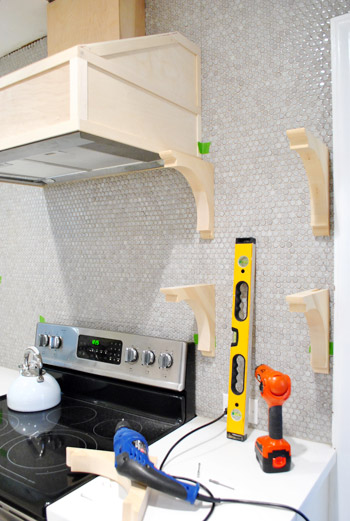 Most Open Minded: Us, once we finally got our open shelves hung up in the kitchen. It was pretty much love at first sight.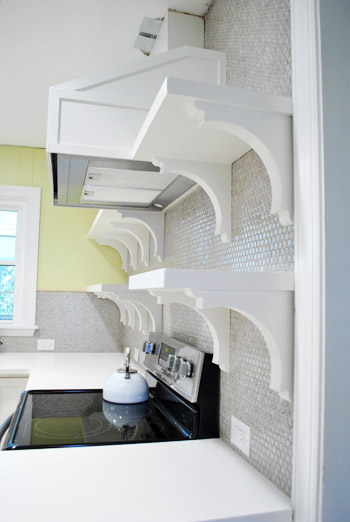 Most Improved: Our open shelves, once they actually got filled up with dishes, glasses, serving bowls and a decorative item here and there. Unloading the dishwasher was never so fast. The verdict so far on living with open shelves: we love 'em!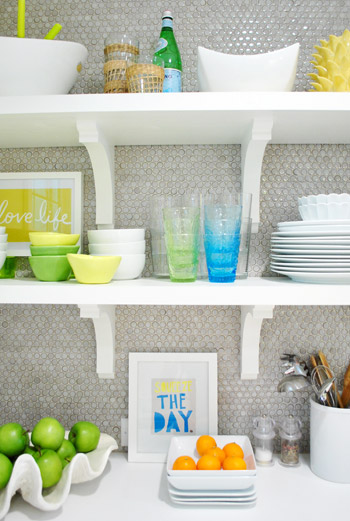 Biggest Quack: The wooden goose that we (finally) hung up next to our front door.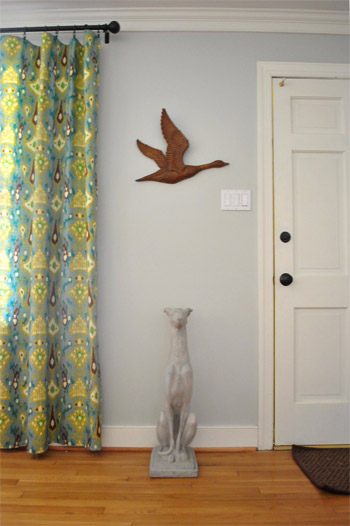 The Close Call Award: Re-installing the crown molding in our kitchen, during which we nearly ran out of the existing molding scraps (which would've meant redoing the entire room, not just the missing sections). Phew!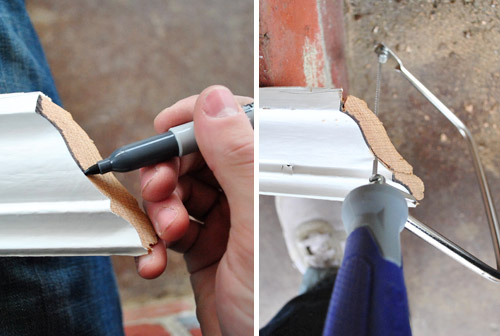 Biggest Splash: The new art we hung in our kitchen, featuring a very colorful swimmer (and some imaginary fish that both Clara and some of you guys can see).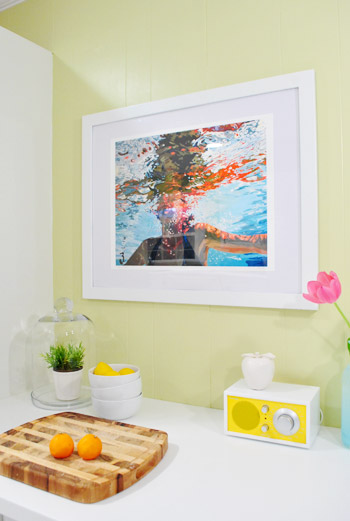 Blingiest: The light fixture that we ORBed and hung above our kitchen sink, which had been sitting around the house for about eight months just waiting or the perfect home.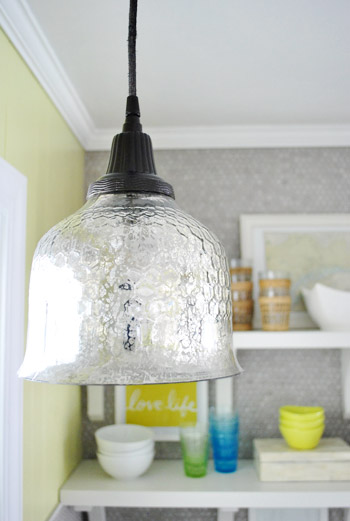 Blingiest (Runner Up): Our backsplash tile, after we used some elbow grease and haze remover to bring its sparkle back (see how hazy it is on the left and how shiny it is on the right?).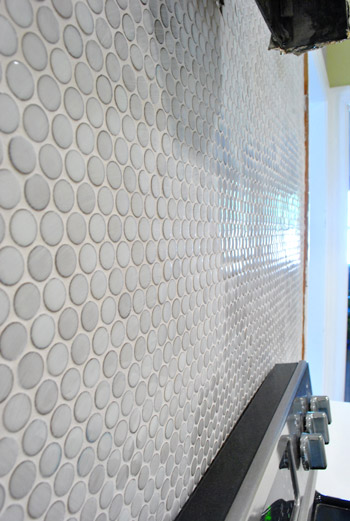 Freshest: These tulips that added a nice burst of it's-almost-spring to our kitchen.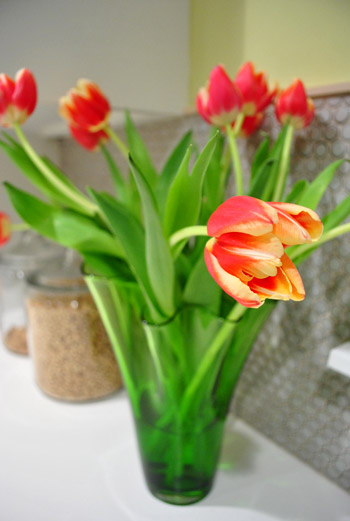 The "It's About Darn Time" Award: Our dishwasher, for finally getting the upgrade from bisque to matching stainless steel.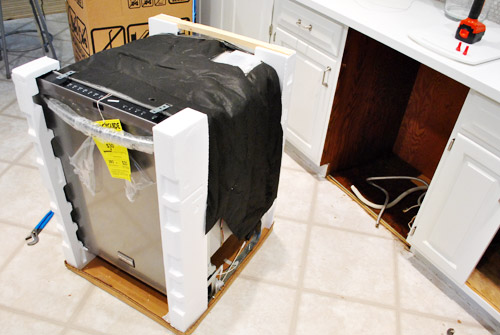 Biggest Potty Mouth: Me, for blabbing on and on about replacing the wax ring under the toilet in our hall bathroom.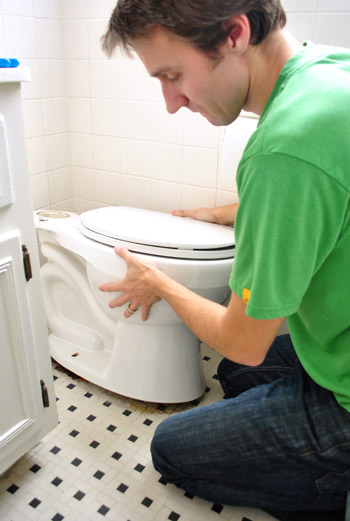 Biggest Smash: Poor ol' Ramsy, our ceramic ram head that was our one major casualty of the book photoshoots. RIP little buddy.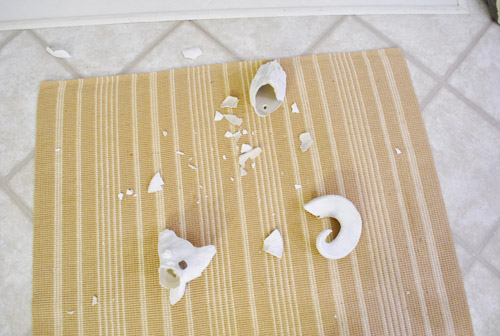 Most Organized: Sherry. At least she's feeling that way after falling in love with her new non-grocery-coupon sorting folder.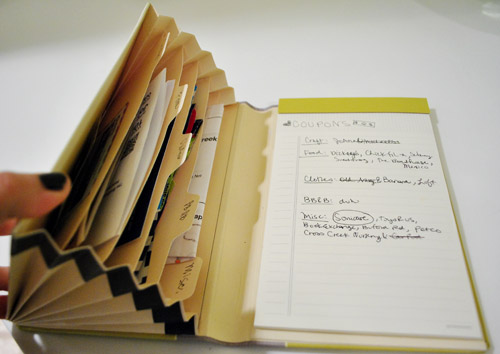 Least Organized: Our tool drawers, which are still a mess – but at least they're housed in a cabinet again (rather than being splayed out on our daybed). All it took was cutting down the old wall oven cabinet from our kitchen and re-situating it in our sunroom.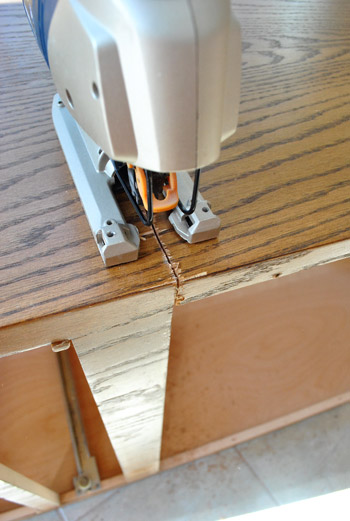 Class Clown: Us? No, this should probably go to the performers of the Richmond Comedy Coalition who had us giggling during their Richmond Famous improv show where we "guest starred" back in January. Though maybe Sherry should get the prize for "Weirdest Underwear Story."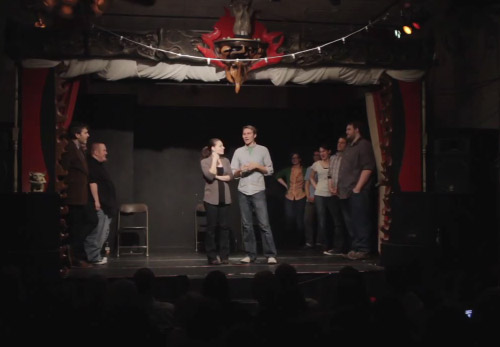 Most Flattering: The people of Portland, for truly going out of their way to make us feel welcome and special in their city. We still can't express how fun it was to meet a bunch of you and how flattered we are by the lengths some of you went to pop in for a visit while we were at the Portland Home & Garden Show. Best. Readers. Ever.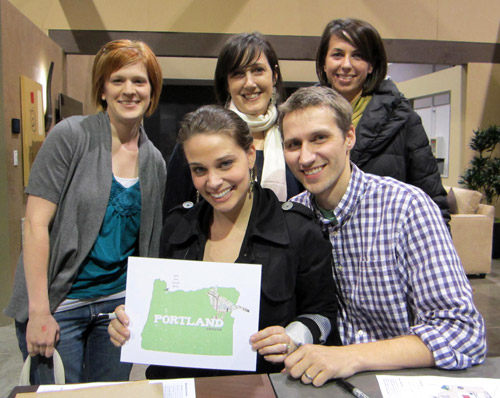 Biggest Beach Bum: Clara, who couldn't seem to get enough of the ocean (which is her preferred term for the beach, by the way) on our first ever vacation from blogging in Hawaii.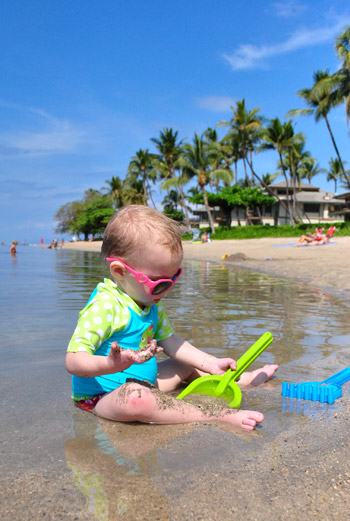 Longest House Guests: The book photography crew who essentially house-crashed us for three weeks, but took such great photos for the book that all the chaos was completely and utterly worth it! Our house is still far from back to normal, but we'll get there… someday. Maybe by the time our book is out in October…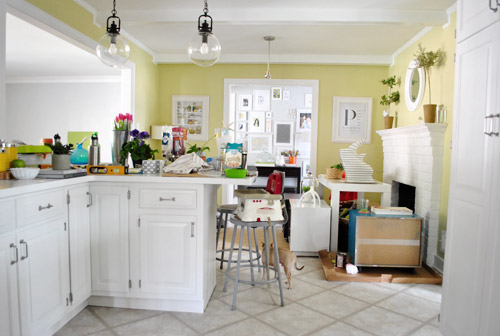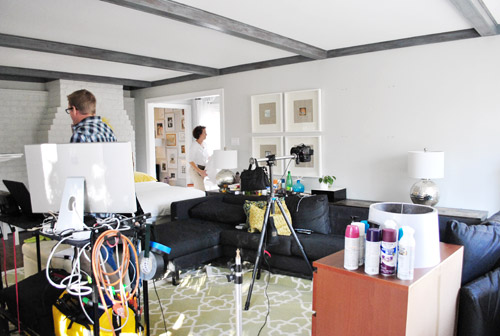 What did you guys squeak out in the short month that is February? Was yours as jam packed as ever? Have you ever made a list of accomplishments to look back on? Feel free to use the comment section of this post to list what you've done (or just toss out a few highlights). It's so nice to take a break from adding things to the to-do list for a second, just to look back and appreciate the things you've victoriously completed. We totally think it helps us keep up the ol' momentum!
&nbsp&nbsp&nbsp
January was one of those you-sneeze-and-you'll-miss-it months for us. It just flew by! Is it really already February? Crazyville. So before our behind-the-scenes-book-stuff threatens to completely erase our memory of this month, we like to take a moment to look back on all that we've done at a glance (and gather all the links in one handy place for ya). And of course we tossed in some never-before-seen stuff for kicks. This month we were all over the place as usual, but focused a lot of our time on the kitchen along with making a mini kitchen for Clara and tackling some random stuff that we've been hoarding in the playroom in what we affectionately like to call our "Dude, Get On That Already" Challenge. So let's take a walk down memory lane, with yearbook-esque superlatives, shall we?
Future Top Chef: Clara, considering the amount of time she spends using the play kitchen we made for her for Christmas. Although the thing she "cooks" most is a bunch of toy animals (they also get lots of fake baths in the sink).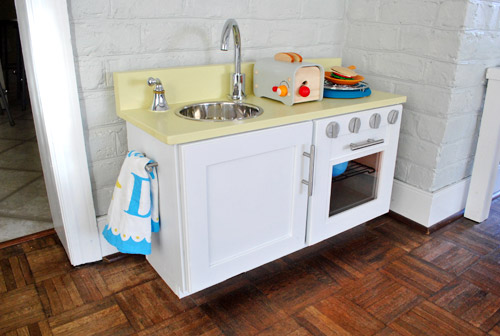 Most Gifted: Us, at least when it comes to recapping all of our Christmas gifts – like earrings, art, art supplies, buttons and this cheeky t-shirt.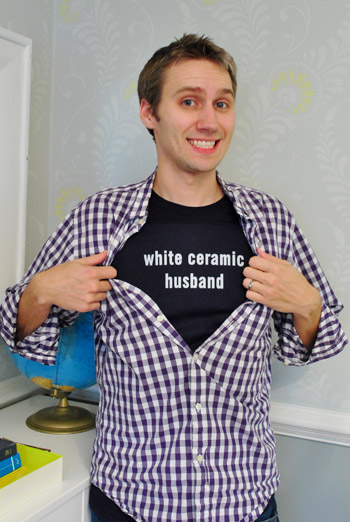 Most Secretive: All of the lady-bloggers (including Sherry) who participated in a Secret Santa gift exchange last month. January meant they could finally reveal their identities and the deets behind the gifts.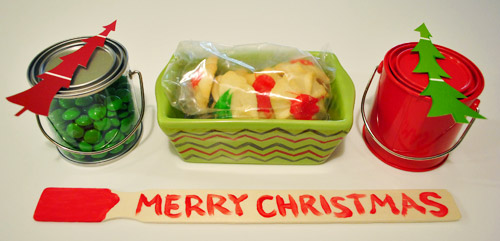 Most Likely To Be In The Dark: Clara, thanks to her new blackout curtains. They're still not officially sewed, but that doesn't keep us from getting some rock star naps lately! Thank goodness. It's like she knows we're trying to knock out five secret book shots in a two hour period so she gives us an extra half hour just to be sweet.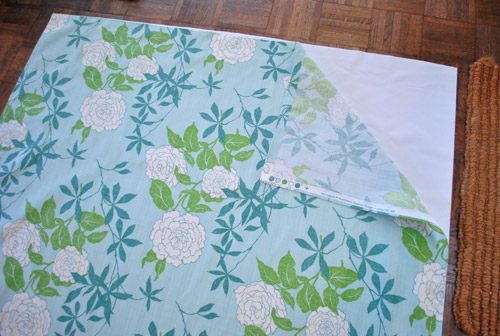 Most Artistic: The wall in our living room, which got a small little art switcheroo (color mats became more muted linen ones). Oh and we shared a behind-the-scenes glimpse into our ottoman. Our over-sharing spirit knows no bounds, apparently.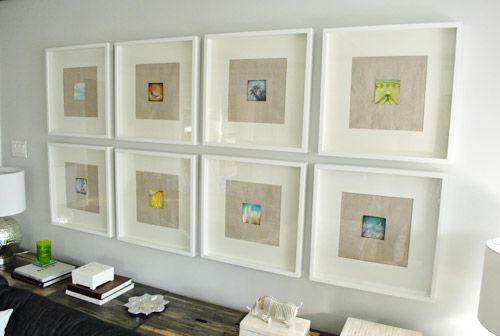 Class Stud: This stool that we made over for a feature in a recent issue of Do It Yourself magazine (after we gave it a little paint and fabric update with some nail heads).
Most Deranged Re-Arranged: Clara's room, which is on its third layout in one year. I guess that's what you get when you try to configure furniture meant for a smaller differently-shaped room into a new space.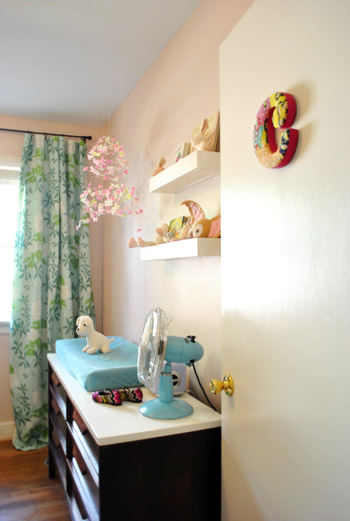 Best Couple: The new sheer curtain panels that joined the existing printed panels (well, half panels) in our living room to beef up their visual presence a bit.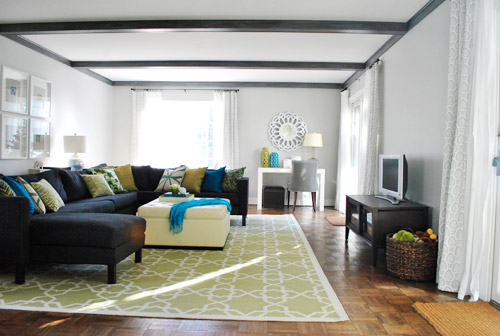 Book Worm: Our family yearbooks! Our big photobook featuring all of the highlights from 2011 arrived in January (and Clara has already learned to request "look at pictures" to go through it together – awwww).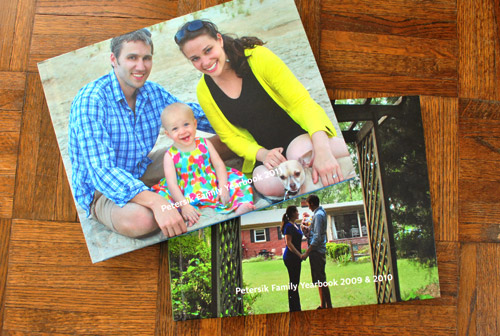 Most Faux-Real: The antlers we sprayed white and hung atop Sherry's noggin in the kitchen as our first "Dude, Get On That Already" project where we have vowed to use things or lose them donate/craigslist them.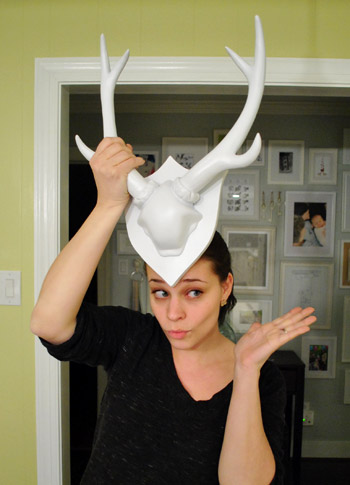 Best Tour Guide: Burger, for showing you around his "room" in our post about hanging a new light fixture in our master closet.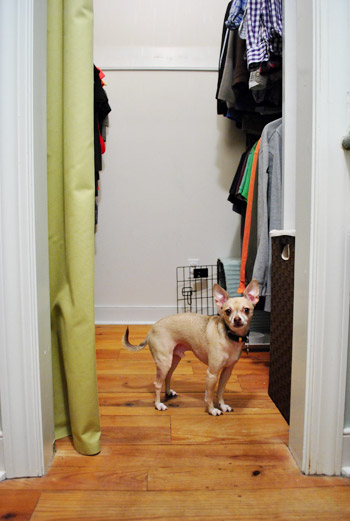 Least Upright: Me, while snagging a few new closet chandelier pics while Burger supervised.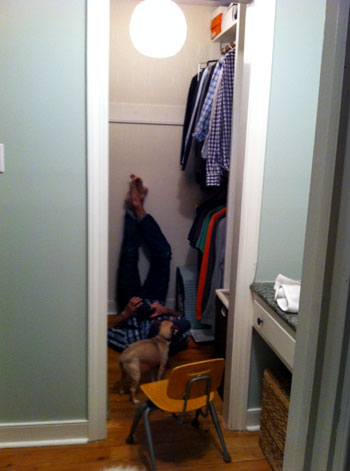 Most Dramatic: The transformation of our cabinets, having (finally) gotten their paint makeover.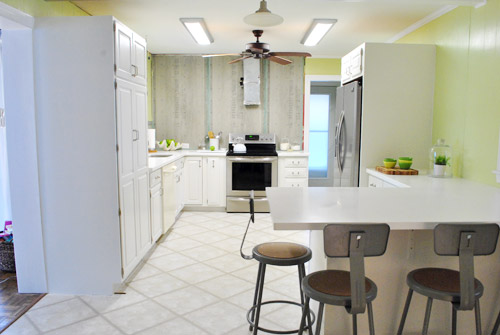 Most Tedious: Installing our penny tile in the kitchen, which required a fair bit of time and concentration – so much so that the process spanned three whole posts. Including this one (where we covered how we figured out how to cut the penny tile)…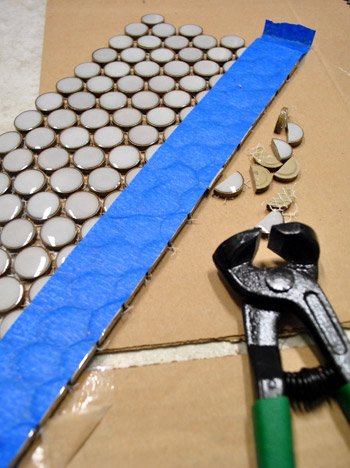 … this one all about how we planned and executed our first (small) wall of tile…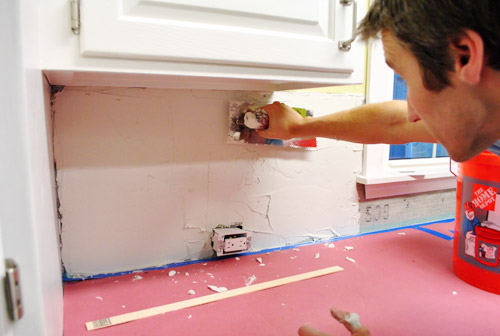 … and this one about finishing up the whole thing (including a video of the thinsetting process). Fortunately it was all totally worth it in the end. We still find ourselves petting it every now and then.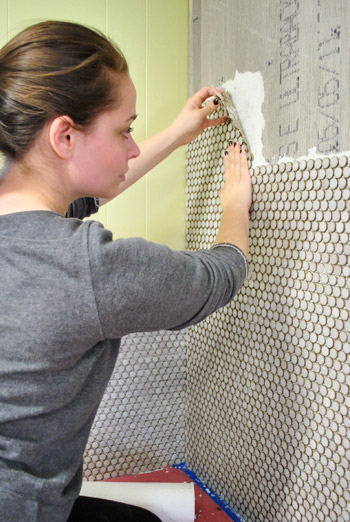 Most Annoying: Me, for getting a Tears for Fears song stuck in lots of your heads thanks to my post entitled "Grout, Grout, Let It All Out." Uh oh, did I just do it again?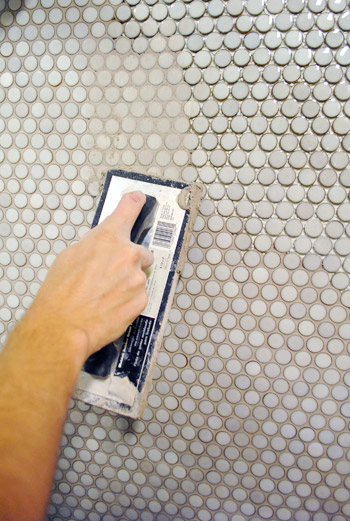 Most Swiss Cheese-esque: The ceiling in our kitchen, which was rocking quite a few holes following a visit from the electrician.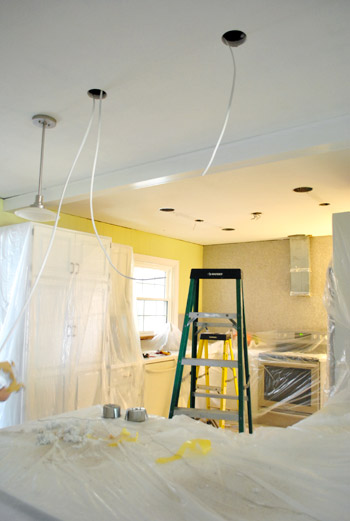 Most Well-Rounded: Our new globe pendant lights over the peninsula in the kitchen.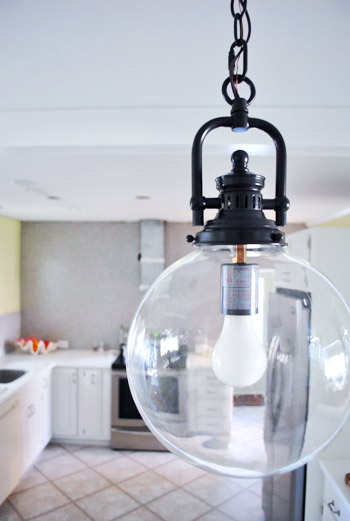 Little Miss Perfect Award: Definitely not Sherry, who owned up to the fact that life isn't always rainbows and unicorns at Chez Petersik in her "The Real $her-dog" post. But that's why we love her.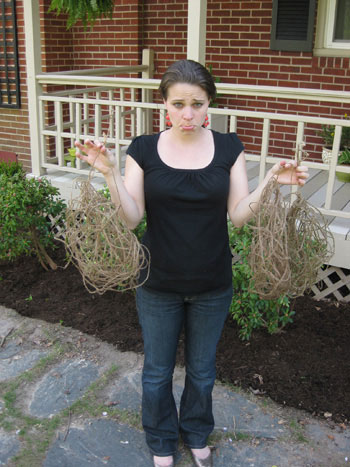 Mr. Mom: me (I'm feeling better about accepting this title thanks to lots of encouraging comments on my "The Real J-Boom" post where I talked about my insecurity about being a work-at-home-dad). Aw, shucks.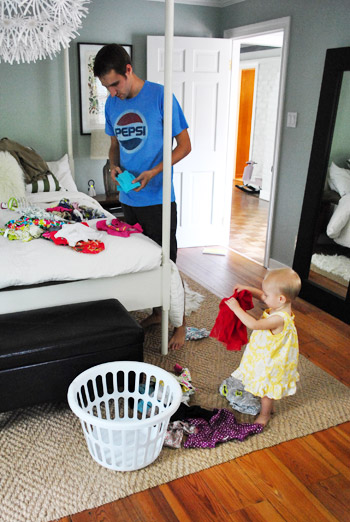 Cheapest: Our Jenn-Air range hood found on Craigslist for $60 (after we talked them down from 65). I'd say it's our best deal of the year, but it doesn't mean much considering we're just one month in. It's like seeing a movie preview these days that says "Critics are calling it the best film of the year."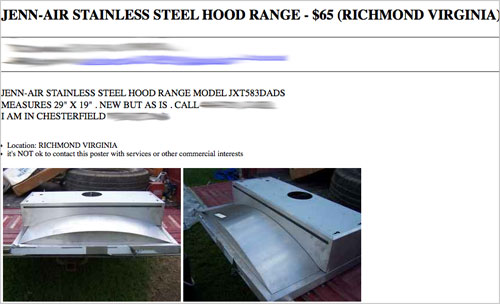 Most Supported: The aforementioned vent hood, which you saw us hang earlier this week (and a bit later – though technically in February – you saw it get all covered up too).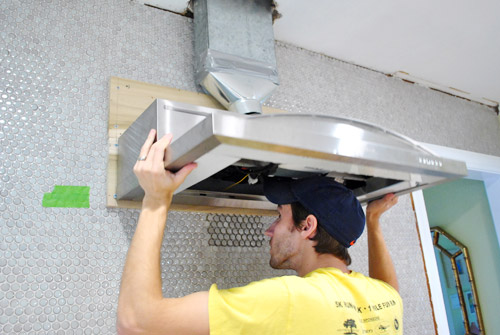 Most Commented: Our post about how we handle less-than-kind feedback (wowsa, it wracked up over 1000 comments in one weekend). Must have been this picture…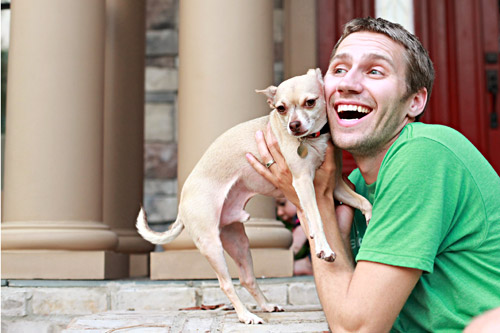 Most Chaotic: Our house, as the perfect storm of kitchen renovations and book photo shoots converge in one typhoon of craziness. Hey, on the bright side – one week of three is officially complete! And we have over 35 projects fully shot (before, progress, and afters) and in the can. Go team!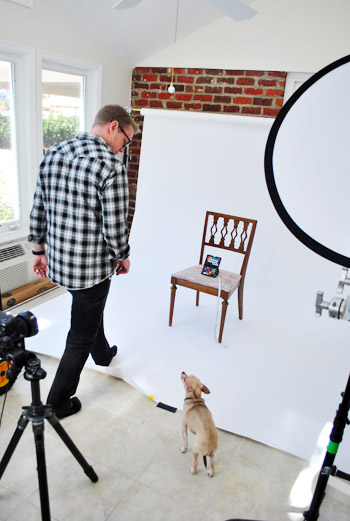 Biggest Chicken: Jarvis, the oversized ceramic rooster that we amped up with some aubergine spray paint.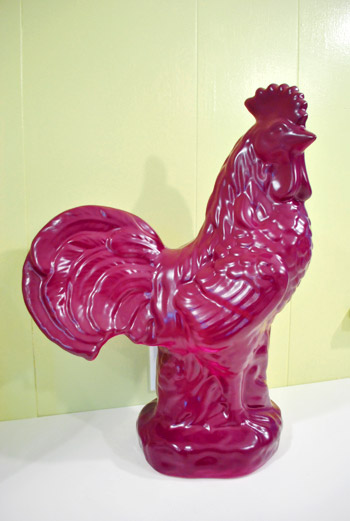 Most Dated: Our page o' monthly round ups that we finally organized (so you can see virtually all our 2011 projects in 12 posts). Guess we gotta go add this guy now…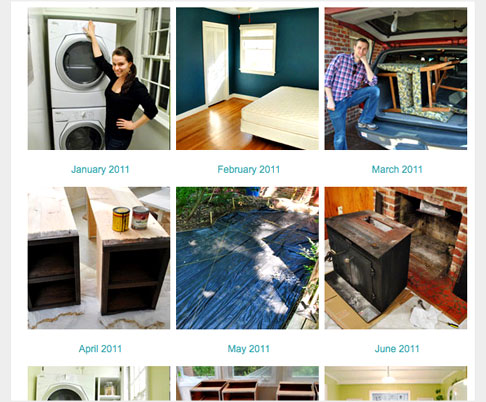 What did you guys squeak out in the first month of 2012? Have you ever made a list of accomplishments to look back on? Feel free to use the comment section of this post to list what you've done (or just toss out a few highlights). It's so nice to take a break from adding things to the to-do list for a second, just to look back and appreciate the things you can mark "done!"
&nbsp&nbsp&nbsp