Monthly Roundups
Ack. It's August. Which means it's almost September which means summer's almost over which means it's practically Christmas. Insert panic attack here. Okay, maybe I'm exaggerating, but I still can't believe it's August. So it always helps us keep the ol' momentum up and avoid burning out by slowing time down for a second to take an appreciative look back on all of our happenings from last month along with some bonus never-before-seen stuff. It may not stop the Earth from rotating (only Superman can do that, silly) but it definitely inspires us to keep plugging away! Plus it makes browsing our archives a lot easier (you can read back through January of 2011 right here in just 18 posts instead of 630). Woot!
Most Likely To Go Mad: Me, since this is apparently what digging all those holes for our deck is doing to me (especially during this second round of digging when the county inspector failed our first attempt).
Best Lungs: Katie Bower, who's got quite the scream going on in this video issuing the Summer Pinterest Challenge. She hollers on a tractor, yells excitedly down a waterslide… yet is surprisingly inaudible over the sounds of "The Winds of Africa."
Sexiest Accent: This feature in Jae's house, which we crashed while in Atlanta. She painted the window sash in her kitchen black for an awesome high-contrast pop that we couldn't get enough of.
Most Shameless: Sherry and Katie Bower, who weren't fazed at all by filming a video in the middle of a Goodwill while shoppers mingled nearby (and occasionally walked into frame)
Modern Shakespeare Award: Sisqo, the one-hit-wonder behind the "Thong Song" that we referenced in this post about a crayon-holding truck we got at Goodwill in Georgia. Since so many of you seemed to have enjoyed getting that song stuck in your head then, we couldn't resist doing it again.
Oldest: This sideboard we scored off of Craigslist for $150, which officially puts us on the "every room should have something old" train. Which is much less creepy than the "every room should have some mold" train (thankfully, it's mold free).
Most Challenging: The Pinterest Challenge results, of course! It was back for it's fourth installment and this time Sherry tried her hand at some DIY abstract art and you guys linked up with over 600 projects of your own.
Least Challenging: These simple wood frames I whipped up – in an attempt to accomplish it in the simplest, most basic steps possible – to house Sherry's new Pinterest Challenge artwork.
The Math Geek Award: This goes to the arithmetic art that we spotted on our window shopping adventure at the Pottery Barn Outlet (and Mary Jo's fabric store). It wasn't the only cool thing we spotted… just the geekiest.
The Zoology Award: This is for some of you smarties, who were very sweet to point out that the creatures I rescued from my deck holes were toads not frogs (well, I guess all toads are technically frogs, but my apologies to the toads that I've offended by addressing them too generally).
Most Welcoming: Julie's house, which we also crashed on our trip to Atlanta. It seems we weren't the only ones drooling over her entryway.
Grossest: Me, after my return from the sweltering attic-tastic task of centering the light fixture in our master bathroom. I've never felt so disgusting and exhausted in my life.
Most Improved-ish: Our master bathroom. We called our mini-makeover officially complete after a bunch of small and inexpensive improvements were finally done, bringing our grand total for the upgrade to a whopping $230 (including a new toilet, new lighting, and new accent tile). That should definitely tide us over 'til we get the appetite for a bigger overhaul…
Sneakiest: Us, for slipping away for a week at the beach earlier this month. Gotta love blogging from your iPhone, right?
Biggest Heart: This should be a tie between Sherry's Aunt Kay Kay and all of you who left comforting comments when she posted about her passing away.
Most Angelic: Clara, at least in this photo where she seems to be bathed in light as Sherry snapped photos of our craigslist sideboard all dressed up.
Most Decisive: Us, since it took almost no time to look at the two gray test swatches in our bedroom to pick one. Sorry Moonshine, but you were too light to win this one.
Most High Tech: Our fancy-schmancy set up for making a time-lapse video of repainting our bedroom a deeper grey color (Benjamin Moore's Rockport Gray). Laptop teetering atop a stack of furniture? Best Cinematography Oscar here we come…
Thriftiest: Sherry, after our tour of thrift stores and other shops while on vacation in Bethany Beach, Delaware.
Messiest: Me and my little sister after having run the Color Me Rad 5K here in Richmond. While our bodies were getting coated with colored cornstarch, Sherry used it to make a canvas.
Most Unusual: This egg chair-ish swiveling papasan chair we found at our local Salvation Army for $30 that was much cheaper than versions at the store… and much in need of some TLC.
Most Secret-tive: Our post about design foreshadowing in our house, which many pegged as the "law of attraction" made popular in the book The Secret (while others just said it was subliminal decorating or a you-like-what-you-like thing). So interesting to read everyone's theories!
Best Moves: My "hooray, I can actually kind of stand here" jig that I performed on the recently joist-filled deck. It was starting to feel like real progress (hence the jig).
Most Animal Friendly: The thrift store egg chair that Sherry painted white, apparently. It seems to have attracted a rhino, pig, chihuahua, rabbit and even a dog wearing sunglasses.
Most Tedious: All of the little preparations I had to do to the deck – like adding blocking for posts – before I could finally start laying deck boards.
Most Likely To Make You Crave Waffles: A post earlier this week about our take on what (and what not) to register for when getting married. We skipped the waffle maker, but after lots of chatter about them in the comments our stomachs were suddenly aching for some.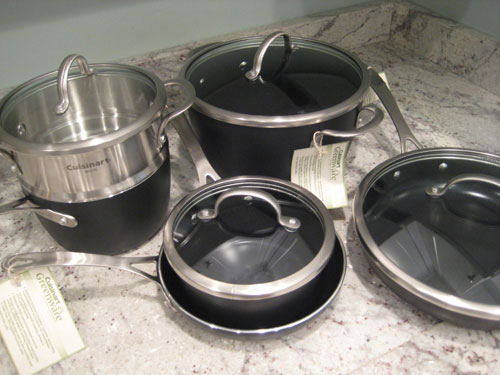 Most Stylish: Whomever wins this coming Monday's giveaway. We're not saying exactly what, but let's just say this is a hint below…
So what about you? What was the story of your July? Some summer highs? Lows? Toads?
Since it's a holiday here in the US (America's birthday, no less!) we're spending the day with our family, but we thought we'd take a minute to look back on the month of June (once again we're late with our little recap – sorry guys!). But in an attempt to TOTALLY REDEEM OURSELVES (name that movie), we've also linked to a bunch of Fourth of July related posts of yore for ya (here, here, and here) and we snuck a few never before seen things into this recap – like a new family portrait that the lovely and talented Katie B snapped for us while we were in Atlanta (how is no one crying?!). If you're feeling especially sentimental, you can also browse all of our monthly superlatives dating back to January of 2011 right here (it's almost a year and a half of projects crammed into just 17 posts). Happy Fourth of July everyone!
Most Refreshing: The new view of our house, now that the bush fence has officially become grass. It's nice to look back at this picture now that the summer heat has since made things a little bit browner…
Biggest Surprise: How easy it was to demolish the balcony that stood in the way of our new deck. Still kinda crazy to think how easily it came off. Glad we didn't try to use that sucker!
Most Worth The Wait: Our new scalloped rug in the kitchen, which we found at Urban Outfitters after a pretty extensive rug search.
Biggest Pop (Indoor): Finally putting some color on our kitchen stools – they totally add a little cheer to our peninsula.
Biggest Pop (Outdoor): Introducing a new accent color to our patio – tomato red! – courtesy of these new Adirondack chairs that we saved up for (literally, cash-in-a-jar style).
Biggest Tearjerker: This plate, which we had custom made as an anniversary present to my parents. When my mom saw our family's simple dinner grace emblazoned on this platter she (and maybe a few of us too) got a little something in our eyes.
The "Never Thought I'd Do That!" Award: Taking a power saw to the brick exterior of our house. This was the first step in deck construction, so while it felt a bit weird, it was exciting to finally dive in.
Messiest: The floor of our master bathroom after demo-ing out the sketchy tree border tile that we were less than loving.
Most Worldly: This little jaunt around our local World Market so that we could share all of the colorful and fun items that caught our eye.
Most Sparkly: The shiny new glass subway tile that we installed in our master bathroom to replace the old tree tile border that we demo-ed the day before.
Most Technical: This post about some of our favorite Photoshop tricks for adjusting photos. It was a little nitty gritty, but we loved sharing our process and learning some new tips from you guys in the comment section!
Most Sentimental: The little arrangement of frames that we put on the wall in our bathroom with pictures taken on each of our four wedding anniversaries. The 5th one comes up on Saturday, so here's hoping we get a great decent picture for that empty frame. Update: Just as Sherry predicted, those flowers died well before they could reach our fifth anniversary- oh well, at least they were free from the backyard.
Heaviest: The auger that we rented to dig holes for our deck posts. It was pretty hefty, but definitely not as bad as my face in these pictures would indicate.
Shiftiest: The furniture in our bedroom, which got shifted around when we finally broke up our crazy symmetrical arrangement for a new layout that gave the room more flow. Only took us a year and a half to figure that out. Haha.
Biggest Risk: Cutting the posts off sweet Ed The Bed. But it was a risk that totally paid off with a much improved and airier vibe. Thank goodness.
Biggest Sourpuss: Me, after learning that we failed our first deck inspection and that two days of work appeared to be totally wasted (that is, until we got some good news last week).
Shakiest: The cameraperson at the helm of our most recent outdoor tour video (this means you Sherry). I'd say she needs to quit it on the caffeine, but there's not even caffeine in her diet to blame it on!
Most Well-Rounded: The new rug in our office (but definitely not the two workaholics making cameos in the background).
Most Helpful: Clara – or at least that's what we tell her, especially when it comes to keeping her occupied at the home improvement store by asking for her assistance when we're pushing the cart (she's happy to dive in – even for large loads like the wood for our new bedroom headboard).
Most Improved: Our bedroom, which is totally on the up-and-up (if you ask us) thanks to the addition of this new upholstered headboard.
Most Unresolved: Okay, so I'll admit that blogging about our little tiff over an accidental (and totally well-intentioned) trip to Goodwill with a towel bar that was not supposed to end up there was partially motivated by hoping you guys would all say I was right. Many of you did, but many of you didn't. Case officially not closed.
Most Likely To Make Situations Awkward: Us – well, Sherry in particular – at the Haven Conference where we gave the keynote address, but also grinded on other bloggers, let our kids (that included Burger) run amok, and generally had a blast while doing it.
Most Disappointing (To Some): That our post entitled "The Vow" wasn't actually about Channing Tatum, but instead featured some 4th of July tablesettings that Sherry whipped up just for fun.
Friendliest: These "Twenty Northern Friends" that were part of my Father's Day gift. Sidenote: In high school, I actually was voted "Friendliest" a couple of times (although that was just in band superlatives, so maybe I shouldn't boast that much).
Smiliest: The three of us, who Katie Bower miraculously caught all smiling in this sweet little family portrait that she captured during our visit. Thanks Katie B! Total miracle worker. And yes, Sherry is totally pinning Clara's hands down (she's a flailer just like her mom).
So that's what our June looked like (along with some pretty hefty book proofing stuff that goes off to be printed in less than a month!). It's always fun to take a break from adding things to the to-do list for a second, just to look back and appreciate the things that are done-zo. We totally think it helps keep our momentum up – especially when it comes to tackling things like our big deck project, some more master bathroom and bedroom updates, other outdoor projects, and everything else at the top of our list. What are you most proud of accomplishing this past month? And what are you looking forward to checking off in July? Is it just us, or did it feel like 2012 just started and suddenly we're halfway done with it? Oh where has the time gone…