Monthly Roundups
It's that time again! When we take a moment to look back on all that we've done in the past month at a glance (and gather all the links in one handy place for ya). And of course we tossed in some never-before-seen stuff to spice things up. This month we were all over the place as usual, from doing a bunch of kitchen things to dipping into a few office projects, some landscaping tasks, and even a few Halloween crafts. So let's take a walk down memory lane, with yearbook-esque superlatives (you know, just for kicks).
Most Destructive: Demoing out our fridge cabinet, which officially kicked off to the kitchen makeover madness.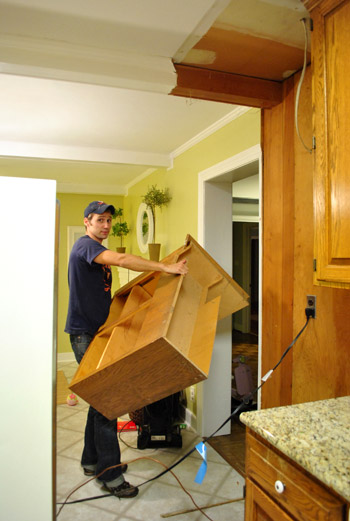 Best Timing: Our long-awaited appliance purchases, which allowed us to save nearly 1,400 big ones.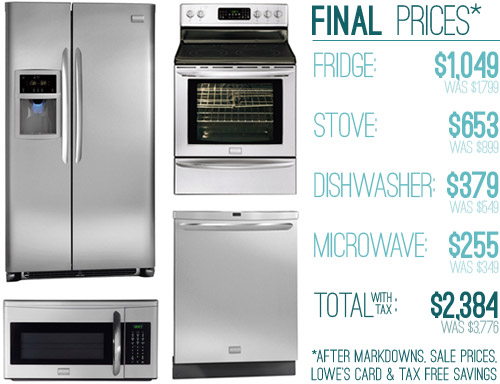 Best Moves: Swapping the location of our fridge and pantry by moving them to opposite sides of the kitchen to improve the flow (look how intense Sherry is when she moves big things).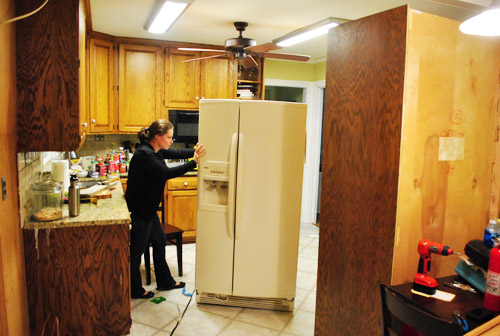 Best Removes: Taking out our wall oven, its cabinet, some counters, and our cooktop to make way for our new appliances.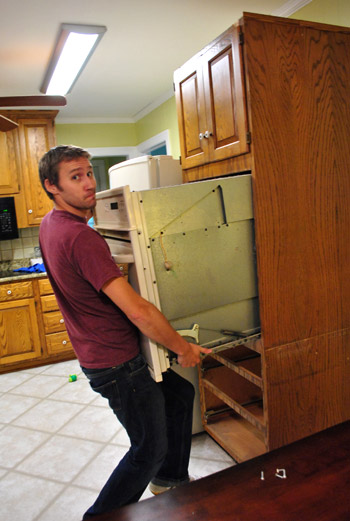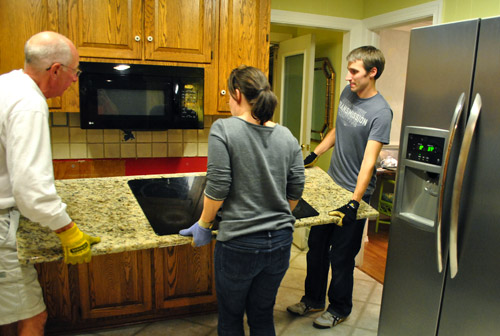 Thriftiest: Fun secondhand finds from our road trip to Brevard, NC for my cousin's wedding.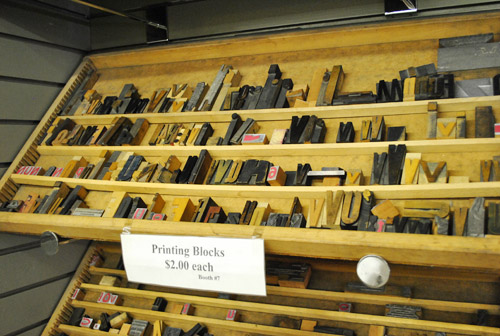 Cutest Couple: Clara and her BFF Gee (she named him herself) all packed and ready to go on our little weekend road trip. Sidenote: Good thing the cabinets are keeping an eye on them.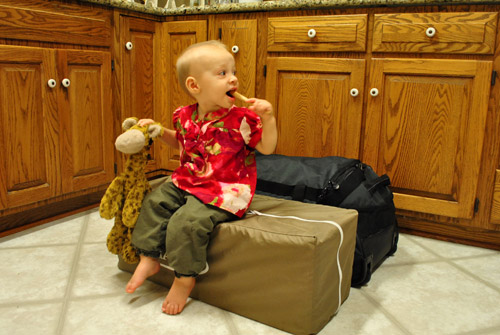 Cutest Couple (Runner Up): A tie between Sherry & Katie's very giggly performance and me & Jeremy's Sprite-tastic cameo in this Q&A video from the Bower's visit to Richmond.
Worst Looking: Our kitchen in the midst of some electrical work so that our new appliances had a place to plug in.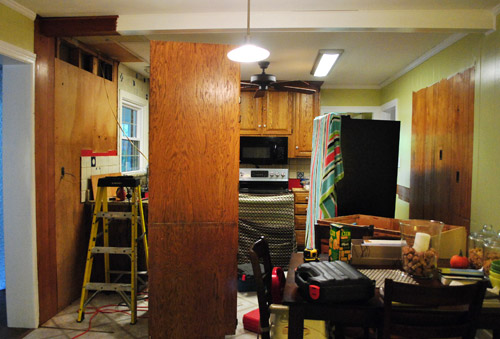 Most Killer: Stenciling the walls of our office, which took Sherry three 4.5 hour installments to finish. A killer process, but we think it's a killer result.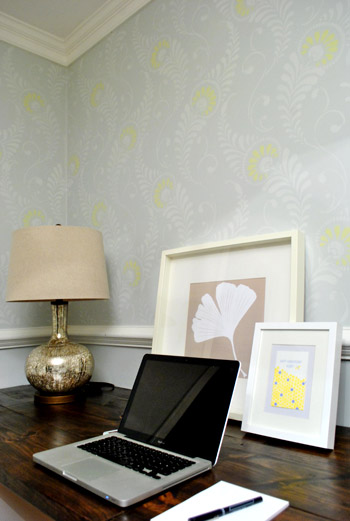 Most Likely To Include Ceramic Animals: The "Curator's Collection" that we had the honor of creating over on Joss & Main (it's completely normal to get hyper about dog lamps and map art, right?).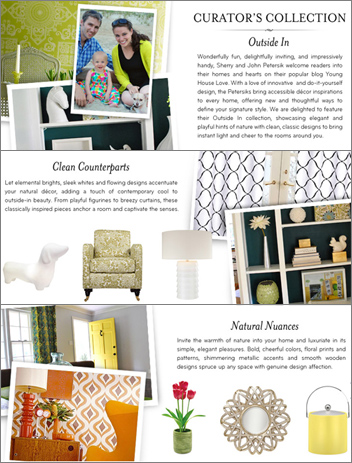 Cheekiest: Our office chairs, which got a few coats of green paint and bold new upholstery.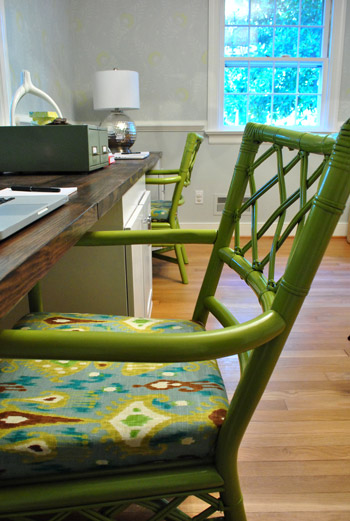 "Gone To the Dark Side" Award: The bottom half of our office walls, which look a lot more grounded now that we painted them a darker grey color.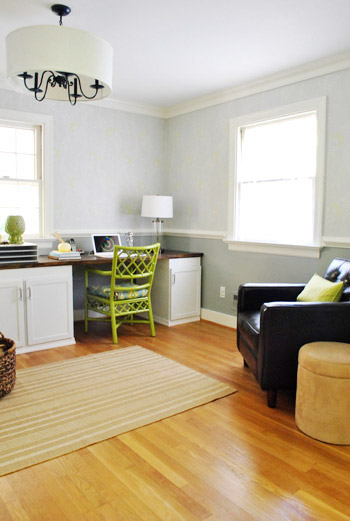 Least Likely To Take Themselves Too Seriously: The personal, bright, and sentimental art solutions that we made for our office, which provide a nice visual break from the daily grind (and only set us back $13).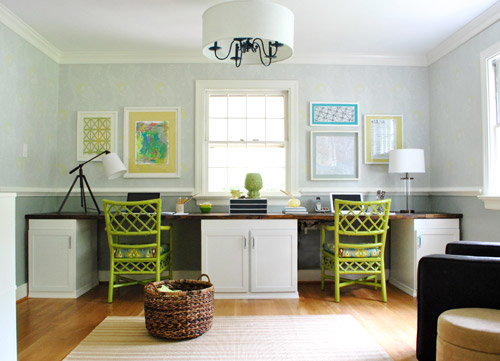 Sloppiest: Clara's finger-painting skillz on our psychedelic kid-friendly Halloween pumpkins.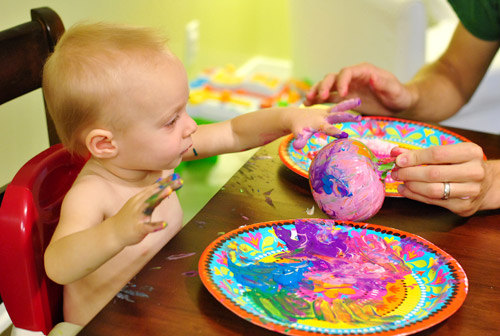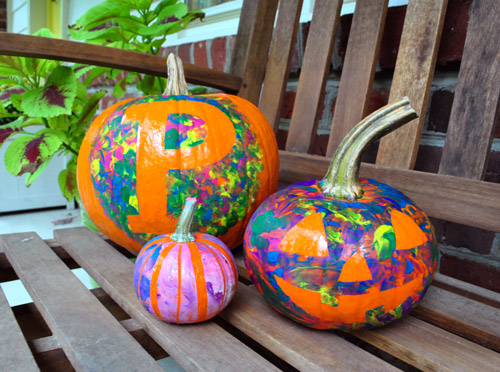 Spookiest: Our mildly creepy Halloween decorations, including bloody candles, white wooden snakes, and green apples and gourds.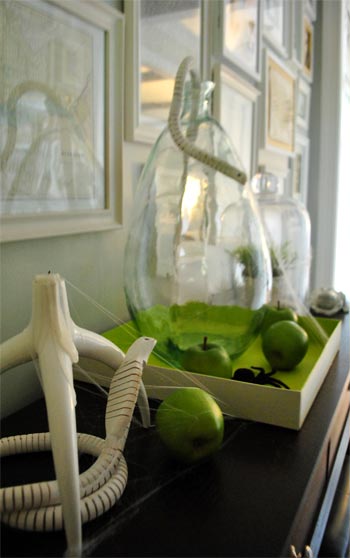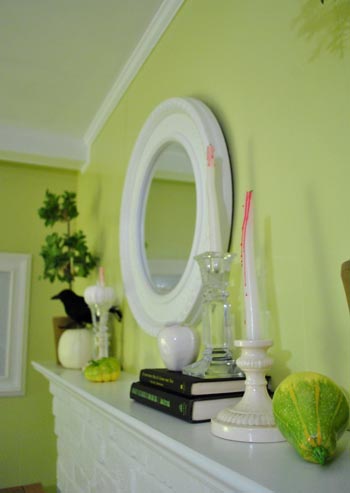 Most Hair Raising: The spider that tried to thwart our quickie mum upgrade to our front porch. I'll spare you guys the close up pic of our girl "Charlotte" again.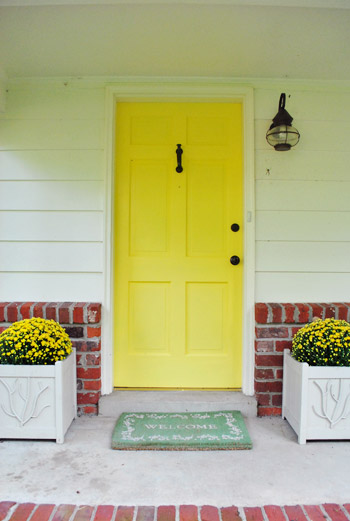 Most Open: The view of our front yard, now that our bush fence is gone.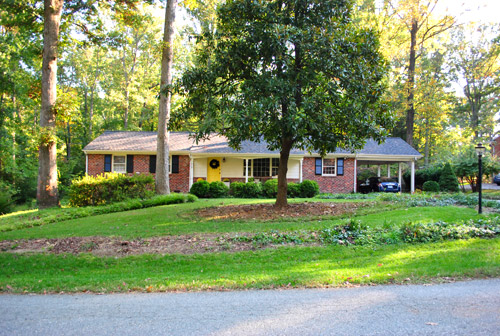 Most Open (Runner Up): Outlining a few of our kitchen decisions (and indecisions) including the addition of some open shelving.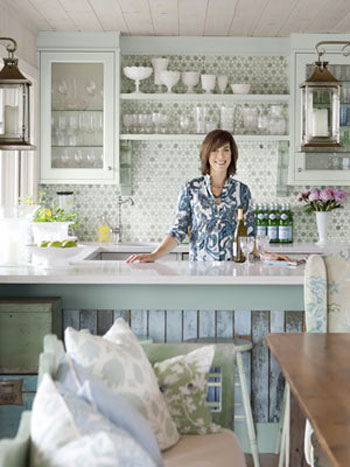 Most Grounded: The new flooring that we've chosen for our kitchen – some dark cork purchased on sale at Lumber Liquidators.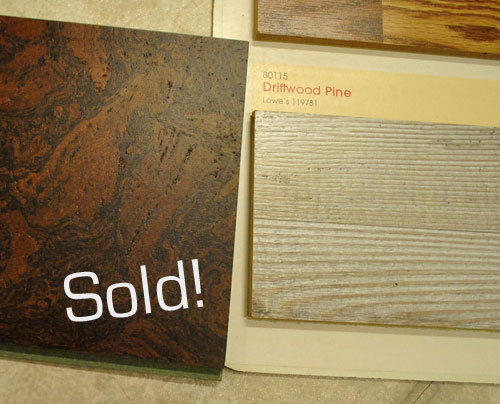 Most Well Rounded: The penny tile that we chose for our new kitchen backsplash (so glad Clara approves).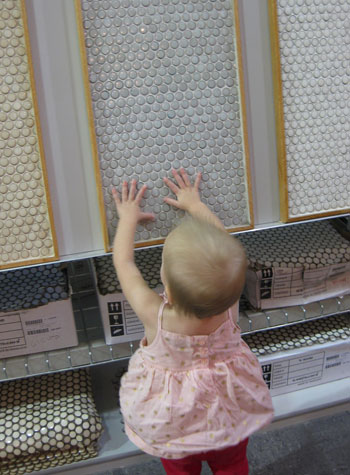 "The White Stuff" Award: Our decision to forgo granite and use white Corian counters in our kitchen.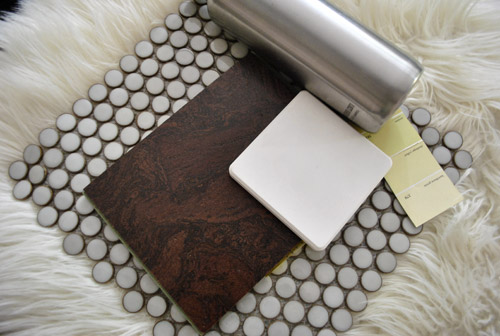 Deal of the Month: Saving over $300 on cabinets by getting them at the ReStore instead of the home improvement store.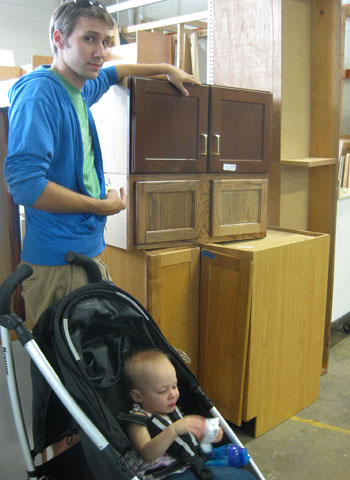 Most Likely To Catch Flies: KB & SP as they announced the return of the Pinterest Challenge, open mouths and all.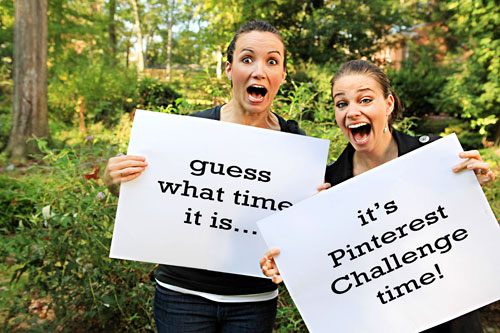 So there's our October at a glance. Can you believe it's already November? What did you guys knock out last month? Have you ever made a list of accomplishments to look back on? If not, feel free to use the comments of this post to break down what you've done. It's so nice to take a break from adding things to The List while appreciating what we've completed. Just for a second. Then it's back to the kitchen. By this time next week there should be a giant 8′ opening into the dining room. Raise your hand open your mouth if you're excited.
Psst- You can check out July's superlatives here, August's here, and September's here. 
Pssst- We announced this week's giveaway winners. Click here to see if you're one of them.
&nbsp&nbsp&nbsp
It's that time again! When we take a moment to look back on all that we've done in the past month at a glance (and gather all the links in one handy place for ya). And of course we tossed in some never-before-seen stuff, just because we're over-sharers. This month felt pretty scattered since we did everything from finding secondhand night stands and starting to stencil some walls to building a 13 foot desk, altering a light fixture, framing out a mirror, making free art, and beyond. So let's take a walk down memory lane, with yearbook-esque superlatives. Why? Because that's our idea of a good time.
Most Pro-Banquette: Starting off the month with a half-baked idea to add a kitchen banquette.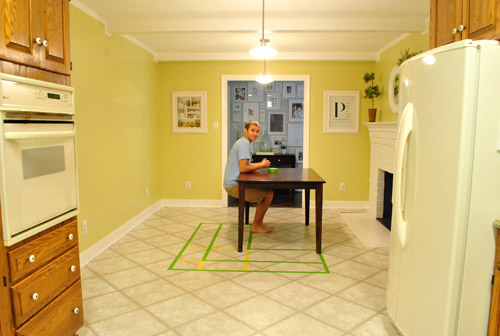 Most Pro-Banquette (Runner-Up): The continued discussion on the topic in this follow-up post, which included a reader submitted rendering (where I looked a little bit like a receptionist).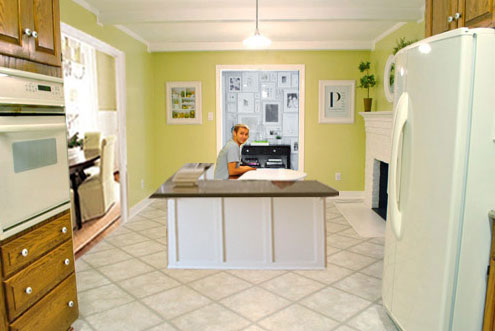 Least Pro-Banquette: Ending the month with the exciting revelation that we're over the banquette idea and happy to our true love: a peninsula.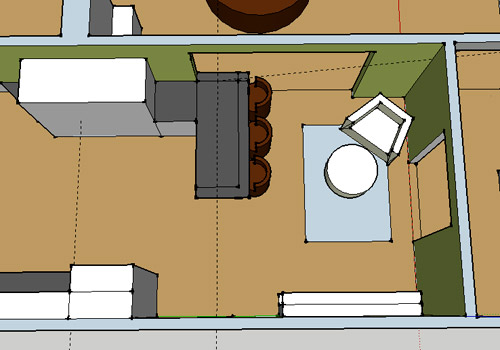 Weirdest Giant Metal Chicken: This girl (aka Beyoncé) that we spotted on our way to Delaware (if you don't know how she got her name, you must read this (warning: there's profanity, but it might be the funniest thing on the interweb).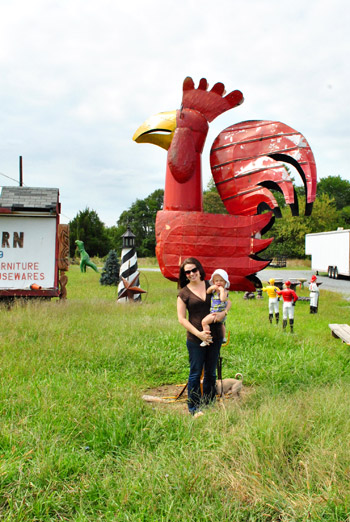 Best Deal: Our $11 yard sale night stands, which we added to our bedroom (along with a faux gold banding treatment on our bedposts).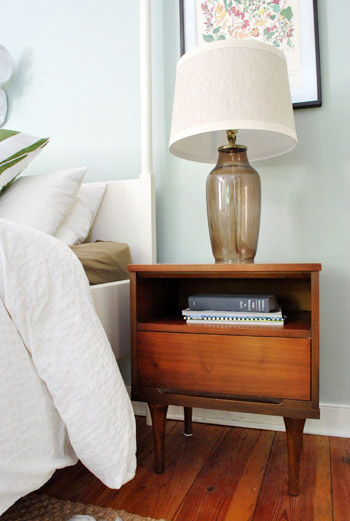 Least Appetizing: Our empty fridge after Hurricane Irene, which we refilled with a coupon-tastic trip to the grocery store. (Update on that: we put in a $250 "spoiled food claim" with our electric company, who actually accepts those – so we don't have to worry about insurance premiums going up or meeting a deductible at all – hooray!)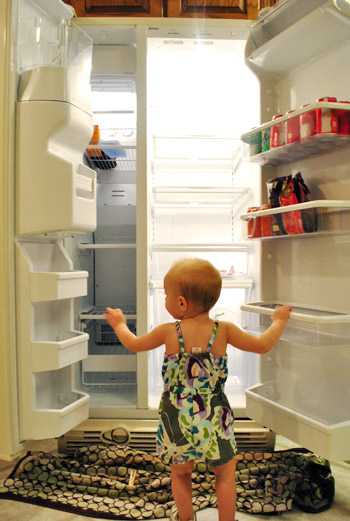 Most Improved: Our $1 (each) orange secondhand cabinets became slightly-taller, white office built-ins thanks to some wood and paint.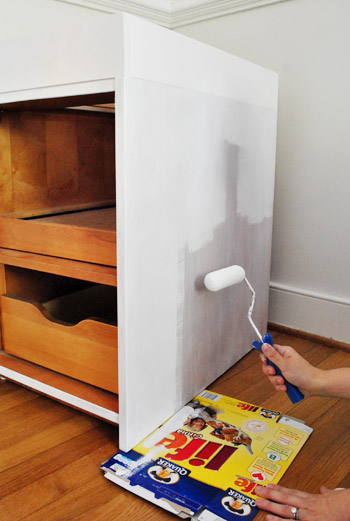 Most Tall, Long, Dark & Handsome: The 13-foot wood tabletop made for our built-in desk out of framing lumber and dark stain (for just 27 beans).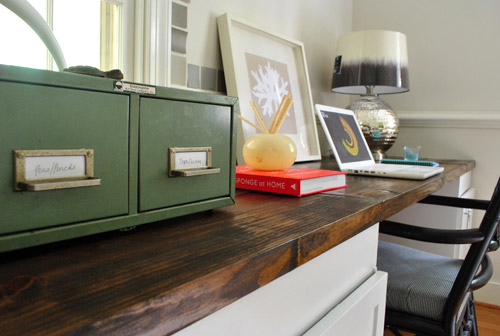 Most Inebriated: The walls in our office, after getting their Moonshine on (see what I did there? Moonshine is the name of the paint color, but also a reference to alcohol…).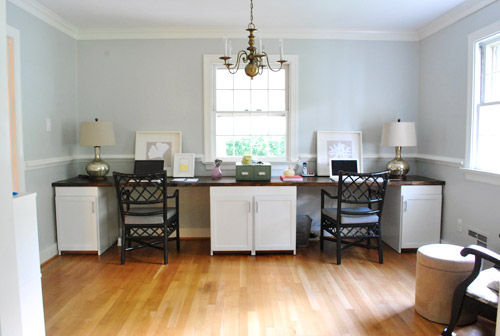 The Josh Groban "You Raise Me Up" Award: Our office light fixture, which got hung higher (no more head bumps for me), sprayed indigo, and covered with a discounted drum shade.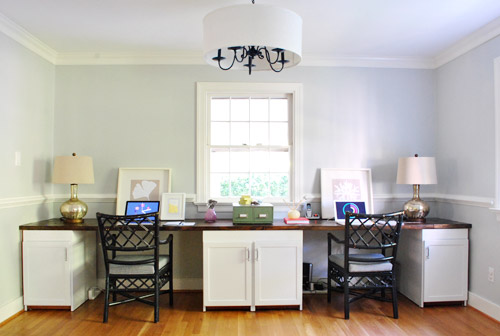 Most Grounded: The trim that we added to the bottoms of our desk to give it a more built-in look.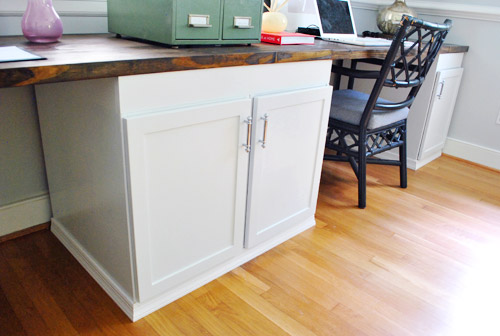 Most Secretive: These never before seen parts of our house that we hadn't highlighted before now, like our spaceship-like sunroom roof line: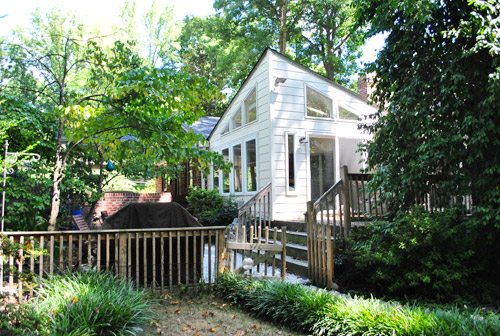 The "You'll Be Missed… But Not Much" Award: The tree growing on our house that we finally removed (to avoid any risk of foundation damage), along with trimming some overgrown shrubs nearby.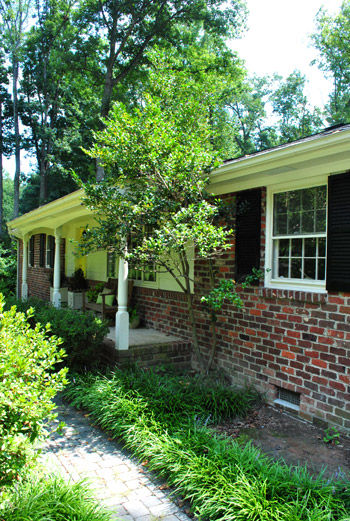 Most Persistent: Not giving up on this bathroom mirror framing project (even after a false start with too-small trim and, oh yeah, the whole thing crashing down after the first attempt).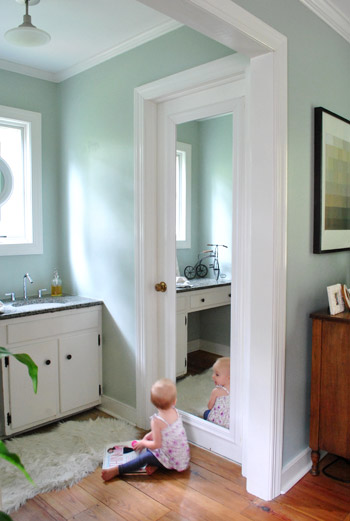 Most Photogenic: Our television. Yes, we have a weird habit of taking pictures of the TV to document decor inspiration.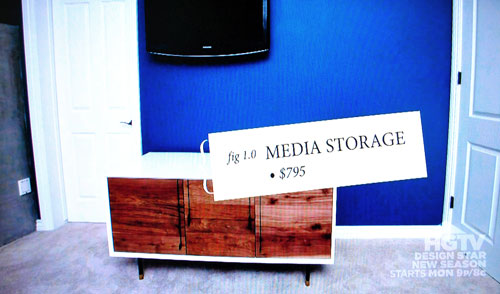 Easiest: Making a fast & free food coloring print for the hallway frame gallery.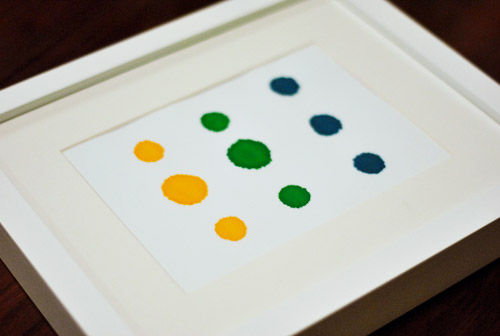 Easiest (Runner Up): Sherry's simple faux cross-stitch that she broke out to make a personalized anniversary gift for her brother and his wife.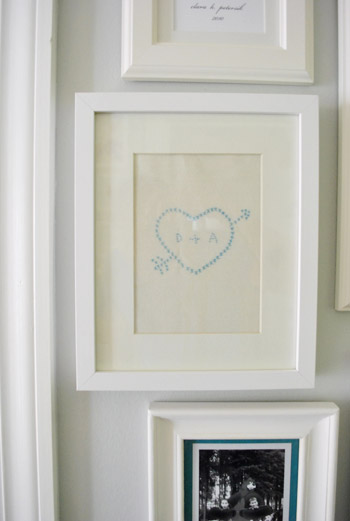 Most Likely To Result In Claw-Hands: Stenciling the walls of the office, which isn't exactly a quick project – but should be well worth it in the end (we hope to share final pics on Monday).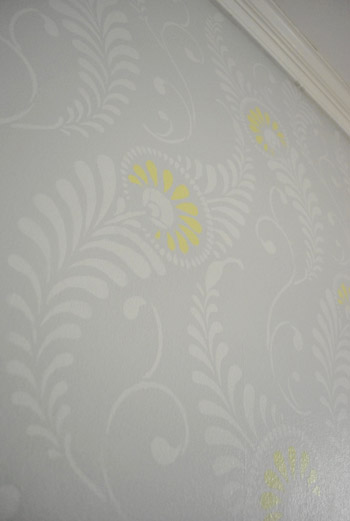 Best Sentence Ever Uttered By A Sixteen Month Old: "Iss my hoo hat." Which was said by Clara after insisting that we help her put on a jacket and a crocheted hat (that looks like an owl) over her pajamas. Such a snappy dresser.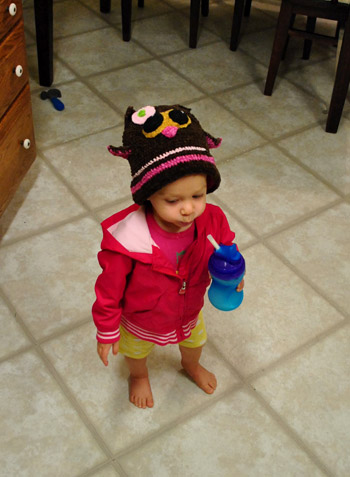 Most Three Dimensional: My take on the pros & cons of three different 3D interior design tools.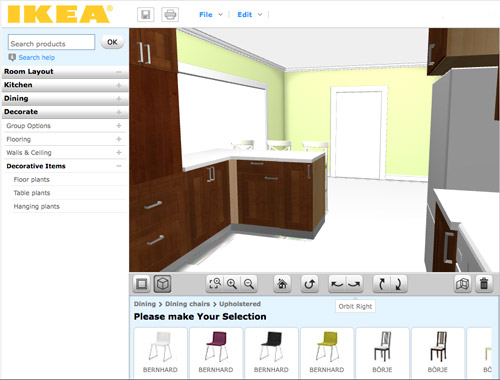 Most Intense: All of the Blogiversary posts last week…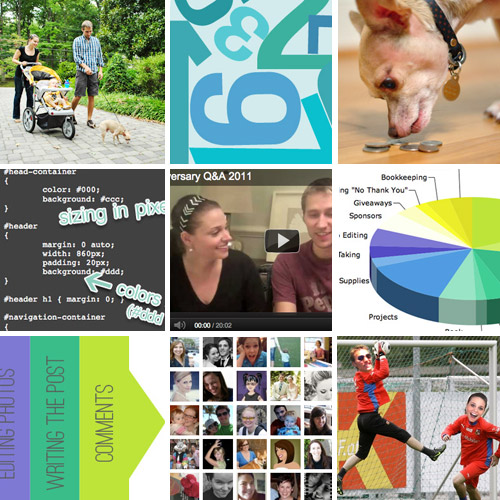 … so if you missed any of those – here's a quick recap of what was covered:
So there you have it. September at a glance. What have you guys been up to this month? Have you ever made a list of accomplishments to look back on? It's nice to take a break from adding things to our to-do list and take a moment to appreciate what we've accomplished. Just for a minute. Then it's back to that $%@**&ing stencil…
Psst- You can check out July's superlatives here and August's here.
Pssssst- We're so excited about the curated collection that we put together for Joss & Main (it comes out this Tuesday!). Click here to sign up and get alerted when the sale goes live!
&nbsp&nbsp&nbsp