Love & Marriage
As wedding week comes to a close, we'll wrap up with the as-promised details of how we honored this year's anniversary, including where we went, what we ate, what we gifted each other, and how we added to our collection of sweet mementos around the house.
First, we're all about checking off some of photographic traditions of the day. Wednesday afternoon we took a trip down to Richmond's Carytown district to pay a visit to our go-to photo booth at the New York Deli. It was Clara's first photo booth experience and she loved it so much that we couldn't resist grabbing a second strip. And now they both live on a shelf in our dining area with all of our other strips from big days gone by (which we shared in Wednesday's post).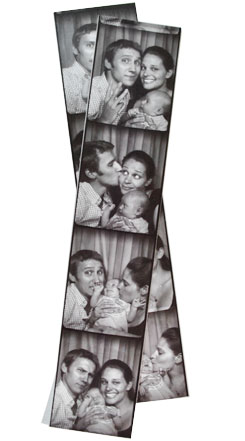 One thing we forgot to show you on Wednesday is that we have another collection of anniversary photos in our bedroom. On the ottoman near the mirror, we've got small framed pictures that we took on our last two anniversaries (we plan to add one each year – eventually moving the collection to a wall somewhere). In the left photo (our first anniversary) you can even see us holding the cupcakes that we froze from our wedding day to be eaten 365 days later, they were actually pretty good.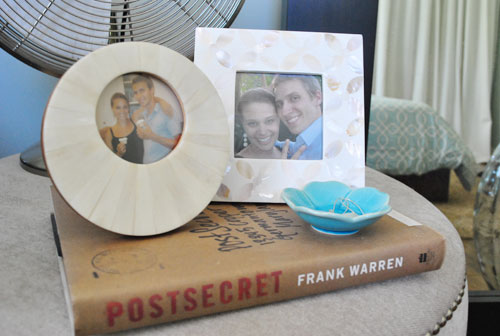 So to continue the anniversary "portrait" tradition, once we got home from our photo strip session we braved the heat to snap a few pics in the backyard – with Clara being an important addition to this year's documentation (thanks to a tripod and the auto timer button on our new camera).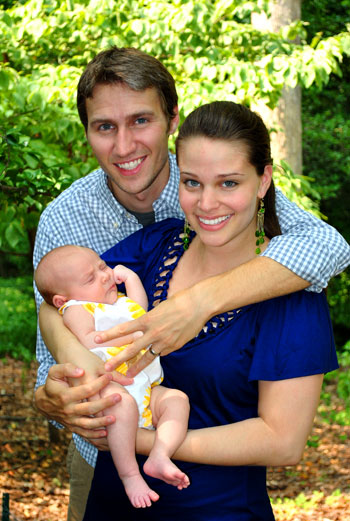 We especially enjoyed taking this one with the arch that we got married under in the foreground.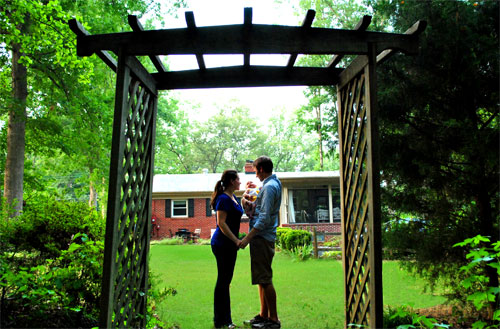 After that it was time for the all important anniversary meal. Since we had already recreated our wedding menu for year #1 and dined at our rehearsal dinner spot for year #2 (learn more about those adventures here) we decided to honor our Alaskan honeymoon this year by making some sort of salmon dish. And since I'm in the midst of cooking my way through Jamie Oliver's Food Revolution (Sherry calls it my Johnny & Jamie project a la Julie & Julia) we plucked out a salmon stir-fry recipe that, despite Kroger not having all the right ingredients, turned out quite well. Yum.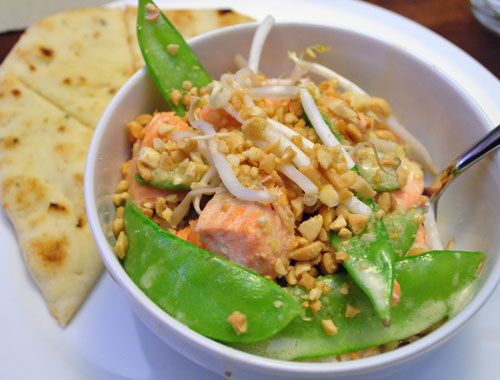 Then after dinner (with Clara off to sleep) it was present time. Even though third year gifts are traditionally supposed to be leather, Sherry and I broke tradition and coincidentally each went the art route. She had 12″ x 12″ enlargements printed of two of our favorite pics of Clara from her newborn photoshoot with our friend Dana Duncan and hung them in our bedroom in inexpensive Ikea frames to surprise me (where one of our botanical prints had previously hung). I love that we can now admire our little girl even when she's sleeping in her nursery across the hall – plus we couldn't have planned our outfits better (they coincidentally match the color scheme in there perfectly). See the full sized pictures here and here.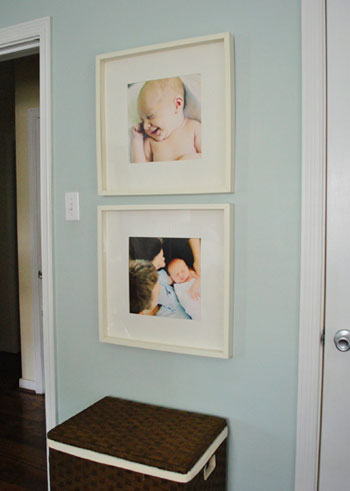 And when it came to my gift for Sherry, I knew that we'd soon have a need for lots of postcard-sized art, so I channeled my inner graph nerd to make her a geeky-sweet representation of all of the things that Sherry has meant to me over the nearly six years that we've known each other (and the five that we've been dating/betrothed/married). I got to work in a lot of sweet things (like how we went from single people to a family of four) as well as a lot of humorous stuff (like the brief time I thought Sherry's name might be Heather, how she's always been the passenger in our relationship since she rarely drives, and how I've known her as everything from a fish mom to an actual baby momma.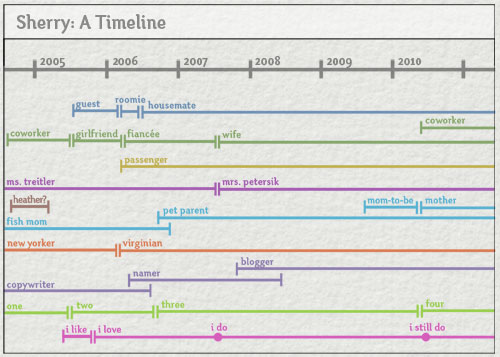 The gift exchange pretty much wrapped up 7/7/10 for us, but it wasn't the end of our anniversary festivities. We had planned a day-trip too, but with the triple-digit temperatures (insane) we decided to postpone our travel until yesterday when the heat dropped about ten degrees (you know, because the 90's is sooo much cooler than 104).
So yesterday we hopped in the car and headed west to Charlottesville, VA. Why there? It'd put us at the base of the Blue Ridge Mountains, just about 30 minutes from where we got engaged. In fact, we actually spent most of the day just outside of C-ville driving on the scenic Blue Ridge Parkway to soak up the view and tell Clara all about the fun adventures that predated her much-anticipated arrival (being mathy I'm good at recalling where we were and what we did on specific days, so there were a lot of "three years ago on this exact day we were…" conversations). Oh the memories.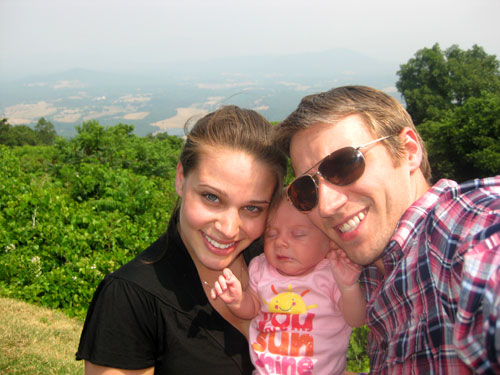 We also stopped for lunch near the base of the mountains at the Blue Mountain Brewery. Yes, it's odd that two non-drinking baby-wearing people would choose a brewery to celebrate, but we had heard good things about its picturesque setting and delicious food. Plus they consider themselves to be a "green" business (we happily counted at least three rain barrels when we arrived) so that always makes us happy to show our support. And although we didn't head there expecting to see anything home related, as soon as we pulled up Sherry was raving about their deep bronze-toned metal roof. We'd love to have one someday… if they weren't so darned expensive.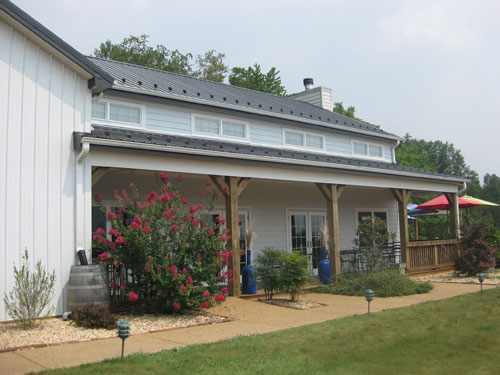 Inside the meal was simple, but delicious (and made from local ingredients). Plus I had the pleasure of rocking my Ergo carrier throughout.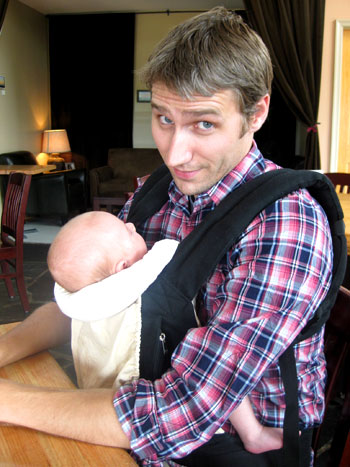 Heck, if you can't enjoy the view of the mountains – this one isn't a bad substitute, eh? Clara's like the seven dwarfs these days (sleepy, happy, bashful, and even occasionally grumpy). Here are just a small sampling of the faces I was getting throughout the meal.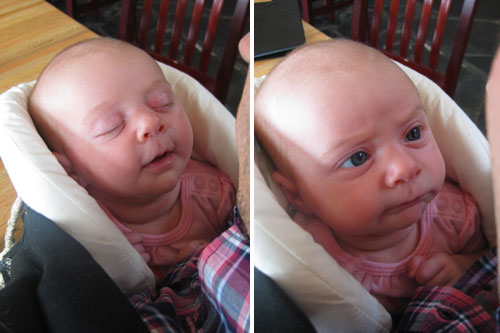 After our second tasty anniversary meal we stopped at my alma mater (to get Clara her first UVA onesie, of course) and then we headed back home to call an official end to the extended anniversary festivities. Well, that is until this morning when we made one last nod to our lemon-&-lime themed wedding with Clara's eight week photo. She's such a good sport.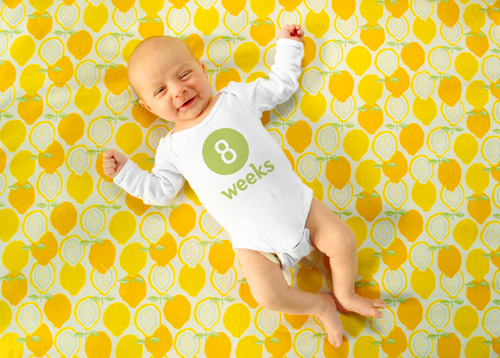 Thanks again for celebrating wedding week with us this year! It's always fun to take a slight detour and look to relationships & the celebrations that accompany them for DIY and design inspiration. We'll be back on Monday with our regularly scheduled programming, so until next year we hope everyone enjoys celebrating their own anniversaries and all of those other heart-warming milestones over the next twelve months!
Psst- Clamoring for more Clara? She doesn't usually hang out on the blog all that much, so just click the sidebar button with her cute mug on it for tons of regularly uploaded photos of Baby P!
&nbsp&nbsp&nbsp
In honor of wedding week we whipped up a romantic bedroom mood board just for fun. So if you and your other half are looking to spice things up in the bedroom (er, in the decorating sense of the term) just check out a few of these charming and wallet friendly items.
1. Colors like light and dark plum, brown, mocha, soft teal, and hammered gold make for a romantic and welcoming boudoir. And when it comes to a wall color that we're imagining for this space, anything from a soft lavender (Benjamin Moore's Violet Mist 1437) to the warm sand color shown behind the headboard above (Benjamin Moore's Dellwood Sand 1019) would look lovely.
2. Necklaces and earrings never look more ooh la la than when they're dangling on a wall mounted jewelry holder- especially when it's shaped like a sweet little bird cage (and costs just $28 beans).
3. A personalized $30 Etsy print with you and your honey's name (and even those of your children if you've got 'em) can add more customized whimsy and charm. Plus those blue-green leaves tie in perfectly with this room's color palette.
4. Matching end tables flanking the bed with these babies hanging above each of them will frame out the bed and make for some super romantic ambiance. And at $48 a pop they're cheaper than nearly all other chandeliers we've seen.
5. This luxe tufted headboard (originally $600 but now on clearance for $269) has sexy curves and detailed button tufting that adds a soft and enveloping vibe to the space, especially when paired with the patterned bedding we dug up.
6. This large champagne colored mirror will add a bit more glitz to the space without stepping into Donald Trump territory. And mirrors always bounce light around for a soft come-hither ambiance that bright overhead lights just can't provide.
7. Nothing whispers kiss me like a paisley loveseat, right? This one pairs perfectly with everything from the tufted semi-formal headboard to the plum patterned bedding- and it looks like a nice place to sit and smooch for a spell. Plus a seating area in the bedroom always feels kind of indulgent if you can squeeze it in.
8. This organic plum patterned duvet (on clearance!) is geometric enough to please most males without stepping into the dreaded "floral" category of textiles that has most guys exercising their right to veto. And adding some breezy white curtains (Ikea's Vivan panels are $6.50 a pop and oh so sweet) along with a plush 8 x 10 rug (anything mocha, chocolate, or even cream would work) will complete the look with style to spare.
So there you have a romance-inspired bedroom in a box (well, a board) for anyone who's looking to feather their love nest. And speaking of romantic touches, what do you guys associate with love when it comes to home decor? Scented candles or a flickering fireplace? Pink tones and ruffled textiles? Plush flokati rugs and velvet curtains? Framed photos and other personalized memorabilia? Do tell.
&nbsp&nbsp&nbsp