Love & Marriage
This was an exciting Christmas because in all of our seven December 25ths together, we've never woke up in our own beds to open the presents under our own tree as a family (i.e. we'd always traveled elsewhere).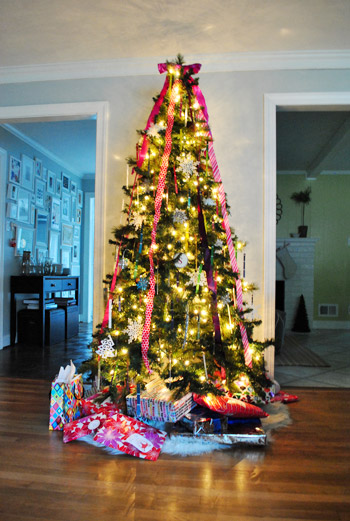 We did meet up with a bunch of relatives later in the morning to open gifts as one big crazy Petersik family, but we snuck in some present opening time as just the four of us earlier in the morning. Especially since Santa brought one little Petersik something extra special this year (as mentioned in great detail here)…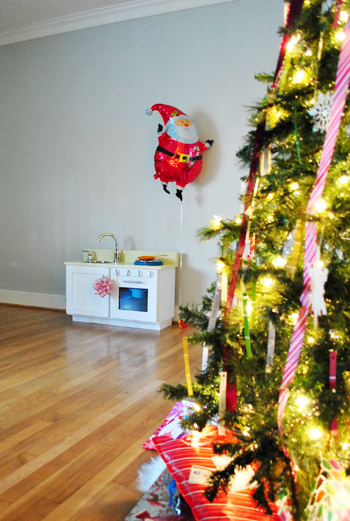 Along with her play-kitchen Clara got lots of clothes, books, toys, and that favorite leopard hat of hers. But since we always get asked what we got each other, let's get into that. First off, I stalked Sherry's Pinterest page to learn that she wanted these Kendra Scott earrings – which look quite good on her, if I may say so.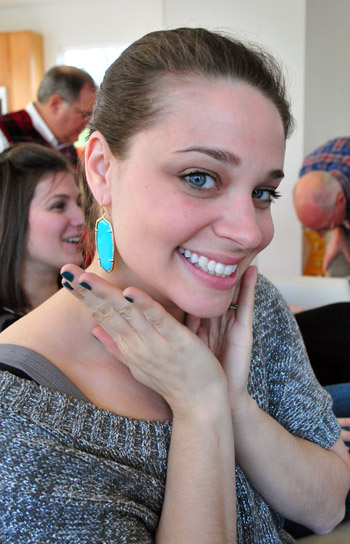 She also got me a couple of dangly things in the form of two bicycle ornaments (well, technically one's a moped) from Crate & Barrel to fuel my new obsession with bike art. It provided the perfect opportunity to pose next to my dad with the gift that we got him – a bicycle parts shirt from Etsy (unlike me, my dad's love of bikes extends to actually riding them regularly).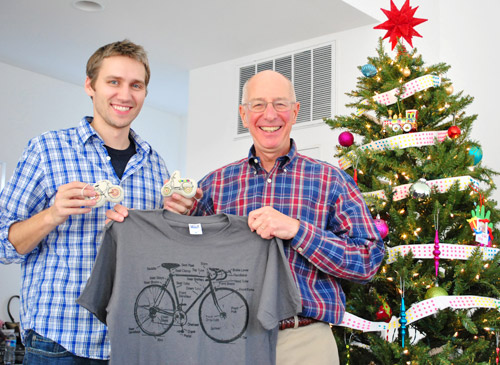 Sherry and I both ended up getting each other art too, which was kind of funny. Sherry made me a very sweet Boy Scout merit badge collage for all the "skills that I excel at" that she was inspired to create after seeing some vintage badges on eBay for woodworking that she thought I deserved (they were selling for something like $80, so she called a friend whose son has tons of boy scout/eagle scout badges and just scanned and returned them). Then she printed the ones that "applied to me," cut them out, and taped them in a grid on some navy craft paper leftover from our old living room art.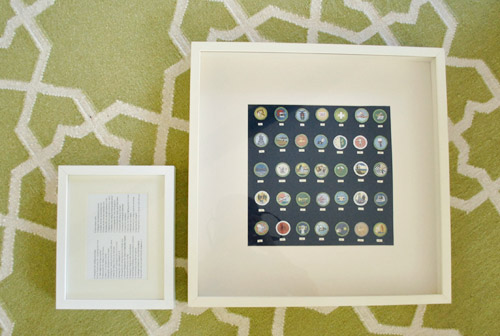 The sweet part is that she used the actual name of the merit badge to express something she loves about me, is thankful to me for, or that's meaningful to us both.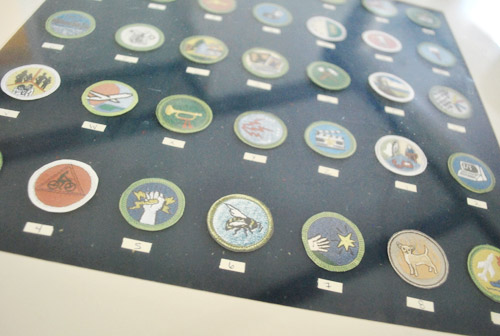 She even typed up and framed a key to explain everything. I laughed out loud at letter P, which was a badge featuring a squirrel icon.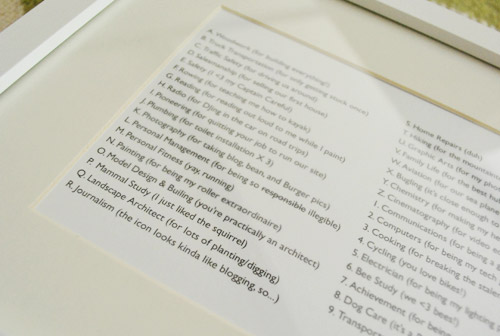 We haven't figured out where to hang it yet, but I love how simple and graphic (and funny!) it is. It looks great with the curtains in the dining room, so it might end up there.  On the other hand, Sherry had my gift to her hung before the day was over. That girl is fast!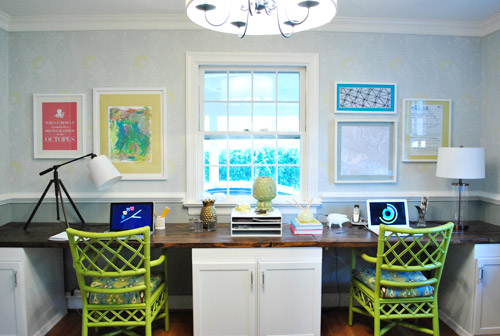 It's there on the far left, and it's a custom poster that I bought from A Vintage Poster. It's a weird story, but this is a line from an episode of Toddlers & Tiaras (um, not that we watch that show – it was just on in the background one day). They introduced one little girl to the stage with this gem that perfectly epitomizes childhood innocence: "When Emerald grows up, she wants to be a photographer… or an octopus." I altered the quote a bit and A Vintage Poster did a bang up job converting it into a fun little one-of-a-kind poster that only makes sense to us.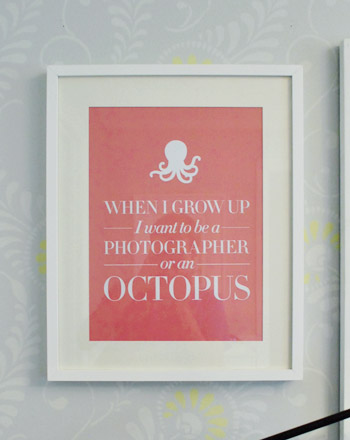 Who doesn't need a refreshing reminder to dream big every once and a while? And the coral color looks so great with Clara's painting next to it.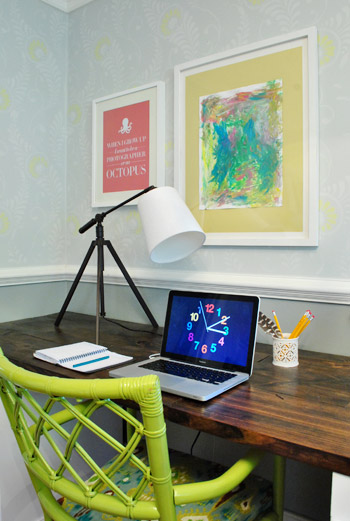 Speaking of big dreams, Clara, Burger and I also gave Sherry something to encourage her to pursue one of her former hobbies: art. She's got her BFA and originally went to school to be an artist, but life has kinda pushed that aside. I've heard her say more than once while watching Work of Art on Bravo that she misses it, so we snagged her some paints and a gift certificate to a local art supply store (intentionally not Michael's or somewhere she could spend it on house projects instead). Oh, and don't mind my goof on the card – I'm so used to signing "John & Sherry" that I forgot she wasn't giving this to herself. #ChristmasPresentFAIL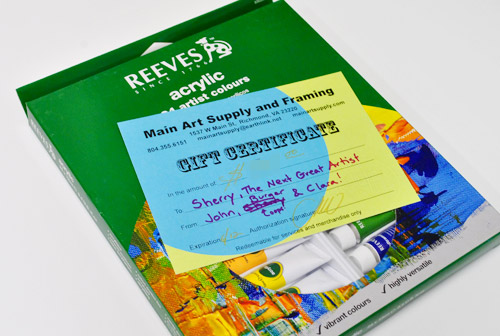 Let's see – what am I forgetting? Oh yeah, Sherry got these funny little buttons that perfectly sum up our relationship for me here on Etsy.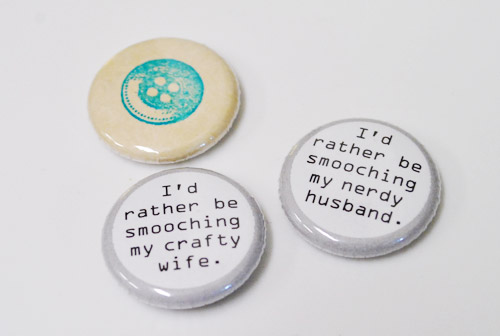 Knowing my nerdiness, she also got me a "tech" gift  in the form of a remote for our camera (because I've often mentioned that it'd be helpful to have around). After all, the world needs more photos like this, right?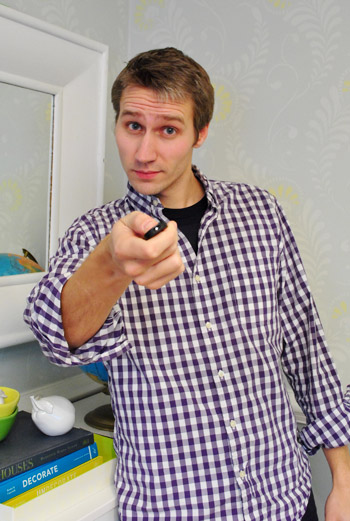 The remote also let me snap a pic of the other random gift I got Sherry, even though it's really for me to wear. Ready for it? Check out the shirt that I bought from zazzle. Yes, I had to "design" it myself, as no pre-made shirts that say "white ceramic husband" seem to exist.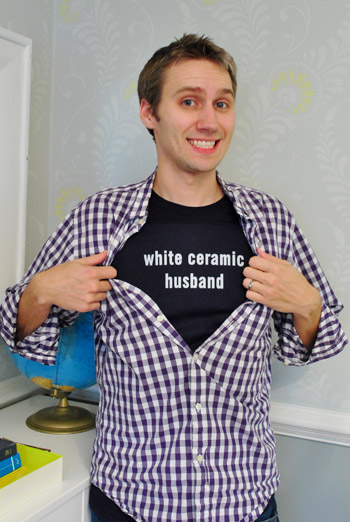 Yeah, I'm a super dork. Ten bonus points every time you spot me wearing it while doing projects around the house. I figure I need something to round out the ol' soda t-shirt collection.
Oh, and don't worry – Burger wasn't forgotten. He's just not a morning person – er, morning pup (?) – so he had to have his presents delivered to him in bed. Here he is with the lion toy Clara picked out for him.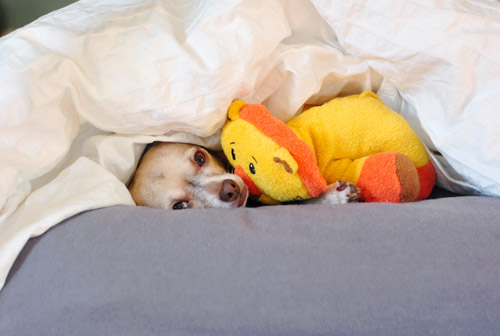 And there's a great stretching/smiling photo of him here. On that note, I think we've more than exhausted our run down of Christmas goodies between this post and this morning's play kitchen extravaganza. What'd you guys get or give his year? Anything especially awesome? Something DIY or house related?
Psst- We just shared a HUGE CHRISTMAS POST full of family pics and even more holiday details over on Young House Life, so you can check that out here.
&nbsp&nbsp&nbsp
Today I turned 30. Woot.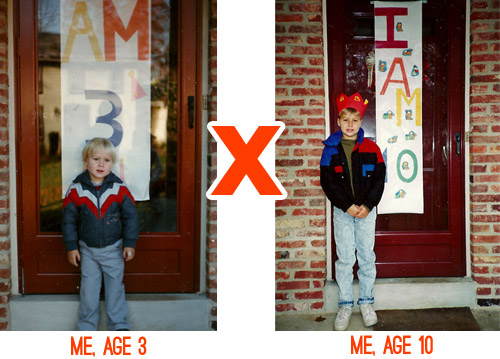 My mom didn't make me stand in front of an "I AM 30″ banner (or fashion a crown for me) like she has in past years, but she and my dad did have us over for brunch on Sunday morning. It was actually a surprise that Sherry planned with them. I had known about the brunch (since my cousins, aunt, uncle, and little sister had traveled in from DC for the day), but was somehow oblivious to the fact that they might use the gathering to celebrate my thirtieth until a candle-filled plate of muffins was placed in front of me. Oh, but my mom did make me this: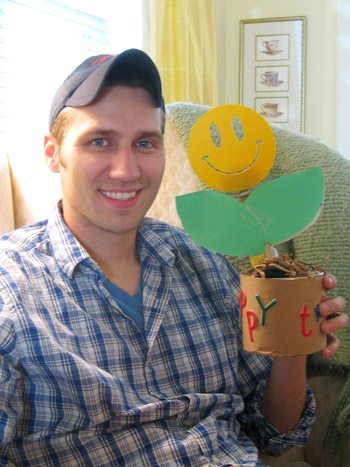 Never one to just slip money or gift cards into an envelope, my mom constructed this "flower" with a happy face spatula and paper leaf pockets that housed some gift cards to my favorite places. Oh, and the can "planter" was stuffed with new running socks (likely my dad's contribution).
My sisters went in on this for me: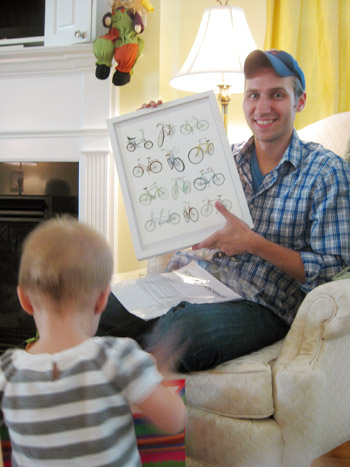 It's the Christine Berrie bicycle print that I've always loved over on 20×200. It's the perfect addition to my bicycled-themed art obsession. Speaking of which, I did actually manage to secure a set of the Gap bicycle prints that I yearned for thanks to a helpful Gap manager (remember when I pined for them here)? We were truly shocked when they arrived at our PO Box. Lesson learned? If you ask enough times, a manager might take pity on you and actually send a sign your way (instead of tossing it into the dumpster). So be the squeaky wheel, folks. And hooray for recycling! (Get it? Bicycle? Cycling? See what I did there?).
We haven't figured out where to hang my new bike collection yet, so pictures "in situation" will have to wait for another post when we pin down proper locations.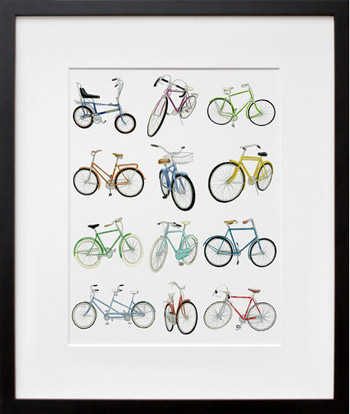 But I do have "in situation" pictures of what Sherry gifted me. Any guesses?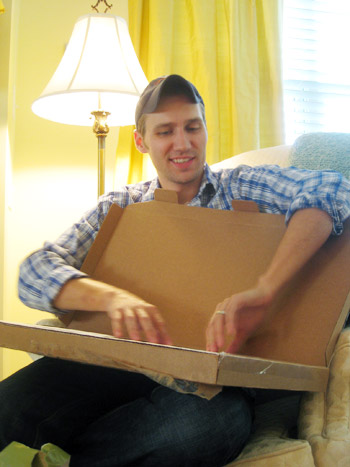 Yup, it's a white rhino. Specifically the large Robbie trophy that she bought me from Cardboad Safari. I know it's probably one of the weirder sentences I've ever typed, but rhinos are kind of our thing. We even worked one into our blog header.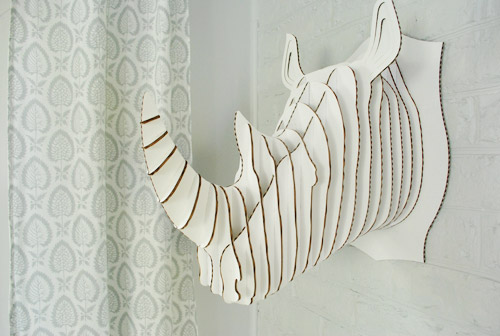 Sherry knows that I've always loved the larger Cardboard Safari creations (not that I don't also love our little full-bodied Robbie, who makes frequent appearances in various places like our console table and our laundry room). Big Robbie is an especially fitting gift since I surprised Sherry with a ceramic rhino for V-day a while back (more on how that turned into a highly involved rhino scavenger hunt here). So apparently we like giving each other horned mammals. And they keep getting larger. Maybe we'll end up with a life sized rhino in our kitchen someday a la the giant dog on Friends.
Oh but one word of warning for anyone else who's eying a large trophy: be sure to consider how far they stick out from the wall when it comes to where you want to hang them (this guy comes out about 18 inches). We fortunately found this spot where no one's gonna knock into him when they walk by or sit down (since you stand up in front of the chair and not on the chair). So while nobody puts Baby in a corner, we totally put Robbie in a corner. And we love him there.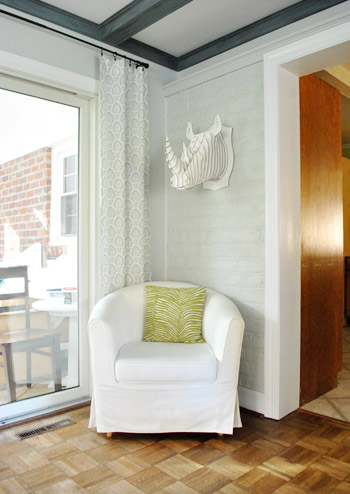 Overall, the birthday celebrations were pretty low-key (just the way I like 'em). My family took me out to dinner last night and my mom is babysitting tonight so Sherry can have a date with her old man (aka me, in case that was too cryptic for you). Lately she has been calling me her silver fox because I'm sporting some gray hair in the front. But she swears up and down that it's a compliment. Her rebuttal is usually "Hello? Anderson Cooper – I rest my case."
Oh, and since I never got around to making a "to do before I'm 30″ blog list (like Nicole), I was pleasantly surprised to find that I had actually made one on paper back in high school (as part of a prompt in my senior English class). Who knew keeping those old notebooks stored away would ever come in handy?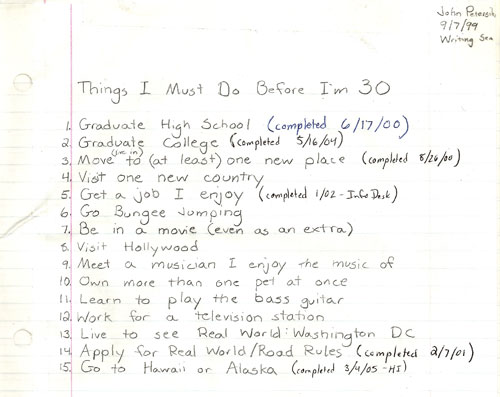 Looks like I had gone back and updated it with "Completed" marks sometime around 2005. And sadly I haven't checked off many more since then. No new countries (#4), bungee jumping (#6) nor movie roles (#7) for me. Though Sherry and I did visit Hollywood (#8) on our first vacation together in October 2005.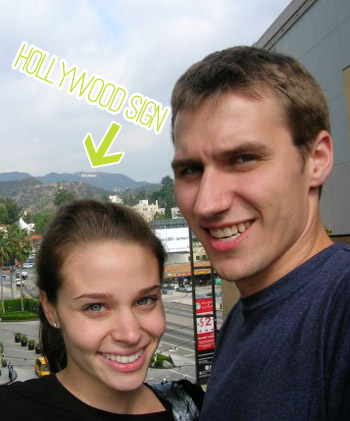 And I sorta accomplished #9, if you count my run in with Kelly Clarkson at a client event in May of 2005.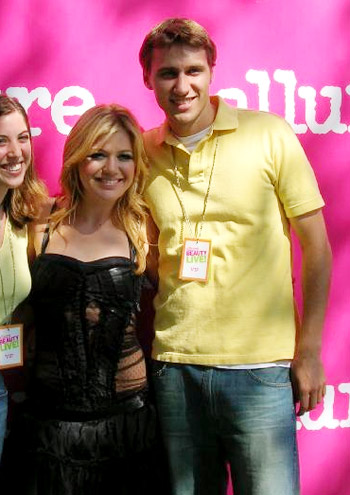 Neither Sherry nor I can remember if we still had our fish when we got Burger, so #10 is an unknown. I definitely haven't learned how to play the bass guitar (#11)… or even the regular guitar (though I owned one for a short time in 2002). But I did work for the National Geographic Channel (#12) in the summer of 2001. It was far from glamorous, but certainly more satisfying than seeing #13 come true. Oh the lofty dreams of an 18 year old…
And although I had completed #15 by visiting Hawaii with a friend before Sherry and I even started dating, it was nice to earn some bonus points by going to Alaska on our honeymoon.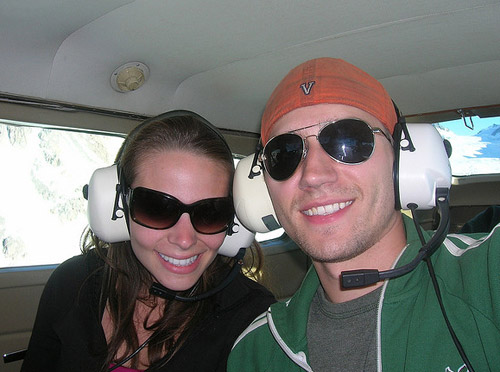 Speaking of which, I'm gonna earn a third check mark on #15 when Sherry and I continue the turning-30 celebration next year (Sherry hits the big 3-0 in March) by following through on our plans to vacation in Hawaii (which will also multitask as a vacation to celebrate our fifth wedding anniversary). But more on that another time. A long post like this has made these old bones weary. Just kidding. To anyone wondering, 30 feels just like 29. But Clara's even more fun this year because she's walking and talking (and singing hilarious songs). This morning, for example she sang this:
"Twinkle twinkle little star, how I wonder what you said."

Anyways, thanks to my family for a fun 30th. And to everyone who made my 20's an exciting and eventful decade. Here's hoping the 30's are just as fun!
&nbsp&nbsp&nbsp