Love & Marriage
Deck progress drags on, so we'll be back with more details for you on Monday (wish we had more full days to devote to it, but it'll probably be a weekly update situation like our first house's bathroom reno and our kitchen redo since it's such a big undertaking). But I just couldn't resist sharing this in-progress picture of John and his dad telling the auger who's boss:
Oh but the time it's taking us to build this deck isn't what I meant by the title of "half a decade" (at least we hope it won't take us five years to get 'er done). That has to do with our five year wedding anniversary, which is coming up on July 7th. How crazy is that? We can't even grasp that it has been half of a decade since our little backyard wedding. And it means that seven years ago we shared our first kiss (we picked 7/7/07 as our wedding day because 7/7/05 was when we started dating – yes we kissed on the first date, haha).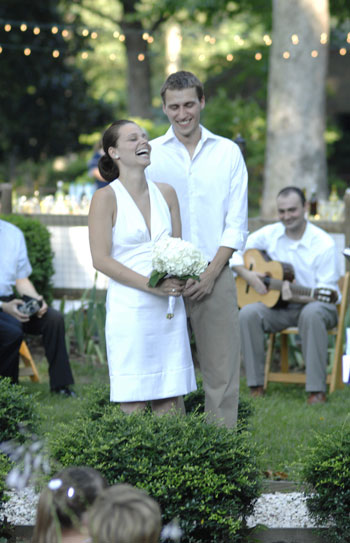 There are some parts of our wedding that we remember so vividly it easily could have been a month ago. So funny how time flies. And as some of you know, it has been a little tradition to take a picture of our family on July 7th in honor of our wedding day, like this:
This was last year's picture, with just one wiggly kid…
… and with both of them…
We like to frame each year's picture in small differently shaped capiz frames that we've found over time (from Target, thrift stores, Hobby Lobby, etc). But our sink was getting cluttered with four full frames and the latest empty one that we snagged from Target a few weeks back in anticipation of our fifth photo. So we decided to tackle a little photo-hanging project to get them off the sink and enjoy them in a nice little grouping on the wall next to it.
For some reason hanging frames seems to be something we get asked about the most, so we thought we'd break down the process for getting these guys on the wall without any oops holes. Either folks are just plain intimidated to hammer a nail into a pristine hole-less wall or they're not sure how to settle on "the right" arrangement. The good news is there are probably always at least ten arrangements that would look good, so we just like to put the frames on the floor and play around until we have a little grouping that we like. Like this:
The next step is to make little paper templates for each frame, so you can map out where you want to place them (and only make one hole in the correct spot for each frame instead of ten bad ones). We just laid the frame on top of white printer paper, traced the outline, cut them out, and taped them to the wall, shifting things around until we liked what we saw:
We had also taken a second to mark where the nail hole needed to be on each one by holding it up against the back of the frame before taping it up and pushing a nail through to rest on the hook on the back of the frame. So when we taped them up they already had these nail guide holes to completely take the guesswork out of things.
Some of our frames didn't come with hooks for hanging them on the wall (since they're meant to be tabletop frames) so we just picked up a pack of picture hanging hardware at JoAnn for 99 cents (for four of them). Then I crazy glued them to the back of the frame and pulled off the little flap that you use to stand them on the counter (since the flap would make them sit away from the wall more than we wanted them to).
Next we just hammered through the pre-made hole in the paper template where we knew the nail should go for each one.
Which looked a little something like this:
Then we left the nails in the wall and pulled the paper templates off. Less then a minute later we had everything hanging. And then I ran outside to grab some flowers, because I'm girly like that.
It's sweet to see four anniversary photos all together on the wall, with that blank fifth one just waiting for our latest family pic in a few weeks.
Think Clara and Burger are going to cooperate this year? Nah, me either. But that's half the fun.
Oh and we thought this could also double as a budget blooms post since we're woefully overdue for one of those. See all these flowers I mentioned running outside for? Yup, they're all free from the yard! They're clippings from the hydrangea bushes out by the patio, and a giant man-eating (not really, but it's huge) butterfly bush in the back yard.
I just stuck a little glass vase full of water in the middle of this giant ceramic planter (from HomeGoods a while back) on top of a cardboard box to lift it up so the stems of everything didn't have to be impossibly long.
I love the little pointy butterfly bush clippings mixed in with the lace-like balls o' hydrangea. I wonder if they'll live long enough to see us put our next picture in the empty five-year-anniversary frame?
Probably not, but they sure are pretty for now.
I especially love how you can appreciate all the different types of capiz frames since they're not all jumbled in front of each other on the counter anymore.
And come to think of it, hydrangeas are pretty fitting for that vase beneath them since they were in my little homemade wedding bouquet.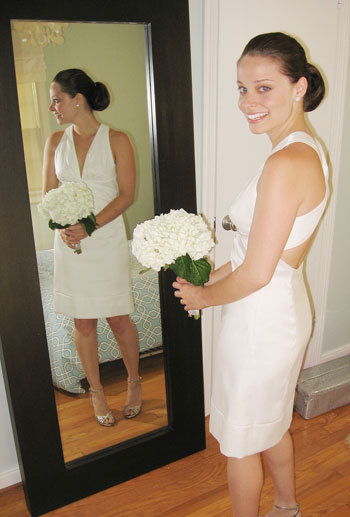 Oh my gosh, was that really five years ago? I'm in denial. Haha. Anyone else have any anniversary traditions or frame groupings you've been hanging up? Do you use paper templates to simplify things? Or do you have another easy hanging method? Share and share alike!
Psst- We announced this week's giveaway winner, so click here to see if it's you.
Woot! Yesterday we OFFICIALLY BROKE GROUND ON THE BIG DECK PROJECT! Although breaking ground is a bit of an overstatement since we are not even close to digging post holes yet – we're still working on getting our ledger board up (those are the support beams that run along both sides of the house to start the deck frame). Let's just say that cutting and drilling into brick – especially brick that makes up the side of your house – is not for the faint of heart. So we still have a long way to go, but we'll be back on Monday to share our progress! Until then here's an Instagram sneak peek that I snapped of Clara playing Job Site Supervisor while peering through the sliding glass doors (you can actually see some ledger boards hung against the house in the reflection):
But back to the real subject of this post: present projects. You know we love a project. Especially when it's personalized. May is always a busy month for gift-giving in the Petersik family. Not only did we have Clara's birthday and Mother's Day back-to-back, but in the past two weeks we've also marked my mom's birthday, Sherry's mom's birthday, my sister's wedding anniversary and my parents' wedding anniversary (their 40th!). So there are lots of milestones to be celebrated… and lots of gifts to be given. But we'll spare you a run-down of every unwrapped gift and just show you some of the highlights – mainly the things we designed/put thought into customizing and personalizing with a little DIY design input.
Let's rewind first to Mother's Day, when I coordinated with my three sisters to give our mom a gift that was inspired by our visit to Richmond's Spring Bada-Bing craft fair in April. Look familiar?
Those are the Articipe prints that we spotted at the craft fair, and I ordered four custom prints for my mom (there was a "buy 3 get one 1 free" deal going on, so it was $75 for the four 5 x 7 prints and $20 for the four Ikea Ribba frames). I loved that my three sisters went in on them with me so they could be from all of us (we each selected our favorite recipe of my moms and they were apparently so iconic that my mom could guess which person picked each one). She had given each of us a collection of her go-to dishes after we graduated, so were able to use that to get the recipes just right.
I chose "Chicken Squares," which is some old Pillsbury recipe that I've made so often I can basically do it with my eyes closed (this version listed here is similar, but not exact, to what my mom cut out of a magazine at least a few decades ago). Of course the Articipe version came out much more beautiful than any recipe I learned off of!
The recipes my sisters chose were Black Bottom Cupcakes, Dutch Babies, and Derby Pie – and we were sure to chose a color scheme that worked with my parents' kitchen decor. Of course the Black Bottom Cupcakes had to be in black:
My sisters and I actually had a great time picking the recipes and reminiscing about our favorites – wondering when we last had a certain meal and comparing what was popular with my mom at what time (there are 13 years of age between my oldest sister and youngest sister, so things evolved a bit throughout our childhood).
My mom loved them. And after accurately guessing which of us had chosen each recipe, in true form she pointed to a Derby Pie that she had brought with her to our Mother's Day celebration. Love you mom!
While we're on the topic of my parents, let's switch celebrations to their anniversary. Specifically, their 40th wedding anniversary (thanks all who congratulated them when I posted this Instagram pic of the breakfast we whipped up for them last Sunday morning).
But breakfast wasn't our gift. Though the present was once again meal related – and also in the vein of commemorating something my sisters and I grew up with. Before any sit-down meal growing up we would always say grace. We held hands and said the same words every time: "Thank you God for a pretty day." I'm not sure the origins of it, nor why we adopted "pretty" as the adjective to describe our gratitude but it has been something we've said for decades. And the other day it struck me just how meaningful the saying was: we were walking in the park with Clara when Sherry and I each took one of her hands. She took holding hands as a cue and shouted "Thank you PRETTY DAY!!!" We couldn't stop laughing.
So that night I whipped up this graphic in Photoshop (the small font is Bangla MN found on my Mac, the other is Freebooter Script downloaded here):
I then hunted down this listing for a custom platter on Etsy and emailed my sisters with the idea. They were in, so we ordered it (it was $70 with shipping) and a couple of weeks later this came in the mail:
We figured they can display it or actually use it to serve food on, that way our sweet little family grace is present at every meal in more ways than one. But whatever the use, we were all just so happy they liked it as much as they did. My sister managed to capture some shots of the gift-opening this weekend, but this is the only one I'll dare share. Once it was actually opened there were some tears going on – and I know better than to post photos of any of our family members' cry-faces.
I have to admit that I was tempted to make a gag version based on the time my dad slipped and accidentally said "Thank you God for a pretty face." Something tells me this was the better choice though…
Oh, and if you're wondering what Clara, Burger, and I gifted Sherry for Mother's Day – well, among other things (like the flowers shown here) we finally got Sherry two of those West Elm Hive Vases she has ogled for at least a straight year. Here they are hanging out on the fireplace mantel in the kitchen. You know we have a thing for bees…
And there was also the One Word A Day journal that Sherry mentioned back in this post. It was on sale for $5 at Urban Outfitters so I thought it'd be a fun addition to Sherry's journaling tendencies.
Of course in true mother-ing fashion, Sherry's using it to document Clara. She thought it'd be fun to write down a new word Clara was saying, but ultimately decided it's more entertaining to write full sentences or conversations that Clara's cracking us up with – like this one that coincidentally happened after saying grace one night. Yes, she thought we were saying "a man" instead of amen. So naturally she wanted to include a lady too.
Anyone else have a gift-tastic month? Did you get (or give) anything particularly designed or personalized? Is anyone else excited like me that a quieter celebration month is upon them? Or at least a month where they get to be celebrated – hello Father's Day!
Psst- Speaking of presents, we shared a sweet one that Clara got for her birthday over on Young House Life.
Pssssst- We announced this week's giveaway winner, so click here to see if it's you.