Kids & Pets
Aw yeah, we're living on the ledge. We've been waiting to hang our postcard shelves from our first house's office for over two years and we finally found the right spot for them. Ba-dow: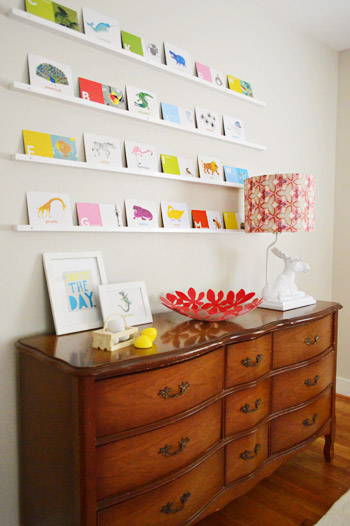 We detailed the whole how-we-made-them process here (you should click that just to see how tiny Clara was) so here's how we adapted them for this space:
we measured how wide the dresser that would sit under them was (we thought they'd look top-heavy and odd if they were a foot longer, which they were at first)
we lopped off the extra length on a miter saw, so they were all 2″ narrower than the dresser that sits under them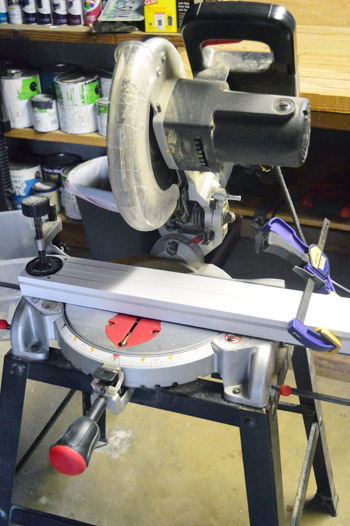 we hung the first one (the lowest one) 16″ above the dresser after holding it up in a few different heights and deciding it looked best there (using a level to be sure it wasn't wonky)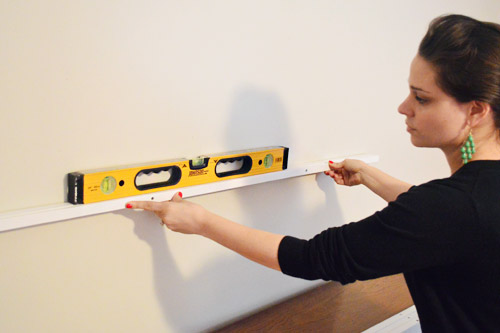 we used long-ish screws (2.5″ guys) in three places to hold them nice and securely (anchors would be necessary for shelves with heavy items on them, but for small light shelves that hold small items like postcards, screws can easily do the job). Oh but we already had predrilled holes in the shelves so the screws could go right through them and hold them in place. So for more info on that click here for the full postcard-ledge-hanging rundown.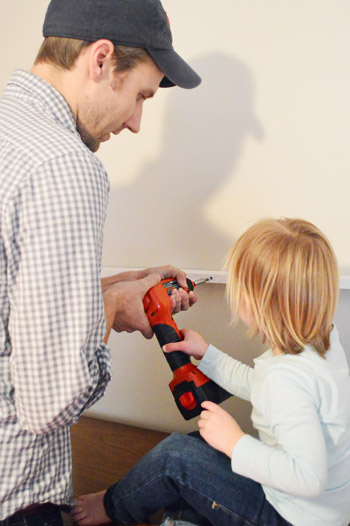 there were some high-fives along the way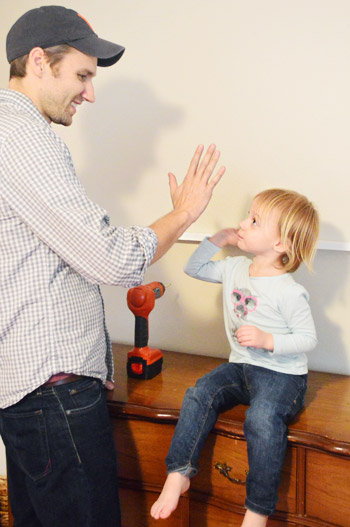 we taped a yardstick to the wall (we used a level to be sure it was perpendicular to the floor) so we could use that as a guide to hang the left edge of all of them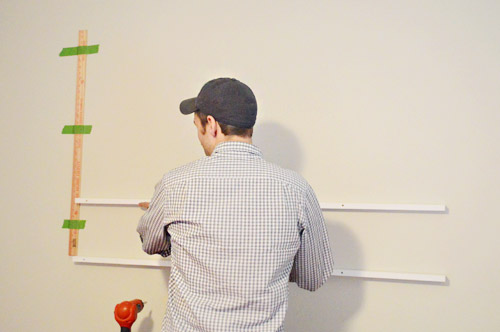 we hung each shelf on the wall with 9″ of space between each one (there was more bean-help and a few more high fives).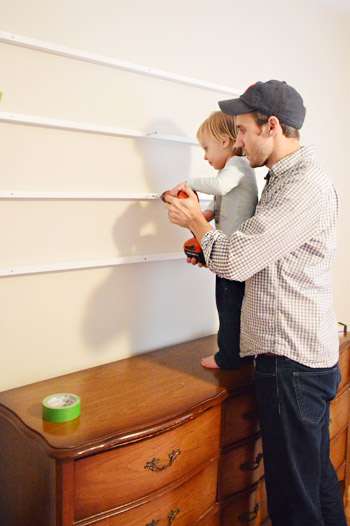 we stepped back and enjoyed the view…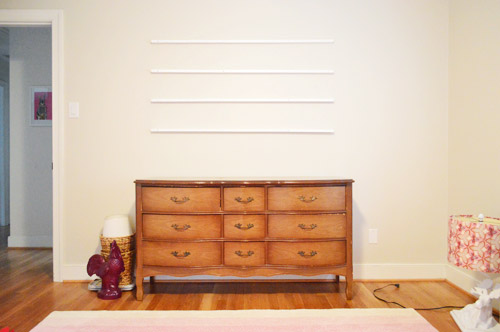 Then I broke out two things I've been hoarding saving for a nice long time.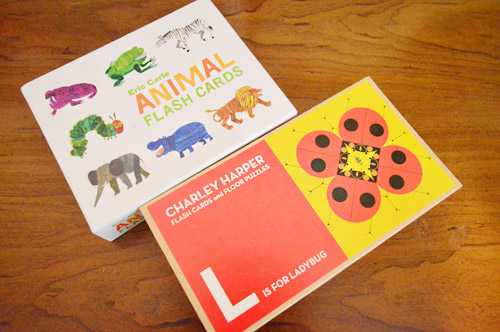 Clara loves both of these boxes of flash cards, so I've been waiting not-so-patiently to hang the postcard shelves and rename them as… flash card shelves!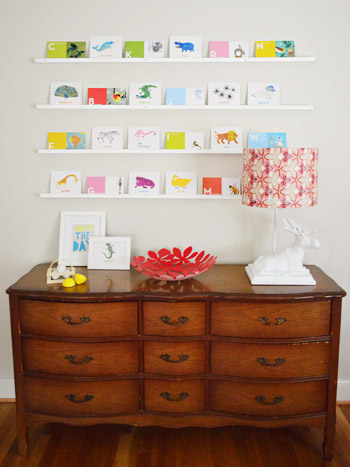 It's a crazy easy way to add inexpensive art/color/interest plus there are even letters and words on them, so it's a subtle little learning zone for Clara. She already gets a kick out of counting the number of animals on each shelf, finding specific ones that John or I call out, and even learning the first letter in many of their names (she woke up the other day and said "F is for Flamingo!" loud and proud as I lifted her out of her crib).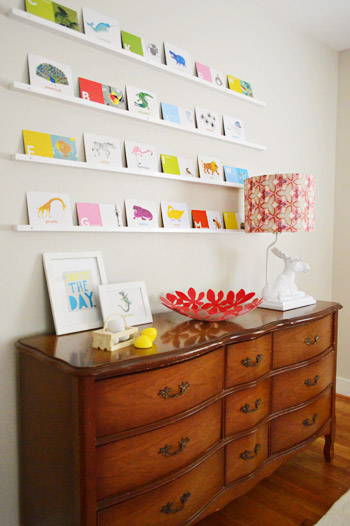 One more picture. Because I'm a flash card ledge fiend.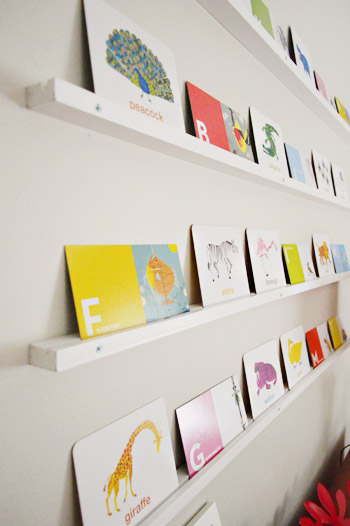 What are you guys cutting/leveling/hanging these days? Do you like to hang things from your first house in a different way or put a new twist on old art/shelves/ledges in a new space? Not gonna lie, it's pretty fun to tweak something you already have for a whole new room and function. And I'm also pretty proud of myself for not droning on and on for once. 493 words in this post. Wooot! $herdog's keeping it klassy koncise.
&nbsp&nbsp&nbsp
Dudes and dudettes, I finally tried chalk paint. And yes, I just broke out dudettes. Gutsy move for 2013, eh? Anyway, many of you guys have asked if I've given Annie Sloane chalk paint a go, and now that I have, here are the details. First of all, here's how we used it: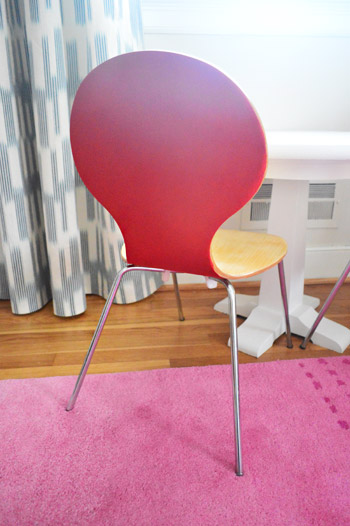 John and I brainstormed a few possibilities for the table that we cut down and the two thrift store chairs that we found in West Virginia (they were $8 each) for a while. Here are a few alternatives that we tossed out there:
red chairs with a white table
red table with white chairs
navy table with red chairs
navy table with white chairs
one red chair, one navy chair, and a red table
And then we finally landed on something that we thought was interesting enough to make us pull the trigger: wood chairs with red backs and a white table. Of course it was John's idea (as he is the brains of this operation), although a reader later suggested exactly the same thing, which was a pretty funny "jinx!" moment.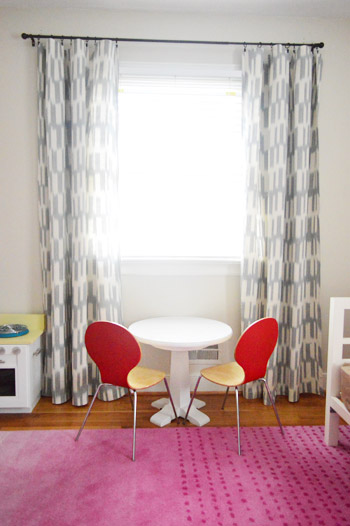 We had a hunch that adding a table and chairs would be something that we'd get some good use out of in there. Sure enough, the day we dragged them into the room to test our theory, this happened.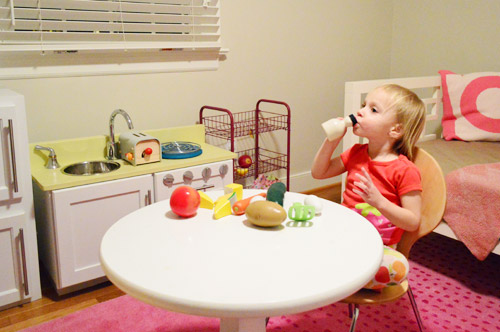 And this: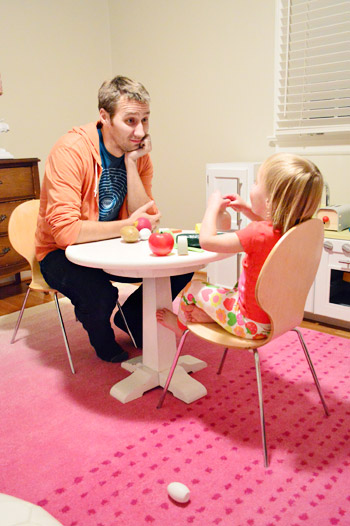 And I realized that I even loved Clara's pj's layered into the room's palette. #crazyfabriclady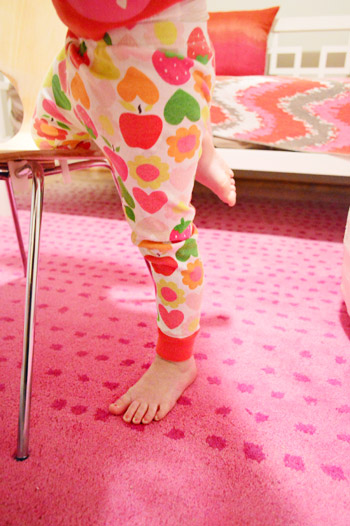 So after establishing that the table and chairs were a good addition to the room, it was just about getting those chair-backs painted bright red. Our first instinct was to run to the hardware store and grab a $4 test pot of red paint, and get to work sanding and priming. But then I remembered that we had a little sample pot of Annie Sloane chalk paint (everyone at last year's Haven conference got a bag with a few little pamphlets and samples, one of which was this guy in "Emperor's Silk"). So I decided to give it a try. I mean I've heard it's really convenient since you don't have to prep the surface at all (no sanding, no priming, etc).
Update: Chalk paint, although it sounds similar, isn't the same thing as chalkboard paint (chalk paint is just a flat chalky type of paint, sort of like milk paint or clay paint).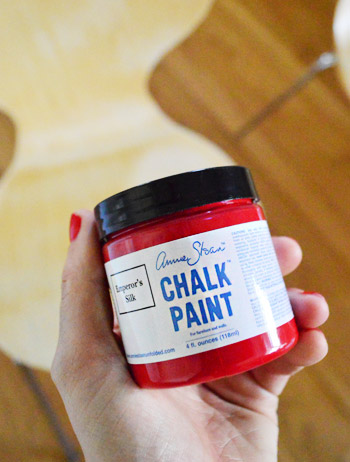 So I brought the chairs out into the sunroom, wiped them down with a liquid deglosser just to be sure they weren't coated with something weird like oil (you never know with thrift store stuff) and cracked open the red paint. Then I got down to painting the backs of each chair, which took about ten minutes each for each coat.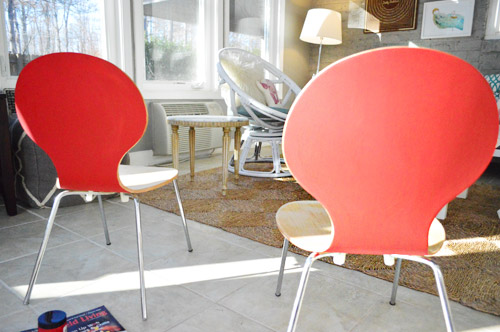 I used a short handled angled brush (more control) and free-handed things, being careful around the edges to keep them nice and clean (for those who are worried about shaky hands, you can tape off the edges if you'd like). It went on pretty thick even though I did my best not to pile it on (it's pretty viscous stuff) so there was great coverage and it only took two coats to be completely done. Then I let them dry in the sunroom for a while (it was kinda smelly, so I wouldn't recommend doing it anywhere that's not closed off and ventilated – I had the slider wide open in the sunroom while I painted).
But here's the rub. While chalk paint doesn't call for any prep before you paint, there's a step after you paint. I didn't even realize this going into it, but after a few days of letting them dry in the sunroom I went in to check on them and they felt really dry and chalky. I dragged my finger across the back of one and it actually made a white line (yes, that probably means I left skin cells on the chair, which skeeves me to no end, but the point is that the freshly painted chairs were crazy chalky and dry – not sealed and ready to use at all).
That's when I learned that Annie Sloane paint gets sealed after the paint dries by applying a coat of Annie Sloane wax over the painted area to seal it and gloss it up for everyday use. Duh. $herdog was not even in on that little fact. The good news is that a friend of mine named Lori (who happens to be Clara's school friend's momma) had used Annie Sloane paint and wax on some bookcases in her daughter's room, so she offered me a few dabs of her wax so I didn't have to buy a whole tin for two tiny chair backs. Literally, I only needed two dabs, and I used a sock to apply a nice thin coat of wax. Tip: you don't want to go super thick with the wax or it can have a hard time curing and may stay tacky over time.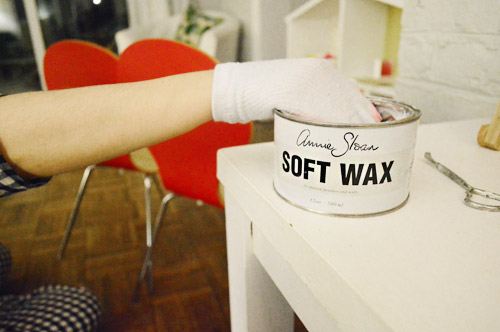 It wasn't really hard or anything, but the thing I still sort of think about is this: if the whole selling point to chalk paint is that there's no sanding or primer needed, but you have to apply another product afterwards (and buy that as well, unless you have a crafty friend with leftovers) isn't it sort of the same difference?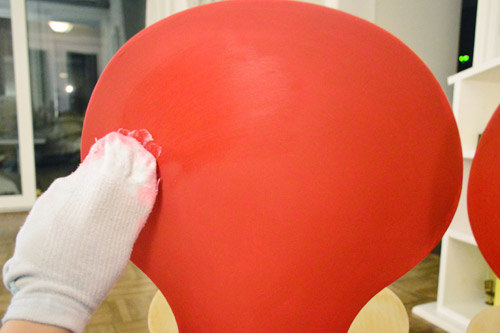 I definitely recommend giving it a try if it beckons you, and it didn't crack and peel or make me hate it or anything, but I'm not convinced that it's much harder to degloss, prime, and paint (which is what I would have done) instead of deglossing, chalk painting, and waxing. Does that make sense? So my very very honest review is this: I liked chalk paint, but it didn't change my life. That being said I know there are super crazy chalk paint lovers out there and I totally respect that. Who knows, maybe I'll use it again and that's when it'll change my life. Haha. Ya never know…
In the meantime, there's one thing I can't deny. We love our red-backed chairs and we cannot lie.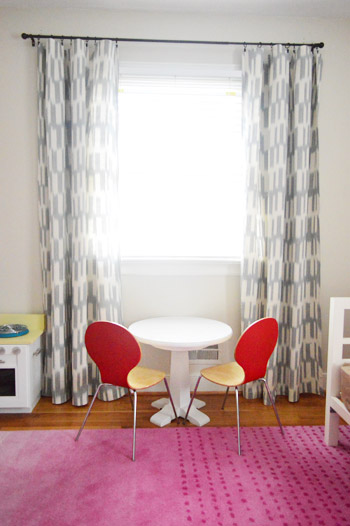 One more chair pic, just for kicks: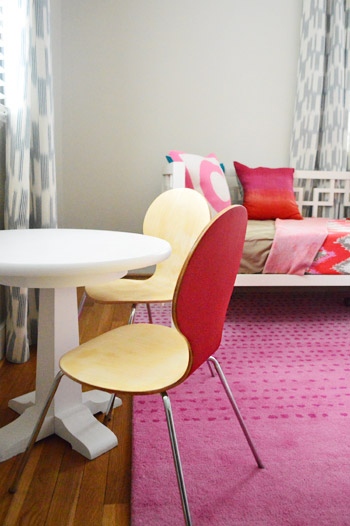 Oh and as for the table, it was stained…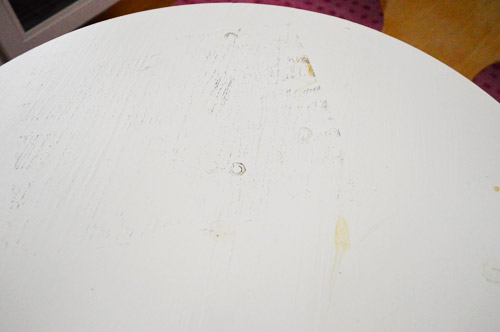 … and peeling down below.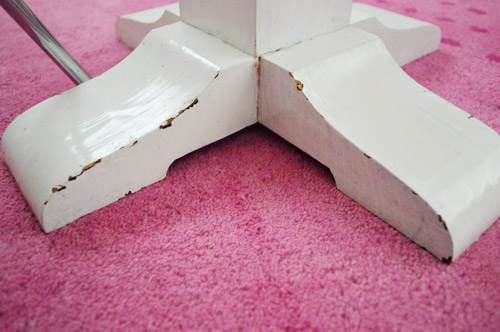 So we gave him a quick sanding…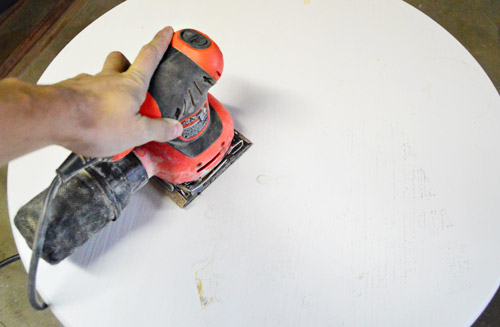 … followed by a quick primer + paint job. As for the paint specifics, we used semi gloss Benjamin Moore Decorators White in their Advance paint, which is extra durable (we used it on the cabinets in our office when we painted them over a year and a half ago and they're still taking a licking and ticking like crazy).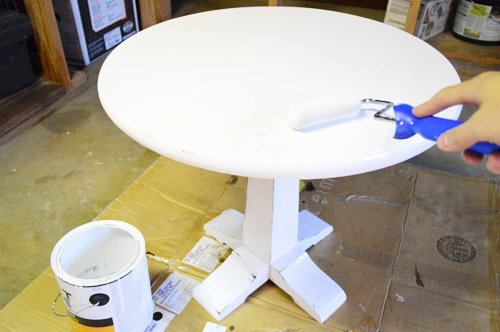 As for the placement of the table, we go back and forth between putting it against the wall under the window and pulling it out onto the rug. So we're living with it both ways to see what ends up being the most functional. We'll report back as we trial and error our way to a decision. Ha!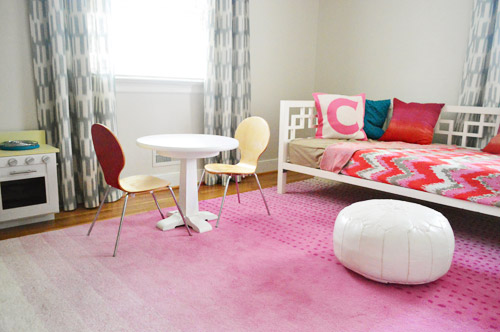 This little playroom/big girl room is starting to shape up, right? I mean, we're only about 35% there, so there's a ton left on the agenda, but it's definitely an awesome change to see this room go from Crazy Chaotic Storage Explosion to a room that we can actually all hang out in. Hootie hoo.
What are you guys painting? Have you ever painted just the top or the back of something? Did you eye it or tape it off? Have you tried chalk paint? Did it sweep you off your feet? Does it take a few tries for it to really make you swoon? Or are you a stodgy old traditionalist like me who doesn't mind primer before instead of waxing after?
&nbsp&nbsp&nbsp