House Crashing
Who's in the mood for some house crashing? This gorgeous old home is in the Forrest Hill area of Richmond, and we couldn't wait to scope it out for you. Because, get this, Wendy's house is used for commercials and photoshoots! As in, it's such an amazing backdrop, the house is practically famous. Cool huh? And she's a professional retail design and merchandising pro who just happens to design light fixtures when she's not styling spaces. In other words, she's got mad skillz (more on her here) so we couldn't wait to snoop around. Oh look, here's Wendy out on the porch to welcome us in:
Her porch was super charming with everything from a pretty light blue ceiling to a chippy old door and a happy red vintage mailbox. And you know I love those extra wide porch steps, right?
Once inside there's a grand staircase that leads upstairs and a fun shimmering silver wall that Wendy painted herself with craft store paint when she was bored. Naturally we hit it off since I'm known to go a little crazy with craft store paint too (as seen here). Wendy said she just pulled it up and down the wall in sort of a "dry brush" method, so it looks like fun metallic wallpaper with a vertical "grain." We also thought those three exterior lights over the art were really fun and unexpected.
If you look to your right while standing in that subtly metallic hallway, you see the dining room. And yes, John and I were utterly smitten with the cool pink industrial cart on casters. See the white duck on the top shelf? Yeah, basically I said "I'm home" and ran in and geeked out about it. Composure is a beautiful thing to lose. Anyway, check out the fun metal stars above the doorway with the small framed art dancing around up there. So playful and cool. Of course Clara loved the doggie too.
When you walk further into the dining room there's an awesome old fireplace and a school-sized chalkboard that's jam-packed with scribbles, notes, and letters to and from visitors. It's really amazing. Oh and do you notice that the table is also the same metallic color as the entry hallway? Wendy was having a New Year's party and thought her dining room "needed something" so she painted the table silver with her daughter – just for fun. Coolest mom ever? She's definitely in the running.
Wendy had some of the most stunning lights we've ever seen. Check out this handsome guy:
It was really inspiring to learn that Wendy has hunted down nearly all of the stuff in her house from places like local thrift stores and secondhand shops (she loves Trash To Treasure on Lakeside Ave). She even finds things on the side of the road, yet her place looks so elegant and – well, expensive. Here's my beloved pink castered cart up close and personal. And my white duck friend. Is he not the best looking wood duck you've ever seen? I like how he slyly tucks into the top shelf looking dapper.
When you enter you can also turn to your left to see the living room, complete with a giant teal sofa that Wendy saved up for after "visiting it at the store a bunch of times" (it's from La Diff here in Richmond). Wendy's basically me in another (more stylish) body. I visited Karl The Sectional for months before we got him. So I understand the deep sofa love that she described. And look- more fun metal stars over the doorway:
I was immediately drawn to the giant clock over the piano. It was actually a gift from her father so it's really meaningful along with being just plain cool. And do you notice something about the coffee table? It's another old cart on casters. So simple yet full of character. This was just one of those houses that you feel so comfortable and casual and "welcomed" as soon as you step inside. It's a wonder I didn't flop down on the big teal sofa for a little afternoon nap (well, it's actually not a wonder because Clara doesn't let me get away with that sort of thing).
And now for a clock close up:
Here's the view from the piano looking into the entryway and the dining room beyond:
Oh and this is the view from the teal sofa. Yup, there's yet another awesome original fireplace. And see that awesome tripod floor lamp in front of the fireplace? That's one of Wendy's designs. It was so gorgeous in person- this photo doesn't do it justice. I could totally picture it in a Candice Olson room or something.
Beyond the stairs that lead upstairs was a nice spacious washroom. Aren't those old doors cool? Wendy made them. Yeah- she added a chippy paint technique along with some architectural salvage finds (the iron grates, the handles, and even the ornate corner pieces) to create two one of a kind doors that obscure her washer & dryer.
This was one of those awesome old homes with tons of character, so this is a shot of her second staircase. Yup, she has two. The front one and this one, which is right off of the kitchen and the washroom. So cool. And I loved that she hung a basket on the wall like that. It kind of looked like a faux tortoise shell. And you know how I get about animal decor…
Here's her awesome kitchen with an old cabinet in the center of the room. She got it from a school that was getting rid of it and remagined it as a kitchen island. John and I fawned over all those long skinny drawers. I also really loved how she hung what looked like a plate rack vertically and stuffed it with napkins and linens. Sweet.
Here's a guest room in the back of the house. Once again Wendy wowed us with her use of charming old items in new ways.
This time it was those chipped multi-colored shutters, where she hung a little tin basket of faux blooms:
Wendy was a really inspiring "curator" (which is probably why she gets paid to style things for a living, haha). John and I especially loved this asymmetric wall of frames, shelves, letters, and even old lighting hoops that Wendy had on hand.
Here's Wendy's master bedroom with a charming four poster bed that called my name. Don't worry, I restrained myself and did not try to swan dive into it. But Clara tried. Twice.
And here's her light and airy master bath. Doesn't it look like a beach house out of a magazine? I loved the breezy little half-curtains and the weathered old secondhand dresser that Wendy uses for linens and towels.
So there you have it. A local home here in Richmond that we're still talking about. Thanks so much to Wendy for letting us poke around! And get this, Wendy is selling her gorgeous house. So if anyone's interested, you can contact her through her site. Now let's play the favorite part game. I'm dying for the pink cart on casters, the cutie pie white duck decoy, and the soft blue paint on the porch ceiling. Meanwhile John will not shut up about the giant clock. But is anyone really surprised by that?
Psst- Check out our recently created inspiration gallery (where you can search by color or room) with over 330 other stunning spaces!
Dude. Remember last fall when we created a separate little site just for browsing mood boards and mentioned that we wanted to create one full of actual photos from house crashings and reader redesigns (where you could search by color or room)? Well, after a few more midnight coding tantrums and accidental hunger strikes we've (finally) done it. It's a big ol' gallery full of real rooms for your viewing pleasure. And you can access them anytime by clicking the "Room Gallery" tab under our header. Sidenote: I've always wanted to start a post with dude. Mission accomplished.
This new "Inspiration Gallery" follows the same basic format as the existing Mood Board Gallery, only these are actual photos of rooms that might come in handy when you're looking for ideas for your casa (you know, as opposed to boards full of furnishings and accessories). We've uploaded pics from over thirty House Crashing adventures as well as some of our solved Design Dilemmas (which gives you over 340 pictures to peruse) and we plan to beef things up over the next few weeks by adding images from all of our previous Reader Redesigns too. You know, once I can see straight again.
Things are tagged by color and room (just like in our mood board gallery) which means you can search by room or by color scheme if you'd like. So if you're jonesing for blue rooms or only want to browse kitchens, you can indicate that on the main page or the sidebar to hone in on what you want. Oh and to find out more about each room and see a close up, just click on the thumbnail. As always, it's nothing fancy since our coding philosophy is just like our home improvement one (learn as you go). So please pardon any glitches or less than perfect searching capabilities and let us know if you find any broken links or typos.
We've also added a fun little rating feature. So if you've got the warm fuzzies for a particular pic, show it some love by clicking the heart icon below it on the photo detail page. It won't put that room into a "favorites folder" or anything (in order to code that people would have to sign in, which is beyond our skill level and not everyone likes logging in anyway) but the rooms getting the most love will show up on the sidebar under the "Most Loved Rooms" title – which means everyone will have quick access to whichever rooms the crowd is finding to be the most inspirational. And they'll constantly change as people continue to explore and weigh in, so that should be kinda fun.
So feel free to poke around and make yourself at home in our new digs (which will just keep growing as we continue to add photos). It's definitely somewhere I expect to find Sherry all the time (we don't get out of the house much). Can't wait to see which rooms pop up as favorites.
The bleeping paneling is taking a wee bit longer than we expected. Le sigh. Hopefully we'll have an update for you soon. In the meantime…
Every once in a while a shop or office inspires us so much that we decide to crash it (just like we did when it came to this fun kids consignment shop). And we weaseled our way into this office space for Towne & Reese (a jewelry company named after two Charlotte ladies' kids) thanks to a house crashing adventure from a few years back. You have to remember this one, right? Here are a few shots to jog your memory: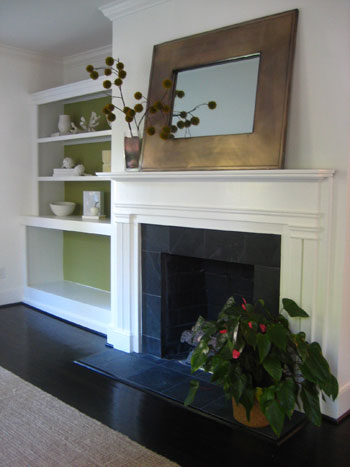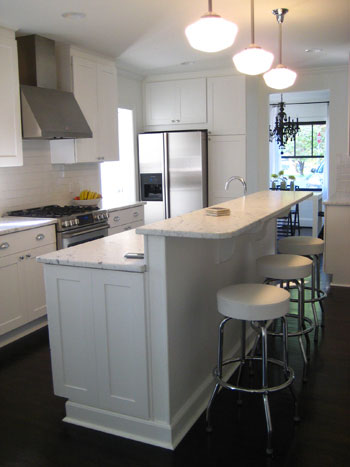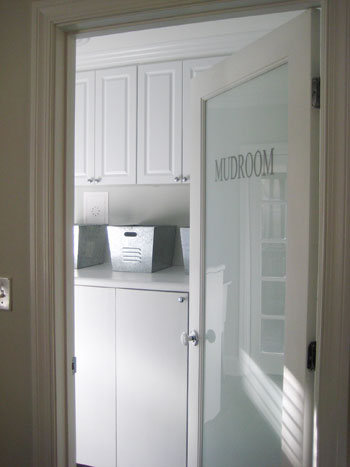 And here's a pic of the cute couple with their darling daughter Towne out front (from back when we house crashed them):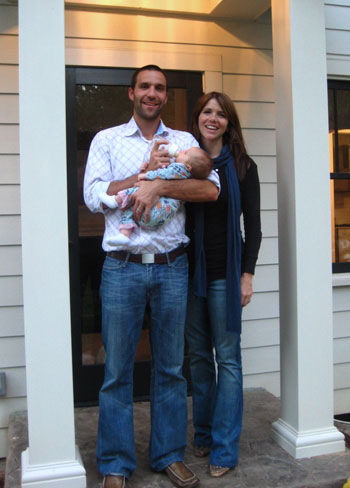 That good looking couple happen to be Christi and Barret. And Christi happens to be 50% of Towne & Reese (which makes sense of the fact that her daughter's name is 50% of the moniker). You still with me? Anyway, since Christi's brain runneth over with amazing style, we couldn't leave Charlotte without stopping in to see what she did with a bland blank-slate office space. Here's what it looked like before she got to work:
And here's what it looks like these days. When you walk in you see a charming bright blue wall emblazoned with their sweet company logo (created by this amazing couple that we've also House Crashed – Charlotte is a small town, haha). Gotta love that they put a bird on it.
And see that lovely rug (scored on sale at Anthropologie)? That was the inspiration for the entire office makeover. For example Christi plucked the blue for the wall (Valspar's Tropical Oasis) right out of the rug (she also got another accent color from the rug that she used in another area, but more on that in a minute). Oh and the leather pouf and awesome side table are from a local shop called Post & Gray.
To the right of the logo wall with the rug-that-inspired-it-all is another teal wall (still Valspar's Tropical Oasis) covered with their jewelry.
How creative and sweet are the linen canvases that Christi picked up in a variety of shapes and sizes which she uses to pin up all of their gorgeous bling? Sidenote: I know that the word bling was supposed to be dead once our parents started using it, but I just can't let it die.
Intermixed with the linen canvases is a giant secondhand mirror that Christi got at Post & Gray. It's huge and such a statement piece among all the jewelry. And it's even functional (if a buyer shows up and wants to toss on a necklace from the wall there's a spot to check out the goods).
Christi got the linen canvases really inexpensively from Binders (there's a location in Charlotte, but they have a website too). Never wanting to pay more than she needs to Christi signed up to be a "preferred customer" (which is completely free) to score some pretty amazing canvas deals. She says that she's never found better canvas sales anywhere else.
Here's a better shot of the insanely cool giant mirror. It was literally as tall as I am and I loved the cool grass-cloth-ish texture and ornate design at the top. Oh and from this POV you can see a sliver of the other color that Christi pulled from the rug for another punchy accent wall in a zone beyond the wall of canvases:
How much fun is that splash of raspberry on the wall beyond their charming old meeting/conference table? That paint color is Panama Rose by Olympic. The rugs both came from Ikea and the table was a secondhand score at a local shop called The Sleepy Poet.
As for those great metal chairs, they were from Overstock. Four are just $193, which made them just 48 beans each (she has two extras in another area). Oh and the extremely convincing greenery on the table is Ikea too. I thought it was real. That was embarrassing.
Here's the view if you walk up to the raspberry wall of frames and turn around to face the table. On the right there's a little shelf with some great black stools lined up (those are also from Overstock, scored for $45 a pop) and the richest darkest not-cloudy-est chalkboard paint we've seen. Ever.
And that chalkboard paint is carried over to the other wall across from the raspberry frame wall as well. We had to know the exact type of paint that came out so deep and rich (sometimes it looks kind of cloudy and gray) so Christi hooked us up with the info: it's Valspar's Chalkboard Paint from Lowe's. Good to know.
Guess who made those scribbles? Hint: remember the name of the company. Yup, that's Towne and Reese's handiwork along with a few of their buddies. Gotta love a kid-friendly office complete with a small Ikea table with sweet little colored poufs from Urban Outfitters.
Is Christi not a total genius at mixing elegant stylish industrial pieces (those metal chairs and black stools) with secondhand finds (the conference table, the giant mirror), inexpensive finds (Ikea and Urban Outfitters items), bold colors (those pink and blue accent walls) and fun touches (the grid of kid and jewelry photos, the chalkboard wall, the linen canvases of jewelry, the kid station in the corner)? I was running around drooling and squealing. It was not a good look. Forgive me oh fashionable and composed jewelry designing women.
Here's one last peek into their gorgeous space (once again Christi brought in a little bit of old thanks to this secondhand buffet from Post & Gray). But look how great it looks with the sleek industrial metal seating and the raspberry wall peeking out from around the corner.
Oh and file this under so-charming-and-boutique-y-that-I-want-to-do-it-at-home:
Yup those are just dry beans on a plate with rings happily bathing in them. Once again, I bow to Christi and her fun creative approach to decorating on a budget and making her space feel so happy and inviting. What a great place to work, eh? Snaps for Christi. And a big thank you to Jessica, the other 50% of Towne & Reese (yup, you guessed it, she's Reese's mom). She was just as sweet as Christi. And on top of letting me traipse around drooling and shouting unintelligible things like "Ohmygooooooooons!" and "Chalkblort paint!" they wanted to hook you guys up with a discount code for their entire line of jewelry. So feel free to drop by this online dealer of their lovely wares and enter YOUNGHOUSELOVE15 to score 15% off. Anyway, thanks for showing us a good time in an office building of all places, Christi and Jessica. Smooch those sweet jewelry-inspiring kiddos of yours for us.
So, who wants to play the what's your favorite part game? I'm having a hard time narrowing things down, but I think the linen canvases, the black stools, and that happy raspberry wall are awesome with a capital AWE.
Psst- Check out other awesome places that we've crashed here.
Psssst- We crashed an nursery-turned-big-girl-room over on BabyCenter today. Come on ovah (ovah is the new over).