House Crashing
John's sister Emily has been a busy girl since our last post about helping her move into her fabulous new home (that she and her husband Todd designed themselves). Yes, only a month later, she's managed to furnish, fluff and feather nearly every room and has graciously allowed us to invade her space once more to bring you some fresh & fabulous after photos. Let the house crashing begin…
Here's a shot of the swanky modern exterior with Emily and Olivia hanging out on their front deck. The house's theme was clean lines, modern touches and windows galore. When you buy a corner lot with nothing but green in three directions it's easy to see why it's all about the view. And although the house appears to be one level, it's actually three generous floors since it was built into a steep incline. You enter into the third floor living area from the front, but walk out the bottom floor's sliding glass doors into the backyard at the base of the hill. Tres cool.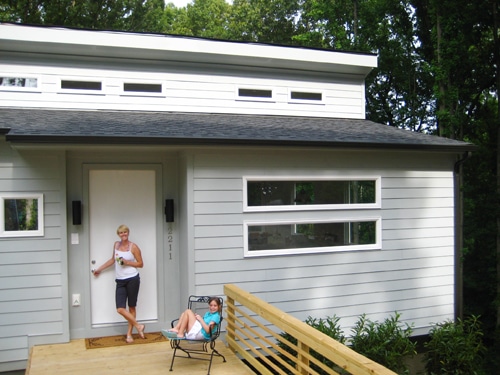 The minute you walk in the front door, you'll find yourself in an airy open space for living, dining, and cooking. The crisp white walls accented by tones of wood and a little bling in the form of stainless steel light fixtures really make the space feel sleek, simple and sophisticated.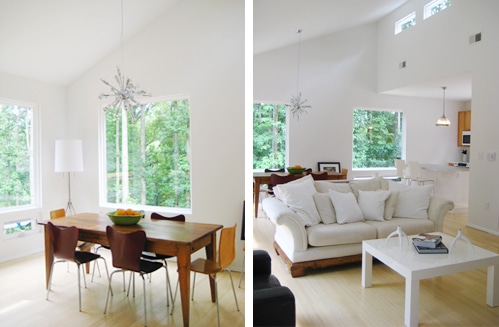 Emily's kitchen is insanely enviable. From the new glass front Jen-Air appliances to the Restoration Hardware pendant illuminating the Ikea island, the kitchen is a mixture of high and low that comes together in a totally seamless way.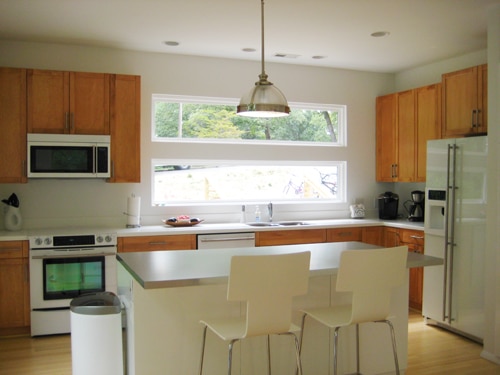 Emily even convinced her builder to work in a pull out pantry from Ikea, which can be accessed by her two snacky kids from either side. Delicious.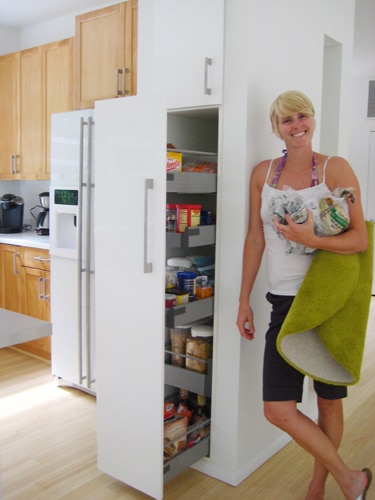 The master bedroom also resides on the top floor with an attached bathroom boasting both a jacuzzi tub and a separate shower. The coolest feature has to be the barn door that they incorporated into the design, which slides along a stainless track to obscure the view of the bathroom for privacy and style to spare.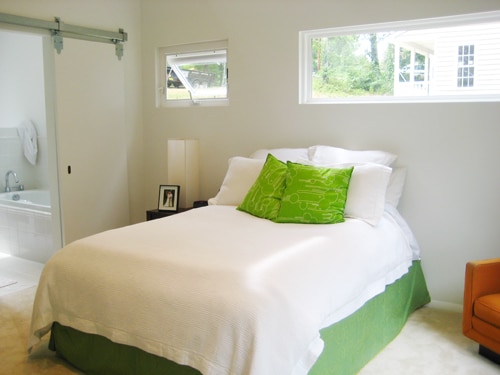 Another noteworthy detail of the master bedroom is the amazing wall of contemporary closetry (which also hails from Ikea). Emily and Todd decided that they'd rather leave room to tuck these spacious wardrobes right into the floorplan instead of having their builder craft a traditional closet. They liked the outcome so much that they used Ikea armoires in both of the kids' rooms in lieu of closets as well.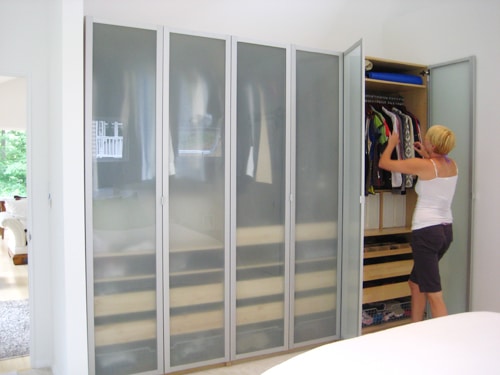 Speaking of the kid's rooms, they're still a work in progress, but stay tuned for some fun DIY projects (like how to make an upholstered headboard) in the coming weeks. Until then, we'll leave you with this swanky pic of their delightful guest bedroom, sporting some Target bedding, a few West Elm pillows, an Ikea lamp and a chair from a thrift store. Now that's our kind of room. Too bad the fact that we live eight minutes away makes a sleepover semi-improbable.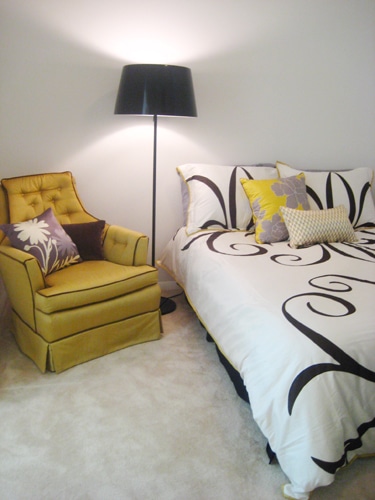 So whaddya think? Did the pull out pantry and that sliding bathroom door make you drool? Do tell. And if you have any fun rooms of your own (modern or otherwise) that you're itching to share, feel free to send 'em on over. Ta ta for now.
&nbsp&nbsp&nbsp
There are about a million and one suggestions to make a small space feel larger, but when it comes to cozying up a large room with soaring ceilings and square footage to spare, there's nary a tip or trick in sight. So without further ado we'd like to take you on a fun house tour through our good friend Justine's amazing abode. Her house serves as the perfect example of what to keep in mind to evoke that cozy and über inviting feeling that doesn't always go hand in hand with a super-sized space.
Rule #1: Create different zones by using a variety of furniture arrangements and other decorating elements to define each space. For example, Justine and her husband John's kitchen has separate areas for cooking, eating in, and living that are defined using light fixtures, rugs, and furniture placement to create three smaller rooms within one large one that screams "come on in and stay a while."
Rule #2: Incorporate deep wall colors that you couldn't otherwise get away with in a small, light-starved space. The bold use of navy in their man cave (both on the pool table and on the back wall of their screening room) keeps things from seeming too open and undefined, and adds a stunning punch of color that a smaller room couldn't handle.
Rule #3: Choose rich tones of wood over white or pine furniture (or any pieces with reflective mirrors and glass tops) which can expand the look of a room instead of cozying things up. These solid furnishings ground the coffered ceiling and keep the expansive space from looking too vacant while the paneled wainscoting seems to envelop you as you walk into the room.
Rule #4: Bring in eathtones and natural stone when you can, like they did in this vast bathroom (which features an amazing multi-jet spa shower as well). Sure, you usually can't go wrong with gleaming white subway tile, but in this space it could look stark. The use of a rich granite countertop and a complementary natural stone tile around the jacuzzi tub (and that amazing aforementioned shower) keeps the room feeling spa-like and serene without seeming sterile.
Rule #5: Be sure to inject a little personality in a large house like Justine and John's to keep it from feeling like a nondescript "builder" home. They painted the coffered ceiling in their master bedroom a pale blue color which really adds some signature style to the room while bringing the ceiling down a bit to keep things cozy. Justine also introduced a super fun green floral chair in the living room (see above), which is just the personal touch that a gorgeous home like this needs to feel, well, like home.
Now it's your turn. Do you guys have any more big room tips to share? We're sure we missed a bunch so feel free to chime in with some sage advice for all of our readers lucky enough to have room to spare. And a special thanks to Justine and John for the Young House Love Open House!
&nbsp&nbsp&nbsp