House Crashing
When Cindy contacted us a while back to do a giveaway with her eco-fabulous store, we never knew that after she rewarded one of our readers with a super fun party pack, she'd still have a lot to give. Namely, a House Crashing tour of her amazing (and Earth-friendly) home right here in Richmond. So without further ado, meet Cindy, her husband Robert, and their gorgeous mid-century rancher: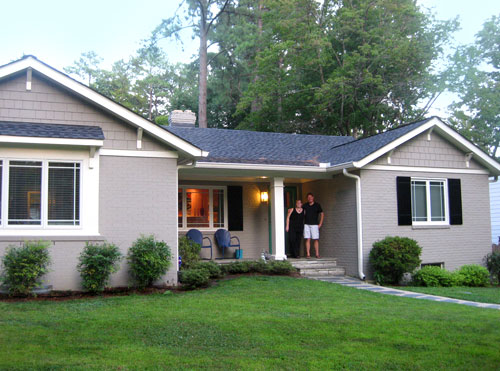 Whenever we go house crashing, we're not really sure what to expect. We usually find the houses we invade through friends of the stylish homeowners (and this case was no exception- one of Cindy's friends tipped us off that she had an amazing casa right after her giveaway went up on our site). But as we curiously strolled up the front walkway to the house, we were instantly & overwhelmingly smitten by the gorgeous room that awaited us. Here's the punchy turquoise front door that leads into the happy and bright pink living room (which Robert actually painted himself- gotta love a man who's secure in his masculinity).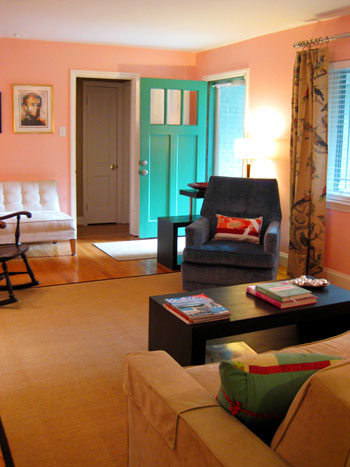 Awesome local art, clean-lined furnishings and a happy colors abound, creating a modern yet oh so inviting aesthetic that had us beaming for the entire tour. We also loved how everything from the no VOC paint to the secondhand furnishings (like the blue chair above, which Cindy had recovered) come together to create a luxe look with style to spare.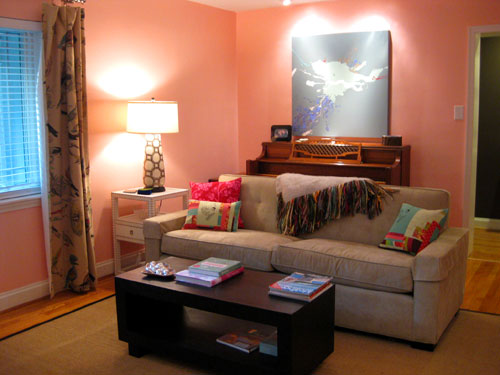 We also took note of Cindy's use of twinkling white lights in her pink room that created a magic, come-hither look that lured us right through the front door. She snagged that gorgeous table lamp from Ikea (we love that she mixes old with new and cheap-o with antique!) and even lined the back of that built-in nook with glittering wallpaper to bounce around even more light.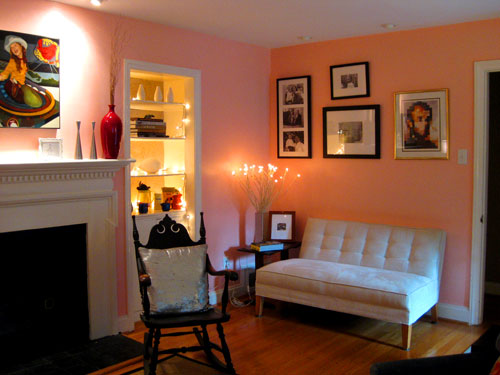 Beyond the joyful pink living room is a gorgeous dining room full of moody ambiance. We drooled over everything from the unique moroccan-inspired lanterns and the modern ghost chairs…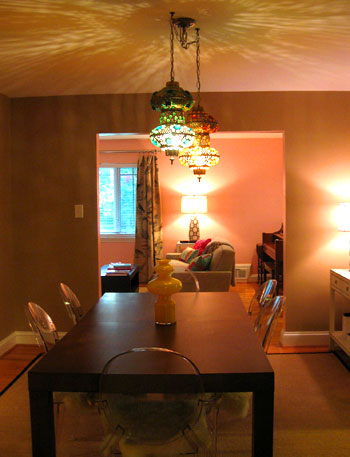 … to the eco-frienly built-ins (made from sustainable wood without any VOCs or formaldehyde) which even have a little wine-chiller worked in at the end.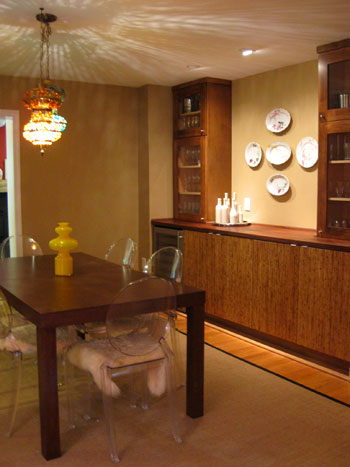 And then there's the all-green addition that Cindy and Robert had built when they felt a bit pinched in their formerly teeny-tiny home. They didn't go super huge (as all eco-peeps agree is a bit of a waste) but did add a functional kitchen with cork flooring, a recycled glass backsplash and countertops, and energy star appliances. Cindy mentioned that it wasn't a walk in the park to find installers who were well versed in eco materials and practices, so a lot of the work fell on their shoulders (we can only imagine how much time and research this masterful kitchen took!) but they're extremely happy with the extra time they spent to make informed and beneficial choices along the way. All without sacrificing an inch of style I might add.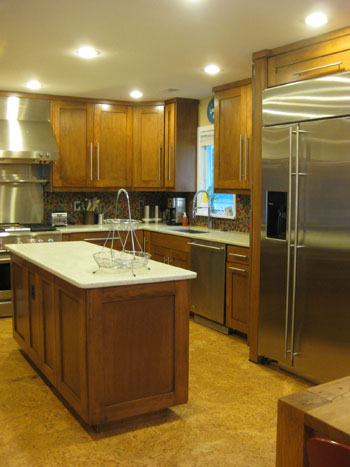 And all the green perks aside, just look at their dream of a pantry. See those floor to ceiling doors that resemble a giant armoire on the left? Imagine all the stuff you could store in there (along with that amazing island).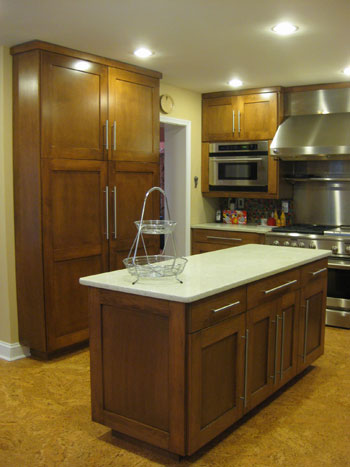 Of course the dining area had me at hello thanks to the white ceramic antler chandelier (we all know how I feel about white ceramic animal paraphernalia by now, right?). And that charmingly rustic yet oh so modern wood dining table below was the perfect counterpoint. Oh and one more note about the cork floors: Cindy mentioned that it's pretty funny when you drop a knife and it pierces the cork and lands like it just hit a dart board (sticking out of the floor at a 90 degree angle). The cool thing is that when you pull it out, the cork self-heals so there's nary a mark in sight. Just had to toss in that little detail because it tickled us to no end. After all, we do have a love affair with cork in our kitchen.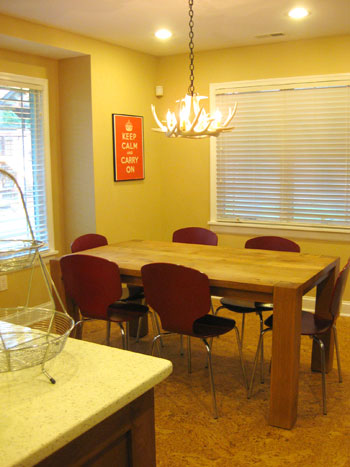 We especially appreciated Cindy's spot-on use of brilliant yet surprisingly soothing and happy colors (that pink living room had us relaxed from the second we stepped inside, and this punchy green bathroom just made us smile).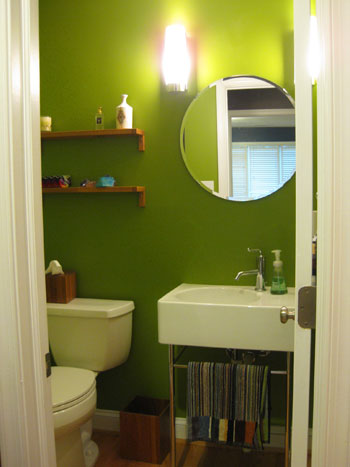 And we especially loved how colors felt layered and lovely throughout the home- like Cindy was always thinking about what rooms would be visible beyond certain spaces. Doesn't the pop of green beyond the inky blue bedroom look luxe and amazing? Especially with the crisp pops of white (in the trim, that leggy wood table in the hallway, and even the clean white sink base).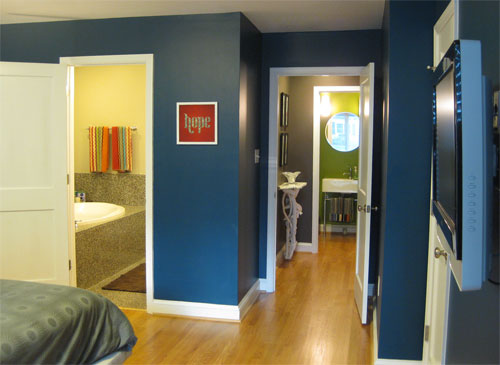 But perhaps the most green-with-envy-inducing space was the amazing (and of course, eco) master bathroom that Cindy & Robert designed with function and form on an even playing field. The recycled tiles and sustainable wood built-ins are amazing, right down to the pull out trash can in the middle of the wall unit and the leftover kitchen countertop slabs that they salvaged and reused in here.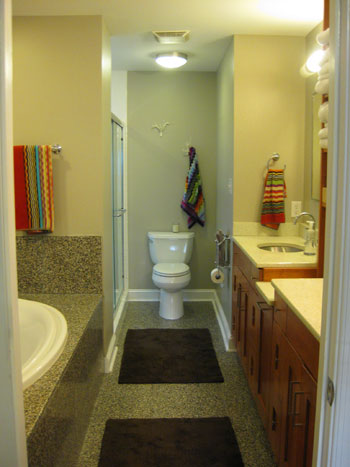 So what do you guys think? Was that a fun little house crashing sesh or what? Any favorite features or rooms of the bunch? Any drool to wipe off your chin? Do tell.
&nbsp&nbsp&nbsp
Let's take a tour through some stranger's house, shall we? Actually, meet Karyn and Eric. There, now they aren't strangers.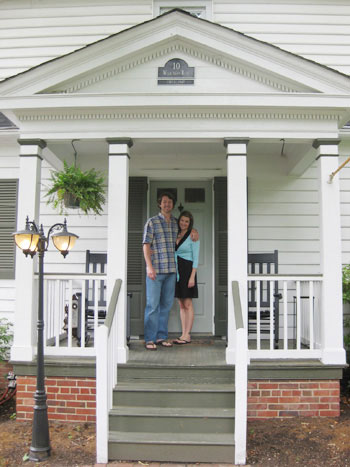 Eric is actually a well known house rehabber here in Richmond (here's his site) and Karyn is his lovely lady (she makes amazing jewelry by the way). They live in this charming and fabulous sixty-year-old home that Eric purchased years ago when it was in major disrepair. We're talking crumbling walls and old unusable bathrooms. But thanks to his handy house-fixing skillz, he whipped his new abode right into shape, and actually converted four of the other buildings on the spacious two acre property into fully functional guest houses which he now rents out to cover a huge chunk of his mortgage. Not a bed set-up eh? But enough chit chat, let's go inside.
This is their super fun game room complete with a pool table and an old wooden Ralph Lauren sign they snagged years ago when Bloomingdale's was getting rid of it. How fun and Americana is that with the navy pool table?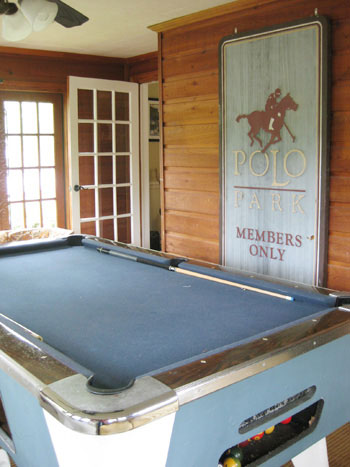 They also have these vintage honeycomb chairs nearby- with navy, orange and white upholstery (snagged at a thrift store). Aren't they cheerful and cozy and perfect for a game room?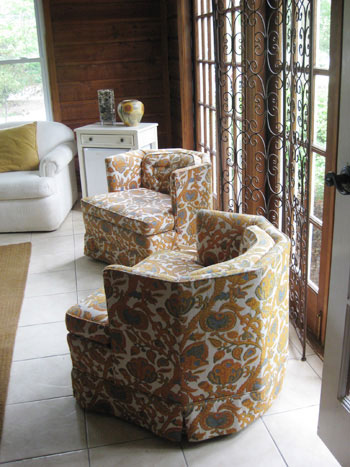 Every room of their house has amazing architectural detail that was either tirelessly restored or added by Eric. Here you can see that even the hallway has crisp chair rail molding and clean white trim that makes the house feel polished and stately.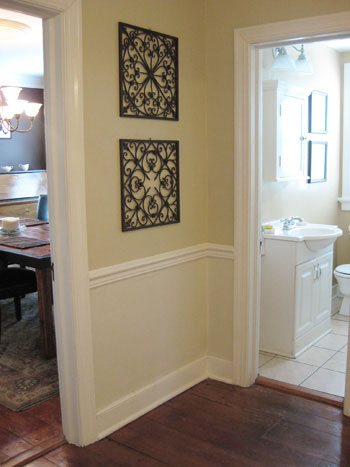 And this is the dining room that you see in the doorway above on the left. The deep slate colored walls and of course that gorgeous chair rail really give the room character while the refinished fireplace makes it feel even more inviting and warm. And I know you're staring at that gorgeous wood plank table so I'll spill the beans…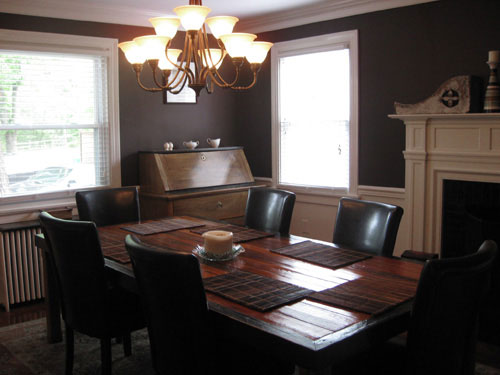 … Eric actually made it himself with reclaimed wood. And it rocks our world.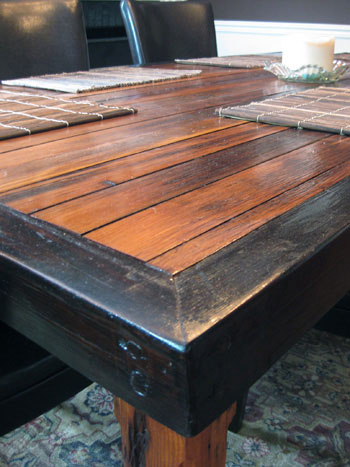 Speaking of rocks, Eric also redid the entire upstairs bathroom and added some really great stone work in the shower. Gotta love the combination of over four different types of neutral tile and those built-in alcoves for soap and shampoo.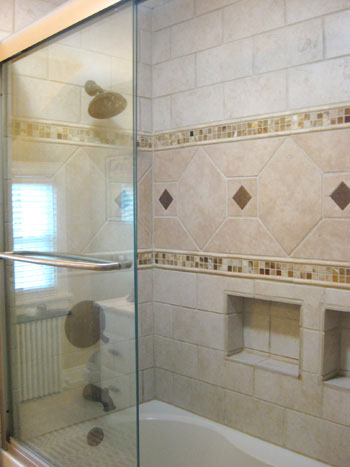 The living room has yet another amazing wood fireplace mantel that Eric took from old and crumbling to mint condition.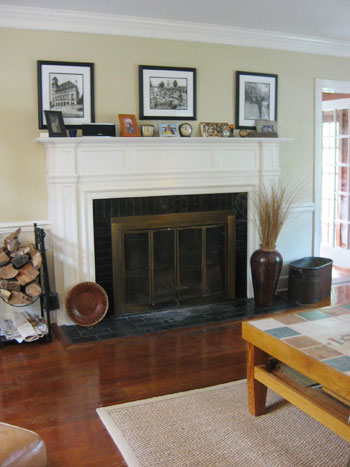 And the original kitchen got a facelift with painted cabinets, new knobs, and some new stainless appliances (the dishwasher's next). We love how the woven rug really keeps things feeling warm and rustic.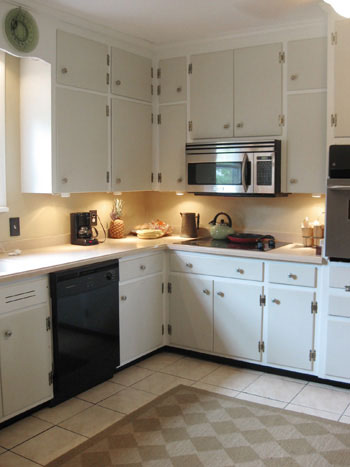 And the outside of their house is just as breathtaking as the inside.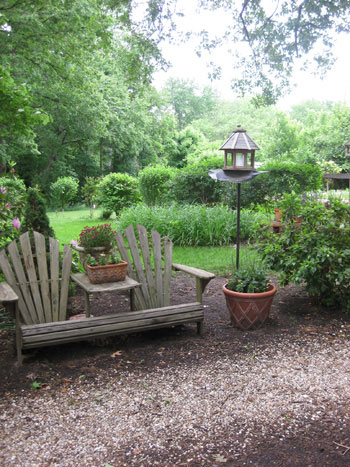 In fact, John's sister and brother-in-law actually got married here (feel free to house crash their fabulous modern masterpiece while we're on the subject). The rolling hills, blooming shrubs, and private woodsy feeling made Karyn and Eric's home the perfect place to say I do.
Off in the distance you can see one of the other homes on the property that Eric also restored and now rents out along with three others. Not a bad way to pay the mortgage, eh? And everyone still has a lot of privacy thanks to the shrubs and trees that envelop each property for that leafy and lush feeling.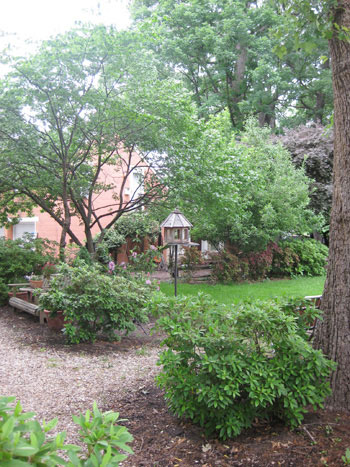 There's even a charming little gazebo behind Eric and Karyn's home, and they love to spend time out there planning future house projects (next on the agenda is a pergola that Eric will build using reclaimed wood columns!).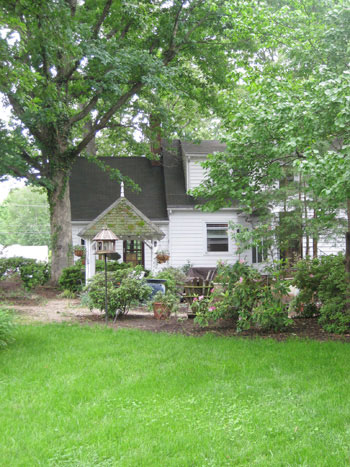 And we couldn't leave without sharing one of the smaller details that makes this house such a stunner. Check out the restored dentil molding above the front door and the custom plaque they had made to draw even more attention to the amazing architecture: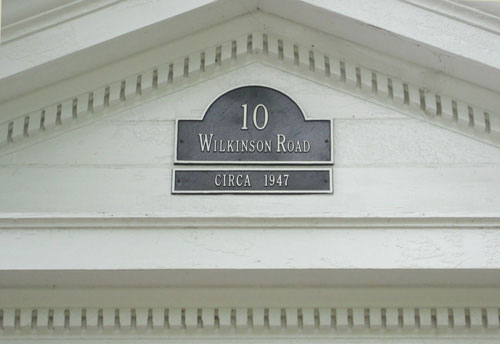 We also love that they added shutters to either side of their front door to give it more presence (along with plopping down two matching rocking chairs for inviting ambiance).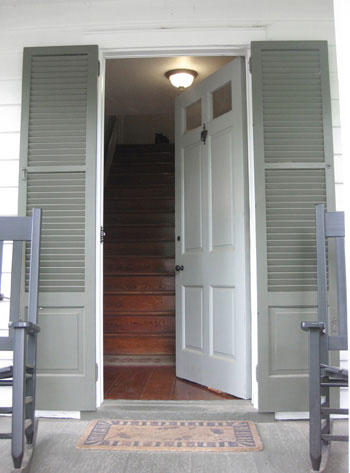 Thanks so much for skipping through Eric and Karyn's gorgeous home with us (feel free to pipe up with your favorite part!). And stay tuned for another home invasion coming soon…
&nbsp&nbsp&nbsp