House Crashing
Lock your doors folks, cuz we've got our house crashing pants on again. This time we're in Richmond's Union Hill neighborhood visiting Diana Mathews, one of the gallery rockstars we met at Quirk during our last crash. We were told we had to see the amazing century-old American Foursquare style home Diana and her family transformed three years ago (which Diana now shares with three roommates). So off we went to meet her…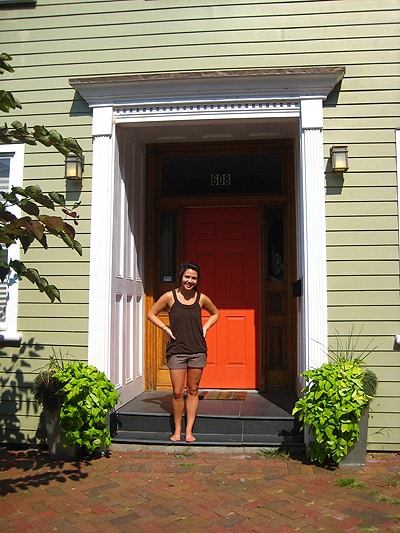 And her house was fantastic, as promised. In fact, someone described the work Diana and her family did as "a gift to the neighborhood" and when you see these jaw-dropping before and afters, you'll see why. I mean, like, woah:

When Diana began house hunting a year ago, she knew she wanted a fixer-upper. But not in the lukewarm sense that Sherry and I wanted a fixer-upper. She wanted to put her family's renovation and restoration skills to the test (her dad is a master woodworker, for instance) to create a fresh, personality-filled home that she could save from demolition in the process (it was already condemned when they snagged it for only 45K). And check out some of the amazing exterior details that they introduced along the way – from a new, stacked balcony and fence (with hand-carved accents courtesy of her father) to the classic trimwork and columns (some of which her pops created by hand to match the existing exterior woodwork).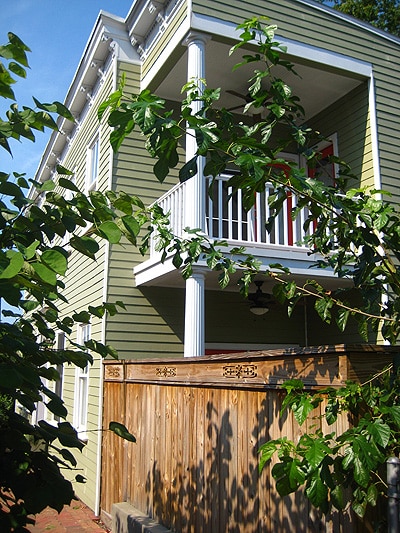 Once inside we loved that Diana blended the old, restored details of her home with her playful and eclectic personal style. For instance, her "music room" pairs the exposed brick fireplace with a stacked bookshelf (organized by color- which of course made me über jealous… remember how I drooled over this trend when I saw it a while back). Diana took things a step further and did the same to her DVD collection in the living room- keep an eye out for that a little later.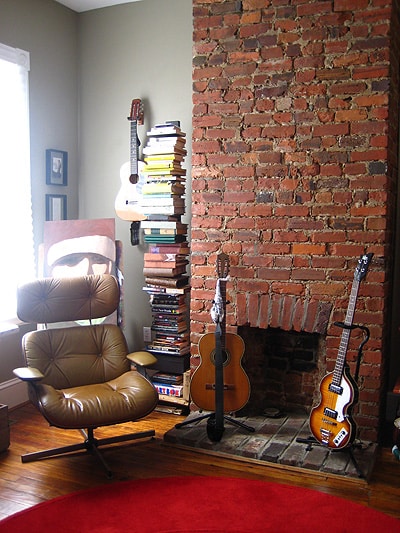 The "music room" occupies one of the four original first floor rooms in this foursquare, which Diana has actually turned into three by opening up the wall between the kitchen and the living room (she calls the fourth space the "art room" because "you can't have three living rooms"). She left some original brickwork to help define the updated kitchen and living room, but used a bold, apple green wall color to visually link the two spaces. The open rooms and high ceilings have allowed Diana to make a few more bold design choices too. She turned her grandfather's large, antique dentist chair (the death-trap looking thing in front of the brick) into a whimsical art/conversation piece and also welcomed a big ol' hunk-of-puppy-love named Bruce into the family.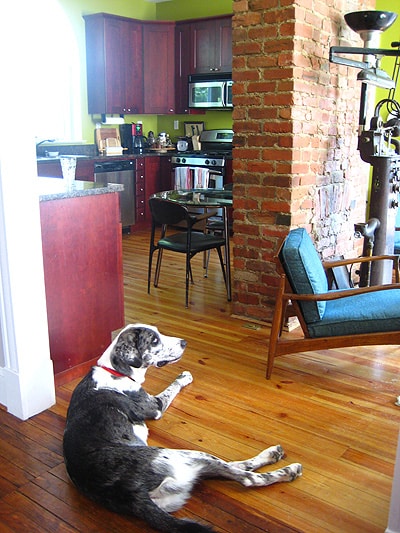 Note the floor under Bruce, as well. The house had limited salvageable flooring, so they collected planks from all over the house and used them to restore the floor in the foyer (under Bruce's rear) and adjoining music room. The rest of the house, like the kitchen and the living space below, features new hardwood flooring that blends really well with the 100-year-old planks that they rescued. And those great french doors (framed out in impeccable wood trim, of course) open to the downstairs balcony. Green with envy yet? We were the same color as the walls.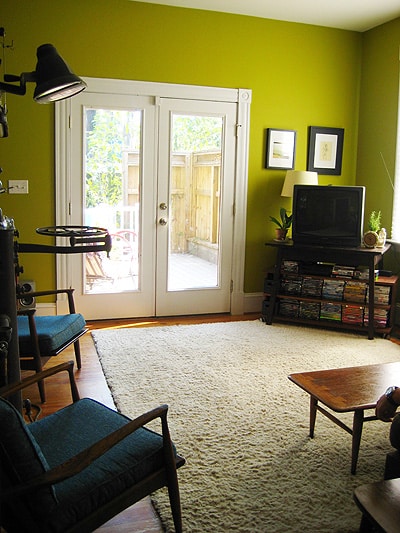 The style continues upstairs into each of the – you guessed it – four bedrooms. Diana rents out three of them to family and friends, so we restrained ourselves and only snapped pics of her own domain (we're nosy but not that nosy). Our host's bedroom was a perfect example of how antique pieces (bed & trunk), original art (from Quirk above the bed) and bargain finds (that great IKEA rug) can blend together to create a one-of-a-kind space with interest and charm to spare. Think we can convince Diana to rent out her bedroom to us for a weekend or two? Or at least that swanky master bath?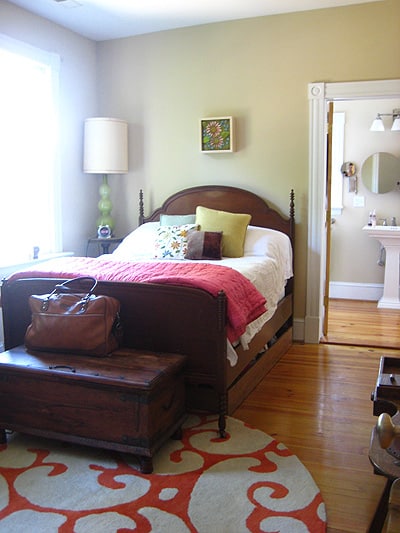 My guess is that in a house this sweet, neither Diana nor any of her roommates are planning to leave any time soon. But who could blame them? We love seeing house transformations like this – especially when it's not just a flip but a home that's meant to be lived in and enjoyed after all the hard work (while giving back to the neighborhood at the same time). So Diana, thanks so much for letting us crash your four-star foursquare. Oh, and before I forget, Burger would like you to ask Bruce not to eat him.
You guys know we're suckers for all things Richmond related. So when a home from our very own hometown popped up in the August issue of Domino magazine, we were pumped. And it was one the most inspiring houses we've seen in Domino in a while (I'm trying to be as impartial as my brain will let me, I swear). The combination of a cozy neutral palate paired with playful and unexpected features (hello stenciled floor!) put us on the verge of hunting down the homeowner and forcing ourselves into her now-famous home.
So imagine our surprise when she found us. We noticed Katie Ukrop's comment on our recent house crashing post when we snooped around Lesley's home a few weeks ago. A few e-mails and phone calls later, and we snagged an exclusive interview with this Domino all-star just for you guys. We're not literally house-crashing this time, since Domino beat us to the punch. Instead, we visited Katie at Quirk (the art-gallery-meets-cheeky-shop that she owns in downtown Richmond) to snag a behind-the-scenes look at her moment in the spotlight.
Here's the scoop: It was a friend of a friend who suggested Katie's home to Domino. She was in town visiting and stopped by to take a few scouting pictures and the rest is history. I guess this means there's no magic formula to catching Domino's eye. But it helps to know the right people. That and have an amazing home. Domino visited Katie's home in Richmond's historic Fan District last summer (yup, it took a whole year from the shoot to the presses) and spent two days photographing every detail. The crew was modest – a husband and wife photographer / story producer team of Paul and Sara Ruffin Costello, an assistant, and the writer Ruth Graham who popped in and out. Overall, a pretty low-key and painless process. In fact, Katie said it was a lot of fun.
The painted floors in Katie's parlor were a surprise to the Domino staff when they arrived. Katie had been planning to do something with her floors for a while, but it wasn't until after the scouting photos were taken that she took the plunge and had the floors painted and stenciled by local paint expert Sunny Goode. Katie worried the magazine would scold her for springing new floors on them, but instead she says "they loved it!"
The floors weren't the only last minute additions. With one of her couches out getting reupholstered, Katie took the shoot as an opportunity to snag a couple chairs that she'd had her eye on for a while (which came home with her just hours before Domino arrived). Other than that, Katie's prep included some good ol' fashion cleaning up.
But to Katie's surprise, Domino didn't want things über tidy. "Domino didn't want perfection. They like it a little rumpled." So before she knew it, the crew was putting keys on tables and pots on the stove to make sure her home looked lived in and loved. They even asked Katie to pull her long blonde hair back to keep things less coiffed and more comfy casual. And to our surprise, Domino didn't bring a single prop. Everything you see in the story is Katie's – even the cut flowers that she snipped from her garden that very morning.
Katie's thrilled with the result, especially the mention of some of her favorite things from Quirk at the end of the article. But of course some shots were left on the cutting room floor. For one, we didn't get to see her beautiful daughters Emma and Flora muggin' for the camera. Fortunately, Katie got to keep some of Paul Costello's leftover polaroids for her family (and us!). And boy are we excited to share these exclusive Domino shots with you guys.
Now that it's been twelve months, things around the Ukrop abode must be slightly different, right? "It's definitely messier," notes Katie. Other than that, she admits to rotating in a lot of fresh art (which I imagine is a pretty natural part of owning a gallery and constantly having great, new art at your fingertips).
We asked Katie what's been the best thing to come from her national magazine debut (besides our stellar interview). She kindly buttered us up ("oh, well, this interview is top-notch") and then got real. "I've fostered a great relationship with Domino. They're fantastic over there." There have also been a few old high school friends who have resurfaced that Katie has enjoyed reconnecting with. But the best part? "All the artists and jewelers that have been contacting us who want to be a part of Quirk."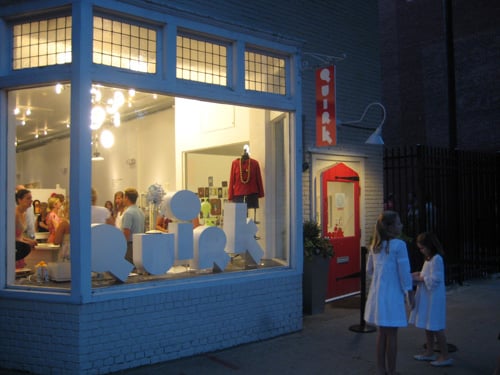 Quirk's Domino Party last month. Katie's the blurry, white shoulder above the "Q."
Quirk is an eclectic art gallery that Katie opened back in September of 2005. The historic brick building was once home to several squatters, not to mention a big tree growing through the back wing (skylight, anyone?). Talk about a fixer upper. It had once been home to the Richmond Stationery Company, which left Katie and her crew with a cool "vault" space that had previously been used to keep envelopes from self-sealing in the humidity. Now every corner of the building is home to Quirk's rotating collection of art, sculpture, jewelry, books, stationery and a whole slew of other cool things – even the vault houses some of the smaller art installations.
Quirk's filled with conversation pieces that are bound to add some interest to your home (or outfit). And whether your budget's measured in Benjamins or in Washingtons, you're sure to find something fun to take with you. So be sure to check out their online Gallery Shop. And while online shopping is in the works, for the time being you can e-mail or call in your order. (I know, bummer, you might actually have to interact with Katie or one of the other gallery "rockstars.")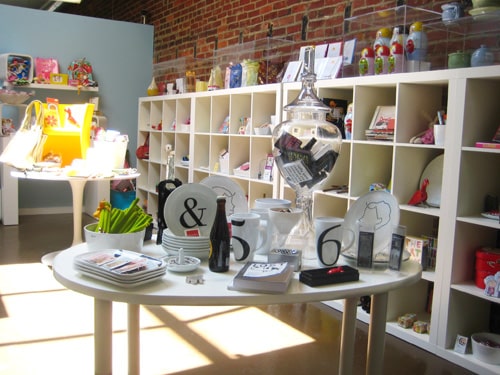 We wanted to know how Katie's home inspired her gallery. And we quickly learned that it was the other way around. "Quirk has changed my aesthetic. I did the girly, flowery, shabby chic thing at home, but I've always loved a crisp white room. Quirk has also given me the courage to throw in a fun chair."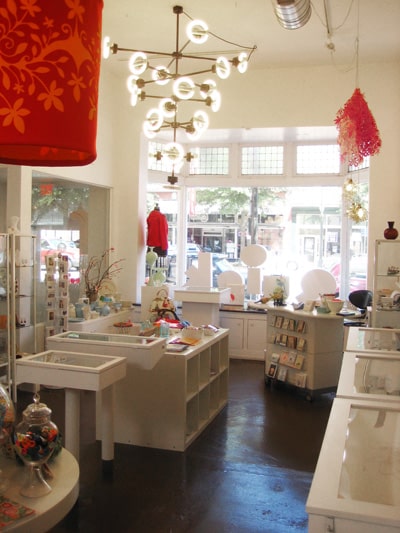 Katie says her favorite part of owning a gallery is meeting all the artists and bringing all the inspiring, eclectic, and artistic pieces together. She admits that not everything at Quirk fits her personal taste to a T, but that's the beauty of owning a gallery- it's helped her develop an appreciation for a wider range of styles. She also advises any budding entrepreneurs out there to "go for it, but don't think it's going to be easy. When we opened we didn't know who would come in the door. But now I know my customers and I know what they want." And boy has her hard work paid off.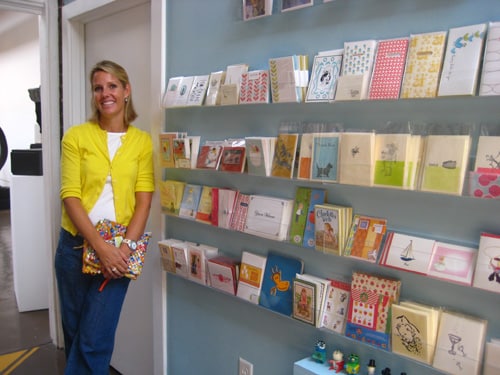 Katie's decorating advice is the same as her advice for collecting art: "Buy what you love and what makes you happy. Don't sit and stew about whether it will increase in value. If you love it, buy it." I'd say that philosophy has served her pretty well, considering how incredible both her home and gallery have turned out. Thanks to Katie for spending time with us and letting us pick her brain about her Domino experience. And thanks to Domino for putting Richmond in the spotlight (and letting us show their pretty outtake pictures above).
Yup, we're house crashing again- and this time we're invading the home of a local celebrity of sorts. Lesley is the owner of Clementine, an über cool consignment shop in ever-popular Carytown (a street chock full of unique shops and eateries here in Richmond). And she and her husband Jeff graciously allowed us to snoop around their home and shoot some photos to share with you. Without further ado, their beautiful home.
From the moment we arrived, the yellow door with hand painted house numbers caught our attention. Lesley just printed out the numbers and transfered them onto the door with a pencil rubbing and tracing technique, painted them there with a thin brush, and viola- hand painted house numbers.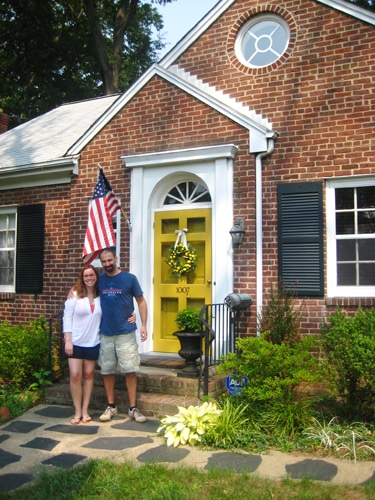 Once inside their 1940s home, you're immediately struck by all the charming details – both inherent in the architecture and added by Lesley and Jeff's eclectic decor. Here's their calm blue living room accented with fun pops of color with a french door that leads to a sweet little screened-in sun porch (but more on that later).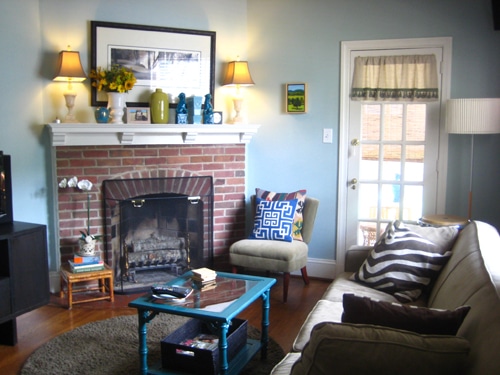 A staircase off of the living room leads you upstairs to the attic which the couple finished themselves, thus turning a would-be storage space into an awesome office (complete with a lounge area and full bathroom). We love the dark beams that Jeff intentionally left exposed throughout the space, their serene and simple second bathroom (again, more on that later) and their quirky art collection. One of our favorite things about Lesley's design sense was her ability to mix vintage art (snagged at thrift stores, estate sales, etc) and display it in unexpected spaces – like a small corner of the attic – without ever feeling cramped.
The vintage details and quirky accessories continued downstairs in the kitchen too, where their original tile countertop is still in great condition. We loved the charm of the wall-mounted faucet and the buddha head to watch over you as you do dishes.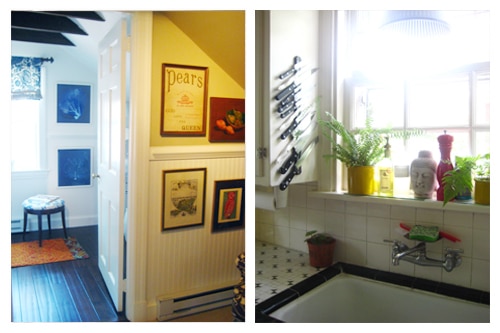 Lesley and Jeff also proved that modest bathrooms can still feel light and airy. Their first-floor bathroom (below, left) features original tile on the floor and walls (subway tile = score) and bore an uncanny resemblance to our own master bath. Although, I must say, we're severely lacking in the whimsical white deer head department.
The new bathroom in the attic (below, right) is just as charming as the vintage one downstairs, complete with white wainscoting and warm wood floors that extend out into the office space to keep everything feeling seamless. They're still finishing the upstairs shower (which promises to be large and unbelievably awesome) but we took inspiration from something that's easier to make our own: an open linen closet (which has now added a new bathroom project to our list). Stay tuned for that in a week or two.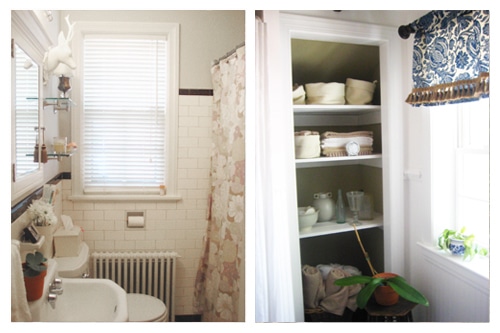 In the master bedroom, Lesley and Jeff's amazing color sense and original art collection are again on display. We were constantly impressed by their ability to use unexpected and intricate color combinations with finesse and style. We're often not brave enough to try bold color schemes like this, but Lesley proves they can totally work. We also like how the monogrammed pillows and sleek wall-mounted lamps keep everything feeling super inviting.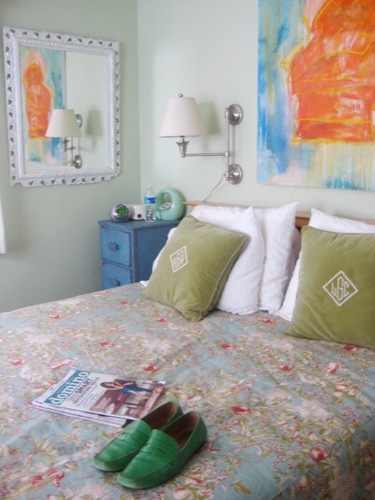 Here are a few more examples of their playful collection of accessories. How cool is this arrangement of old serving trays-turned-art hung above an estate sale chair in the guest bedroom? And their bookcase in the dining room holds everything from the traditional (servingware, books, candles) to the unusual (a skull found in the middle of the desert).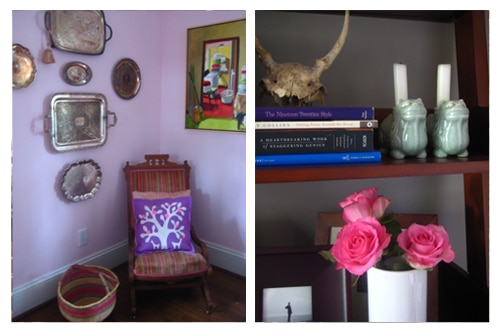 And last but not least – we bring you the aforementioned screened in sun porch. In fact, this room- and the floor specifically- was the original reason for our visit. We heard about Lesley's amazing stenciled concrete floor and needed to see it for ourselves. The stencils are from Sunny's Goodtime Paint, a local paint store that's starting to get national attention (check this month's Domino). Lesley chose this fun repeating medallion and spaced it by eye for a punch of pattern. It looks amazing. And we may just pick up a stencil of our own and try our hand at stenciling our sunroom.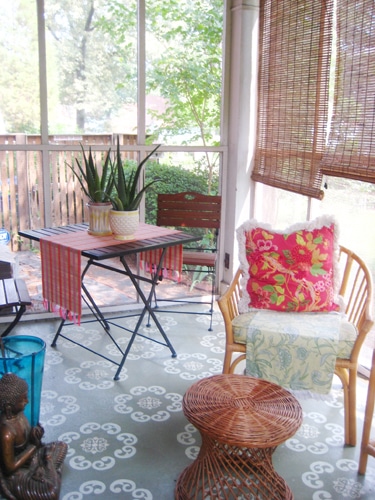 Thanks to Lesley and Jeff for letting us trapse through their home camera in hand. We walked away with tons of inspiration (linen closet, stenciled floor) but we wanna know what you took away from the tour. Feel free to sound off about your favorite details.