House Crashing
After Jordan and Landon shared their amazingly affordable (and drop dead gorgeous) kitchen overhaul with us (here), we definitely were left wanting more. So when they offered up the opportunity to House Crash them, we said "uh… yes please." And we figured since it's their house they'd be the best at showing you around, so we're passing the virtual mic over to them for the tour while we clean our house within an inch of it's life in an effort to woo a few more potential buyers this weekend (fingers crossed). Enjoy the tour!

Welcome to our home in Columbia, South Carolina! We're Jordan & Landon from landonjacob.com.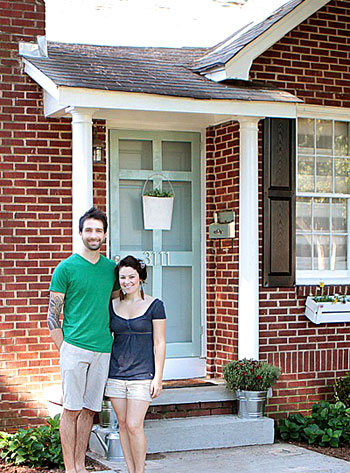 You've already seen the kitchen (here), but we'll share that pic again, just to refresh your memory: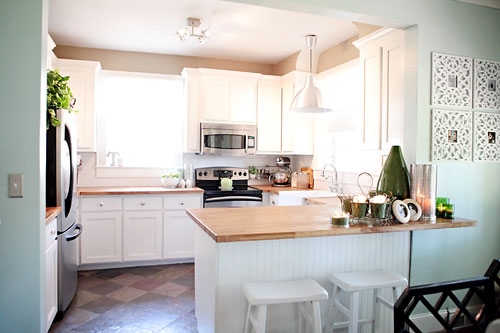 This is our dining room. The wine bottles come from one of our favorite wedding venues that we shoot at often! We had them hold the bottles for us (and we bought a bottle cutter on eBay).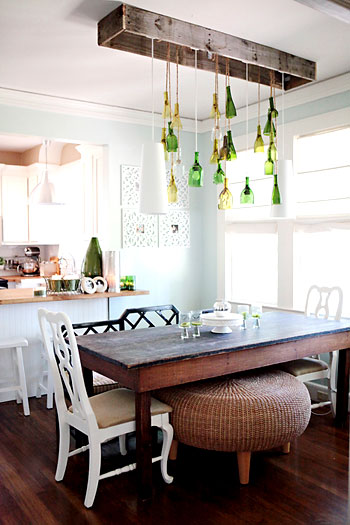 That's actually a DIYed mirror leaning against the wall. We bought mirrored closet doors on Craigslist for $40 for the pair and then found an old weathered pallet, took it apart, and made two mirrors (one for in here and one for the hallway).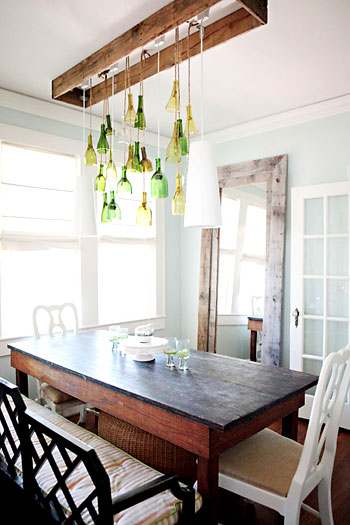 Our dining table is an amazing thrift store find that people ooh and ahh over. It was just 10 bucks! The chairs and bench were bought at a yard sale, and the ottoman was a throw out item from a friend.
Next we have our living room: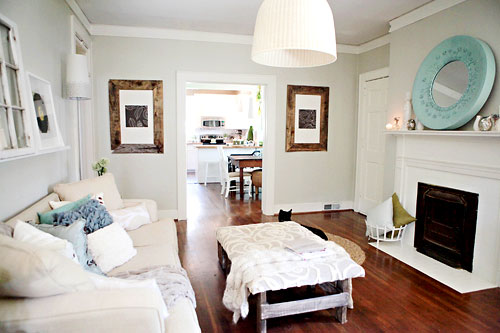 As you can see above, Landon made two frames out of more pallets. We really love that rustic wood (its kinda all over the house). We made that ottoman which was actually inspired by Kara's DIY ottoman that you shared!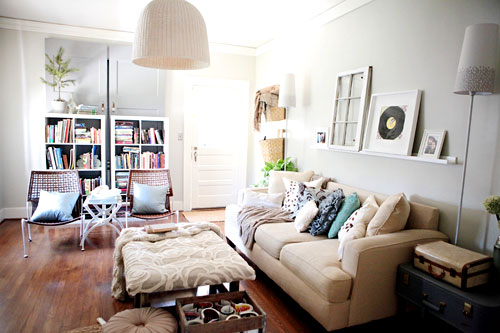 Oh and that old wine bottle crate in the foreground works as an awesome magazine holder. We also love our little DIY end tables which we made from vintage suitcases on legs. We also like those hanging baskets from Ikea on the wall next to the sofa (it was actually an idea we stole from the ikea catalog). The doors on the wall above the bookcases are original doors from the home, so we wanted to incorporate them into the room.
Next we have our master bedroom, where we added the beadboard wainscotting ourselves and hung a bunch of inexpensive frames that I sprayed white on the wall in a group.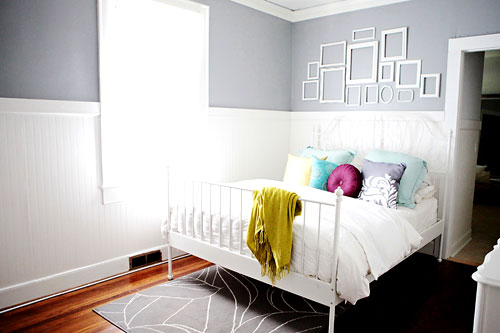 And here's our master bath. Can you tell we have a think for big mirrors? We love how they open things up and make rooms feel lighter and bigger.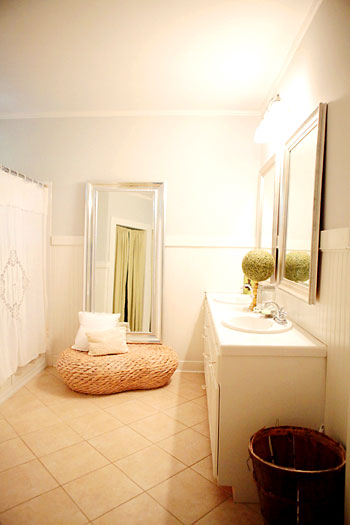 This is our awesome little hallway! Its my favorite space in the house! Its about the size of our other rooms! The chairs were thrifted for $40 and we recovered them. That's also the second homemade mirror that we made with the mirrored doors from Craigslist and the weathered wood pallet. We also grabbed that lotus light fixture from Ikea.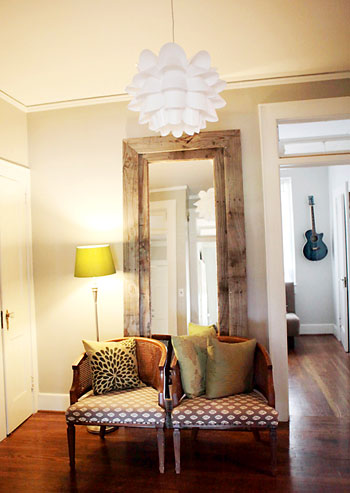 This is our office / crafts room. We thrifted that awesome craft table for 5 bucks. We also love instruments (we love music around here since my dad was a musician, and Landon is one as well… I sing, but technically that's not a musician). Anyway I love how the blue guitar fits so perfectly in this room and that it gets to be a piece of art on the wall.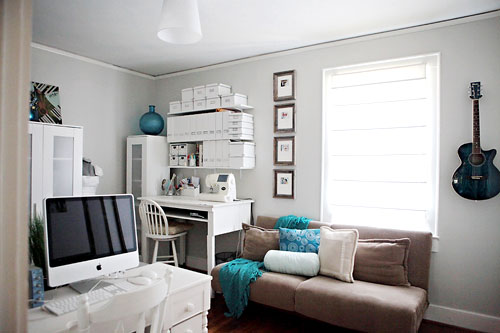 This is the spare bedroom. We found the bed on Craigslist and I bought those awesome orange curtains for about $1.50 at Goodwill!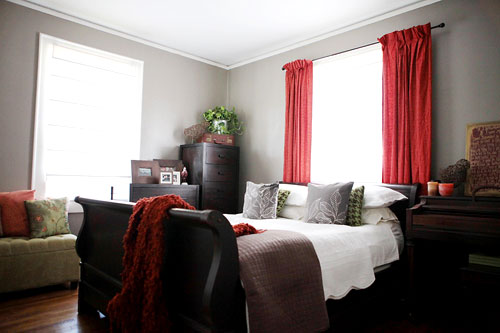 This is our spare bathroom that we just finished off! It was a huge mess before! It's so very tiny, so its kinda hard to show off in pictures, but I tried! That is your sink and faucet by the way (I was inspired by your bathroom overhaul) so we ordered them and added them to an antique wash stand that we found! And of course we have another huge mirror, but it really makes this bathroom feel so much bigger!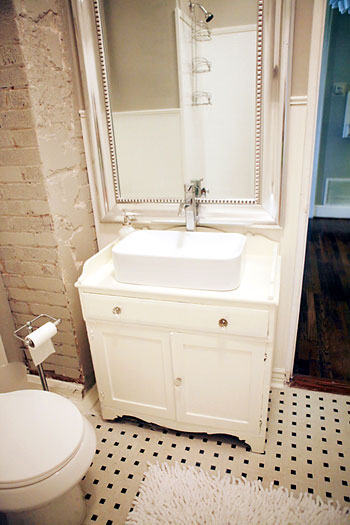 Ok, so that's our house. Thanks so much for sharing it! – Jordan & Landon
So who's jealous? Our hands are officially raised. Thanks so much to Jordan and Landon for sharing their home and all of their affordable DIY ideas. We're sufficiently inspired. What was your favorite part everyone?
&nbsp&nbsp&nbsp
We always love crashing a well designed house to get some inspiration and steal some ideas. But we also know that homes aren't the only place to look for decor inspiration. Which is why we decided to take you shopping with us for some pretty amazing and totally implementable at-home ideas. Allow us to introduce you to Clover.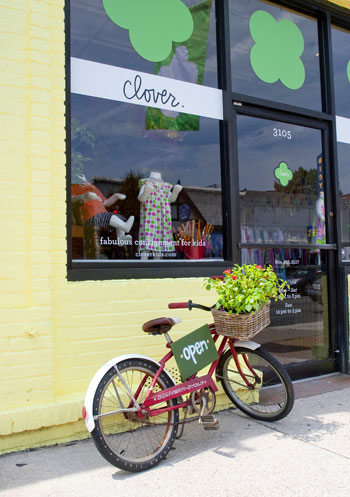 It's an amazingly cool consignment shop for kids that just opened in Richmond's Carytown district last month – and they gave us a sneak peek at the space before they unlocked the doors to the public. We scored the special treatment because the shop is a spin-off concept from our friend Lesley who opened the grown-up consignment version called Clementine years ago just across the street (both are now owned by two other fams). We also crashed her charming abode back in '08, so we know she's the real deal when it comes to having some serious style.
Oh, and you probably remember us mentioning Clover a few weeks ago in this giveaway because their floors sport the Sunny Goode paint treatment.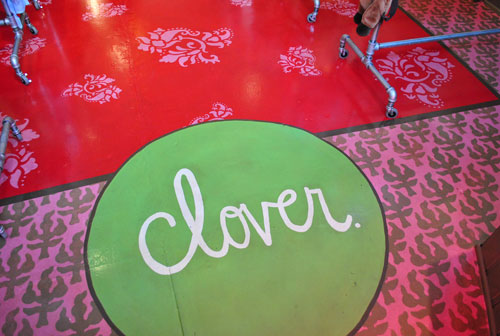 But the creative and inspiring decor doesn't stop at those insanely amazing stenciled floors. Clover is full of playful DIY projects that are as adventurous as they are affordable – and it's always good to remember that sometimes you just have to go for it to achieve that perma-smile-inducing look. It's definitely not your typical kids clothing store: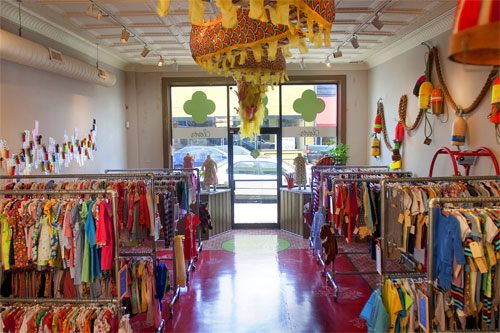 Let's start with what you can't miss when you walk in: the dragon. This colorful Chinese dragon greets you at the front and weaves its way all the way to the back of the store. They scored it at Pearl River Mart in NYC (a store that Sherry often reminisces about- I've never been, but it was on Design Star this season for their first challenge). After Lesley hung it she wondered if it would scare any kids, but luckily they all seem to love the playful and imagination-inducing addition to the space. Maybe it's that cheerful yellow color or those furry pink lips that keep the scare-factor down?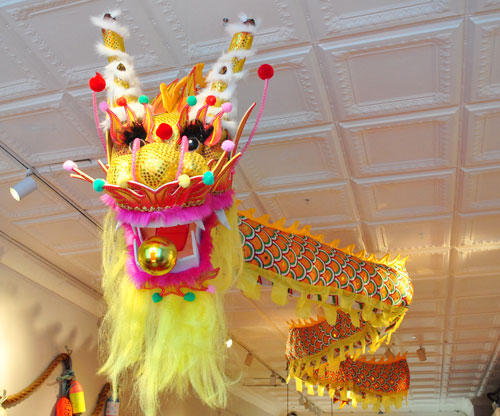 The front half of the store is split into boys' clothes to your left and girls' to your right. Each wall features an art installation that's subtly gender-specific, but totally unlike anything that we've seen before. For example, the boys get buoys, which act as a colorful twist on the traditional nautical theme. The authentic buoys were a found on eBay for just $5.99 a pop (Lesley saved on shipping by making sure to order them all from the same vendor). The awesome 2″ thick braided rope also came from eBay – apparently it's the same stuff you'll find schoolkids climbing in gym class.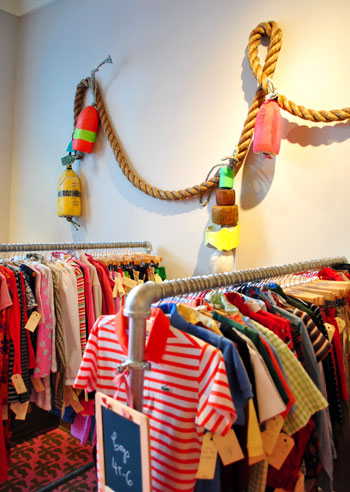 Over on the girls' side was a 3D collage that was strangely fascinating and beautiful at the same time. Lesley meticulously pinned and velcro'd flash cards, paint swatches, playing cards, and even Pez dispensers into a wave of bright colors that anchors the entire wall (scroll up to the second photo to see it from afar). Even though there's no apparent theme to the items, it's somehow inherently playful and fun – and weirdly hard to take your eyes off of! Kind of like Where's Waldo without the guy in the striped shirt. And we love that she used free items (like paint swatches) and super affordable things (like playing cards- 52 for $1) to cover a lot of ground without breaking the bank.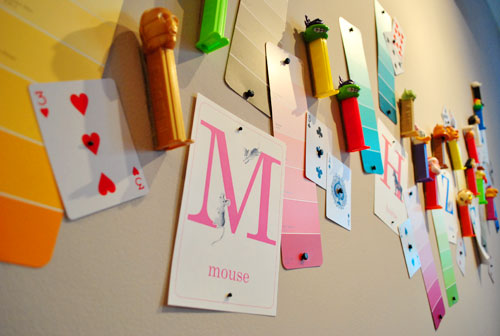 The wall art isn't the only non-traditional element when it comes to the clothing areas. Even the racks themselves are a unique creation for Clover. They took metal plumbing pipes and had them fashioned into double- and single-level racks to house a slew of consigned clothing at the exact heights and lengths that they needed. We think it's so cool that they didn't go the expected route by defaulting to a basic wire rack. It adds just a glimmer of edge to this kids store, which keep things from veering off into the sugary-sweet territory.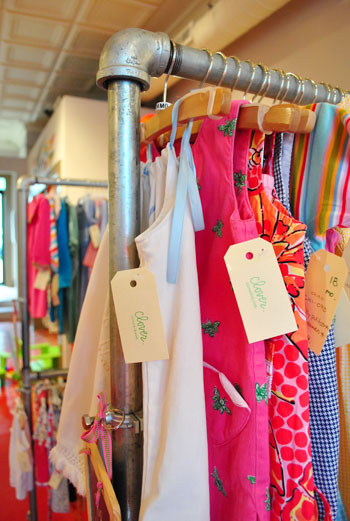 And speaking of shelving, to house some of the non-hanging items, Lesley scored two of these wicker and glass shelves on Craislist for $45 each, then painted them a bold watermelon color (leftover from the floor) to fit seamlessly into the space. Sherry was especially enamored with the chic criss-cross back: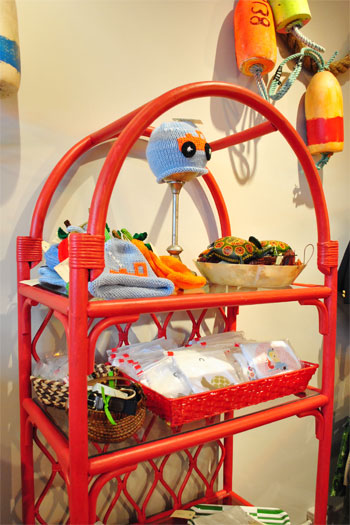 Back in the dressing area (little kids need to try stuff on too, right?) they converted a closet space into a private changing room with some clover-esque Ikea fabric ($8/yard) that they paired with a colorful backing (see the stripes reflected in the mirror?) and embellished with some red pom-pom trim. Lesley even loaned us some leftover fabric for one of Clara's weekly photos. Score!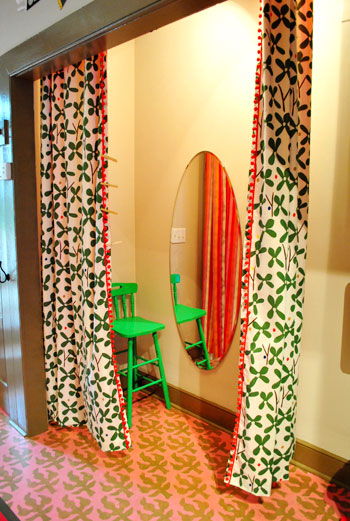 Next door to the dressing room is a little spot to entertain tiny shoppers, complete with two pint-sized chairs scored for $10 at a yard sale and painted a bright cloverly green (with already-owned paint). I picture this as the spot where exhausted baby husbands rest their feet while their baby wives try on outfit after outfit (at least there's a nice little flat screen TV for watching Sportscenter Sponge Bob).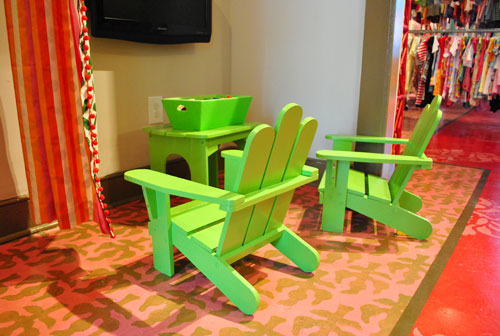 And of course there's the spot where money is forked over. Clover opted for a simple teacher-style desk (which was scored at a local thrift store and painted black) to act as their check-out HQ, which is especially perfect for pre-teen purchasers who are just learning to pay for their own things.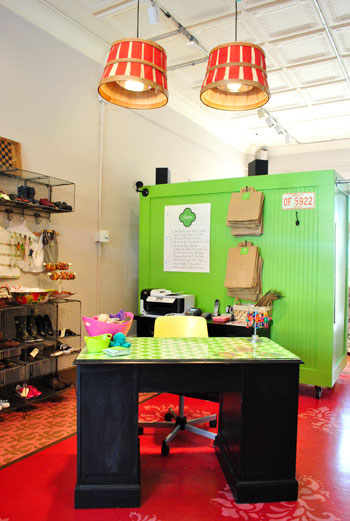 Above the desk hang two pendant lamps that Lesley actually fashioned out of $10 industrial lamps from Home Depot topped with red bushel baskets (the top of the lamps feature a ceramic resting point for the basket so they never threaten to overheat the woven buckets). So simple and smart, right? And the DIYed pendant lights fit right into the color scheme thanks to some red paint (applied by none other than Lesley herself).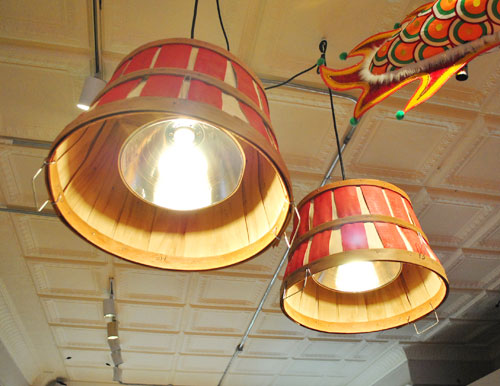 On the desk itself, they had a piece of glass cut to size and underneath it they laid some fun patterned fabric. But it's not just any fabric, it's custom Clover fabric that they had made by Spoonflower.com. We hadn't seen any Spoonflower fabrics in person before Lesley's, but we'd been in love with the concept for a while. Basically you can upload your own design (any design! the sky's the limit!) and get it turned into custom fabric for as little as $16/yard. You can even check out a sample swatch before finalizing your order to make sure it's perfect. We love unique and thoughtful touches like this- especially because Lesley only needed two yards of fabric and now has a desk that she literally "designed" to take Clover's decor to the next level. Plus the desk was such a cheap thrift store find that she didn't flinch when springing for the custom fabric to finish it off.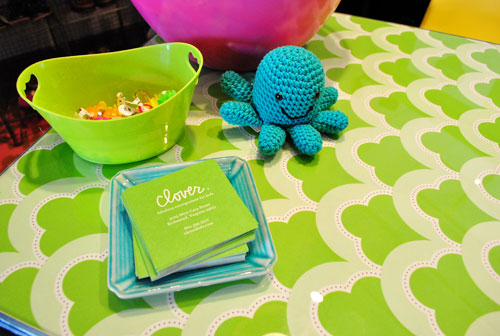 Last but not least, we'll take all of you organization nuts 'round to the "employees only" part of the store where Leslie worked her magic again to beautifully arrange all of their extra inventory and supplies (despite it not really being directly visible to shoppers). They created an awesome workspace with butcher block counters (which they snagged on discount from Lumber Liquidators, who knew you could get a countertop there?). We love how clean and organized it all looks – and of course the fact that Lesley used more steel piping as fabric rods to close off some of the compartments below has us especially enamored.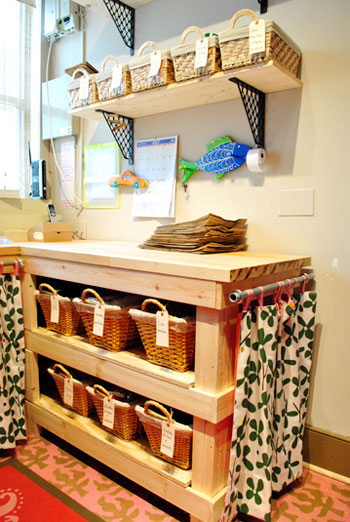 And how could we not share a close-up of the über-organized baskets with charming tag labels that pepper the space. If you can believe it, the baskets were from Walgreens of all places (small ones were 2 for $5, big ones were 2 for $10). Doesn't it almost make you want to work at Clover – just so you can bask in the beautiful order of things?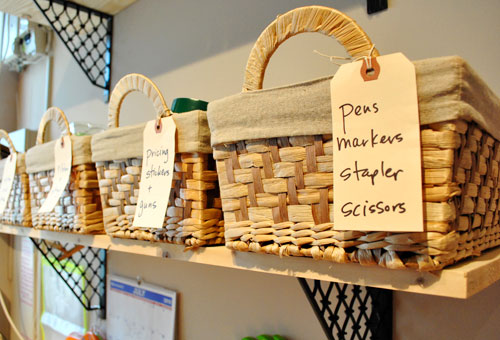 So that's our spin around all the inspiration that is Clover. We hope you guys spotted as many fresh ideas in there as we did… maybe even a few that you can adapt for your own home! If you're here in Richmond you'll totally have to swing by (they're near the Galaxy Diner) to see it for yourself – especially if you've got little ones to clothe (or just entertain for a while). And a big thanks to Lesley, Lyn, Jill and all the other Clover-folk for letting us pop by to enjoy all the amazing DIY details.
Did you guys spot anything in particular that caught your eye? Let's play the always entertaining what's-your-favorite-part game. And feel free to share any retail stores in your area that also boast unique decor. Who knows, if it's not too far from Central Virginia we may just swing on over…
&nbsp&nbsp&nbsp