House Crashing
You'd be hardpressed to find a more dramatic home makeover than Christi & Barrett's fantastic whole house overhaul. While we were poking around Kristen and Matt's home in Charlotte, NC they mentioned that their friends just completed a major home renovation so we decided to house crash them as well. When in Rome- er, Charlotte…
Anyway, here's the adorable couple (with their newborn baby!) on their front porch. Gotta love that these two strangers were totally cool with us snooping around with our camera in tow. It helps that Christi is a pretty enthusiastic Young House Love reader, so they were happy to let us snap some pics: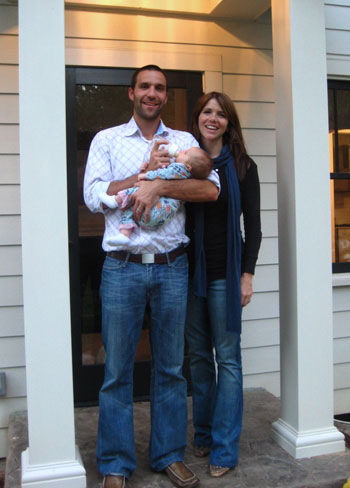 But their front porch didn't always look like this, here's the house before their major renovation: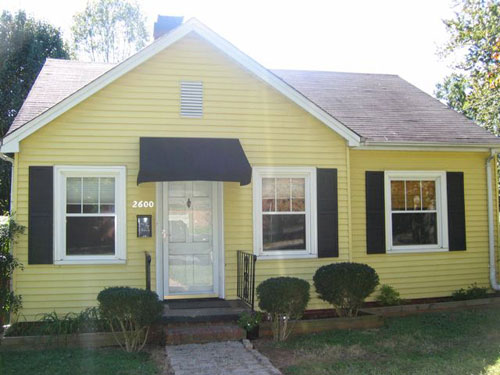 And after: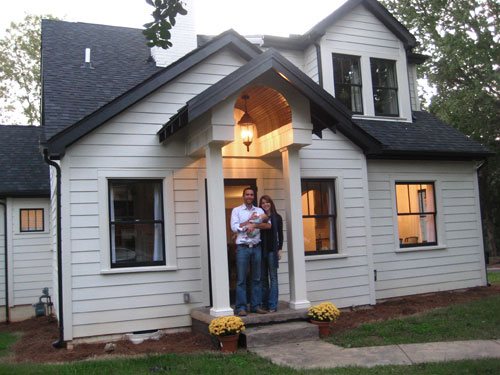 Don't mind the fact that they still have some landscaping to do. I bet it'll look even more amazing once it's bordered with shrubs and flowers. Can't wait for the after after pics! What an amazing change, right? And now we'll take you inside their stylish home (where they added an entire second floor which houses a guest bedroom, their new nursery, and a third full bathroom). Take off your shoes and stay a while…
Here's the entryway complete with an welcoming fireplace that greets you at the door. We loved their built-in bookcase with a green accent wall behind it. And we also adored that gorgeous white mantle, chic slate fireplace surround, and the handsome ebony hardwood. Again please excuse their empty bottom shelf- they just moved back into their home and had a baby two days later. They've been pretty busy these days!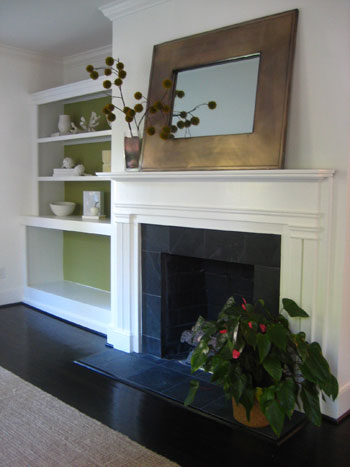 Here's the lovely dining room with a gorgeous black chandelier that absolutely steals the show. They were storing many of their items for the renovation at a storage facility which ended up getting burglarized, but thankfully no one made off with the chandelier. Whew. As for the table, this one is just a place holder while a larger one is on order. But aren't those black chairs and long white curtains great with the stunning black chandelier? Me-ow.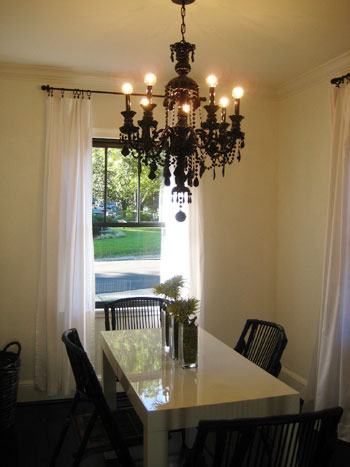 And speaking of me-ow, their new kitchen rocks our socks. We were head over heels in love with everything about it: the gorgeous vintage inspired pendant lights over the island, the glossy marble counters, the chic little white stools, the stainless hood…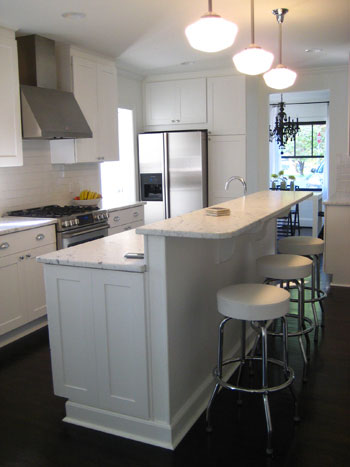 … and this amazing pull down faucet (one of Barrett's contributions to the decor).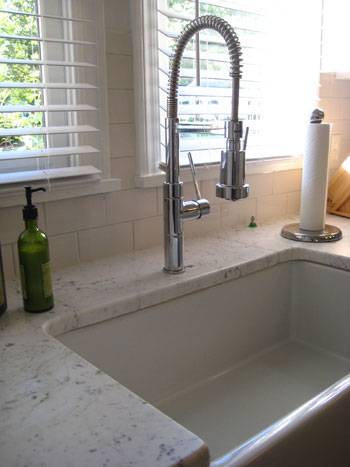 Here's their restful and dreamy living room which opens right up to their spacious kitchen. From the dramatic oversized pendant lamp and the large armoire (which they freshened with a coat of white paint) to the plush overstuffed seating and the french doors that lead to a cozy little balcony, we couldn't have loved Christi & Barrett's aesthetic more.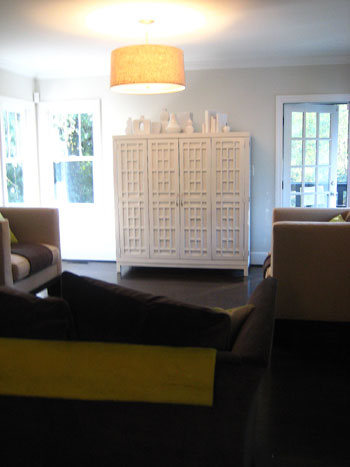 And just off the kitchen and the living area was this sweet little mudroom, complete with a decal on the frosted door and a washer and dryer hidden behind some seriously fantastic storage doors (with even more room to stash things in the cabinets above).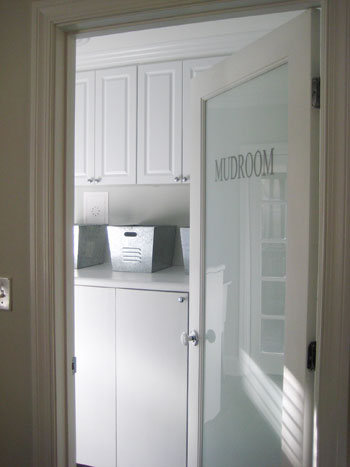 The master bedroom is also on the first floor, and again there are gorgeous billowy curtains and lots of natural light that floods the room. One of the coolest details in this room is the fact that their headboard is the top of their old dining table, which they mounted on the wall after hiring an artist to draw black stripes (with a Sharpie!) on the deep chocolate wood tabletop for a sophisticated zebra-wood effect that gleams in the sun.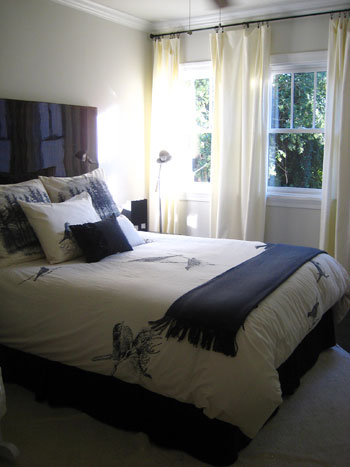 And of course their master bathroom is luxurious and grand. With a marble topped double sink…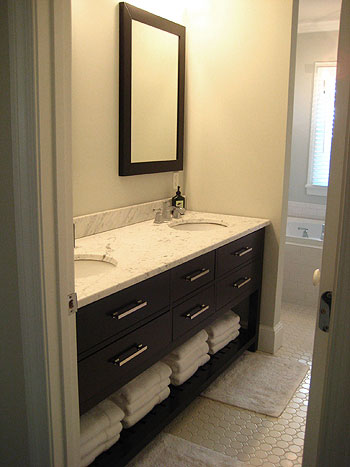 … and a chandelier capped soaking tub, the room is as close to heaven as they come.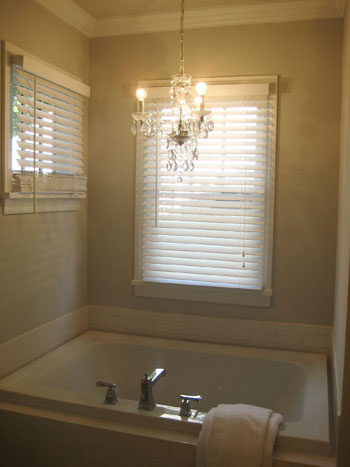 And we can't forget the second floor nursery, created before they knew whether their baby was a boy or a girl (s'prise, it was a girl!). We love the green and yellow scheme and adore the chevron patterned fabric that Christi selected for the valance, the floor pillows stacked in the corner…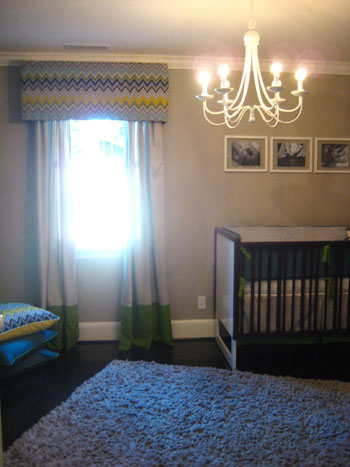 … and the leftover scraps that she framed for some festive nursery art work! We also love that she purchased the chandelier at a big box store (originally in wrought iron) and spray painted it white for a sweet and soft effect. Adorable.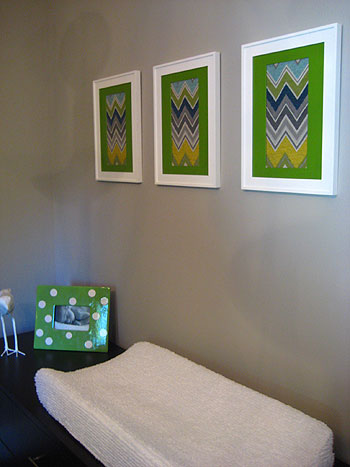 So there it is. Christi & Barrett's amazing home makeover. Thanks so much for letting us poke around your fabulous home C & B! And we hope everyone enjoyed the virtual tour. We can't wait to share our next long distance house crashing adventure, so stay tuned…
True to our blogiversary resolution, we took our house crashing show on the road and drove four hours south to Charlotte, North Carolina where we dropped in on Matt & Kristin. Oh and here's the cute couple now (with their dogs Sage and Simon). Aren't they adorable?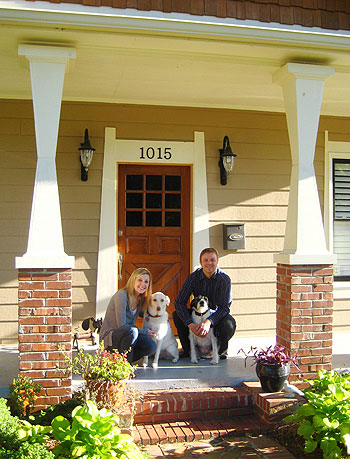 And as cute as they are, their bungalow in NoDa (one of Charlotte's up and coming areas) is just as easy on the eyes. Take their living room for example. Utterly welcoming with colorful pillows and art paired with one of the sweetest sectionals we've ever seen, it's a room that feels cozy yet stunningly stylish.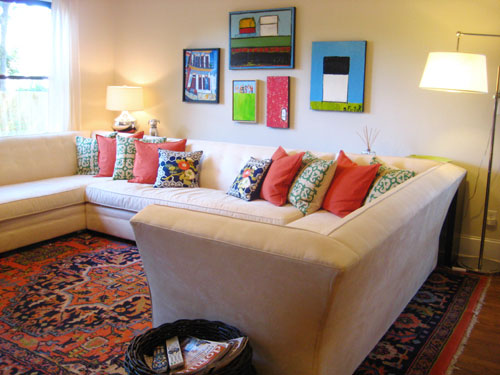 And their formal dining room continues the amazing eclecticism. From a traditional buffet, table and chandelier, to some Asian influenced pieces (like the vase and the upholstered arm chairs) to the modern parsons chairs and the clean lined accessories- this room does mix & match juuuuuust right.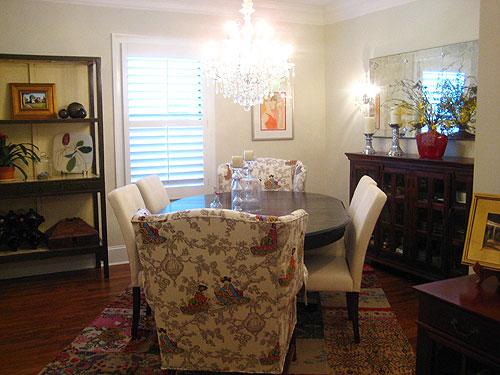 Their kitchen is just as bewitching. With three pendant lights illuminating a handy peninsula for everything from breakfast to a buffet-style dinner, this kitchen was made for entertaining. It opens up to the plush living room (pictured above) and is fully functional with a double oven, a double drawer dishwasher and a whole lotta counterspace for spreading out and serving up something spectacular.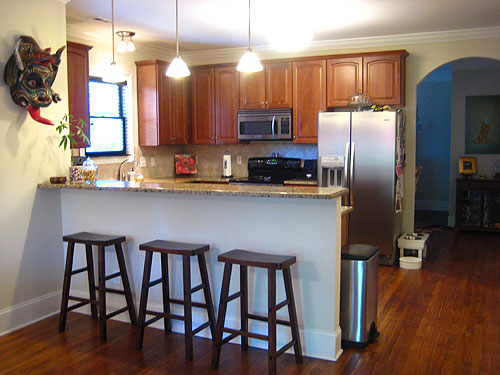 And not only does the kitchen have the island for eating, it also has an adorable nook that's perfect for chowing down by the light of that fabulous fabric pendant. You also may notice the intricate stained glass window on the left side of the eat-in nook. It's an interior window that the builder worked into the floor plan for some serious decorative detail. Amazing! Matt and Kristin are also big art collectors (they try to grab a new piece every time they go on vacay) and this bird was snagged in Richmond back when they called it home.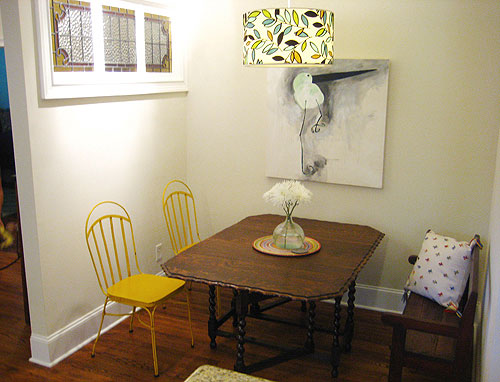 The master bedroom is truly a showstopper, complete with a big black frame from Ikea setting the stage above the bed. Kristin even painted the coffered ceiling in a pale blue tone while Matt was at work (surprise!) and they both really like how it turned out. We love how it highlights the extra tall ceiling and must look oh-so-dreamy from bed every morning.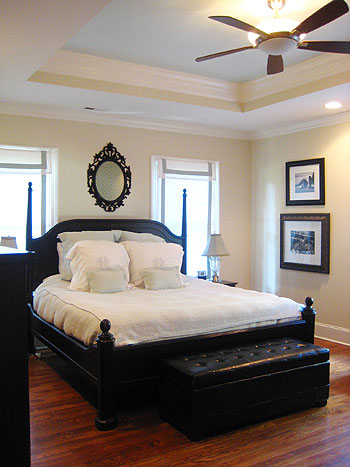 Kristin and Matt's house is not only filled with a range of brilliant colors and playful styles, it's also chock full of customized and personalized touches. Like this fabric cornice board shower surround that they had built for their guest bathroom (which matches the turquoise sink) and these state-specific pillows in their guest bedroom (from CatStudio) to represent each of the states that they've lived in (North Carolina, Texas, North Dakota and Virginia).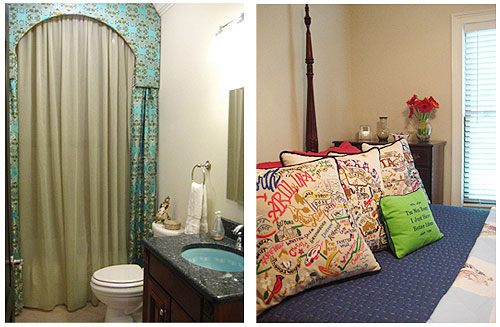 One of the perks of having four fabulous bedrooms is all the function that you can cram into your home. Check out this swoonworthy craft room with a complete wrapping paper station (the drawers are full of every type of ribbon under the sun!) and anything else you need to whip up a well wrapped masterpiece. This fun and playful room also pops thanks to some affordable bookcases from Ikea that flank the window (dressed in curtains also from Ikea) and an old Dr. Pepper machine paired with an antique Coca Cola clock for a dose of refreshing vintage charm.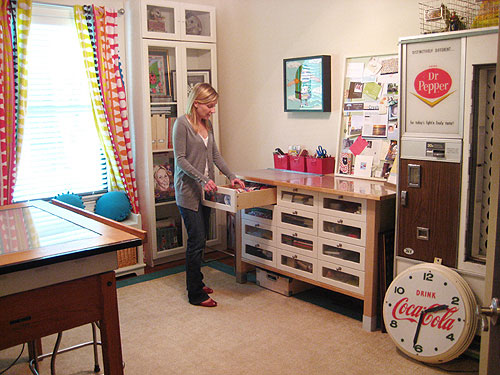 But Matt and Kristin's home has a serious side too, as exhibited in their handsome home office complete with sophisticated black french doors that can be closed for privacy (and major swoon-factor too). And isn't Simon the perfect little office accessory?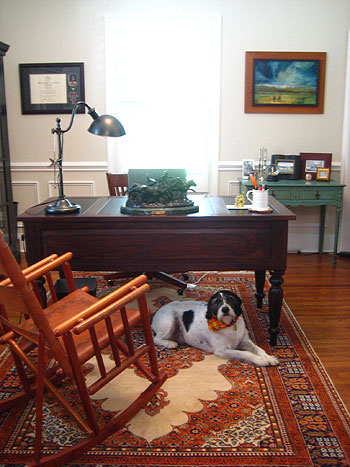 So there you have it. Matt and Kristin's amazing bungalow. To get their look try mixing antique and traditional items with some modern pieces, bringing in every color of the rainbow, and adding some stately black window sashes and solid black doors for some sophistication and a serious dose of craftsmanship to boot.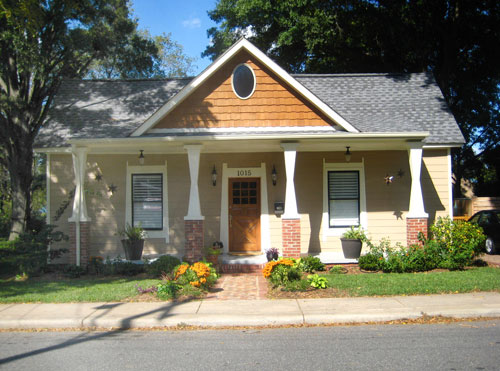 We hope you enjoyed the tour as much as we did. Thanks so much for Matt & Kristin for making our long distance house crashing extraviganza so fabulously fun! You never know where we'll pop up next…
UPDATE: We dropped in on Matt & Kristin's house again to take more photos and share even more amazing details. Check those out right here.
When we heard about Ansel and Peter's modern masterpiece of an office called Marvin Lang, we just had to drop in on their newly opened design studio and snap a few pics. Here's the dynamic duo striking a pose in front of their striking space- which is actually an old garage from the late 19th century that they rehabbed while salvaging as many of the rustic and industrial original details as possible.
Just beyond those giant custom double doors is the client lounge, which is chock full of vintage pieces and danish modern furniture paired with stunning original details (from the rough plaster and brick walls to the original concrete floor).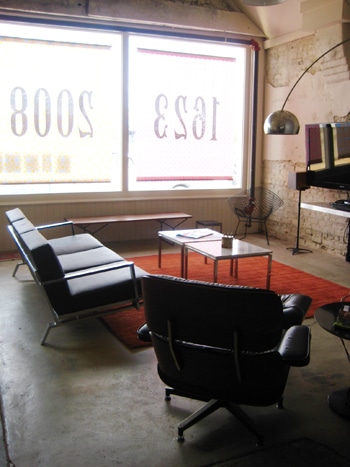 But the industrial vibe doesn't end there. Since the entire space didn't have any dividing walls or smaller rooms, they designed two closets and a spacious bathroom complete with stunning metal walls (which not only look great, but serve as enormous magnet boards).
They left the rest of the space open and airy, and the light just streams in and bounces around the exposed ceiling beams and gleams off the original concrete floors (which they sealed with a clear sealant to keep 'em clean without taking away from the original and unfussy atmosphere).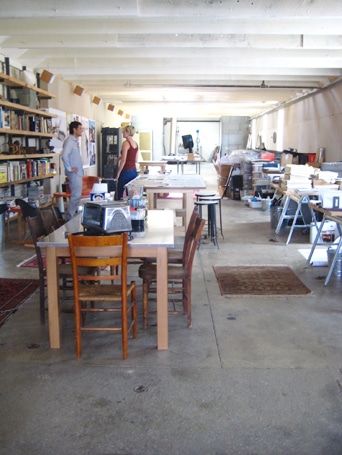 Ansel and Peter also injected some reclaimed shelves (crafted from wood that they salvaged from the building itself) for some sleek storage that's as functional as it is eco-friendly.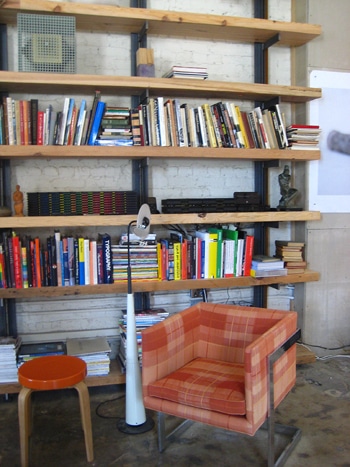 And they also installed large panels of homasote to create a giant pinboard on part of the wall for displaying prints and posters- another creative way to add form and function.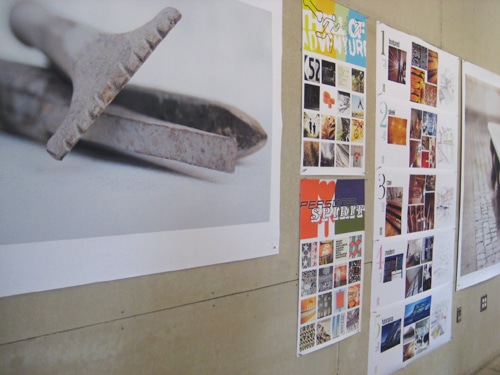 They spared no expense in their luxurious kitchen corner, where they continued the metal walls for an easy-wipe backsplash and installed a super-thick carrera marble counter with an undermount sink and a pretty amazing wall mounted faucet.
Oh and you may have noticed that cheeky sign above the counter. Ansel's graphic design work makes him no stranger to sign design, so he was sure to inject a bit of humor to each space in the form of some pretty amusing signage (our favorite is one near the bathroom that depicts people's partying in the lav).
And of course we can't leave without showing you one of the coolest original details that was happily salvaged in the space. Every so often on the floor you'll come across some rustic old chains in the concrete, which are actually the chains that used to keep cars secure back in the days when the studio was a functioning garage.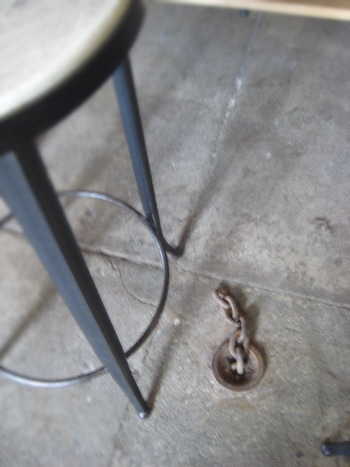 True to the building's original purpose, Ansel and Peter also explained that the front doors to the studio had to be custom built to fit the original opening, which of course was a garage door for the cars that used to inhabit the building. Gotta love a place with some interesting history (and some stunning style to spare).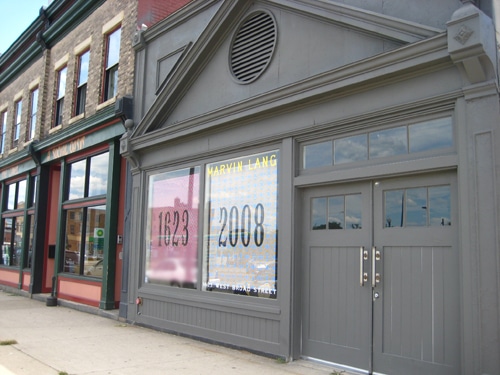 Thanks for letting us crash your fresh and fabulous studio guys! And for all of you locals with some fabulous digs of your own, feel free to drop us a line so we can come trapseing through your home or office with our handy dandy camera in tow. We may be house crashers, but we're house crashers with manners. Who knows where we'll pop up next…