Home Improvement
Hootie hooo! The cork floor in both the kitchen and the laundry room is complete!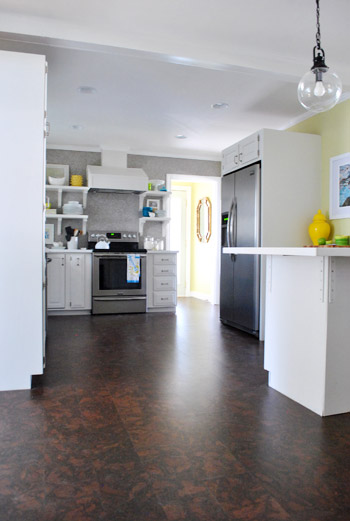 Well, except if you count the fact that we still have to add shoe molding, thresholds, and seal it all. Details, details. The point is, we finally get to see the whole picture. Huzzah!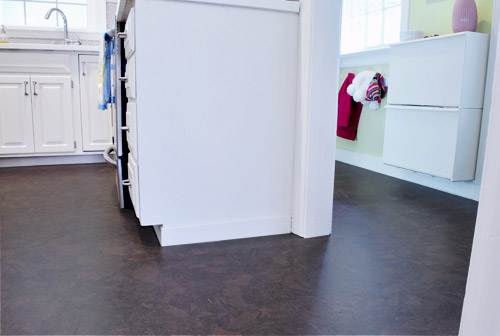 The annoying part is that we still haven't figured out how to photograph it as true to life as we can (it's a rich mocha color, and actually looks more like brown leather in person, so the pattern is more like soft movement and less like any sort of obvious shapes or anything) – but the two videos from the last post really are the most accurate depictions of it, although we hope today's photos are closer to real life than last week's were. The one above is getting there. We'll learn the trick someday I'm sure!
When it came to finishing things off in the corner of the kitchen and our tiny laundry room, it was pretty much exactly the same method that we outlined in our kitchen corking post, although we were getting worried that we were running low on cork, so we actually used some remnant planks all along the left wall (leftover cuts from the kitchen) to ensure that we wouldn't run out.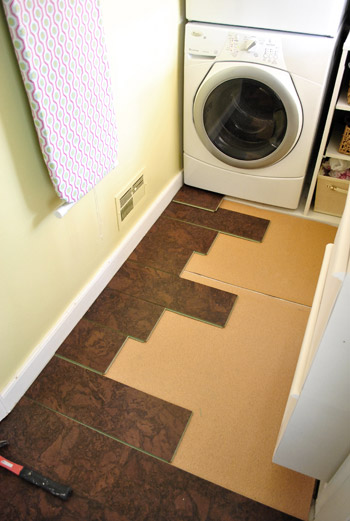 Thankfully we finished up with about four planks to spare. Not kidding. It was crazy close. So we're at least thankful to have those as extras, and plan to seal the heck out of these to protect them. Cork can even be sanded, restained, and resealed down the line if it gets worse for wear, so 40+ year old cork floors exist (which is nice to know since cork sounds like such a new-age material). Heck, we've even heard from folks who have 100+ year old cork floors that still look great, so here's hoping!
It's kind of amazing how much of a difference the new floors make in the laundry room. I mean, we really liked it before since we did so much work on it already (more on the rest of the room's transformation here), but here's that room before it got the ol' cork treatment: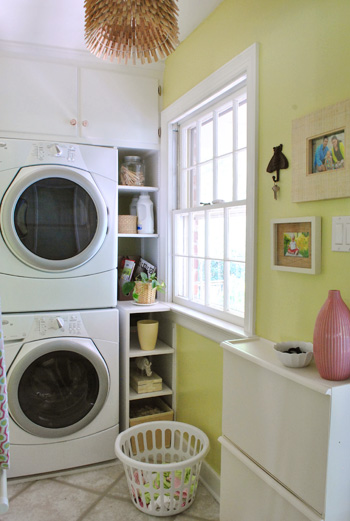 And after: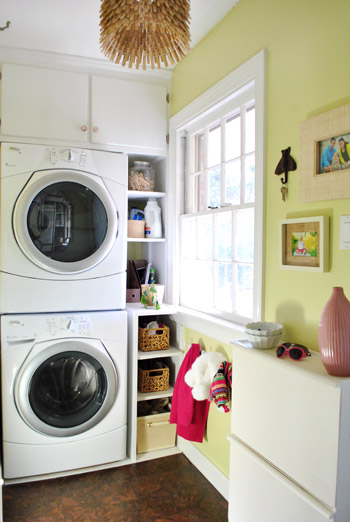 We enter the house through the door in the laundry room and it's so nice to walk in and see the rich cork floors whispering "welcome home." Oh and for those wondering where the laundry basket is, it's just in the bedroom full of a pile of "flu clothes" that have been washed and have yet to be put away.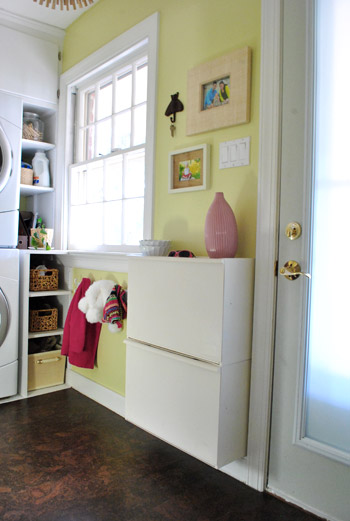 Since we already blogged all about where/why we purchased our floor here, and how we installed it (video included) here, this post is more of a big sigh of relief that the last big kitchen undertaking is winding down.
Other than polishing off those last few floor tasks on the list, all that's left are smaller things like adding some decorative wood molding to the back of the peninsula, deciding if we'll be adding a window treatment over the sink or painting our stools, potentially doing something fun to the side of the pantry, bringing in a chair and a rug in the fireplace side of the room, etc. And of course we'll share a ton of before and after pics along with a budget and time breakdown when we finally get to stick a fork in this kitchen (which we've been working on in stages since October 5th!).
And remember when we moved in and it looked like this in here?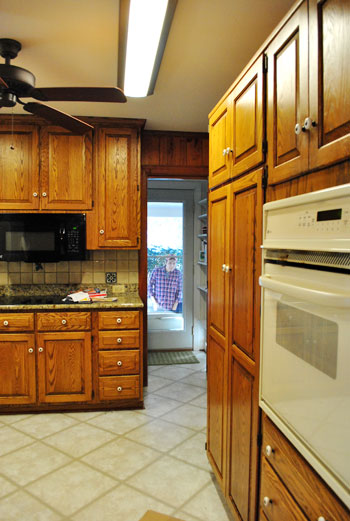 This shot is a little further back, and a slightly different angle, but it's semi-comparable. Is there anything better than making a room that feels nothing like you, finally feel like home?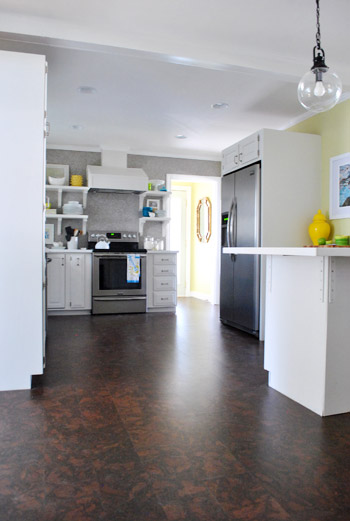 As for our plan with the variety of mismatched wood floors that surround our freshly corked kitchen and laundry room, we're huge fans of flooring that looks seamless (we upgraded our first house to have the same dark mocha wood throughout the layout for a nice open flow). And sure enough, we plan to eventually refinish the rest of the wood floors in this house in the same rich mocha color as the cork for a much more easy and open look. Although it'll still be cork in some rooms and hardwoods in others, the same rich tone should really tie things together and not make any of the spaces feel as choppy or broken up.
When it comes to a usability/function update, we have been really happy with it so far. The rich deep color adds so much to the formerly white-washed space, there are no scratches/dings where Burger runs around from his nails, no dents where we drop things, it's very soft and easy on the back/knees, it should be even more durable once we seal it, it's eco-friendly, and it's quiet. We'll definitely keep you posted as we live with it (and add shoe molding, thresholds, and a few coats of protective sealer). What did you guys do this weekend? We were pretty much laid up on the sofa fighting our little flu battle after finally squeezing in those last few cork boards, but we're getting a lot closer to feeling like ourselves again! And the finished cork floors definitely have our spirits up. Onward!
&nbsp&nbsp&nbsp
This is supposed to be the post where I declare "The floors are DONE… enthusiastic exclamation point!" But instead I'm here to say "The floors are almost done… sheepish period." Since we last updated you, they've gone from this: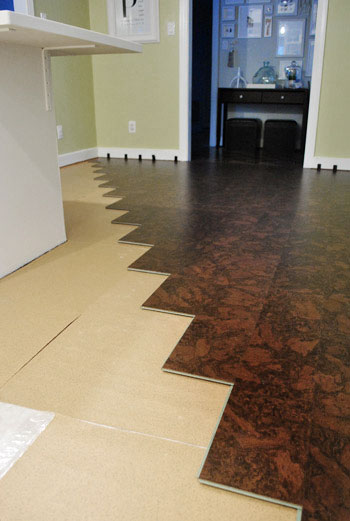 To this: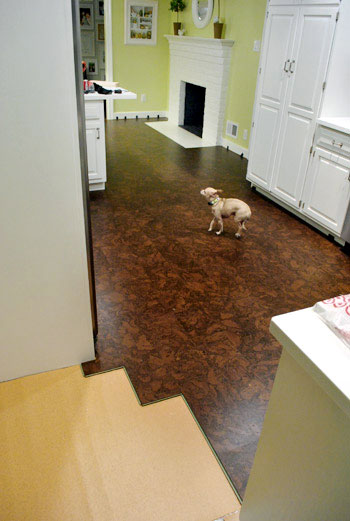 Note: Some of these photos have the cork looking more red/orange than it is in real life. But if you watch the video where we're installing it (or the one with Clara in it), it's probably the most true to life (a rich mocha color). We'll try to take better pics next time!
We thought we could knock out the rest of it in the last few days, but between making all of the cuts to snake around our peninsula/cabinets/doorways and moving appliances out to make way for a few planks of flooring under them (to keep them level without pinning down too much cork), it just took longer than we thought. And since this whole blog is in real-time, as much as we wish we could fast forward to the end and share all the glossy after pics (no one wants to call this turkey done more than we do, haha) we just have to keep plugging away and share the pics whenever we get 'er done. We did stop to take some how-to pics and a video along the way this time though – so we've got that to share with you. Shall we begin?
Here's how the snapping system works on these cork boards. Tongue goes into groove. Boards lay flat together. Everybody's happy.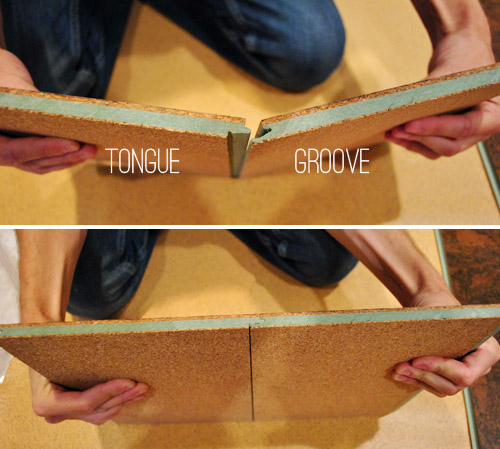 When it came to actually putting a board in place, it went something like we show in the video below. If you can't watch the video (we don't want to blow your cover at work) we've also included the same information via photos below. Watching the video on mute is probably more explanatory though, just to see things in action.
Okay, so now for the photographic, Burger-cameo-free version of that same info. We first slid the tongue into the groove at a slight angle.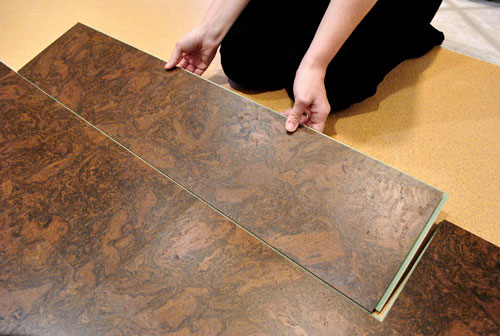 That held it very loosely together so that we could then lay it flat and slide it into the groove on the short end of the board.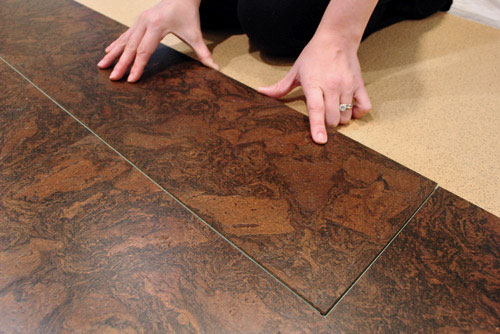 Obviously that isn't enough to hold the board in place, so out came the hammer and the tapping block (we got the tapping block in a flooring kit from Home Depot mentioned here). The block allows us to give the board a pretty solid wallop (technical term) without hurting the cork (since it takes the brunt of the hit instead of slamming the cork directly).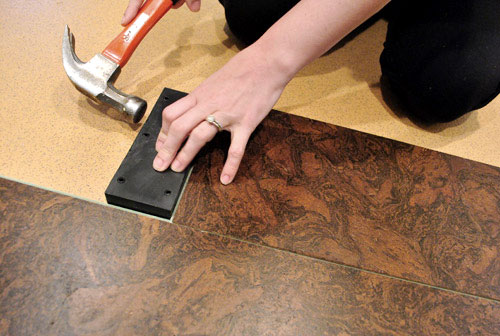 Once we had the short end tapped in enough to make the seam disappear, we did the same on the long side of the board. See that slight seam? After a few taps it was history (you can watch it disappear in the video above).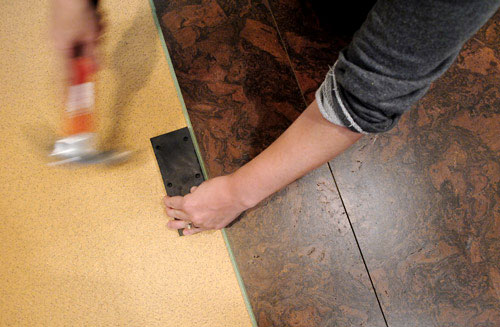 In our experience, when the long side popped into place the board sometimes, well, popped up a little bit on the outside edge. No bueno if your goal is a nice flat floor. So we found that if we put our weight on the board to keep it flat, then hammered it a couple more times it would get the board to lay flat and behave.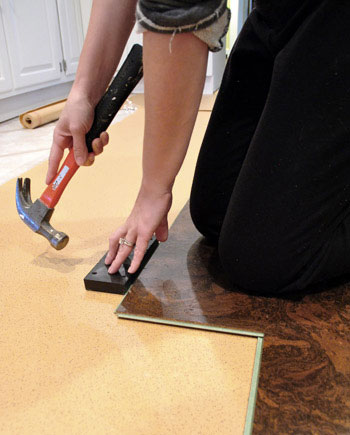 See, it's behaving.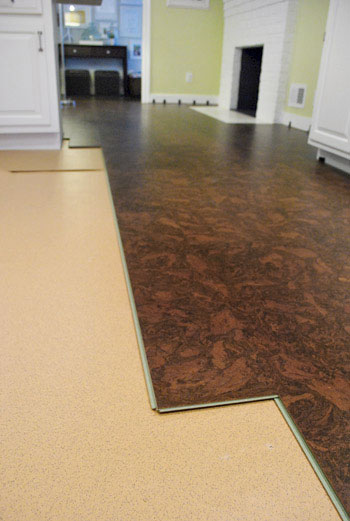 Of course it was a bit different when we got to boards close to the edges because (bummer alert) you don't have room for your block or hammer.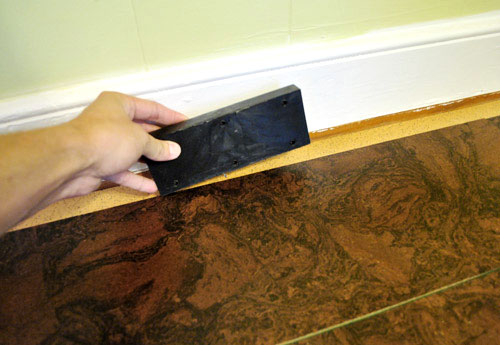 That's where the pull bar comes in handy (it was also included in the kit from Home Depot along with the tapping block and spacers mentioned here).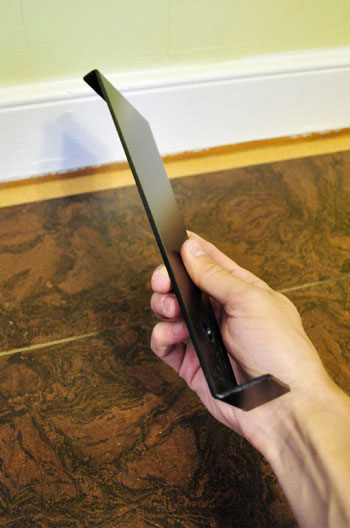 The wide side hooks over the board so that you can tap the other end with your hammer to get that seam to disappear. Oh and see that gap near the baseboard? There's a recommendation of a 5/16th gap around the perimeter of the room (floating floors need to be able to expand/contract a bit to keep from warping, and the shoe molding will completely cover these slivers of space so they're undetectable) – so we did have to cut a sliver and stick it in there. But nothing too snug to the wall since we don't want warping. We used spacers to help us keep our place. More on that here.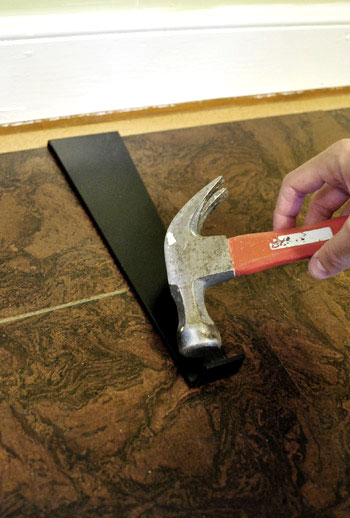 Both techniques weren't that time consuming, actually. It was the cuts that were a big time suck. Well, that and sliding the appliances out so we could run a few planks of flooring under them to keep them level. And since we got a big groove in our hardwood floors at the old house from sliding the refrigerator out, we were SUPER careful about it. Like two-layers-of-cardboard-over-a-scrap-piece-of-cork careful.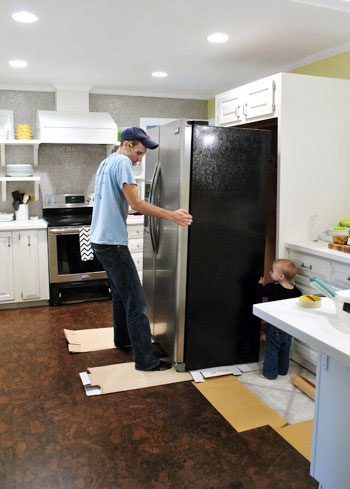 So I'm sorry we don't have "after" pics for you yet (not that they'd be totally done anyways since we still have to reinstall transitions and shoe molding along with seal all the cork for added durability), but I did try to fake it by taking some pictures from angles where you don't see the unfinished section in the laundry room. Yep, I'm clever like that.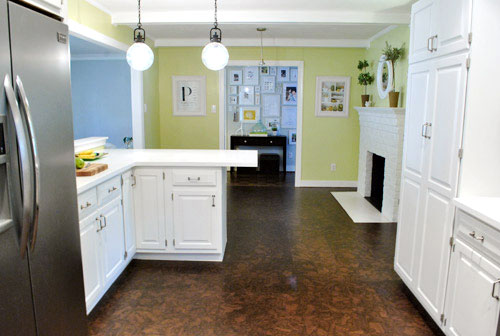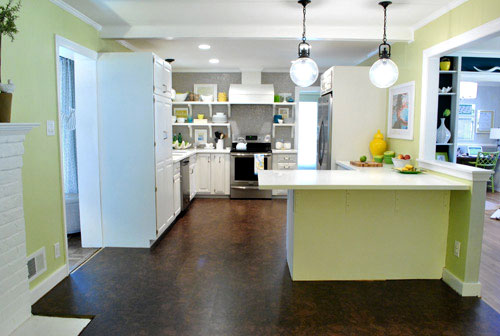 Who knows, maybe we'll never finish it and just shoot around it for the rest of our time here.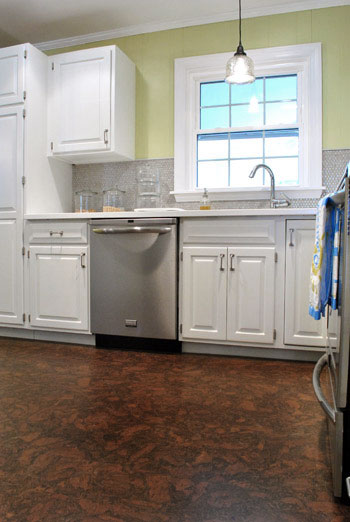 Just kidding. Of course we'll finish it. Especially since I couldn't even shoot one cute video of Clara without blowing our cover. Darn you Clara, always being adorable in the most inconvenient places! Note: for some reason every time Clara throws the football on this video the floor appears to makes a crazy loud sound, but in person the floor is really soft and absorptive of sound, so it doesn't make loud hollow noises when you walk on it or drop things – must just be the sound quality of the Flip camera (it seems to amplify voices to hear them better, so it must have amplified the football sounds too).
Luckily the laundry room should be pretty speedy. Knock on wood…er, cork.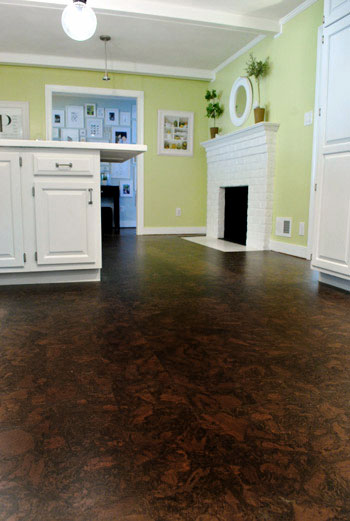 Anyone else in the midst of a project that's taking longer that expected? Ever laid a cork floor? We have been so happy with it so far (the rich deep color adds so much for the formerly white-on-white room, there are no scratches/dings where Burger runs around from his nails, no dents where we drop things, it's very soft and easy on the back/knees, and it should be even more durable once we seal it after it's all in). We'll definitely keep you posted! Oh and we did learn that if you're redoing a kitchen from scratch you should install your cabinets first and then add the floating cork floors around them (like we did in this case as well) since a floating floor shouldn't have big heavy cabinetry resting on it (remember, it needs to be able to expand and contract a bit to keep from warping – more on that here). So we just thought we'd toss that tip out if it was helpful to anyone.
&nbsp&nbsp&nbsp