Home Improvement
This is a surprisingly easy task, so anyone with a garage, sunroom, basement or porch with a concrete floor should seriously consider this super simple process. We used Behr Semi-Transparent Concrete Stain in "Tuscan Gold" from Home Depot to give our sunroom's unfinished looking concrete floors a warm wash of honey-gold color: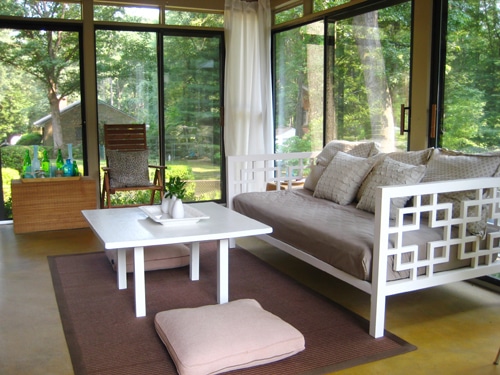 The semi-transparent stain is a great choice for concrete that's in pretty good shape (since it's not an opaque covering, the original concrete will show through). But don't worry about any natural texture variations in the concrete, those look great with a semi-transparent treatment, which really makes the floor look more finished without completely covering the concrete's varied texture beneath the stain. And it's super duper durable. Short of pushing a heavy washer and dryer across the floor, we have yet to see any scratches in our semi-transparent stain. Hooray for high traffic areas with low maintenance durability.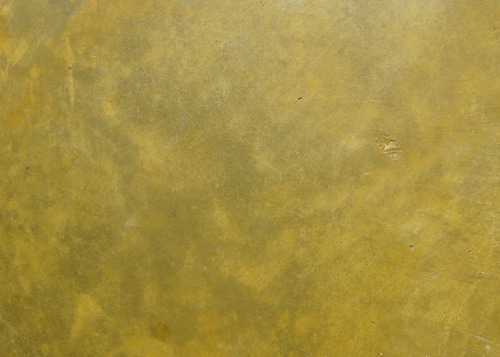 Here are the fast and easy instructions:
Step 1: Thoroughly clean the floor. We used a vacuum cleaner to grab all the bigger dust bunnies and then followed up with a mildly soapy wet rag to be sure that it was squeaky clean. Be sure that the floor is completely dry before moving on to the next step.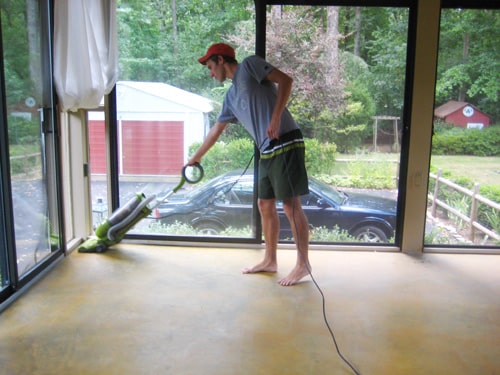 Step 2: You're technically supposed to use a "quality pump sprayer" to apply the stain, but we actually opted to paint on the stain with a brush for that rustic tuscan look that we were going for. Two or three coats should do the trick (the color intensifies slightly with every coat, so keep going until you've reached your desired color saturation). It also helps to apply each coat in the opposite direction of the previous coat, so there are subtle crosshatched brush strokes instead of more obvious lines that all go in one direction). We've also heard that applying the stain with a rag in circular motions can achieve a nice rustic look without any brush strokes at all. Whatever your method, don't forget to be smart about painting yourself out of the room so you don't leave footprints on your newly stained floor.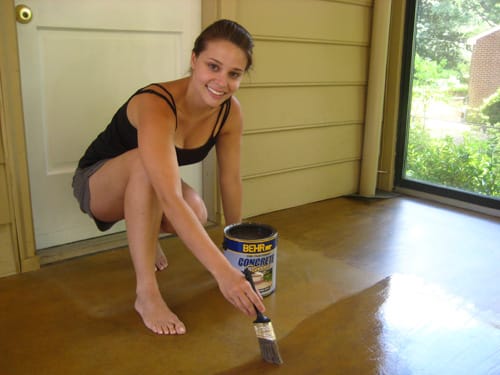 So there you have it. The easy peasy two step process to staining your concrete floor. Our first floor staining experience with the "Tuscan Gold" color that you see above was seamless and we loved the result. But two years later we wished we had gone with more of a chocolate brown color and less of an orange tone (to better complement the colors in the rest of the house and make the sunroom feel more connected to the indoor spaces). So here's where Step 3 comes in…
Step 3: Never ever use a darker semi-transparent stain over an existing lighter semi-transparent stain, or it'll look like this: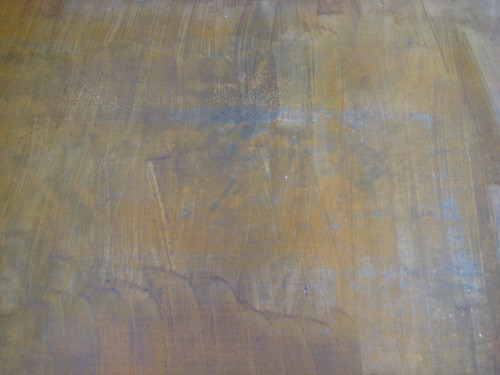 Which was not at all what we were going for. Our stellar idea to just use Behr Semi-Transparent Concrete Stain in "Loden" over the existing orangey-gold color (to tone down the golden hue) ended up looking dirty and dingy, like someone smeared mud on the floor and called it stain. Oops. Hopefully you guys will learn from our mistake. We've heard from numerous other DIYers that applying a darker stain over a lighter stain never looks good at all. They should warn you on the can!
The ultimate lesson: staining raw concrete always yeilds near perfect resuls, so pick you semi-transparent stain color carefully as it seems that second chances are iffy. Otherwise you'll end up repainting the whole floor with oil-based porch and floor paint to cover your grungy second staining attempt. Luckily our sunroom floor adventure had a super happy ending, so check out our fabulous floor painting tutorial!
We love getting e-mails from you all guys, and not to play favorites or anything, but this note from MaryB in Richmond (entitled "Just Kill Me Now") was pure e-mail gold. We just had to share.
Oh, sure. Everybody makes it look soooooo easy! So I'm hanging around your website, and looking at the cool stuff you do … and then I looked at my sons' bathroom (see attached picture) and I thought "How hard could it be?" (Yeah, that's three wallpapers: One above, one below, and a border in the middle. Blame the previous owners, and the decade it was hung.)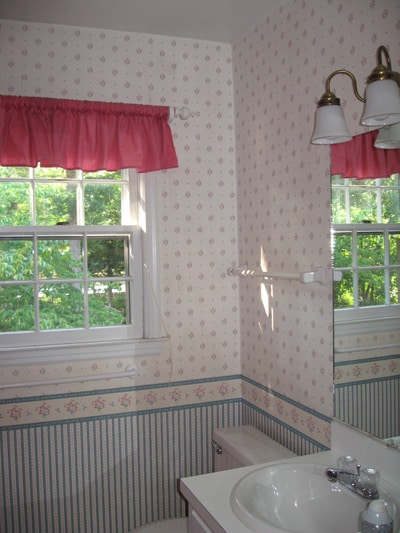 So I Googled "wallpaper removal" and I got some homebrew recipe made with vinegar and fabric softener. Ok, that's a total disaster. So late (late!!) last night I'm wailing to someone who suggests "DIF," so the wallpaper will just "fall off the wall!" Another trip to Lowe's and I'm all set, right? Not. Four hours later I've cleared maybe a square yard! And my arms hurt, and my hands hurt, and my eyes are stinging and ….
…and I've decided your website should come with some kind of warning label: "Projects may be more difficult than they appear."
Am I really this incompetent? I mean, dear god, how hard *could* this be?!?!?! Either harder than I thought it was, or … "Newly single homeowners may be less competent than they appear!"
Jiminy Cricket.
Beer. I need beer. And Aleve. And … well, maybe another beer. And what thought just flashed through my mind, as I pictured myself with that beer? Honest to pete I thought "Oh, I can catch up the last couple Young House Love posts!" Addictive.
So sad. :)
-MaryB, either your biggest fan or someone of whom you should be very afraid.
Thank you MaryB for the entertainment. Sorry for getting you into these messes. Can anyone help MaryB out with some words of encouragement (and maybe some wallpaper removal tips along the way?)
Ever since we saw an image on bhg.com a few months ago with open shelves and baskets, we started thinking about taking the door off of our bathroom's linen closet. We realized that a few chic baskets could convert our claustrophobic closet into clean and functional open shelving (by now you know we're crazy about open living). And then when we crashed Lesley & Jeff's fabulous home, her doorless bathroom closet sealed the deal: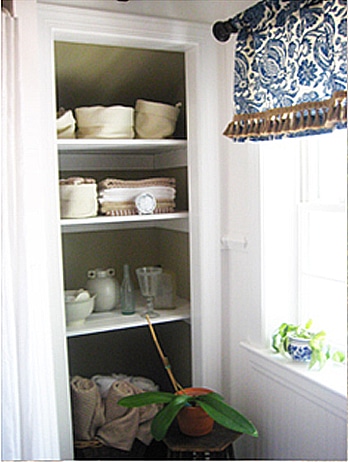 But first some photographic proof as to why our current closet door situation was so not working for us. Check out the serious door war that regularly occurred between the linen closet door and the bathroom door. Argh! Talk about a design flaw.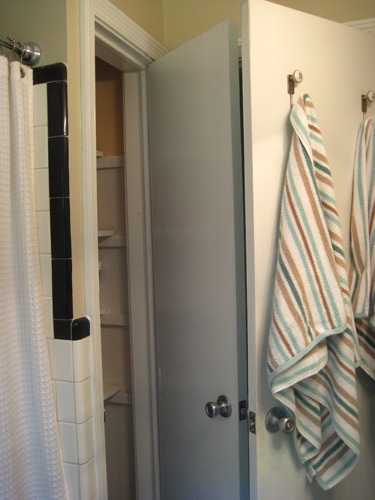 So one day while John was sittin' pretty at work, I took a screwdriver, a hammer and a crowbar to the door and off it came (along with the door jamb so that the opening looked a lot more like a built-in shelving nook than a doorless linen closet).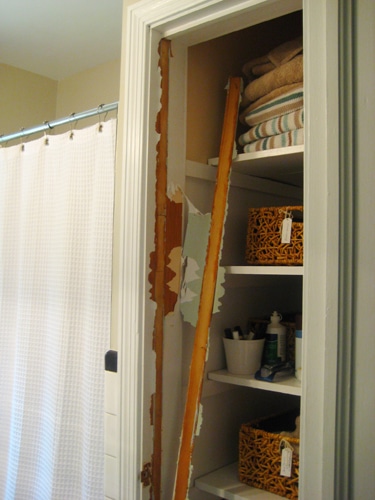 After we erased any evidence that a door once existed (by caulking the hinge holes and removing the door latch) I extended the bathroom's soothing tan wall color into the nook (Glidden's Sand White) and painted the door frame and the shelves a crisp glossy white.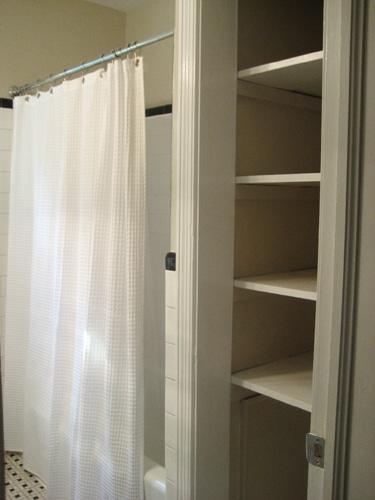 Then I just reused the baskets that already housed our sheets and towels and introduced some other creative storage solutions from a few objects that we had laying around the house (two cheap white Ikea planters for nail polish and toothbrushes). Even the toilet paper looks great in its newly spiffed home.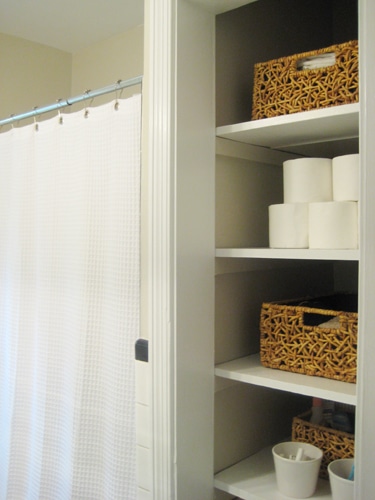 But the entire project wasn't entirely free, we did splurge on two bigger baskets (for a few more towels) to stack on the floor of the closet. Luckily we scored 'em at Michael's for 50% off, so we basically got two large rectangular woven trunks for the price of one (25 measly bucks total). Not bad for the entire bathroom closet project.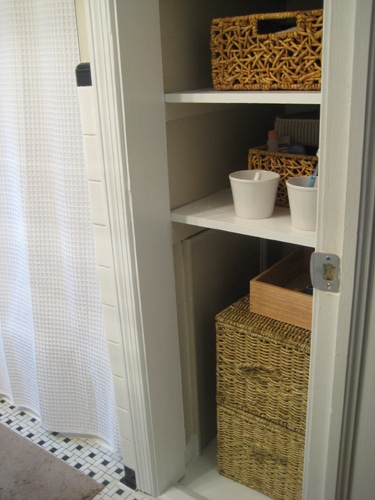 So what do you guys think? Could you live with an open linen closet or do you think some things are better left behind closed doors? And don't worry, we're totally aware that we're waaay more into open storage than the average bear. Luckily we're also waaaay more compulsively neat than the average bear (to a somewhat insane degree) so it's perfect for us. Whatever works, right?