Holiday & Entertaining
Here are just a few of the ways that we got into the seasonal spirit without breaking the bank. Of course my little concrete greyhound (a surprise Valentine's Day prezzie from John) got the holiday treatment. A recycled piece of ribbon that we received last year looked just groovy around his neck for a liberal dose of holiday glitz.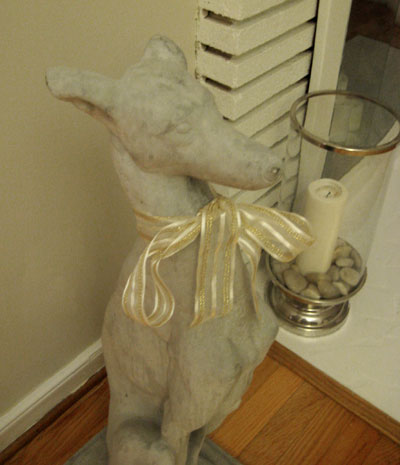 And our glass based lamps (which are conveniently hollow on the bottom) look ready for Santa with a few inexpensive silver balls inside (purchased for less than a dollar by the dozen at Target).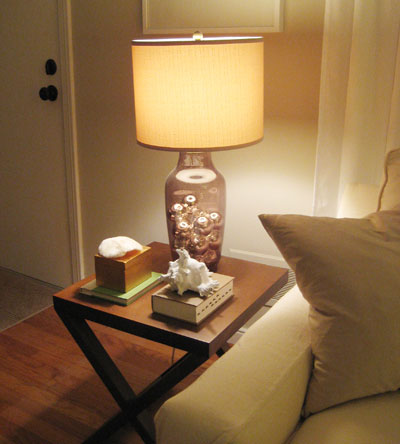 We also placed our stockings by the chimney with care, using simple silver stocking hooks (also from Target). We intentionally chose neutral stockings to keep the focus on our silver Christmas tree, and love how the repetition of the same item looks along with some sparkling mercury glass candlesticks on the mantel.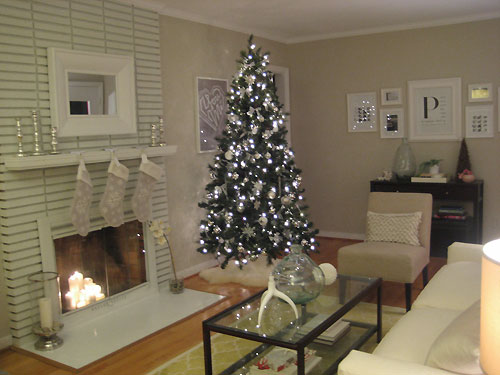 Here's a close up of those simple silver stocking hooks I snagged at Target last year (for around $5 a pop). I also made handwritten stocking name tags with some card stock that I cut and strung over each hook for easy (and charming) stocking identification. Total cost: $0.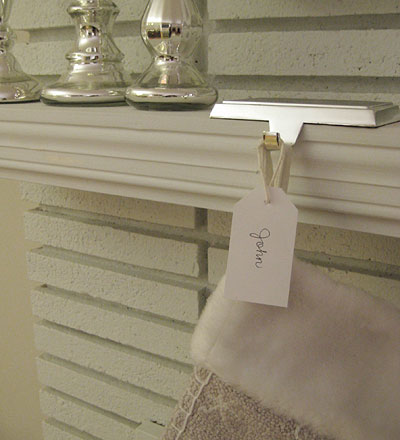 We're also huuuge fans of a feather tree (or three). In fact John surprised me with the white one last Christmas (I'm starting to realize how often he surprises me with lovely things- love ya honey!). The green one is a hand-me-down from John's stylish and fabulous sister, and the brown one was scored on sale after Christmas last year for around $5. Grouped on a table they look quite festive (we always love things en masse) and we especially like that all three colors look right at home in our neutral, green, and white living room. Oh and we even tucked a large silver ornament into the bowl for another splash of holiday shine in a snap.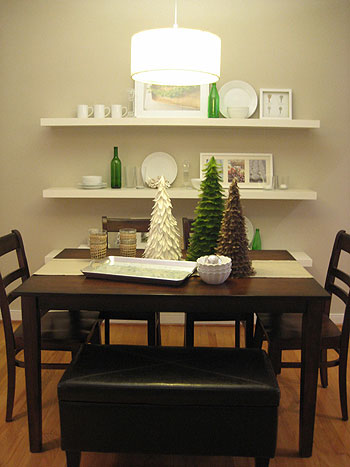 But the holiday swankification didn't stop in the living room. Even the kitchen got in on the action with a cute little display of ornaments and white ceramic pears (just $2 a pop at Marshall's) placed on a simple cake stand for an instant holiday arrangement. Anyone can do this in under a minute, and inexpensive cake stands can be found everywhere from HomeGoods to Marshall's or TJ Maxx.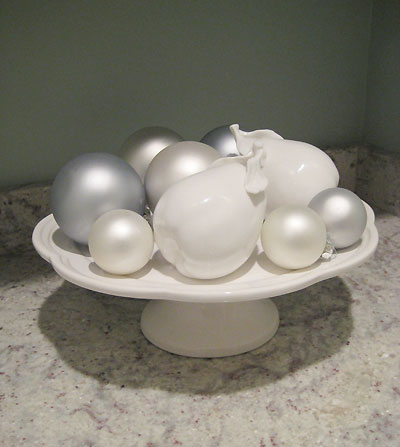 We also filled the oversized clam shell-turned-fruit-bowl in the kitchen (another surprise from the hubs- smooches babe!) into an ornament trough with frosted and shiny silver balls for a truly pearl-like effect.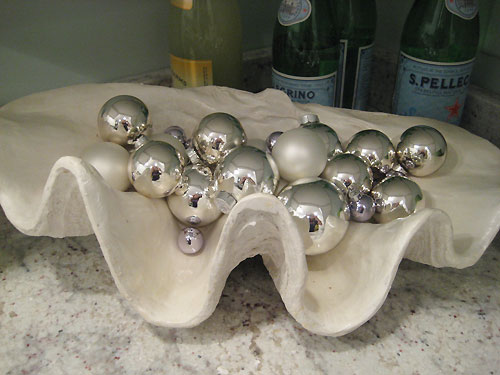 And because humor and whimsy can add even more of that festive feeling, we gave the metal bull in our den some holiday bling in the form of ornament earrings that cost next to nothing but elicit oh-so-many complements.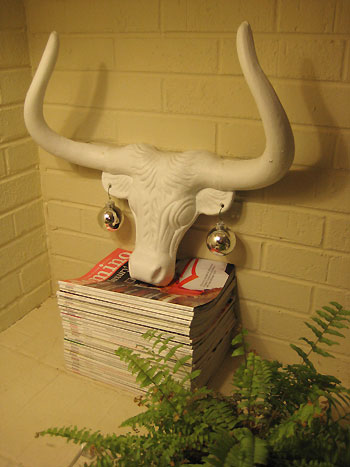 And our last swift holiday decorating idea took place on the mantel in the den, where we replaced two white pillar candles with a handful of silver balls in each hurricane for even more holiday sizzle.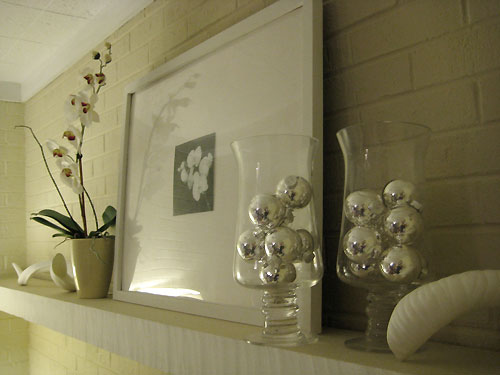 So there you have it. A few easy and affordable holiday decorating ideas that you can implement on a dime and in an instant. We'd love to hear what you guys do to add seasonal sparkle to your home this time of year. Share and share alike!
&nbsp&nbsp&nbsp
We're back with another DIY holiday gift idea. It all started last year when we purchased three inexpensive starfish from Michael's and painted 'em to look like little Santas. We'd seen similarly painted starfish in beach shops around the holidays for about 12 bucks a piece and we knew we could crate our own on a dime.
And because John's parents were the proud owners of a brand new beach house we thought the starfish motif particularly applied. So we painted little belts, hats, beards and boots on our starfish and voila. Instant Saint Nick with a beachy twist. Here are John's parents opening their little Starfish Santas last Christmas: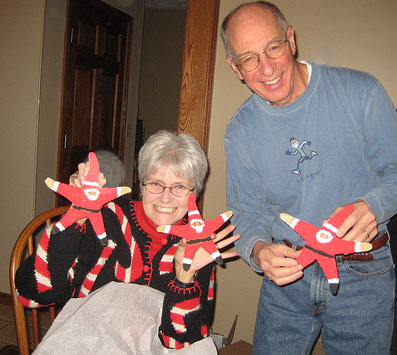 And this year we thought our little painted starfish could become a tradition of sorts. So we decided to attempt the lesser seen Snowman Starfish (although starfish are a bit less reminiscent of roly-poly balls of snow). We picked up another starfish from Michael's and dug out our red, white and black paint from last year and we were off.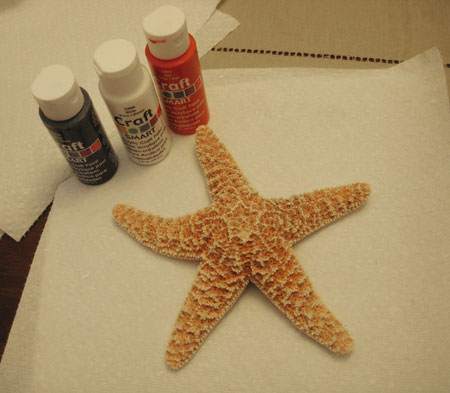 We started by painting the whole starfish white and then added little black boots, three black buttons, and a black mark on the top of the starfish that we would later turn into a hat. A few black dots for the eyes and the nose along with a happy red smile completed step two.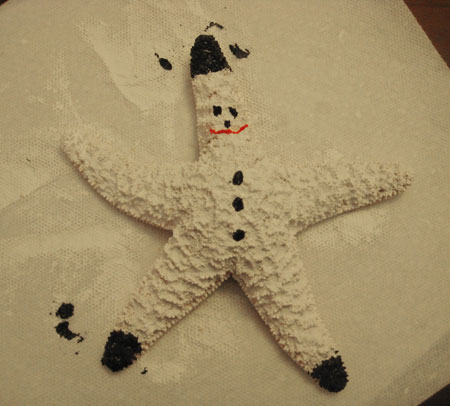 Then for a little extra flair we added a tiny scarf fashioned from red ribbon (glued in place with a dab of Liquid Nails) and the brim of a hat (by cutting out a black card stock oval with a hole in it to slide down the point).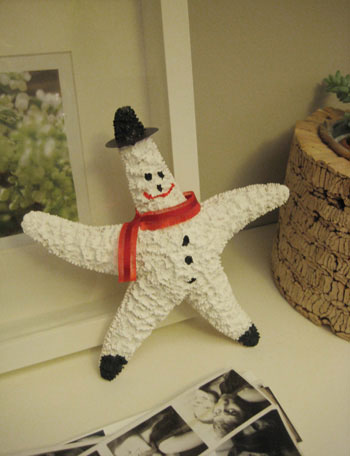 Is it the chicest little holiday decoration that ever existed? Nope. But it's cute and handmade and fulla love. And the project itself is so easy that children can definitely help, so if you're looking for a holiday craft project for the kiddos this may be just the thing. Now we'll cross our fingers that John's parents didn't check the blog today. Shhh, don't tell.
&nbsp&nbsp&nbsp