Holiday & Entertaining
We finally got our tree decorated this weekend…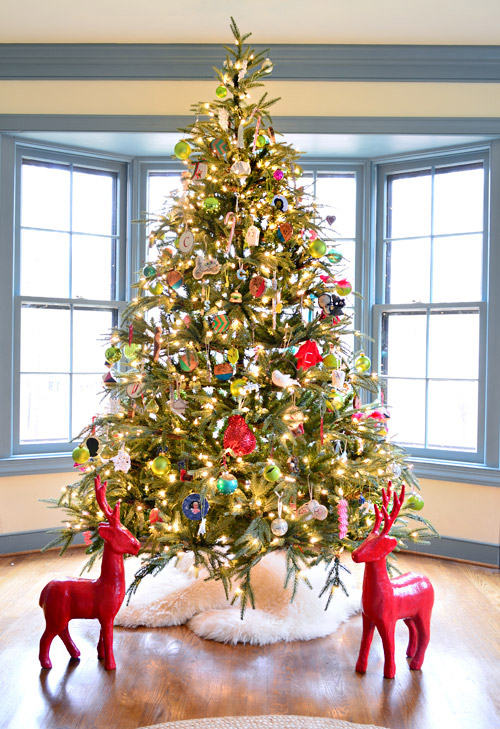 We've shared a bunch of different trees with you guys over the years, and each year it has been fun to switch a few things up with a new "theme" like classic silver and white, citrus inspired lemons and real dried oranges, pastel pink and soft green with silver bows, crafty paint strip ornaments and ribbons, and a fun white to pink to to red gradient tree from last year.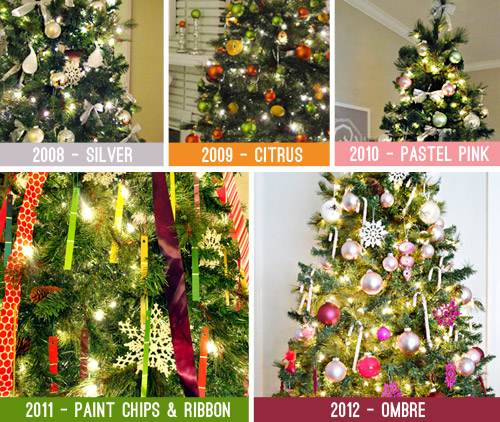 But this year there was a new theme in town: family. We just wanted to fill our tree with meaningful ornaments. Things that were one of a kind, homemade, personalized, given to us by someone special, and otherwise memorable to us. It was actually the first year that we had enough to fill a big tree (we usually relegate them to a smaller tabletop tree), which was good timing since we have a big girl around who's really into helping these days.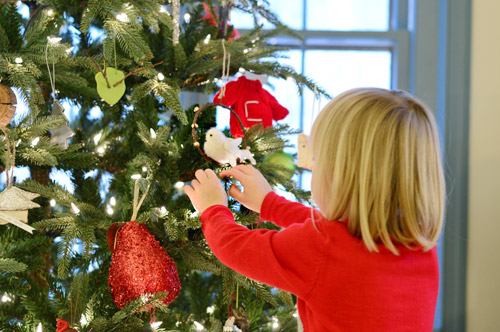 And since handmade ornaments were a big part of the mix, I couldn't resist the opportunity to try my hand at making three dozen new ones, all with a woodsy yet colorful spin.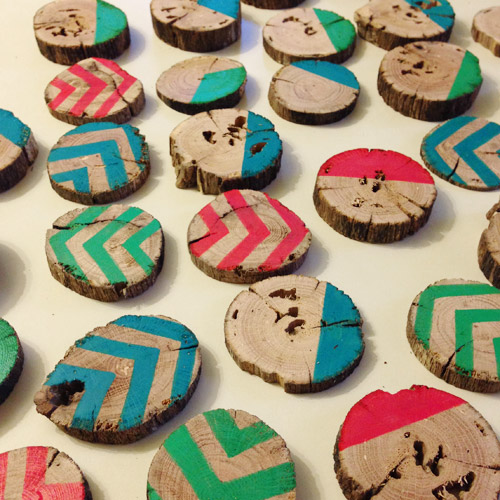 The first step was trudging around outside looking for a fallen branch that was about 3″ in diameter. After finding it and yelling "eureka" (true story) I brought it into the garage and fired up the miter saw (picture me grinning like a fool while whispering "don't cut your fingers off"). It was actually pretty simple to keep the blade straight and make a bunch of vertical cuts, so I was able to slice the whole branch up to make nearly three dozen little round slices.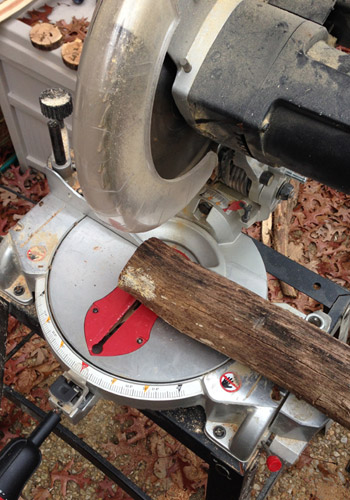 One half of the branch was a little more gnarled on the inside than the other, so it was funny that around half of them had cool weathered holes in the middle while the others were smoother and less holey. The next step was letting them sit/dry out for a while (I actually made these slices about two weeks ago) because I didn't want to paint or seal damp wood for fear that it would become a crumbly rotten mess. So if you don't have time to do that, maybe try hunting down pre-cut wood slices, or see if there's some method for speed-drying them (maybe sitting them in a box of rice or something?).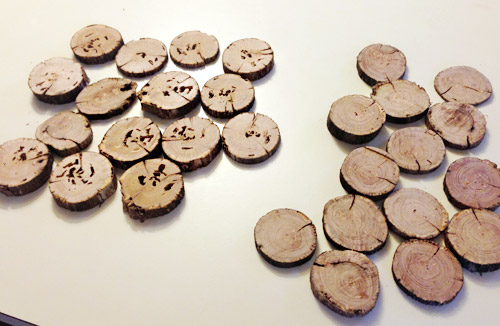 Late last week I couldn't stand waiting anymore, so I sanded them all just to make them extra smooth, and finally broke out three paint pens. I tried my hand at three different designs. We'll call the one on the left "arrow" (I started by drawing the one in the middle and then just added two others flanking it). The one in the middle can be called "fraction" (I just made a wide-ish pizza slice on each one and colored it in). And the one on the right can go by "dipped" (I experimented with thinner or thicker "dippings" on different angles, just to change things up).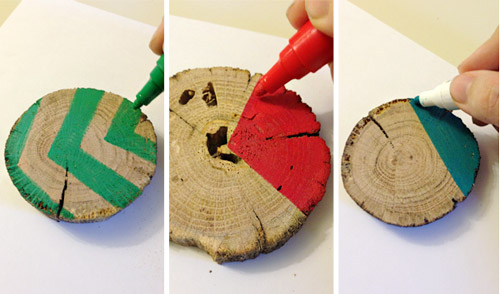 I really liked the idea of letting a lot of the wood grain show through (as opposed to painting or coloring the entire front) but the little pop of color is really fun – and super simple. As for the exact paint pens I used, I had luck with a red and green Sharpie paint pen, and a turquoise Elmer's Painters pen (they're a few bucks each at places like Michael's or JoAnn).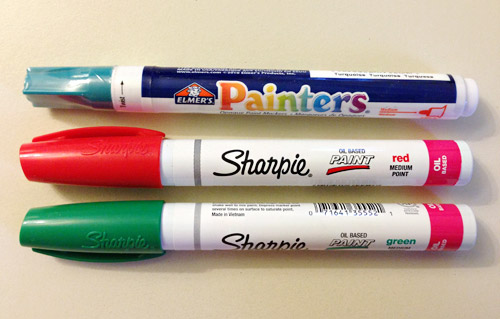 About twenty minutes later, I had this collection of lovelies.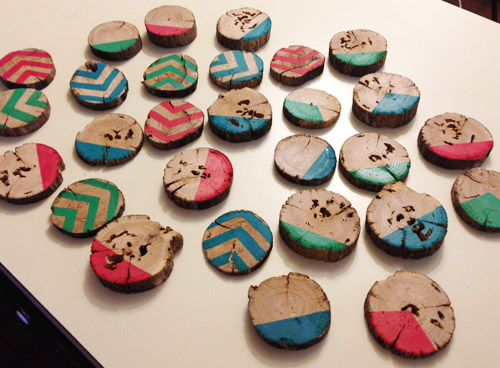 Then I took them outside and said "remember when you guys lived out here?" and gave them a good spray coat of Aileen's Gloss Finish Sealer (on the front and the sides, and later on the back when they were dry). Sealing wood slices can help to keep them from flaking and it also gives them a nice little polished look, which is a cool juxtaposition to their rugged edges and gnarled centers.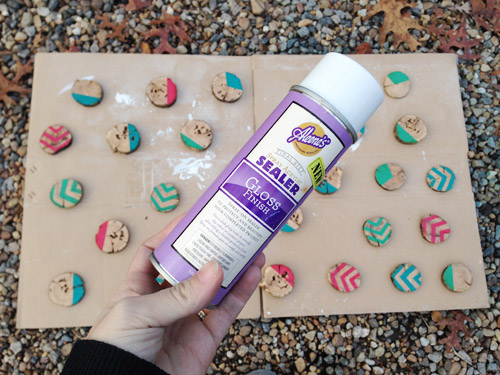 After they had fully dried for 24 hours out in the garage, I brought them back in and drilled tiny pilot holes into the top of each one (I strategically chose what part should be the top so all the arrows would be straight, but some of the fractions and dipped ones would be slightly off-kilter since I liked the interest that those angles would bring to the tree). Then it was as simple as sticking eye-hooks into each of those pre-drilled pilot holes at the top and screwing them by hand.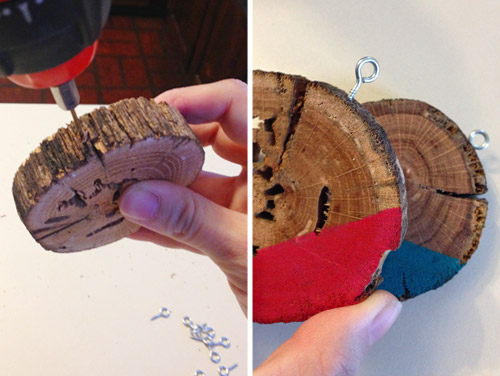 I already had some old metal ornament hooks to slip through those eye-hooks, so that was all they needed to finally find their way onto the tree.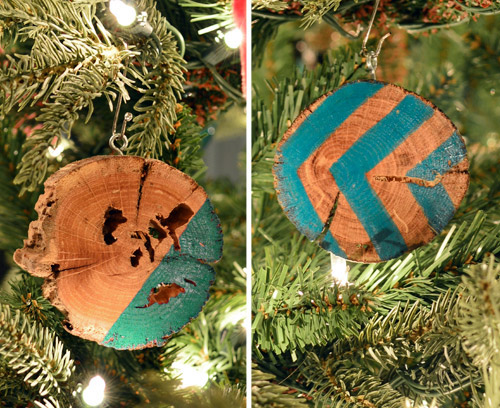 I think the red ones are my favorite. They really pop with the green background. And the total cost for three dozen wood slice ornaments = $11, which breaks down to around 30 cents each (that total includes all three paint pens, the spray sealer, and the eye hooks). Psst- You can check out a bunch of other wood slice ornaments here.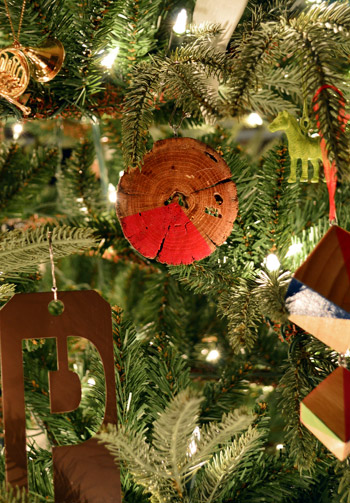 These new guys are in good company with a bunch of other ornaments that we've made over the years (like the green zebra you can see in the top right of that shot above) so that gives us the warm fuzzies. In fact, it's probably a good time to toss out some links to those other homemade ornaments: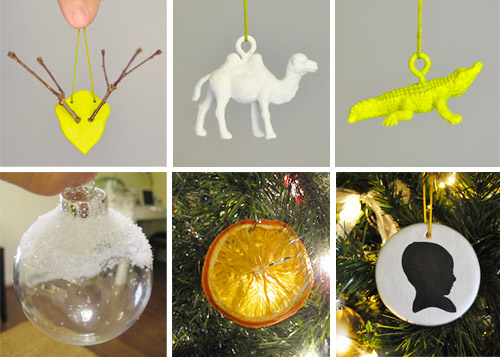 Oh and a bunch of people saw a peek at the tree on Instagram and Facebook before it was decorated, noticed that it was new, and asked if it was real and where we got it (we got it up about a week before we added ornaments and just gazed at it naked for a while. The tree was naked. We were fully clothed. Except for Burger).
Anyway, back to where we got the tree. It was a hand-me-down from my mom (the box is long gone and we didn't see any brand markings on it though – so if anyone has something similar and knows the brand we'd love that info to pass along) and we're completely enamored with it. In fact, we've already donated our old tree, which we faithfully enjoyed since 2008. It's hard to tell in photos, but this one is pretty real looking and sort of droopy-in-a-good-way (it's feathery on the ends, which makes for a nice effect). Especially all lit up in that bay window of ours. Just ignore the blue trim – I'm waiting for Santa to come paint that for me.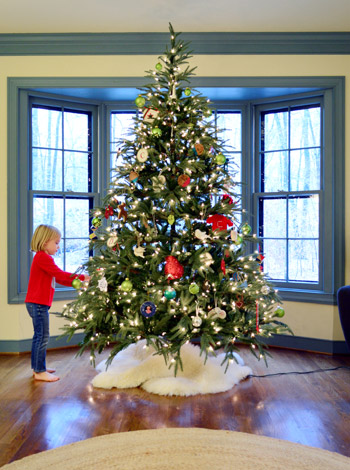 But back to the decorating process. It was the first year that Clara had a real active interest in helping us the entire time, and she was even able to hang the breakable ornaments since she's a careful steady-handed gal (zero ornaments were harmed in the making of this tree, although I did have about five mini-heart attacks, but I was so glad I let the bean do her thing in the end).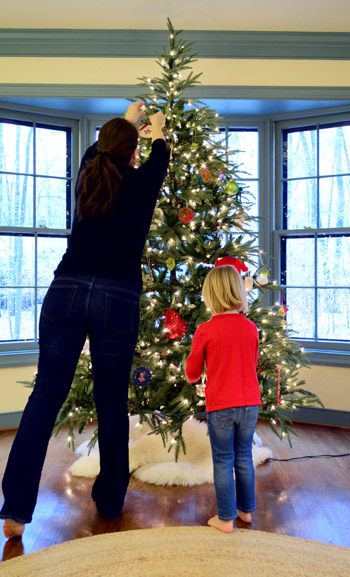 It pretty much worked out to be broken down into three rough zones. Clara took the bottom, I took the middle, and John got the top thanks to his long legs and added wingspan.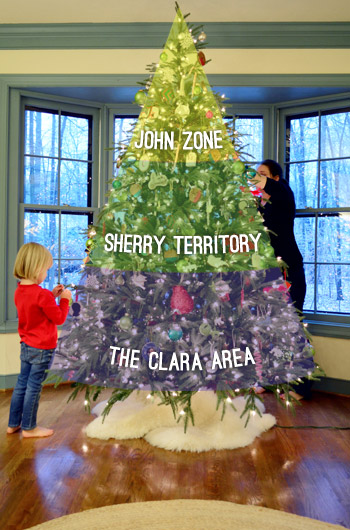 As for what went where, it was really just a free-for-all. I placed all of the ornaments out on a little white pedestal table off to the side of the tree, and we all just took turns grabbing whichever one caught our eye. We taught Clara just to do one per branch, but that was really the only direction we gave her – along with "don't forget the sides and the back." As we hung them, Clara would ask us where each one came from, so we had fun telling her about one that came from our honeymoon, one that we got in Hawaii with her, a few that were made by readers and given to us last year during our book tour, some that we had made in past years, some that were given to us by family members, etc.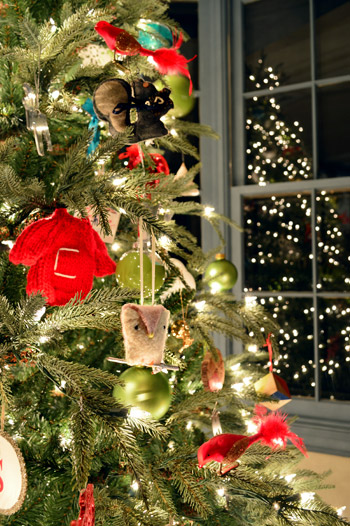 I worried I'd forget a bunch of their origins, but when the entire table had been cleared and the whole tree was full, I don't think there was a single ornament origin that we couldn't recall. It's funny how that stuff sticks with you.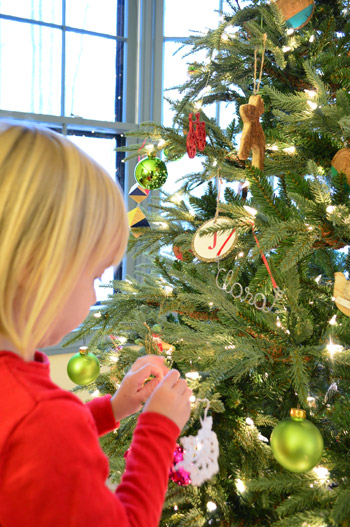 And someone was VERY PROUD of herself.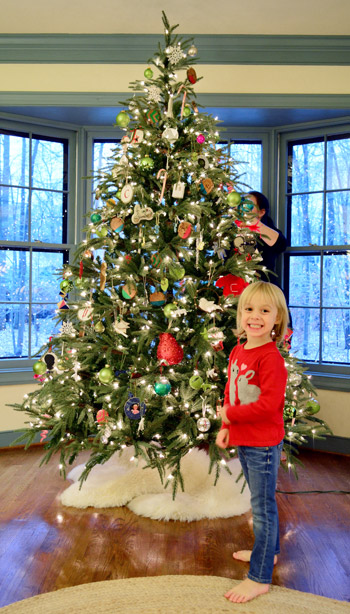 Here she is posing in front of "her tree."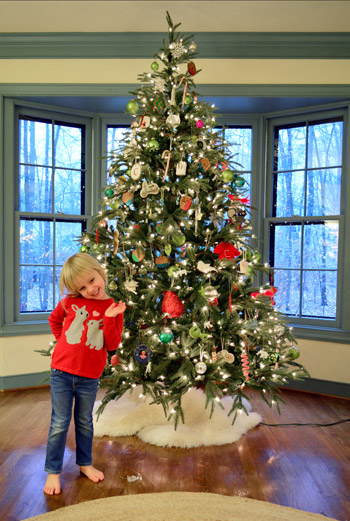 And here's the tree at night in all of its reflecting-in-the-bay-windows glory.  The funny thing is that the old owners of the house must have put their tree right in this spot when they lived here. I never would have known that except when we moved in and I redid the floors, I remember finding a bunch of faux pine needles in that corner when I swept things up.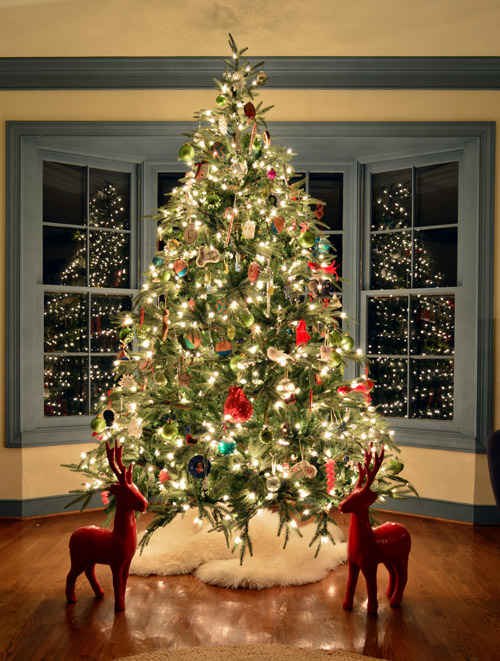 Oh and here's the 411 on those festive reindeer – they were such an easy project back in 2011. And the tree skirt is just two faux sheepskin rugs from Ikea that we steal from other places in the house and shove under there each December.
So there you have it. A tree without a theme, except for a sweet memorable/handmade hodge-podge. Complete with a tiny tin hamburger.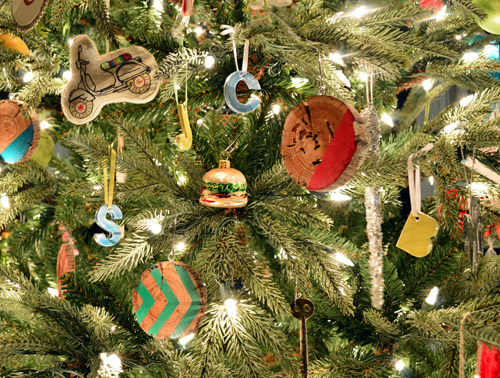 What are your trees looking like this year? Any fun themes or color schemes? Do you go real or faux with them? Did anyone else make any ornaments? I'd love to get Clara in on the fun next year, so I'm already thinking about some baked ones (either clay or even gingerbread ones) that we could seal/paint/hang together. Could be fun…
Psst- You can peruse a ton of other holiday projects right here.
&nbsp&nbsp&nbsp
It's official. We've checked off 11 things and there are just seven more to go. Two weeks ago, we shared our Children's Hospital makeover project with you guys, and this week things really got rolling. As in, we got to start actually installing the room. Holy holly jolly, Batman!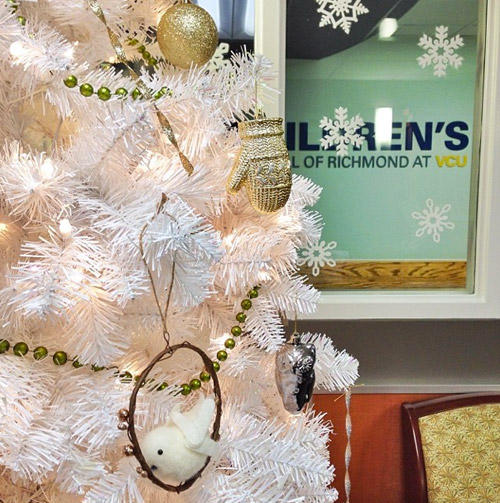 The shot above is a sneak peek of the tree that we Instgrammed yesterday and, as annoying as sneak peeks are (we know, we know) the good news is that we're 60% done with everything (woot!). And since many of you were asking what we've been up to in there, we thought it was a good time for an update on our progress.
You know we like sharing projects in real time as we go, so here's what our To Do list is looking like as of this morning:
New paint job on walls. Done!
Build a large custom chalkboard for holiday cheer messages and kid doodles (and hang it). Done!
Assemble tree and decorate it. Done!
Buy (and paint) menorah. Done!
Make clip-up garland for kid-drawings. Done!
Make removable fireplace panel for under the TV and decorate the "mantel." Done!
Cut, paint, and hang our big PEACE sign. Done!
Receive custom art for the kitchen area from a kind reader (all the way in Australia!). Done, just have to hang it!

Add in a white (but not ceramic) animal friend somewhere. Done!

Add snowflakes to all the windows. Done!

Make wintry (washable faux velvet?) tablecloths & add small snowy tree centerpieces.
Hang wreaths in kitchen area.
Pick up window treatments (once they're done) and hang them.
Paint and hang di-cut trees around room ledge (can't wait to share more details on this! We recruited the coolest local company to help us make them).
Decorate pillars near entry and arch between them.
Bring in cozy armchair for corner.
Paint and hang two cork boards full of messages from you guys.
Create wood slice art (3 pieces) for the wall between those two cork boards. Done, just need to hang them!
We'd share wider room shots except we're still waiting on around 40% of stuff to get loaded in (some items are still being made/delivered/etc – like our window treatments, armchair for the corner, etc), so… hopefully next week! In the meantime, we thought we'd share the details on four of those crossed out projects from above, sort of like a Weekly Crafty x 4, if you will.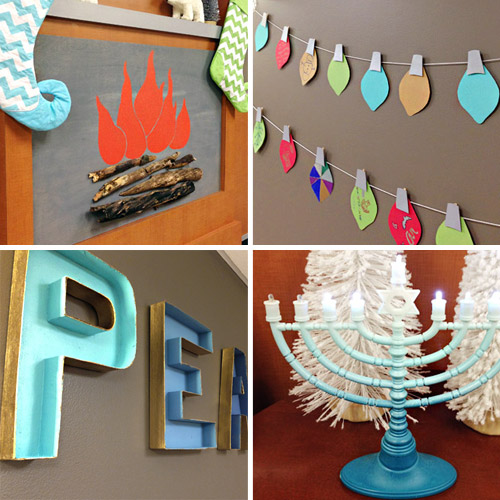 The first one's our little faux fireplace, complete with a holiday mantel. Here's a shot of what it looked like before the walls even got painted.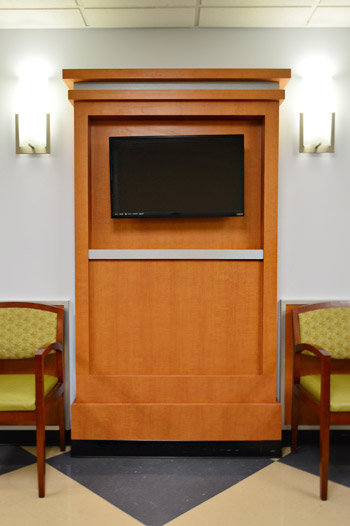 We made a case for painting the corporate looking wood paneling with metal borders that runs around the room (along with the wood TV surround) in a glossy white tone, just to make the room look more cozy and home-like, but for durability and maintenance reasons it has to stay as is. The good news is that the new wall color looks awesome, so we decided to just embrace the wood TV center and focus on layering in some warm holiday touches.
The recessed panel below the flat screen seemed to be begging for a fireplace, and since a real fireplace is crazy talk (it totally wouldn't meet their code requirements) we opted to make them a fun faux one instead. The first step was getting a thin plywood board cut to size at Home Depot that we took home and stained gray with a small pot of stain (also from Home Depot).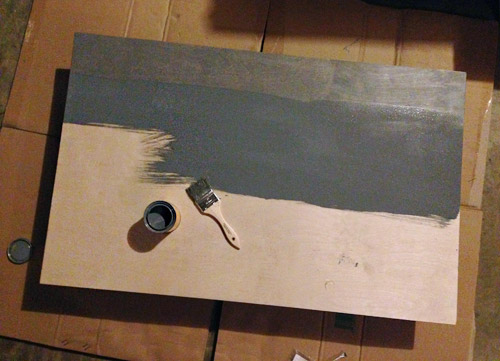 Our original plan was to just paint some wood and a fire on it, but I got the harebrained idea to incorporate real wood instead. I scavenged in the woods behind our house a bit and then ripped the fallen branches in half on my table saw. That way there was a flat side to rest against the plywood.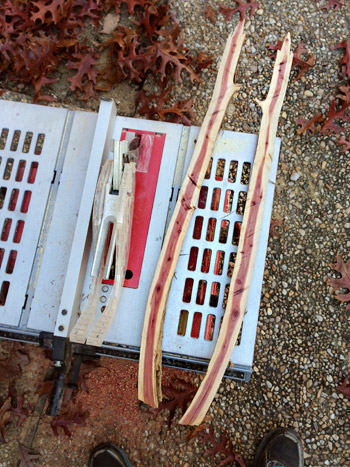 After playing around with a few halved-logs, I found an arrangement that sort of mimicked the look of stacked logs. So after letting them dry out and then sealing them with a few coats of spray poly on all sides (to make them less crumbly) I glued them in place and, once the glue was dry, I screwed them in from the back – just to be safe.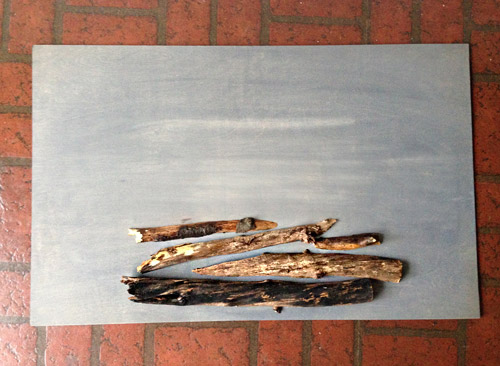 Sherry then used some spare orange paint (Terra Cotta Red by Valspar, which we got with a free sample coupons from Lowe's) to paint on some flames.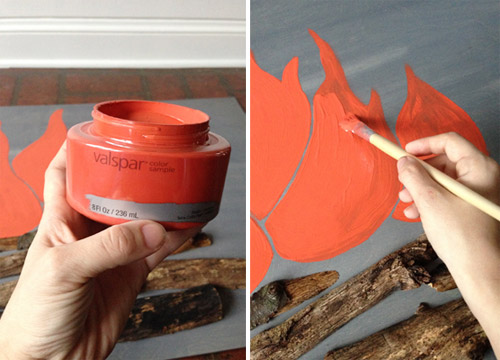 She originally planned to do some red and yellow too, but we both kinda liked how simple and graphic it looked with one color, so she left it as-is.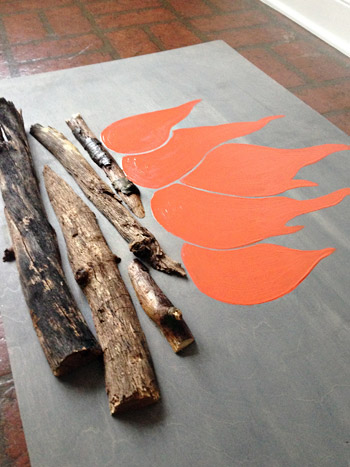 Then I just used 3M Command velcro strips to hold it place in that recessed alcove under the TV (this way it's 100% removable after the holidays).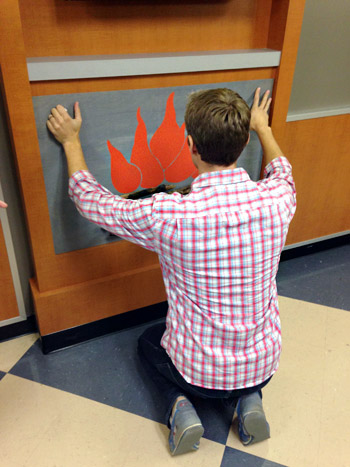 Here's a detail of the finished faux fireplace, complete with a few "mantle" decorations as well. The chevron stockings were a handmade-with-love donation from a local Etsy shop called Love by Design. Thanks Christen! We've already heard that they're making the kids and families smile, and they're not even full of presents…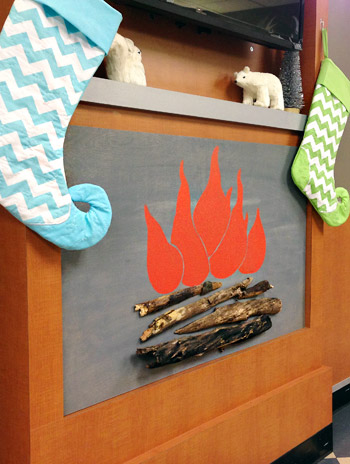 Next to the fireplace is a freshly painted wall with two more projects that we just got to hang. Let's start with the easy one: our "Christmas lights" paper garland.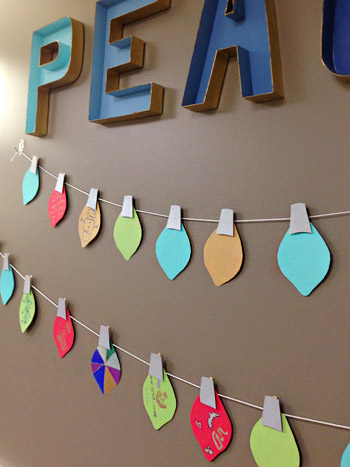 Early on we knew we wanted to do an "interactive" garland where the kids could help us by putting their personal stamp on things, so the obvious solution was paper clipped onto a string like a clothesline (so things could be colored and easily hung up to be displayed). But to give it a little holiday spin, Sherry cut the paper to mimic the shape of those old school big bulb string lights. Then she glued a silver paper "socket" to each one of the clothespins to round out the idea. Now when they're all clipped into place on the silver twine, they look like little Christmas lights, and can be personalized by kids (and parents) of all ages.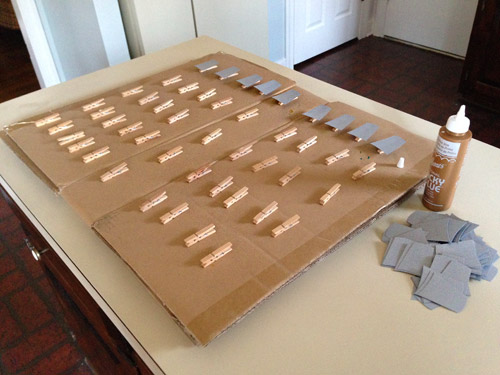 Clara very kindly volunteered to color on a few of the bulbs before we left home, just in case the kids needed a subtle nudge that they're allowed to go to town on these. But the nudge wasn't needed. While we were there installing a few things, a 10-year-old girl named Jessie came in with her nurse and colored a bunch of them for us. You can see her self-portrait on the green one below. She's just about the coolest kid ever. Thanks for getting the garland project started, Jessie!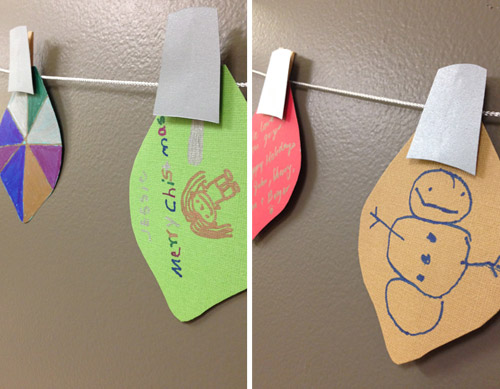 Above the garland is a little lettered "PEACE" sign that we made. It's a word we've been keeping in mind while choosing items for the room since, of all the feelings this holiday season can bring, peace seemed like a good one for a space that you want to be calming and welcoming for all of the families who will be spending their time in this room. The first step was grabbing these cardboard letters from JoAnn fabric.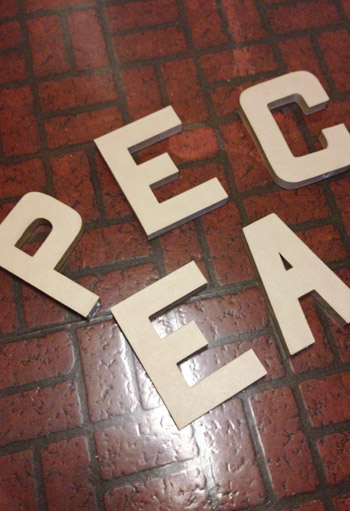 We'd seen some folks on the interweb cut them open before, so we decided to give it a go. I sliced along the top edge of each one (not a quick process, I'll warn you) and then smoothed things out a bit with a sanding block afterwards. The cardboard didn't cut super cleanly, so the sanding helped to get rid of some of the raggedness.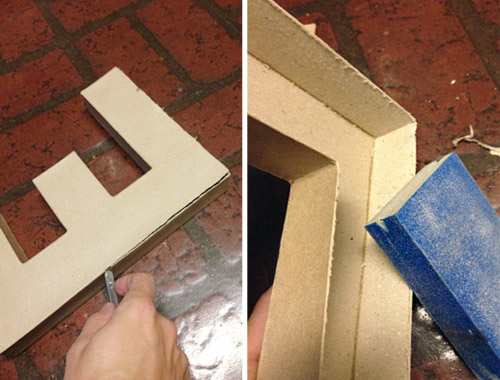 Here's the scene after my cutting and sanding spree.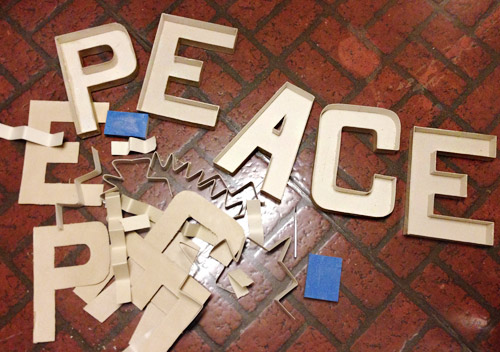 Once cut, Sherry took them outside and gave them a coat of gold spray paint (still leftover from our book photoshoots, wouldn't you know). She focused her spraying mostly on the edges, because we had other plans for the inside: a colorful gradient from turquoise to dark navy. Since we had a few shades of blue craft paint around it was pretty easy to achieve the range of colors.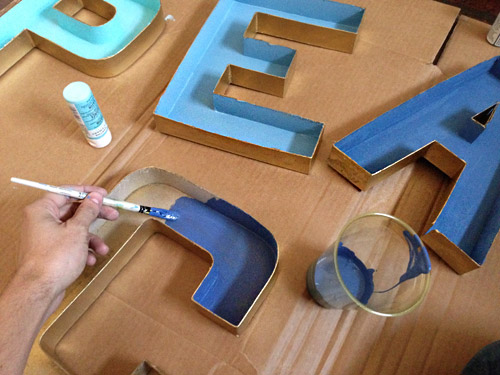 It wasn't until after we were done that we realized they kind of resembled old metal letters. Somewhere between the metallic spray paint and the still sightly rough edge, it gave them a bit of a rusted, vintage look. It was awesome to see people reaching out to touch them, thinking they were made of something heavy and then realizing they're just painted cardboard.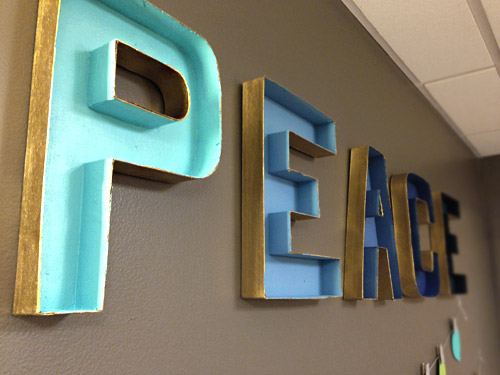 And speaking of blue gradients, Sherry decided to carry that theme over to the Menorah that we brought into the room, which was inspired by the gradient candles that were in her original moodboard's menorah candles. Thank goodness we got it into the room with a few days of Hanukkah still left (it went in on Tuesday)!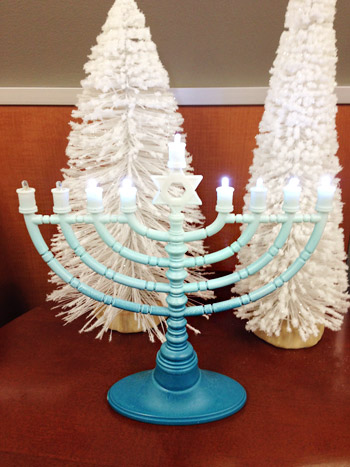 For this little upgrade, we found a regular white menorah at Party City, and Sherry bought two cans of spray paint for that graduated effect. The first one was a dark blue color that she applied around the base on all sides (Lagoon by Rust-oleum) and then some aqua got sprayed through the middle portion on all sides (Blue Ocean Breeze by Krylon). She simply left the original white color along the top, and it probably took ten minutes total.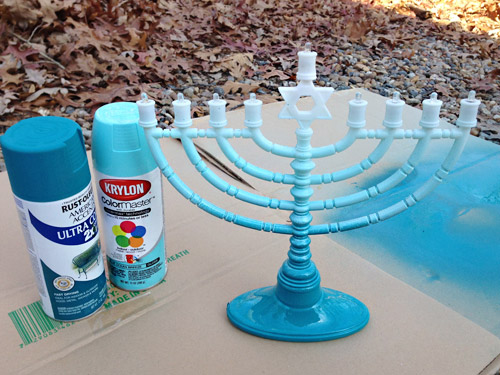 So there are four little holiday updates that we've completed for anyone who has been wondering what we've been up to in there. Now we've moved onto the rest of the projects on our to-do list that are still not crossed off – one of which will feature the messages, cards, and other well-wishes that a bunch of you have sent our way (thank you, THANK YOU!). Which reminds me: there's still time to mail a note / drawing / paper snowflake / whatever for us to include for the kids and their families – just to lift their spirits if they're spending the holidays in the hospital. So feel free to send those to P.O. Box 36665, Richmond, VA 23235. Be sure to note your name and location somewhere on your card/snowflake/creation/drawing (i.e. "From The Costellos in Berkeley, CA") so people can see just how far and wide these well-wishes are coming from.
And if snail mail isn't your thing, the Children's Hospital also has high-tech ways for you to get involved in their #SpreadCheer project if you so desire. You can post a 6-word pledge online for how you're spreading cheer this season to help raise their "Cheer-o-meter" (that's 100% free, and only takes a few minutes) and they're also taking $10 donations via text.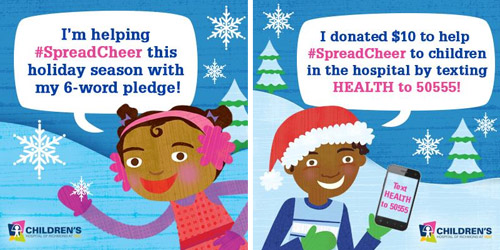 We'll be finishing up next week (exciting bigger things will be coming in, like our cozy armchair, the window treatments, some bigger wall items, etc) and then they're actually editing a short video of the makeover along with some Sherry's-already-crying-just-thinking-about-it reactions from the sweet families who are spending their time in the room. We can't wait to share that stuff with you guys as soon as we can!
Decorations and makeover aside, I have to quickly say what a humbling experience this has been. Maybe between now and the next post I'll find the right words to express exactly what I mean – but witnessing what the staff at the CHoR does is pretty incredible. To get even small glimpses of the heart-wrenching stuff they encounter every day has been pretty eye-opening… and it really puts the idea of stressing over decorations and holiday entertaining into perspective. So in case we forget to say it later, a big thank you to anyone who does a tough job like that and makes such an amazing difference for so many families who are dealing with some very heavy stuff. We're grateful there are folks like you in the world.
&nbsp&nbsp&nbsp