Furniture Upgrades & Building Stuff
All this time we've been happily solving other people's design dilemmas while silently stewing about our own. This part of the house isn't on display in our before and after gallery- in fact, we often avoid photographing it altogether. But here it is, in all it's cringeworthy glory. It's the other side of our master bedroom (which looks especially bad by comparison to the opposite wall that looks like this).
Back when Sherry surprised me with that big comfy leather chair, we thought it would transform the other side of the bedroom, but with the dog crate and the weird dresser as a side table, the space just wasn't working.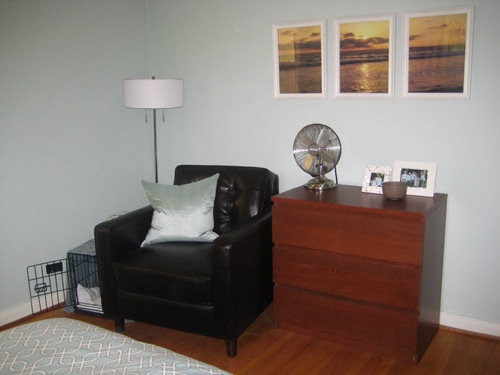 So here's how we went about transforming that sorry before of a bedroom wall into this much-easier-on-the-eyes after: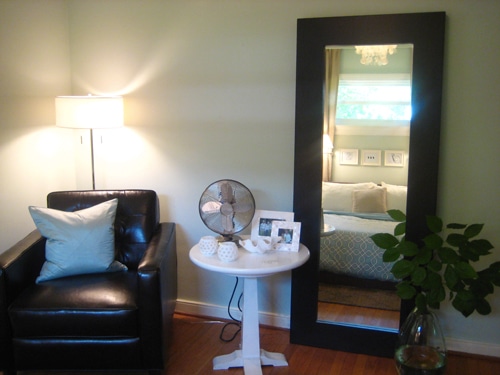 But let us rewind. First, we decided to shop our own house for some objects in hopes of pulling the ultimate switcheroo. We immediately knew we needed something a lot bigger and more vertical to balance the height of the floor-to-ceiling built ins around the bead. So we dragged in our only floor length mirror (which used to live in the third bedroom) for some much needed height. Now the room had a surprise Sherry got for me (the chair) and a surprise I got for her (the mirror was actually a surprise wedding present). Sweet. And the height of the mirror was really working to balance the other side of the room and reflect the swankiest part of the space- the cozy built in bed and the window above it.
We also brought in a little side table we got a while back from Target, but since the mirror and the chair are so big, we knew immediately that the top was too tiny in proportion to the other objects around it.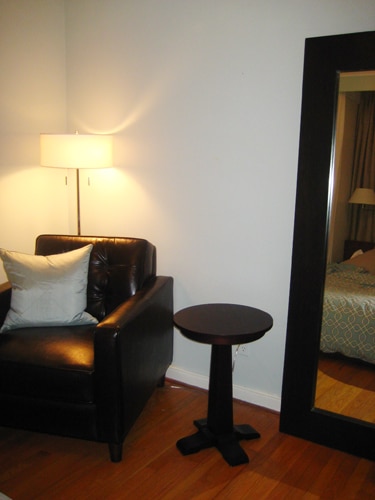 But that's actually a pretty easy fix. Luckly, we're no strangers to making our own pedestal table, so we just hit up Lowe's for a $19 table top with a bigger circumference. Then we screwed the new 24 inch tabletop right onto the old 16 inch table, and viola, a bigger table that works much better in the space.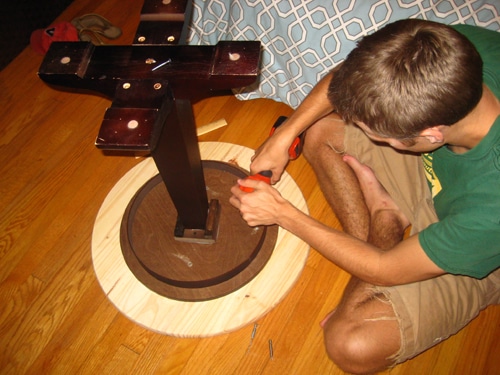 And since the new tabletop has only a 4 inch overhang around the Target table's old top, the pedestal can easily support the new top without it feeling rickety or unsteady.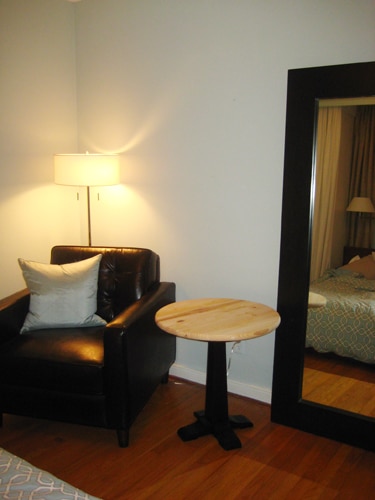 Then all we needed to do was prime it and paint it white, to echo all the pale colors that are abundant on the other side of the room and to break up all the dark wood and leather. The finishing touches came down to relegating Burger's crate to another room (he doesn't mind- honest) and bringing in an oversized vase we found for $14 at Marshall's- along with some free greenery courtesy of our backyard. Total transformation cost: $33 (our only purchases were the tabletop from Lowe's and the vase from Marshall's).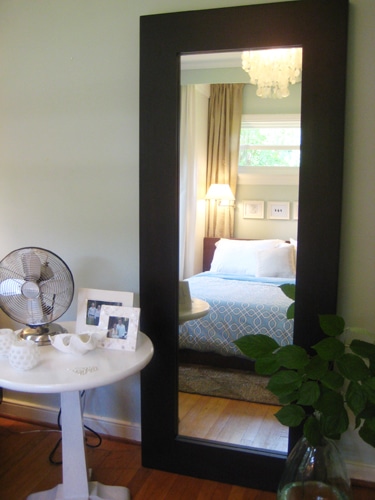 Not too bad, eh? Especially when you consider that we sold the old Ikea dresser that used to be in the space for $30 on Craigslist since we no longer needed it thanks to our bedroom's new built-in closets. Actual project cost: $3. Oh and for anyone saddened by the displacement of the three sunset pictures that used to hang on the wall, they're looking great in the third bedroom (which needed some wall art since we stole the big mirror from there).
What about you guys? Do you have any spaces that you made over in your own home (on the cheap or otherwise)? Share and share alike.
&nbsp&nbsp&nbsp
We're back with another handy dandy tutorial, and this time it's an exciting lesson in chair covering. The main takeaway should be that this is a super simple way to completely reinvent a chair. Seriously. It's a snap. So let's get stapled, er started.
The white fabric on this antique chair was a little yellowed and stained from years of use. So Emily (John's frequently mentioned sister in law) and I hit up a local fabric store to grab something funky and fun to update this family hand-me-down of hers.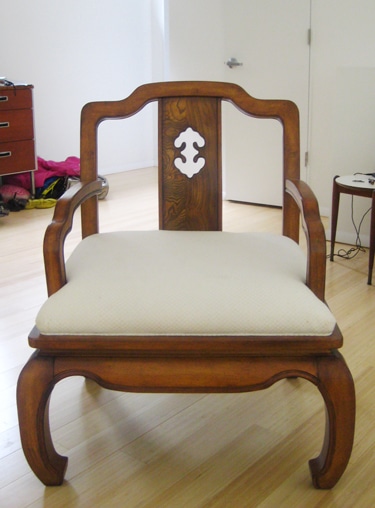 After we scored two yards of sateen & chenille fabric with a fun and dramatic oversized damask pattern (for just $18!) we whipped out a pair of scissors, a screwdriver, and our $12 staple gun and we were in business.
Step 1: Remove the chair's seat bottom with the screwdriver, and strategically lay the cushion upside-down on the upside-down fabric so that the pattern is straight and centered. Then get to work stapling the new fabric right over the old stuff. Be sure to pull the fabric tight and keep it straight as you work your way around the seat, adding a staple every two inches or so for a secure hold and a pucker-free result. It also helps to periodically check that the front of the cushion looks tight, centered, and wrinkle free by peeking under the cushion as you go (so there's no big surprise when you flip it over 40 staples later). Also remember that if you think it looks loose or crooked, it's easy to pop out a few staples with a screwdriver and re-do 'em. So there's really no possible way to screw this step up. Promise.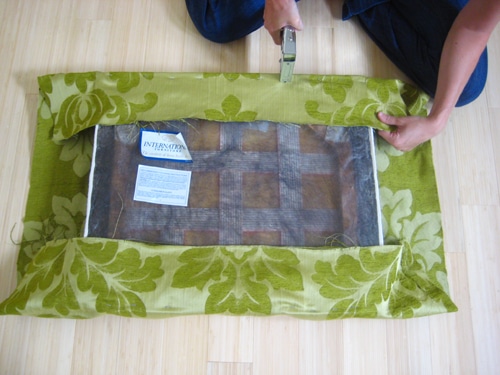 Step 2: Take special care when stapling the corners. It's the only semi-challenging part of the process (and when I say semi-challenging I don't mean hard, I just mean that you can't totally be on auto-pilot). This chair was particularly angular (most dining room chair cushions are square or rectangular) but it was still pretty simple. Just pretend you're wrapping a present. Tuck the fabric to create folds that are hidden under the seat so that the front of the cushion is snugly wrapped and wrinkle free. It also helps to flip the cushion over as you hold the fabric (before stapling it into place) to be sure that you like how everything looks in front before you pull the trigger.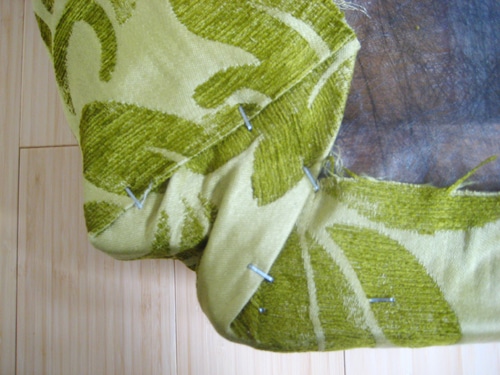 Step 3: Continue to staple the perimeter until you're left with a securely covered seat cushion that looks something like this. You can trim the excess fabric if you'd like, but I usually just leave it alone since it's hidden once the seat's in place.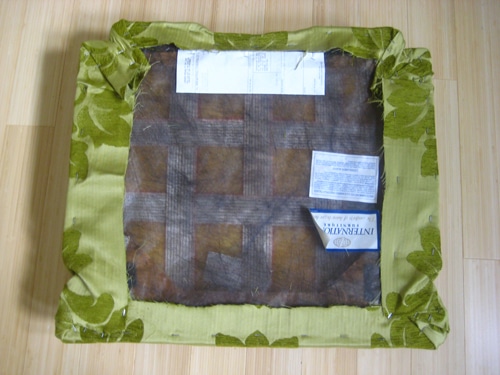 Step 4: Screw the cushion back into the chair and do a spirited victory dance as you admire your handiwork. We just love how the patterned fabric is perfectly centered- it looks like a professional upholstery job and it took ten minutes! The total chair transformation will truly be complete with the addition of a few plush tan and green pillows to cozy up the wooden back of the chair and complement our new patterned cushion.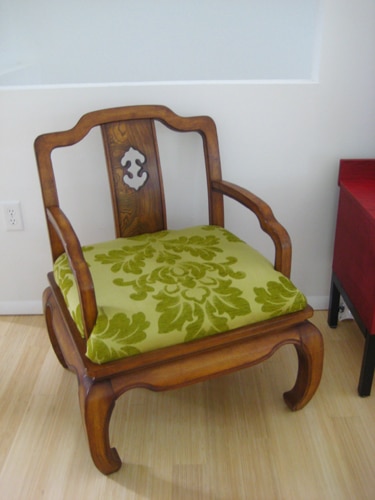 Oh and for an even bigger presto-change-o, you can also paint the chair when you remove the cushion. How cool would this baby look with a coat of crisp white paint, glossy black paint- or even pale sage green paint to play off the patterned fabric? The possibilities are endless. So go ahead and get stapling- and don't forget to send us your before and after pictures! We're total suckers for a fabulous chair.
&nbsp&nbsp&nbsp