Furniture Upgrades & Building Stuff
We haven't given our office any love in the entire eight months that we've lived here (other than deciding that it was no longer the dining room and shifting that into the old formal living room nearby). Pretty much our moving day MO was to: plop old office furniture down, work away, and ignore the fact that the rug's crazy-off-center and you can bump your head on the old dining room chandelier. Sad times.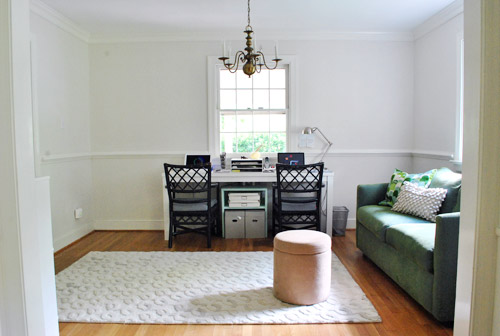 But the lack of love given wasn't for lack of trying. We've been keeping our eye out for two similar/identical secondhand filing cabinets for, oh, eight whole months. So we were starting to lose hope after about twenty five visits to all of our favorite local thrift stores without finding two of them:
that were the same height or depth (we ideally wanted to put two of them next to each other to make a square cabinet)
that were even remotely operable (it was crazy how many were so dinged and dented that they hardly opened)
We even checked out online office supply shops and local places like Office Max, but a lot of the filing cabinet options that we found were upwards of $100 a pop – and we wanted two). Then on our recent trip to Ikea (for these shoe cabinets), this piece of furniture caught our eye as we strolled through the upper level: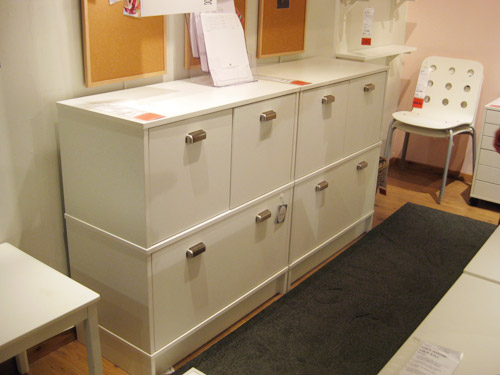 It's an "Effektiv" (hence the bad pun in the title of this post). And we decided half of it (it was actually two of them pushed together) would be the perfect solution for a little "situation" that we have going on (no not that Situation):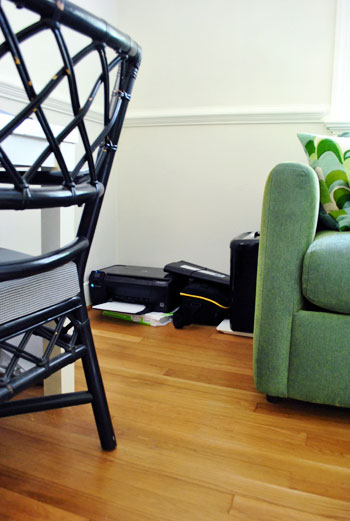 Yes, that's a printer-paper-camera-bag-shredder pile right on the floor that's sheepishly tucked out of view behind the sofa (but not completely out of view from a few other angles). And yes, Clara loves to push buttons and throw paper and cause general pile chaos. So something had to be done. Like yesterday.
Even though the Effektiv system has LOTS of customization options, we went for something very similar to what we saw on the showroom floor (just half as wide). I annoyingly lost the receipt (bad blogger) but it was in the neighborhood of $150. Which isn't too bad considering some of the "heavily discounted office surplus" options would have been $200+ for the double-wide equivalent. Even the cost to build it all myself probably would have been in the $150+ range after getting all the drawer slides and hinges and file fittings (and I worried it wouldn't have the same durability that I'd get from something made by experts since it would be constantly opened and shut). Oh and that price included one base, two shelf pieces, and the various interior fittings for a double wide file drawer on the bottom and concealed storage for things like our wireless printer and stacks of paper on the top double-doored shelf.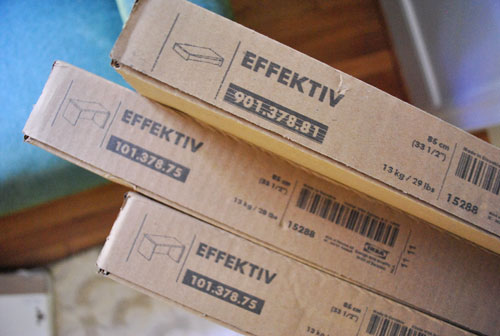 We figured it'd be a good piece to anchor this empty wall (opposite the wall with the desk, next to the doorway to the kitchen) while also adding some functional storage.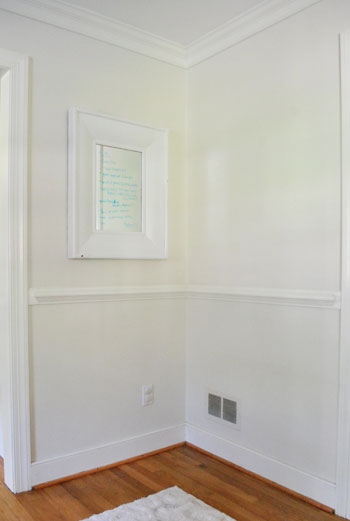 One by one, I assembled each of the three pieces and screwed them on top of one another. It was a thrilling process I assure you, so forgive me for glossing over it so quickly.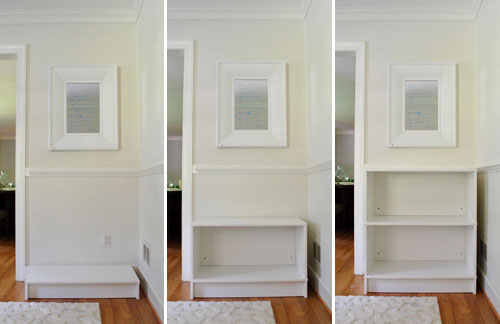 Oh and as for the vent on the right of it, luckily it has those angled registers so the air gets directed out at an angle that allows it to flow right out the side and into the room. There's about a 4″ gap there (even though it looks a lot smaller in pics due to shadows) so it's great thus far (we can feel the air easily coming out, so it's not getting trapped or anything). Whew. Otherwise we'd just close that register because there are a few others in the room.
The beauty of this piece is that it slipped right in under the chair rail and fit pretty nicely width-wise too (we didn't have the wall measurement with us, so we're beyond relived that it wasn't an inch too wide or something). It was offered with lots of customizable options – drawers, cabinets, hanging file systems, solid doors, frosted fronts, etc. We knew we wanted the upper shelf to work as a cabinet (to store the wireless printer & reems o' paper mess) and the lower one to house a ton of hanging files (we have a surprising amount of paperwork due to being "our own business"). For some reason I've become addicted to hanging file storage and the two little file boxes slipped under our desk are, well, not doing it for me at all (they're only about 7″ wide).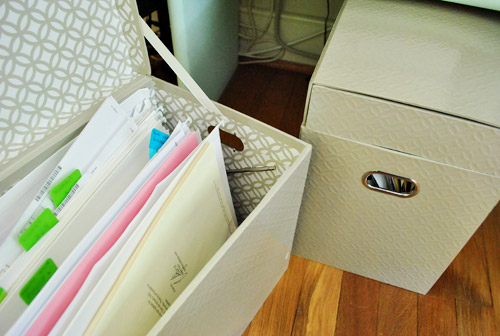 We went with basic white doors since they were the cheapest option and provide the easiest blank canvas in case we want to paint, wallpaper, stencil, or even O'verlay them with these cool things down the line for a more interesting (read: less Ikea-ish) look.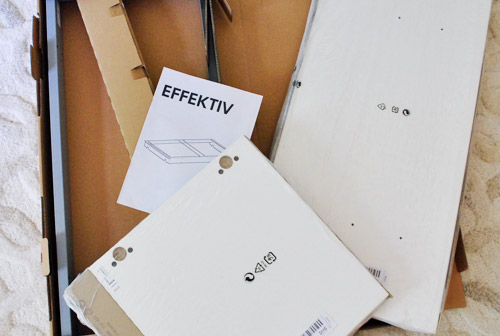 When it came to the interior fittings, first I put the file system in the bottom. It consists of a metal drawer/frame, a heavy weight in the back (to keep it from toppling when the drawer is pulled out) and a flat white cabinet face that will attach to the front. We also anchored it to the wall with an Ikea-provided kid-safe anchor system, just to be double safe.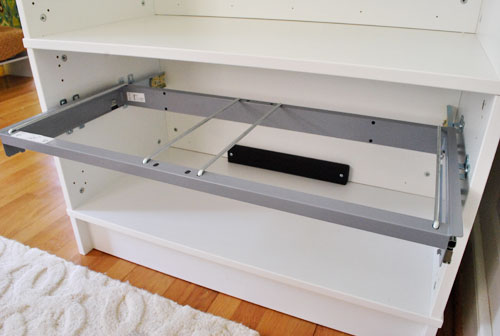 Then the top half just consisted of putting on two cabinet doors, so the whole thing went from this…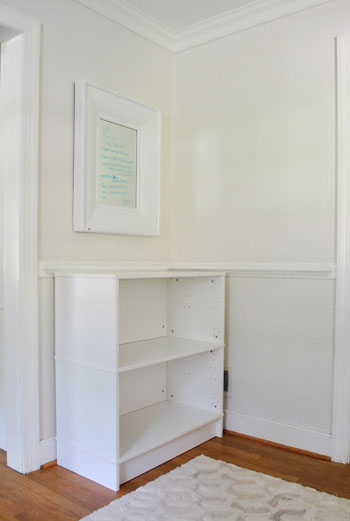 …to this…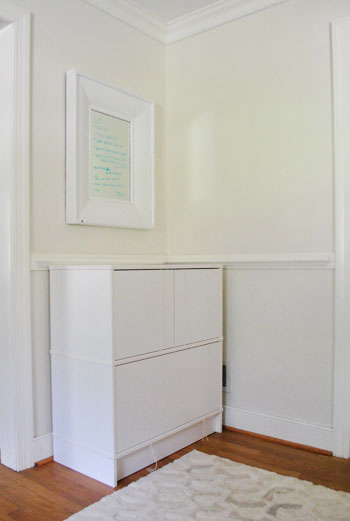 You're probably wondering about our knob dealio. We decided to skip the ones from Ikea and go for a more homemade handle. We thought something rustic like casual string was a nice contrast to the sleek lines of the rest of the piece.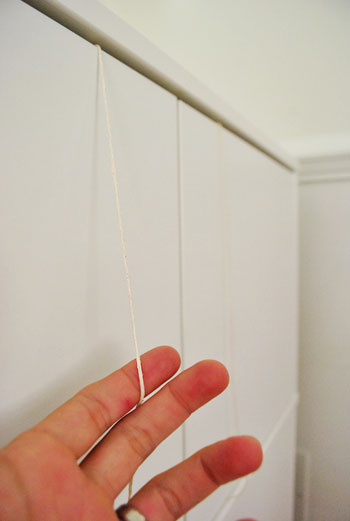 Okay, I'm totally kidding. The string was just temporary (since I learned the hard way that it was impossible to open the doors without prying them open with a flat head screwdriver without it).
I wasn't kidding about passing on all of the Ikea hardware options though. We tried to like something. Really we did. But nothing was really doing it for us and we thought knobs from somewhere else might give it a little more character and make it work with other things in the room (like our $35 thrifted lattice desk chairs). Note: of course we have about ten million other changes we plan to make in here (slowly by surely) when it comes to the furnishings, lighting, etc.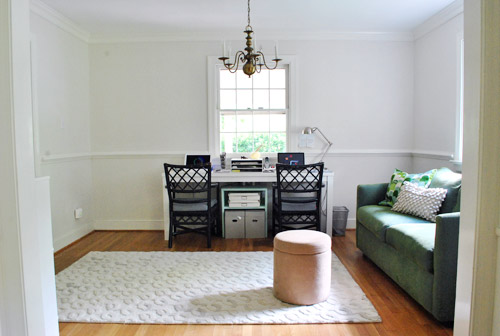 But back to the hardware. Yeah, we're hoping that adding some non-Ikea knobs or pulls could help to make the whole thing look a smidge less Ikea-y (as would eventually painting, stenciling, or wallpapering the fronts, sides, top or the whole darn thing). But we're not gonna do any of that 'til the whole room is further along. Because who knows, once the room is painted (stenciled? wallpapered?) the piece could look best in plain ol' glossy white (and we'd be kicking ourselves for having jumped the gun). We already found some pretty cool Anthropologie-ish handle options at a place that rhymes with Schlobby Bobby though, so once we make a final decision and screw them in (which always freaks me out by the way- is anyone else totally intimidated to drill right into new furniture?) we'll be back with updated pics for ya. Hopefully within 24-ish hours.
Oh and since there have been a bunch of Clara video requests, we thought we'd share her latest party trick: animal sounds (although Sherry forgot piggy and doggy). You'll note that she's holding a fabric ruler from her tool kit the whole time. Looks like the girl's ready to help me measure and screw in my hardware:
Has anyone else added some functional office storage recently? Did you have better luck hunting down something secondhand? Do you also have a deeply rooted fear of drilling holes into new furniture to attach hardware? I must measure things fifteen times just to be sure I'm not hanging them an inch off center or something.
&nbsp&nbsp&nbsp
Laundry room update? Don't mind if I do.
To jog your memory, so far we've replaced the washer/dryer, taken down window shutters & cluttered shelves along with frosting the door (all here), filled some ceiling cracks, and painted the room the same color (Benjamin Moore's Sesame) as the kitchen. And voila, we're all up to speed.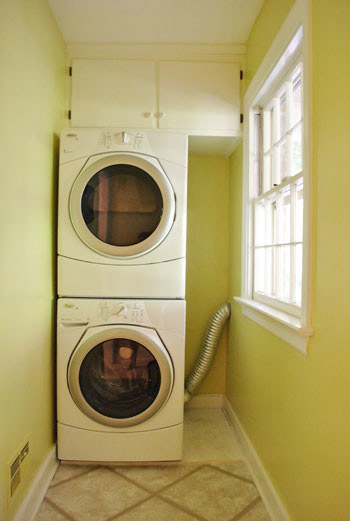 Well, if you really want to be up to speed, now it looks like this (brighter day = paint looks lighter):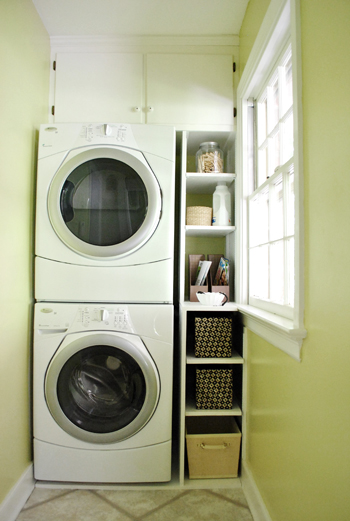 But let's back up so I can blather on about how those shelves came to be. Even during our initial walk-through of this house we decided to maximize that sliver of space with some built-ins to add a lot more function.
Did we mention the room is just 3.5′ wide? That means the washer and dryer doors wouldn't even open if they were placed on the other wall under the window or fuse box. So if anyone's still having trouble getting how narrow this space is, I broke out my spider monkey skills (and crazy toes) to demonstrate. Don't try this at home, kids.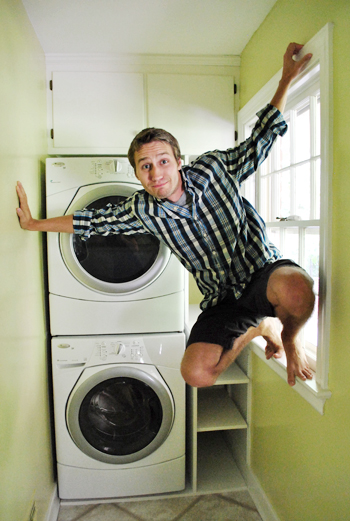 Since the room is so skinny, we knew adding that vertical storage next to the washer would be key (we can't really go "out" for fear of bashing into fold-out shelving or counters or drying racks – so we might as well go "up" instead!). Speaking of up, since the built-in cabinets above the dryer are completely out of Sherry's reach (poor thing, but at least she can reach the dryer buttons), more accessible storage was just the thing. And since no ready-made bookshelf skinny enough to fit into that 14.5″ gap won us over (they were all too shallow to allow us to take full advantage of the nook), we opted to build something instead. It certainly couldn't be harder than the behemoth console that we built, right?
Wrong.
Just kidding. It definitely was easier. So here's a quick-ish recap of how it went down. First I measured the space and marked up a little sketch that I did with a few measurements. I'll pause while you marvel at my technical drawing skills.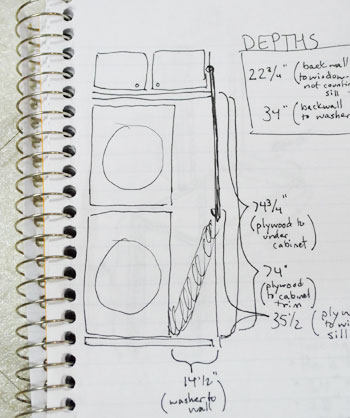 After much consideration, we opted to use the right wall (with the window on it) as side #1 of the bookshelf and to build a vertical divider of sorts to be side #2. We wanted the whole thing to be as deep as the appliances, but then it would partially cover the window. So instead we're decided to split it. The bottom half would be washer-depth and the top-half (above the window sill) would be window-depth. Confusing, I know. And I'm sure this drawing below (which helped me determined wood cuts) doesn't help. But here it is anyways. Enjoy!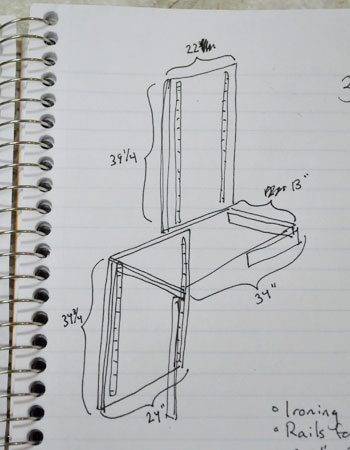 I got the guys at Home Depot to make most of my cuts, so here's the bulk of my wood pile by the time I got home. We used whitewood with 1 x 2″ poplar boards mixed in (since they don't sell whitewood planks that thin) just like the console. Also like the console, I'd be screwing two 1 x 12″ boards side-by-side to get a wider board for the bottom and top portions of my vertical divider. And then a 1 x 10″ trimmed with 1 x 2″s for the middle shelf that would connect the two divider halves. Not pictured, nor sketched above, are some more 1 x 12″ boards for my shelves and some miscellaneous 1 x 2″s for trim.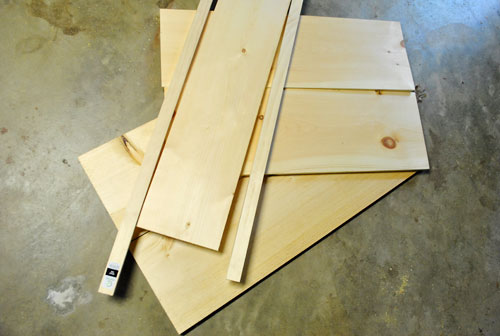 The middle shelf would sit flush with the window sill, so I cut and attached the 1 x 2″ trim pieces so it'd leave a sill-sized notch. Here I am testing the placement, which fortunately worked out really well.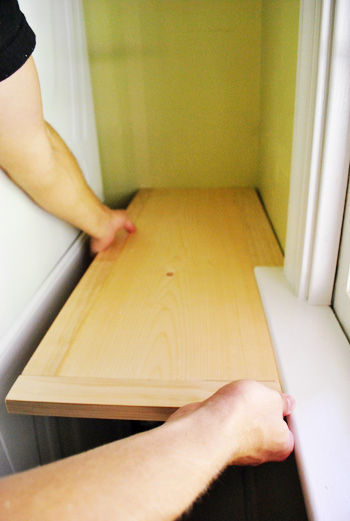 Then I screwed bottom half of the divider directly into the "floor "(which is actually a piece of plywood that runs under the appliances for extra stability – more on that here) and into the middle shelf using my Kreg jig. It hung over the plywood a bit (I forgot to calculate the added trim on the middle shelf when cutting my board) but I solved that later with another piece of 1 x 2″ trim on the floor to finish things off.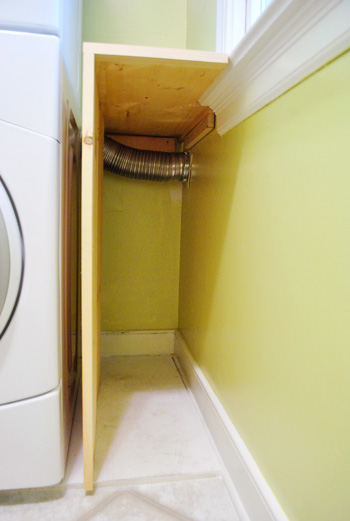 You can see above that I screwed in a couple of pieces of wood on the back and side walls for the middle shelf to rest on. That's because the vertical divider doesn't go all the way back to the wall (to leave some access to the washer and the dryer duct).
Speaking of which, I updated our old aluminum-foil-ish dryer duct to a safer rigid all-aluminum version from Lowe's (since we hear they're less of a fire hazard). It was an easy switch (remove the other guy, clamp new new one in place with metal clamps and metal wall piece, that's it).
Here's the top divider now attached, just like the bottom guy. Notice how he's set back to be even with the window? Is this making more sense now? It's sort of a two-tiered profile so it uses all of the depth that we can use without oddly overlapping the window.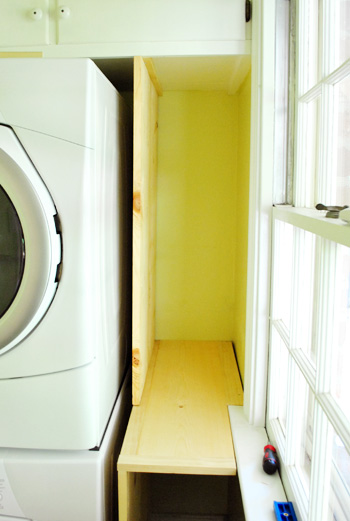 As for the rest of the shelves, we wanted them to be adjustable and removable. Adjustable because, well, sometimes you want to adjust your shelves dagnabbit. Removable because it'll help us gain access to the back of the washer/dryer if need be. So I purchased four 6ft lengths of metal shelf tracks at Home Depot (the same kind that we have in our built-ins and master closet) and snipped them with metal cutters to the right lengths.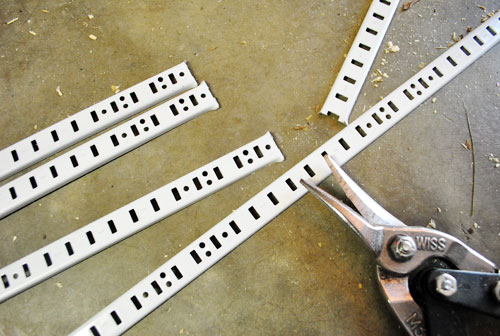 The space between the divider and the wall was shaping up to be a smidge wider than my 1 x 12″ shelf pieces, so I added some additional 1 x 2s to bridge the gap. In the long run, I think this actually make the metal tracks more secure (since otherwise they'd just be nailed into drywall). So maybe a happy accident?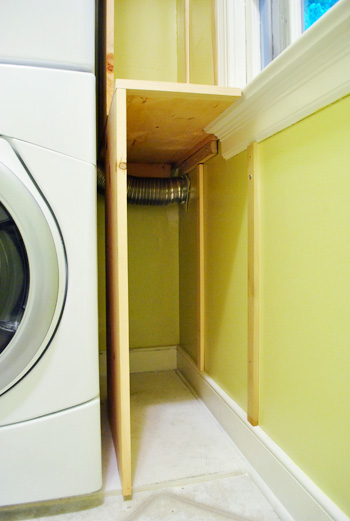 A not so happy accident? Realizing at this point that it'd be very difficult to paint all of the wood in place. So out it all came so we could access everything more easily. The good news is that it was pretty quick and easy to take out, which will be appreciated if ever it has to come out for some serious appliance maintenance.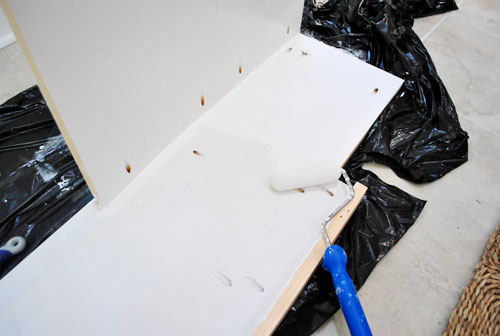 In the sunroom (the laundry room is waaay too small to attempt to paint these big pieces) we applied two quick coats of primer (Kilz No-VOC) followed by two coats of white paint (Olympic Premium No-VOC semi-gloss off-the-shelf white paint) on all of the framing for the built-ins to make sure we were getting our whitest white without any wood bleed going on. But after lazily painting the shelves with just two coats of paint the next day (no primer) we realized we probably would've been fine without primer on the framing too. Oh well. It certainly didn't hurt.
Oh, and we also painted that side wall on the right white (to make it look more like it was part of the bookshelf). But we left the back alone for a shot of color that would be seen through the shelves.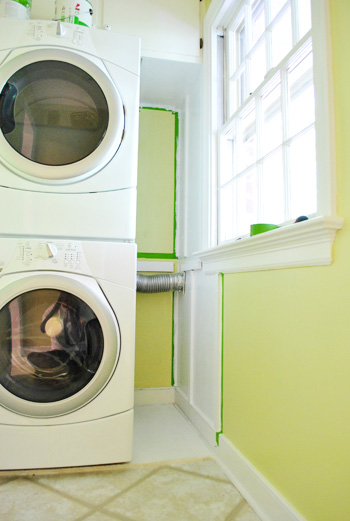 Then I reinstalled everything, nailed in my metal shelf tracks, added the clips, and took them for a spin.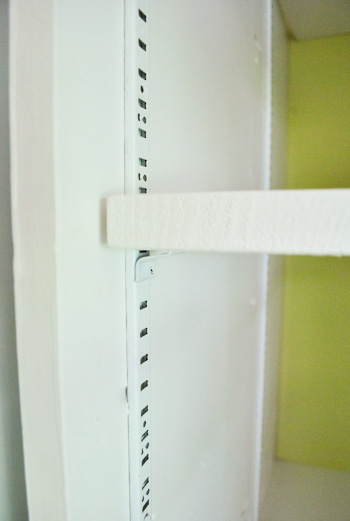 On the bottom half I also added a little lip at the back of the shelf since, unlike the top, they don't go all the way to the wall. This will hopefully prevent things from sliding off and getting lost back in there. But if something does sneak back there over the lip somehow, we can still easily retrieve it thanks to the shelves being removable.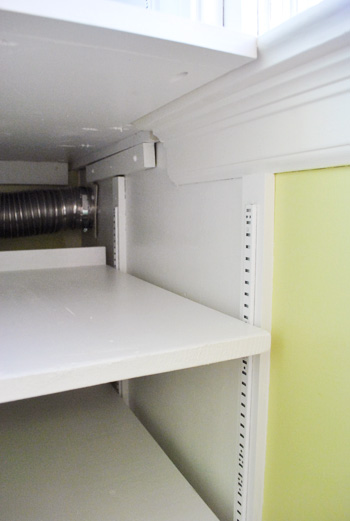 But enough "how we built it" mumbo jumbo. Let's check out the finished product: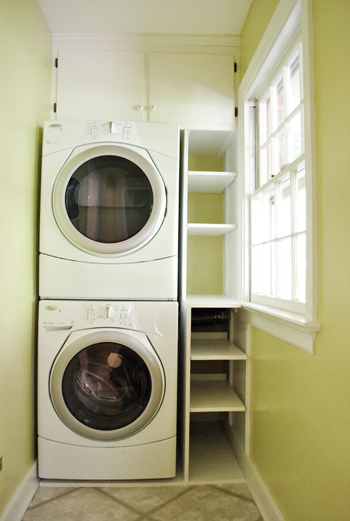 That 2″ gap between the appliances and the shelf was intentional so that when the washer starts a-rockin' things on the shelves don't start a-knockin' (if you know what I mean). Actually, that's literally what I mean. It's not a euphemism.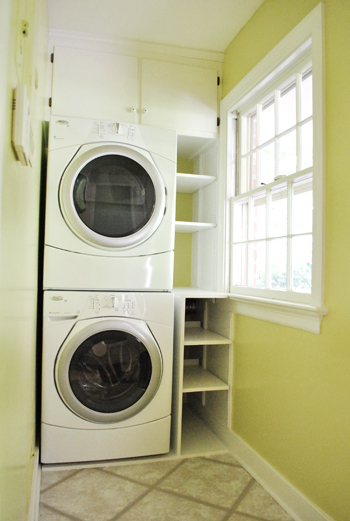 Admittedly she's not the prettiest thing in the world when she's empty (I think I would've preferred the look of fixed all-the-same-size shelves). But the function of adjustable shelving made a lot more sense, and we can now store something small and something tall without worrying that things won't fit.
And there's no denying that we've gained a lot of usable storage space when it comes to the max-depth that we worked hard to obtain. We haven't quite figured out all that we'll put here (besides the obvious detergent, iron, etc – maybe a basket that can be used for winter gloves & scarves and a larger one for flip flops and sandals). Just for fun Sherry went ahead and fancied it up a bit with some – you guessed it – baskets.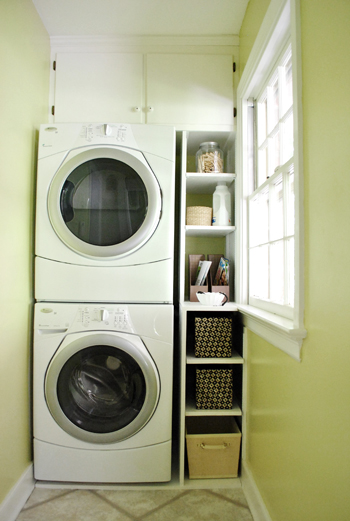 Along with a few other things we already had (magazine files, a scalloped bowl, a jar full of clothespins, etc).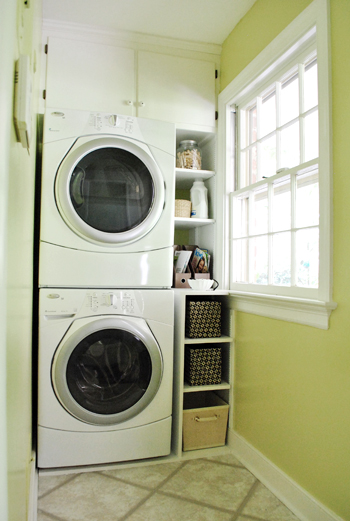 We're toying with the idea of this becoming our new drop spot for mail, coupons, and other miscellany. So maybe it'll look like this in the long run?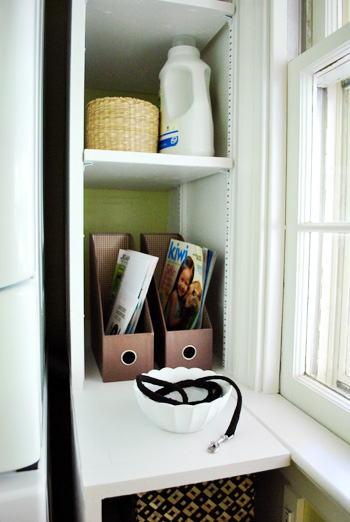 As for the cost on this one, it definitely was more than if we'd gone with a not-quite-right existing solution (like this narrower, shallower version from Ikea). But we totally think it was worth getting something that looks more seamless and really makes the most of the space (so we can use the full width and depth and adjust the shelves to customize it even further whenever need be). Here's the ol' budget breakdown:
Wood (from Home Depot & Lowe's): $59
Metal shelf tracks & shelf clips (from Home Depot): $15
Primer & paint (Kilz No-VOC primer & Olympic No-VOC paint): already owned
Baskets, magazine files, the bowl, etc: already owned
TOTAL: $74
Oh, and the aluminum dryer transition duct was $10 from Lowe's.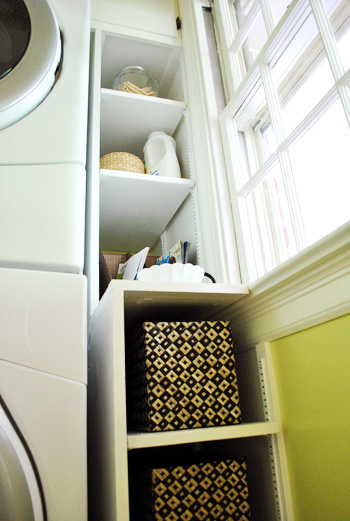 As for our laundry room to-do list, these days it's looking more like this:
Paint the odd brown quarter round near the baseboards glossy white

Redo all the dinged up trim (also in semi-gloss white)
Paint the walls
Replace our dryer hose with a safer all-metal one
Add adjustable built-in shelving in that nook next to the stacked washer & dryer
Replace the hinges and knobs on the upper cabinetry
Get a new light fixture <- DIY something? maybe a small chandelier?
Add a window treatment (maybe a homemade one?)
Add other functional storage near the door for shoes, Burger's leash, etc
Hang some art to keep it cheerful and obscure the giant metal fuse box
Even though we're only about halfway through, we're feeling pretty good that in the past few weeks, this space has already gone from this…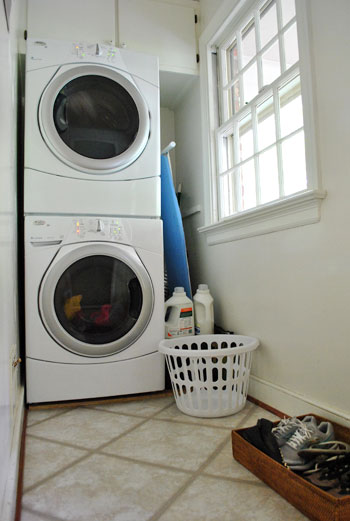 …to this: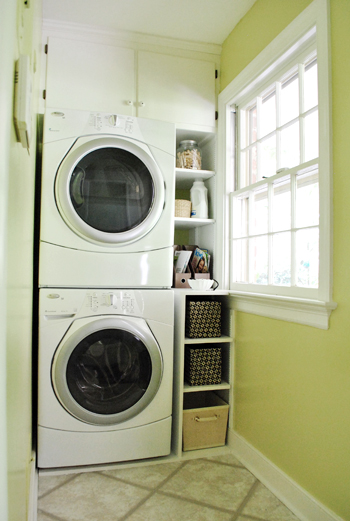 As for where we'll store the ironing board- we have a plan for that. More details to come after we tackle it (we wanna make sure it works first, haha). In the meantime we'd love to hear what storage solution you're loving (or lusting after) in your laundry space. Got some sweet cabinets or drawers? A cool collapsible drying rack or ironing board? Your very own laundry sink? We know there are some pimped out laundry rooms out there, so let's hear it.
&nbsp&nbsp&nbsp