Giveaways
It's been a long while since we've done a Top Design update (I've been trying to be respectful of the fact that not everyone is as reality TV obsessed as we are).  But, we're down to the final four so I figured it was worth a mention, especially as we near the conclusion of our little guess-the-top-three-contest.
For those of you who watched this week, you saw my sole remaining hope in the game, Andrea, excuse herself from the competition so she could be back with her family.  Thereby dashing both her hopes and mine for coming out on top.  In fact, I'm the only person who's had all three of their picks eliminated.  Shows what I know…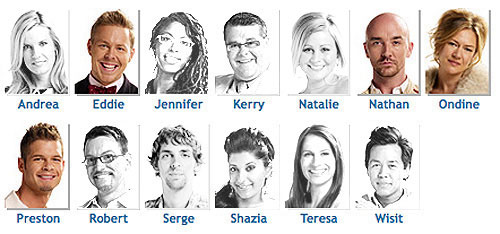 Even though Andrea's chances were slim at this point, I was still disappointed to watch her give up when the judges clearly stated that Ondine had the worst design this week (see the rooms for yourself here).  If I had to guess now, I'd say it's a toss up between Martha-Stewart-in-training Eddie and design renegade Nathan… who happens to have been Sherry's top pick from the start.  Man, she always beats me at these things.
Who do you think will take the title?  Or better yet, who deserves the title?  And does anyone else miss Wisit and his operatic outbursts like we do?
&nbsp&nbsp&nbsp
Here's the recap for last night's Top Design. Project Runway designers return and the Top Design wannabes are charged with creating window displays to show off the designer's newest fashions. Ondine scores the top design for Sweet Pea's butterfly-filled window and poor Kerry gets a one-way ticket back to Georgia thanks to his busy and dark window for Jeffrey Sebelia. Guessers, give yourselves a pat on the back: Ondine was on just about everyone's top 3 list, while Kerry was on no one's. We're on a roll people!
I must vent a bit, however, because Top Design is starting to rub me the wrong way.  Here's why:
Shazia:  Why is that girl still there?  At least Kerry (aka Big Daddy) was somewhat entertaining.
Window Displays:  Not really the same as designing a room, so it's no surprise most of the designers stumbled.  Can we have some more home-based challenges up in here?  I wanna see the designers do what they're best at.
Individual Challenges: Throw us one, please. I know it's expensive to furnish and makeover so many rooms, but c'mon, your budget is showing.
BravoTV.com: Can we get some decent photos of the final rooms?  Everything looks uglier as a screen shot, so pay the designers some respect and take a few decent hi-res photos of the final spaces.  It would certainly give us bloggers a hand.
Not that any of that will stop us from watching.  What can I say, we have no shame when it comes to our addiction to reality shows.
And here's your updated contestant sheet sans Kerry: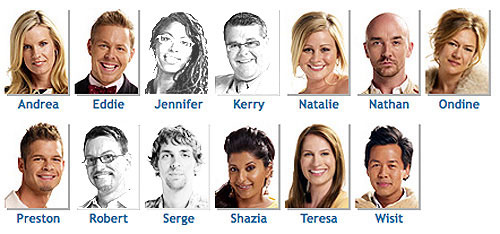 &nbsp&nbsp&nbsp