Giveaways
We love giving away lamps, what can we say. So if you didn't come out on top last week, here's another shot at taking home a stylish piece of lighting for your home.
This week's prize comes from The Shade Shop & Lighting Gallery located in nearby Charlottesville, Virginia. They offer a diverse and ever-changing gallery of table lamps, floor lamps, chandeliers, sconces, tables and (of course) lamp shades.  In fact, they're brimming with excitement over the new line of Bunny Williams lamps that just arrived. Plus, the Shade Shop offers custom lampwork and repair, meaning if you want something unique they can make it AND they can fix it if you happen to break it.
But hopefully you'll have trouble breaking the antique-nickel-clad Lucy Accent Lamp (valued at $298) that they've put up for grabs this week. Check it out below: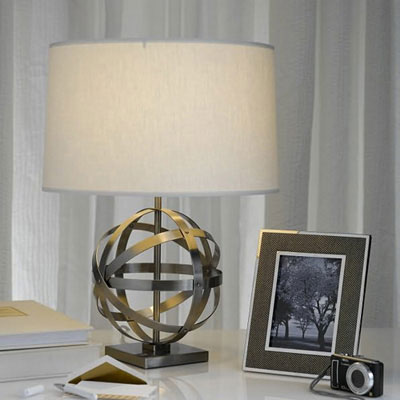 To enter to win just comment on this post with the words "GIMME A LIGHT" by Wednesday, March 4th at 8pm EST. And since this prize hails from my alma mater's hometown, we'd love to hear what you loved most about your college hometown. I could go on and on about Charlottesville- after all it was once named the #1 place to live in the US. And we could probably name quite a few things we love about Sherry's college town (NYC) too, considering it's where we met. This prize can be shipped to the lower 48 United States and as always, only one entry per e-mail address is allowed. Good luck…
You can get the full scoop on our giveaways right here. Image courtesy of Barnes & Noble.
&nbsp&nbsp&nbsp
Once again, thanks to the many, many, many of you who entered this week's giveaway from Shades of Light. Sherry and I were especially entertained by reading all of the things that light you up, whether you were talking sweets, sweethearts or some other sweet surprise (like Colleen's UPS man). And speaking of surprises, we've got nice one for everyone right now…
Shades of Light is giving all Young House Love readers a special discount: 10% off of any purchase now through next Thursday, March 5th*. Just enter code 09YHL at checkout to get the discount. And since they have a national presence, you can shop Shades of Light online and by catalog, so you don't need to be a local to snag lighting, furniture or accessories from their diverse collection. That should help light you guys up a little bit more.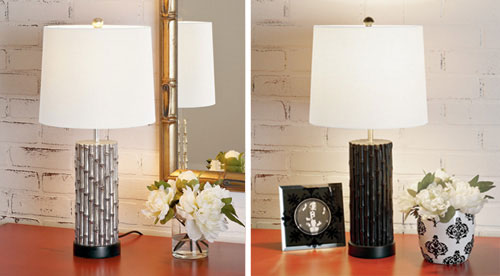 But there's only one person who was randomly selected to get the 100% off discount for one of these great bamboo lamps shown above. And that lucky lamp winner is… Kalee! Looks like she'll have a nice treat waiting for her at her parents' house once she moves back stateside and begins house hunting. Congrats Kalee!
And as usual, don't fret if your number didn't come up this time. We've got another "illuminating" freebie headed your way next week.
*No other discounts apply. Cannot be combined with any other discounts. Offer does not apply to retail locations. Offer good through Thursday March 5, 2009 at 11:59pm EST. All images courtesy of Shades of Light.
&nbsp&nbsp&nbsp