Giveaways
It's Monday. Or, as we like to call it: Giveaway Day.
This week's prize comes from Sweetshorn Vintage, a truly one-of-a-kind Etsy shop that boasts an eclectic collection of old school goodies. Their fun mixture of home decor, art and "tiny treasures" are sure to inject equal parts fun, quirk and retro style to your home.
We couldn't do this unique shop justice by offering up just one prize – so we've got four that our winner can choose from. There's a Pair of Porcelain Birds or a Trio of Tiered Vases that would look great atop a bookshelf. Or if kitchen decor is on your mind lately, you can pick a Set of Five Mod Glasses (they're so Mrs. Robinson) or the Copper Anchor Plate (Sherry is dying over this one). In short: no matter what the winner chooses, they can't go wrong.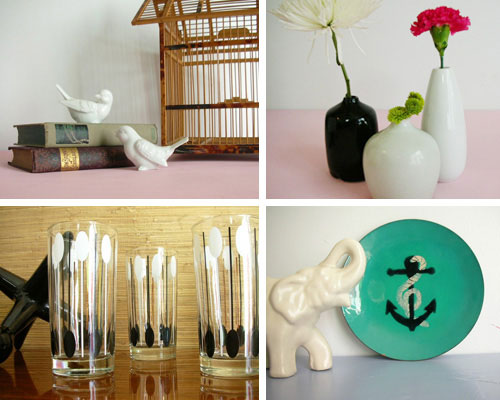 To enter, just comment on this post with the words "I'M A BLAST!" by Wednesday, March 11 at 8pm EST. Then go ahead and tell us what makes you a blast to be around (besides your good taste in blogs). Is it your sense of humor or dry sarcasm? Do you play a mean game of Scrabble? Or perhaps you have an uncanny ability to belt out Britney songs? Don't be shy – we wanna know what hanging out with you in real life might be like. Oh, and the winner's choice of the four prize options can be shipped to the US and Canada. Only one entry per e-mail as usual.
Wanna know more about our freebies? Check out the Giveaway FAQs. Images courtesy of Sweetshorn Vintage.
&nbsp&nbsp&nbsp
I have to admit, I thought there would be many more Charlottesville-lovin' UVA alums commenting on our "Got A Light" giveaway courtesy of The Shape Shop & Lighting Gallery. I guess I'll have to be more direct next time I want to induce some gushing about my favorite college town. Oh well. And I guess I can't complain about a giveaway that elicited over 650 entrants! You guys really want a light, eh?
At least I can offer one more great reason to swing through C-ville next time you're in the vicinity: The Shade Shop is offering a 10% discount to all Young House Love readers! All you've gotta do is just mention our blog when you place your order. It's that easy.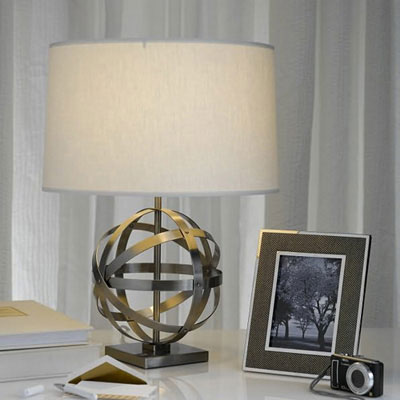 Speaking of easy, someone just scored this antique-nickel-clad Lucy Accent Lamp for simply telling us what they miss most about their college town. And that someone (as decided by random.org) is Dinosaur-BBQ-lovin' Jess! Congrats! You've got a light coming your way and we can't wait to see pics of your beautiful new lamp in its new home.
And as usual, keep those commenting-fingers warmed up because there's another freebie ready for next Monday.
We've got all the juicy details on our giveways for you right here. Image courtesy of Barnes & Noble.
&nbsp&nbsp&nbsp