Giveaways
After seeing the two little DIY projects that we did with their product last week, the friendly folks over at Moo have offered up a free pack of Minicards to one lucky Young House Love reader.  That's 100 tiny cards personalized with your favorite photos for displaying, sharing, or crafting (check out their idea file here). And since they ship anywhere in the world, this freebie's up for grabs to our international readers too.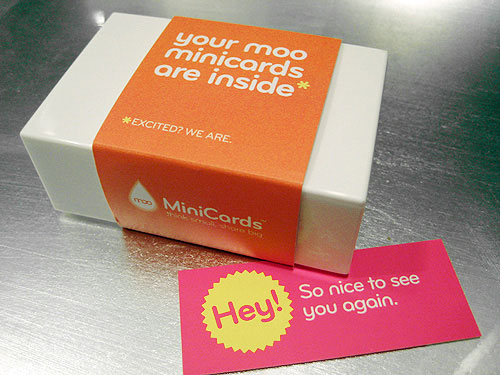 Like our other giveaways, entry is simple.  Just comment on the post with the words "MOO ME" by 8pm on Wednesday, Dec 3rd. Then we'll pick a random winner to announce by the end of the week.
And since you'll be scoring a pack of cards for free, you might want to check out this cool, new customizable mosaic frame that Moo sells to show off your many minis.
I hope you guys had fun reading all the funny comments about each pet's strange habit. We certainly were entertained. In fact, I'm glad we weren't awarding the prize based on the weirdest anecdote because that would've been an impossible choice. Instead, we used trusty random.org to tell us that the winner of the Pet First Aid Kit courtesy of FirstAidLive.com is… Ljcadv!
Hopefully Ljcadv won't have to use the kit for her brindle boxer, Riley, anytime soon. But considering Riley's "drinking problem" it's probably best that she has some sort of first aid nearby. Congrats Ljcadv!
Thanks again to Danielle at FirstAidLive.com for the friendly reminder to be prepared.  Oh, and apparently her dog Bubba saw the picture of Burger playing Vanna with the kit in our last post and wanted to get in on the action.  Modeling's tiring work, eh Bubba?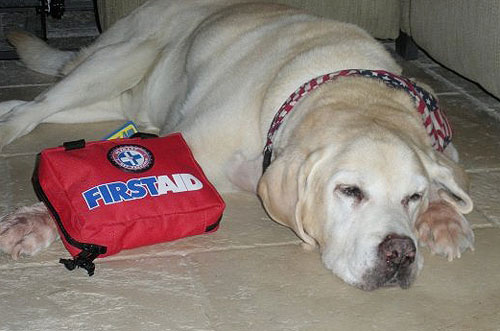 If your number didn't come up this time, you can always snag a Pet First Aid Kit of your own here. Plus, our first International freebie is right around the corner so stay tuned and keep your fingers crossed.