Decorating
We finally painted the guest room! And Burger, as you can see, is THRILLED.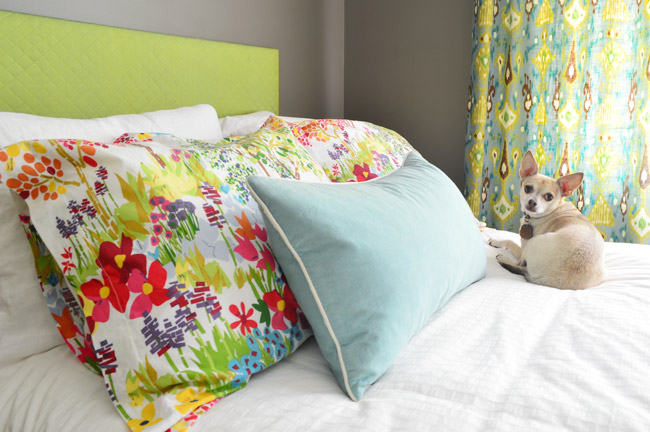 No more over-spray marks from door painting forming a lovely "accent wall" over the bed. Huzzah!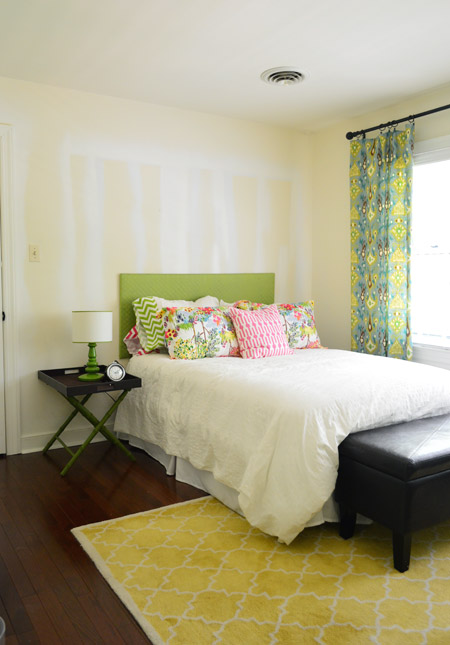 The color? Sparrow by Benjamin Moore. It's a color we've loved for a while now (it was one of our whole-house-color-palette guesses from last year) and we thought the guest room was the perfect place to try it out since it gets a lot of natural light from that giant triple window along the back wall.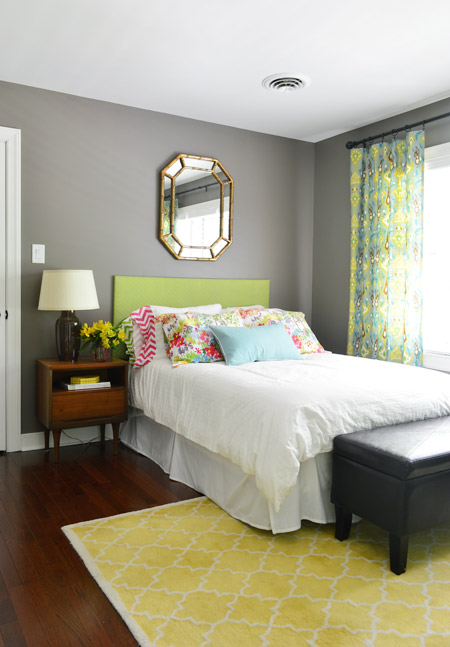 Since it's a deep color we used a tinted primer first, and as usual I did the cutting in while John did the rolling. Oh and we painted the ceiling first (Simply White like the trim, but in a flat finish instead of semi-gloss) just because it's nice to do that at the same time while the room is cleared for painting if you have the energy. Sparrow is more of a brown tone with gray undertones than a cool/flat gray color (you can see from the paint going on over the tinted primer that the primer definitely had a cooler/grayer tint going on).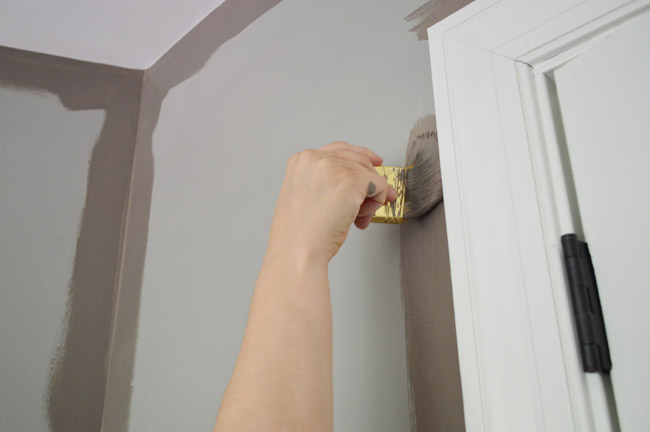 With all the painting done, we decided we were over the blank walls in there, so we dug through our storage room for some frames and a mirror to complement the new paint job. A few old Ikea frames ended up in a grid over the chairs across from the bed.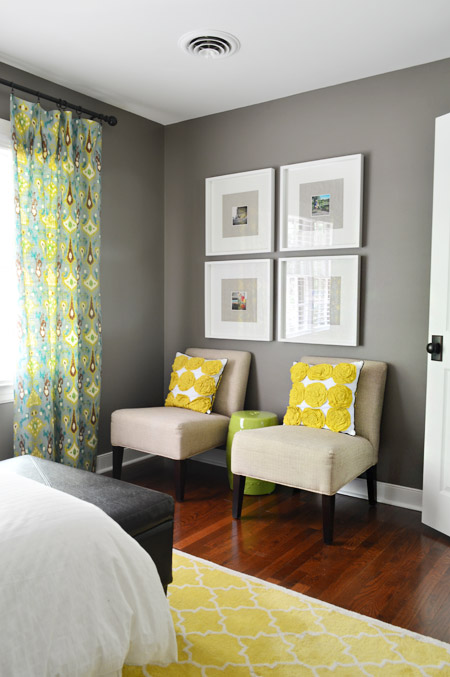 They used to hang over our sofa in the last house, and they contain a few of our favorite instagram photos with big linen-like fabric mats behind them for some texture.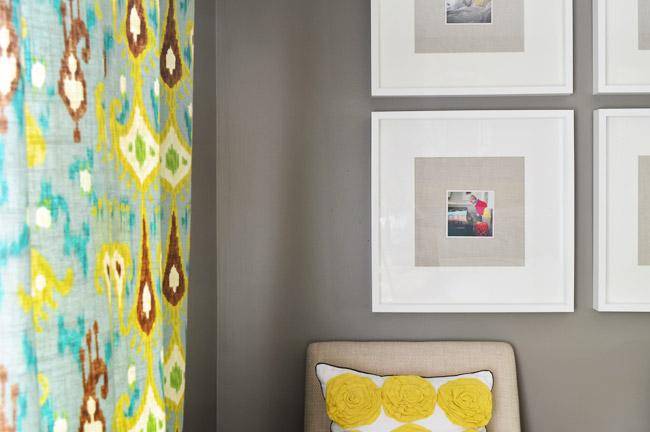 Over the bookcase to the left of the bed we went with another one of those Ikea frames, but we added one of our picture hanging knobs from Target along with some gold ribbon (to tie into the gold mirror we hung over the bed).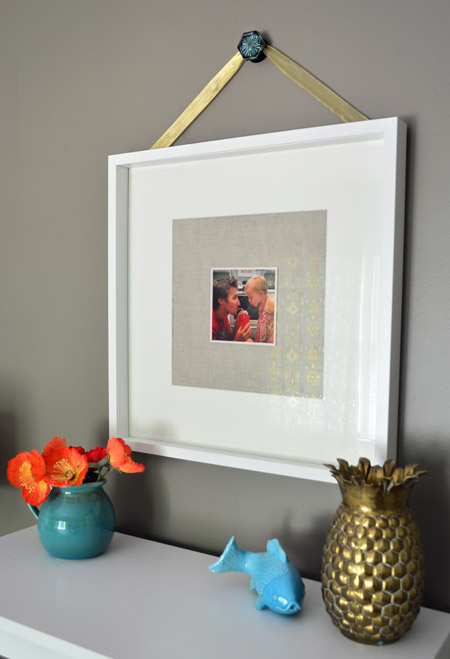 Here's a panned out shot for you. The wall on the left looks weirdly yellow because sunlight is shining in and reflecting green from the trees, so the other photos are more accurate in terms of the color.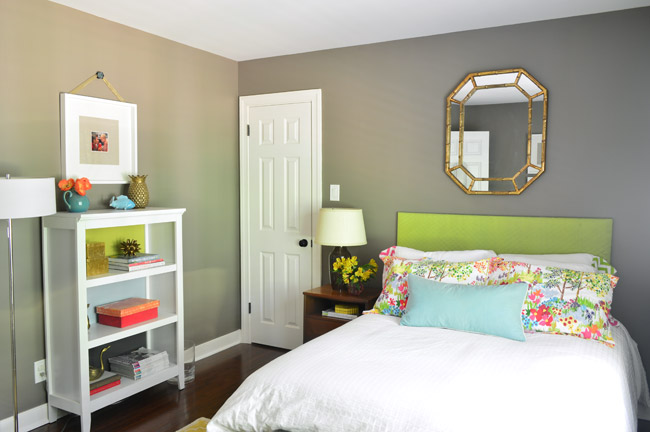 The gold mirror was an old yard sale find that used to hang in our last house's laundry room, and when John held it up over the bed we both liked how it looked with the wall color. Originally we thought we might want to hang something on either side of it to fill things out (like some small candle sconces, ledges, or art) but there's something simple and sweet about the gold mirror without a lot of other stuff going on.
We also switched out the luggage-tray-turned-side-table for something a little more substantial with a drawer for concealed storage and a cubby for a few books and magazines. We found two of these tables for $11 at a yard sale a few years back, and I'm glad to have a spot for this one again – especially since it meant we could add a nice big light that felt more to scale than the tiny one that used to sit on the luggage rack.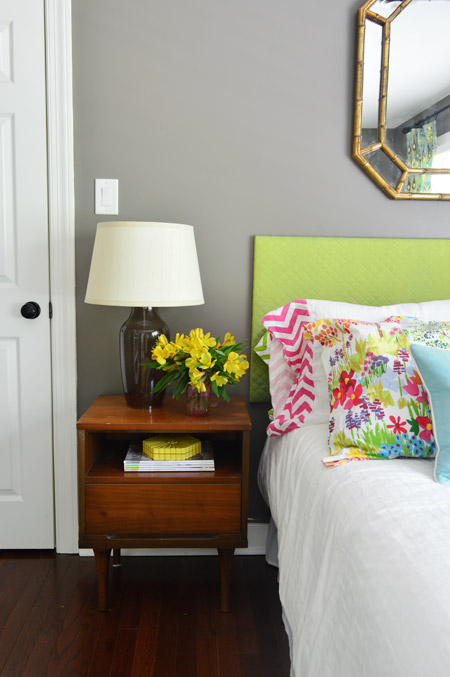 The flowers are just a grocery store bouquet leftover from Clara's party (alstroemeria for the win, they tend to live for 3-4 weeks!).
We still have a few things on the to-do list in here, like adding crown molding, eventually updating the seating area to a sewing spot so the room gets more use, and making a new headboard (we'd love something more substantial – and maybe with an interesting shape). I'm sure we'll also upgrade some of these working-with-what-we-have-items over time (like the art, the bedding, the rug, or the curtains) but for just a gallon of primer and paint and some stuff that was sitting around mocking us in the storage room we're really happy with the new vibe.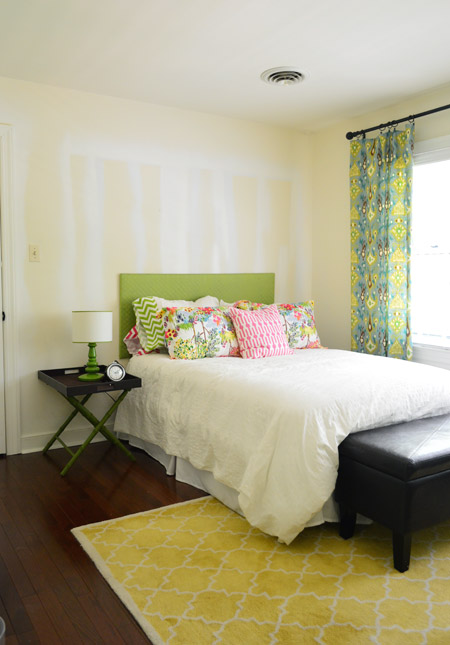 The guest room is at the top of the stairs, so we both do that "ooh!" thing when we go upstairs now. It's amazing how blind you can become to certain eyesores (like those over-spayed door marks) but when you finally take care of them it's like a breath of fresh air.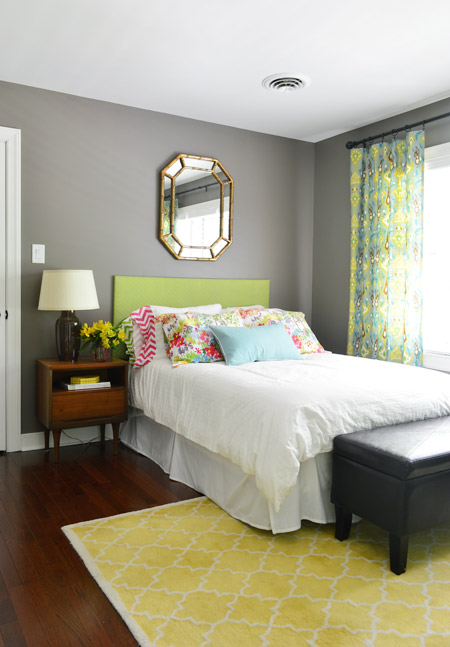 What did you guys do this weekend? Anything fun? We had a nice balance of work and family time – and spent a lot of time being grateful for everything that Memorial Day stands for. Hope you had a happy one!
&nbsp&nbsp&nbsp
To everyone who has said "go rest!" or "we understand if you have to catch your breath after this showhouse marathon and before this baby comes" we are SO APPRECIATIVE of the encouragement. We're still over there every day shooting each remaining room for afters/source lists and are also hoping to record a video tour for you guys, but we fully intend to cash in on that whole sit-down-and-breathe-for-a-second thing as soon as we finish documenting everything.
But amongst the last crazy week of showhouse stuff, another crazy thing happened that we just had to talk about for a second. We can't begin to tell you how awesomely surreal it has been to see our line of hooks and rails out there in the real world (on Target shelves, in your hands, on your walls, and next to your dogs and babies).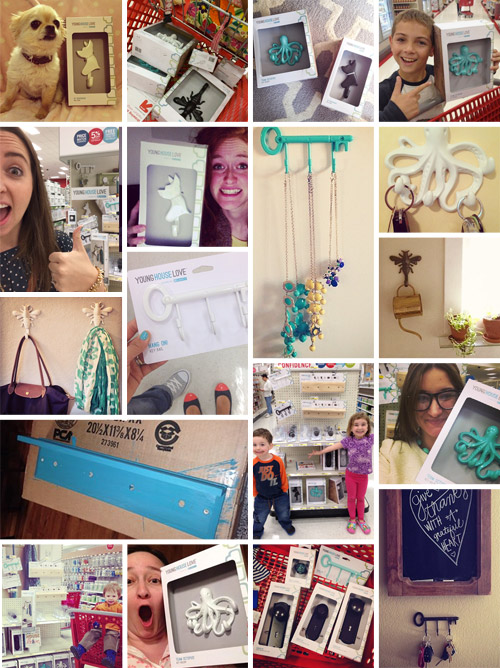 We'd been in our own little bubble with it for so long that it was amazing to see Instagrams, tweets, and Facebook photos from you guys. So we couldn't let another day go by without saying: THANK YOU for being a part of this latest adventure of ours. We are so grateful.
Everything started rolling out in Target stores throughout last week (it'll be carried in most US stores for 14 weeks) and you can see the full store list here for which ones will carry it. We actually saw your pictures of the end cap before seeing it in person ourselves, which was pretty crazy. And when we saw it with our own eyes? Kinda made our brains explode.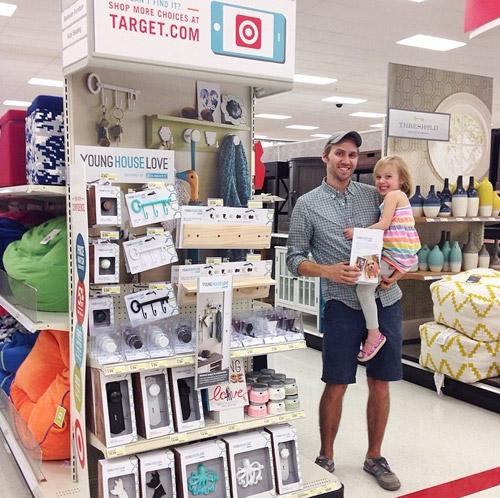 The home improvement department also got a few other new DIY items like paint and removable wallpaper. Plus they're carrying our book in stores for the first time as an exclusive paperback version.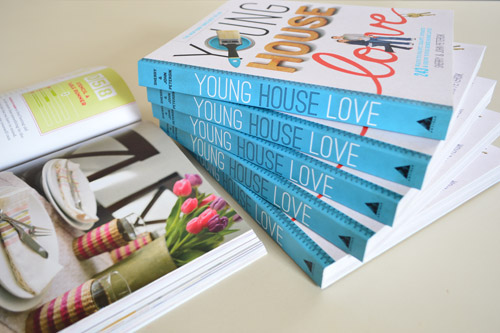 Along with taking a moment to send out a giant thank you to you guys, we wanted to bring you behind the scenes to touch on a part of this whole process that was kind of a surprise to us: packaging design. For so long we had been focused on how the products looked, that when Liberty asked for input on the packaging we were sort of caught off guard. But it ended up being a fun assignment.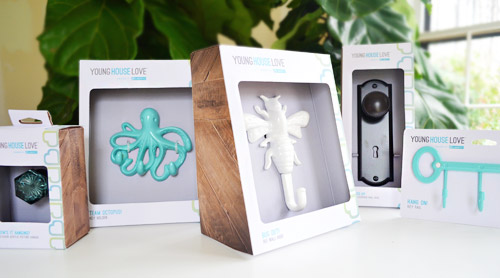 The graphic designers at Liberty were the brains behind it all – taking inspiration from the colors and themes that they saw frequently on our blog. Together we made little tweaks, like ditching a version of our blog backdrop (the small gray heart pattern) behind the products in favor of a cleaner, less busy solid gray. And we loved their suggestion to put a wood grain detail on the sides of the packaging to bring in some texture.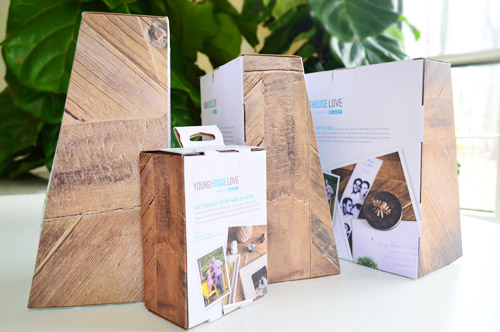 The funny thing is that it was originally supposed to just be some generic wood texture from an image library somewhere, but when we were doing the product photography here last November someone suggested that we just shoot our kitchen table and use that real wood-grain shot instead. It had already become the de facto backdrop for the other photos, so it was a no brainer decision. So yeah, that's our real kitchen table on the side of each box.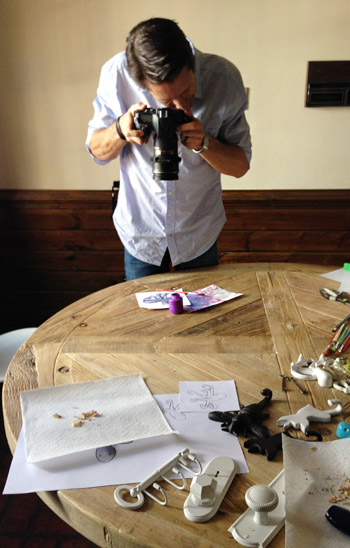 We were also tasked with choosing the visuals that we'd shoot for the back of the packaging as well as writing the copy for it – which ended up being a fun opportunity to share our inspiration for each item (like an octopus painting made by Clara along with a ceramic octopus that I got Sherry a few years back – or Burger himself, our four-legged muse).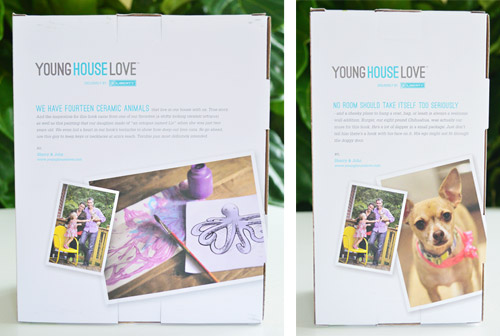 This copy is also the text that appears in the "Overview" section of each item on the Target website, if you're so inclined to read each one.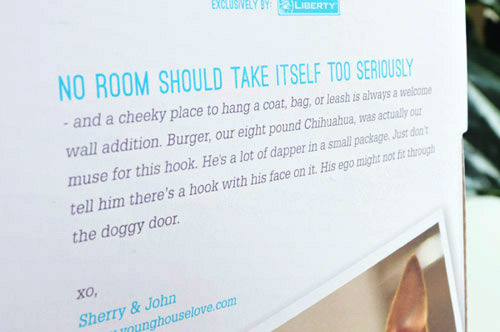 Now that we can freely use the hooks without fear of blowing our cover, we've put them to good use in a few places in the showhouse (since it's about the only house getting attention from us lately). We put this wood hook rail in the girl's bedroom after painting it blue and adding some mix-and-match ORB hooks (the color is Blue Lake by Benjamin Moore). This is obviously the version with the ledge, which was nice for extra storage.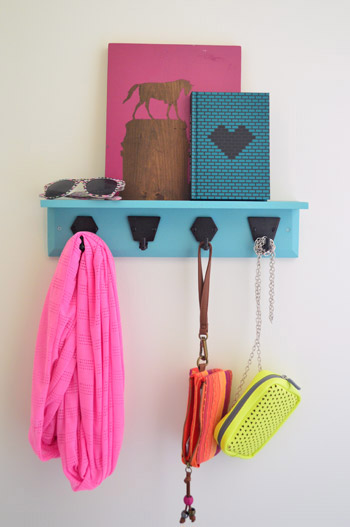 We went sans-ledge for the one in the boy's room and painted it with a random diagonal of yellow at the bottom (Citron by Benjamin Moore) using painters tape across the rail, while leaving the raw wood up top.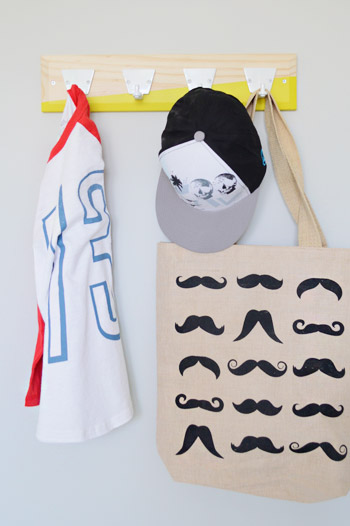 We also used a trio of doorknob hooks in the master bedroom closet (two of the larger beaded knobs flanking the smaller hex knob in the middle) but we still have to shoot that room. We're working on getting more after pictures documented today so we can share them tomorrow if all goes well.
Ok, now I'll shut up about it. Sherry and I are still kind of reeling that this stuff is out there in the world after nearly three years of development, and we're both so grateful to you guys for supporting us. In other Wednesday news, if all goes well and we have our son on Wednesday the 16th (that's Sherry's scheduled date), that makes this the very last Wednesday of our lives as parents of one (well, two if you count Burger) so that's kind of blowing our minds too. Happy Wednesday, guys!
&nbsp&nbsp&nbsp