Decorating
As promised, we're back with the details of how we organized the six new shelves and eight new drawers in our office, along with the drawers in my floating desk and the filing/printer cabinet on the other side of the room. In other words: what went where.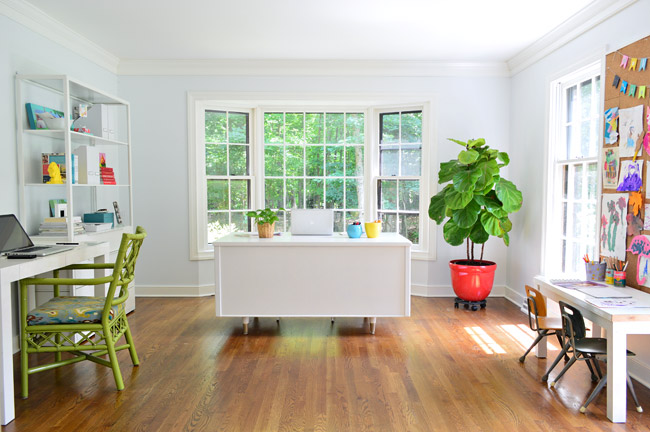 It's awesome to have so much more storage space, both out in the open and behind closed doors, so let's spin over to the left and face our new desk/bookcase wall first.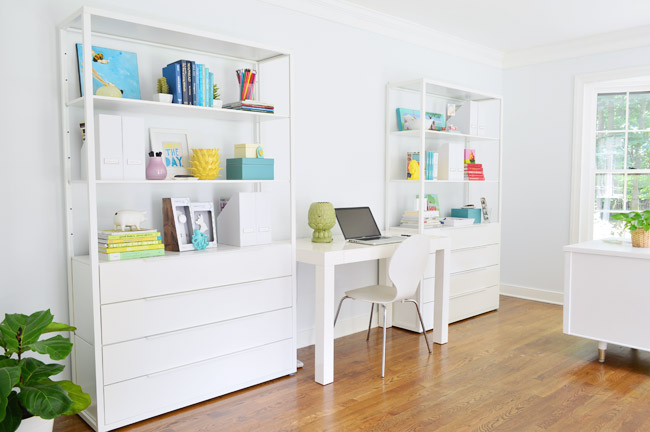 Here are the animated GIFs that John mentioned on Monday. You were on the edge of your seat for these, right? Or were you excited about donuts? I can't remember. Here's the bookcase to the left of John's desk coming together in GIF form: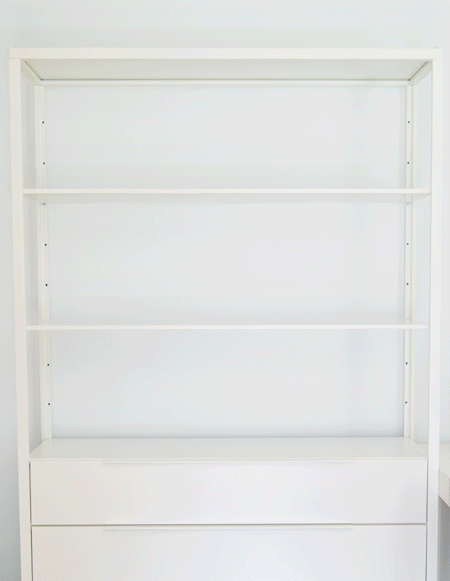 And here's the one to the right filling up in fast motion: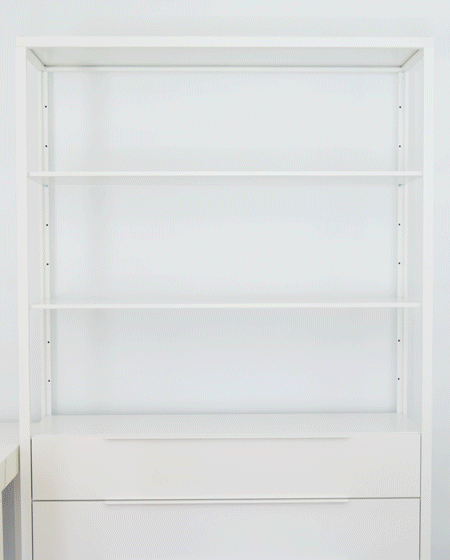 Between both sides of the open shelves, we managed to work in eight magazine storage boxes (from Target). We used them to hold our press stuff since we've saved magazines with a mention/feature of our site or any column that we've written. Now instead of shoving them all into various cabinets in our dining room buffet (where we used to keep them) we finally have them all organized by year with little tabs on that page. It makes it a lot easier to find things.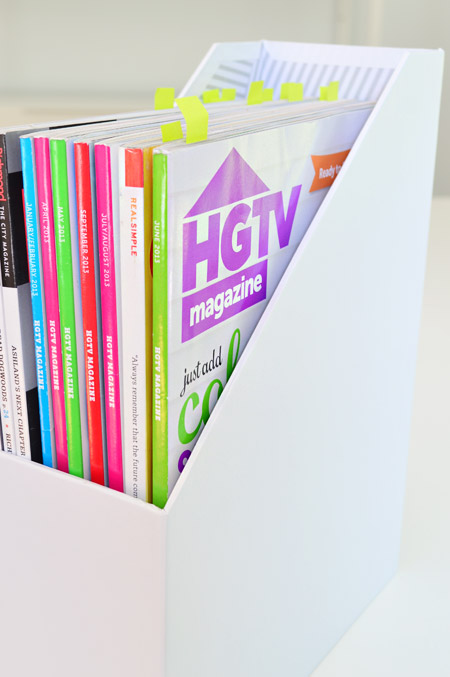 We also brought out a bunch of books that we had stuffed into our kitchen cabinets, and added a few decorative boxes that we already had (the blue ones are from Bed Bath & Beyond when I was in college, and the cream one is from HomeGoods last year). They're loaded up with various office supplies that we didn't want crowding the surface of our desks.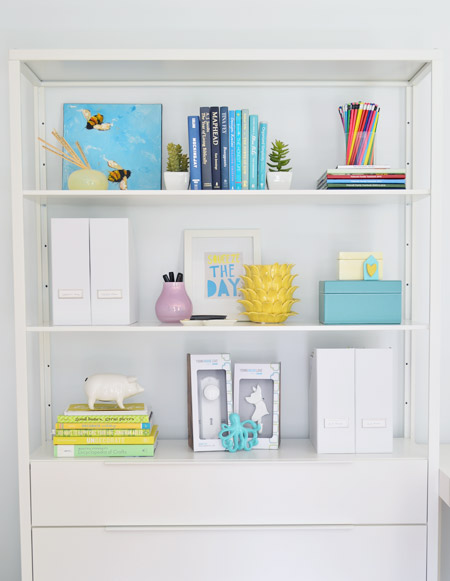 We also included some of our hook designs (some in the packaging, and some out) along with a few copies of our book (the English version and the Korean one) since we figured an office is a good spot to display some of the stuff you've made, and if we ever have anyone over for a meeting we can grab a few copies of our book or a product or two from the office shelves.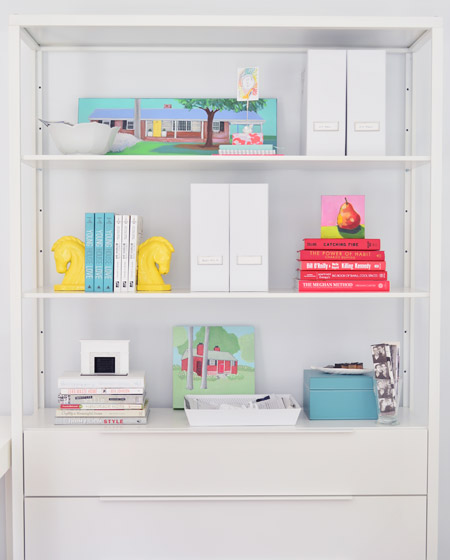 A too-pretty-to-hide-in-a-drawer stack of notebooks and post-its ended up in the mix too…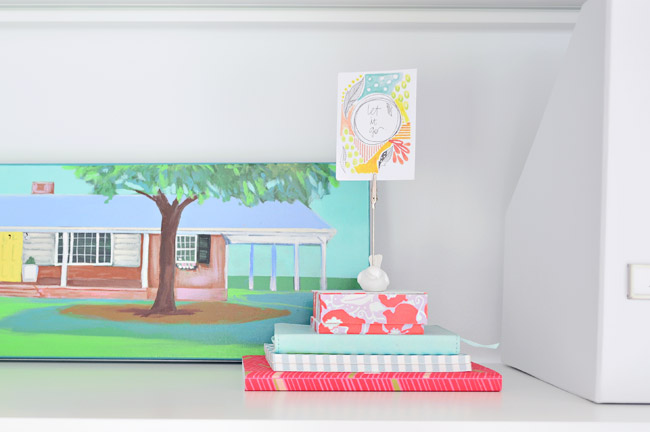 … along with an "inbox" for the magazine tear sheets that used to collect on the kitchen table or the back of the couch. I have binders with clear sleeves where I eventually file them, but now they have a drop zone until I do that, which is nice. Even got to use one of our octopus hooks as a paperweight.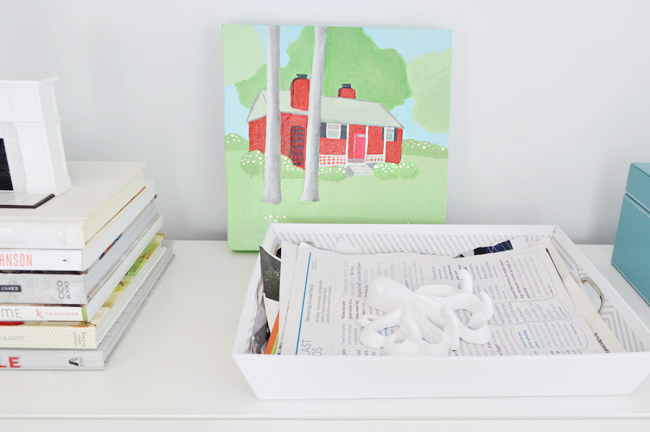 There are also deceptively decorative things that are actually up there multitasking for hidden functional reasons, like the spiky yellow HomeGoods vase which is where we stash our wires (extra chargers, headphones, uploading cords for the camera, etc). It's nice to keep those less-lovely things (like a big mass of wires) incognito, but easy to grab. And the little zebra dish holds magnets for our magnetic frame wall along with a pink vase full of dry erase markers for that zone.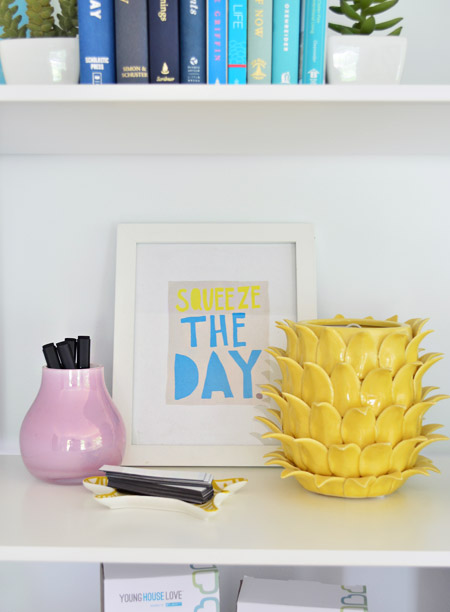 And we finally have a spot for my yellow horse head bookends (remember these?) which add color but also do good equine work (way to hold those books up, stallions).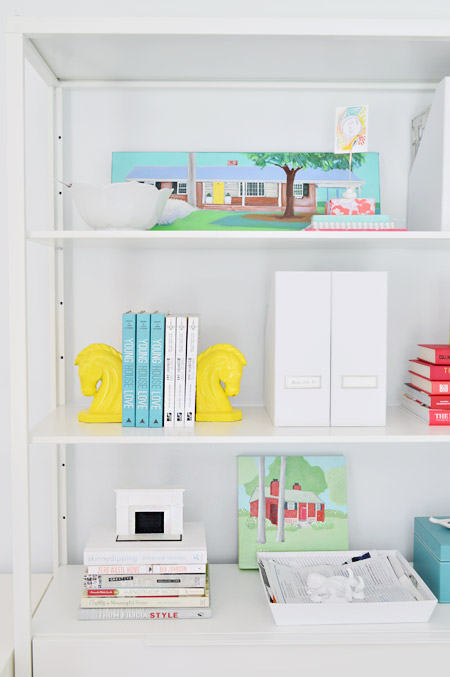 There are also a few purely decorative objects in the mix, just because they make us happy. There's my wonky little painting of our first house along with a painting by my friend Lesli of our second house (she surprised me with it as a holiday gift shortly after I painted our first one). And we can't forget about the awesome replica of our fireplace that Lisa made us.
I also put our little bee painting up there along with a catalog tear-out from Boden that says "Squeeze the day" to add a little office cheer/inspiration – and I found a spot for our family yearbooks. I love seeing that colorful little stack of them, complete with a cup full of Young House Love pencils in every color of the rainbow (a super sweet book tour gift from 2012).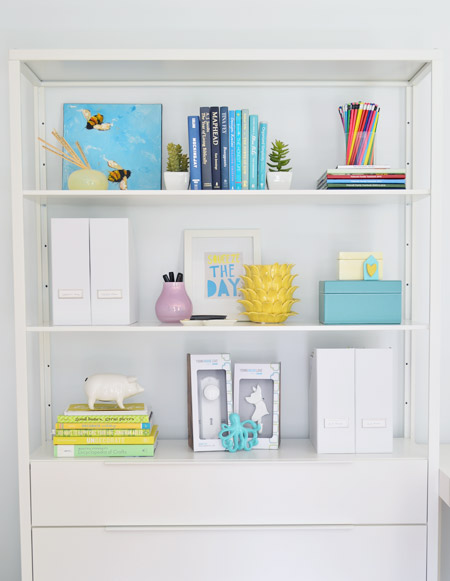 Speaking of bees and stuff that makes us happy, it was pretty hilarious to have our little bumble girl playing dress up and making bead necklaces at her little desk while we sorted and filled our shelves and drawers.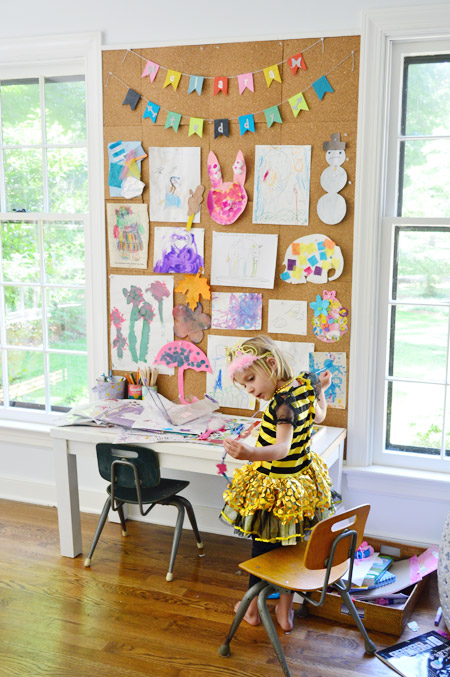 In the drawers to the right of John's desk, we have two empty ones (room to grow = the best feeling ever) along with one that's half full of paint decks, and one that's full of the magazines that I love too much to throw away (like every original issue of Domino) and some catalogs that we reference from time to time.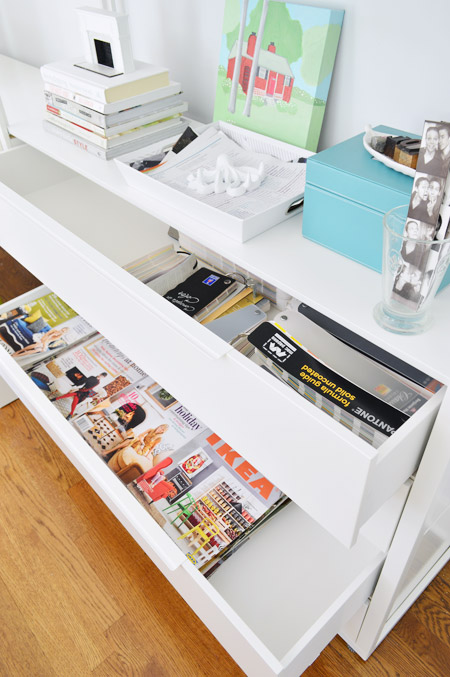 The drawers to the left of John's desk are where we have the more office-related things. The two that are closed in this photo are full of design prototypes that we're currently developing/tweaking, and the top open one is full of tax stuff (receipts, file boxes of back taxes, quarterly stuff to fill out and mail in, etc). The bottom open one has back-up external hard drives, old notebooks full of info that we still need, and a large ziplock bag full of miscellaneous instruction books and warranties for things like our printer, camera, etc.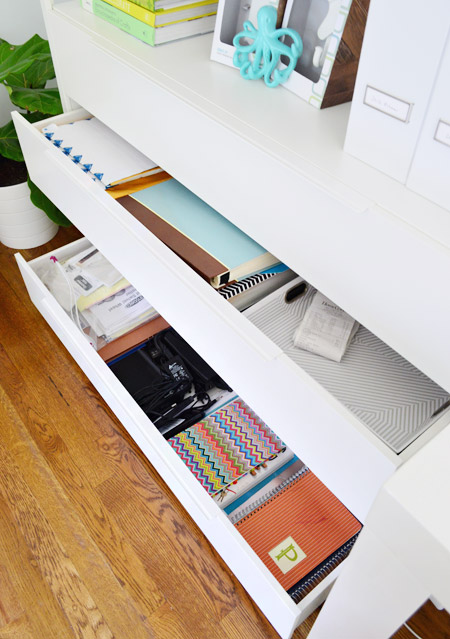 As for the printer/file cabinet, that's also full of documents and other tax/work-related stuff. Here's a shot of it closed (it's the Ikea Effectiv cabinet, which they discontinued a while back).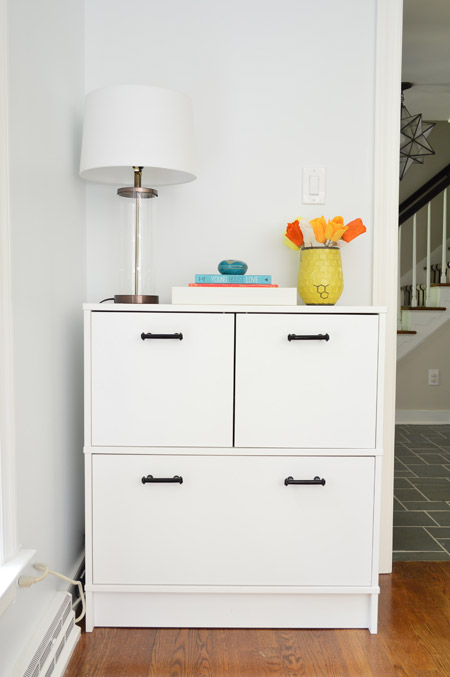 And here it is opened up. We keep the paper and our camera case on the top left, our wireless printer lives on the top right, and all of our files are in that bottom drawer.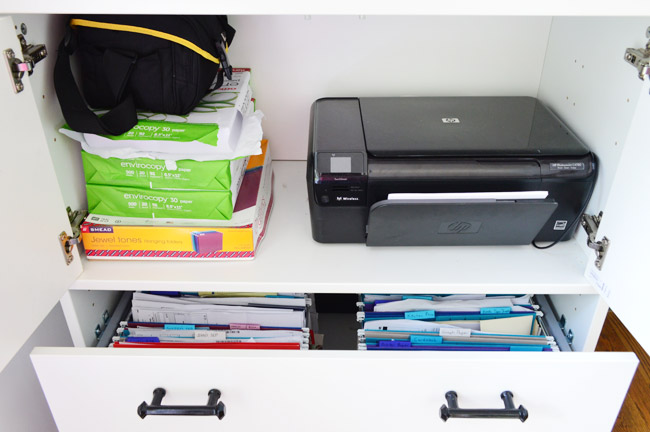 My floating desk by the window (remember when we found it for free on criagslist?) has four more drawers for me to use, as well as a nice big top that I'm attempting to keep pretty clear except for a few notebooks and two vases full of writing paraphernalia (we use the pencils for book edits).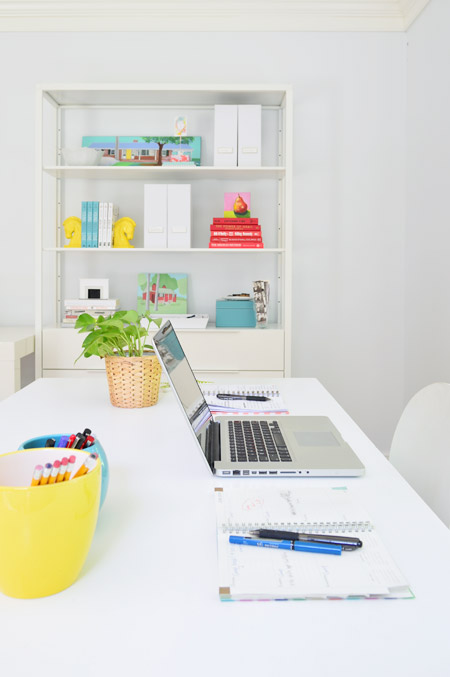 I put things like my scissors, stapler, and other use-a-lot stuff in the top right drawer, filled the right middle drawer with stationery/thank you cards, and kept the skinny middle drawer and the bottom right drawer empty for "space to expand." There's also a cabinet on the left side of the desk that's empty (more remaining room = happy tingly feelings inside).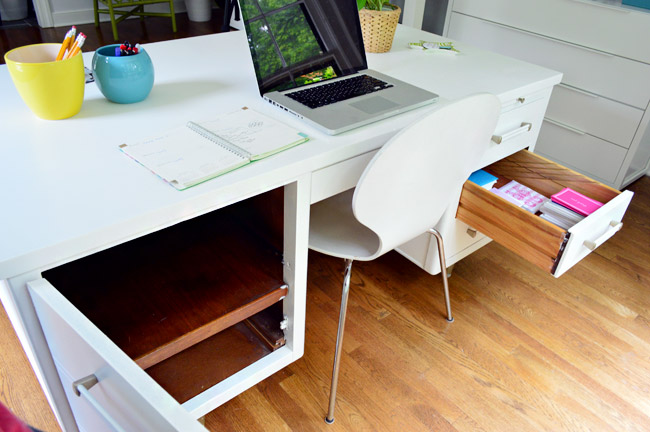 So that's our little where-it-all-went rundown of the office. Only took us a year to find a spot for the stapler and the receipts… but I gotta admit, it feels better than it probably should.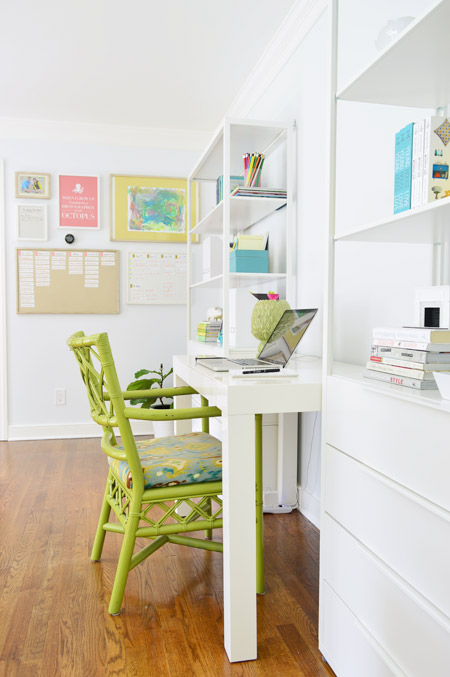 That rush you get when you have a spot for everything is pretty addicting… even if your brain knows it's only a little while before things start to multiply/explode. I'm soaking it up while I can.
Psst- Teddy's eight week photo is up (we couldn't resist that Spoonflower fabric).
&nbsp&nbsp&nbsp
If Teddy ever forgets what letter his name starts with, he now has a whole wall to remind him. That's right, it's always "T" time in there. Har-har.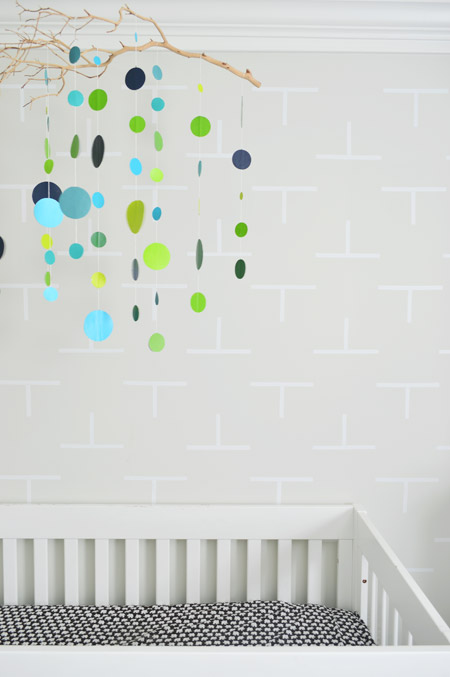 As we mentioned a few weeks ago, Sherry and I settled on a plan for a subtle accent pattern on the wall between the built-ins. Our original plan was to paint the Ts, like Sherry did for Clara's raindrops. But after some of you suggested things like vinyl decals in the comments, we decided to give that a whirl instead. Vinyl has become a pretty mainstream option these days, especially for kids' rooms. It's removable and affordable, so we see the appeal. This tube – which is meant for Silhouette craft cutters – was $5 from JoAnn with a coupon. We don't own a craft cutter, but that didn't stop us from cutting simple line shapes by hand.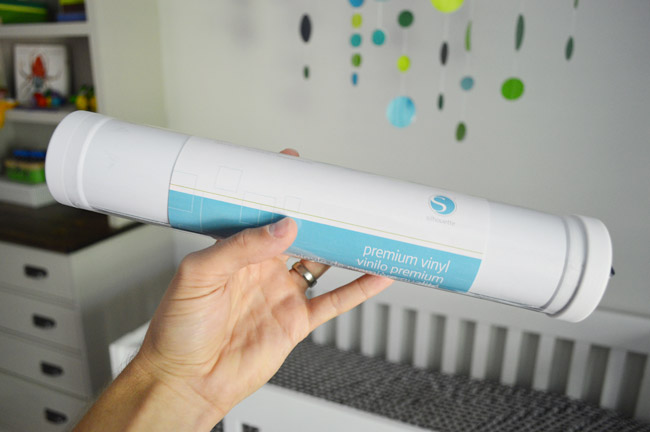 First we had to determine the size of our Ts. The wall space was around 88″ wide, so I figured some multiple of 4″ would make life easiest. But I mocked up two sizes with printer paper cut into 1/2″ strips – just to be sure that we both liked the 8 x 4″ version because it looked right (and not just because the math worked out). Thankfully we did.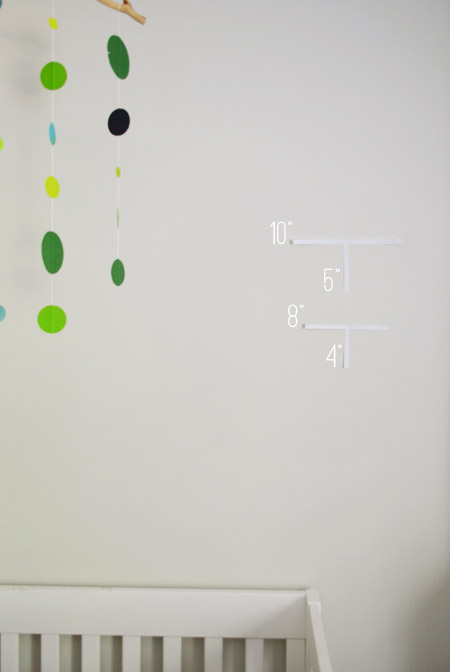 With the size selected, next we had to lock down the arrangement. I cut out a few paper templates, taped them up, and we moved them around until we liked the layout. Happily, the pattern that we liked could easily fit into 4″ increments.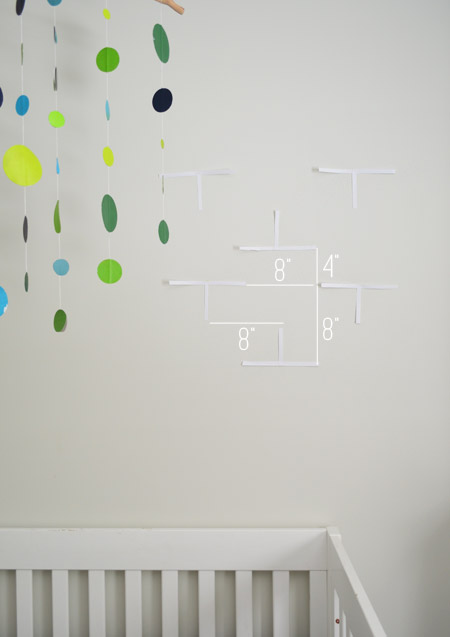 The next step was cutting a bunch of 1/2″ vinyl strips: some 8″ long, some 4″ long. I'm sure this would've been faster if we owned a craft cutting machine, but it wasn't too hard to execute by hand. Here were our materials: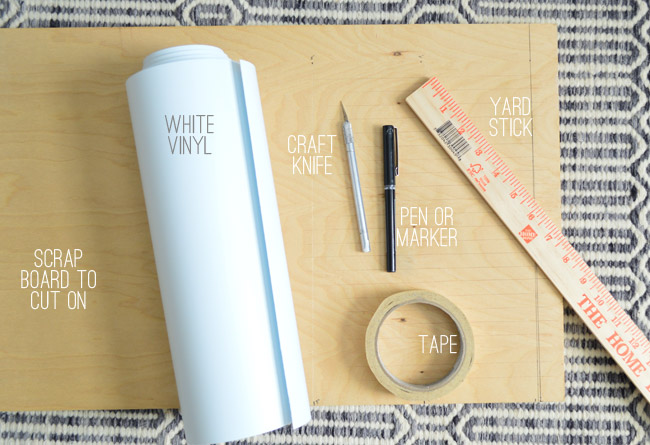 I started by making a simple guide on my board (three small pen dots on the wood at the zero inch, four inch, and eight inch spots). That way once the vinyl was rolled out, I could easily slice off an 8″ section.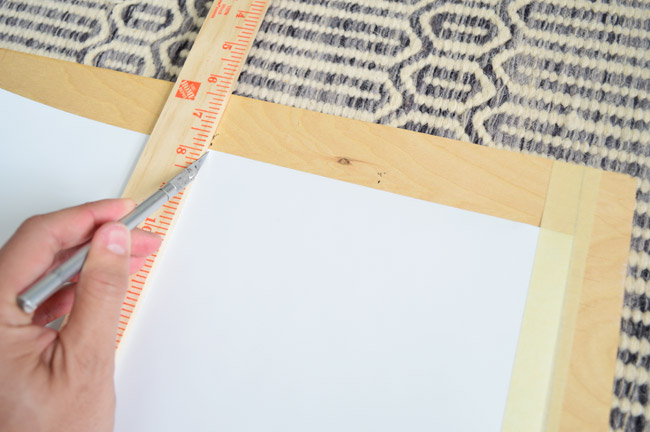 With a 8″ section of vinyl cut and taped down on both sides, I used the ruler to tick off 1/2″ marks on both sides of the sheet.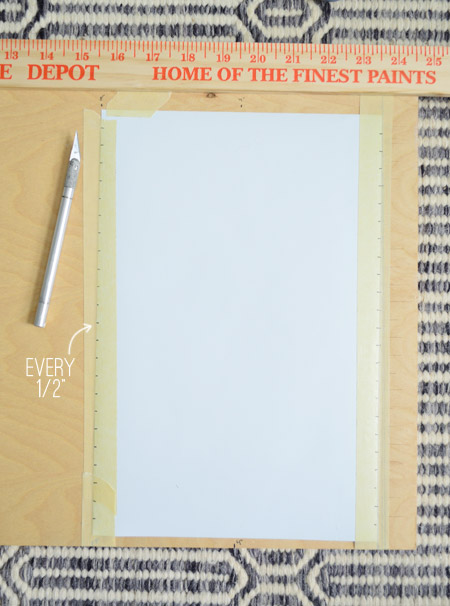 Then I lined up the ruler to each set of marks and sliced through the vinyl (it took 2 passes – one to get through the vinyl, and one to get through the backing). Then I just moved down the sheet until the entire thing had been carefully shredded into 1/2″ strips. Making 4″ long strips meant following the same steps, and ending with one last cut down the center. I needed about 70 in total. It wasn't particularly difficult work (sort of that auto-pilot, get-in-the-zone stuff).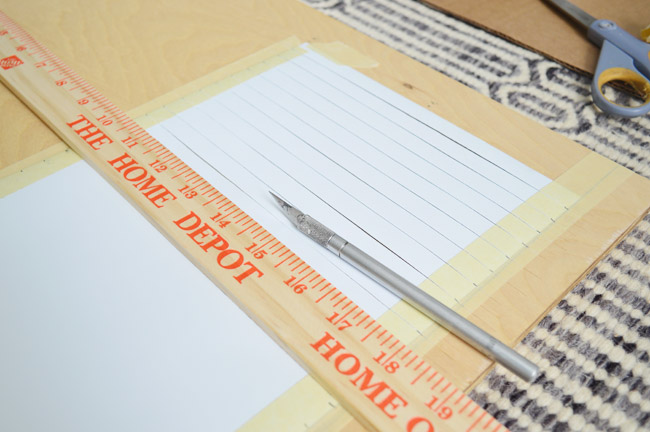 Applying the decals to the wall was also pretty simple and repetitive. Since we were basically creating a giant grid on the wall, I knew that keeping things level and equally spaced was key. So I started at the top middle of the wall and worked in small sections, making pencil marks with a level and yard stick.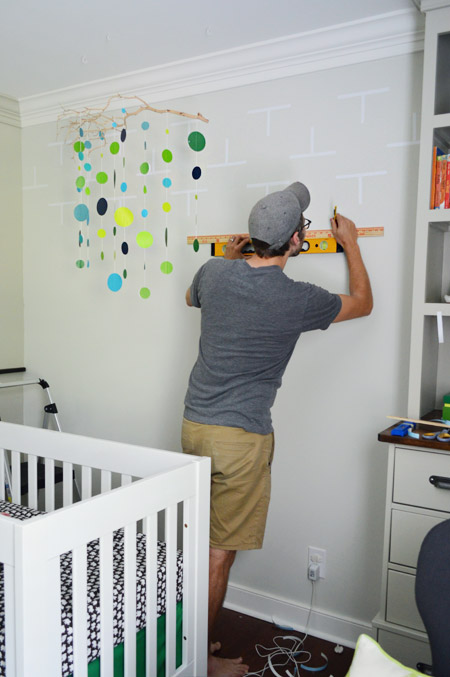 How I measured & marked the wall may be TMI for most people since it's really specific to the shape/size of the decal you're applying, but if anyone's looking to recreate this look exactly, here's the rundown. With my yard stick held vertically (and checked with a level) I marked the vertical spacing of each row – as seen below in the RED dots. Next I held the yard stick horizontally on each mark (again, checked by a level) and marked the middle and both ends of each T – as seen below in the BLUE dots. It sounds a lot more complicated than it was.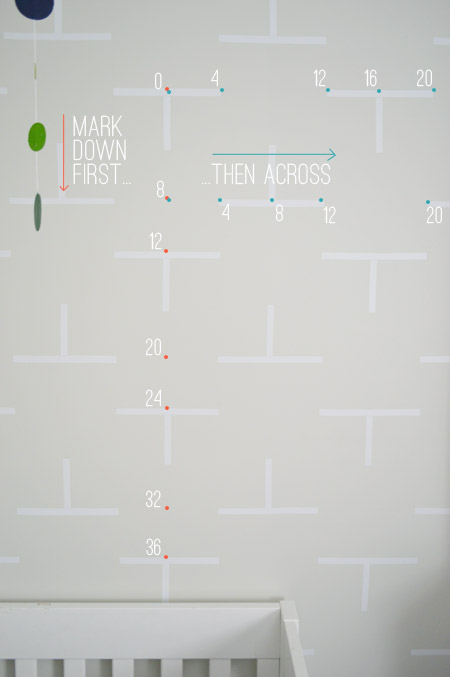 Then I used those marks to place the vinyl strips. You can sort of see my light pencil marks below, but I've added blue dots to help you see how they guided my placement of the 8″ strips. Once the long strip was placed, I used my center mark to add the 4″ vertical strip. I just eyeballed these since it was pretty easy to make such a short strip look vertical.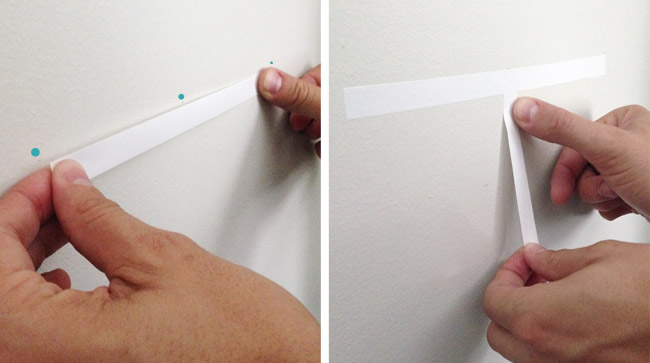 The vinyl was really easy to work with, so I'm glad we made that choice. It held tight to the wall with just a quick smooth of the finger and so far nothing has peeled up on its own (I started the project before Memorial Day and worked through last week, so some of the first strips have been up for almost two weeks). And just for kicks, I tried removing one to see what happened. It took a decent amount of work to get my nail under the edge enough to peel it off, and a decent amount of pressure to yank it off, but once I did it came off without damaging the wall. Initially when we considered vinyl vs. painting for the Ts, we worried Teddy might be able to peel them off when he's older/more mobile, but I doubt Clara could remove one.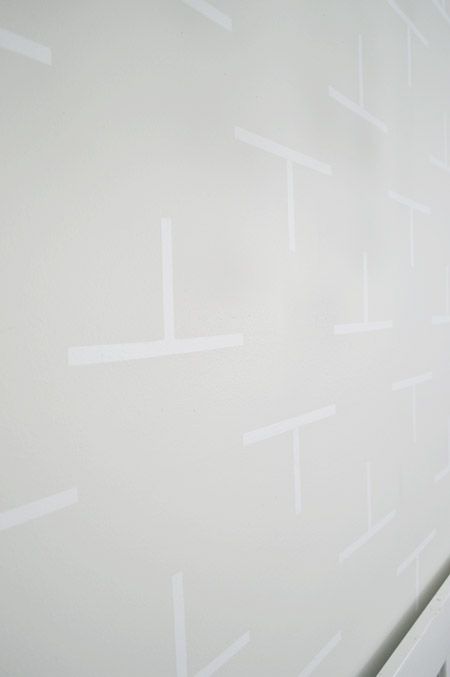 It was our first time working with self adhesive vinyl and I'm impressed with how crisp and grid-like the design turned out (something I'm not sure we could've achieved with paint alone). It's nice to have some subtle pattern and interest between the built-ins. And the $5 price tag is pretty nice too.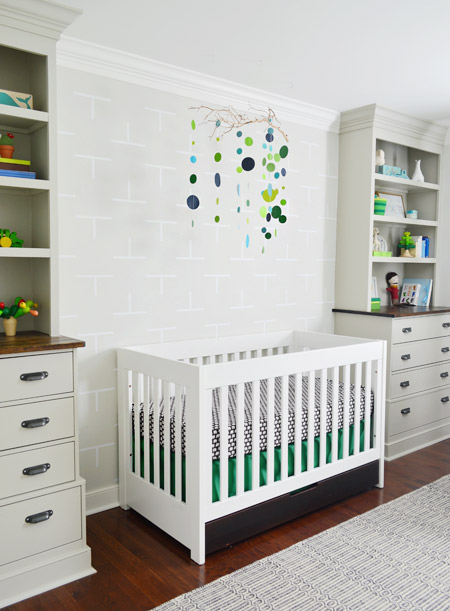 We didn't extend the T's behind his crib, just because we thought the lines would look busy with all of the crib slats. But I did save some extra strips to add once he moves to a twin bed (we also have about a quarter of the vinyl roll left for backup). But let's not jump that far to the future yet, okay? This kid is already 12 pounds. They really do grow up too fast.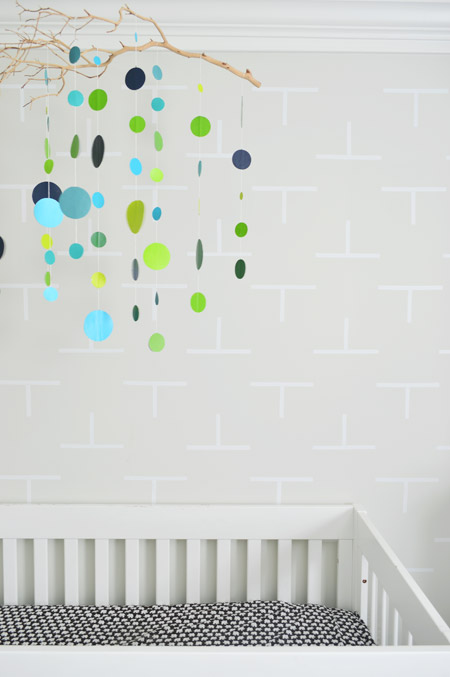 I like that if we ever tire of it (or if Teddy requests something else down the line), we can just remove it and move on. Although it does make my geeky heart swell a bit to imagine what Teddy will see in the pattern besides his first initial. A bunch of squares for hanging his drawings? A bunch of cliffs for careening toy cars? A giant Plinko board?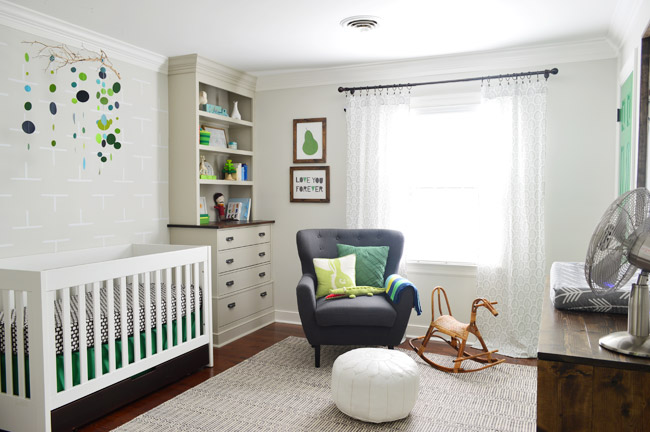 Other than needing a light fixture overhead, I think we're done in here for now. And you know we love a good before and after, so here's a reminder of the carpeted pink-trimmed room we started with: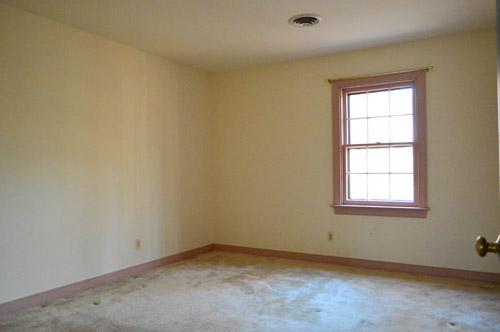 Did you guys finish up any projects this weekend? Or do anything outdoorsy? We squeezed in a few long walks and even slipped through a street festival on Sunday. Teddy loved the candied bacon on a stick.
Note: I spared you all from like two dozen T-puns that I was thisclose to unleashing throughout this post. Like how I think the wall fits Teddy to a T. And how I hope he thinks it's T-rrific. And how I didn't need a TI-82 to calculate the placement of my decals. Remember those?

&nbsp&nbsp&nbsp