Crafting & Art
Remember when we mentioned snagging these old iron keys for $8 in an antique store in West Virginia while visiting John's grandma? Well I finally got around to painting them and hanging them in our hallway frame gallery (see how we made that here). Where did we squeeze them in? Well, see that card stock placeholder key? That was, well, just a placeholder.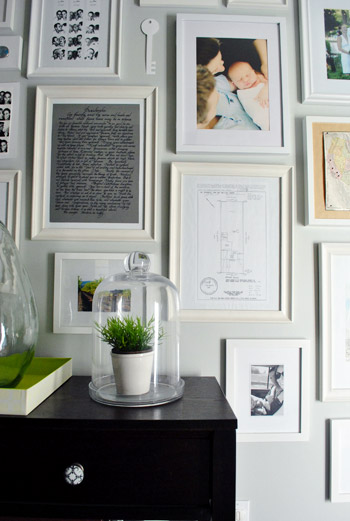 I could have easily spray painted them for a quick makeover but since I love to use no-VOC paint whenever I can (especially since I have a huge gallon of white paint around at all times), I opted just to brush on a few coats by hand. It's the same semi-gloss Olympic Premium No-VOC paint that I always use for trim and doors in off-the-shelf white if you're wondering.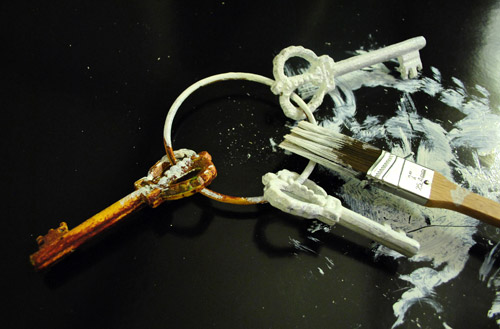 Then I decided that the spot on the wall with my card stock placeholder key might not accommodate that big ring of keys as well as three separate keys hung in a row, so I used some lady power and a hack saw to cut the iron ring and free each key to hang on its own.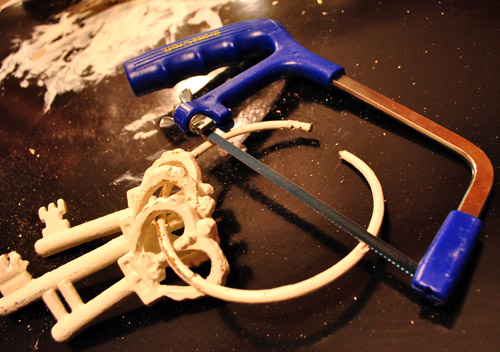 After touching up some of the white paint for a pristine finish I waited for them to dry and used twine from our junk drawer to string up each one at varying heights for a balanced but not perfectly symmetrical result.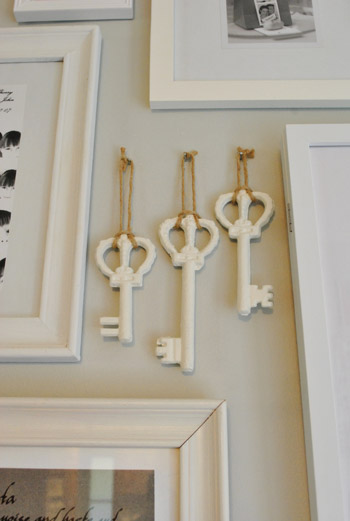 In the words of my imaginary BFF Bethenny Frankel (I know she's not for everyone, but I love her), thar she blows: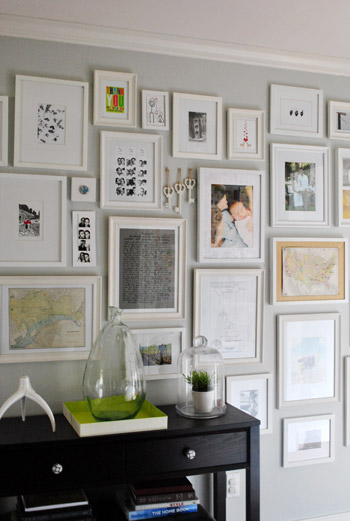 I love glancing over at them through the wide doorway in the kitchen…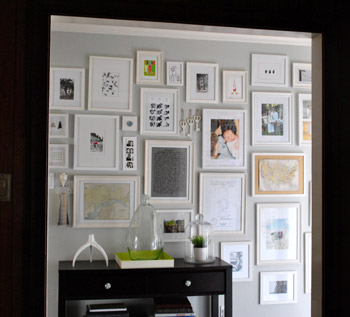 … and gazing at them as I walk from the front of the house to the back (or vice versa)…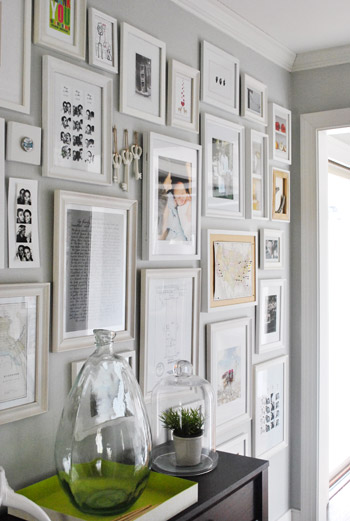 So that's the newest addition to the big hallway frame gallery. If only we could get our act together and start on the other side of the wall. You can see that in it's planning stage – all covered in newspaper – here. And in this video, still covered with newspaper. Maybe tomorrow…
Wow, is this post really only 354 words? That might be a record for a chatty kathy like me. I kind of feel like a slacker. But what more can I say about the keys? Painted them, sawed them, twined them, hung them, took a bunch of photos, professed my love for said keys. The end. Wait, I know what this post needs. An on-the-subject haiku:
Little iron keys
I painted you white (surprise)
Wait, no one's surprised.
Ok, now we're over 400 words and there's some poetry going on. Sherry out.
&nbsp&nbsp&nbsp
Something big happened last week: my parents sold the house I grew up in.
They've been planning to do this for a while, so it's not a shock or anything. It's also not as depressing as it could be since they're selling it so they can move to Richmond (right now they're about 2 hours away in Northern Virginia). My parents are both retired and have been planning to downsize for a while now. They picked Richmond for a bunch of reasons, including that four of their five grandchildren live here. So all in all, we're really happy about the news.
But there's still something major about the closing of this particular chapter, so allow me to be sentimental for a moment.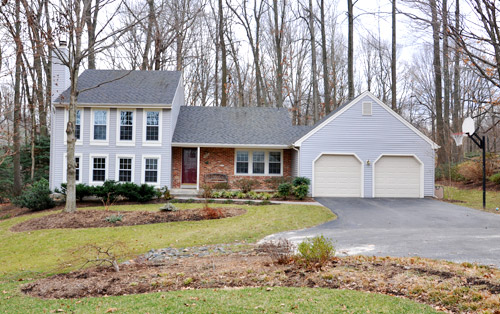 My parents moved into this house in 1979 (forgive the not-so-pretty winter pic above). It was a new construction home at the time, so they – along with my two older sisters – were its first (and up until now only) occupants. If you're keeping track that's two years before I arrived, meaning this is the house they brought me (and later my little sister) home to after we were born. So as you can imagine, a lot has happened in this house over the 32 years they have owned it. Including my mom taking annual pictures of us on the porch for first days of school and for our birthdays (note the homemade banner taped to the storm door behind me).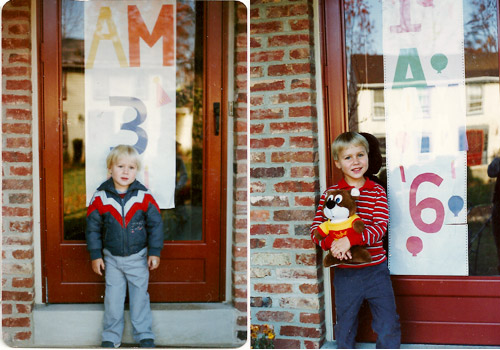 When we heard they accepted a buyer's contract early last month, we took the first opportunity to gather there one last time for a family portrait. My sister Emily even made an homage to my mom's birthday sign tradition for us to pose next to. Here's the "original" six Petersiks (aka, the "Petersix")…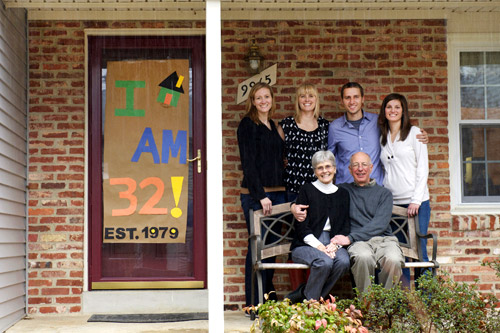 …and now with our expanded family of spouses and children (can you tell that it was POURING rain during these shots – fortunately my bro-in-law the professional photographer knew how to handle it).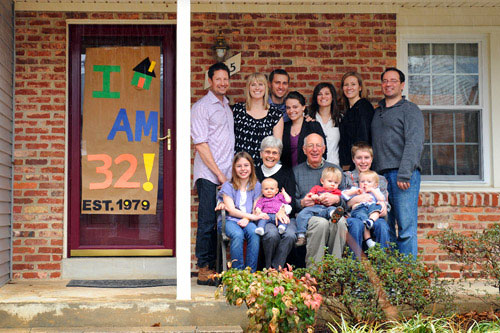 In addition to these pics, my sisters and I wanted to honor this big moment with a gift. After debating a few things, we decided to get them a drawing or painting of the house. They already own a pen and ink sketch of it, so (thanks to some suggestions from you guys on Twitter) we landed on getting a painting of their front door from artist Kal Barteski (she calls her series T+A - tiny and awesome). So I sent Kal this pic of the door…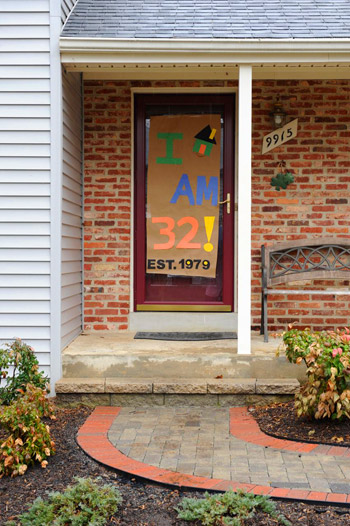 And a couple of weeks (and $100 – split four ways among me and my siblings) later, this arrived. Tiny and awesome indeed.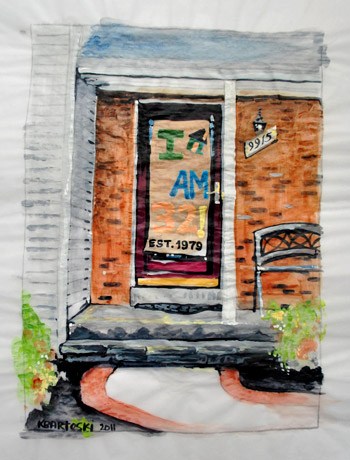 It's actually 5 x 7″, so it's not that tiny. Kal paints them on thin onion skin parchment paper which is why it looks a bit wavy and textured. It threw me off a little at first, but when I read that she does it so your painting looks truly like original art – not a print or a replica – it won me over as quite charming.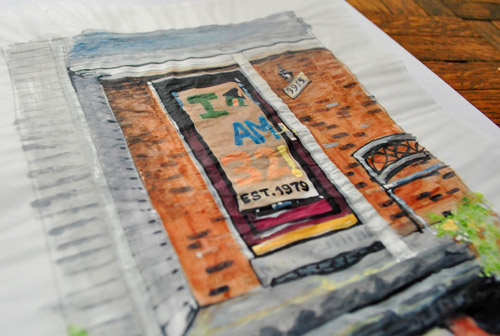 The onion skin paper is also translucent so she invites people to mat her paintings on colored or patterned paper to customize them and add even more texture. We had fun trying a few colors & patterns underneath but ended up going the straightforward route and putting it on white card stock since we thought my parents would like it best that way.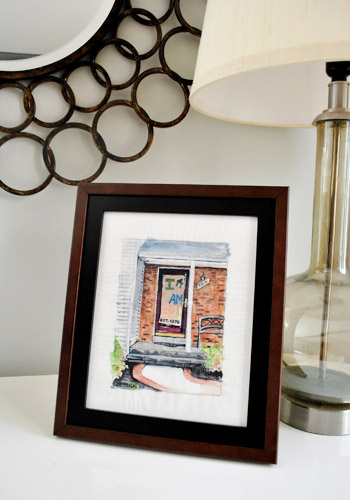 We finally presented it to my parents this week and they LOVED it. Woo hoo!
Oh, and since some of you might be curious – my parents got very lucky when it came to selling their house. Before it was officially listed on March 1st, they had a preview showing at the end of February and that person put in an acceptable offer on the spot. Not bad right? Since it happened a bit faster than any of us expected (including them) they have around six weeks until they can officially move into their new house in Richmond. In the meantime they'll be bouncing around between their Delaware beach house, my sister's house in Northern Virginia, and my sister's house here in Richmond. But we can't wait for the day that they can officially call our city their home.
Psst- The babyproofing adventures continue over on BabyCenter where we're sharing how we anchored a giant wall mirror in our bedroom (thankfully it wasn't rocket science).
&nbsp&nbsp&nbsp