Crafting & Art
2, 4, 6, 8, Who Do We Appreciate? Planning!
And why do we appreciate it? Because we get burned when we don't do it. At least we did on the frame arrangement we just hung above our sectional.
Here's the story. We've always planned to take the big empty space above Karl and do a grid of large picture frames. We sort of envisioned it as a larger version of the frame grid that we hung above the couch in our old den…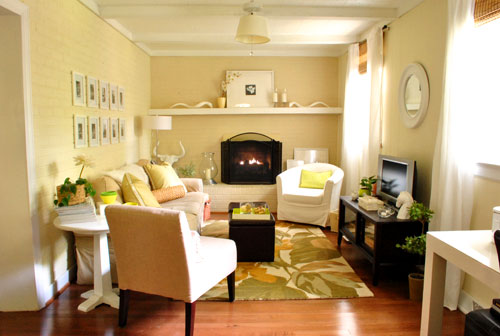 … but instead of 8 x 10″ frames we'd use oversized 20.5 x 20.5″ Ribba frames from Ikea for more impact (since we already own and love four of them – and they're just $19 a pop).
After some rough math and holding up a couple of the Ribba frames that we already owned, Sherry and I determined that we wanted to do a grid of six frames (two rows of three) to fill the space in the middle of wall, allowing for some empty space on either side for two table lamps that would sit on the future console table that we'll eventually build to go behind the sectional. Note: we moved the 5 x 8′ Pottery Barn rug into the guest room for my in-law's stay, and it will eventually live there permanently, we just brought it back into the living room until we upgrade to a bigger rug, since we're currently guest-less and Clara appreciates having a soft place to play.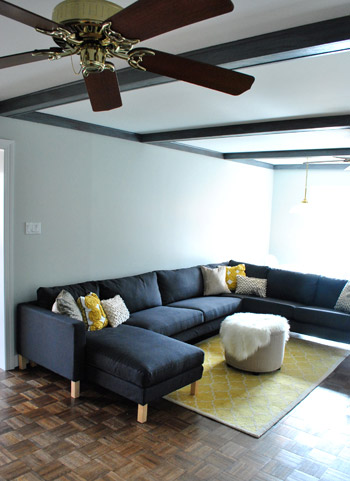 Anyway, back to the frames. We went to Ikea, bought six new Ribba frames (they sometimes vary slightly in color, so we figured it would be safest not to mix and match old frames with new ones, and we have a ton of other spots for the four that we already own) and headed home to begin the whole hang-it-up process. But first we made this iPhone video of Clara in Ikea. The girl is hilarious. Look how much fun she had:
Ok, now that you've seen the cutest thing that ever happened in the history of the world, we'll get back to the whole framing thing. When we got home with our six new Ribba frames from Ikea, I suggested that we tape up some paper to figure out how high we want them to hang and how much space to leave between them. After all, we both know these things are worth planning out. And luckily the paper that comes in the frame is almost perfectly sized to help you figure this out. So we started with two sheets to see how high to hang them.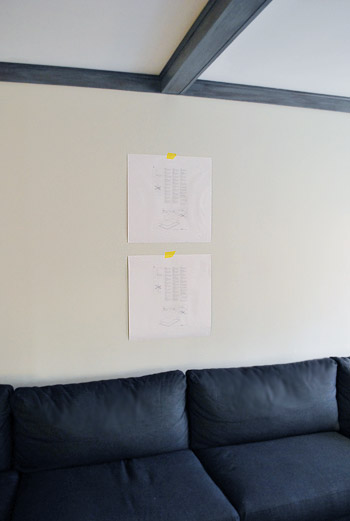 This is where things veered off course (thanks to me, I'll admit). Sherry suggested that we tape up the other four sheets of paper to make sure we liked how all six looked together. Maybe I was just an eager beaver and wanted to get to drilling. Or maybe I decided we should blow it off because we had already accidentally thrown away one sheet of paper to complete the all-six arrangement. Whatever it was, I reassured Sherry that it would look just fine and we didn't need to be all paranoid and hang the remaining three sheets to double-check everything. Famous last words.
She believed me (albeit hesitantly), so I started drilling. Insert happy testosterone filled sound effect here (there's nothing like a little afternoon drilling). It wasn't a fast process to measure, mark, and double check everything to make sure it was all lining up, so maybe an hour or so later I had five out of six frames hanging on the wall.
That's when Sherry broke the news that the arrangement wasn't big enough. We needed eight frames. As much as I hated to admit it (for more than one reason), she was right – the five frames looked too small on the wall (and adding the sixth wasn't going to help). They floated awkwardly and just didn't have the impact we wanted.
**I'd insert a picture here of giant Karl sitting awkwardly below those poorly placed frames but I was too pissed/disgruntled/ashamed to snap one.**
This was all my fault. Had I taken the time to tape up all of the sheets of paper we would've realized it before I put a single hole in the wall. I even would have taken a picture of the taped-up configuration to show you what a learning process taping them all up on the wall can be, and how grateful we were to have taken the time to complete that first to save a step. Duh, John. Grumble, grumble, grumble.
The next step was to take down the five already-hung frames with a big ol' sour face and begin re-measuring everything so that eight frames would be centered above the sectional (and on that middle ceiling beam). Then came the not so fun process of not only removing the ten screws that were already in the wall (I was doing two per frame to be safe) but marking, drilling, and screwing in an additional sixteen. And since we already had two old Ribba frames that happened to match – finally, a lucky break – I was able to hang all eight frames in place without another four-hour-round-trip to Ikea, leaving us with this: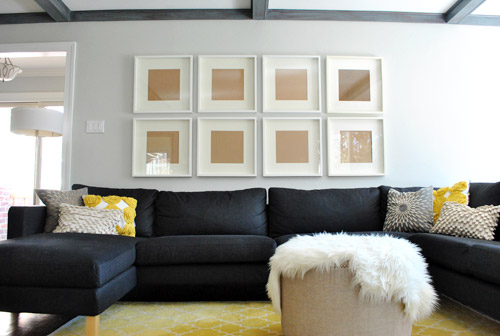 We definitely needed all eight frames. They should be just right when we add table lamps on either side of the arrangement after I build an über long console table.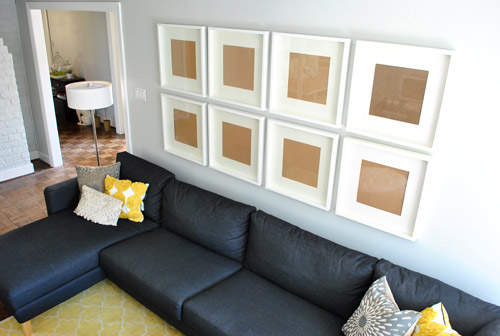 We're still debating exactly what to put in them (maybe family photos? maybe something more graphic?) but we're certainly glad to have the whole frame hanging part over with. Even if it involved a lesson learned the hard way. At least it was a mistake that only took time and energy (and a bit of humility) to fix. You know, as opposed to a big wad of cash. Oh and speaking of time and energy, there are still some holes and pencil marks from the first attempt that need patching. Sigh.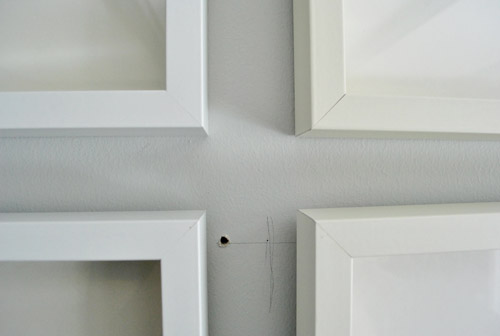 Wait, who am I kidding. That's Sherry's department. Have fun with that babe.
What about you guys? Surely we can't be the only ones who've made the mistake of not planning well. Or maybe we are. But we'd love to hear some of your stories if you've got 'em. Bad planners unite!
Psst- Speaking of frames, we found a really cool one for displaying kid art (or any art that you like to rotate out without taking it off the wall and removing the back). Check it out over here on BabyCenter.
&nbsp&nbsp&nbsp
We finally hung stuff on the wall in the beanette's room. Earth shattering right? Except it's actually somewhat of a big deal considering we haven't hung a single thing in the entire house except for a wreath on the back of the fireplace in the living room for Christmas. That's right, for the last month we were card carrying picture hanging virgins in the new house. But now that we made about 34 holes (yes, I counted) in the walls of Clara's room, our v-card is long gone. So we snapped some pics of the nursery now that it has a little more flava.
The only real change from Clara's room in our last house so far is the soft pink wall color (it has great gray and purple undertones- more on that here). Otherwise, we have pretty much all of the same furnishings and accessories in there for now. You know, work with watcha got, blah blah blah. We think it'll definitely evolve as she grows, but we loved her nursery in our first house (it was the only room that was a bit hard to walk away from when we sold it) so we're cool with keeping things familiar for now and adding in some subtle tweaks as she grows. Anyway, here's what it's looking like in there now that we broke out the hammer and the level (34 times. did I mention we hung a ton of stuff in there? because we did):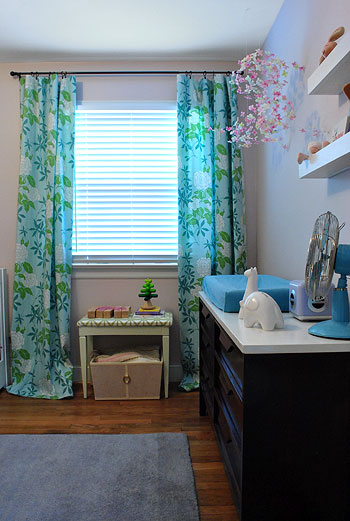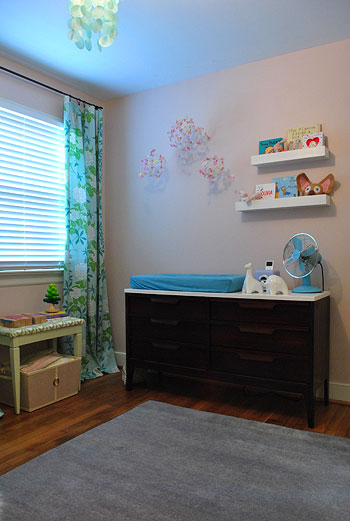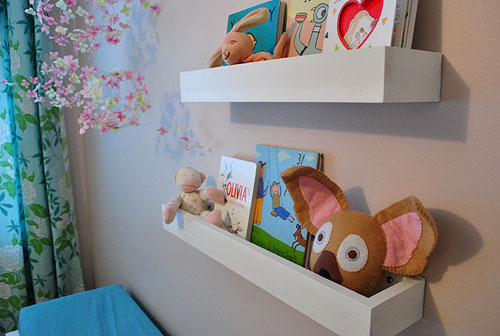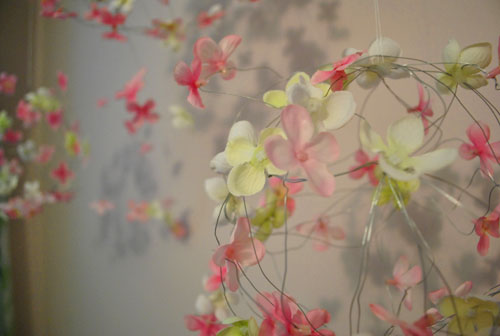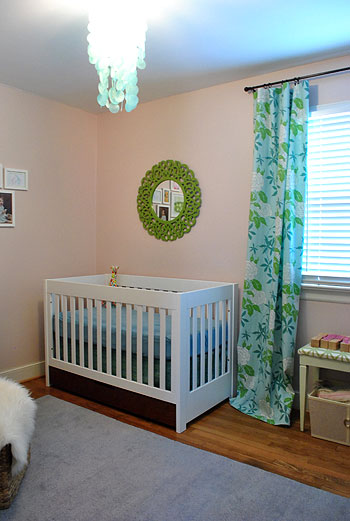 Oh and see this mirror. We baby-proofed it.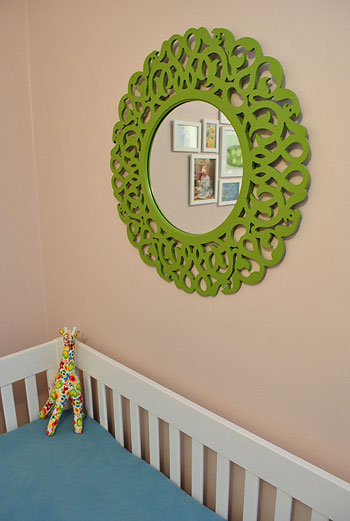 Although the mattress will drop down more than a foot when Clara starts pulling up, we still wanted to make sure she couldn't somehow climb the walls and pull that big green mirror down. So after hanging it on the wall with a nice heavy duty anchor, we went overboard and decided to drive two looong screws…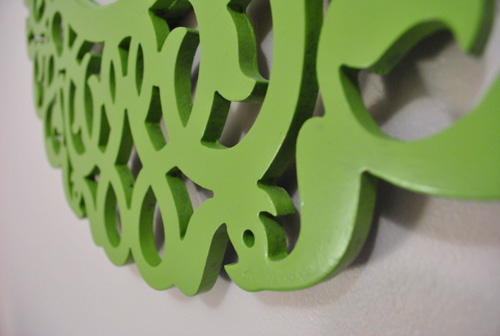 … through two holes on the bottom of the frame. Yes, we screwed that mirror right into the wall. See that little silver nail-head hidden among the ornate mirror frame in the foreground of the pic below (and the one that's kinda blurred on the other side)? We used heavy duty anchors to hold them nice and firm. That thing ain't going nowhere. And we even have the green paint that we used on the mirror to paint those screw heads so they're totally invisible among all that scrollwork around the frame of the mirror.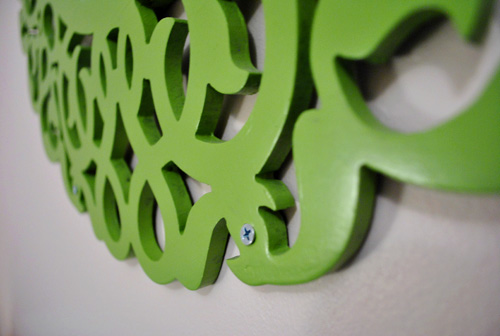 In other baby-proofing news, we also added outlet covers to nearly the entire house (still need to run out for a few more to complete the job) and of course we mentioned how our curtains are baby-proofed a while back in this post when we made them (they're held up with ring clips, so if Clara swings on them like a monkey the fabric will slip out but the rod and the ring hooks won't come crashing down. Because that would be bad. Anyway, on with the nursery pics.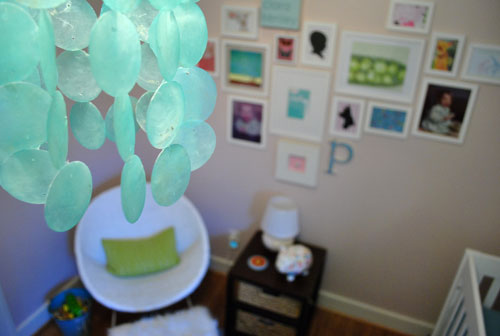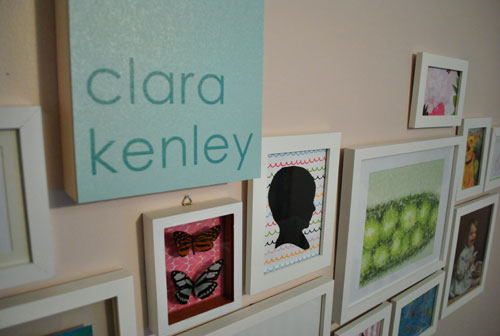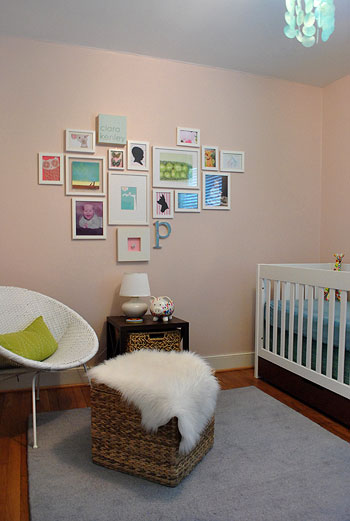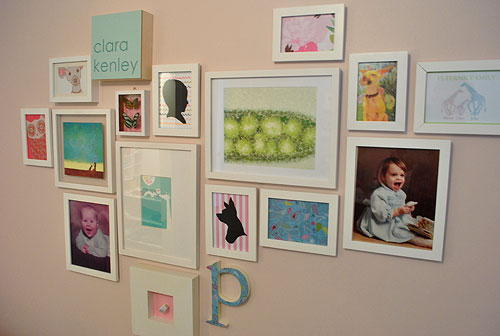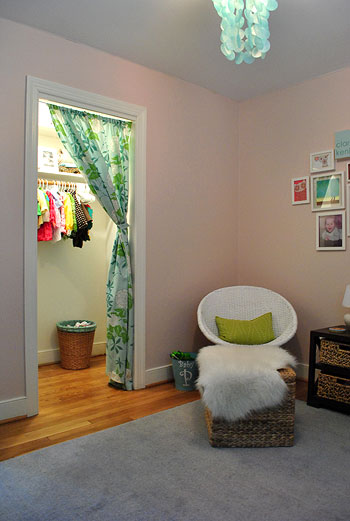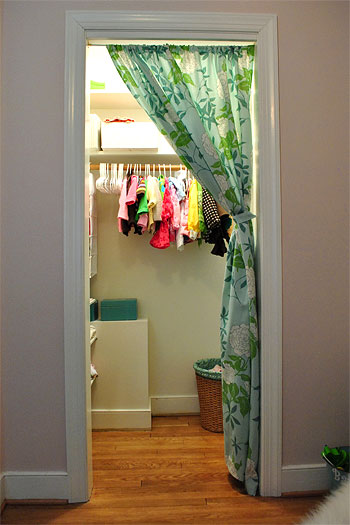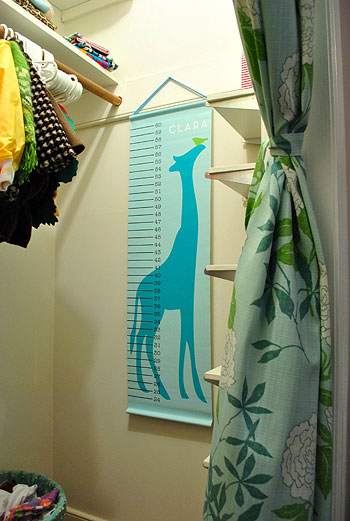 The closet is actually my favorite place in Clara's room. It's huge and I picture her in there relaxing on a beanbag and reading books when she's a little older. So there you have the current state of the nursery. It's funny to think that a little over a month ago it was completely babyless and looked like this: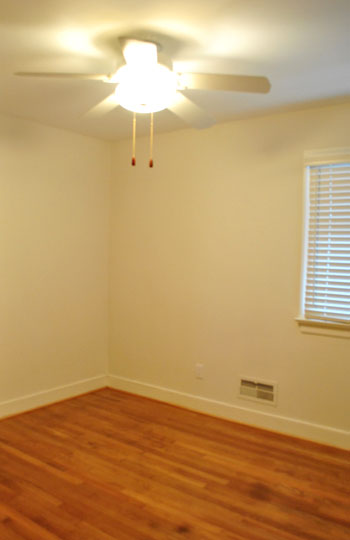 And speaking of my favorite girl, here she is now enjoying her room. This is the expression she gave me when I asked if she liked her block.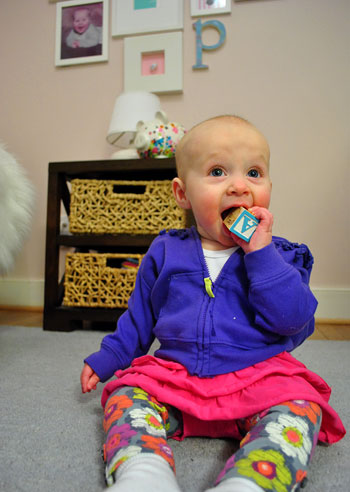 And this is what she did when I said "Now give me fierce! Work it girl!" while channeling Tyra.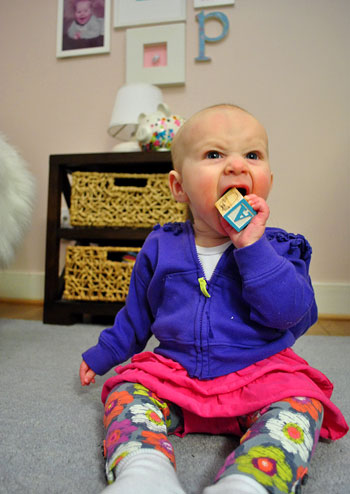 I think she understands more English than my sweet Italian grandma.
Psst- For more info on where we got something in Clara's room, click here for the full rundown.
&nbsp&nbsp&nbsp