Crafting & Art
"Who has two thumbs, an Instagram addiction, and just bought a bunch of jewel cases?" I think we all know the answer. THIS GUY had a little art project up his sleeves.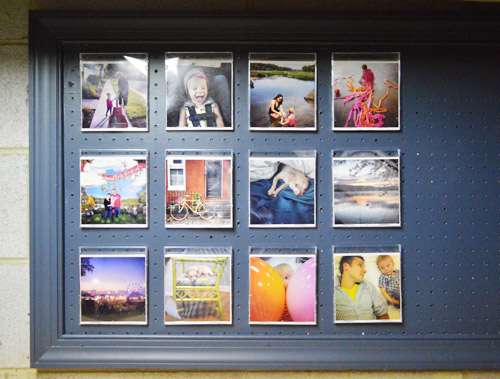 Ever since jumping on the Insta-wagon back in April, I've been itching to get some of our photos printed. We just never had a place for them and were always a little wary of the quality through various printers. But a few weeks ago when I spotted a Facebook coupon for five free Instagram prints using Picplum, I ordered away (nothing to lose, right?) and I was pretty impressed with my handful of free 5×5″ prints… so, like the sucker they hoped I'd be, I purchased a bunch more for $1 per print.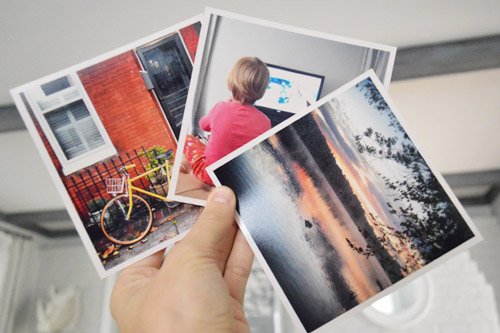 My paid order was fueled by the fact that I stumbled upon something completely accidental. With a tiny trim on two sides, these square prints fit pretty darn perfectly into the front of a jewel case (you know, the clear plastic cases that CDs come in… used to come in?… do I need to refresh everyone on what a CD is?). The only reason I ever discovered this is because my five free prints were sitting on my desk on top of an old CD case, and I realized they were basically the same size.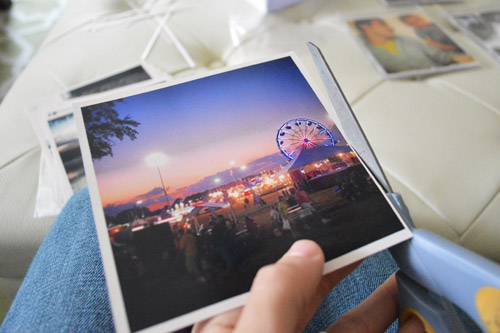 So I swung by Office Depot and snagged a $10 bulk pack of slim jewel cases (there were 30 of them in the pack, and I didn't need that many, but it was the smallest pack of thin ones, and I thought thin cases would look the best). Then I just slid some of my favorite prints inside twelve of them.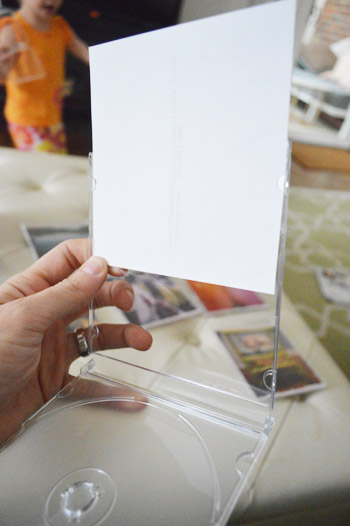 As you may have guessed from that first picture, I'm not designing homemade covers for some stocking stuffer mixed CDs or anything (although I guess this would work for that too). I actually thought they made for a cool way to display photos in my Man Cave Complete With Pegboards as I've lovingly come to call the basement these days. Because nothing too precious makes sense down there with pieces of wood and sawdust flying everywhere – but something to cover photos that I want to display (thereby protecting them from said sawdust) might just be handy, right?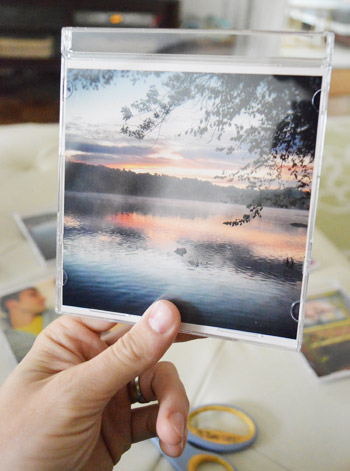 It's certainly not very fancy or overly fussy, but I really like how easy this was and how stress-free it feels. If a rogue screw cracks a "frame" it'll cost less than a dollar to replace. Plus they look pretty great against my navy pegboard, amIright?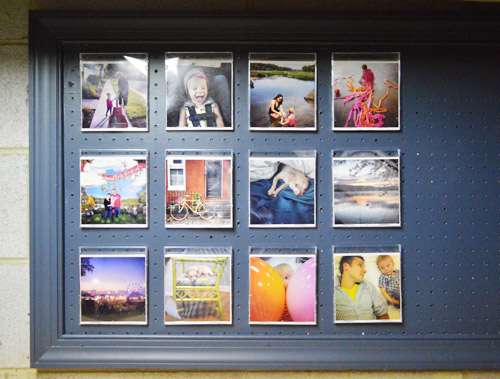 Total cost for each "frame" including the art inside = $1.30. Can't buy much other framed art for that price, right? And you know Sherry loves to say that geek is the new black. CD cases are bound to be the next mixed tape/eight-track, right?
To hang my grid I just used 3m Command strips (the velcro kind for "damage free" picture hanging). I actually like to use the strips perpendicular to one another (rather than right on top of each other) – that way I have more flexibility to move things around once both strips are stuck in place (I can shift things up and down or side to side a bit that way).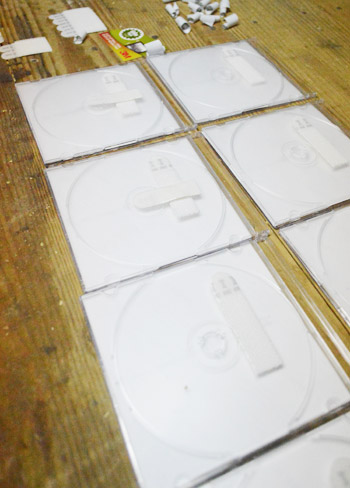 And fortunately the holes on my pegboard made for a great guide when I was pressing them into place.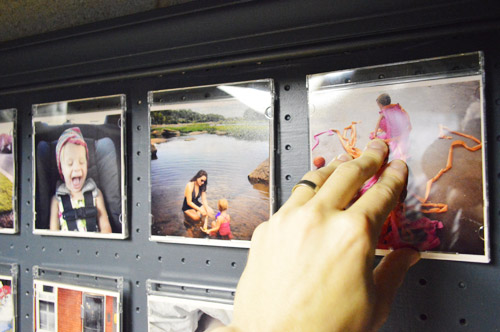 Ta-dah!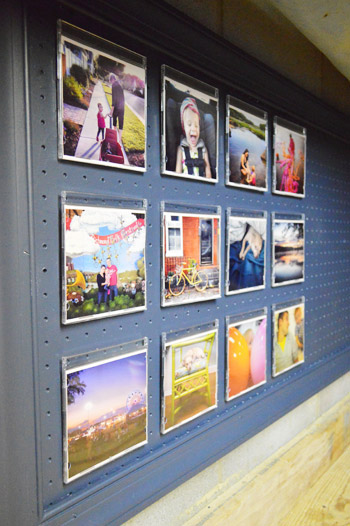 Wanna know a secret? I actually tucked an extra photo or two behind some of them. So if I ever want to mix things up I can just hinge the case open, swap the photos, and call it a day.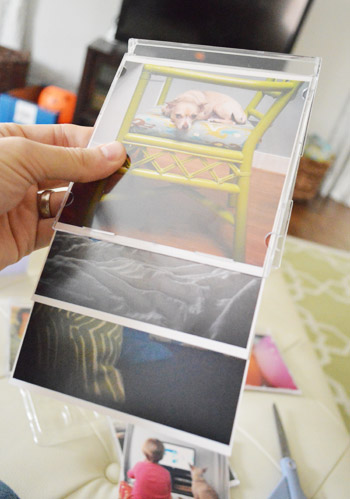 And since I have extra photos and extra cases, I can always expand my super classy inexpensive art installation across the whole board down there. But for now I'm leaving it open so I can hang some other non-Instagrammy item on the right. Ya never know when I might come across something else to dude things up down here. Although I'm surrounded by hammers and drills and saws, so I'm a pretty happy guy already.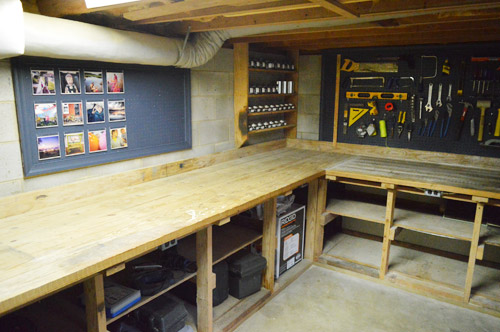 Oh and every time we share pics we realize that we should mention a few other things on the basement agenda, so here they are:
stain some of the wood going on down there (like that burned shelf and the dusty and less-forgiving-because-they're-so-light counters)
possibly stain the concrete floors (since they're pretty light and not-too-forgiving either)
paint the old scratched up door that leads to the basement (yellow like the front door)
hopefully deal with the exposed ceilings (although there are things like plumbing and duct-work that hang down, making it less simple than just screwing up some drywall)
In the meantime, does anyone else have Instagram art projects up their sleeves? I'd love to hear 'em – especially if you know of other cool places to get them printed on paper, canvas, etc. Oh yeah, and if you want to follow us on Instagram you can find us at (you'll never guess) @younghouselove.
Psst- We hear the Cultivate quiz from yesterday's giveaway is still running very slowly/crashing. Looks like they weren't quite ready for all of you quiz-loving folks! So sorry about that, guys. We hope they get all the kinks worked out soon… and there's still a $200 gift card for one lucky winner (whether you take the quiz or not), so that's the good news!
&nbsp&nbsp&nbsp
If you've been around the sun with us before (aka: reading more than a year) you probably know of our little November tradition of filling up our homemade "Thanks Jar" with notes about what we're thankful for…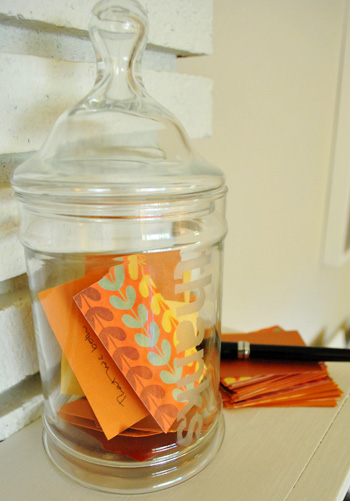 We wanted to keep it up again this year, but being away for so much of the month sort of got the best of us. So this weekend we decided to sneak this tradition in right at the buzzer… while putting a new spin on it thanks to our new chalkboard.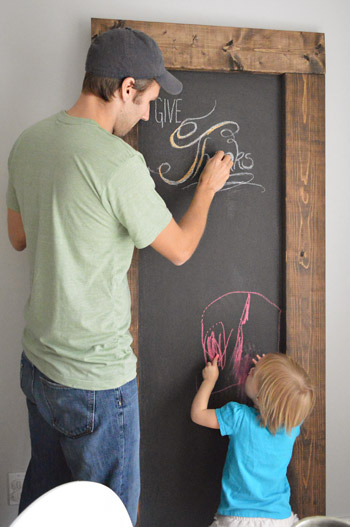 The word art at the top of the board was a joint effort. Sherry searched something like "pretty script" on Pinterest and tried her best to imitate what she saw for the word "thanks." A curlicue here. A flourish there. Then I got in there with some different colors to shade things in and add "Give" and "2012" in my "straight man font" as she called it. I think we were moderately successful.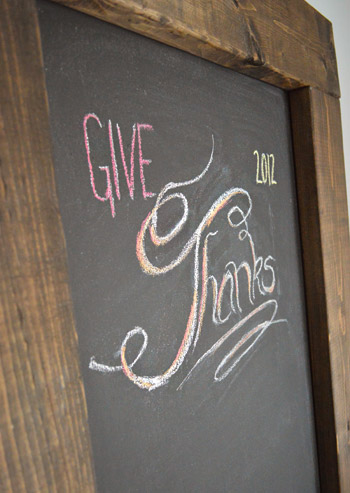 I actually like doodling different letters and fonts a lot (type geek, represent) but this task nearly got the best of me. Using chalk myself actually gives me the heebie-jeebies BIG TIME. Something about the sound of it. The feel of it grinding against the board. The potential screechiness of it. It doesn't happen when Sherry or Clara are scribbling away, so maybe it's the feel of it in my own hand? Yah – it's weird. But this project was like therapy for my chalk-phobia. What doesn't kill you makes you stronger, right? I can now check "chalk use" off my list of things that I'd prefer never to do in this lifetime. It's not THAT bad.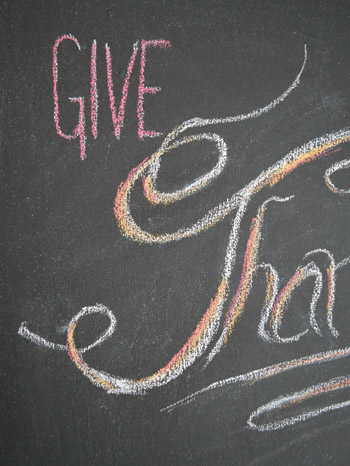 Shortly after getting our little piece of art done we got down to showing some gratitude. With the help of about $10 in Target magnets and some spare, cut-up cardstock our little "Thanks Board" was looking more like this by the end of the day: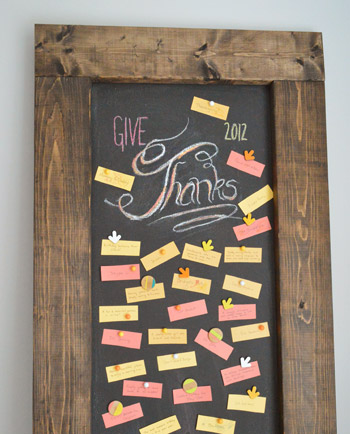 Oh and see those few magnets made from round disks of wood with stripes of paint on them? Those were actually handmade by Megan who gave them to us at one of our signings. She just used small wood disks and some tape + paint + magnets glued to the back. Aren't they awesome? We love them the most.
We opted to write things that we're thankful for on paper cards because (a) we could later store them in our thanks jar along with our 2010 and 2011 collection and (b) I could avoid having to write directly on the chalkboard any more than necessary. Baby steps, people. Baby steps.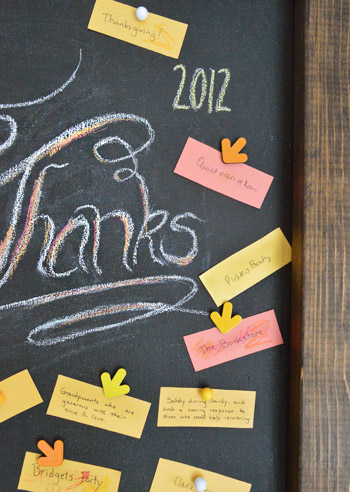 We even got Clara in on the action for the first time ever. It was a bit of a struggle to explain concepts like gratitude and feeling thankful to a 2.5 year old ("Think of things or people that make you happy or glad!") but she did spit out a few gems. Our hearts melted when she said "Mommy and Daddy make me happy!" A few others were: a balloon, the bookstore, and Bridget's party (she's the gal next door who rents a moon bounce (#bestneighborsever).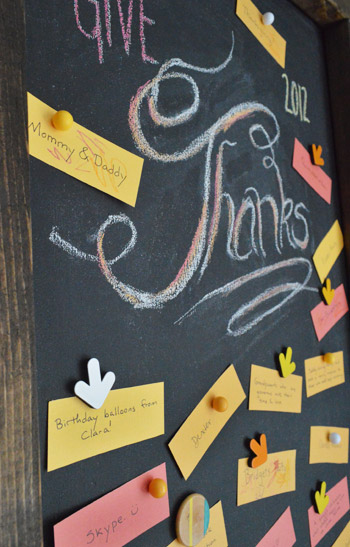 Here's a smattering of some of the cards that we each drew up. Since I wrote Clara's we tried to help distinguish hers from mine by letting her color on her own with crayons. For example, I'm thankful for Skype (especially last week!) and Clara was thankful for Bridget's aforementioned party (see those festive scribbles?).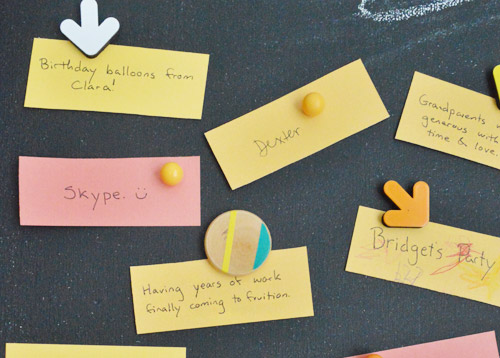 Clara got distracted before we finished, though. So, for the record, I'm not the one who's thankful for her Play-Doh cookie cutters. That's all her.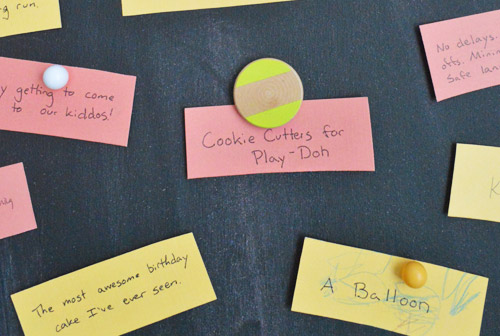 Oh, and warning: kids + magnets can be very dangerous. We had a very firm talk with Clara about the magnets not being toys or food. She's past the phase of putting anything in her mouth, but we didn't want her to think the magnets looked like candy or anything. We overheard her later telling Burger that he could "look but not touch them because they're not yummy and they're not food and ice cream is yummy and that is food" and had a nice laugh. And in the end (after we shot all these photos) we moved all the smaller round ones up on the board to be completely out of her reach and used the larger not-swallowable ones for the lower area – just to be on the safe side.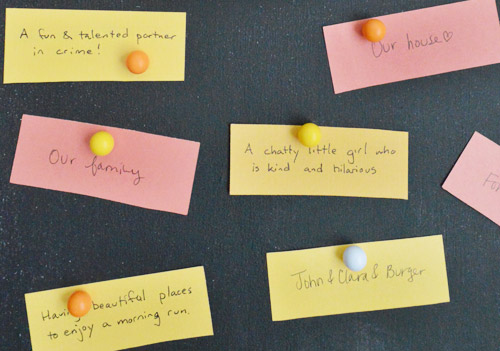 We're really glad we took the time to squeeze this little tradition in again this year because it's a really satisfying process to write out what we're thankful to have in our lives… even if they're just simple things like a good TV show to escape to once a week. Yup, Dexter made the board.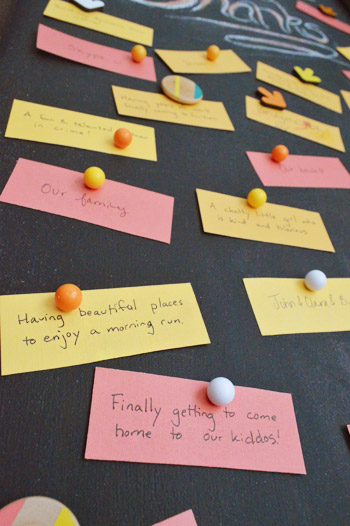 And while I'm sure we could've easily filled the entire board with things, people, and events that we appreciate, we were sure to leave a good chunk at the bottom open for Ms. Chalks-A-Lot.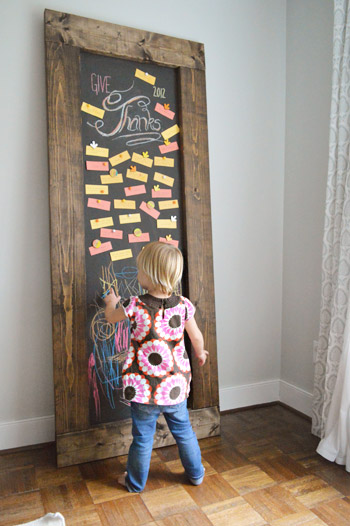 She clearly didn't inherit her father's aversion to the stuff.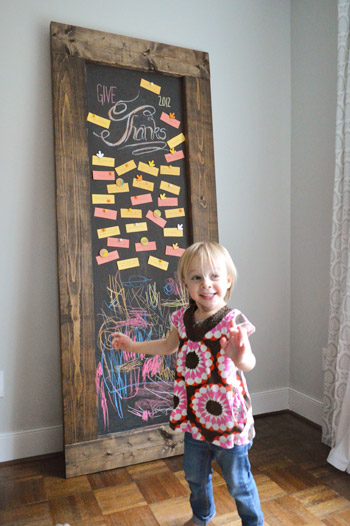 We hope everyone celebrating Thanksgiving this week has some wonderful food, safe travels, loving company, and lots to be grateful for. Heck, here's wishing the same thing even to those who aren't celebrating any official holiday. We're gonna spend tomorrow with the fam, but we'll be back on Friday to wrap up the week with a quick overdue post for you guys.
And with that, I can't help but share our Thanksgiving greeting from last year.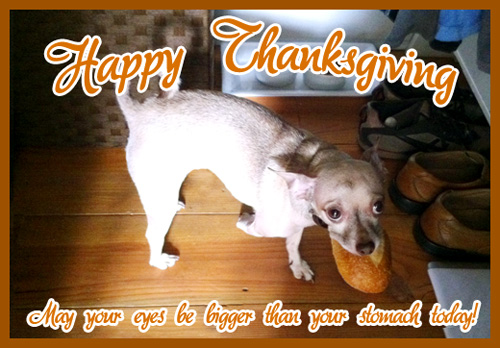 Oh Burger, you slay me. Happy face-stuffing to one and all!
&nbsp&nbsp&nbsp