Cleaning, Organizing, & Eco
Raise your hand if you knew we had a garage. I'm not surprised if most of you still have both hands firmly planted on your keyboards.
Well, we do. It's a detached metal structure that potentially could park two cars. That is, if hadn't been packed with junk for the past 2+ years (which is why we've never shown it to you except for some pics of it closed during our wedding). Here's what it looked like at its worst back in February, right after debris from our kitchen remodel was at its peak: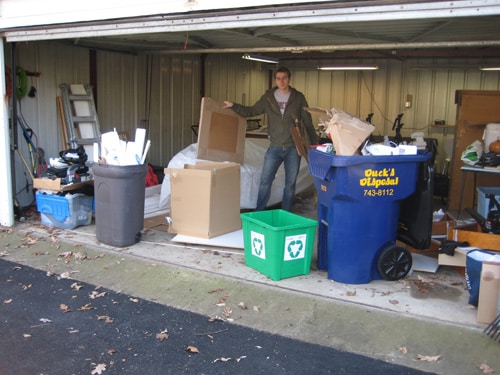 Now let me defend myself for a second. From the moment we moved in, our garage was a storage facility for some of my sister's furniture while she was waiting for her new house to be built. So we never knew our garage as a place for cars, we knew it as a place for stuff. And that's what it quickly became. Everything ended up there: from empty boxes and unneeded furniture to half-full bags of garden soil and unused rollerblades.
But earlier this year I made the testosterone-fueled decision to reclaim my garage, for fear that I might get my man-card revoked. Not to mention the serendipitous fact that the completion of my sister's house meant I'd finally be saying goodbye to a couple of space-hogging mattresses and couches. (Uh oh, do I also have to say goodbye to my man-card for using the word "serendipitous?")
So Sherry and I took on the task of dividing our garage junk into groups: trash/recycle, sell/donate and keep. After a couple trips to the recycling center, our big yard sale and a hefty furniture pick-up from my sister, we ended up with a garage that looked like this: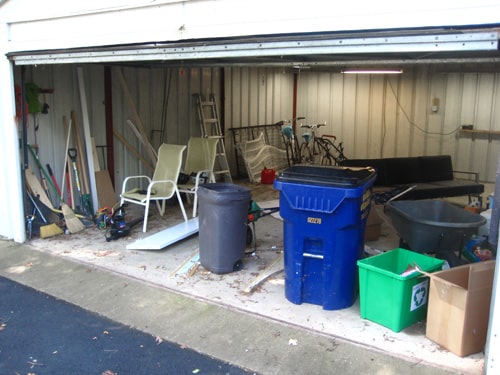 Quite a "keep" pile, no? (Well, technically the black couch in the background was still waiting to be picked up). So the name of the game became "clean and organize". We'll spare you the gritty details (as well as the buggy, cobwebby details that caused me to clean with a long-handled broom), but at the end of this weekend our garage now looks like this – clean, organized and happily accepting vehicles: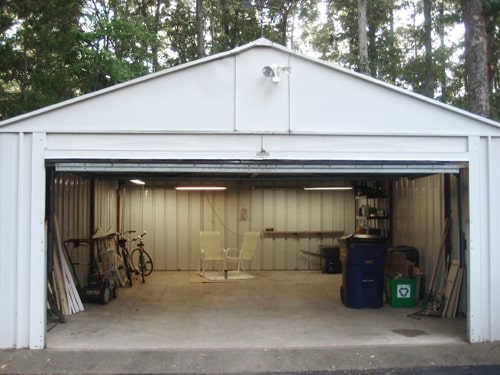 Oh, and no that's not a seating area in the back. That's just a spray-painting project waiting to happen (stay tuned for that). We've still got a few more things headed to Goodwill, but overall our organizational system has far improved from this…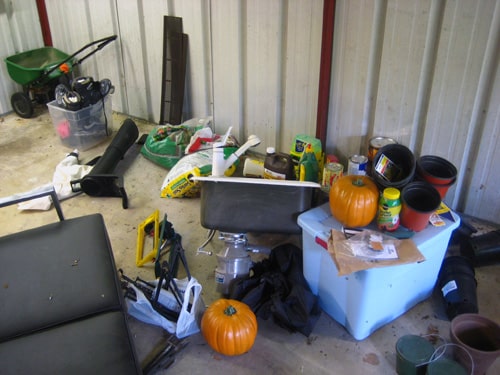 …to this: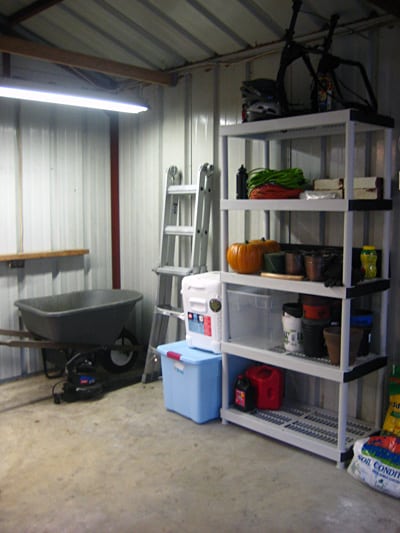 And so far all it's taken was a $40 plastic shelf from Home Depot. But we're itching to hear your recommendations for garage organization. Any great shelving or hanging systems that you'd swear by? Any creative areas or zones that maximize your storage/working space? Now that we've cleared out the ol' garage I'm ready to go organization-crazy up in there.
For more info about garage organization, check out this article from doityourself.com
&nbsp&nbsp&nbsp
Ever since we saw an image on bhg.com a few months ago with open shelves and baskets, we started thinking about taking the door off of our bathroom's linen closet. We realized that a few chic baskets could convert our claustrophobic closet into clean and functional open shelving (by now you know we're crazy about open living). And then when we crashed Lesley & Jeff's fabulous home, her doorless bathroom closet sealed the deal: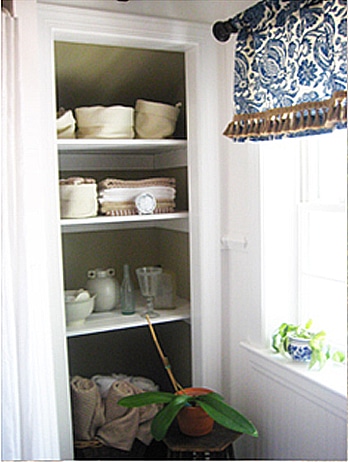 But first some photographic proof as to why our current closet door situation was so not working for us. Check out the serious door war that regularly occurred between the linen closet door and the bathroom door. Argh! Talk about a design flaw.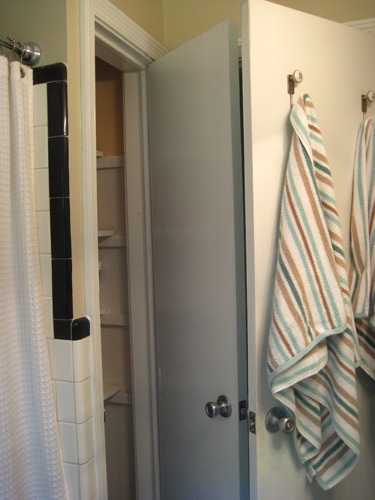 So one day while John was sittin' pretty at work, I took a screwdriver, a hammer and a crowbar to the door and off it came (along with the door jamb so that the opening looked a lot more like a built-in shelving nook than a doorless linen closet).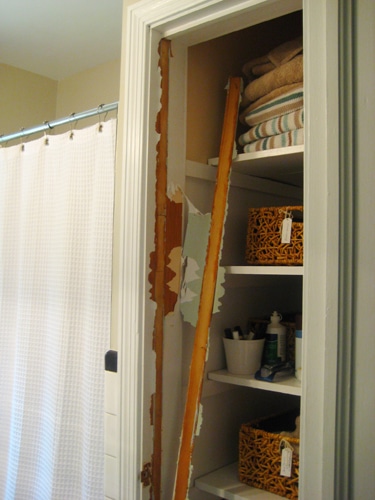 After we erased any evidence that a door once existed (by caulking the hinge holes and removing the door latch) I extended the bathroom's soothing tan wall color into the nook (Glidden's Sand White) and painted the door frame and the shelves a crisp glossy white.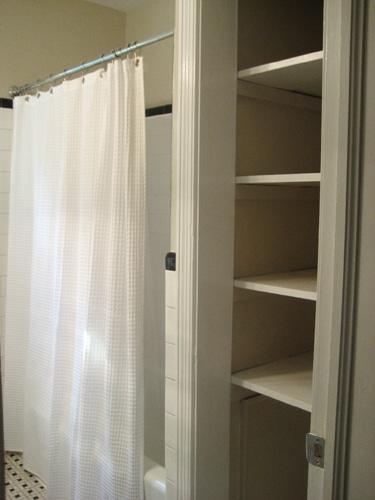 Then I just reused the baskets that already housed our sheets and towels and introduced some other creative storage solutions from a few objects that we had laying around the house (two cheap white Ikea planters for nail polish and toothbrushes). Even the toilet paper looks great in its newly spiffed home.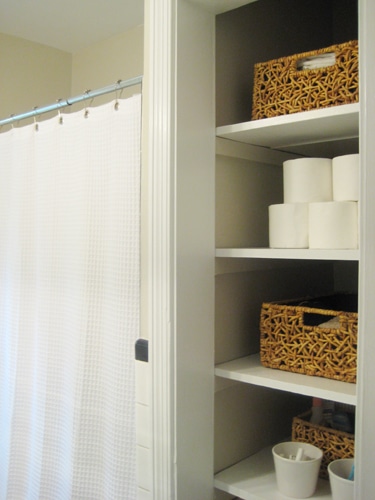 But the entire project wasn't entirely free, we did splurge on two bigger baskets (for a few more towels) to stack on the floor of the closet. Luckily we scored 'em at Michael's for 50% off, so we basically got two large rectangular woven trunks for the price of one (25 measly bucks total). Not bad for the entire bathroom closet project.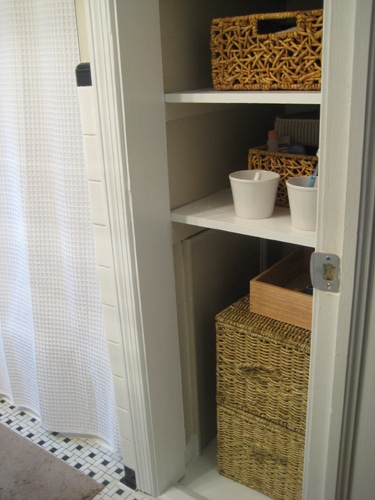 So what do you guys think? Could you live with an open linen closet or do you think some things are better left behind closed doors? And don't worry, we're totally aware that we're waaay more into open storage than the average bear. Luckily we're also waaaay more compulsively neat than the average bear (to a somewhat insane degree) so it's perfect for us. Whatever works, right?
&nbsp&nbsp&nbsp