Cleaning, Organizing, & Eco
Why spend money or fill up the garbage can if you don't have to? It's no secret that we love to repurpose, and we actually got a note from a guy named Kenn with this fabulous image attached: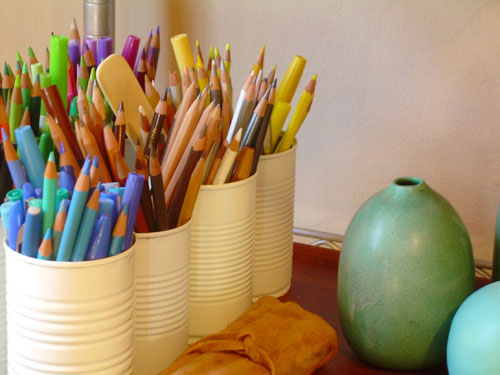 How great are these old cans turned pencil cups? A simple coat of paint is all that it takes to unify a bevvy of cans that you already have in your recycling bin- and they'd also make charming vases and could even corral spoons and forks at a casual gathering.
Inspired by the inbox eye candy, we put on our thinking caps to come up with some other normally-discarded items could be reimagined into something useful. We rarely have plastic bottles around the house (this one was left behind by a visitor) but anyone who does could make a charming little bud vase in a second: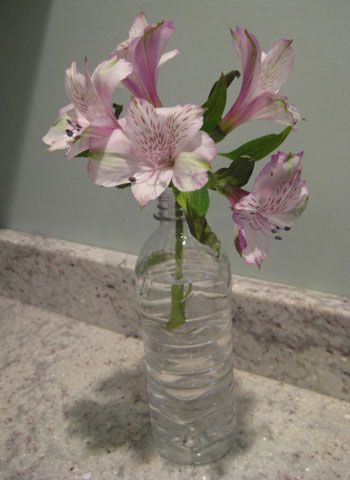 And ten of them plus a tennis or nerf ball could create a fun DIY bowling set for any little ones in the house.
There are so may other objects that can be reused in a flash. Old egg cartons can come in handy for storing jewelry in a drawer or a cabinet (much like my ceramic egg crate "jewelry box"):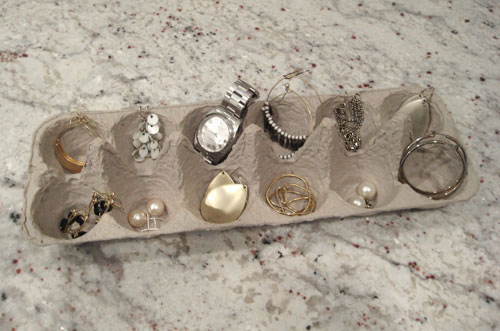 It could even work in a junk drawer to sort rubber bands, paperclips, push pins, and other small office supplies. Or in a garage or tool area to store nuts, bolts, screws, anchors, and nails. Gotta love 12 little compartments that work for almost anything (bobby pins and hair elastics… the possibilities are endless).
And we can't forget one of our favorite repurposing solutions. Old wine and Pelegrino bottles become pretty decorative accents in a flash (especially after the mismatched labels are soaked and removed):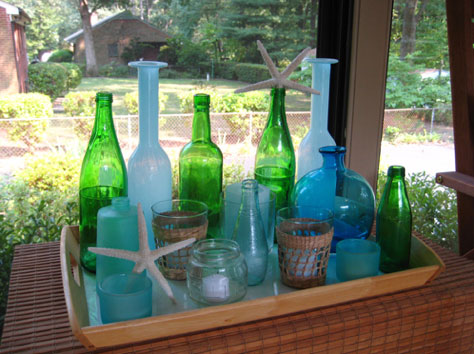 We're also big fans of refilling things, like this gorgeous bottle of olive oil (a gift from one of our high-rolling friends from William's Sonoma). We love to top it off each time it runs low. Anything to keep that pretty bottle on our kitchen counter: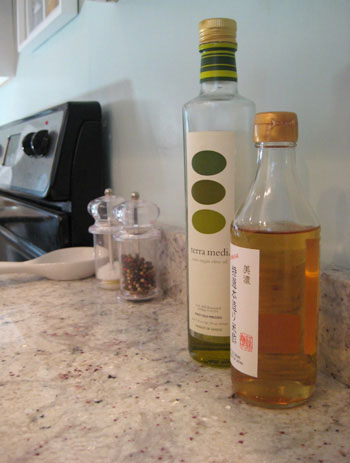 We also plan to refill our Cucina soap and lotion set (a recent $32 purchase from Anthropologie). It wasn't exactly dirt cheap, but not too bad when you consider you get soap, lotion, and a charming little ceramic dish that holds 'em both. And the fact that we can refill them with our favorite organic soap and lotion once they run out means we'll have them sittin' pretty near the kitchen sink forever: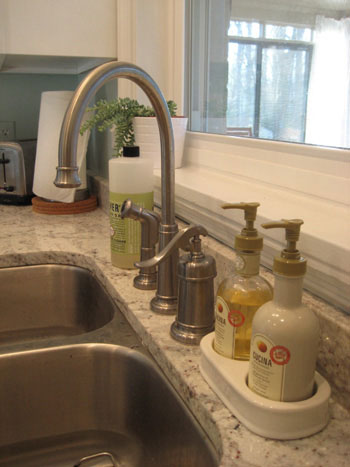 And why stop there? Here are a few more ideas:
Cereal boxes covered with brown paper bags can become shipping boxes used for sending books and other small objects to friends and family members
Old plates and platters can be used under planters with drainage holes to catch any excess water and protect your furnishings and floors
Used coffee grounds and tea bags make great natural plant fertilizers- read more about that here
An empty plastic milk jug becomes a watering can with a few holes punched into the plastic cap
Your old magazines can be dropped off at local bookstores or hair salons (we easily found one willing to take our leftovers) who then give them away for free to other customers
Now it's your turn! Tell us all about everything that you recycle, reuse and repurpose in your home. We can't wait to hear how you guys make haste and not waste.
For more repurposing tips, check out this great post from TipNut and the comments left by our lovely (and very clever) readers.
&nbsp&nbsp&nbsp
The other day I got to wondering, how do you guys store your jewelry? I picked up a ceramic egg crate from The Container Store about five years ago and it has served as my "jewelry box" ever since. It's perfect for containing my limited collection (I'm all about earrings, but I generally never have more than a dozen in rotation) and the finish works perfectly with my love of all things white and ceramic.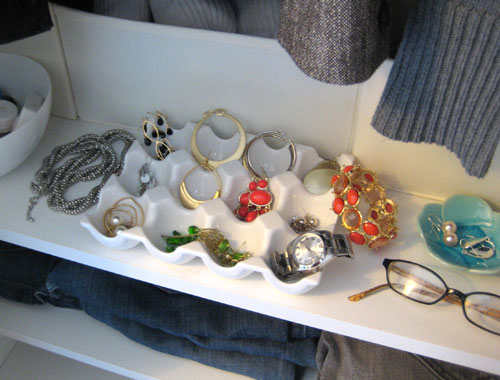 What you're actually seeing above is my "night table" of sorts. Since we flanked the bed with two curtained wardrobes from Ikea, we each use one of the concealed shelves to house a few things that we typically grab before we hit the hay. Which explains that white ceramic bowl on the left. It's actually just a bowl from the kitchen that I repurposed to store my contact case, face lotion, and lip gloss at arm's reach. It's kinda funny when you think that both of these handy storage items are really meant for the kitchen.
And you may wonder where my engagement ring and wedding ring go before bed, well, John and I actually sleep, shower, paint, and do everything else with 'em on. In fact, John's ring hasn't left his hand since I slipped it on at our wedding a year and a half ago (!) and mine only comes off about twice a year for an inspection at the jewelry store (to make sure nothing's loose from all that constant wear). Is that weird? We know we're definitely in the minority here (based on the strange looks we get from friends and family when we mention this fact), but we're wondering if there are others like us out there. Come out of the woodwork fellow perma-ring-wearers and make us feel less strange!
But back to the jewelry storage subject at hand. Here's how John's sister Emily stores hers. She's the lucky owner of a fabulous pull-out drawer with space for her extensive collection of baubles and bling (she also chose Ikea wardrobes for her master bedroom, but she opted for super modern frosted glass doors instead of curtains):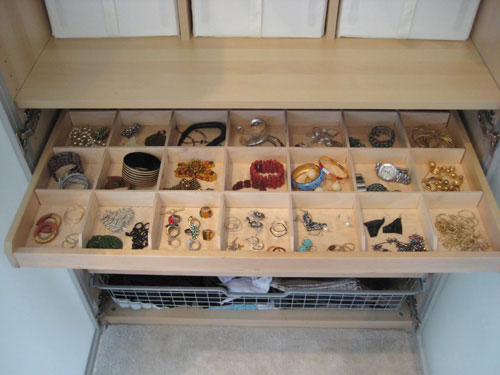 Are you green with envy? Cause I am. Would it not be amazing to be have so much space to store your stuff? Although I'm sure John's thanking his lucky stars that I only have a little egg crate to keep my jewelry buying habit at bay. Now it's your turn- tell us all about how you store your gems and jewels. From wooden boxes to cool display trees (like this one or this one from Urban Outfitters) we'd love to hear what works for you.
Check out a great DIY hanging jewelry box project here on Newlywedisms by Bryn.
Update: We're not the only ones who love a white ceramic egg crate as a jewelry organizer! Our friends at Better Homes & Gardens featured this idea in their April 2009 issue.

&nbsp&nbsp&nbsp